[Polessins' Harvest] Auto Banana Blaze
Hello guys !
Just finished another harvest. this was the third of my four plants !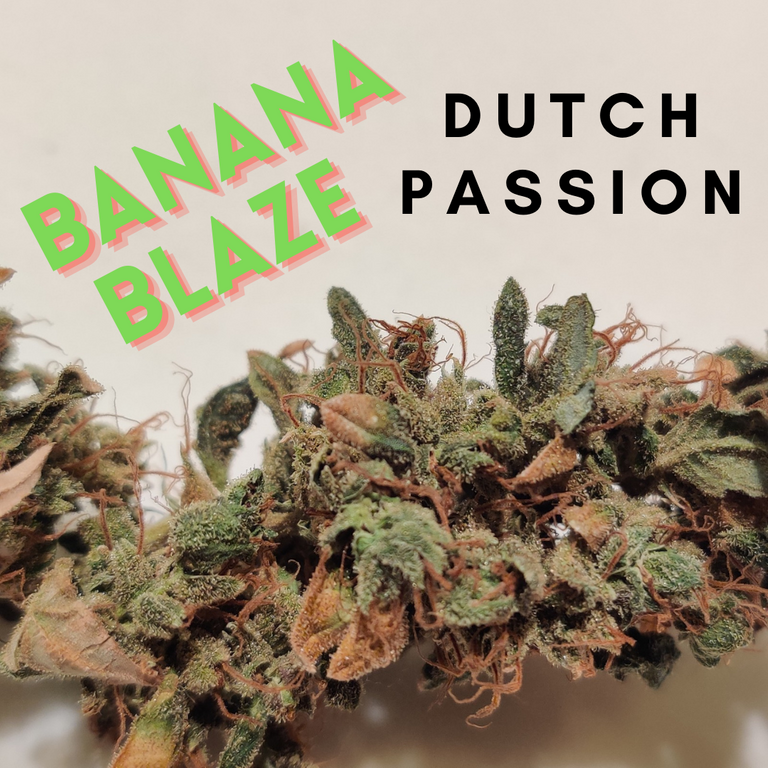 Since i am growing for about 1 year and a half, i must say im very happy with the results of my last Banana Blaze.
Banana blaze was the first strain i ever growed, and since then i always have at least 1-2 seeds in each grow !
I love its sweet smell and taste. It really smels like a candy store.
This strain seems to be much easier then others i tried, i always have almost no problems with it. I am still adjusting a few things, like the quantity of nutrients i am addind, or how many times a week im watering them. Some of them seems to drink much faster them others, so i always try to keep my eyes open on each of them. Inspecting them every day, and trying to upgrade it's envoirment as much as i can.
This is my Grow setup for this harvest :
Strain : AUTO BANANA BLAZE FROM DUTCH PASSION
Pot : 5 Gallon Pot (smart pot)
Nutrients : Remo Nutrients super charger kit (7x1)
Temperature : from 22c to 31c
Humidity : Vegetative state (50-70%) Flowering stage (45-70%)
Tent : 1,20 x 1,20 x 1,80
Light : 490W full spec.
Light cycle : 20hours/4hours
Nutrients chart :
i used 70% of the dose recomended by REMO. seting a PH to 5.8 - 6.2
Time to Harvest : almost 170 days (i am definitely doing something wrong) !!
---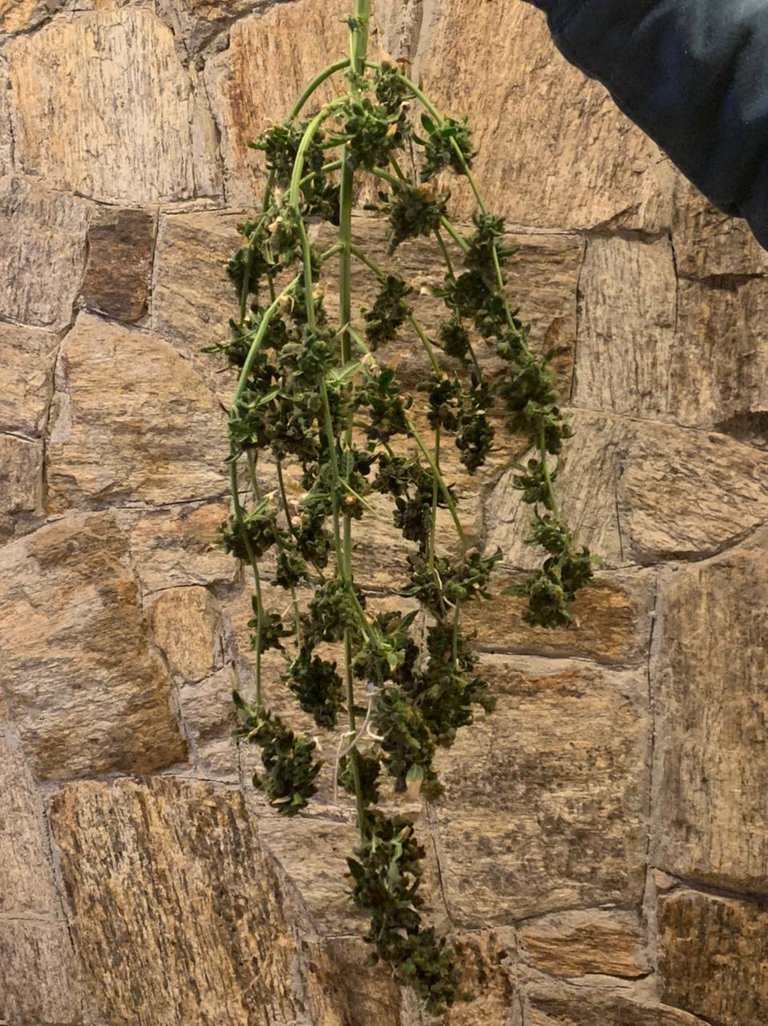 This is her right after i cut. It was starting to burn on a few places, and her trichomes were
about 10% brownish, so i decided to harvest. I still have one plant left in my grow, which ill let grow until i see about 20-30% of the trichomes more brownish. i want to try it with more CBD then THC.
Well, after i chopped, i hang it on my closet for 20 days. Was checking daily if the stains were cracking, but i think i harvest it still to much yet, so it took long to dry. My badroom smells awesome at least.
---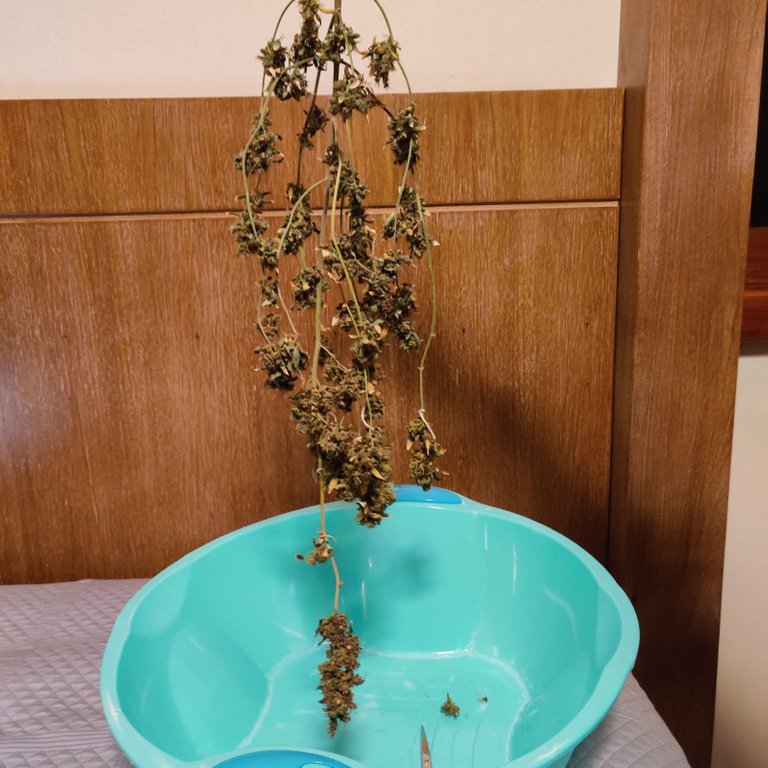 This is her after drying for 20 days (sorry for the bad quality). At this point i was ready to do the final trimming. Since i trimmed pretty much everything before drying, it was much easier and quickier.
At this point i was nervous. Didn't know how much it would weight, since my last grow did about 18g. But this time the buds were definitely heavier. Its still not perfect, i want them much bigger and dense, but i swear i am improving !
---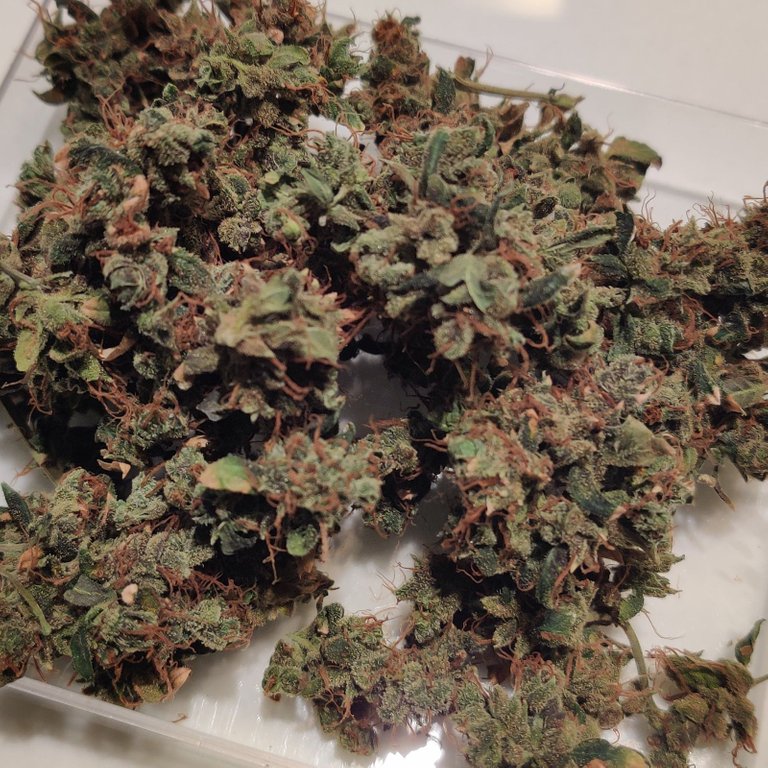 I was really confident when looking into it. The smell, the appearence,the stickness, everything looking on point ! So before put into curing, i took a little peace because i could not resist. Rolled a big joint, and waited for my GF so we could try it together, since she always helps me when i need (specially trimming). After 2 beers, we were ready to go and decided to spark it.
Right after the smoke went up, an awesome smell covered the whole room, at this point i was even happier. About 5 minutes later, we both were completely stoned. I was laughing of joy and happiness. it was my first grow that really hit like a bomb !
---
Well, i had to weight to make sure i got a better result on ammount aswell !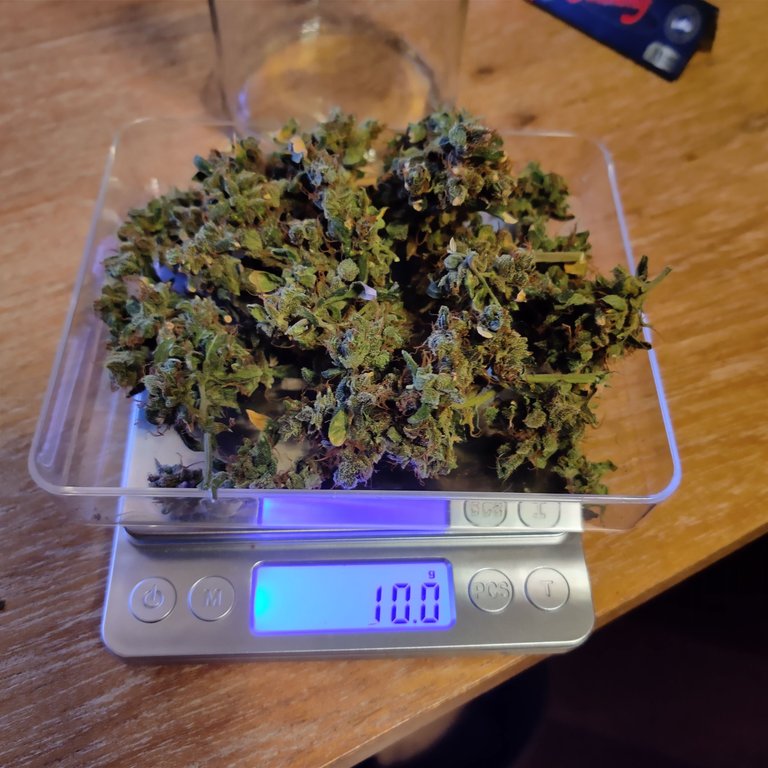 I split into 3 parts, i was trimming one, my gf another one, and the last one we would trim together.
As i finished trimming, i got a total of 10g, and i already knew this was going to be more then 20g, which is nice. As we were trimming, the smell would keep hiting us like a truck, and we decides to take another piece before closing them into curing LOL.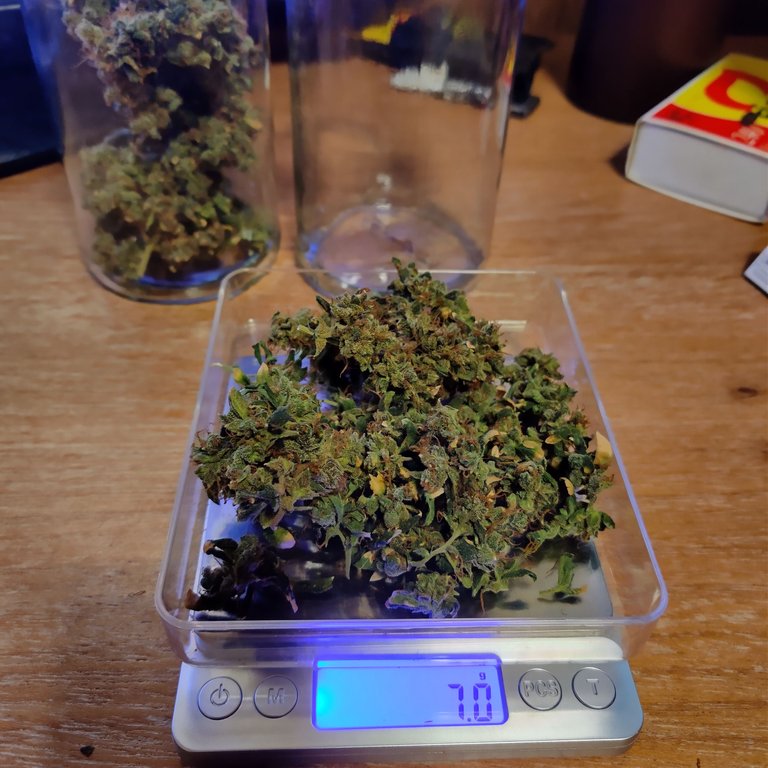 Her part did a total of 7 grams, but the bigger stains were just about to get done. I was laughing as she decided not to wear gloves and ended up with her hand sticky. everything she touched would completely glue on her. At some points we were both looking each other trying not to cry, with her hand full of leaves, cat fur and tears.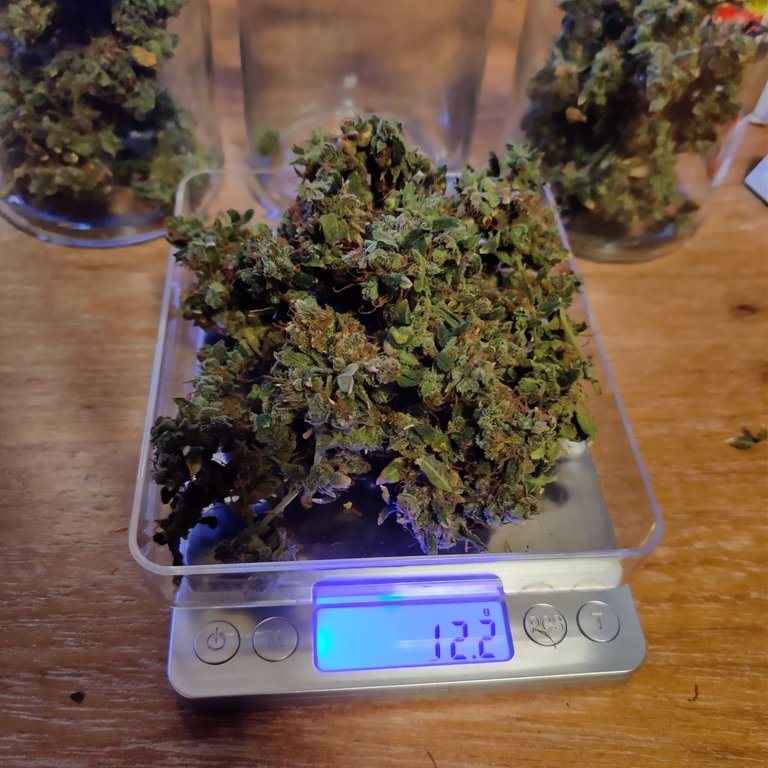 By the end of it, it made a total of about 32g, counting with the few we picked up to smoke. Right now the 3 jars are curing and im trying my best to stay away from it, since it will be probably much better in a month or so. With a total of 5 jars now, i feel im safe for while. Still got one more to go, which is looking pretty good. it did a little fox tailing like my last plant, but it seem much more dense and bigger. I hope i get something nearly close to this one, i would be really happy.
---
Banana Blaze is a really awesome strain, if you can, you should try it sometime !
It's perfect to sit back, relax and enjoy your favorite series or movie. Playing games are great to !
I got 5 seeds for my next grow, 2 banana blaze (fotoperiod this time) and 3 Durban Poison's, which i never tried or even seen.
Was really thinking about change my grow into organic, and im already doing some research.
Peace and love to all growers !!!!
---
all pictures were taken by me, used canvas to edit the 1 first one.
---
Posted via weedcash.network
---
---