#MyHiveGoals 2022 - one step at a time | #MyHiveGoals 2022 un paso a la vez (eng - esp)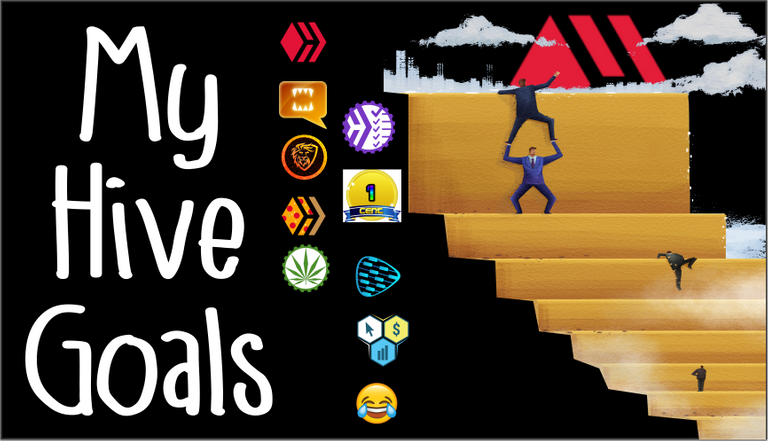 good morning, afternoon or evening from wherever you are reading this.
an old phrase said:
"Sometimes the far road is reached one step at a time"
me 2022
(Who were you waiting for? We have to create phrases for our futures)
in the previous post I had a very scattered idea of ​​how I wanted to put together the posts and I saw it very disorganized, but now, I'm still the same, I hope it looks a little less complicated to read.
my goals are these: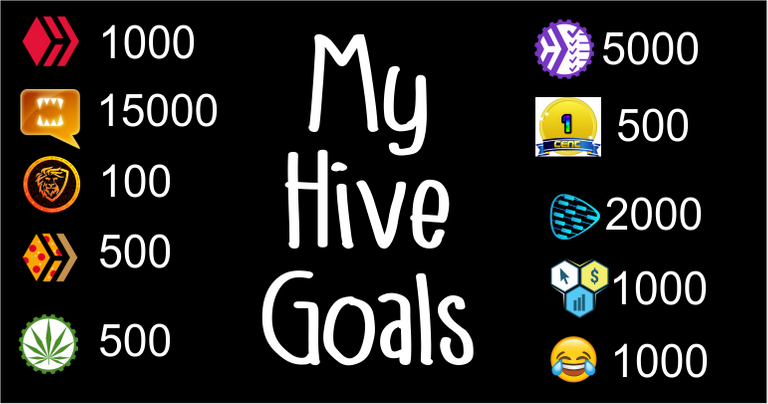 add to the lolz token as i changed my way of generating second layer tokens.
until recently I had two secondary accounts that made votes in different communities and thus generated their tokens. that changed. now i am delegating my tokens to the lolz project to generate its token and with the dividends obtained i buy the token directly. The advantage is that I can choose which token to contribute more and lolz token sales are so small that they don't ruin the economy much, but they do help the purchase of tokens from another community. I hope this doesn't bother the creator of the lolz token. I think this strategy can accelerate my goals. I'm still analyzing it.
Let's see the numbers of this week compared to the previous one: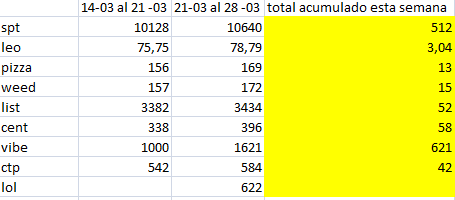 extra points:
1 - about the pleasant view of the post (I am always subject to suggestions):
I think this is a very good way to show the obtained tokens, I am not interested in the price but the quantity. and so next week I will be able to see a comparison of tokens obtained from one week to the next and do another type of analysis.
2 - today I have 819 hp. I still have a small blackout of 7 a week. I would love not to. but they are still part of my basic needs
That would be my summary of the week, I hope you like it and I hope it motivates you to create your own path.

buenos días, tarde o noche de donde estés leyendo esto.
una vieja frase dijo:
"aveces el camino lejano se alcanza un paso a la vez"
yo 2022
(a quien esperabas? hay que crear frases para nuestros futuros)
en el post anterior tenia la idea muy dispersa de como quería armar los post y lo vi muy desorganizado, pero ahora, sigo igual, espero se vea un poco menos complicado de leer.
**mis metas son estas: **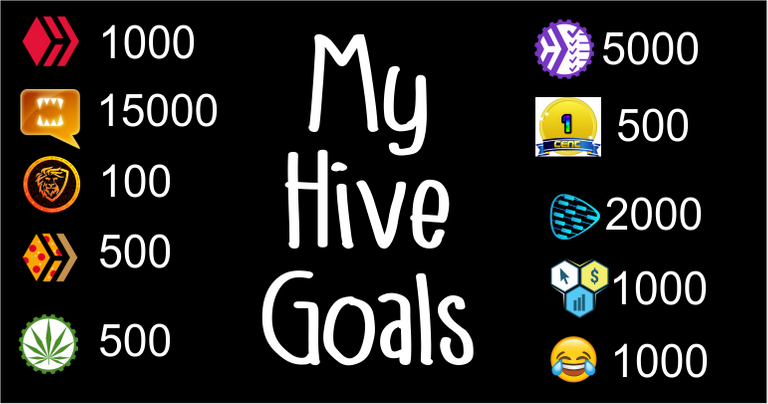 sume al token lolz, ya que cambie mi forma de generar tokens de segunda capa.
hasta hace poco tenia dos cuentas secundarias que realizaban votos en diferentes comunidades y asi generaba los tokens de las mismas. eso cambio. ahora estoy delegando mis tokens al proyecto lolz para generar su token y con los dividendos obtenidos compro el token directamente. la ventaja es que puedo elegir a que token aportar mas y las ventas de token lolz son tan pequeñas que no arruino mucho la economía del mismo pero si ayudan a la compra de tokens a otra comunidades. espero esto no moleste al creador del token lolz. creo que esta estrategia puede acelerar mis objetivos. estoy analizándolo aun.
veamos los numeros de esta semana a comparacion de la anterior: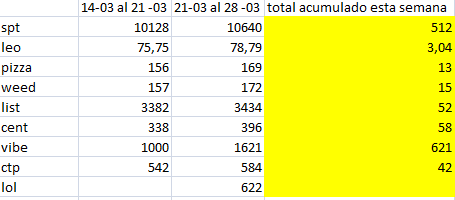 puntos extras:
1 - sobre la vista amena del post (siempre estoy sujeto a sugerencias):
creo que esta es una muy buena forma de mostrar los tokens obtenidos, no me interesa el precio sino la cantidad. y así la próxima semana podre ver una comparación de tokens obtenido de una semana a la otra y hacer otro tipo de análisis.
2 - hoy tengo 819 de hp. sigo teniendo un pequeño apagón de 7 por semana. me encantaría no hacerlo. pero aun son parte de mis necesidades básicas
eso seria mi resumen de la semana, espero les guste y espero que los motive a ustedes mismos crear su propio camino.
---
---