TOOLS: I have a tendency to do as much damage as good with these things.

Today I was putting the bed back on my truck and I dropped a screw down into the gas tank. That's the kind of work I do. I have some recommendations.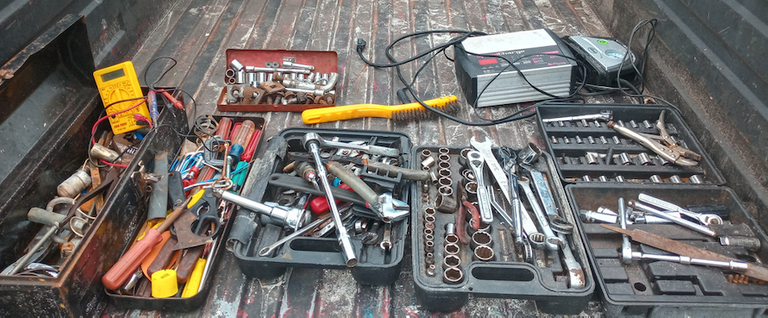 I recommend having a lot of things I don't have: a clean dry place, a workbench, a lift, some books, etc.
More often than I'd like I'm on my back in the sand with the wrong tool in hand. The right one isn't far, and that's because I have at least two of them. If you need a tool, get two of them. Minimum. If you only have one screwdriver it always seems to be somewhere inconvenient, if you only have one size screwdriver it will never be the right one. I often need two of the same thing, and the most popular socket sizes always seem to disappear. I've had ratchets break on me. There are backups, and in some cases backups for backups of anything I use on a regular basis. I only have one needle nose vise grip, and that seems wrong. You need one of those! You want one, at least. You want lots of grippy things of different types and sizes. You want some things that cut, some things that scrape, some things to beat on other things with, and some things to clean up the mess.
I recommend you keep these things organized. I can't seem to - every time I move a socket set the sizes get all jumbled and millimeters mix with inches. They make little clip things for preventing that. The tool I'm looking for always seems to be at the bottom of the box. They have things for that, too - a roll for your wrenches, a case for your drill bits, etc. I just dig and dig and then dump it.
I recommend having the time to accomplish what you are setting out do do. I recently set aside some time to do some preventative maintenance and address some minor issues, and instead spent most of the week troubleshooting a no-start. I'll have to reschedule the other stuff for I don't know when, but if you don't make your maintenance schedule, sooner or later the machinery will make it for you (like my truck last week).
I recommend having some friends that know more than you. I'm blessed to have some knowledgable people around. Second and third opinions are valuable to me. Youtube is still good for two things: learning any song on any instrument and technical advice.
I recommend not dying on the job. Chock your wheels, use jack stands, don't stand on a ladder and use a chainsaw. Don't stick your hand down the disposal. Don't let the rain surprise you. Try not to hurt yourself or anyone else. That's all I got.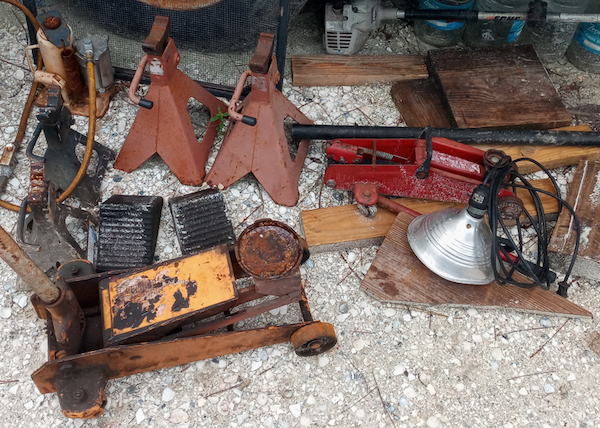 ---
---