Building a pillar for success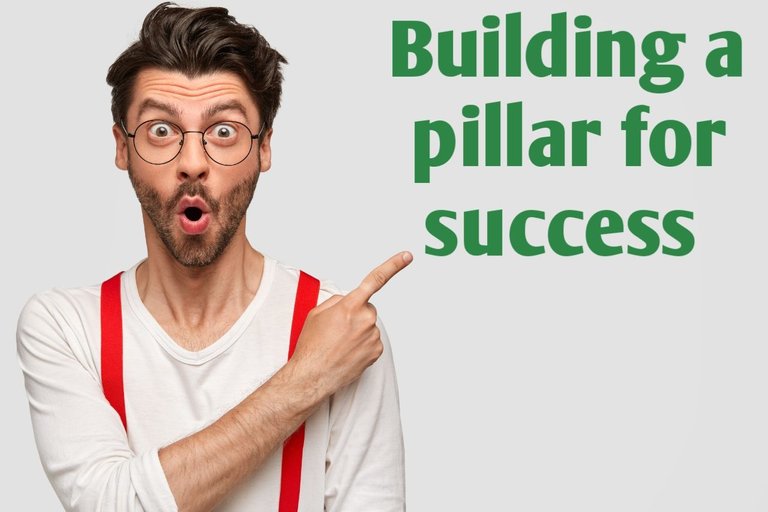 Building a pillar for success
"The best way to succeed is to have a specific Intent, a clear Vision, a plan of Action, and the ability to maintain Clarity. Those are the Four Pillars of Success. It never fails!" ~Steve Maraboli
We all want to achieve success in our business, career, education and in many ascept. We need to understand that we can't achieve success without building the pillars of success which will make success stands firm in our life, a house without pillars can't stand firm on the ground, to achieve success you need strong pillars that will make it stand firms in your life.
Steve Maraboli analysis the pillars which will make it possible to build success in our life and make it stands firms. Success is not a thing you can achieve without been prepared, you need to go through miles to get a better and best success that is worth achieving, you can't just sit and expect success to come you need to work for it.
Success will bring in a thing that will make you achieve self confidence in doing the right thing, it is a honour for any one who achieves success and make it stand firms in there life, success comes in with a lot of plans that will brings idea to make something or someone go into some development that will build in good tidings, and one more thing there are good success and bad success, for today am talking about achieving the good success.
Steve Maraboli analysis about the pillars or building success;
Steve Maraboli said in one of his quote that "The best way to succeed is to have a specific Intent, a clearAPPRENTICE_136738 Vision, a plan of Action, and the ability to maintain Clarity. Those are the Four Pillars of Success. It never fails!".
Note that the four pillars of building success which Steve Maraboli said never fails!
Specific Intent
A specific Intent definition according to the search engine means "that an individual committed to an act with a specific purpose".
One of the pillars of success which Steve Maraboli analysed is Specific Intent. When an individual have the specific Intent of achieving success, he or she will be committed to the act of achieving success with a specific purpose.
The question is what is the specific purpose why you want to achieve success ? [If you are not able to provide a meaningful answer to yourself, definitely you are not ready to achieve success].
When you create a mind that have a specific intent of achieving success, you will have the motive that will keeps you moving in hard times to keep on trying still you get what you want which is success.
Clear Vision
When you have a clear vision, you will get what you want with ease. Clear vision will stand as a power a pillar for you to have a paint of pictures and ideas about why you need success and what will success do in your life. Without a clear vision is really hard for you to get success, note that this pillars doesn't fails you need to work hard to get it and when you get it you need to use it wisely.
The question you need to find and answer to is " Do i have what it takes to have a clear vision of success ? " [Am so sorry to say this, if you aren't able to provide an answer to this question "You can't achieve success!". You need to provide an answer so you
can get the idea of what it takes to achieve success and why you need to achieve success]
A plan of action
What is Plan ? and what is Action ?, Plan are groups of ideas or strategies tht works in building up a destroying, action is a power that makes a plan works perfectly, when an action is taken rightly plans will work perfectly. Plan of action are simply the strength and motive that makes ideas and strategies to work perfectly in building pillars of success.
Plan of action is very essential in sporting out what it needs to build success, if you aren't able to identify your plans of action you will end up messing around with having aims and objectives of what you want to do with success.
The question you need to work on is "will my plans of action works perfectly for me to achieve what it takes to be called success ?".
Ability to maintain Clarity
Lastly you need to figure out the ability you need to maintain clarity, which means the power for you to classify your potentials when you are about to achieve success and when you achieve success.
The question is " Do you have what it takes to be maintain clarity ?".

Note: When you takes this steps serious you will achieve what it takes to be called successful being, the pillars of success never fails.

Make sure you ask questions, cause they are power when they get answers!
Also on read.cash
Thanks so much for reading!
---
---