Did Jesus heal the sick with Cannabis Oil ?

Did the Oil of Anointing that was used by Jesus to heal the sick contain Cannabis ?
To understand the ingredients and Secret Formula of the Anointing Oil you need to read the Old Testament Book of Exodus...
It is Best if you can read it in Hebrew. The Original Text.
Exodus 30 : The Anointing Oil
22 The Lord spoke to Moses, saying: כבוַיְדַבֵּ֥ר יְהֹוָ֖ה אֶל־משֶׁ֥ה לֵּאמֹֽר:
23 "And you, take for yourself spices of the finest sort: of pure myrrh five hundred [shekel weights]; of fragrant cinnamon half of it two hundred and fifty [shekel weights]; of Kaneh Bosem two hundred and fifty [shekel weights], כגוְאַתָּ֣ה קַח־לְךָ֘ בְּשָׂמִ֣ים רֹאשׁ֒ מָר־דְּרוֹר֙ חֲמֵ֣שׁ מֵא֔וֹת וְקִנְּמָן־בֶּ֥שֶׂם מַֽחֲצִית֖וֹ חֲמִשִּׁ֣ים וּמָאתָ֑יִם וּקְנֵה־בֹ֖שֶׂם חֲמִשִּׁ֥ים וּמָאתָֽיִם:
(קְנֵה-בֹשֶׂם ) Kaneh bosem ... usually translated as fragrant cane.
24 and of cassia five hundred [shekel weights] according to the holy shekel, and one hin of olive oil.
כדוְקִדָּ֕ה חֲמֵ֥שׁ מֵא֖וֹת בְּשֶׁ֣קֶל הַקֹּ֑דֶשׁ וְשֶׁ֥מֶן זַ֖יִת הִֽין:
25 You shall make this into an oil of holy anoinment, a perfumed compound according to the art of a perfumer; it shall be an oil of holy anointment.
כהוְעָשִׂ֣יתָ אֹת֗וֹ שֶׁ֚מֶן מִשְׁחַת־קֹ֔דֶשׁ רֹ֥קַח מִרְקַ֖חַת מַֽעֲשֵׂ֣ה רֹקֵ֑חַ שֶׁ֥מֶן מִשְׁחַת־קֹ֖דֶשׁ יִֽהְיֶֽה:
Source: https://www.chabad.org/library/bible_cdo/aid/9891/jewish/Chapter-30.htm
Anoint Aaron and his sons and consecrate them so they may serve me as priests. Say to the Israelites, 'This is to be my sacred anointing oil for the generations to come. Do not pour it on anyone else's body and do not make any other oil using the same formula. It is sacred, and you are to consider it sacred. Whoever makes perfume like it and puts it on anyone other than a priest must be cut off from their people.'"
Source: https://www.biblegateway.com/passage/?search=Exodus%2030&version=NIV
This Holy Oil of Anointment is only to be used by the High Priest .... and no one else.
Did Jesus make his own anointing oil, a perfume like it and put it on anyone ? Did he and his followers heal the sick with such an anointing oil ? Is this why Jesus and his followers (Nazarenes) were persecuted, and cut off from their people ?
Interestingly enough the word "Christ/ Christos" is Greek for Messiah... which means the "Anointed One"
James 5:14-16
Is anyone among you sick? Then he must call for the elders of the church and they are to pray over him, anointing him with oil in the name of the Lord; and the prayer offered in faith will restore the one who is sick, and the Lord will raise him up...
Mark 6:13
They drove out many demons and anointed many sick people with oil and healed them.
1 John 2:27
As for you, the anointing which you received from Him abides in you, and you have no need for anyone to teach you; but as His anointing teaches you about all things, and is true and is not a lie, and just as it has taught you, you abide in Him.
Jesus also healed many children who suffered from Epilepsy. Luke 9:40 , Matt 17, Mark 9
Source: https://bible.knowing-jesus.com/topics/Anointing-With-Oil
Other mentions of the Anointing Oil in the Old Testament.....
1 Samuel 16:13
Then Samuel took the horn of oil and anointed him in the midst of his brothers; and the Spirit of the Lord came mightily upon David from that day forward.
Isaiah 61:1
The Spirit of the Lord God is upon me,
Because the Lord has anointed me
To bring good news to the afflicted;
He has sent me to bind up the brokenhearted,
To proclaim liberty to captives
And freedom to prisoners;
Psalm 23:5
You prepare a table before me in the presence of my enemies;
You have anointed my head with oil;
My cup overflows.
So then.... why would anybody believe that Kaneh Bosem is Cannabis... other than it sounds like it ?
Identification of kaneh bosem
While sources agree about the identity of four of the five ingredients of anointing oil, the identity of the fifth, "kaneh bosem", has been a matter of debate. The Bible indicates that it was an aromatic cane or grass, which was imported from a distant land by way of the spice routes, and that a related plant grows naturally in Israel. Several different plants have been named as possibly being the "kaneh bosem".
Acorus calamus
Most lexicographers, botanists, and biblical commentators translate keneh bosem as "cane balsam". The Aramaic Targum Onkelos renders the Hebrew kaneh bosem in Aramaic as q'nei busma. Ancient translations and sources identify this with the plant variously referred to as sweet cane, or sweet flag (nl. the Septuagint, the Rambam on Kerithoth 1:1, Saadia Gaon and Jonah ibn Janah). This plant is known to botanists as Acorus calamus. According to Aryeh Kaplan in The Living Torah, "It appears that a similar species grew in the Holy Land, in the Hula region in ancient times (Theophrastus, History of Plants 9:7)."
Cannabis
Sula Benet in Early Diffusion and Folk Uses of Hemp (1967), identified it as cannabis. Rabbi Aryeh Kaplan notes that "On the basis of cognate pronunciation and Septuagint readings, some identify Keneh bosem with the English and Greek cannabis, the hemp plant. There are, however, some authorities who identify the 'sweet cane' with cinnamon bark (Radak, Sherashim). Some say that kinman is the wood, and keneh bosem is the bark (Abarbanel)." Benet in contrast argued that equating Keneh Bosem with sweet cane could be traced to a mistranslation in the Septuagint, which mistook Keneh Bosem, later referred to as "cannabos" in the Talmud, as "kalabos", a common Egyptian marsh cane plant.
Source: https://en.wikipedia.org/wiki/Holy_anointing_oil
In 2020, new research confirmed ritual cannabis was use in Israel as early as 1000 BC.
Archaeologists Identify Traces of Burnt Cannabis in Ancient Jewish Shrine:
New research suggests the mind-altering substance may have been widely used in the ritual practices of the Kingdom of Judah
Source: https://www.smithsonianmag.com/smart-news/cannabis-found-altar-ancient-israeli-shrine-180975016/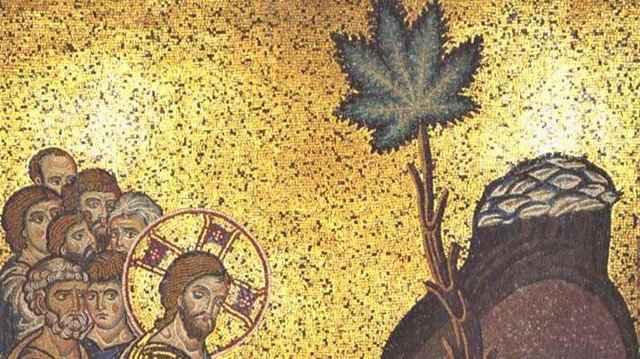 Source: https://www.vice.com/en/article/bn5z7v/did-jesus-perform-his-miracles-with-cannabis-oil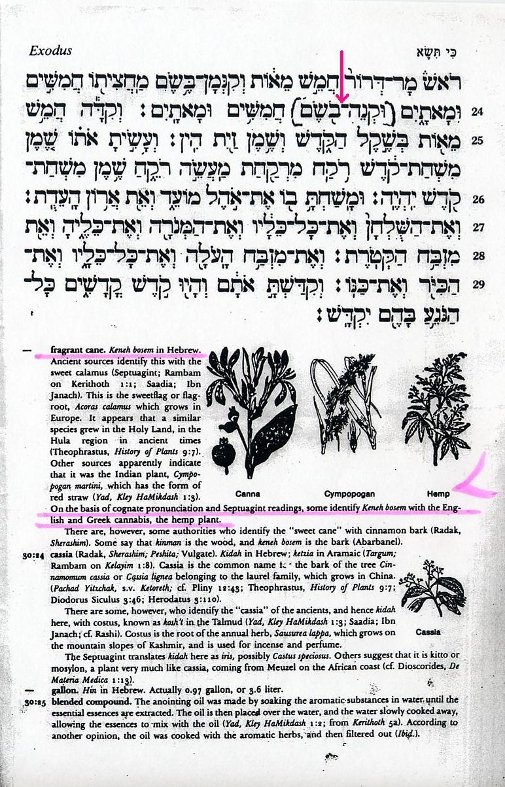 Source: https://grahamhancock.com/bennettc2/
---
Posted via proofofbrain.io
---
---