Aurora Cannabis and Canopy Growth Stocks soar ....

After dropping most of the year the 2 largest Cannabis Companies in the World begin to recover as more States move to Legalize Cannabis.
Is this the Beginning of a New Cannabis Stock market Bull Run or just a momentary Blip...
You could have bought Aurora stock for about $5 last week.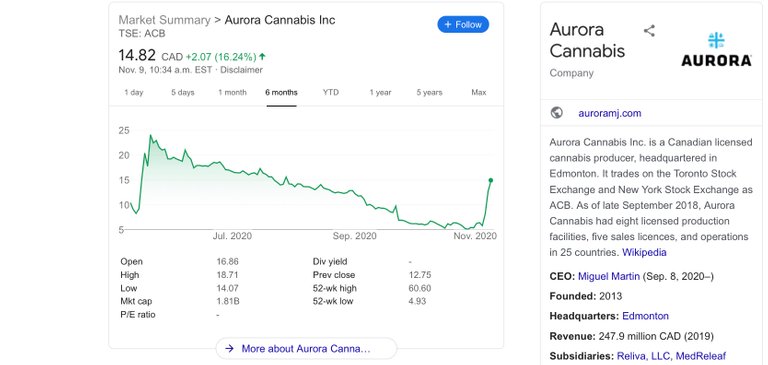 Canopy Growth was as low as $ 9.73 back in March of this year.
Canopy is still losing almost $ 100 Million Every 3 months .... 1/2 a Billion a year...
Net Loss: Net loss of $96.6 million in Q2 2021, a $339.2 million wider loss versus Q2 2020, was driven by lower other income.
Adjusted EBITDA: Adjusted EBITDA loss was $85.7 million in Q2 2021, compared to a loss of $150.4 million in Q2 2020 driven by higher revenue and lower operating expenses.
Cash Position: Cash and Short-term Investments amounted to $1.722 billion at September 30, 2020, representing a decrease of $254 million from $1.976 billion at March 31, 2020 reflecting the EBITDA loss and capital investments.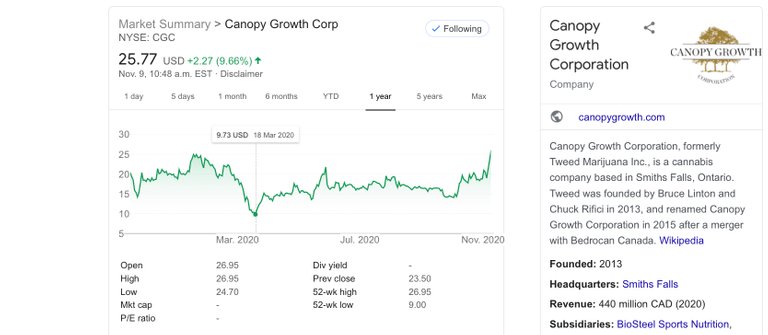 Anyone still invested in these Giant Government Sanctioned Cannabis Grow ops ?
Posted Using LeoFinance Beta
---
---