Thailand's Cannabis Bonanza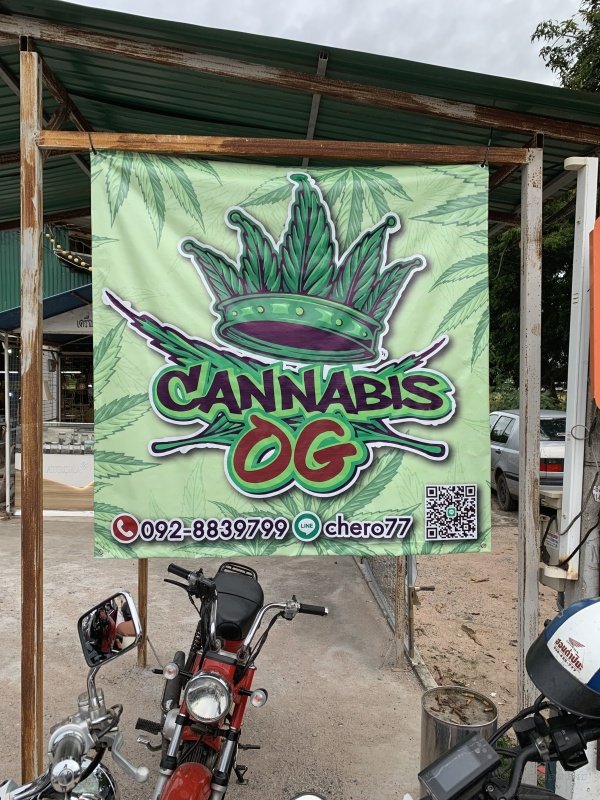 Cannabis vendors promote their goods in the open, Thailand
---
Thailand - Overnight Marijuana Happy-land
---
On the 9th July 2022 Thailand passed legislation to completely decriminalize cannabis (Marijuana, and in particular including the psychoactive versions containing 'THC', which produces the 'high'). Along with it, regulations have been quite relaxed to begin. As a result, a cornucopia of outlets selling related products has proliferated. This is a collection of recent such outlets around the Pattaya and Sattahip area of Chonburi province, however from looking around online it seems the picture is the same regardless of where you are in the Kingdom.
So, here's a look around, just what I saw, doesn't mean I participated! Hahahaha
---
Policy open to interpretation
The law states about extracts not having more than 0.2% THC strength. However this does not seem to have affected sales of the raw flowers by licensed dispensaries up and down the land. New regulations could appear anytime, however for now it seems that many cannapreneurs are making the most of the current ease of doing business.
---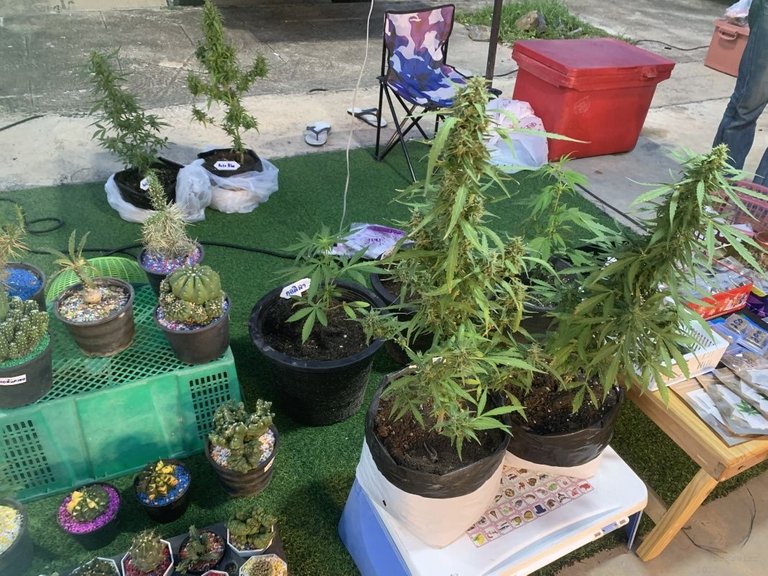 Popping to the market for food, you can now pick up some plants at the same time.
---
Exodus in the Jails, New Business For Farmers
---
Relaxing the law has meant freedom for thousands of prisoners on minor possession counts, have now been pardoned and released. A welcome reprieve and one the government thought beneficial for helping solve the over-crowding situation in many facilities which has been so bad that international rights organizations will also praise Thailand for this action. Of course there are many other advantages, this being a unique one in Thailand's case.
Another incentive is that Farmers all over the land have been told they're free to grow it as the cash crop Thailand has been looking for. Like a lot of places in the world, intensive farming and previous cash-crops like sugarcane, beets and more have drained soil of nutrients and fertility. Marijuana is an ideal soil-rejuvenating crop. (research required, but apparently way back when - Thomas Jefferson knew continued cycle of hemp production 'reinvigorated' soils post tobacco and cotton growing).
The list goes on. There's plenty more online about the medicinal and recreational benefits, plus the disadvantages of dependency (yet is only psychological in the case of d'herbs). Let's go take a look on the ground, with the snaps taken in the past few short short weeks ...
---
On the Street
Local Market
Kicking off with a honking great sack of (low-grade, natural) grass. Good for cooking and oil extractions. You could add it to a plethora of Thai curries as an extra. Good as a tobacco substitute - it's cheaper and (arguably) a lot safer. And it will give you some buzz. Half a kilo for a little over $100. Just don't try to fly it home in your suitcase!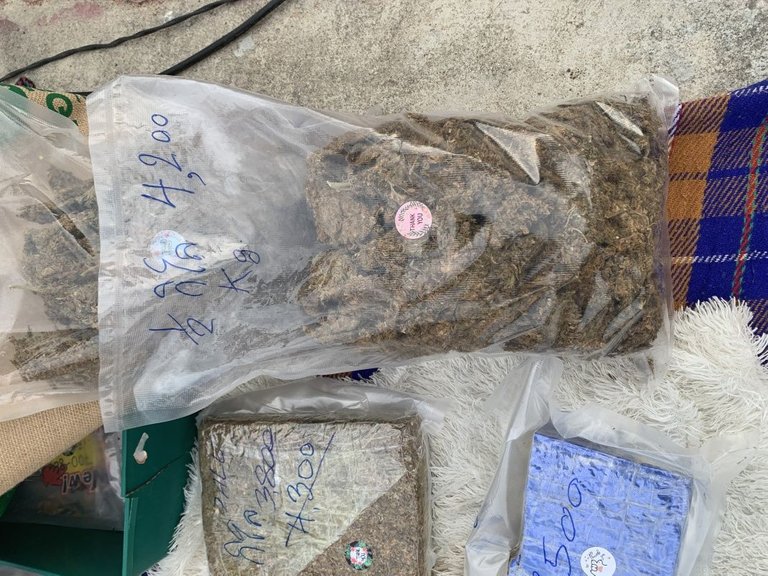 ---
Policy Can Confuse
It's ok to visit the establishments and partake behind the closed doors. Yet don't go around smoking it in public, you can't just blaze up on the beach or Khao Sarn Road. Although quite a few establishments appear to flaunt this guideline with joints on the menu for open air smoking!
---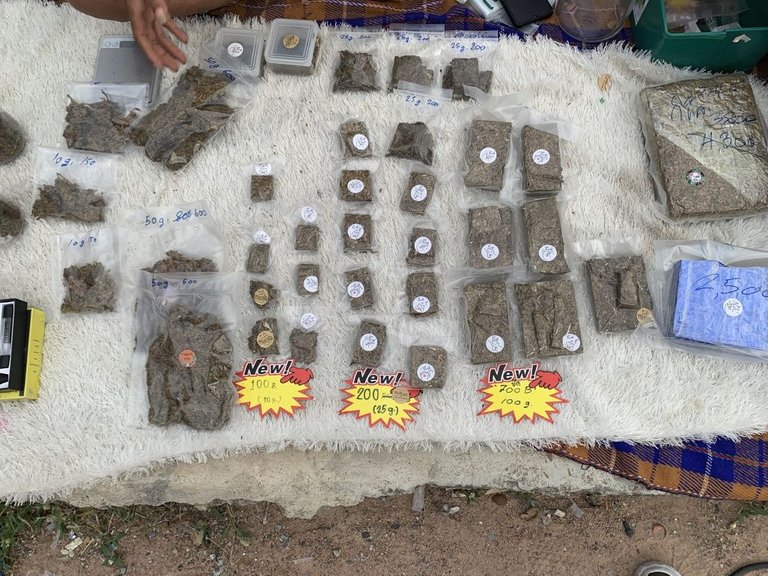 Market stall in Jomtien, Thailand where you can pick from many shapes and sizes of the cheapest weed available, the good old 'Thai bush' AKA 'Green crack'.
---
What is seemingly going on unbothered though, are a proliferation of Amsterdam style outlets - a couple pictured in this post. You can sit down, pick from a menu, roll yourself or have them rolled up for you - even borrow a (freshly sanitized) bong. Sit right there and get blasted, no problem 'on premises'.
---
Not for Tourists?
---
Thailand's health minister and other government officials have stated that the law is for the promotion of medical research on the whole, and not to create a new tourist boom. However, it does appear on the ground that those in the Hospitality - restaurants, cafe, bar biz are carrying on as if everything is now not illegal (which in essence, this is the case). Rules could change, especially if social issues arise yet let's hope the good herb proves itself well - in giving people this freedom, they'll be less inclined to obtain more illicit substances.
Despite all this, many are still calling it Thailand's new tourist boom. It's certainly a boom market, but the sheer quantity of outlets makes one wonder how so much competition will impact the market. Time will tell how the natural selection will play out.
---
Here's what you can expect to see. The cafe along with our purchase provided equipment and papers for rolling. Drinks and snacks also available, otherwise just a cafe! That you can openly smoke weed at ... :)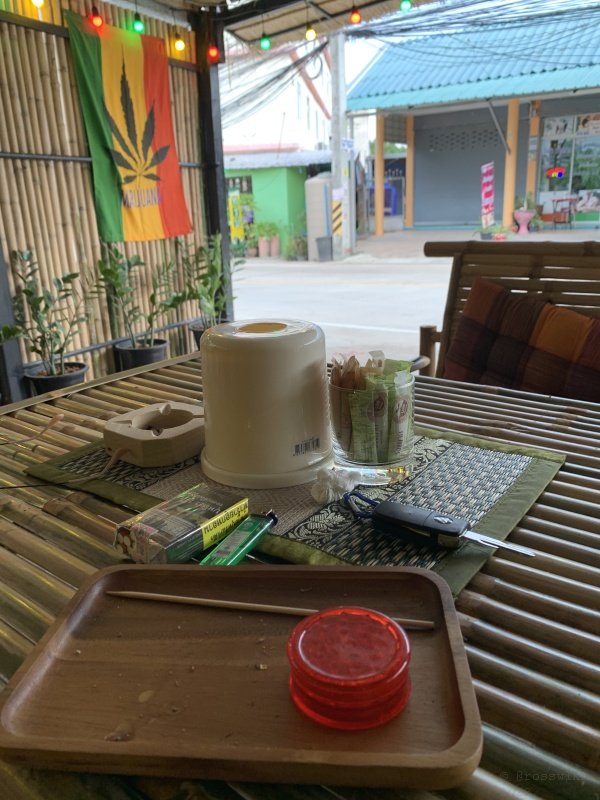 ---
Example of an 'explainer' at a street-side cannabis infused tea stand. Put this through Google lens for some utterly hilarious translations ...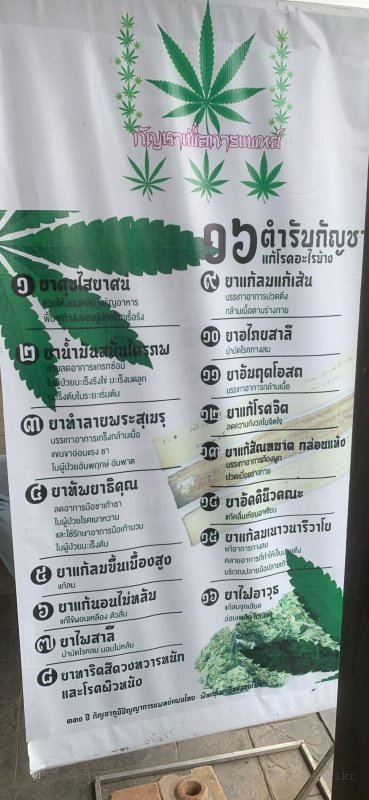 ---
Close Up
For about $12 USD you can get 1 gram of 'Cali' grade, strong cannabis in flower form like this. There are many variety and this one is frosted in crystals.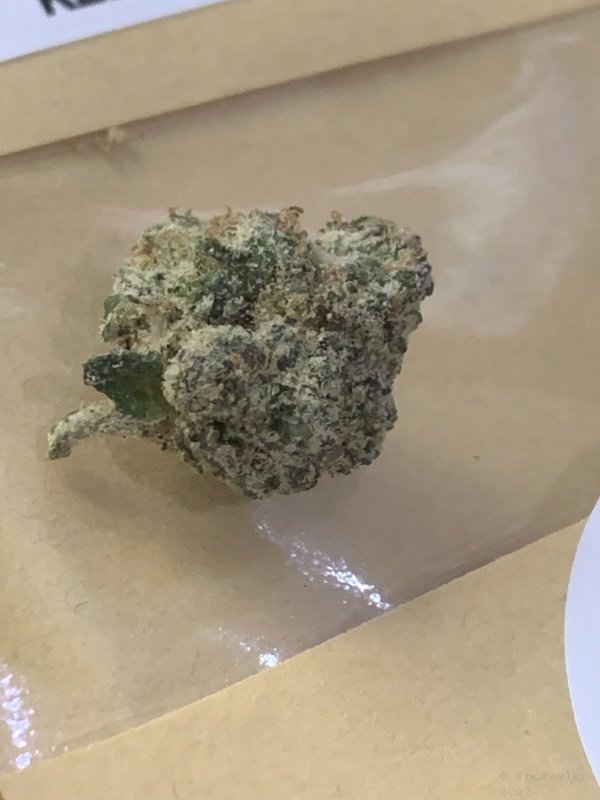 ---
Dispensaries have gone all out with branding and social media presence (LINE is a hugely popular social messenger app in SEAsia).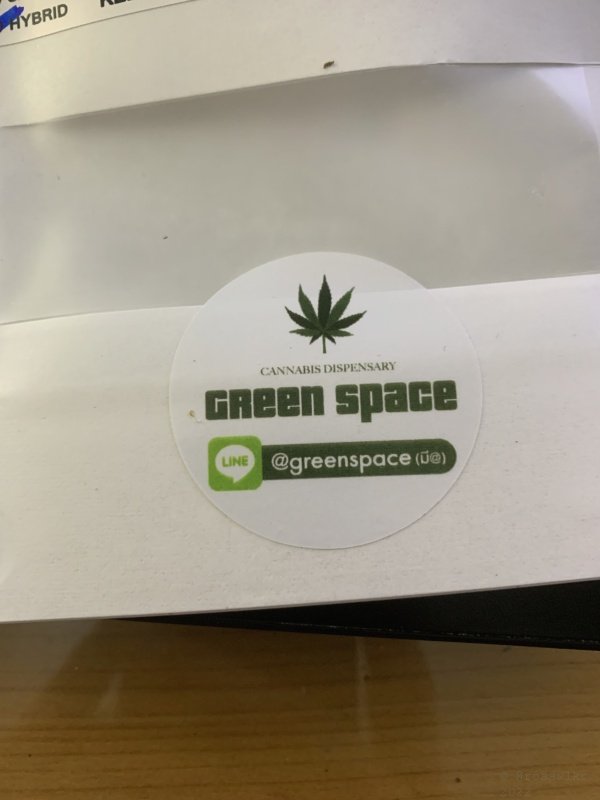 ---
Pre-packed amounts of Thai 'brick weed' being sold off at super-cheap prices in the market. It's not the high grade stuff, but it does still have around 8-10% THC levels.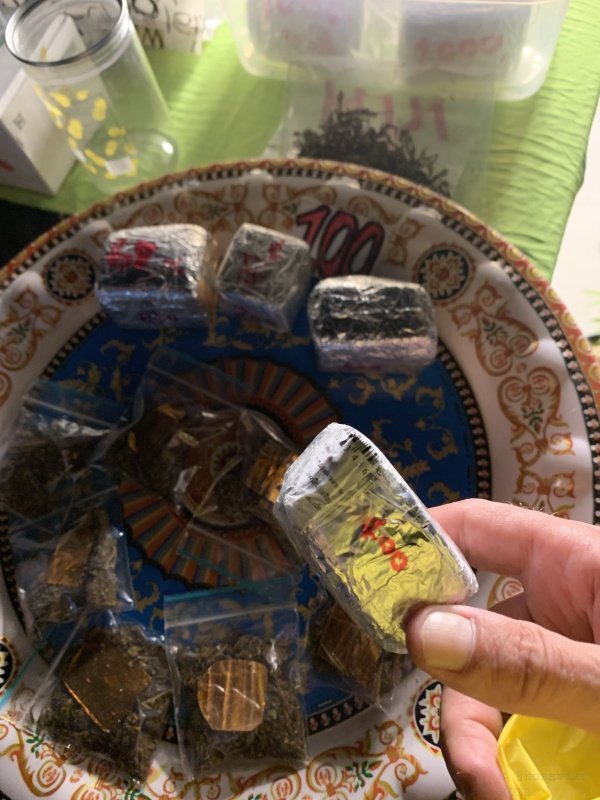 ---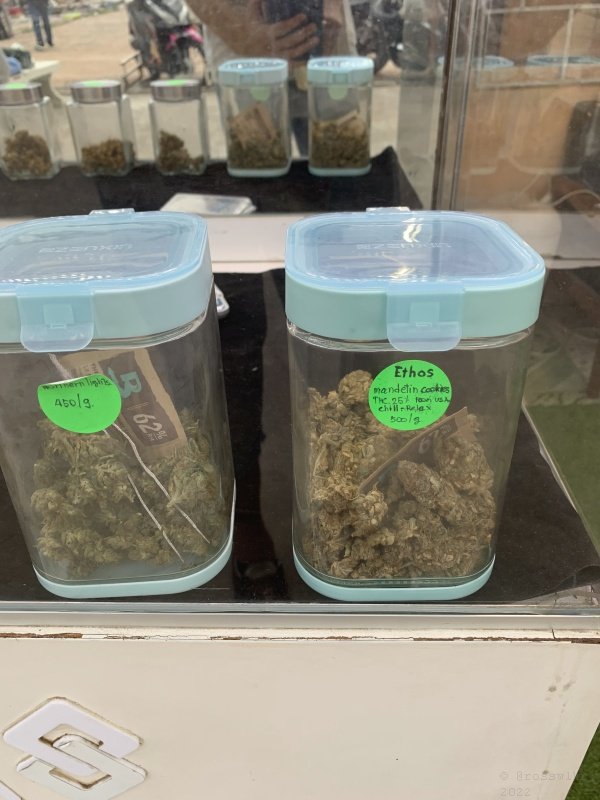 Strains of higher grade (and price) are kept on counter-top displays.
---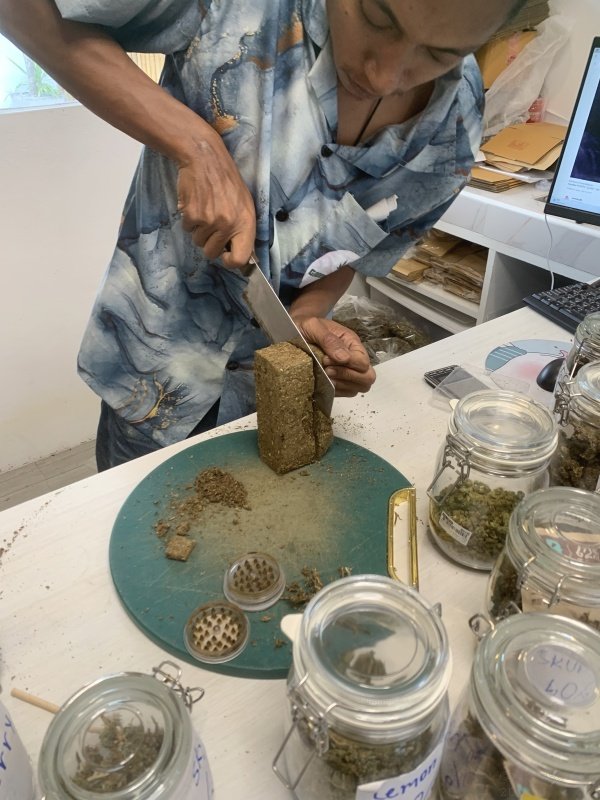 Alongside jars of high-grade, the owner of GreenSpace cafes lops a brick of Thai weed into smaller blocks. Always fun to see.
---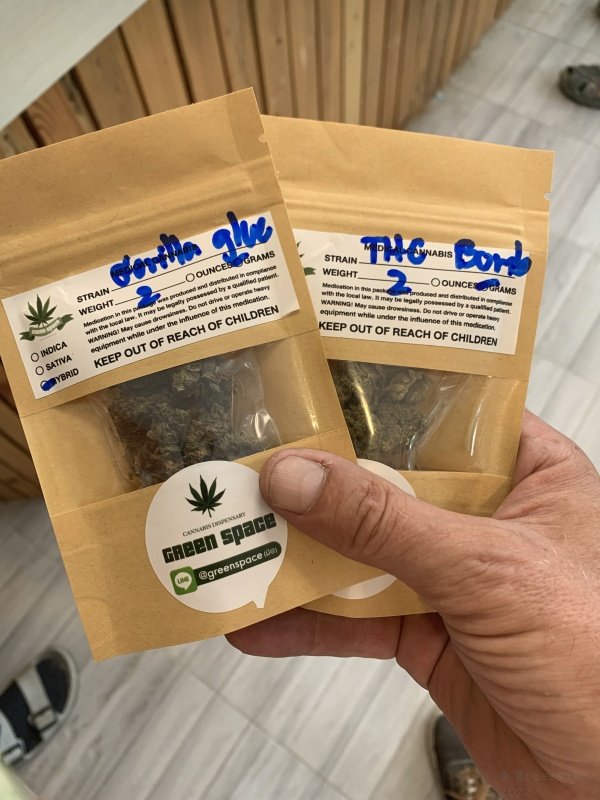 When purchasing small quantities of this high end stuff, the packaging is very professional.
---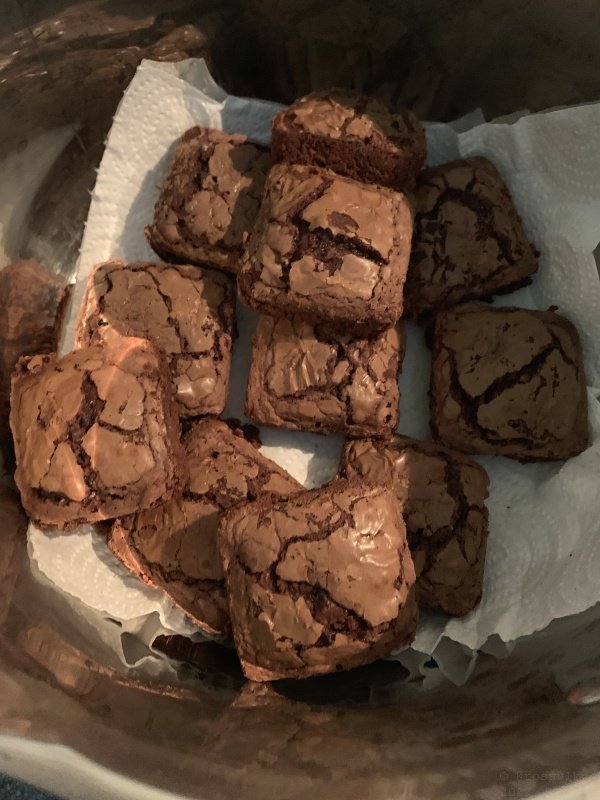 Then we went home to make brownies ... there is a full process to this including decarboxalation followed by infusing to the butter. Then bake as usual ... bake to baked :)
---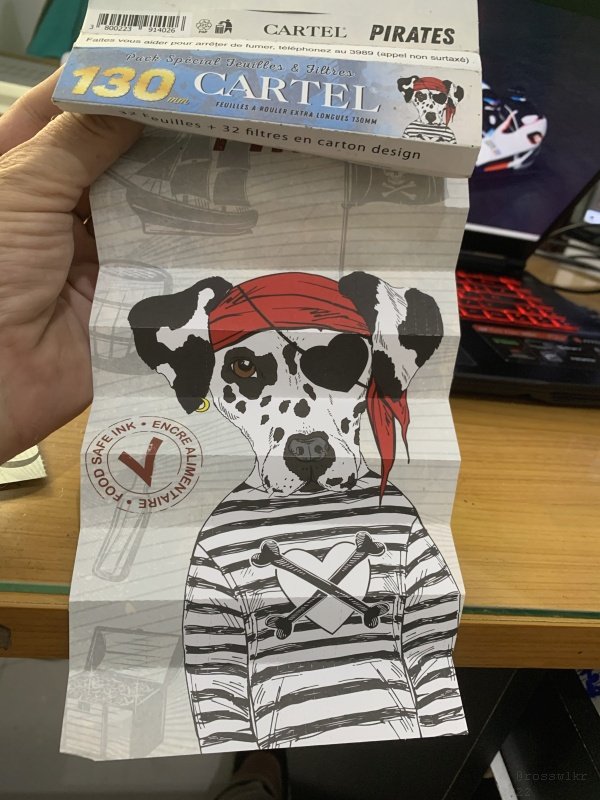 One of the most innovative and nicest sets of papers you can find - 'CARTEL' from France. They have different cartoons each time, and the number of tear-off 'roach strips' let you know (in theory) how many leaves you have left.
---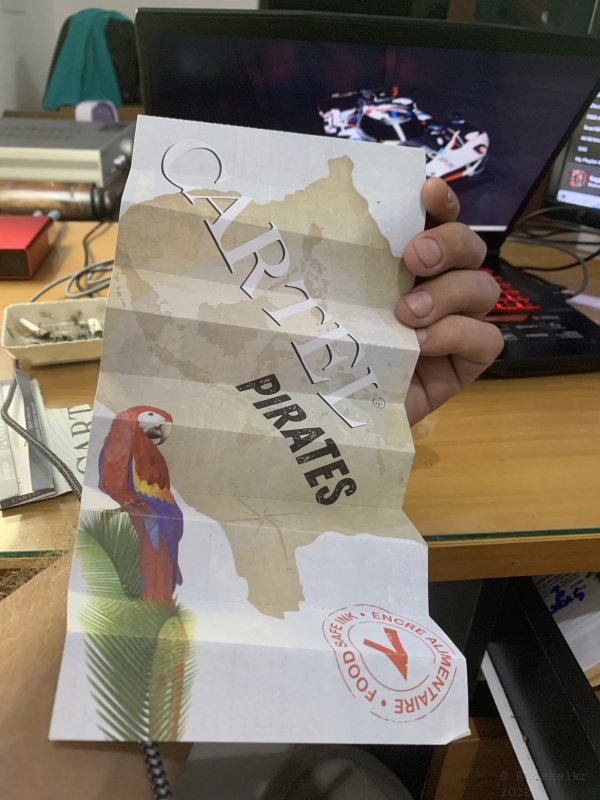 CARTEL 'Pirates' limited edition! Food safe ink ...
---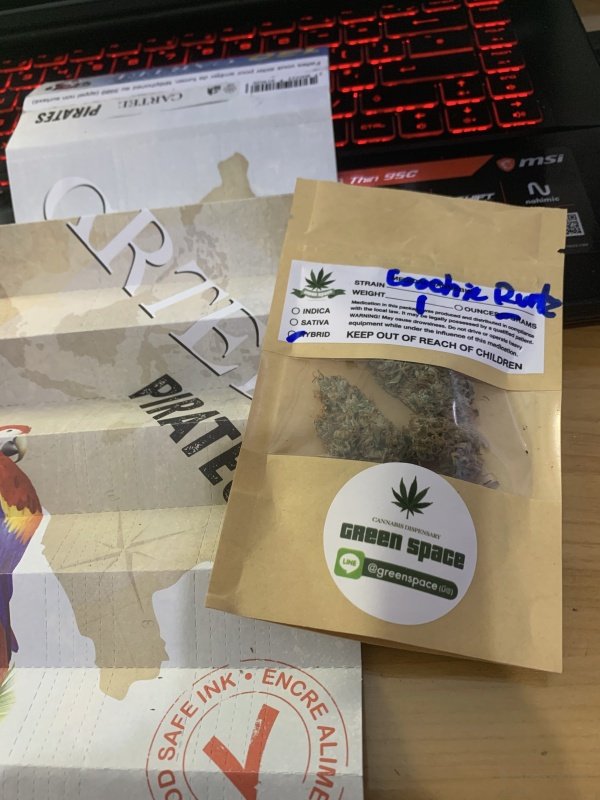 Pirates, Coochie Runtz ... it must be our afternoon off because there ain't going to be much blogging after one of these ...
---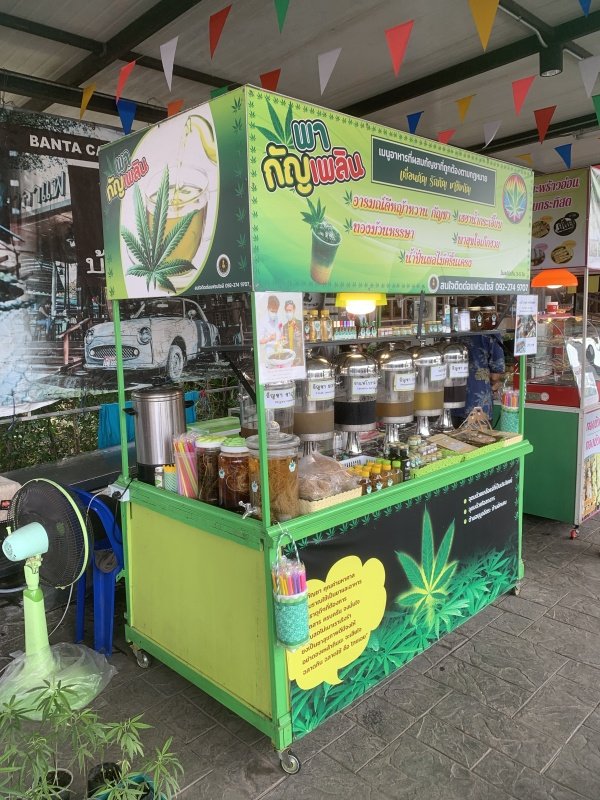 Welcome to Lava Java, Sattahip. This one is off the tourist map, and has a lot of good strains and a lot of turnover as it is situated in a very popular (local) nightlife zone.
---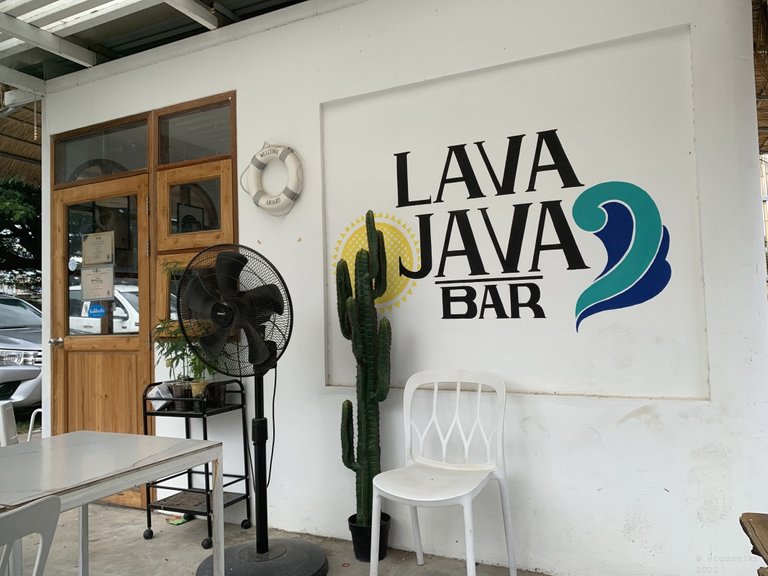 If you request, you can look up each available product in their notebook.
---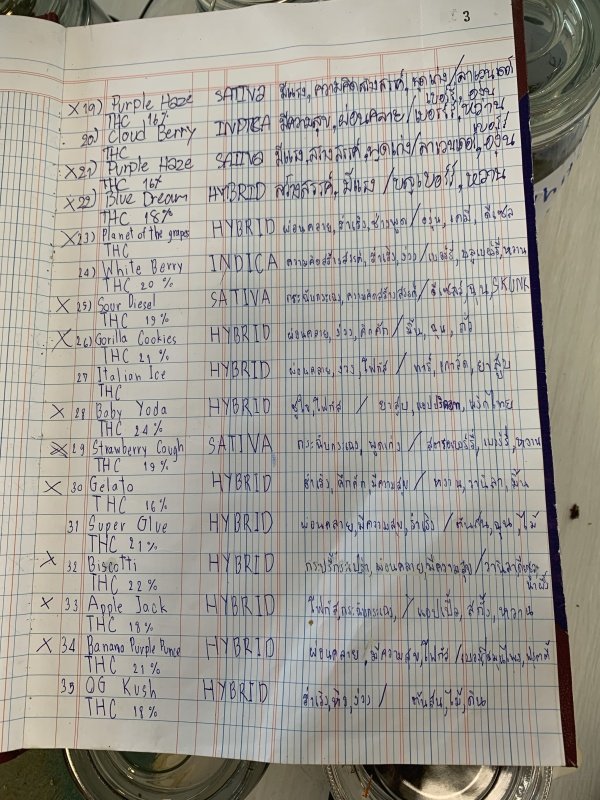 ---
THANKS FOR READING, DO VISIT!
Another location in Jomtien, this time run by some people I recently met who have become friends. They play live music, serve cold drinks, have cool motorbikes for sale and rent. They also if you can't already tell by the gigantic sign, and green color scheme, also have a MJ license.
---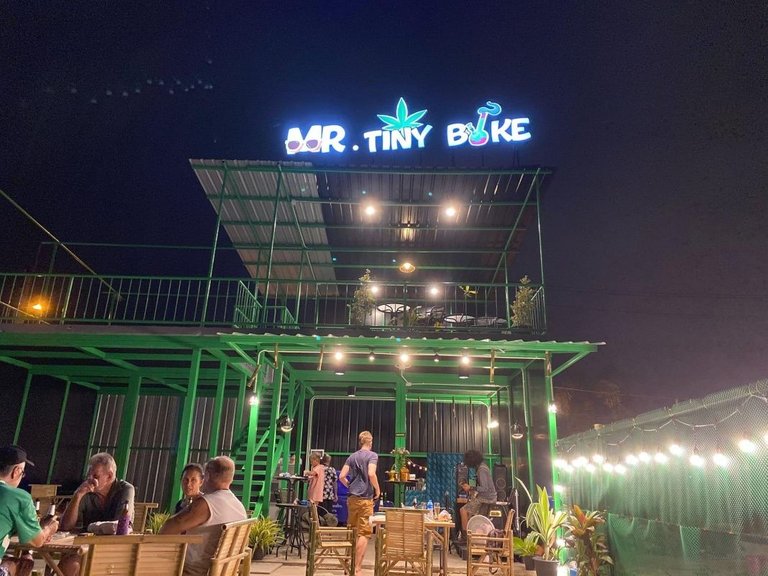 Check out Tiny Bike if in Jomtien! Recommended : )
---
---
---