Thailand Cannabis Dispensary - It's all legal now! (Part 1)
Follow @NewtonClassics to catch part 2 tomorrow, with 12 more amazing strains!
---
Thailand's New Cash Crop
Following the decriminalisation of cannabis in Thailand on 9 June, 2022 the market has exploded, seemingly from nowhere. Just as soon as the laws were past, some dispensaries were totally ahead of the game, organized, and some even open the very same day! Since then, hundreds have popped up in all over the country in the major cities and (especially) tourist zones of Thailand. Here where I am, in Pattaya city and the greater area there are now 220 licenses issued to vendors, man, that's a lot!
Today's strains are all from my favorite shop, a little way out of town. Online delivery available! (DM for details, Thailand only, via registered post).
---
Local Shop vs Tourist Shop
All of today's shots are courtesy of my local dispensary, located down in the next town of Sattahip. Actually quite far from tourists, and in an area they have very little overheads - First they opened at the front of thier own existing bar/restaurant creating themselves a huge new line of income. They offer the product at an unbeatable price compared to 'downtown', and cater 99% to the local Thai market as opposed to tourists/expats. They've had so much success that they now have 2 more shops opening up! For some locals that have got into this business early, they have made a lot of money. Some dispensaries said in the first couple of months, they were shifting 1 million THB of weed every week ... (wow, that's a lot!). This has settled down a little bit with the opening of so much competition. It seems to be almost as easy to get a pre-roll joint a bag of nugs now as it is a pack of cigs a beer or a coffee. Or all 3 in the same place!
I digress. Let's have a look at some of the awsome options available - with prices and descriptions I've put together following my own sampling of the products.
---
Expect to pay a little bit more
All of the products shown here are what I would call excellent value for money. I can find the same strains down in the tourist area shops, selling for hundreds of baht more per gram. Just take note that you will more likely find these strains costing 100-200 THB or more than shown here if you are in tourist locations. However, who is complaining, it's legal afterall. Unless the government makes some odd new regulations, things are good for now. One does also wonder with so many vendors out there, if competition will squeeze the prices further down.
---
FYI THB / USD rates 21 Nov '22
approx.
300 THB = $8.35
350 THB = $9.60
400 THB = $11.00
500 THB = $13.70
---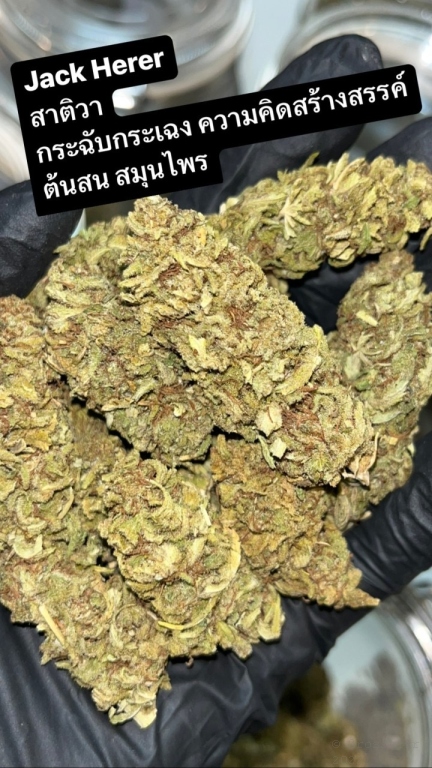 Price/g: 250 THB
Effect: Energetic, Talkative, Funny
THC content: 18%
Indica/Sativa/Hybrid: Sativa
The famous Jack Herer strain. This is a 'B' grade, locally produced. The price is lower making it an economical yet flavorful choice. Also ideal for mixing with top shelf expensive strains (if you aren't a purest, and just wanna get stoned).
---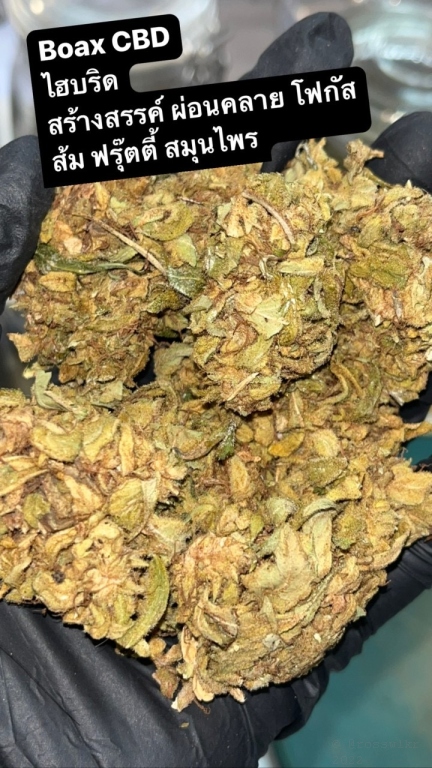 Price/g: 120 THB
Effect: calm anxiety, nerves, reduce stress, without getting high
THC content: -
Indica/Sativa/Hybrid: CBD, medicinal only
Boax is a pure CDB strain that won't make you fly. It's suitable for smoking, or making extracts and cooking with. All the flavor, health benefits, without the high. Good for concentration, stress, and a great helper to reduce cravings for other addictions such as alcohol or hard drugs, whilst remaining "straight as an arrow".
---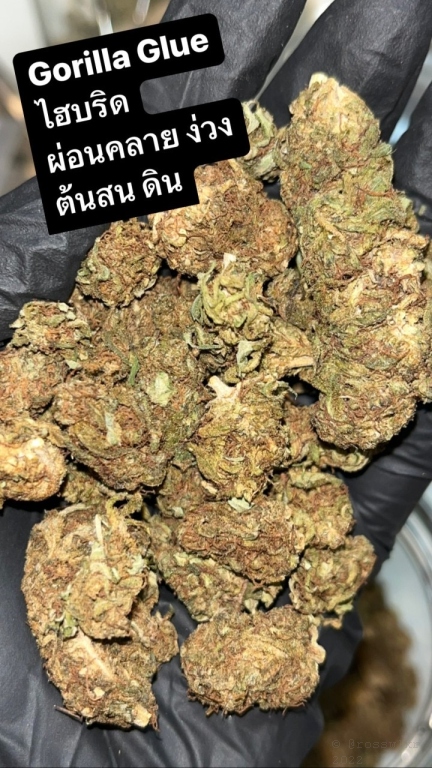 Price/g: 170 THB
Effect: Relaxing, sleepy
THC content: 18% - 20%
Indica/Sativa/Hybrid: Hybrid
Gorilla Glue is a world famous strain grown locally. Great value for money, this hybrid also known as GG4 or Gorilla Glue #4, or 'Original Gorilla Glue'. Euphoric and deep high. Smoke one more, and you will be 'glued' to the spot ...
---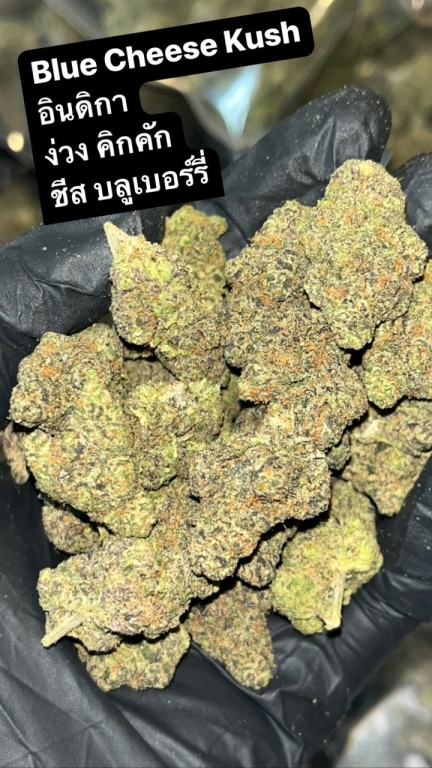 Price/g: 450
Effect: Relaxing, meditating, giggly, thoughtful
THC content: 18%
Indica/Sativa/Hybrid: Indica
Blue Cheese Kush will induce you into sweet dreams, a heavy handed relaxing strain that is related to the original UK 'Cheese' skunk. High quality variety with lots of shiny crystals, and excellent aromas this one is sure to please the most diehard fans.
---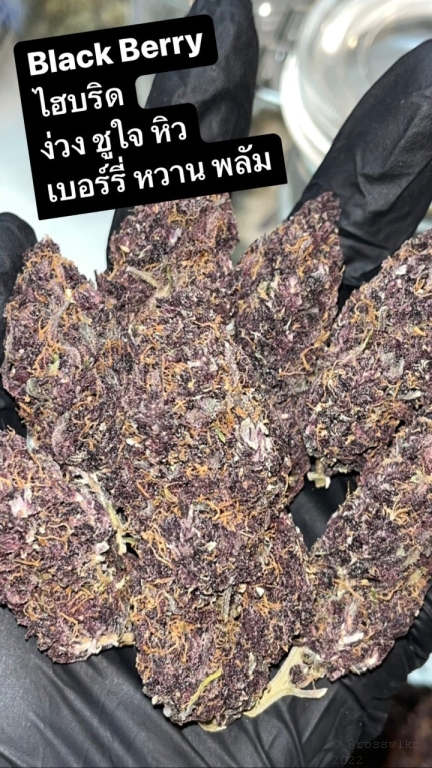 Price/g: 400
Effect: Well buzzed, yet very relaxing high
THC content: 18%
Indica/Sativa/Hybrid: Hybrid
Blackberry is an interestingly colorful strain with lots of purple going on. Great value, berry and fruity flavors. Those colors being a good indication of deep terpenes and a wonderously stoned high coming right your way. For growers, this is great indoors and can produce flowering in as little as 9 weeks.
---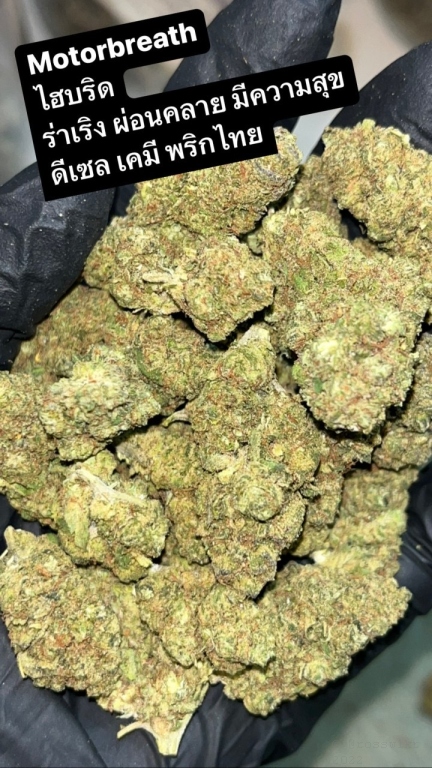 Price/g: 350
Effect:
THC content:
Indica/Sativa/Hybrid:
Motorbreath, with a name like that you would expect something a little out there, and this sure is! This hybrid packs up to a 25% level of THC, of which you don't get much stronger without spending a lot more. Euphoric, giggly highs which will make you feel like you're floating 2 feet off the ground.
---
That's it ... for now!
Tomorrow we'll introduce another 10 or 11 strains to the menu from here in Chonburi Thailand. Thank you very much for enjoying this post! If you'd like to know any more about the cannabis in Thailand, just ask.
Toodle-loo! And a happy 420 to you :)
Posted using WeedCash Network
---
---