Healthy Food as Medicine: We support #foodasmedicine #fruitsandveggiesmonday tags on Steem!

We're big believers in healthy eating at @naturalmedicine. What you put into your bodies MATTERS. We recognise that different folks need different foods to function at their optimum or to prevent flair ups of illness or even to manage their weight, and acknowledge that meat is also a natural medicine for some folk too (we're talking to you, @nateonsteemit), but without fruit and vegetables, our systems suffer.
#fruitsandveggiesmonday has been going for a long time on Steemit and we LOVE checking out this tag, drooling over the posts written by @lizelle, @lenasveganliving, @plantstoplanks or @birdsinparadise, amongst others. @buckaroo's post on avocado chocolate cake had us dreaming this week too! So if you're not posting a #mindfulmonday post (hey, maybe you're posting it on a Tuesday under #mindfullife, which is awesome too!) or can't manage a #naturalmedicine post this week, why don't you try submitting a recipe of healthy eats? We'll upvote and resteem the best ones, especially if there's a little glimmer of #naturalmedicine wisdom in there too. And if you can't post on a Monday, try #foodasmedicine #naturalmedicine any other time!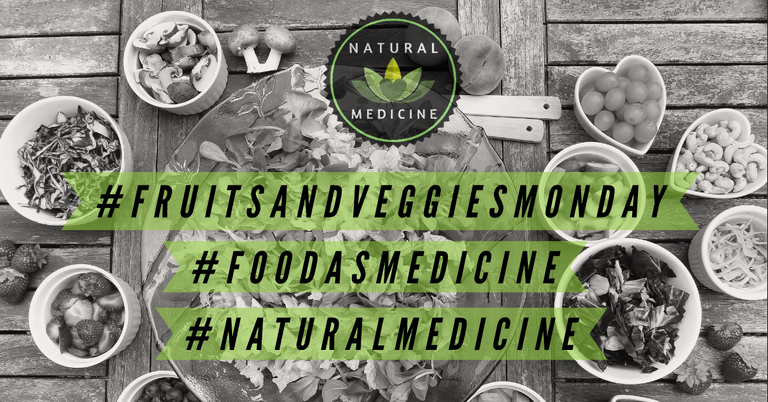 Not ONLY that, but it's run by @vegansofsteemit who offer prizes for:
Healthiest Recipe
Best Presentation
Best Photography
Most Creative Recipe
Best Vegan Dessert
Best Traditional Veganized Recipe
Most Entertaining Entry
Most Educational Entry
Most Mouthwatering Entry
Most Beautiful Fruits & Veggies
Hey, they should add most medicinal recipe to that, what do you think?
Check out their post here.
If you'd like to know how to write a great #fruitsandveggiesmonday post, check out this cheat sheet written by @plantstoplanks, which gives you a wonderful run down on what makes something really curatable.
Oh, and if you have a great recipe book to share, acknowledging it's place in your natural healing journey, why not enter the @naturalmedicine Book Challenge, open until August 12th? Post about a book that has had an influence on your understanding of natural medicine, from meditation to yoga, healthy diets to permaculture, herbalism to crystals, reiki to alchemy - the sky's the limit! There's 40 Steem in prizes to be one, so best get on it! Check out the pinned post in the @naturalmedicine feed for more details.

We need YOU! Please consider delegating to help keep this collective going. The minimum entry for membership is 50SP (free for members under 150SP), and helps give YOU upvotes, contests, meditation sessions, an awesome discord support group, and so much more!
---
---