Free Cannabis plants? Come to Thailand!
It's a big day in Thailand on Thursday. An historic day some might say as Thailand decriminalises Hemp and Cannabis, allowing it be grown and consumed by anyone for medicinal and therapeutic purposes.
Now there are one or two sketchy and rather ambiguous rules surrounding this and it looks very much like many 'finer' points of law have not yet been hammered out but the basic rules from which I can ascertain are that you can't smoke it in public and all plants grown must have a THC content of less than 0.2%.
I'm not actually sure how that compares to the stuff people like @derangedvisions grows so hopefully he will drop by the comments and give me a little detail.
If you're a grower, you must also register at the government's website to let them know why you're growing it but this is absolutely NOT a license of any kind, simply a collation of growers and registration. The only time a license will be needed is if you're going to grow it for commercial use.
This isn't the best part though. To celebrate this landmark event, the government have been growing their own stash to giveaway to anyone who wants a plant them selves. Over 1 million plants according to government sources and the first of these will be given away at an event in Buri Ram starting on Thursday. Get yourselves down to the Buri Ram International motor racing circuit if you want one. Whether you can practise your riding and driving whilst off your head on the track, the official announcement didn't say!
The funny thing about this news is that it doesn't seem to be making many waves on the world stage, or even the chatter rooms of Thai social media, unlike the Thai expat forums where there is talk of little else. If were being cynical, although I think it's a brilliant and forward thinking piece of legislation, I'd also worry that it was nothing more than a populous piece of legislation, aiming to bring the younger generation of protesters to heel in cloud of mood calming smoke.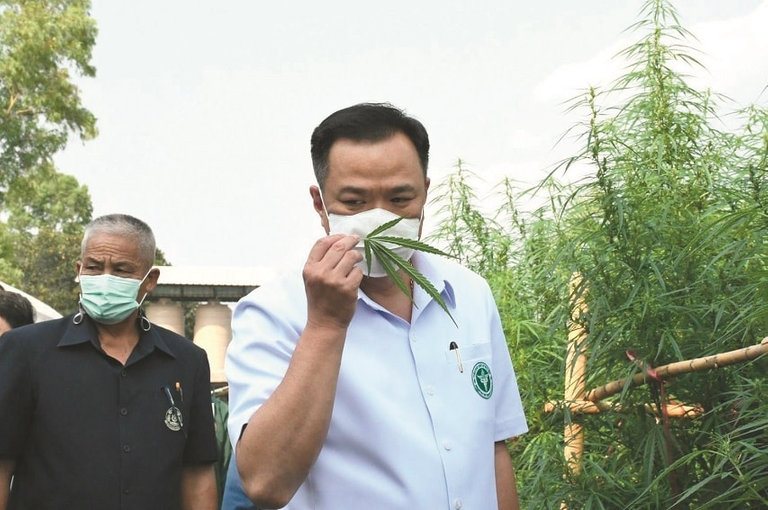 Anutin Charnvirakul checking his stash! source
The policy has been driven through by a politician named Anutin Charnvirakul, the head of the public health department whose general reputation is one of laughing stock after his handling of Covid which although in my opinion he did rather well but was only remembered for racist tweets blaming 'fucking westerners' and 'dirty ferang' for spreading Covid in Thailand.
Then there was this piece of top quality international relations diplomacy...
"It's wintertime now in Europe, and given the coronavirus outbreak, many Europeans fled the cold to Thailand. They wear dirty clothes and never shower. We, as hosts, have to be careful. Even they don't want to mingle with each other, they've closed their borders against each other."
All these tweets are now deleted but I can't help admiring him for speaking his mind and not giving a damn. I wasn't too impressed however when I was stopped from eating at certain restaurants simply from being a non-Thai!
His gaffs cause him to delete Twitter and Facebook accounts on an almost weekly basis!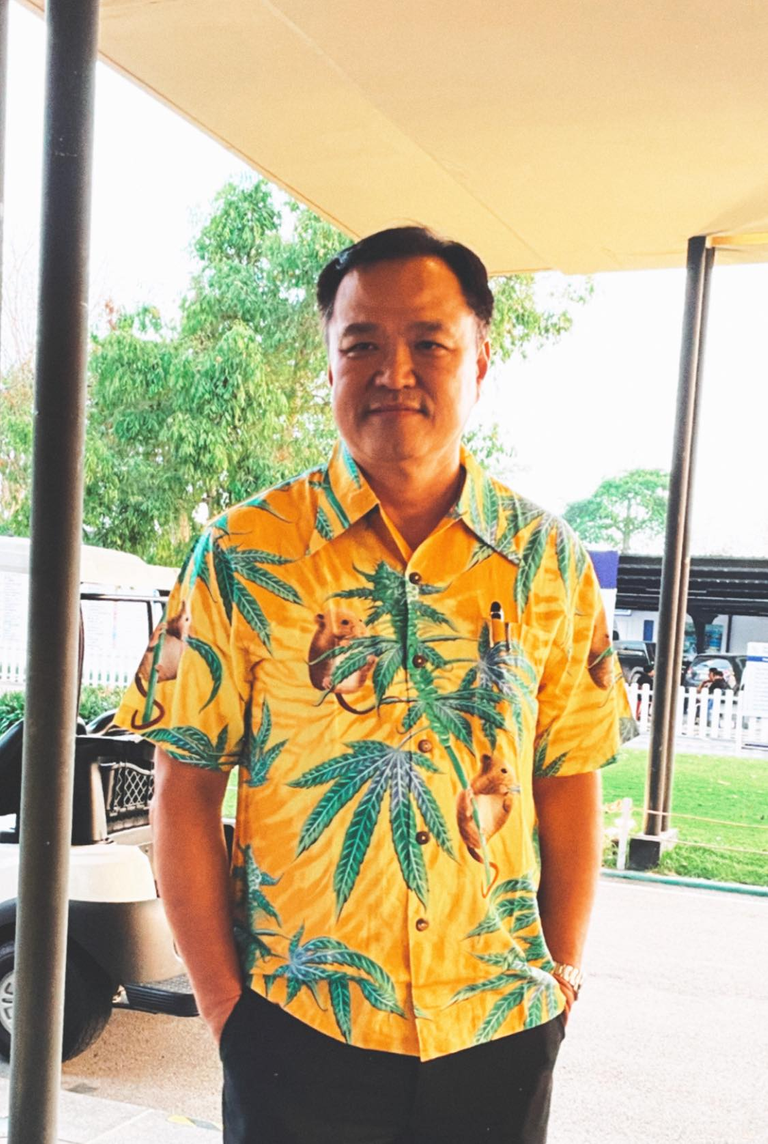 The man himself wearing his favourite shirt and taken from his latest facebook page
The reason for this decriminalisation though is economic. The Thai economy has been hit hard by the missing tourists for the past couple of years and this is certainly a way of drawing them back but the main benefit is to develop a whole new industry based upon cannabis infused products to sell on both the home and export markets. The new rules are only applicable to Thai grown weed, this is certainly not carte blanche for the hoards of backpackers to bring their own and even foreign owned businesses will not be allowed to join in the manufacturing goldrush.
Another side issue, but quite big benefit to all this is that anyone currently convicted of offences relating to cannabis and serving a jail term will be released. Four thousand people in total according to the Bangkok post! That's a saving for the government corrections department.
So while the news is being generally well received, cautions are being issued by other government departments with the Department for Land Transport desperately issuing warnings about consumption and driving and the Department for Health wanting some formal guidelines issuing for its recreational use.
My own fear is that police will use the confusing law to still earn themselves a bit of 'tea money' from frightened users who don't understand the full and rather complex details of the deregulation and since I started writing this post, I notice that 'buds', 'flowers' and 'seeds' are not being decriminalised but I'm not sure how that's going to work or even be enforcable.
Overall, happy news I guess and it will be interesting to follow things in practical terms when the new law comes into play on Thursday. Thailand's about to become a whole load more laid back!
---
---