Buds of Wrath Contest - Not so tranquil life at the weed farm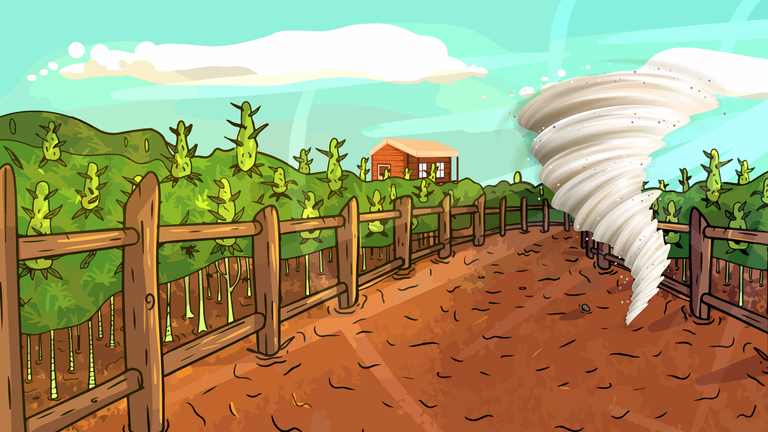 Hello everyone,
I'm having fun entering the contests that @dibblers.dabs is creating for the Scholar and Scribe. This is my entry for the Buds of Wrath Contest. I hope you enjoy it.

When Captain Jainer Strainer decided to move to South America to start her little weed farm, she was just seeking a quiet and tranquil life after living all her life in big cities. She was definitely not expecting to find any strange events triggered by mythical creatures.
It was her second week in the small plot she had bought in the northern region of Brazil and she was feeling quite happy with how the crops of Panama Red were growing. She was just coming back from her morning rounds in the fields when she noticed some tools out of place. She found if very strange since she doesn't normally leave her things lying around. She shrugged it off as she might have just forgotten them outside after a long day under the scorching sun. She picked them up and placed them in the shed before going back to the house to prepare her lunch.
A couple of days later, Jainer was in her kitchen chopping onions to add to her pizza, excited to try the new smoked sausage she bought from a neighbour. The episode of the tools completely forgotten, she put the pizza in the oven and went to the living room to search for something to watch on the tv. She had only started flicking through the channels when a smell of something burnt invaded her senses. It couldn't have been the pizza that she'd just put in the oven 2 minutes ago, but she went to check it anyway. As she entered the kitchen, she gasped at the sight of the smoke coming out of the oven. She rushed to turned it off and as she went to open the door to disperse the smoke she noticed that it was already open. She was both angry by the loss of her dinner and shaken by these strange occurrences. With nothing else to do about either, she ate a sandwich and went to bed.
On the weekend she went to town to get groceries and got to chatting with some locals at the supermarket. She mentioned the strange events in her farm to what this young lady laughing replied "it's just the Saci messing with you". Confused by the strange word, Jainer asked what was Saci. The young lady then gave an even stranger explanation: "Saci Perere is a one legged boy known to play tricks on people. He is always wearing his magic red hat and smoking a pipe. Some of his favourite tricks are to tie a knot in a horse's hair, to hide objects, to burn or ruin food and to cause a wind that blows dirt into people's houses." Shocked by the explanation, Jainer looked in the eyes of each individual to see if they weren't pranking her but they all looked as if they were talking about the most trivial thing. Was she supposed to believe in mythical creatures now? This is insane! She would rather think that she was just scatterbrained than to accept that this kind of folkore was actually real.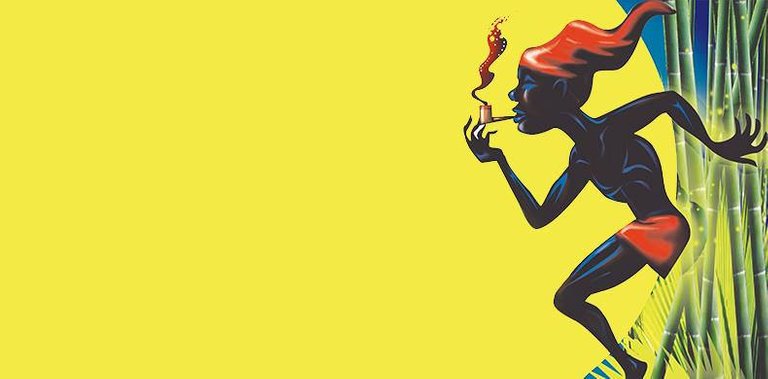 The next morning Jainer woke up excited because it was harvest day. Her crops were looking beautiful and she ran to the fields to start harvesting her first buds. Distracted by the task at hand, she only noticed the small whirlwind approaching when it was a couple of meters from her. She stared at it intrigued and nearly jumped out of her skin as the wind stopped and a strange looking boy in a red hat smoking a pipe appeared. He smiled at her and pointing to the buds asked what it was. It took her a few moments to come out of the shock and process what the creature was asking. Still not sure if she was hallucinating influenced by the locals stories, she started responding to him. She explained what weed was and its effects on people. The creature seemed fascinated by it and asked if he could try it. Resigned to the idea that she was either going crazy or mythical creatures were real, she started breaking down some weed. Lighting up one of her own pipes, she shared the first taste of her Panama Red weed with the famous Saci Perere. She realized then that her life in South America would be anything but tranquil.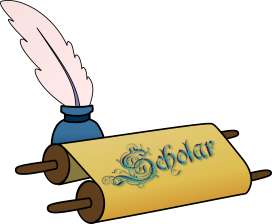 Subscribe to the Scholar and Scribe community


Join the Hive Pizza Discord

Credits
The banner was designed by me using images from Freepik:
Tornado vector created by macrovector - www.freepik.com
House vector created by brgfx - www.freepik.com
And @hashkings
The image of the Saci is from
Wikimedia Commons
The Scholar and Scribe art was created by @trashyomen
The divider and footer were created by me using resources from @hive.pizza and @hashkings
---
---