Pink Apricot bloom & Orange Barb harvest + Pineapple Express & Durban Violette growth
The Pink Apricot clone is a couple weeks away from harvest, the Orange Barb buds were harvested last week. The Pineapple Express has a couple more weeks of veg until bloom, the Durban Violette plant destined for an outdoor greenhouse grow season is bushing out nicely.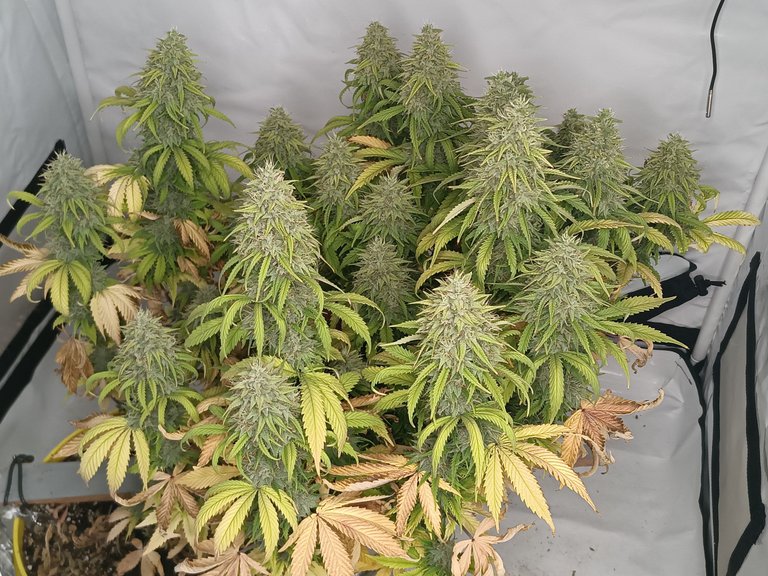 Pink Apricot clone
The Pink Apricot clone is in it's eighth week of bloom time, I'll give her two more weeks until harvest.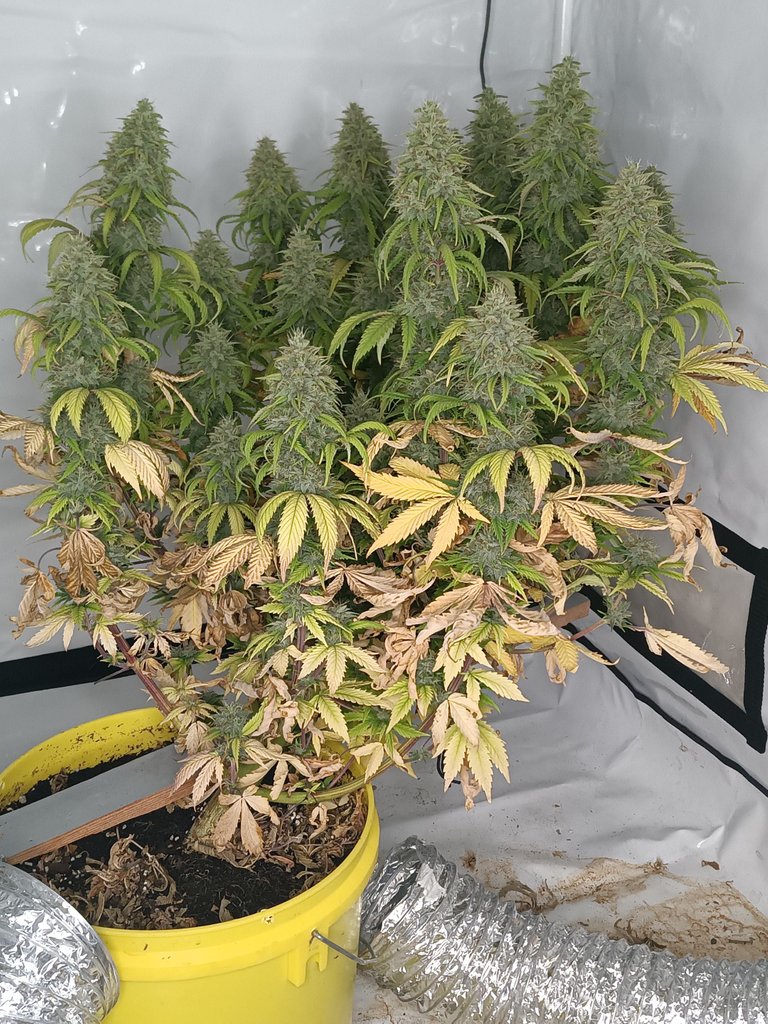 You can see how the early top of the plant tie down training caused the branches to grow upwards together. A short and bushy plant growth with lots of well lit colas.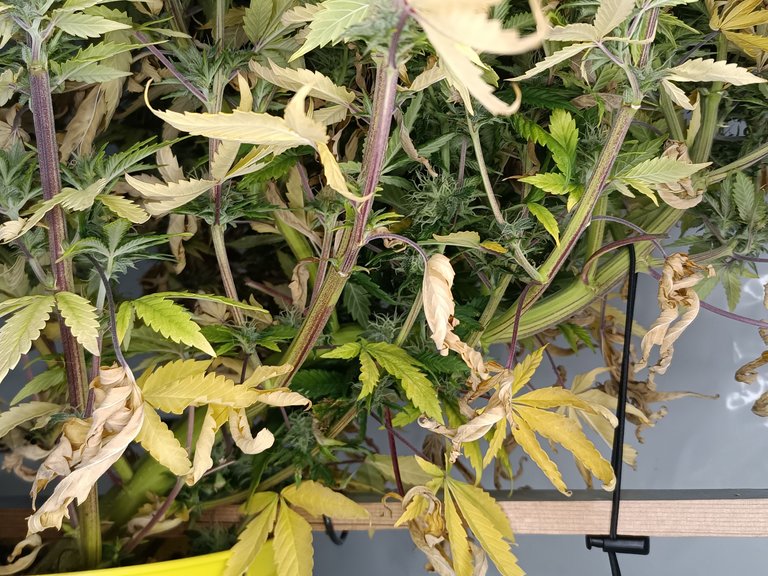 Half of the pistils have dried up and turned a burnt orange color, after a couple more weeks the remaining pistils should be matured.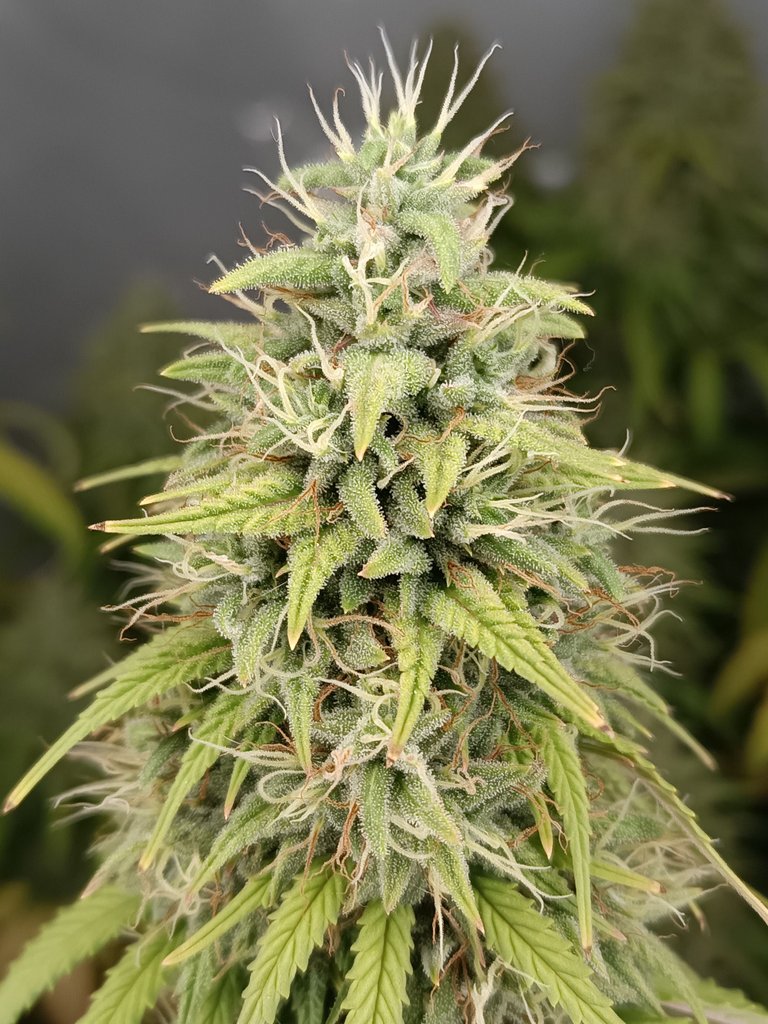 A solid coating of trichomes as these buds continue to get sticky and swell up. I've stopped adding bloom juice, I'm using only pure water until harvest.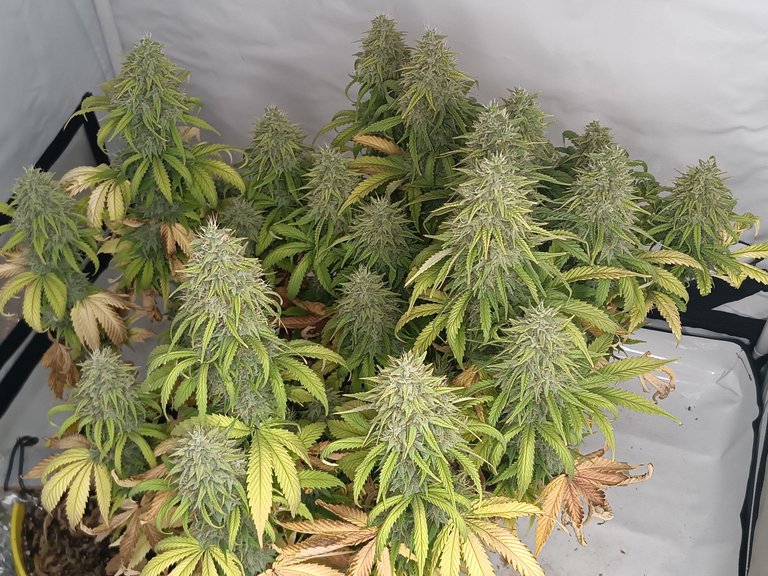 Orange Barb
Orange Barb had six weeks of vegetative growth, and ten and a half weeks of bloom time - she was ready for harvest.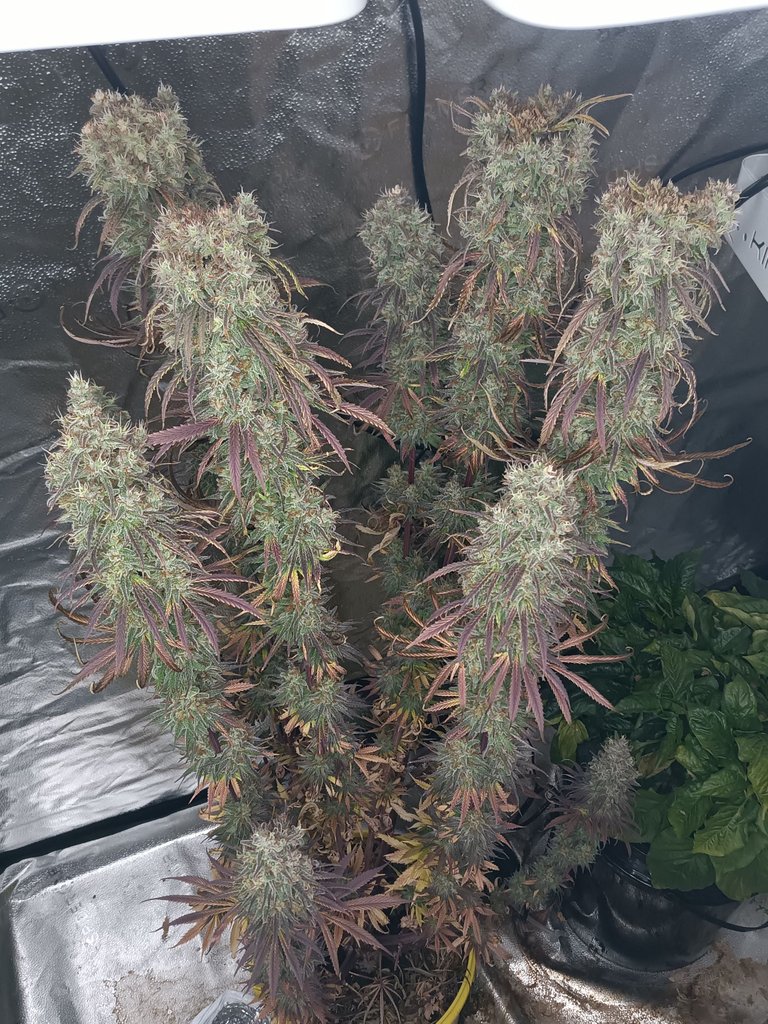 The Orange Barb was a tall cannabis plant, topped once for an even canopy. The branches were vigorous growers, rising quickly, especially bolting upwards during bloom time.
The tops of the two tallest colas grew too close to the lights before I raised them, in the above-right picture you can see one of the tops that had a few pistils and leaves overheat. You can see the light rigged to the tent top bar in the picture below.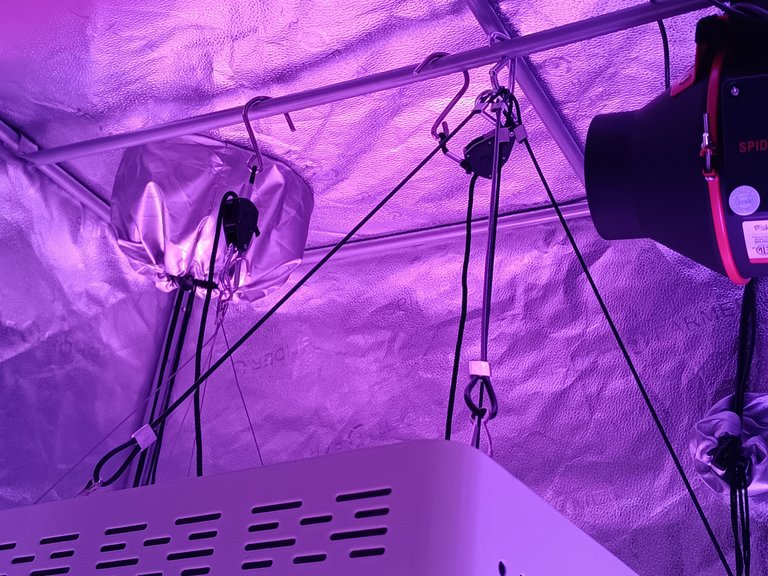 Pretty buds with the trichome shimmering greens and purples - light and dark orange pistils too.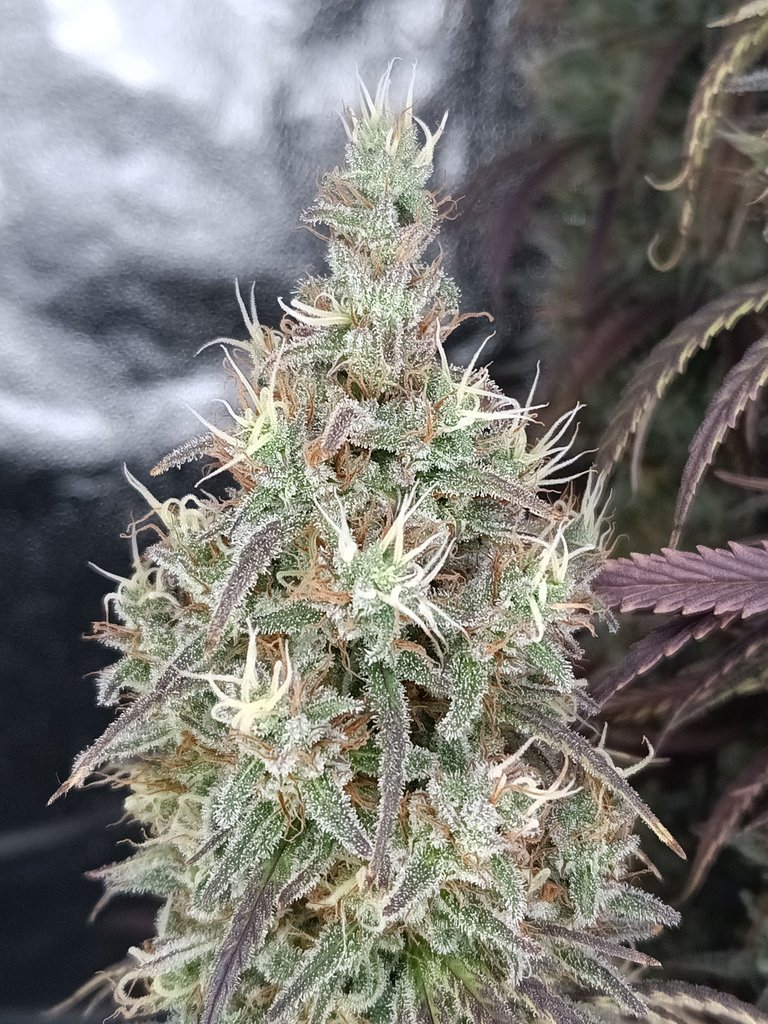 Below on the right is the cola that was pollinated with the Pink Apricot pollen, I'll plant one of it's mystery Orange Barb x Pink Apricot cross bred seeds soon after the harvest is dried and cured.
Orange Barb harvest
After ten and a half weeks of bloom time, the Orange Barb cannabis plant was ready for harvest. I gave the plant a couple more weeks of bloom time recommended, to be sure it fully ripened (filled with resin).
I snipped each stalk and hung them upside down from a coat hanger with copper wire. During this first week of drying I snip off the fan leaves, they are hung in the dark basement bathroom with the exhaust fan running to prevent moisture buildup. After a week of drying I'll snip the buds off the stalks and store them in mason jars for a week for curing. During the week of curing I'll open the jars occasionally for the releasing of moisture aka burping.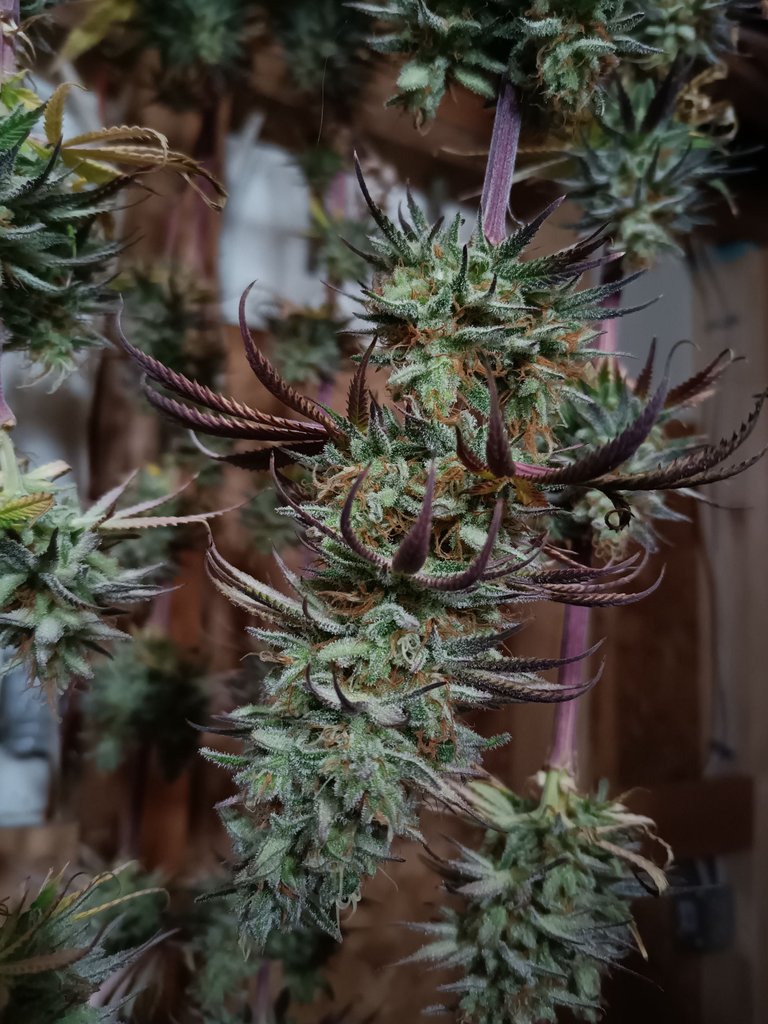 Pineapple Express
This Pineapple Express plant has had five weeks of growth. Some of the leaves are looking a little shabby, it may have dried out a little too much when I was on vacation, and the lights may have been a little too close. You can see how the leaves are drooping downwards too, I gave the plant a good watering and raised the lights to give it some breathing room.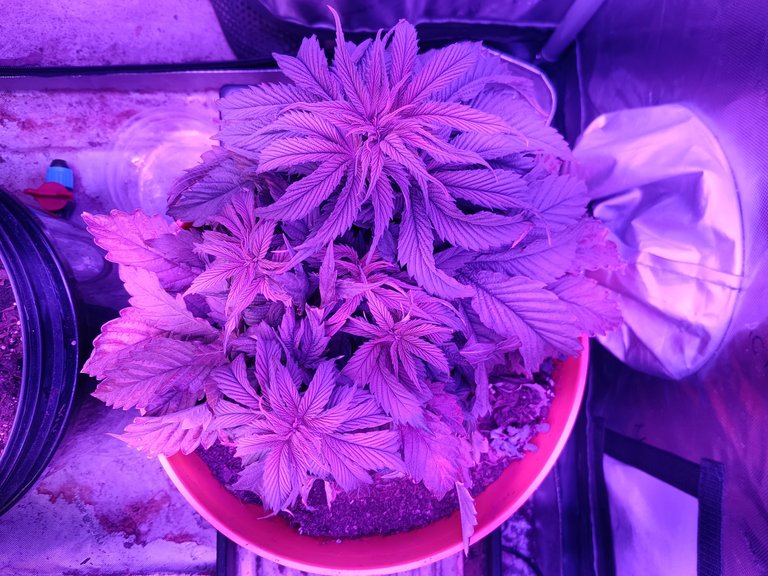 This plant will bounce back soon enough with new growth, I'll be putting her into bloom in a couple weeks.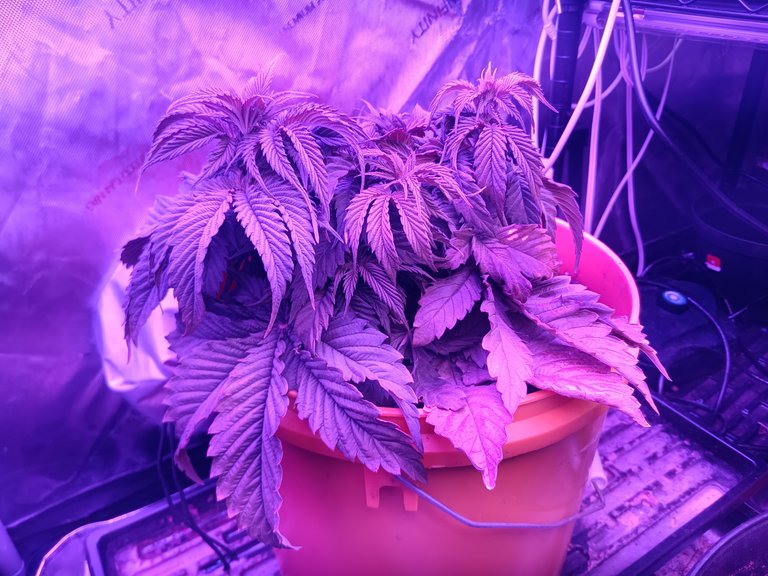 Durban Violette
The Durban Violette cannabis plant has had four weeks of growth, this plant is already starting to bush out nicely with vigorous branch growth. This plant will be topped soon, the top cola will be snipped off - two branches will grow upwards to replace it, this will also give a little extra time for the lower branches to catch up with the upward growth.
| Week 3 | Week 4 |
| --- | --- |
This plant is in a large container, in a week's time it's destined for the greenhouse - for a long summer outdoor grow season.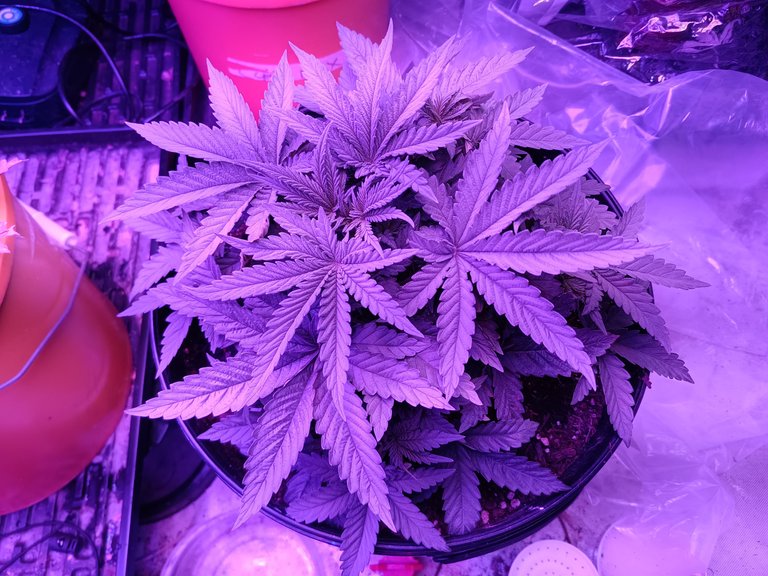 Have a great day!
---
---