Orange Barb two weeks into Bloom + Pink Apricot Updates

Orange Barb is two weeks into bloom and showing female. The Pink Apricot clone is doing well and just received training, the Pink Apricot in bloom has three more weeks until harvest.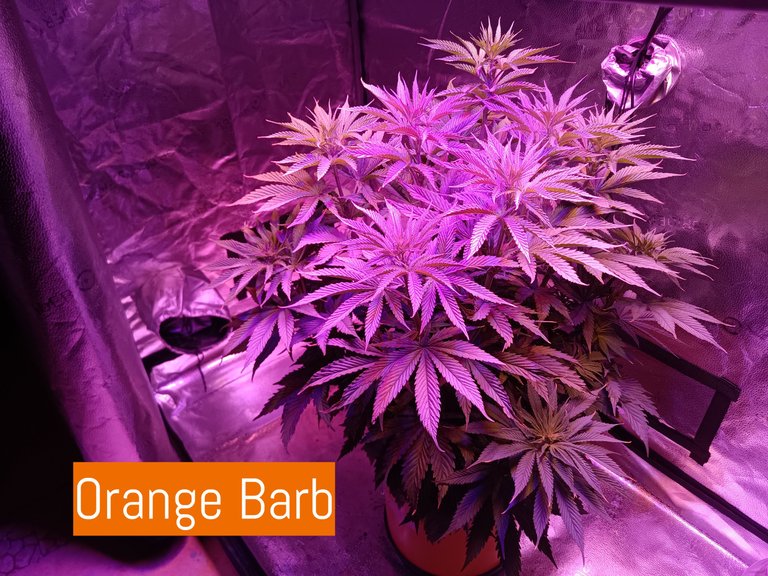 Orange Barb bloom
The Orange Barb cannabis plant is in week two of bloom - Orange Barb is a sativa dominant hybrid, bred with the crossing of the Barbara Bud (Shiskaberry x Afghani) and Tangie (Cali Orange x Skunk) strains. Fruity orange scent with a floral, woody, and fruity flavor. It has a social, outgoing, energetic, and creative day buzz. It's said to be a vigorous grower, especially in veg phase, with a high yield. It has an 8-9 week bloom/bud time, and is a good strain for resin extraction (Source).
Five Weeks of Veg Growth
This Orange Barb had five weeks of vegetative growth before being set to bloom mode. After a few weeks the seedling has enough roots for explosive leaf and stem growth.
| Week 4 | Week 5 |
| --- | --- |
Topped at Week 5
Just before the end of week five, I topped the Orange Barb plant. The top of the plant is cut off, leaving two branches to take it's place. This will slow down the top of the plants growth, giving the branches time to rise up to the top canopy. With a level top canopy I can bring the lights closer to more of the plants leaves for optimum growth.
| Week 5 Topped | Week 1 Bloom |
| --- | --- |
You can see above how quickly the two branches grew up after topping. A couple days later, the grow lights were set to 12hrs ON / 12hrs OFF per day, to trigger the plant to go into bloom/bud mode.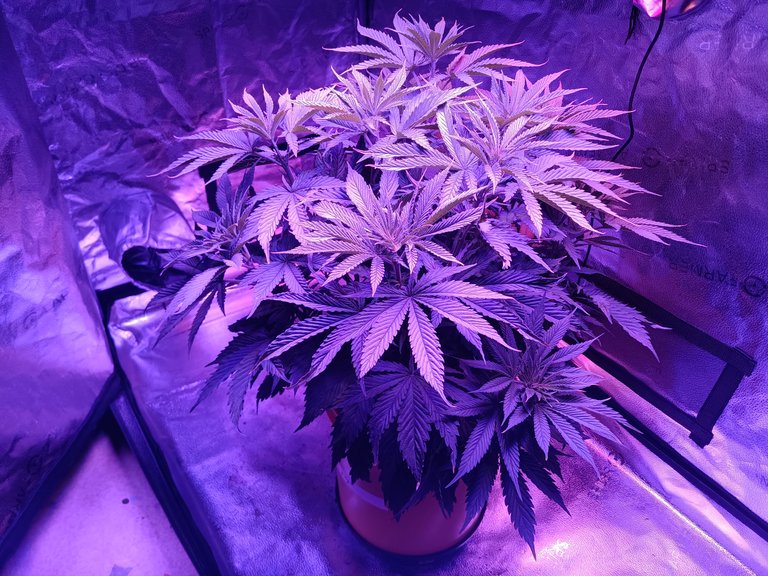 Bloom Week 1
During the second week of bloom the plant stalks shot up a few inches.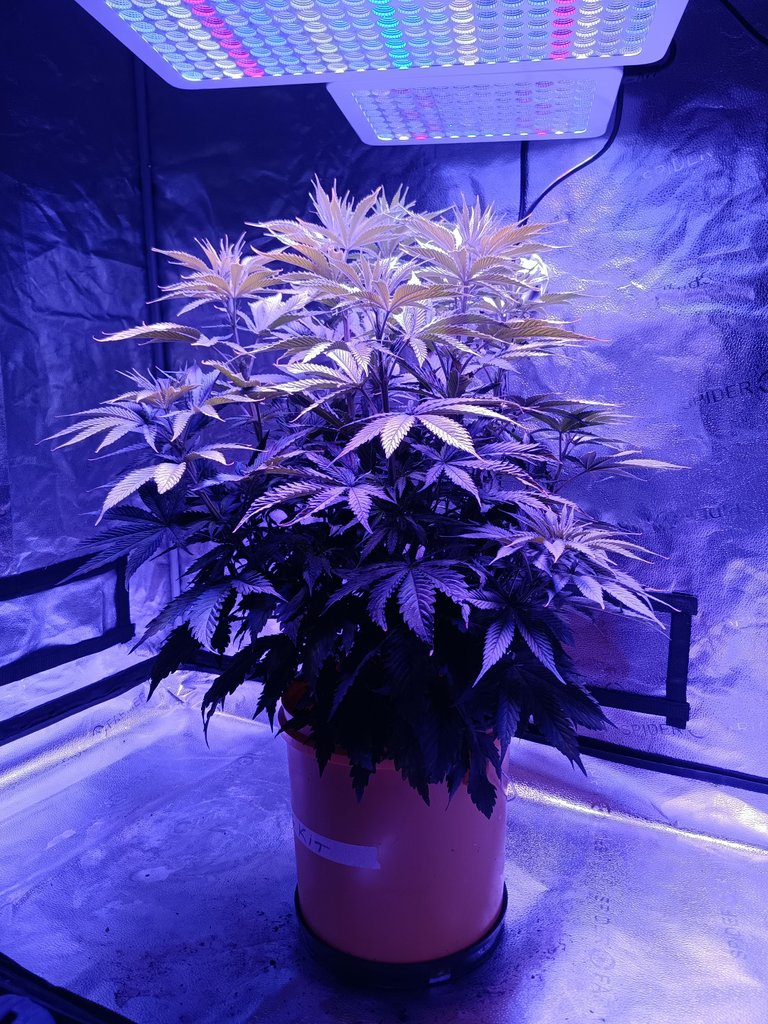 Bloom Week 2
Orange Barb Showing Female
The Orange Barb seeds were feminized, so it's no surprise that after a week and a half into bloom phase the cannabis plant was showing to be female - a bud producer.
Orange Barb has tiny spindly pistils, you can barely see a pair of them in the picture below, poking out of where the left side of the stalk meets the top of the leaf stem.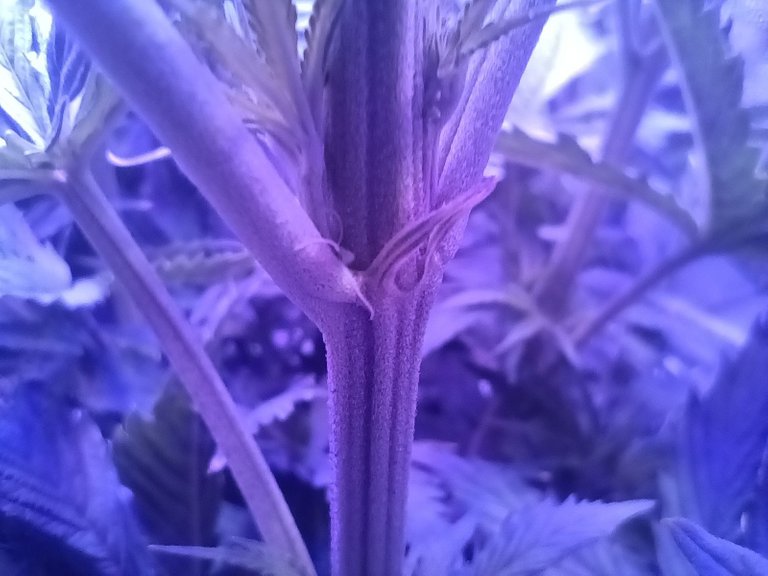 Thick stalk and branch stems vigorously shooting upwards, Orange Barb is a quick grower, healthy cannabis plant.
Pink Apricot Clone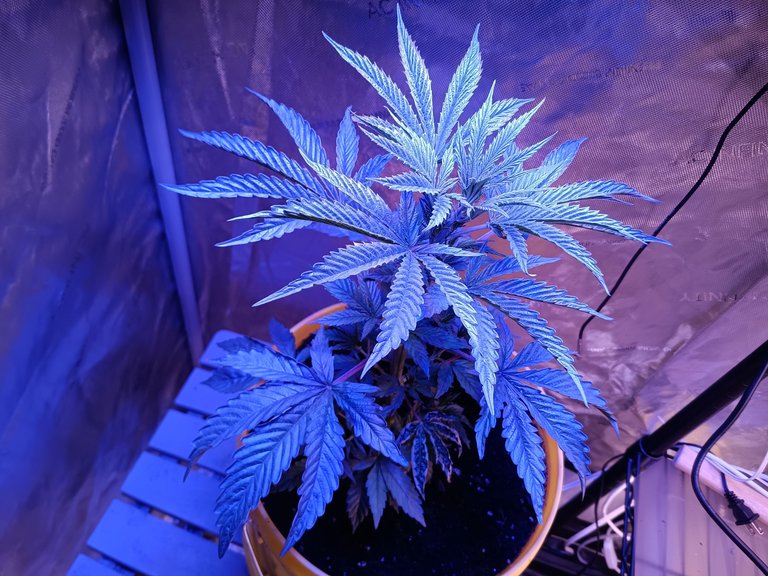 The Pink Apricot clone is doing well, about five weeks into veg cycle.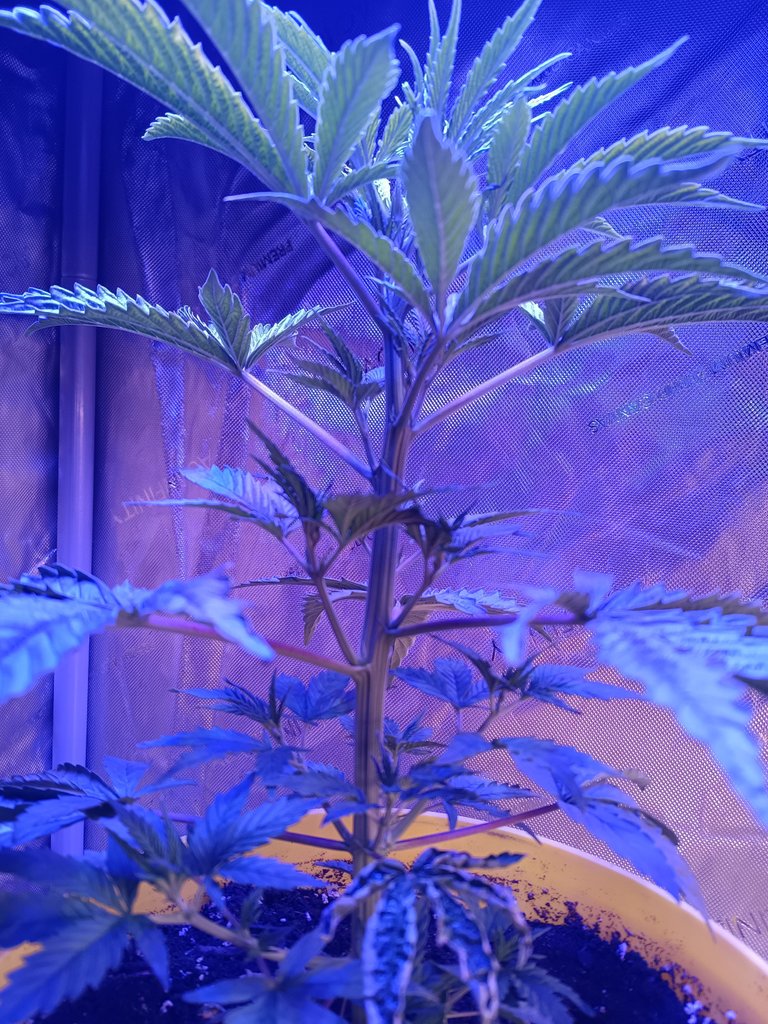 Clone Training
I should have started the training last week, the lower stalk is too stiff to gently bend it over as far as I would like to, preferably to the ground, but half way will do.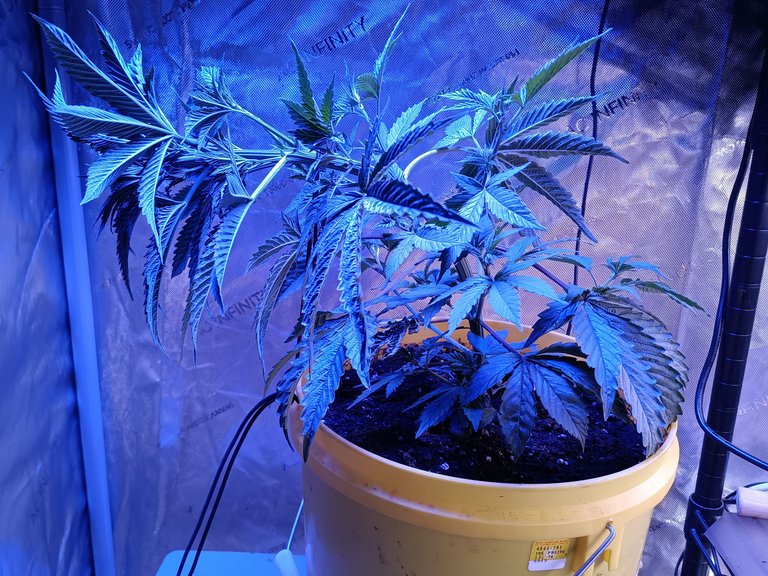 You can see the before and after 24 hour pictures below - the top of the plant, and all the branches and leaves turned upwards toward the light.
I tightened the bungie cord down a little more after the first twelve hours - giving the branches more time to grow upwards, increasing the potential number of harvest worthy colas.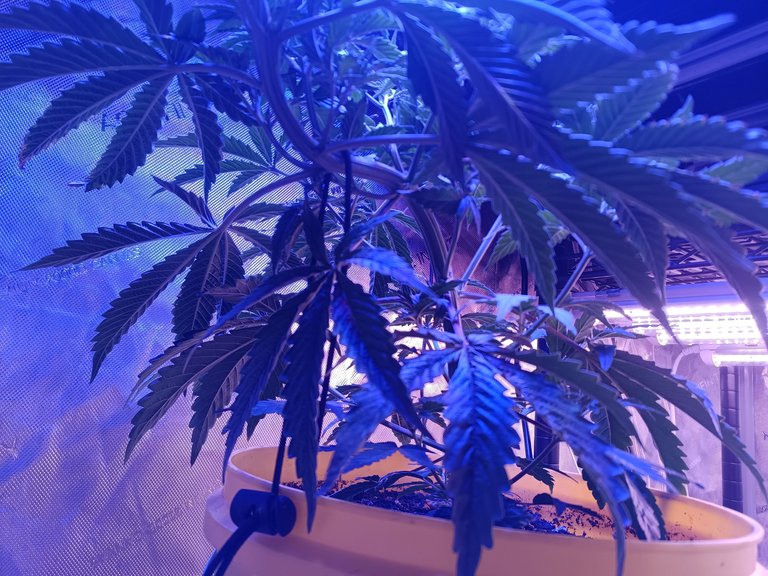 Maybe a week or two more for veg phase, I'll have to put this plant into bloom soon. I won't be cloning this plant this time, I have some other cannabis seeds on the way that I want to leave room for, I can only legally grow four plants at a time. I do have Pink Apricot seeds that I will be harvesting soon, so the strain can easily return to my garden in the future.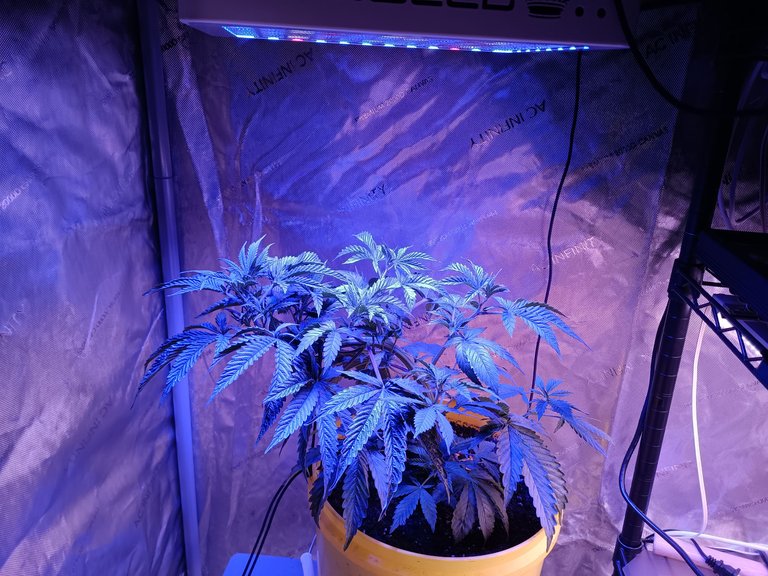 Pink Apricot Bloom
This Pink Apricot cannabis plant has had five weeks of bloom time, a little more than three weeks remain until harvest.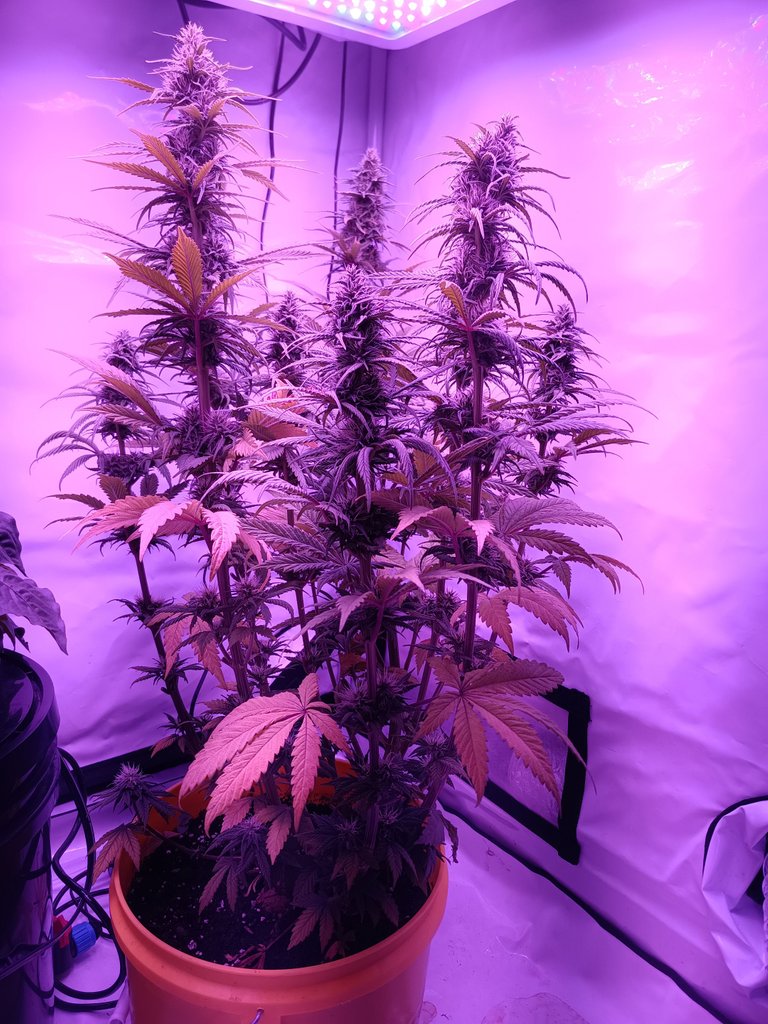 I've removed a couple handfuls of lower fan leaves that had turned yellow after the plant drained the nutrients out of them to put towards bud production.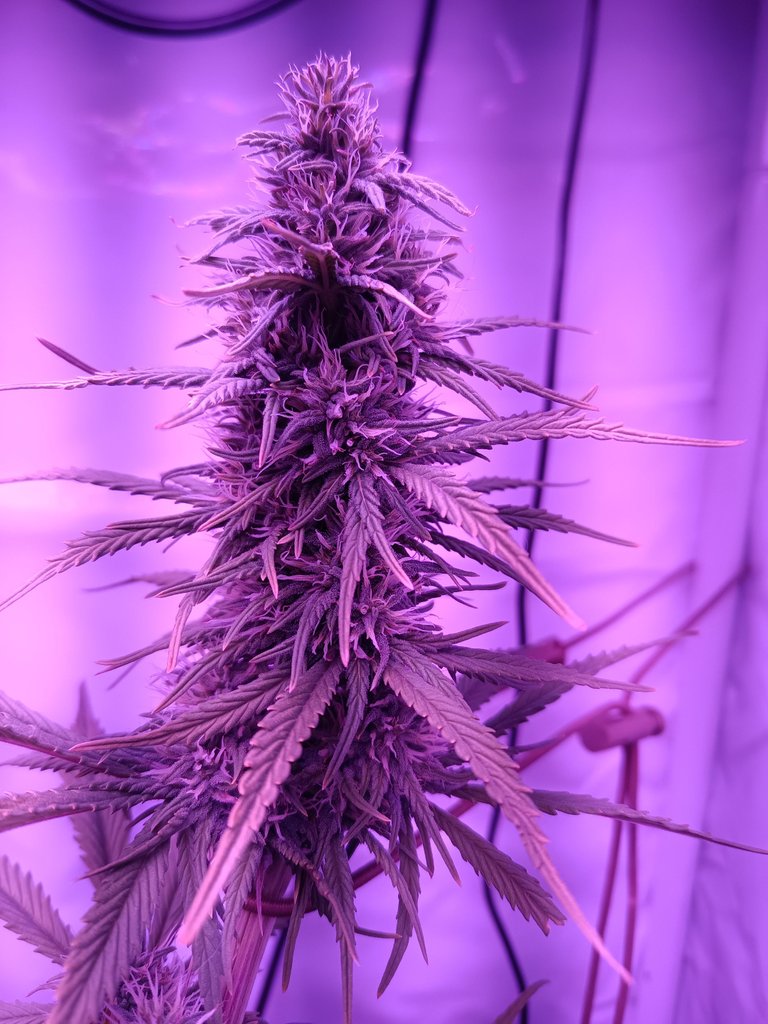 Above is the main cola, there are a few red and dried up pistils, they will mostly be like that when the bud is ready, the pistil pods filled with resin.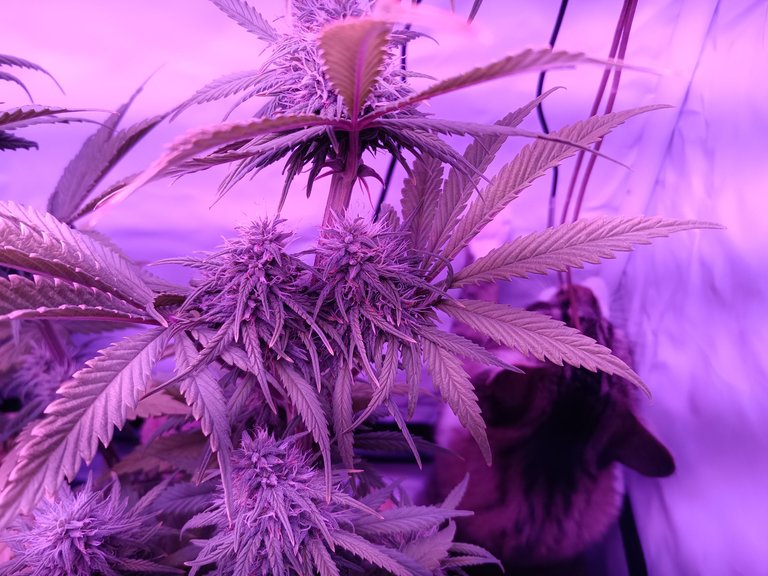 Above are a couple big bud stacks on the main stalks, I like how they're perched on the fan leaf stems like bird nests.
Any pistil that came in contact with the pollen, from the pollinating last week, will grow a seed in it's pod instead of filling with resin.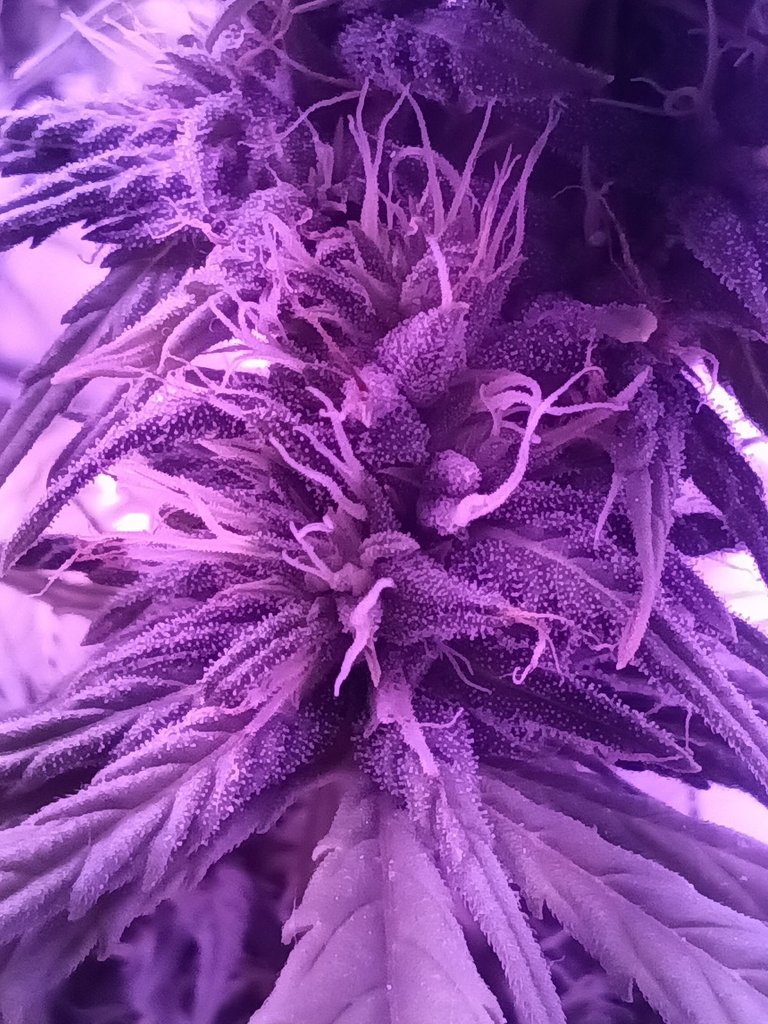 Cola Pollinated for Seeds
That bottom-right cola in the picture below is the one that was pollinated with Pink Apricot pollen. Many of it's pistils turned red and shriveled up the next day, while the pistils on the other colas were mostly still white. A successful pollination it seems.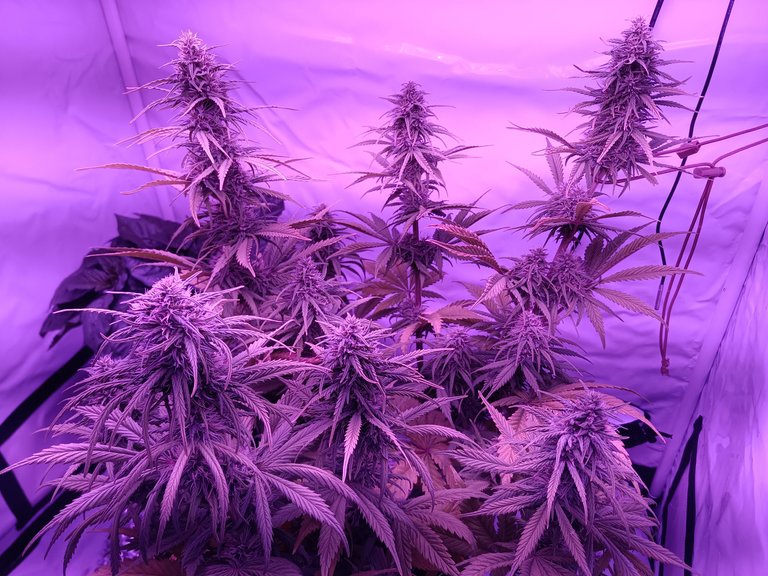 Have a great day!
---
---