Durban Violette in the Greenhouse + Pink Apricot bloom, Pineapple Express, Fog OG

I moved the Durban Violette cannabis plant to the greenhouse, the Pink Apricot clone is in it's ninth week of bloom. The Pineapple Express is a couple weeks away from bloom time, the two week Fog OG auto seedling is eight weeks until harvest.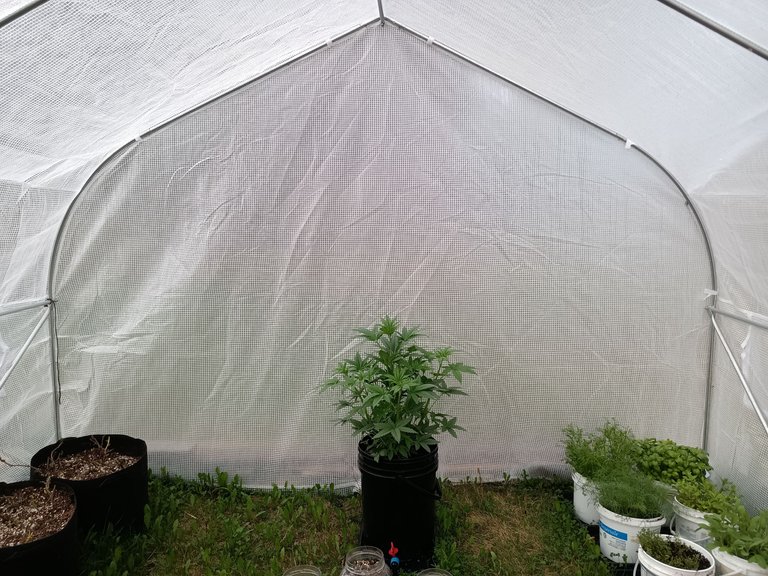 Durban Violette
After four weeks of vegetative growth, the Durban Violette was moved outside to the greenhouse for a long grow season, and large yield.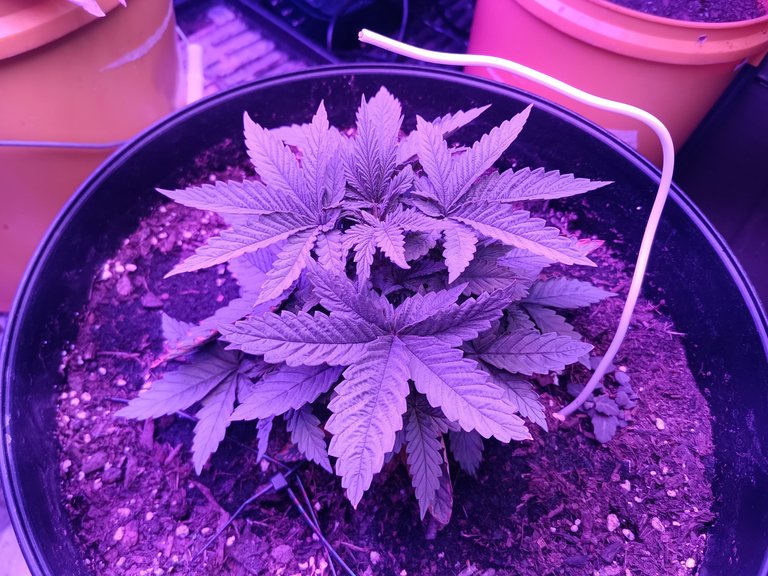 Week 3
You can see by week three the plant was off to a good start. Hardy leaf and stem growth, good genetics in a happy environment.
| Week 4 | Week 4.5 |
| --- | --- |
The plant had bushed out and filled in by week four, you can see how much it stretches out searching for light. The outdoor light intensity and amount will increase as summer approaches.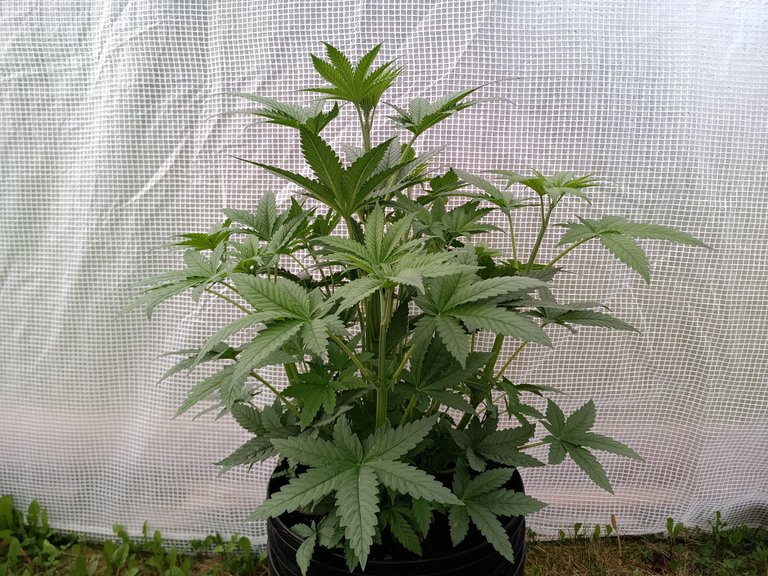 Week 5
The branches on this Durban Violette seem as vigorous growers as with the Orange Barb. I most likely won't train this plant, I'll let it grow wild. With harvest near the end of October, this plant has a long six months to grow.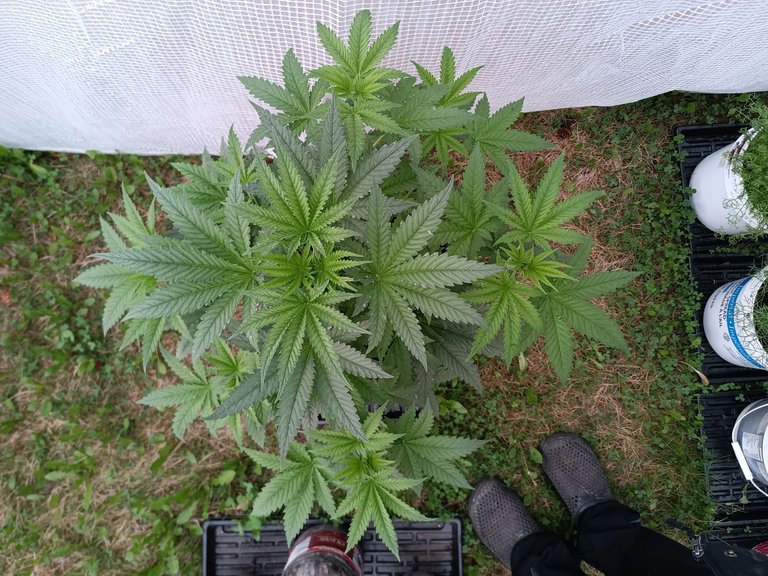 Pink Apricot blooms
The Pink Apricot plant is in it's ninth week 9th of bloom, one or two more weeks until harvest.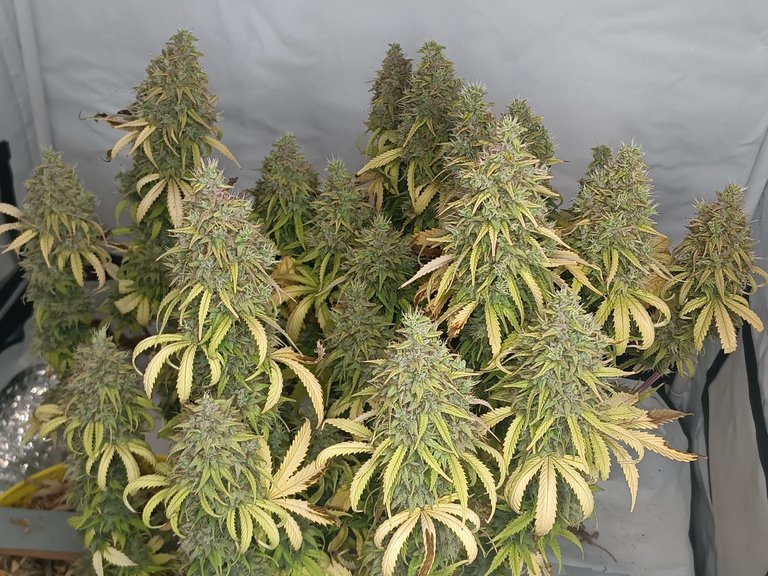 With an extra week of vegetative growth and a few extra weeks of bloom time, I expect this harvest to be larger than it's mother. Lots of burnt orange pistils, but there are also many new white ones that need to mature.
The leaves and buds have a solid coating of white trichomes - THC resin to protect the plant from extreme weather.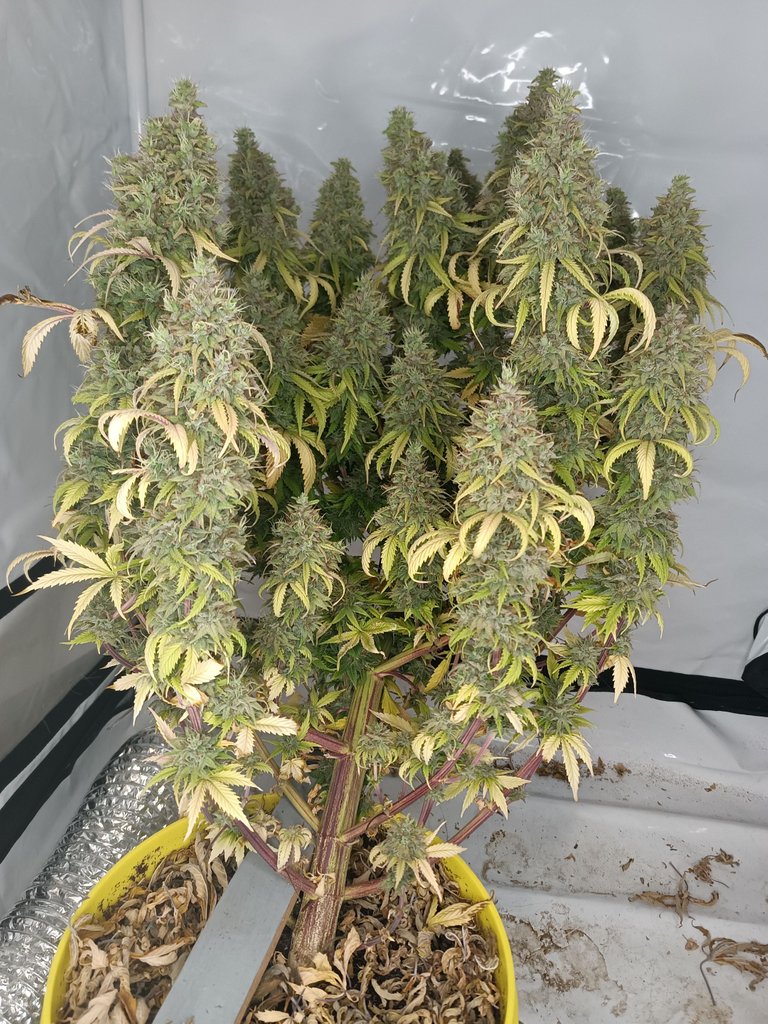 There's a thick stalk on this bent over trained plant, the branches all grew upwards to become bud colas.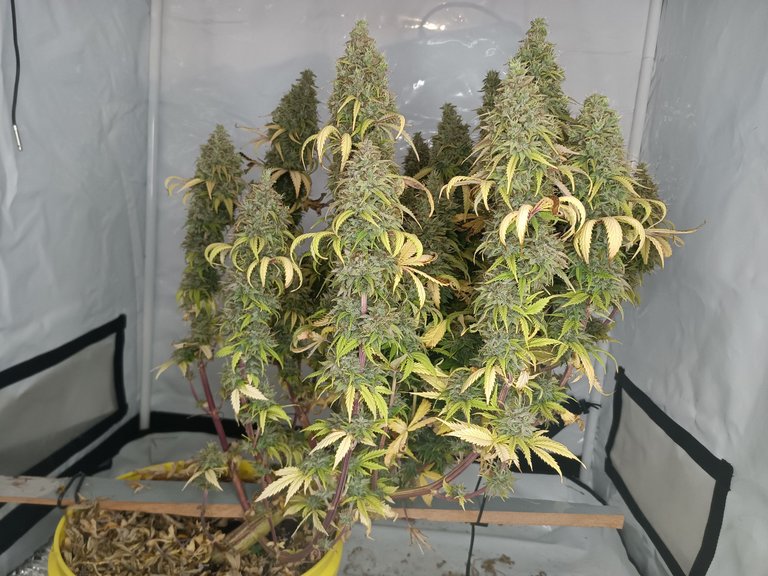 Pineapple Express
The Pineapple Express plant is in it's sixth week of vegetative growth, I'll put this plant into bloom mode in a week or two.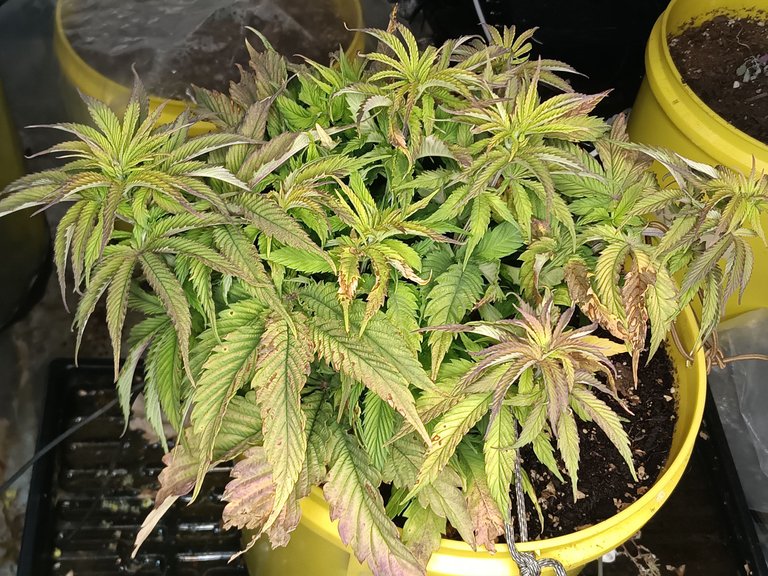 Some of the lower fan leaves are dried and raggity from a weekend a couple weeks ago, the plant dehydrated a little. The upper leaves I think look that way from the genetics, but I'll learn more when I grow this plant again.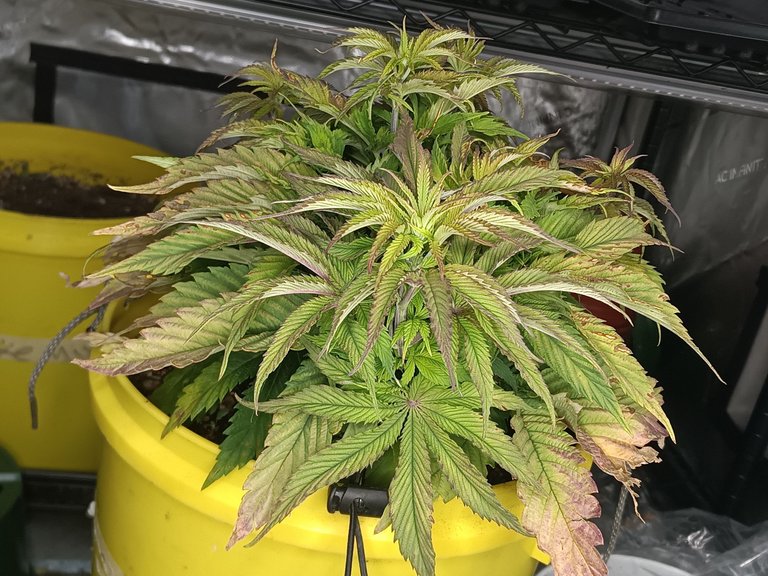 The plant is otherwise doing well, the main stalk and three branches have been tied down to promote a level and bushy growth.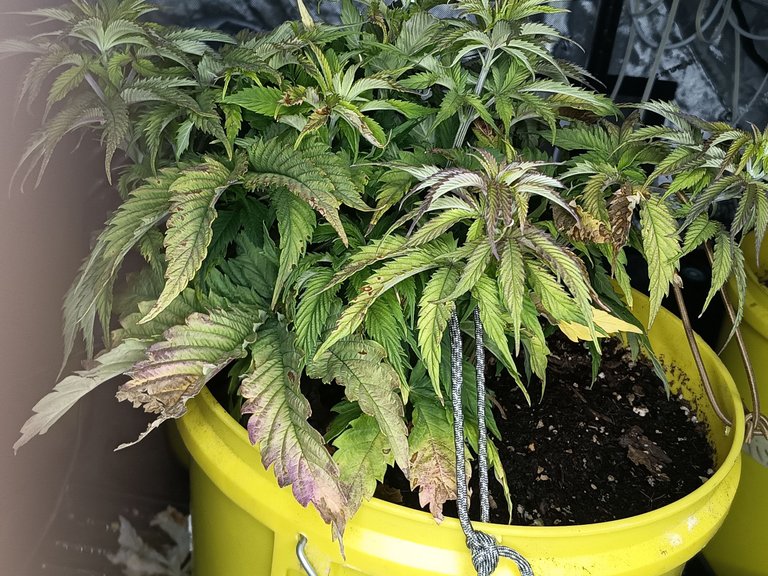 Fog OG seedling
The Fog OG auto indica leaner was created with the crossing of the Mythic OG and Cotton Candy strains - by Weathered Island and Atlas Seeds. They are said to have a cotton candy and fuel flavor and scent to them, with a high yield and dense buds (Source).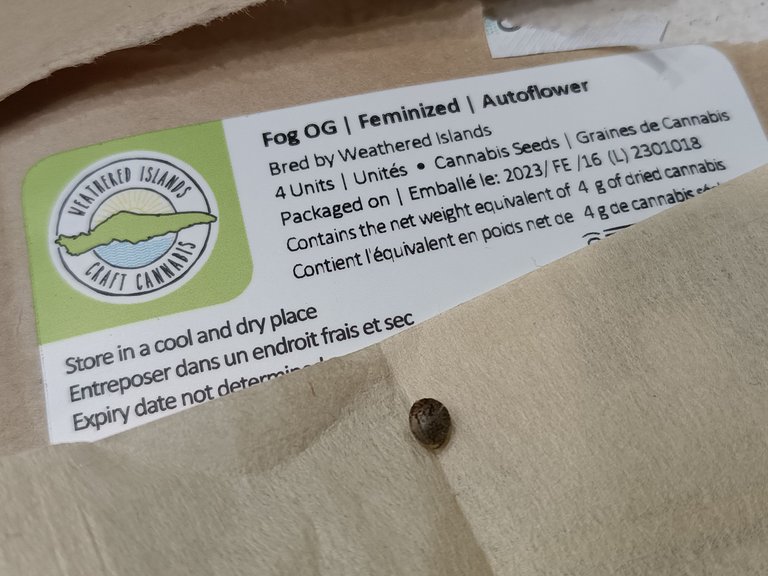 I started soaking a seed a few weeks ago, a few days later it had popped opened and was transferred to a folded damp paper towel.
A couple days later it was planted tail down, two more days later the seedling popped above the ground. By the end of the first week it had its first pair of leaves.
Autoflowering Cannabis Plants
Autoflowering plants automatically shift into bloom time, for a quick harvest. Sativa/Indica cannabis strain varieties are bred with the less known Ruderalis cannabis strain to make new autoflowering strains. The Ruderalis strain is found in polar regions where summer is short with long days. They typically have small buds, but when bred with indica/sativa strains they retain the bigger buds and short flower time.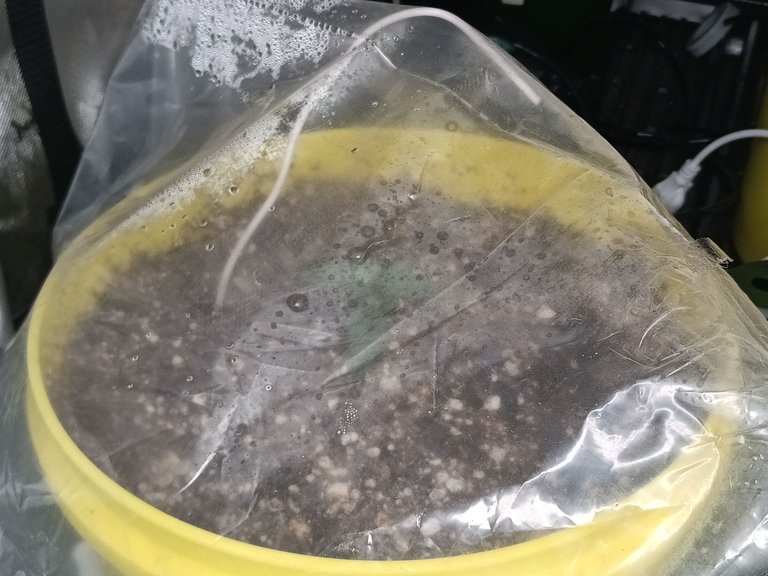 The seedling is kept covered with plastic, to provide a micro climate with a preferable humidity. By week two you can see the Fog OG seedling is doing well with its second set of leaves coming in. I'm currently running the lights 24 hours a day to maximize the growth of this autoflowering plant - I'll keep up this light schedule all the way through veg and bud time. They say 8-10 weeks from seedling to harvest, so it's looking like eight more weeks for this one, that's quick.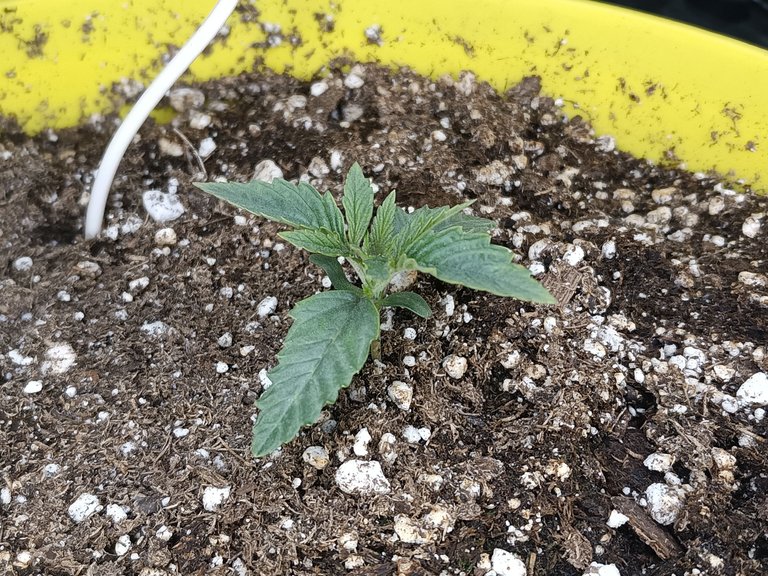 Week 2
Have a great day!
---
---