TURNING SHIT AND FOOD CRAPES INTO COOKING GAS AND LIQUID FERTILIZER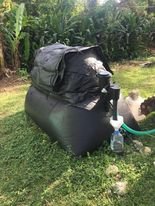 Truly turning shit into money. In these pic you can see a biodigester. It is loaded with shit and connected to one of my cottages by way of a gas tube. There is also a bottle container with the funnel in it to collect the liquid fertilizer. The hose that go to the building is connected to a stove inside the kitchen. The shit and food craps or crapes are at the bottom. After the bio activity of the craps and shit the gas rose to the top, liquid ferty collected in the container with the funnel. The hope is to get Jamaicans to buy into this idea...
I have a connection that have distribution rights in the Caribbean. If you purchase, it comes with a table top stove and a specially designed toilet to flush the shit.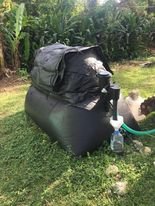 Currently I use the liquid fertilize to mix with some soil and plant my stuffs including Cannabis in it. Seems to be going good some far. It is just one of the many shit am trying, hoping something will stick. As you can see in my other post the Cannabis plants look very health so far...
---
Posted via ReggaeJahm | Reggae Culture Rewarded
---
---