Funny anecdotes with marijuana. Grass or Yerba? ENG/ESP
Hello stoner friends. How about today? I hope that very good!! I have come to tell you about an anecdote that has to do with buds, and it happened a couple of years ago.
Rodri's rich buds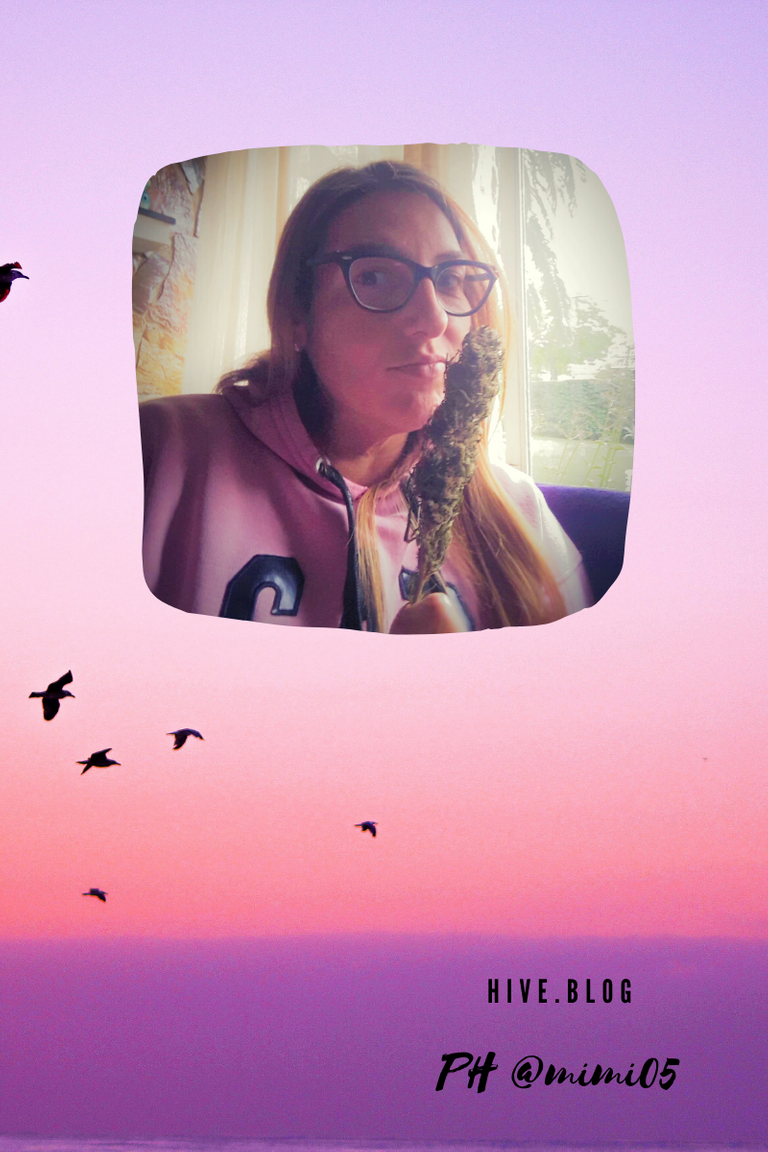 It turns out that when I arrived in Uruguay, I started working taking care of Jorge, a grandfather who lived alone and needed help with some tasks such as cleaning and cooking, and I needed a job and a house, since renting here is very difficult because of all the paperwork. that they ask of you, plus the money that you must collect as a guarantee. So what my job as a THERAPEUTIC COMPANION allows me to get this type of job that here is called WITH A BED, because I live in the place where the patient lives, when it was offered to me, I did not hesitate to accept it.
Jorge and his dog La Negrita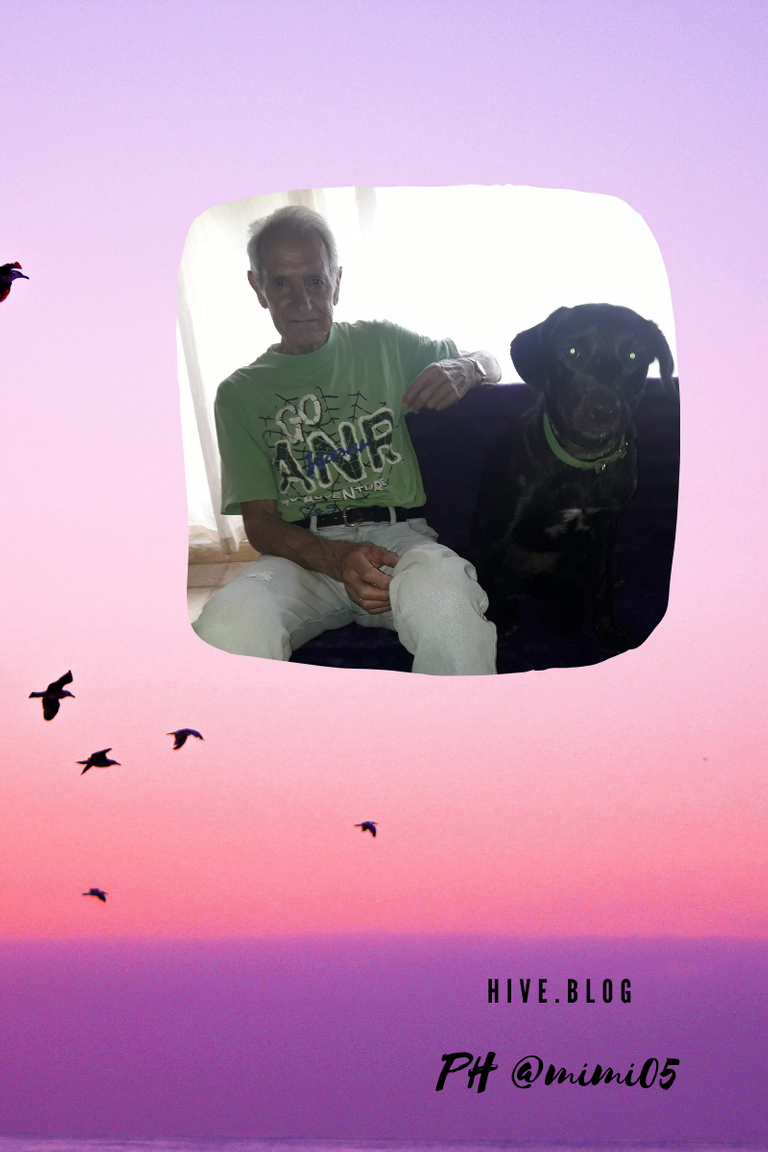 Jorge was an 83-year-old man but a very jovial person, one of those grandparents who like to make jokes, and like to walk from here to there, in his little red car we would go out to run errands to the market, to the fair and to the beach. Her wife had health problems, therefore she was admitted to a health home where nurses, doctors, and adequate personnel took care of her. Here below she left you photos of Jorge and Chocha.
With Jorge and Chocha when we were going to visit her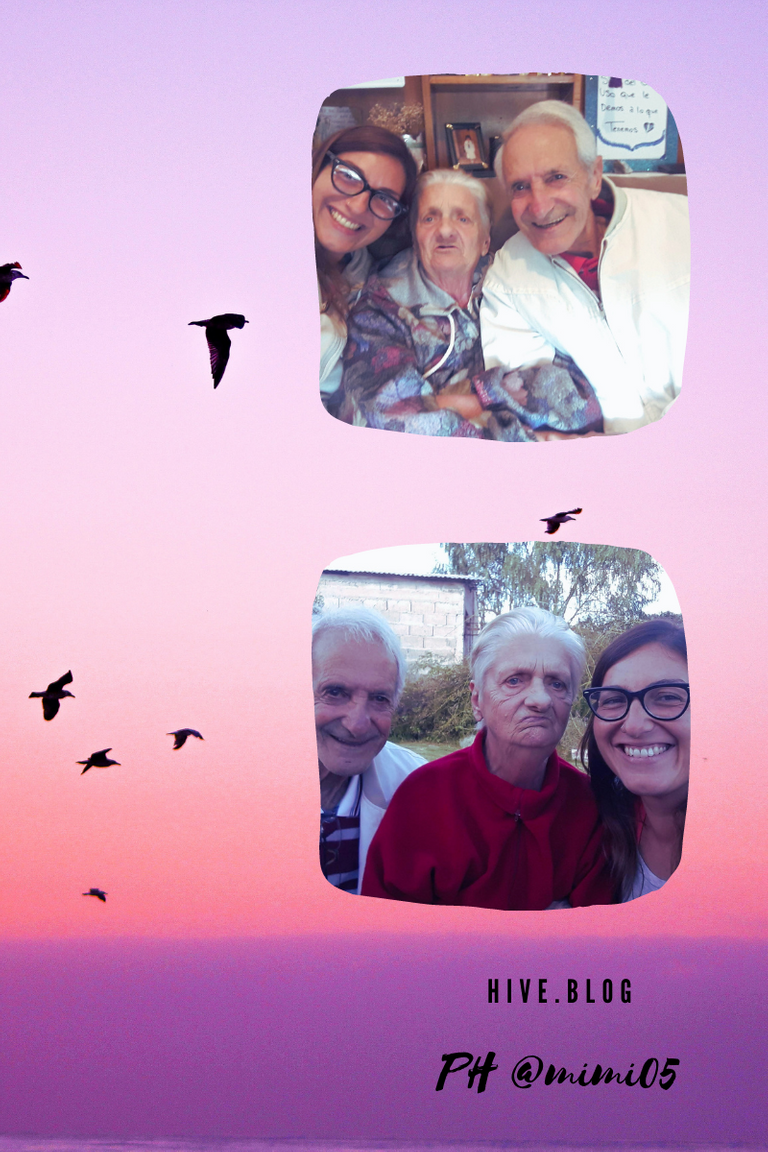 This grandfather is an open-minded person, and that was priceless to me. I kept my jar of buds in the cupboard where the spices like oregano, paprika, thyme, and dried herbs are, so it doesn't look like what it really is. But one afternoon, when I returned from shopping, I found Jorge sitting on his sofa with the bottle of my flowers in his hand, you imagine my horrified face, and the thousands of things that crossed my mind, I will fire, and he's going to insult me for having cannabis in his house, what will I do? Where will I go?? WTF!!
For enjoying those delicious buds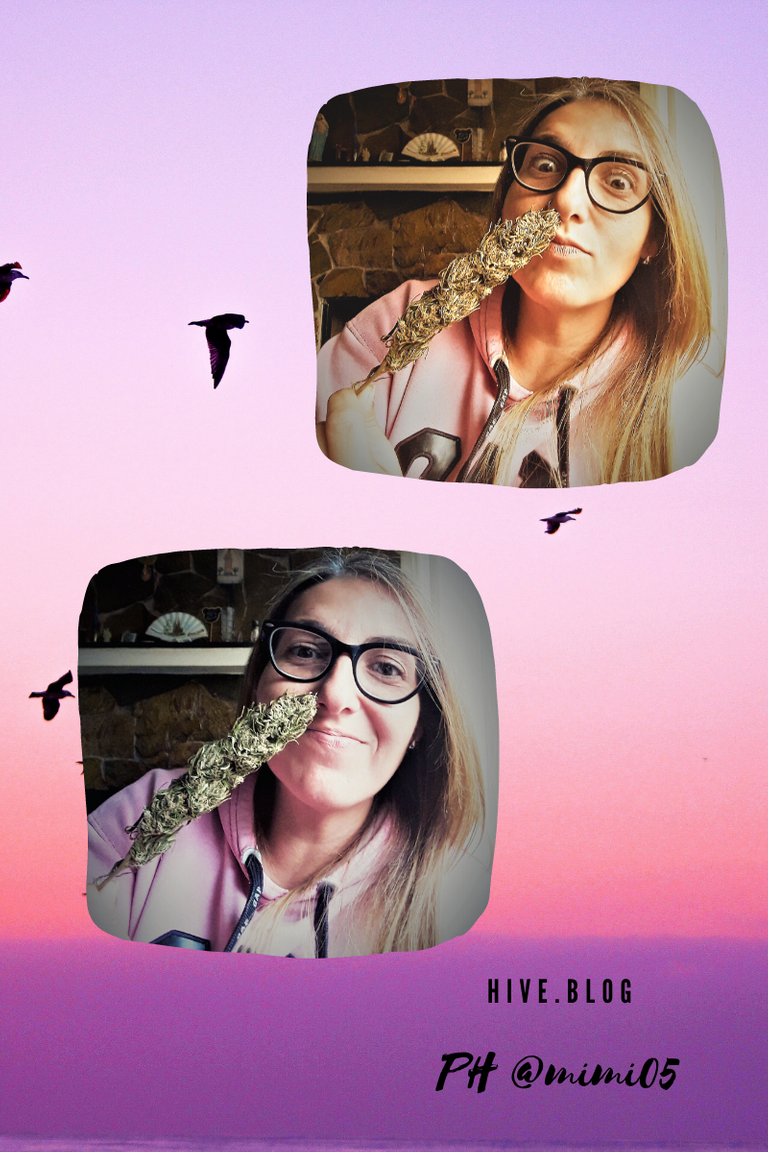 The point is, I played dumb and asked him what he was doing with that in his hand, and he answered that while I went to do the errand, he wanted to prepare a mate, which is an infusion that we drink here in the South of America, more than anything in Uruguay, Argentina and Brazil, and if you want to know a little more I recommend that you read the post by @abrahan414 here. And in the middle of the preparation, between which he put the water to heat, he looked for the yerba, the mate and the bombilla, and he couldn't find the yerba, but he found that bottle that had that "rare" yerba as he told me, I burst into laughter , and I did not hesitate to tell him what it was. I asked him if he had been able to get the yerba and he told me that after looking in a couple of corners he found it and managed to have some delicious bitter mates.
Sniffing terpenes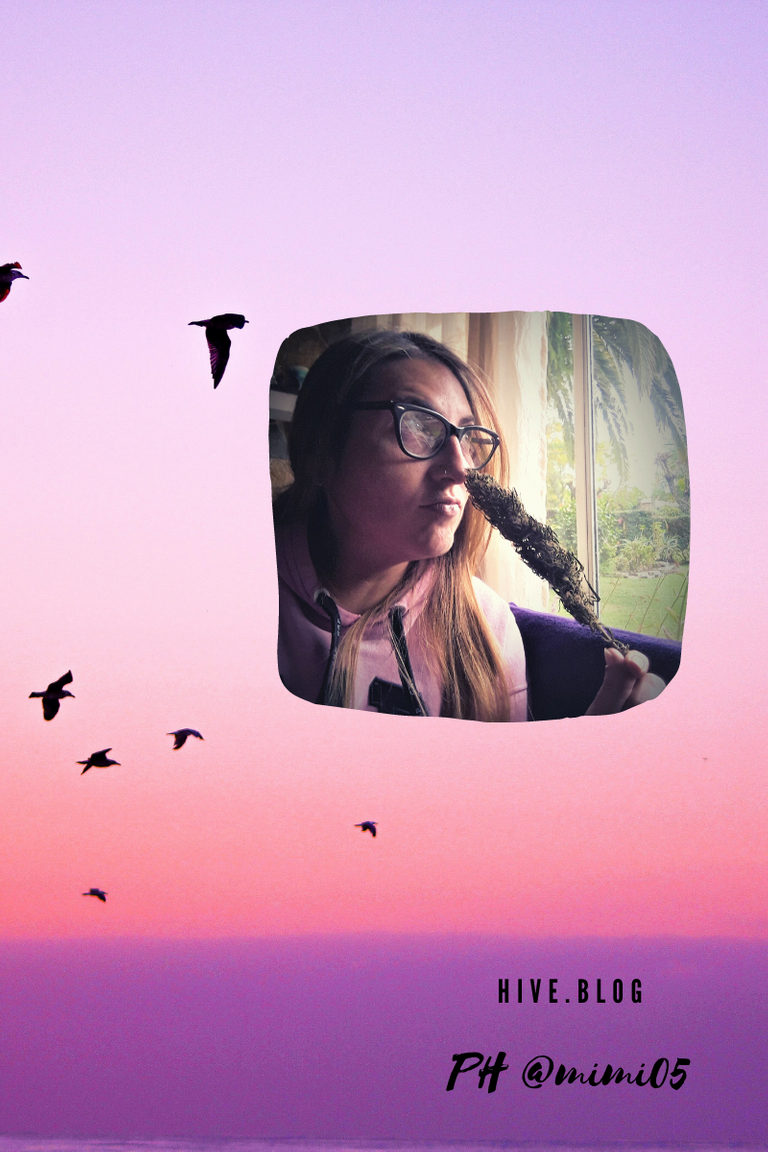 Luckily I didn't use the flowers as weed for mate, but I was dying of a heart attack! Those flowers had been given to me by my friend Rodri, who had just harvested them and had a little hair to do, so I did not hesitate to do it myself, and after chopping that herb well, I put together my joint and enjoyed it happily!!
Hairdressing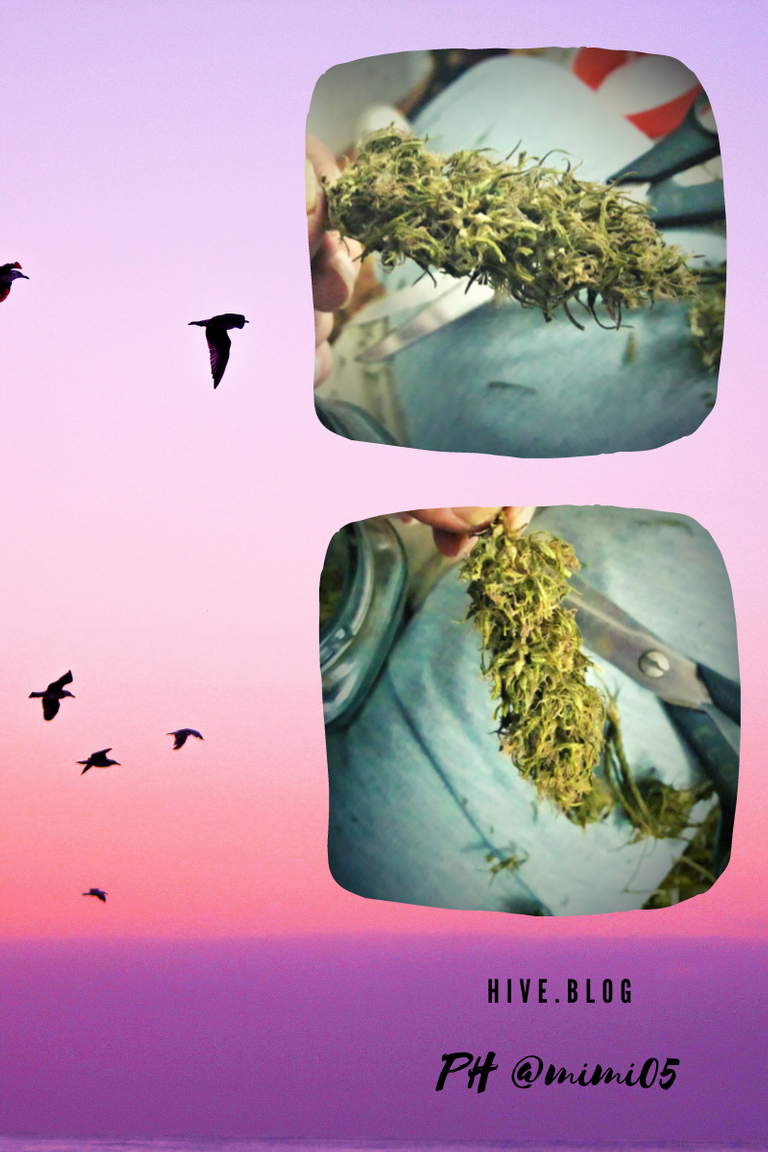 Chopping and arming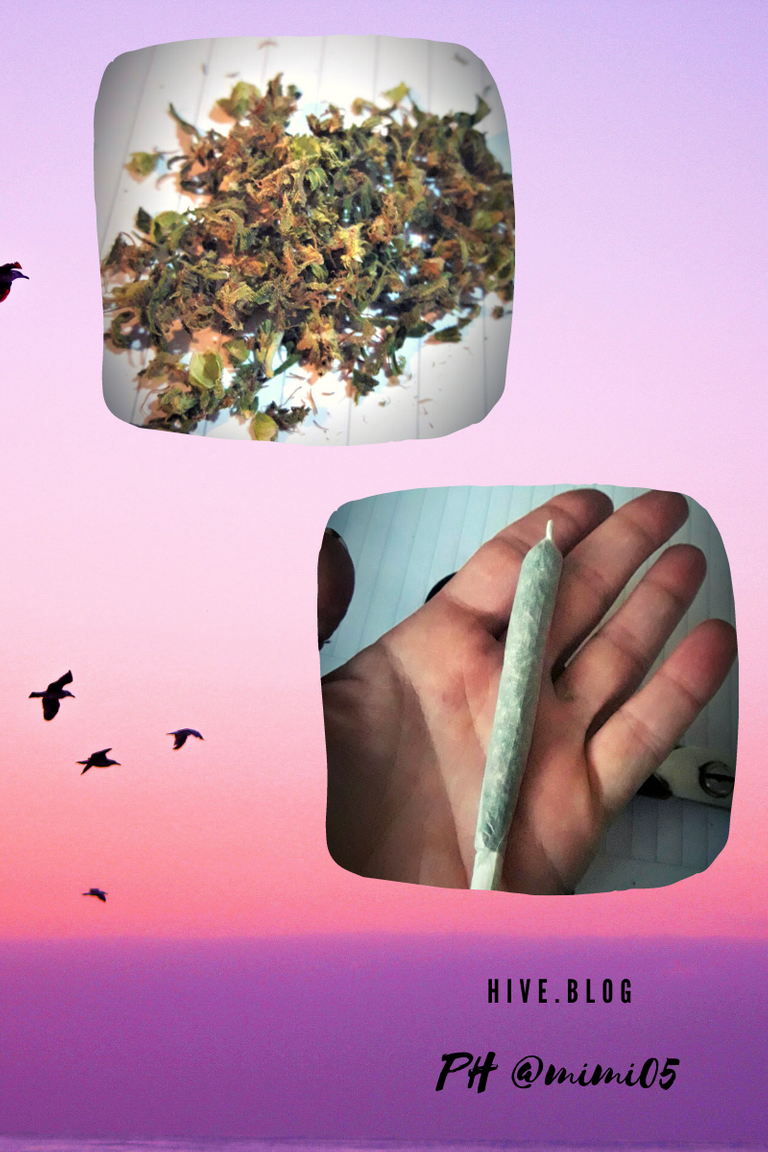 Moral: never hide your weed among the spices and herb from the kitchen, your grandmother, mother or aunt may mistake it for seasoning and lose all your production! Of course, everyone will be happy in your house!! jijiji Have an excellent afternoon!!
I took the photos with a Samsung Galaxy J7, and the collage and the separator I did with CANVA.
THANKS TO THE POB AND WEEDCASH COMMUNITY FOR SUPPORTING MY PUBLICATIONS!! GOOD VIVES AND GOOD SMOKES FOR EVERYONE!!
Arrivederchi!!
Mimi05
And here enjoying it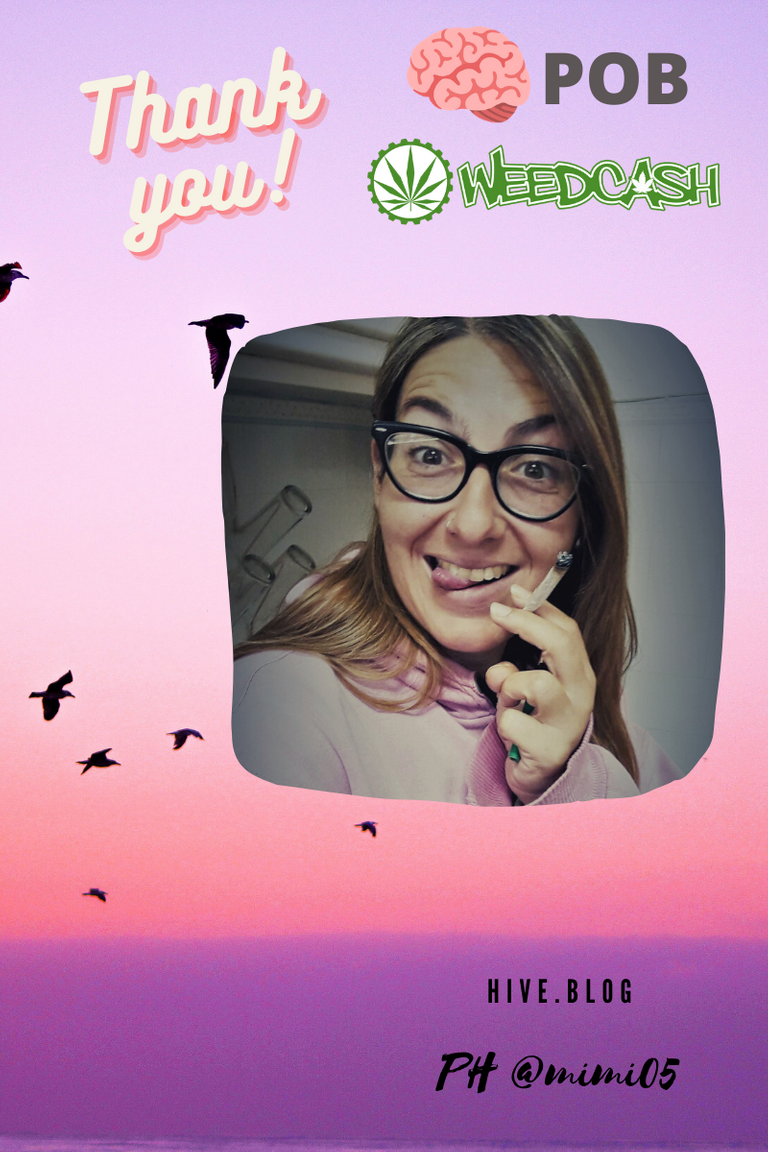 ---
Hola amigos fumetas ¿Qué tal el día de hoy? Espero que muy bien!! Yo vengo a contarles sobre una anécdota que tiene que ver con cogollos, y pasó hace un par de años atrás.
Ricos cogollos de Rodri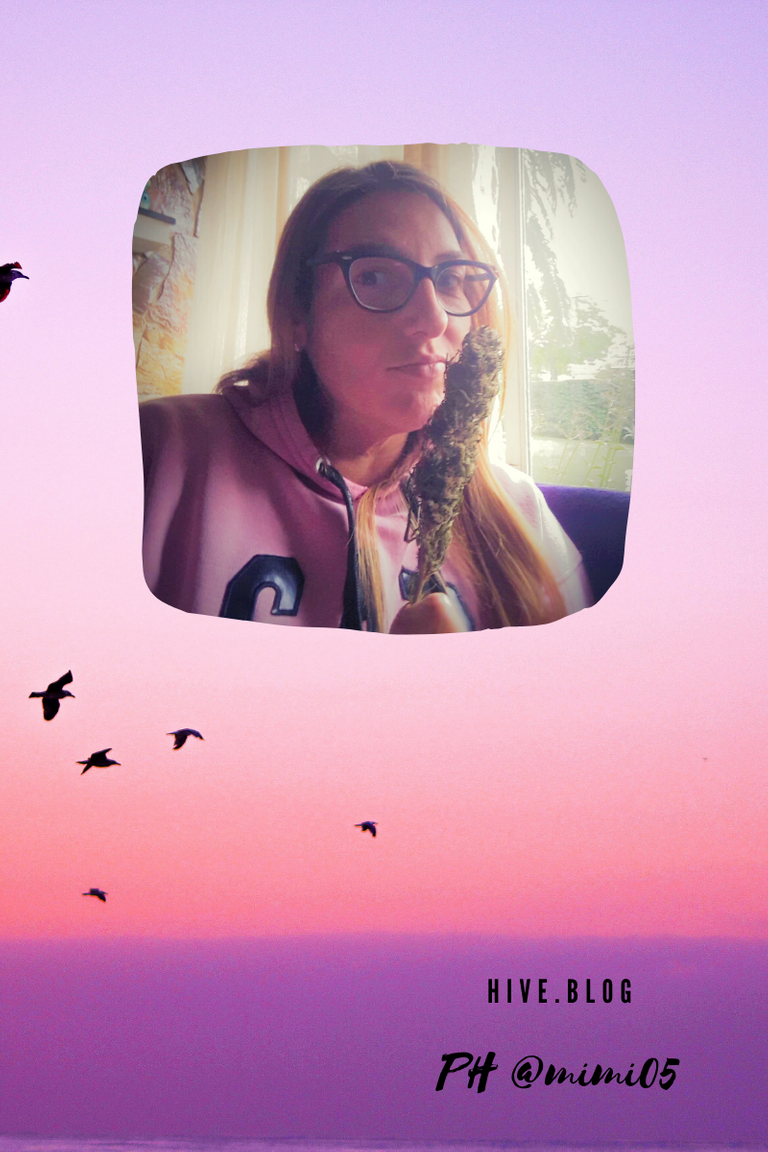 Resulta que cuando llegué a Uruguay, empecé a trabajar cuidando a Jorge, un abuelito que vivía solito y necesitaba ayuda en algunas tareas como limpiar y cocinar, y yo necesitaba un trabajo y una casa, ya que alquilar aquí es muy difícil por todos los papeles que te piden, más el dinero que debes juntar de garantía. Asique lo que mi trabajo como ACOMPAÑANTE TERAPÉUTICO me permite conseguir este tipo de trabajos que aquí se les llama CON CAMA, porque vivo en el lugar donde vive el paciente, cuando me lo ofrecieron, no dudé en aceptarlo.
Jorge y su perrita La Negrita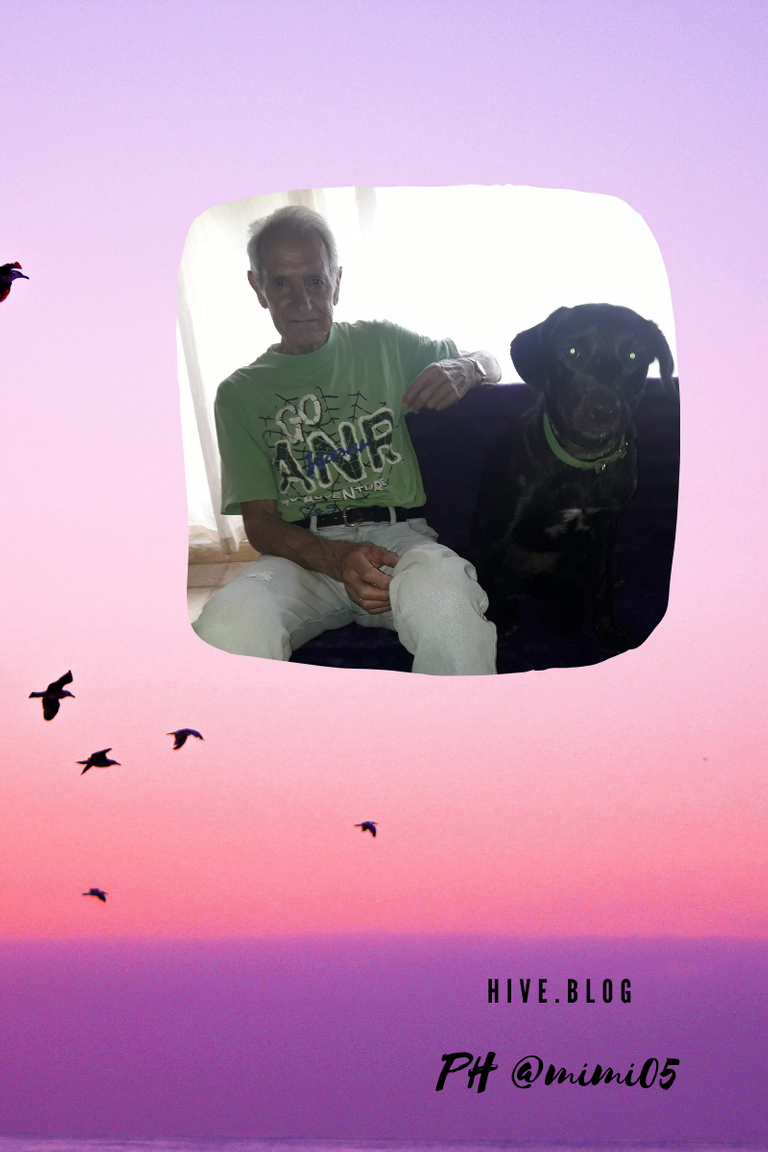 Jorge era un señor de 83 años pero una persona muy jovial, de esos abuelos que les gusta hacer chistes, y les gusta andar de aquí para allá, en su autito rojo salíamos a hacer los mandados al mercado, a la feria y a la playa. Su mujer estaba con problemas de salud, por ende estaba internada en una casa de salud donde cuidaban de ella enfermeras, médicos, y personal adecuado. Aquí abajo les dejo fotos de Jorge y Chocha.
Con Jorge y Chocha cuando íbamos a visitarla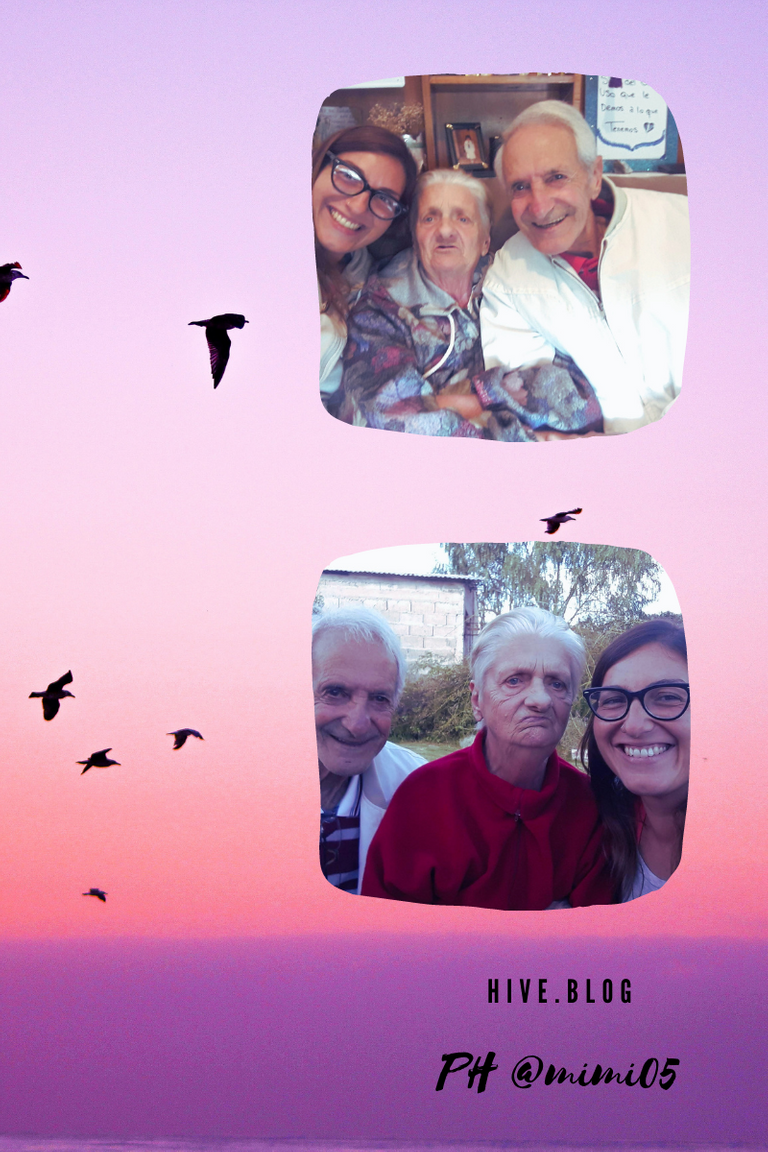 Este abuelo es una persona de mente abierta, y eso no tenía precio para mi. Yo guardaba mi frasco con cogollos en la alacena donde están las especias como el orégano, el pimentón, el tomillo, y las hierbas secas, para que no parezca lo que realmente es. Pero una tarde, cuando regresé de hacer unas compras, encontré a Jorge sentado en su sofá con el frasco de mis flores en su mano, se imaginan mi cara horrorizada, y las miles de cosas que se me cruzaron por mi mente, me va a despedir, y me va a insultar por tener cannabis en su casa, que haré?? Dónde iré?? WTF!!
Por disfrutar de esos ricos cogollos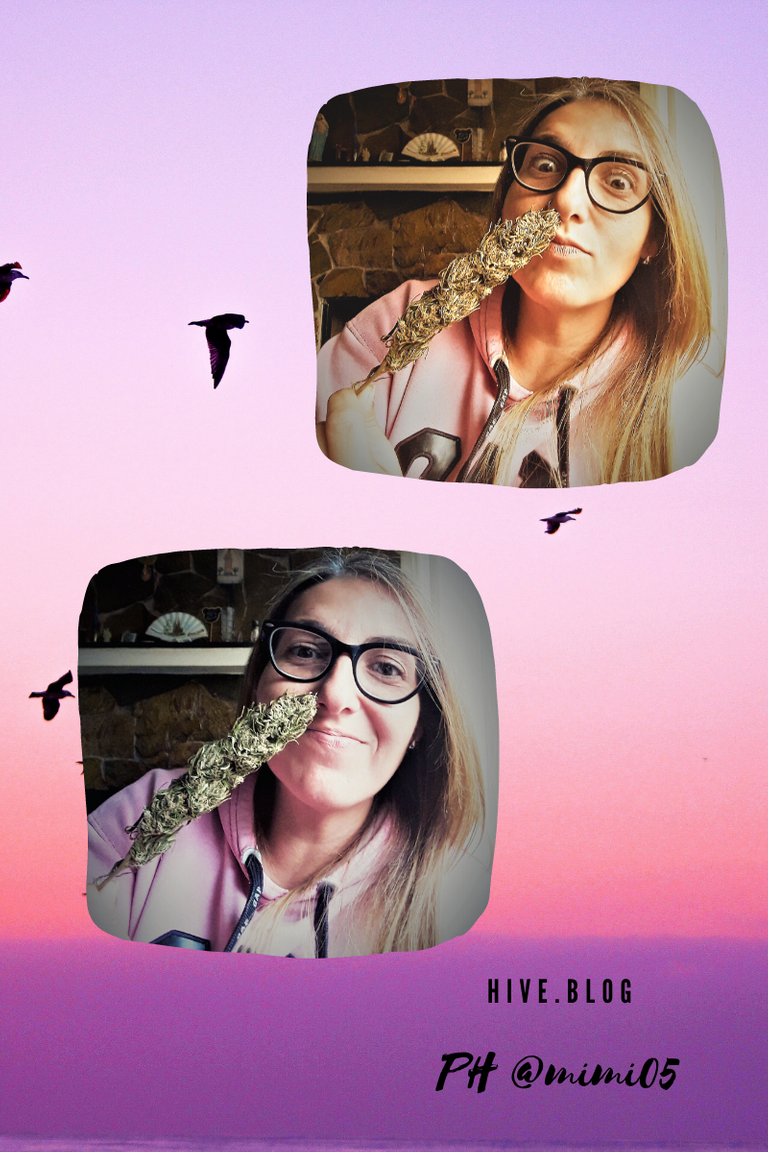 Cuestión es que, me hice la tonta y le pregunté que qué hacía con eso en la mano, y me contestó que mientras yo me fui a hacer el mandado, él quería prepararse un mate, que es una infusión que bebemos aquí en el Sur de América, más que nada en Uruguay, Argentina y Brasil, y si querés saber un poquito más te recomiendo que leas el post de @abrahan414 aqui. Y en medio de la preparación, entre que ponía a calentar el agua, buscaba la yerba, el mate y la bombilla, y no encontraba la yerba, pero encontró ese frasco que tenía esa yerba "rara" según me comentó, yo estallé en risas, y no dudé en decirle lo que era. Le pregunté si había podido conseguir la yerba y me dijo que luego de buscar en un par de rincones la encontró y logró tomarse unos ricos mates amargos.
Olfateando terpenos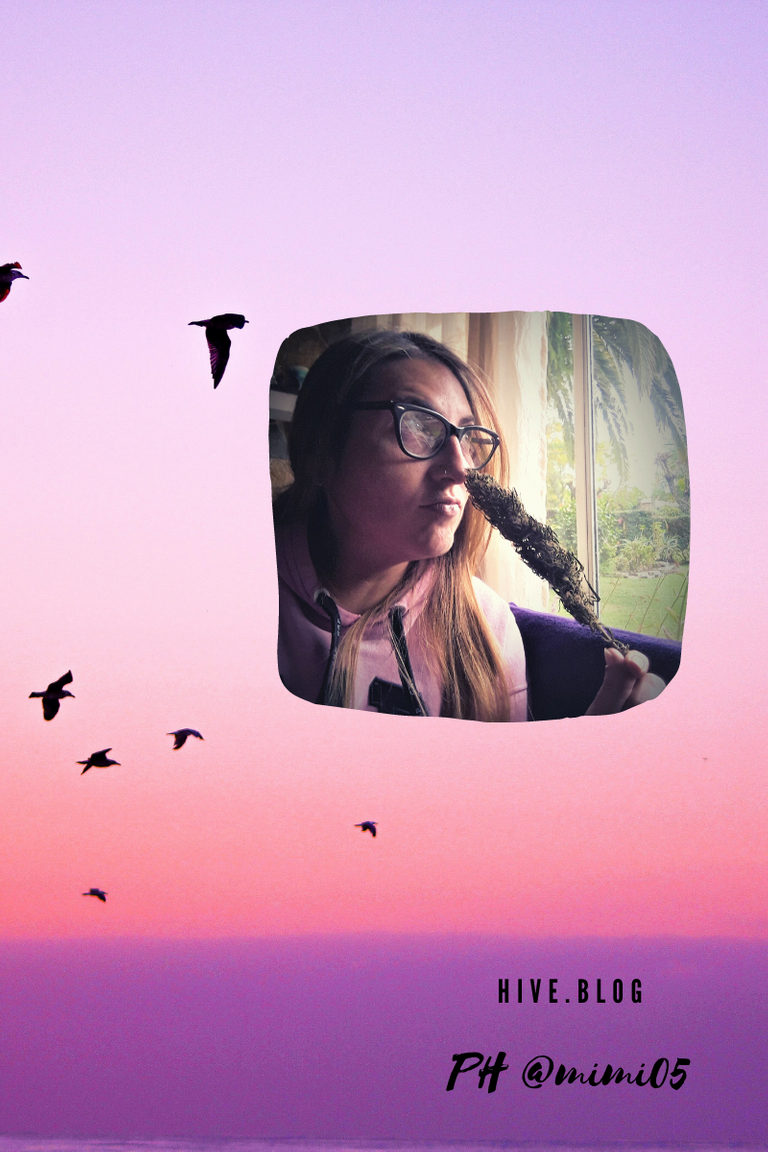 Menos mal que no me usó las flores como yerba para el mate, sino me moría de un infarto!! Esas flores me las había regalado mi amigo Rodri que recién las había cosechado y le faltaba peluquear un poco, asique no dudé en hacerlo yo, y luego de picar bien esa hierba, armé mi porro y lo disfruté feliz!!
Peluqueando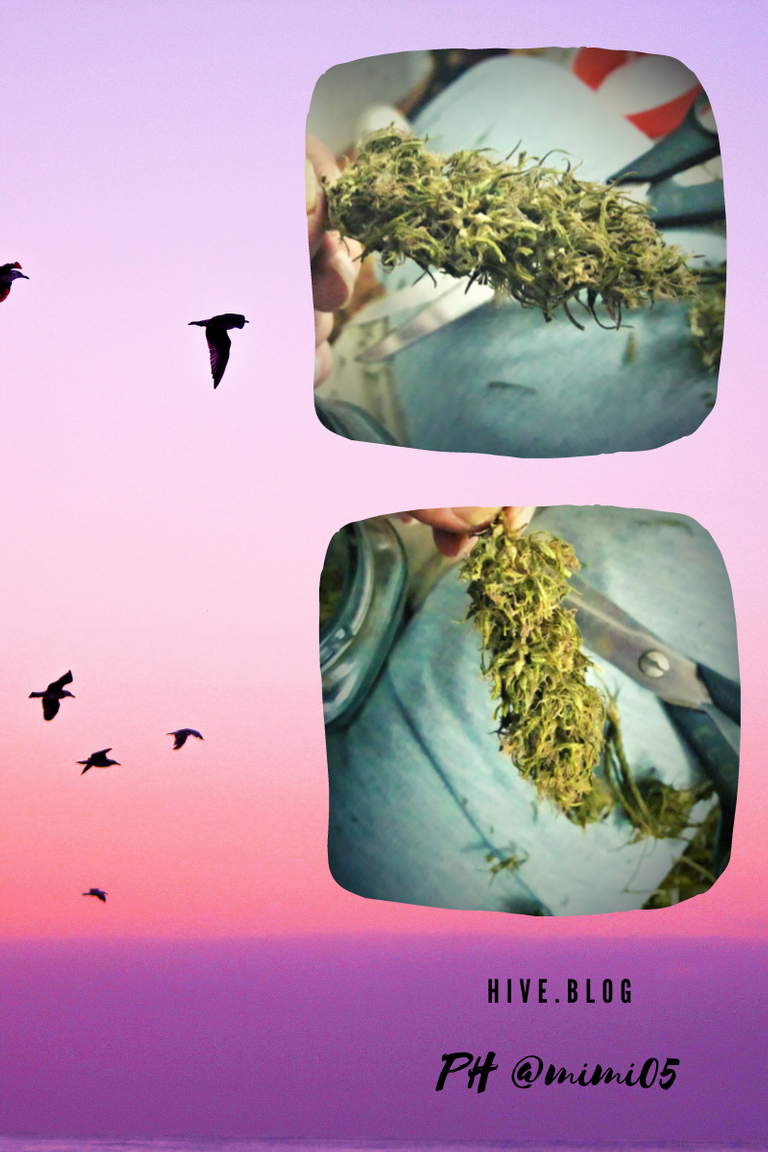 Picando y armando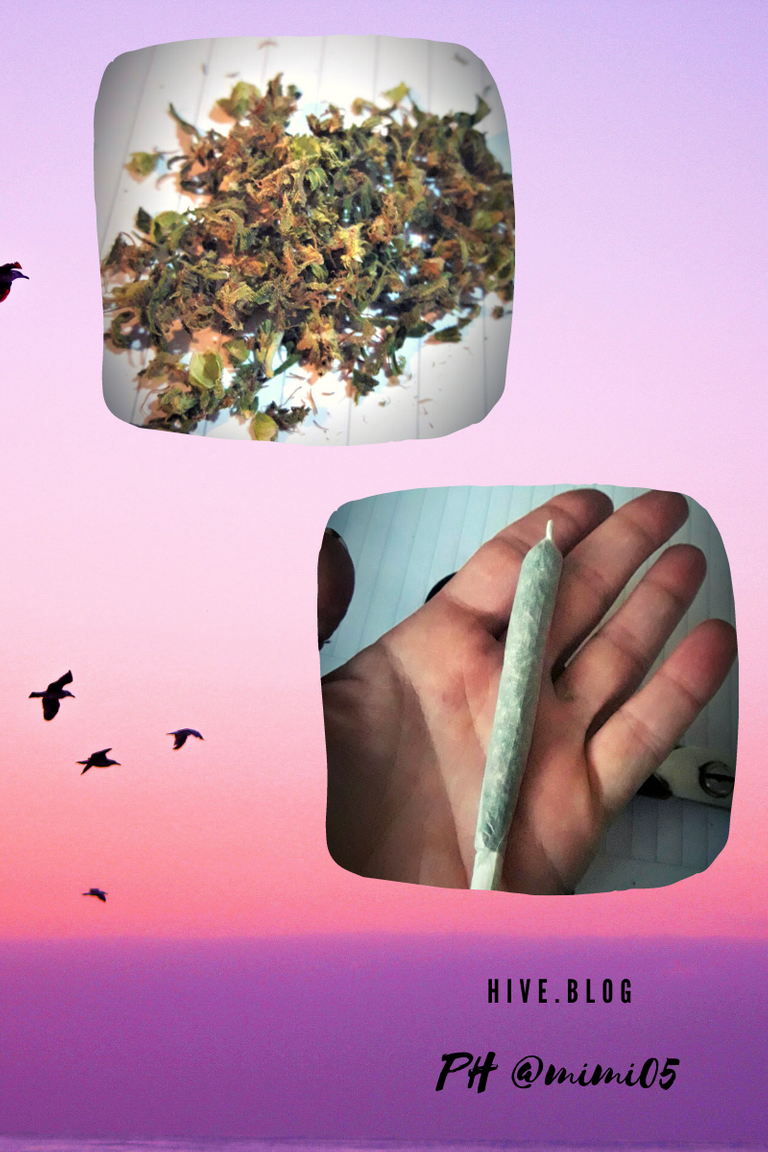 Moraleja: nunca escondas tu mota entre las especies y yerba de la cocina, puede que tu abuela, mamá o tía la confundan con sazón y pierdas toda tu producción! Eso sí, estarán todos felices en tu casa!! jajajaja Que tengas excelente tarde!!
Las fotos las saqué con un Samsung Galaxy J7, y el collage y el separador los hice con CANVA.
GRACIAS A LA COMUNIDAD DE POB Y DE WEEDCASH POR APOYAR MIS PUBLICACIONES!! BUENAS VIBRAS Y BUENOS HUMOS PARA TODOS!!
Arrivederchi!!
Mimi05
Y aquí disfrutándolo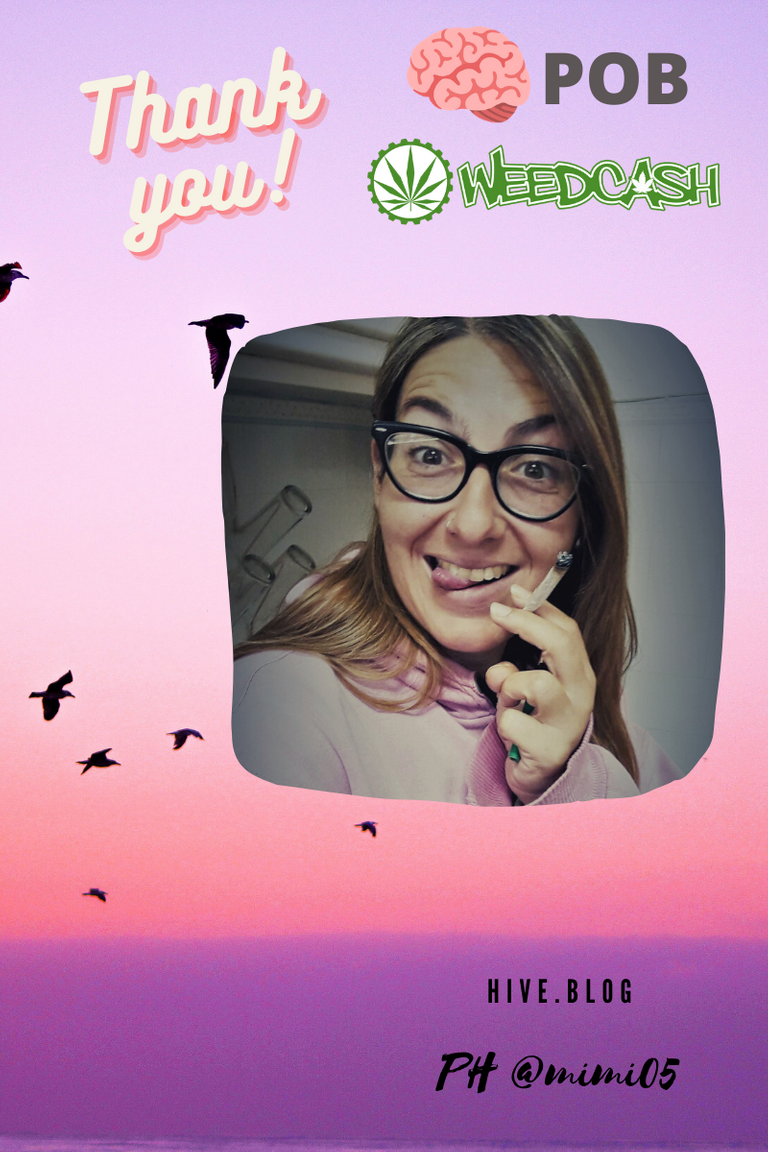 ---
Posted via weedcash.network
---
---