Freedom of thought and decision. // Libertad de pensamiento y decisión.
---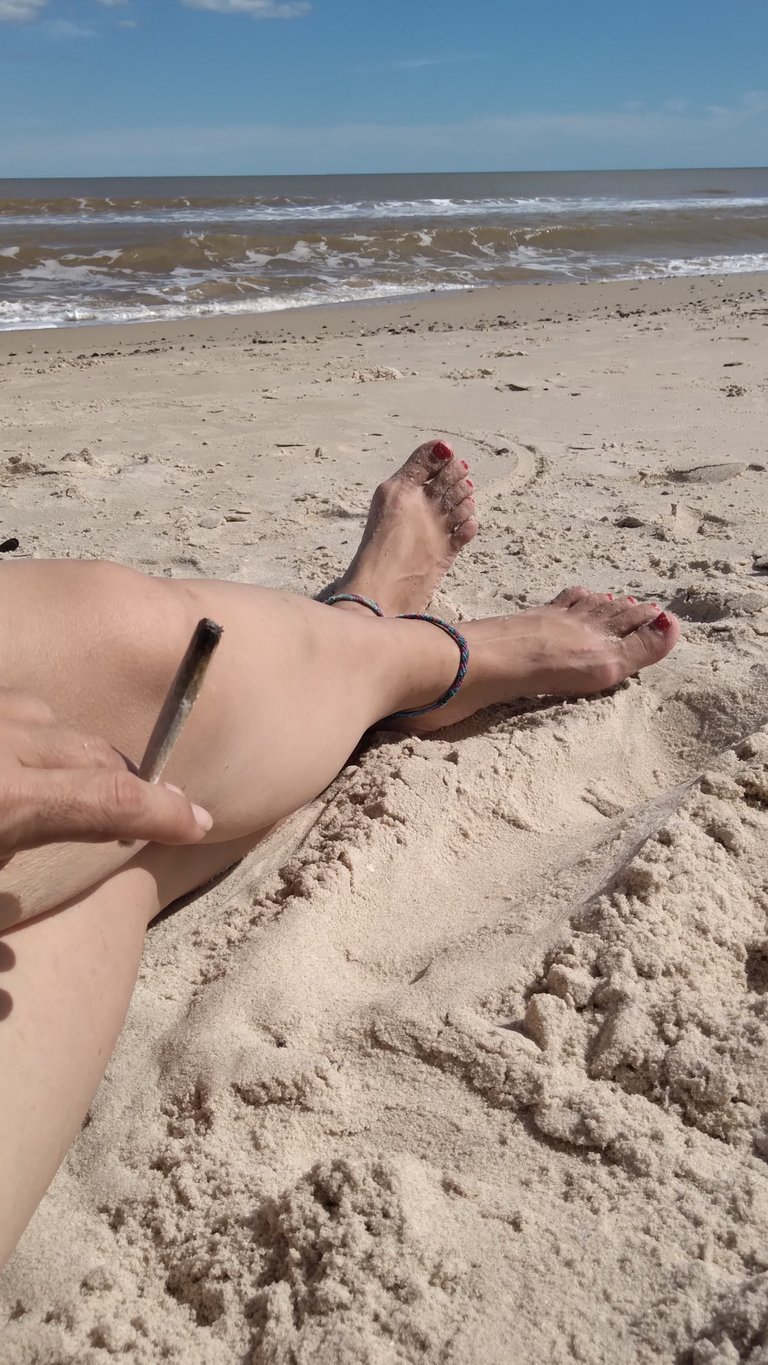 ---
Hoy vengo a dejarles esta imagen de cuando iba a la playa a relajarme, tomar solcito y fumarme un cigarrito de cannabis. Uruguay tiene esa Libertad que no la tienes en otros lugares del mundo. Ahora en Argentina se está regularizando el cultivo, pero no así el consumo, lo que hace que muchos tengan problemas con la ley por querer consumir lo que cultivan.
De todos modos pienso que esto es cuestión de tiempo y de que se comience a buscar ejemplos de otros países que están haciendo esto hace mucho más tiempo y que han tenido éxito en sus procesos de legalización.
La marihuana está mal vista en muchas culturas y países, pero en muchos otros es medicina natural. Lo que la gente no sabe es que siempre fue medicina y que al saber esto, las industrias farmacéuticas tomaron el control para que no se pueda aprovechar los beneficios de la planta. Todo esto para poder seguir lucrando con químicos que lo único que hacen es aliviar dolores y síntomas, pero lo que no te dicen, es que te deriva en otras enfermedades peores que hacen que dependas toda la vida de medicación y ellos puedan lucrar con tu salud.
No te dejes engañar... piensa que tu cuerpo y tus necesidades son pura y exclusivamente tus responsabilidades, y debes investigar antes de caer en manos negras.
Que tengan todos un excelente lunes!!
Today I come to leave you this picture of when I used to go to the beach to relax, sunbathe and smoke a little cannabis cigarette. Uruguay has that freedom that you don't have in other places in the world. Now in Argentina, cultivation is being regularised, but consumption is not, which means that many people have problems with the law because they want to consume what they grow.
In any case, I think it is a question of time and of starting to look for examples from other countries that have been doing this for much longer and have been successful in their legalisation processes.
Marijuana is frowned upon in many cultures and countries, but in many others it is natural medicine. What people don't know is that it has always been medicine and that, knowing this, the pharmaceutical industries took control so that the benefits of the plant could not be taken advantage of. All this so that they can continue to profit from chemicals that only relieve pain and symptoms, but what they don't tell you is that it leads to other worse illnesses that make you depend on medication for the rest of your life and they can profit from your health.
Don't be fooled... think that your body and your needs are purely and exclusively your responsibilities, and you should investigate before falling into black hands.
Have a great Monday!
---

---
---
---