First cycle with seeds from my genetics - Current status and harvest report of the first two plants, MangoXpie and Cherry Pie #18 F1.

Dear new friends of Hive and WeedCash Network, first of all I want to thank you very much for such an intense welcome, I am really happy for the messages and the support from many, I was pleasantly surprised. Thank you!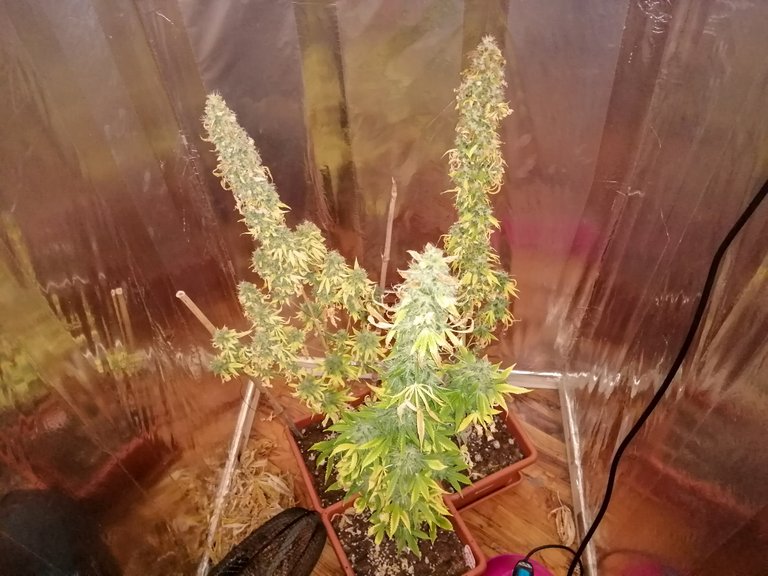 Today I want to present you in more detail the work I am currently carrying out. I'm working on a 90x90 box, the first one I built, otherwise I would work on a 150x150 box that I also built, but which for logistical reasons I now had to disassemble and use only the small box, where unfortunately I can't mount the additional wings of the my cmh 315Watt from Dimlux, thus losing some lumen distribution. As you can see, the plants grew spontaneously, without cutting or LST, because I didn't have the time to be able to follow them as I like, I would have liked to see what results could be obtained by making the most of them.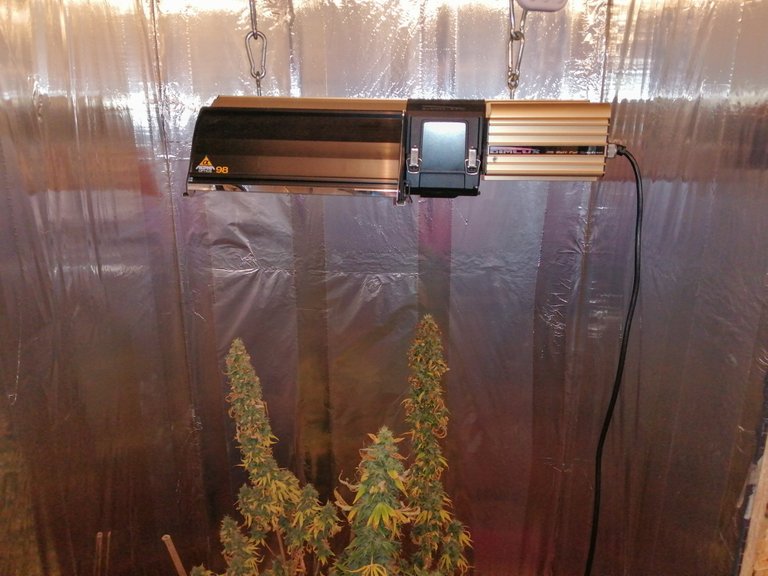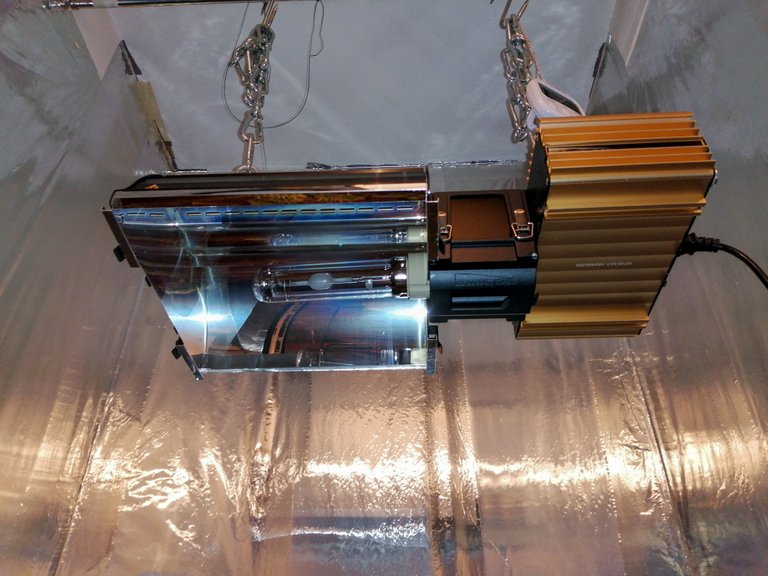 At this moment the box is occupied by 3 plants out of 5 with which I started, using genetic varieties crossed by me, 3 seeds of Mangopie (Somango 47 by Positronics X Cherry Pie #18 by DNA) plus 2 seeds of Cherry Pie #18 F1 (Cherry Pie #18 X Cherry Pie #18 by DNA). So far I have harvested two plants, a Cherry Pie #18 F1, which produced 20g dry, which you can see in the picture with one of the last remaining buds, It didn't last long :). I was happily amazed both by the fruity aroma, much more intense than the mother and also by the feeling of fullness it gives. The effect is very relaxing, quite intense, slowly rising but not too stoned.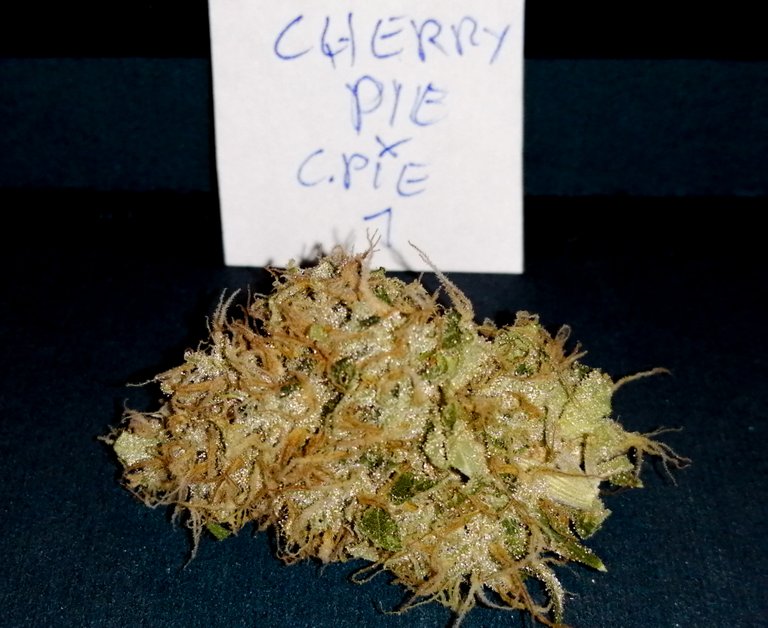 The second one I harvest was a Mangopie, my gem, I cleaned it about 9 days ago, and then put it to dry in a net. I see that many people dry whole plants upside down, I also tried this technique but then I find it more difficult to clean them, I'm much better off cleaning it immediately, as soon as I harvest it and putting the clean buds to dry in the net. Today it was quite dry, I tried to break a top, to see if the branch broke easily, so I weighed it and with surprise I saw 26g out of the 95g it weighed as soon as it was picked. Thanks to the abundant amount of resin, it has lost little weight, I can't wait to try it once it has matured well in a few weeks, but I trust you that I tried to taste a small joint even if it is still early, especially for the flavor , but the effect was devastating, a very intense high that immediately rises, after 3 hits you have to stop to catch your breath, I'm super excited!!!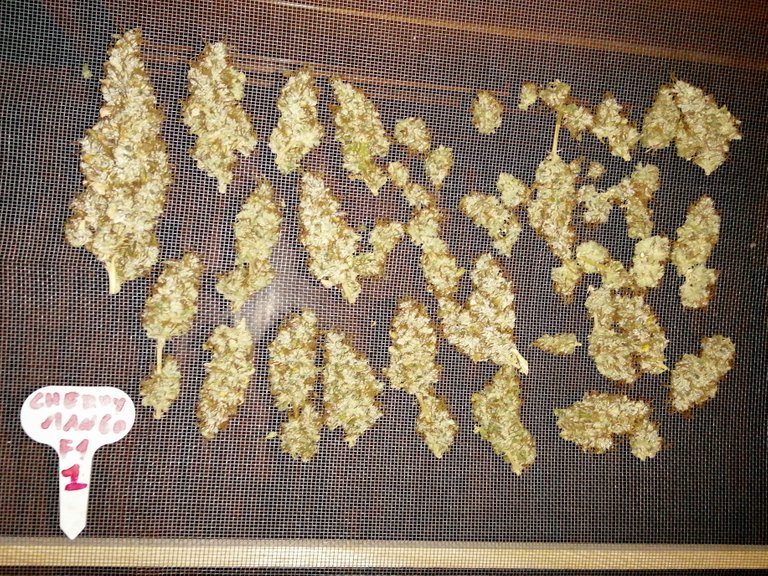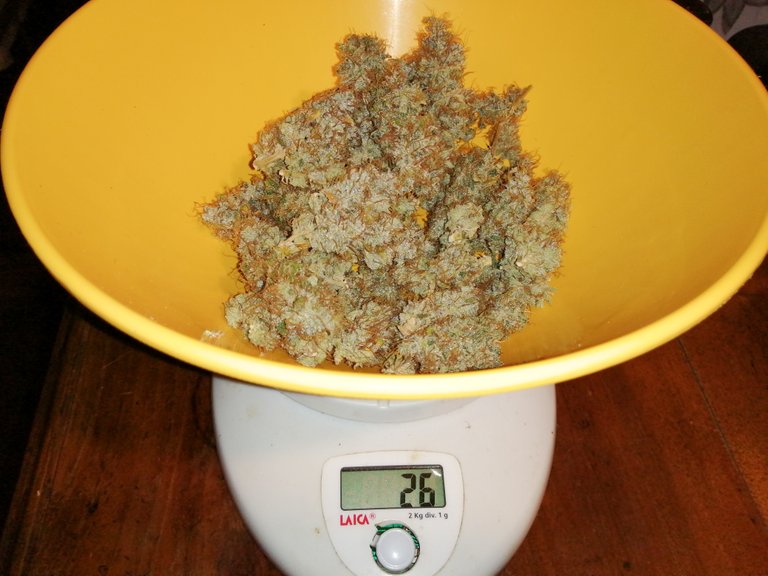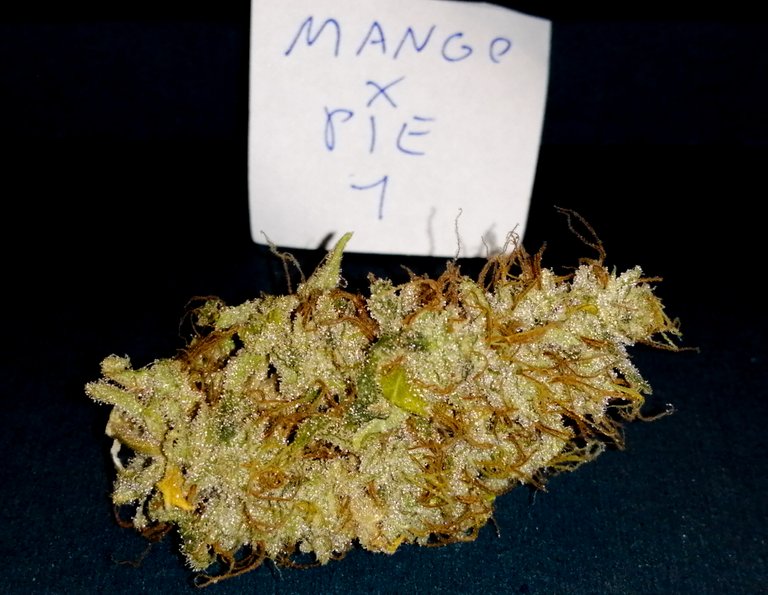 As for the 3 bridesmaids left in the box, the drastic drop in external temperatures slowed down the final maturation a lot. Just think that 2 weeks ago it was 20 degrees outside and today it was snowing. This crazy weather doesn't help and has also affected the indoors, because the room I use for the box is always cold, because nobody uses it for anything else and it's far from heat sources.
But I don't think I have to worry so much, it's almost there now, today I checked the trichomes and many are turning amber, I'll be harvesting them soon too, but I want to wait a few more days. I have already harvested in advance in the past, because I was in a hurry to enjoy the plants, but then I regretted the taste and effect. We must have patience in looking after our loved ones. Furthermore, this cold is making the plants produce more resin and it is good since the buds have already swelled up, if instead the buds were still small it would have been a problem, I risked a blockage of absorptions.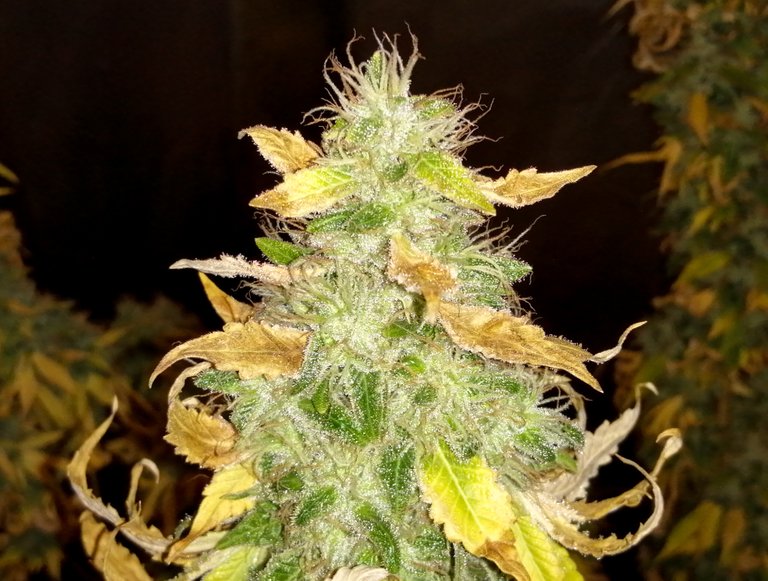 Mangopie (3)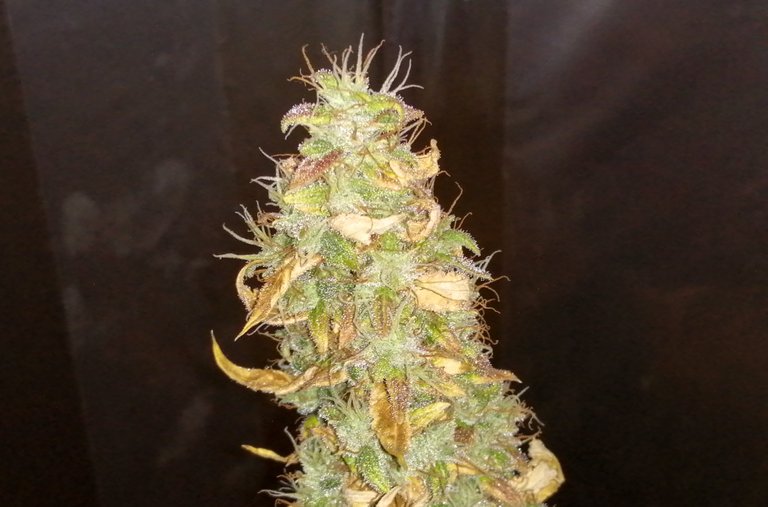 Mangopie (2)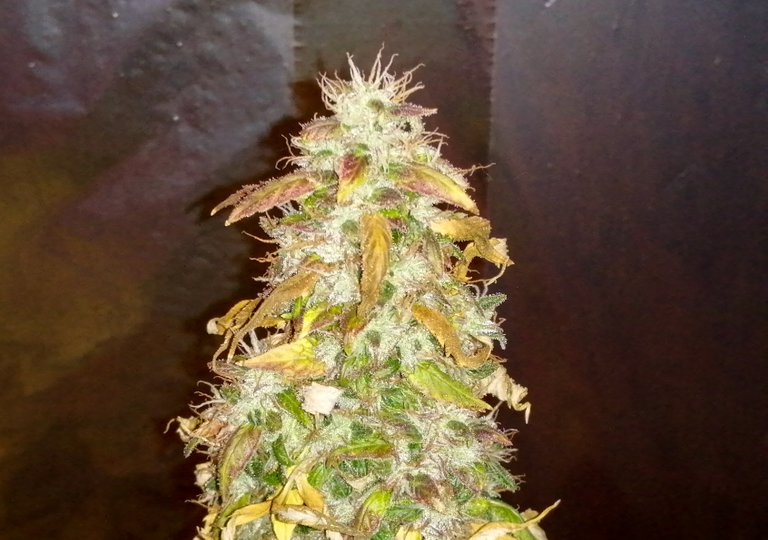 Cherry Pie #18 (2)

I took close-up photos of all three of the apical top, while I took panoramic shots of the most beautiful plant left, another Mangopie really rich in a lot of resin, which inspires me a lot and to think that just born frick, but then yes it is restored and it is growth on a par with the others. As soon as I have collected at least one other plant, I will also extract the resin from the recovered trim, I will make a post with my procedure, to share it and also know your opinions.


Mangopie (2)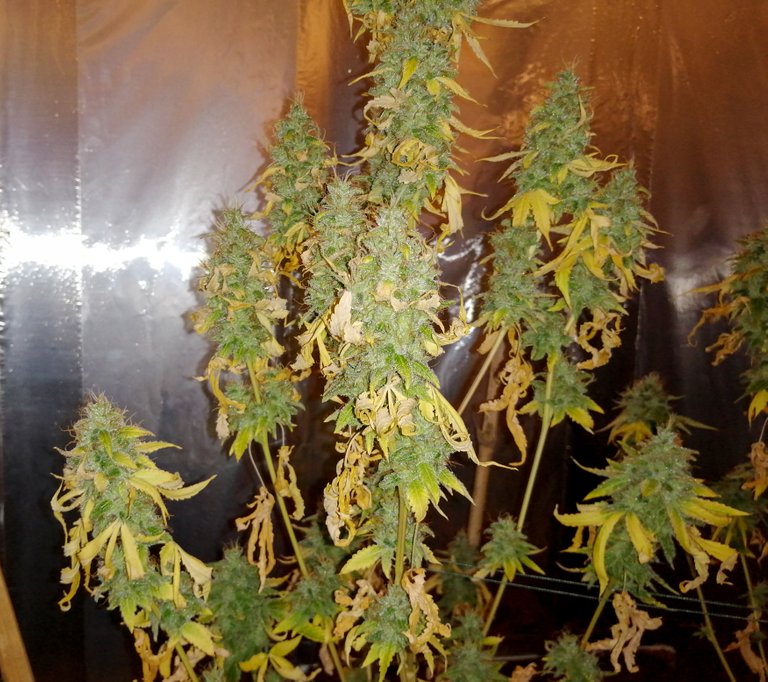 Mangopie (2)

Dear friends, that's all for today, now I'm smoking a nice joint and reading some posts, as soon as I collect the next plant, I'll make a new post to see together how this cycle is going. I send everyone a big hug, cultivate with love and passion and the plants will know how to reciprocate, happy 420 to all.
---
All the photos in this post are the property of the author, any content that represents hemp is for illustrative purposes only and intended for the personal use of the author only, there are no profit purposes of any kind. Thanks and good relaxation to all.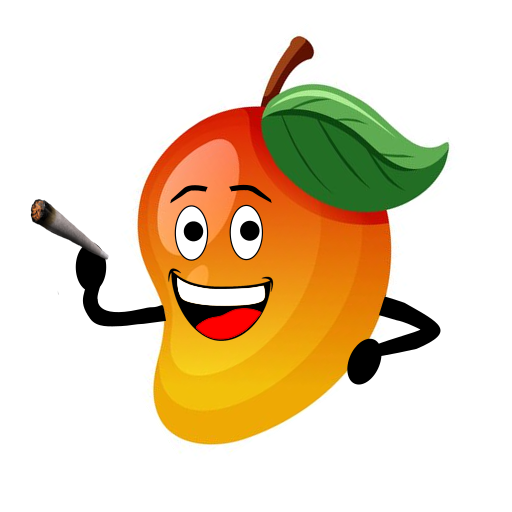 ---
---