Plant medicine, Winter planting & Baked Baking
Never trust a skinny baker! And the best way to get those munchy baking vibes going, and keep my fabulous baker body in perfect doughy and squeezably supple shape is .....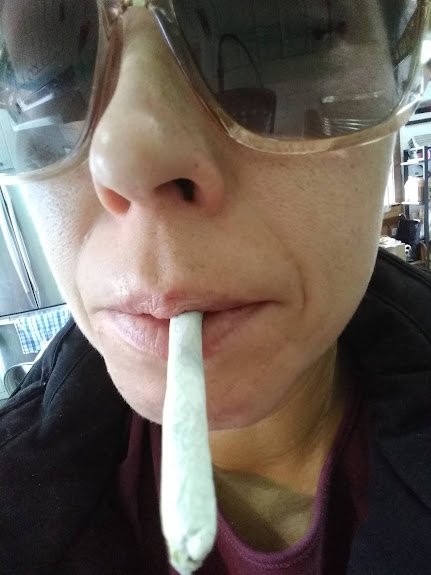 WEED!!!! Home grown ofc
Ok, but that's not the plant medicine I was referring to in my title.
Tincture of Old Man's Beard
I've been making it for over a year now, and I just did up a massive batch again. Myself, my children, and many of my friends have taken this tincture and got better within a couple days. Though like an antibiotic, it's best to keep taking the tincture for a few days after you are feeling better.
Tincture Directions:
1/4 cup chopped fresh or dried herb into a pot with 1/2 cup water

Bring to a boil, cover and simmer 15-20 minutes until reduced to 1/3 cup

Cool for 5 minutes and pour into mason jar

Add 1/2 cup Vodka and mix well

Screw on lid and let sit for 2 weeks, shaking daily to mix

Strain mixture and transfer to an amber tincture bottle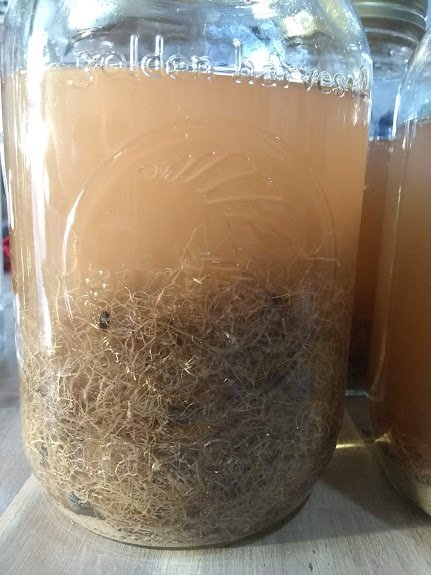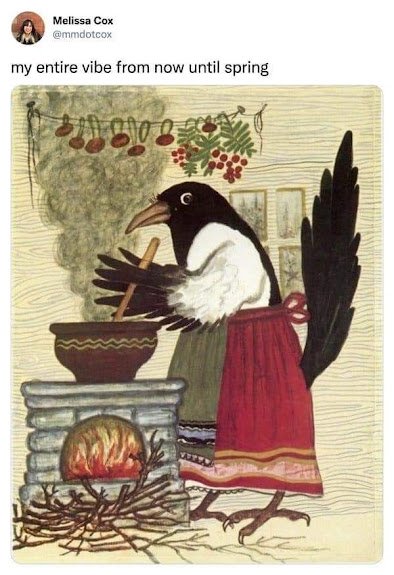 I got this information from the book "Medicinal Herbs of Eastern Canada, A Pictorial Manual" by Brenda Jones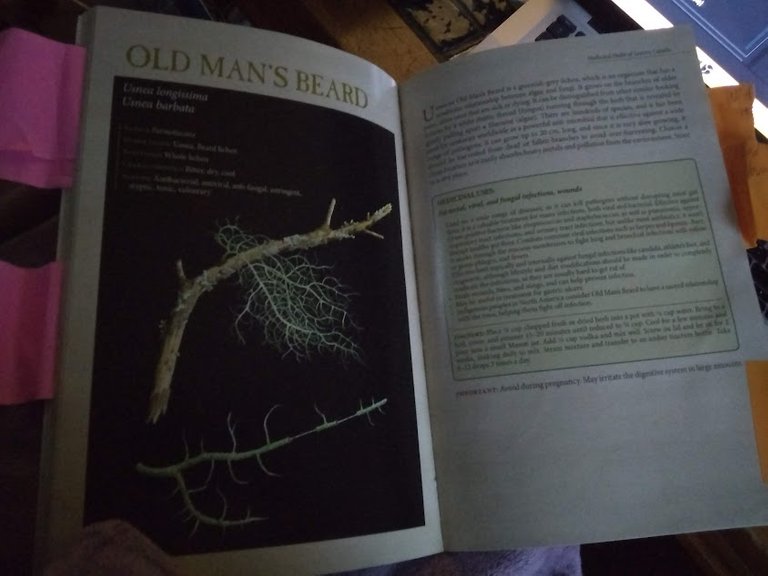 Old Man's Beard MEDICINAL USES
Used on a wide range of diseases; as it can kill pathogens without disrupting most gut flora, it's a valuable treatment for many infections, both viral and bacterial.
Effective against Gram-positive bacteria like streptococcus and staphylococcus, as well as pneumonia, upper respiratory tract infections, and urinary tract infections, but unlike most antibiotics, it won't disrupt healthy gut flora.
Combats common viral infections such as herpes and Epstein-Barr. It works through the mucous membranes to fight lung and bronchial infections with yellow or green phlegm, and fevers.
Effective both topically and internally against fungal infections like candida, athlete's foot and ringworm, although lifestyle and diet modifications should be made in order to completely eradicate the infections as they are usually hard to get rid of.
Heals wounds, bites and stings, and can help prevent infection.
May be useful in treatment for gastric ulcers
Indigenous peoples in North America consider Old Man's Beard to have a sacred relationship with the trees, helping them fight off infection. (This is why you only harvest it off of DEAD FALL < my own words).
IMPORTANT: AVOID DURING PREGNANCY. MAY IRRITATE DIGESTIVE SYSTEM IF TAKEN IN LARGE AMOUNTS.
So now that you know all about this wonderFULL plant, and you have definitely seen it growing, harvest some off of some dead fall and make this tincture. Our Health is Our Responsibility.
Winter Planting
Well, I didn't take any photos of all the GARLIC we planted. We planted it in two separate fields. 20 pounds all together. Looking to yield 60-80 pounds of it in the spring.
The planting I did most recently was my Lupins! The previous owners if this land must have found them invasive, or ugly because in the land of the Lupin, there are none on my 34 acres! WTF!!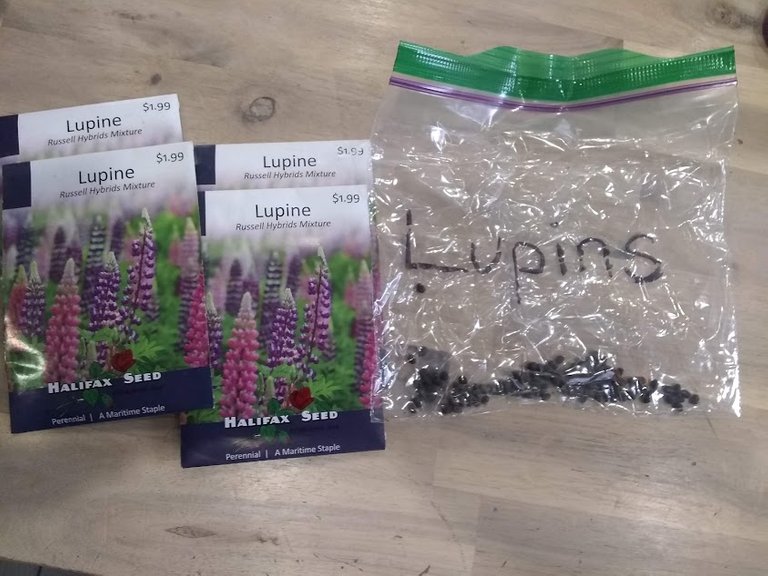 Lupins seeds need to freeze. This is why I planted them in December! I have a few seed packs I bought in the spring and some that I gathered off of beautiful large plants in the neighbourhood.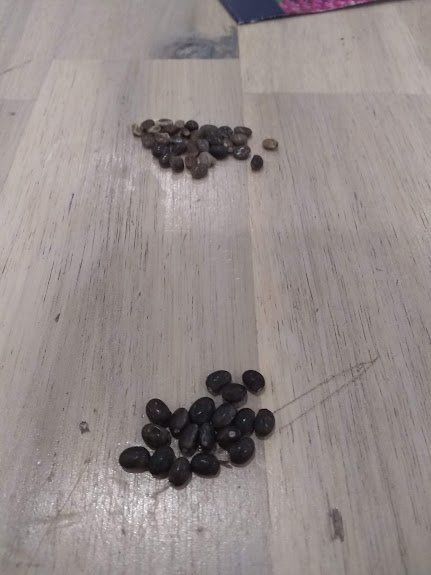 Package seeds vs. my foraged ones. Mine are way darker. Interesting.
I spread them around in the 2 locations I want to have a million lupins in. It will take around 3 years for the plants to mature. Every winter I will seed until I am in lupin heaven.
Well, I thought I planted them at the right time, I got them in right as snow and frost seemed like it was going to be here for good, buuuut, Nova Scotia is having the most beautiful winter EVER, unlike the rest of Canada lolol, and well, the snow and frost went away....and yesterday I saw some suspicious shit from the #chickenbitchez...a team of them eating in a line...that looked exactly where I put my seeds!
Oh well, they will poop them out where they want to, probably will end up being the best plants of all :)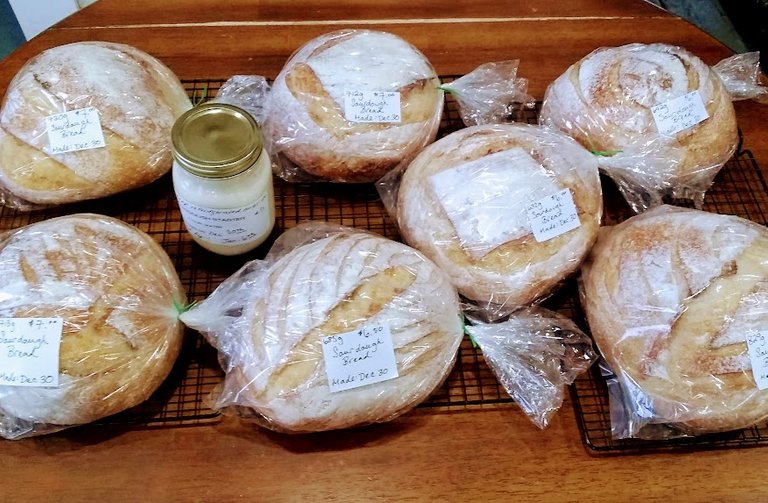 Oh God word has really gotten out about my sourdough...I'm making 8 a day now. Also they found out how sexy my buns are, and now I have to make 48 of them daily as well.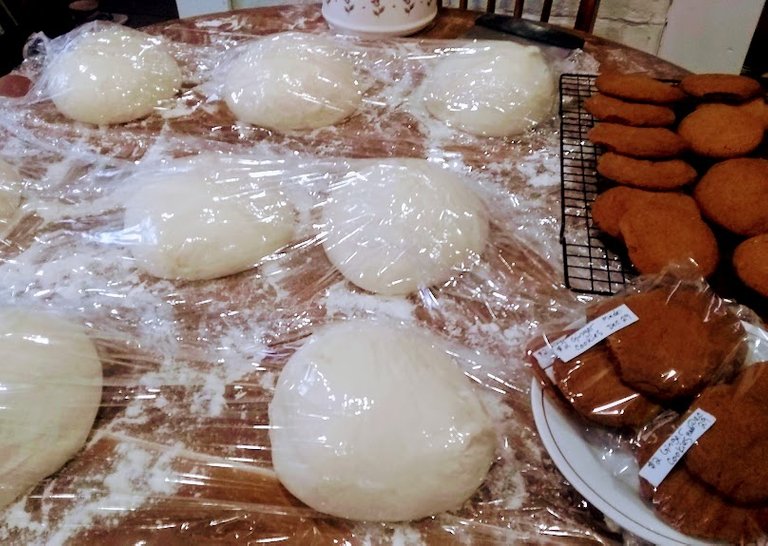 The chewy ginger cookies I baked the other day have been a massive hit, I'm on my 3rd batch and they only last a few hours at the stand. They are made with freeze dried ginger provided by @empoweredlife!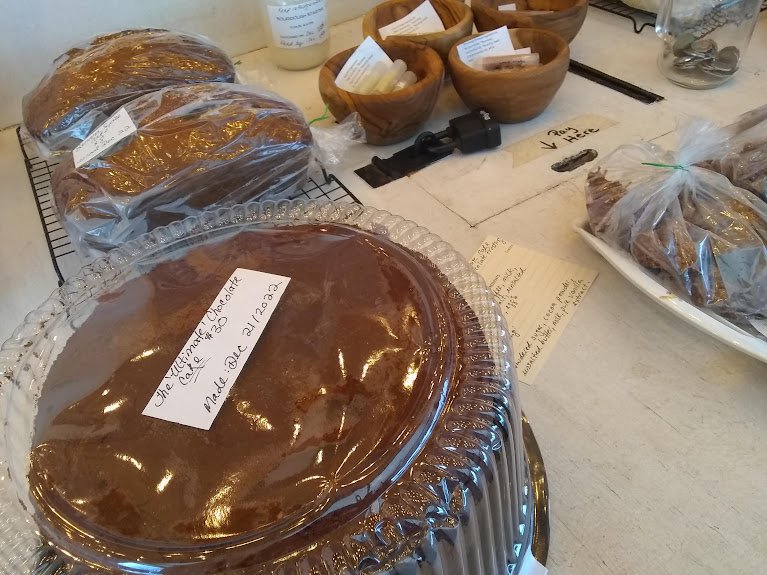 The Ultimate Chocolate Cake, Chocolate Delights and Banana spice cake. And some organic lip balm made by my good friend Amy, don't eat that, but you could if you wanted to.

Shortbread season is almost over...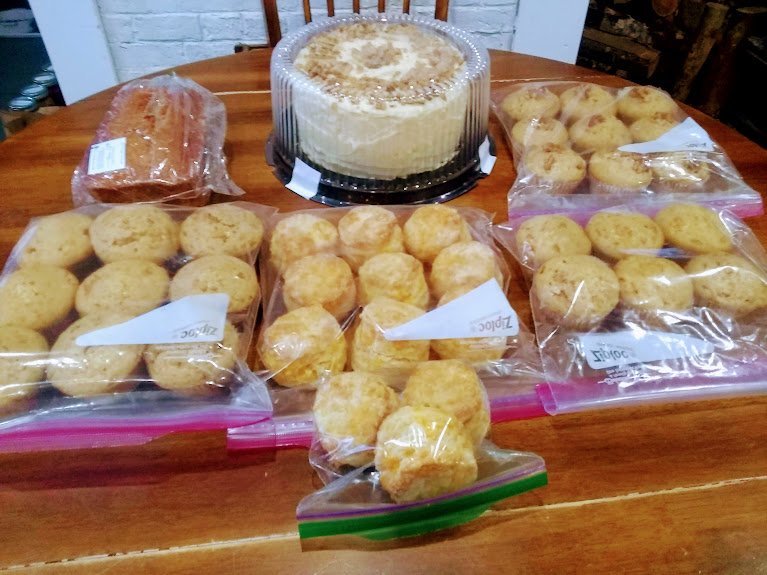 This was an 80$ order that a local artist asked me to put together for a luncheon she was hosting. Large carrot cake, balderson cheddar cheese biscuits, maple and walnut muffins and a banana spice cake.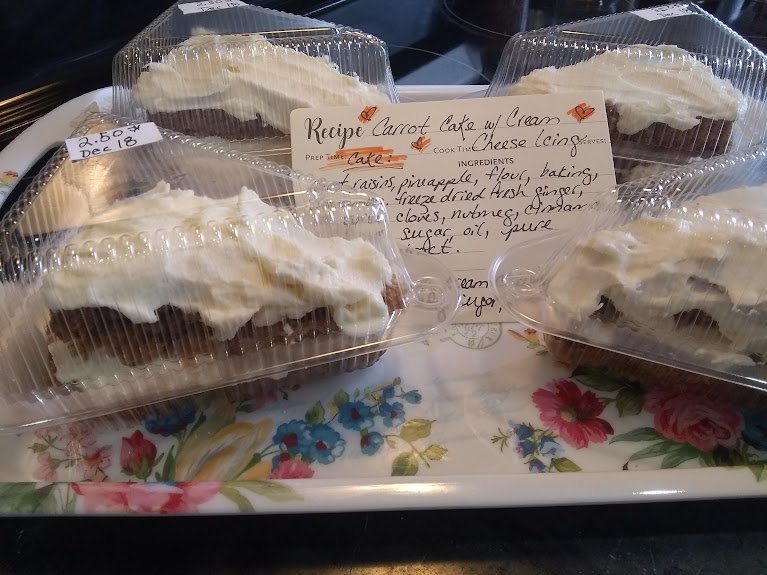 And if you don't want a whole cake, here's a slice! I never skimp on the cream cheese icing 'cause one of my pet peeves is people that do. What's with their 1/16th of an inch layer of icing, cheap #coonts.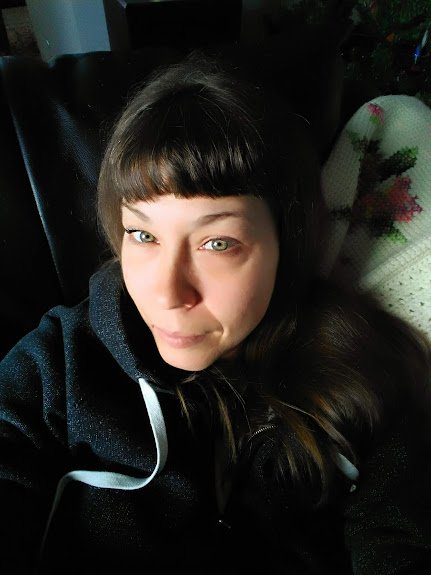 These eyes are a little too clear IMO, so I'm headed off for "it's 420 somewhere" :D
You all have an awesome day! Much Love!!
---
---