The Archaeobotanist- A Cannabis Tale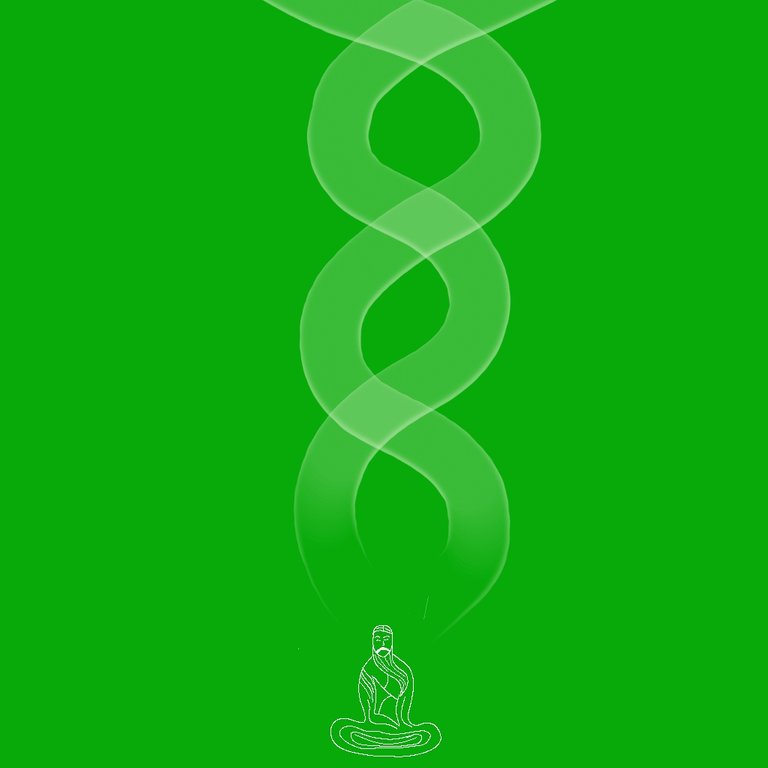 When Walker stumbled into the bamboo grove- caked in mud, blood, and elephant dung, the last thing he expected to find was an old man sitting beside a fire while making tea.
After the initial surprise, Walker stammered towards the figure.
"Help!" he said in broken Mandarin. "Help. Hurt. Tiger! Grrr!"
Walker growled and made a claw, then showed the old man the tiger wound on his side.
The man did not say a word but simply concentrated on preparing his tea. His movements were methodical, economical, ritualistic in a way. Walker noticed several sticks neatly wrapped in a clean white cloth, along with a brush, paper, and ink. A shaman or religious practitioner of some kind, Walker thought.
Only when the leafs were simmering in the pot, did the old man appear to notice Walker's presence. He motioned for him to sit on the opposite side of the fire.
"Hurt. Tiger! Grrr!" Walker moaned, showing him the scratch on his side.
The old man did not respond to his pleading but simply regarded him with cool gray eyes.
"You're late," the old man said in English.
Walker stopped his moaning and regarded the old man with astonishment. For the past month, he had traveled across remote regions of China on a field trip. He was looking for the fabled original strain of the cannabis plant, rumored to grow in the tropical wilds of southern China. His search had led him to a remote village, where his inquiry quickly landed him in trouble with the local authorities. Accused of being a drug smuggler, they chased him into the jungle, where he promptly got lost with only his samples and research notes to keep him company. One day he was attacked by an enraged tiger that clawed him on the side of his stomach. Walker barely managed to escape by crawling on hand and knees along a muddy pond covered in elephant dung. Feverish, bleeding, and dehydrated, he had finally stumbled upon this bamboo grove, and now he was wondering if it was all just a dream.
"You're late," the old man repeated.
"I'm late for…?"
"Ah!" the man raised a finger. He poured some tea in a small bowl and handed it to Walker.
Walker took the bowl and drank from it. The concoction had a familiar smell and when the liquid touched his lips, he felt the hairs on the back of his neck stand on end. An invigorating feeling coursed through his body like a bolt of energy. He gulped down the infusion and felt his senses come alive.
Walker looked at the old man and thanked him. He was silent for a moment, and then he said, "I don't understand what you mean that I'm late. Late for what?"
"The Great Work."
Walker began to have an uneasy feeling about the situation. What was this old man doing by himself in the middle of this jungle? He didn't want to cast aspersions on any cultural practice, but shamans were not exactly known for their sober and stable minds.
The man did not offer any more words but focused solely on drinking his tea. For a moment, he stared into the fire, and his face appeared to be that of a young man, not a single wrinkle on his face, skin taut as if he were in the prime of his youth. Then his face transformed and became that of a mature man at the height of his physical and reasoning powers. A beard began to grow on his face, and when the shadows danced, he became an old man once again.
"Come!" he said jumping up and gathering his tea-making gear. He put out the fire and motioned for Walker to follow him along a narrow path through the bamboo forest.
Walker followed the old man to a nearby cluster of huts and pens, which were kept impeccably clean and organized. Masks and runic totems adorned the makeshift compound.
The old man led him to a platform and proceeded to scoop water with a bowl from large wooden barrels. He poured the water over Walker and scrubbed him with a sponge. All the while, the old man muttered to himself and laughed as if enjoying a private joke. Once satisfied, the man hung the bowl from a line-cloth and then squirreled away down the path. Not knowing what else to do, Walker followed after him.
Inside one of the huts, the old man was already waiting with a bundle, which he carefully unraveled on a palm cot. He unfolded a set of light green robes and without further ado, threw them over Walker's shoulders. He wrapped the robes around his body in the most intricate manner. He laughed and giggled as he did so, and when he had finished, he trotted out the door.
Walker chased after him and saw him go into a large hut, on top of which an old satellite dish had been placed on the bamboo roof. He could see a glow emanating from within. Drawing aside the beaded curtain, he stepped into the eclectic building.
"Dr. Thomas Walker!" said the old man sitting in front of an array of monitors, all of which showed images of Walker at various research conferences. "Archeobotanist. Like me! You have come from afar, at last. Now the Great Work can continue."
"What do you mean? What Great Work?"
"What Great Work?" said the old man as if startled. He ran to an old chest and pulled out vacuum-sealed bags full of seeds.
"This Great Work!"
He fished out scrolls and notebooks then dumped them on Walker's hands.
"This Great Work!"
He ran back to the computer and opened 3D renders of exotic genetic models.
"The original strain!"
Suddenly, Walker understood. He stared at the old man. "You're Hex64!" he said. "By golly, you're Hex64! But I thought you lived in Argentina? You said so yourself."
Hex64 was one of the most active users on the ethno-botany research network. A clever fellow with outlandish theories about the genetic and geographical history of cannabis. No one paid him any mind, seen mostly as a harmless crank, who had nevertheless been instrumental in funding Walker's expedition.
"Come!" said Hex64, pulling on Walker's robes.
Walker hurried after the sprightly old fellow and followed him up a hill. The jungle gave way to brilliant fields of cannabis that stretched into the distance.
The old man applauded and danced.
"The original strain!"
Walker stared at the massive flowers that gave off a pungent yet sweet smell. There were several varieties, none of which he recognized. He reached out and touched the sticky residue that clung like beads of amber to the buds. Was it true? Was the mother plant in this field? He had been searching for this almost mythical plant for nearly 15 years. Its existence was very much in doubt. If not for the statistical anomaly that pointed to this region, he never would have believed it himself. The statistical anomaly! The very anomaly that Hex64 kept banging on about all these years. The sly rascal!
Speaking of which, where had the old man gone?
"Hex? Where are you!?" Walker called out but received no reply.
He went further up the hill and saw that the fields extended all around the mound. He searched along the rows upon rows of plants, marveling at their health and vigor. Still, the old man was nowhere to be seen.
He decided to head back to the compound and wait for him to return. There may yet be a method to his madness, mused Walker.
In the computer hut, he perused through the notebooks and scrolls the old man had kept in the chest. They were filled with hand drawn illustrations of cannabis plants and their genetic sequences, random ideas, diagrams, bit and pieces of code. Each page written with so much care, love, and precision that Walker was sure this was the work of a mad genius.
Soon the shadows grew long and Walker grew even more worried. He lit an oil lamp and with it in hand, he made his way through the bamboo forest, and back to the grove where he had first encountered the old man. As he approached, he saw a flickering fire. Vapor trails surrounded a lone figure seated beside the fire. The tendrils of smoke twisted and curled in the wind, then in a flash, the flames winked out and only the evening shadows remained.
Walker went over to the pit, and on the ground beside it, he saw a bundle of sticks wrapped in a dusty old cloth that had begun to crumble and tear with age. He gathered them silently and carried them back to the old man's home.
---
Thank you for reading my story. It is based on recent scientific research in which the genomes of over 100 varieties of Cannabis were sequenced and analyzed. The analysis concluded that the original strain of the cannabis plant that gave rise to the drug and industrial hemp varieties originated somewhere in China. Throughout the centuries, the plant was domesticated and its use, particularly as a psychoactive agent, spread far and wide. It is unknown whether the original strain still exists or if it went extinct long ago.
Though the third lineage uncovered by the study is more closely related to cannabis' wild ancestors than any of the drug or fiber varieties grown today, these basal cannabis varieties all appear to be feral rather than truly wild—meaning humans had some hand in guiding the plants' evolution. This, along with the sheer number of genomes they sequenced, led Fumagalli and his co-authors to the somber conclusion that the pure wild progenitors of cannabis are probably extinct.
But other researchers wonder if this research might lead to individuals and companies looking for wild cannabis in East Asia anyway. "I wonder if there are plant explorer types who will go hunting for a Valley of Shangri-La for wild cannabis," ponders Page. "East Asia is a big place, it may exist."
New Study Suggests Cannabis' Wild Ancestors Likely Came from China
If you like geeking out on science, check out the original study:
Large-scale whole-genome resequencing unravels the domestication history of Cannabis sativa
Image by @litguru
---
---