My First 82 Days on Hashkings: Profit, ROI and Considerations / I Miei Primi 82 Giorni su Hashkings: Profitto, ROI e Considerazioni (ENG/ITA)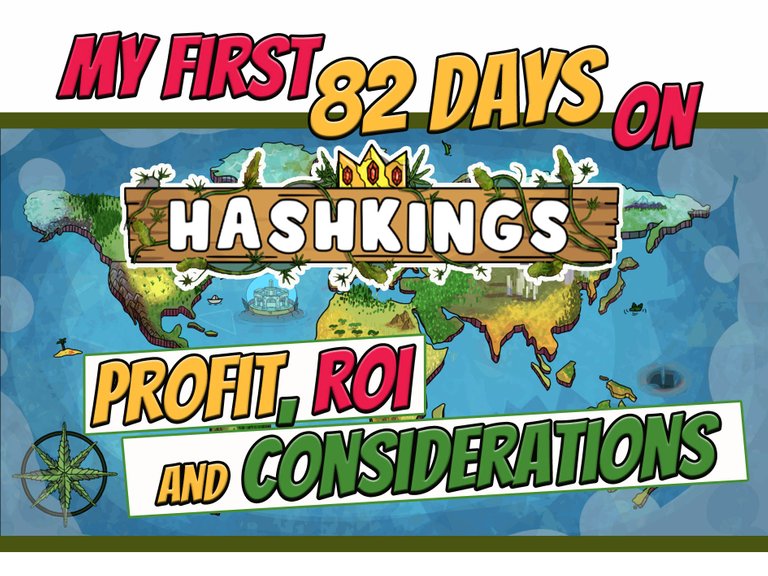 Logo image owned by @hashkings - Edit by @libertycrypto27 - Font used is Open Source
---

La versione in italiano è subito dopo la versione in inglese - The Italian version is immediately after the English version

My First 82 Days on Hashkings: Profit, ROI and Considerations

Hashkings is an NFT-based farming game created and developed on the most beautiful blockchain there is: Hive ;)

Game site: https://farm.hashkings.app/
Account on Hive: @hashkings
Discord channel: https://discord.gg/KwtgbAsTVF
Twitter account: https://twitter.com/HashkingsGame
Whitepaper: https://hashkings-2.gitbook.io/getting-started/starting-on-hashkings
---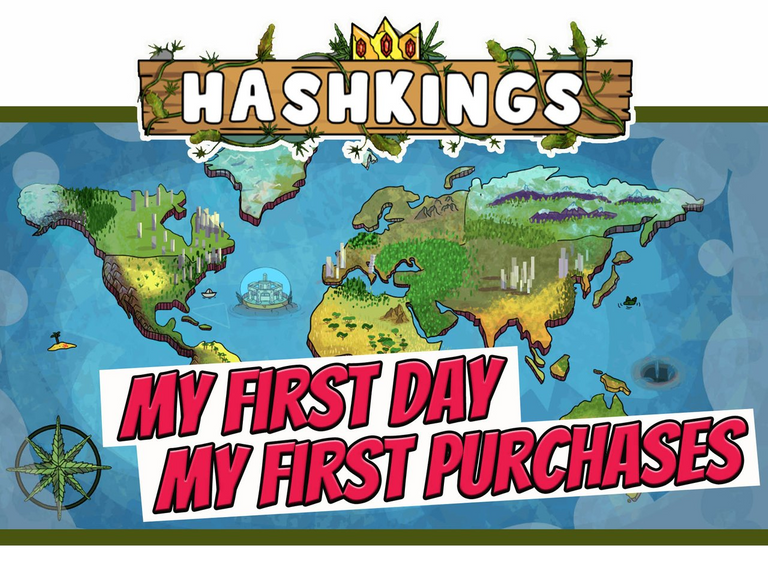 I started my gaming and investing adventure on Hashkings on February 8, 2022.
On the same day I wrote a short introduction to the game, shared my choice of my first purchases (Land cards and Seed cards) and also explained the reasons for my choices (estimated annual ROI).
In the same post I also showed the steps I performed to plant a Seed in a Land and start accumulating game rewards: My First Day, My First Purchases.
---
I play several blockchain-based games and for each of them I publish, with different cadences, a financial report on my Hive blog.
After 82 days, the time has come to evaluate Hashkings from a financial perspective, an evaluation I've never done before.
In the following image you can see the prospectus I built that still has all the fields empty.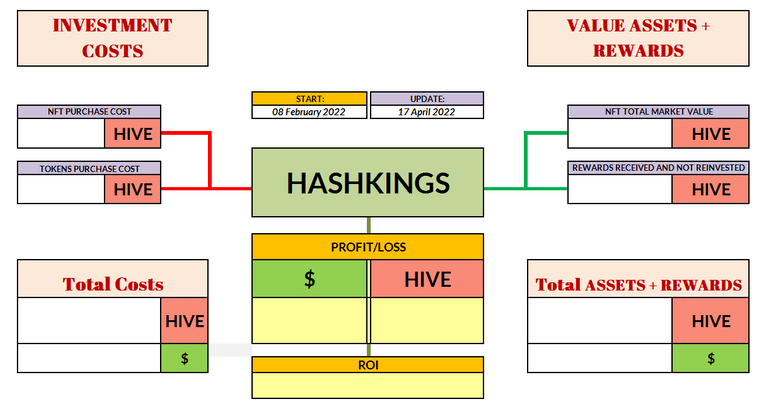 Contextually to the writing of this post I will collect all the data I need (costs and revenues) to calculate Profit and ROI of my investment on Hashkings until today.

Report Topics

Total Investment Cost
Total Revenue
Profit/Loss and ROI Calculation
Final Considerations

Total Cost of Investment

My first investment on Hashking was the purchase of a combination of NFTs plus a quantity of HKWATER tokens:
1 Avatar + 1 Land South America + 1 Seed + 504 HKWATER tokens

After a week and after completing the first harvest I decided to buy another 3 NFT Land South America, another amount of 2016 HKWATER tokens and I also bought 4 NFT Seed but for this last purchase I used the BUDS tokens that I had obtained from the first harvest.
Starting with the second harvest, I no longer used my personal cash because the rewards from the subsequent harvests always allowed me to restart production and also make a small profit.
Next I decided to purchase 11 packs of Avatars and spent a total of 21.82 SWAP.HIVE.
In the following image you can see all the tokens and NFTs I purchased using my personal cash.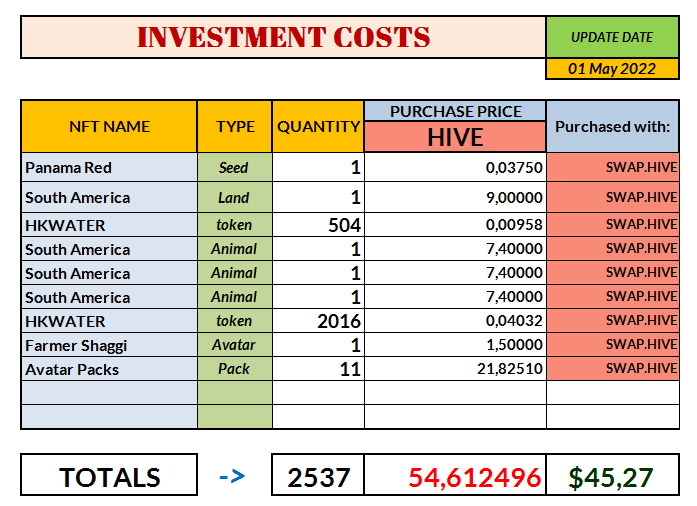 The total cost of my investment in Hashkings to date has been 54.61 HIVE = $45.27.

Total Revenue Value = Total Assets Value

The total revenue I got from investing on Hashkings is the result of the sum of the market value of all assets I own (NFT and tokens).

The value of my NFT collection (Lands + Avatars)

The market value of the 4 Land South America cards in my possession is 24.80 HIVE = $20.56.

Compared to the purchase cost I incurred, the total value of my Land cards has decreased by -20.51%.
I purchased 11 packs of second generation Avatars (G2 PACK).
The purchase cost me a total of 21.85 HIVE and inside each pack I found 3 avatar type NFTs.
In the following table you can see all the NFT Avatar in my possession with the cost of purchase and the current market value.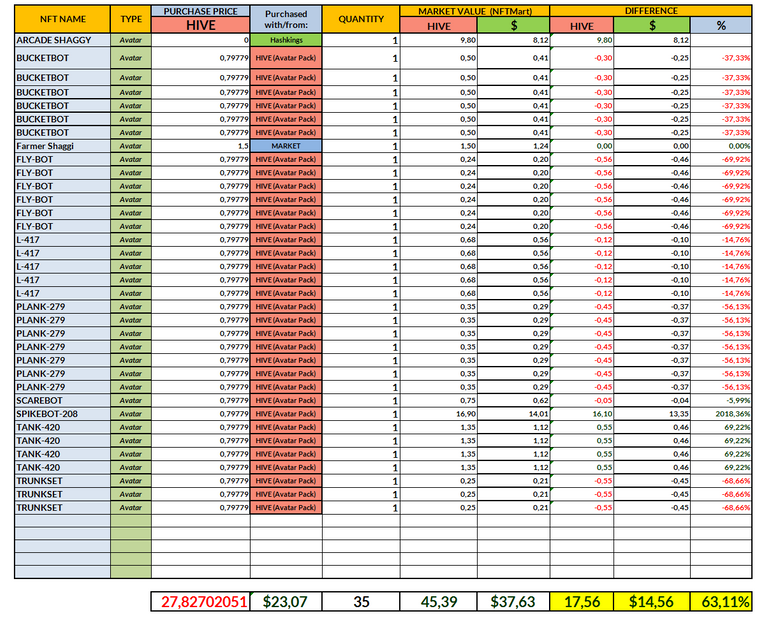 The total market value of the Avatars in my possession is 17.56 HIVE = $15.56.
The Hashkings game has several different types of tokens:
All three tokens I listed above are second-level tokens of the Hive blockchain.
BUDS tokens can be obtained:
The MOTA tokens are obtained by burning the BUDS tokens
BUDSX tokens are obtained by stacking BUDS tokens.
In the following table you can see the amount of tokens I have accumulated so far and the value in HIVE and dollars.

The total value of the tokens in my possession is 1.80 HIVE = $1.49

Profit and ROI

I've collected all the data I need to be able to fill in all the fields in my prospectus and to be able to calculate the Profit and ROI of my investment in Hashkings.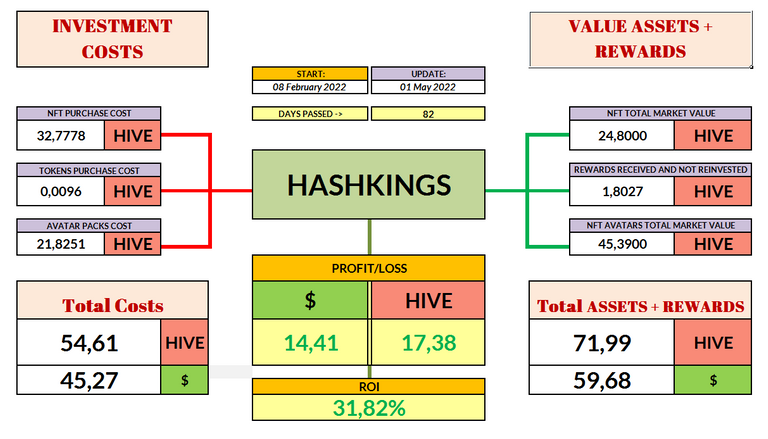 In 82 days of play/investment I have achieved:
a Profit of 17.38 HIVE = $14.41
a ROI of +31.82%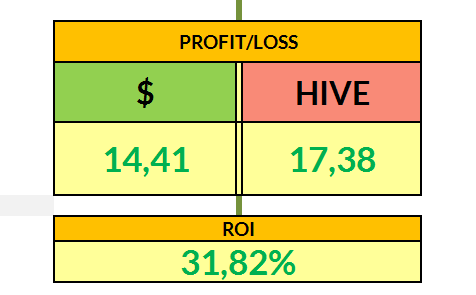 Conclusion

The economics of the Hashkings game is really quite extensive and there are many aspects and investment evaluations that you can make.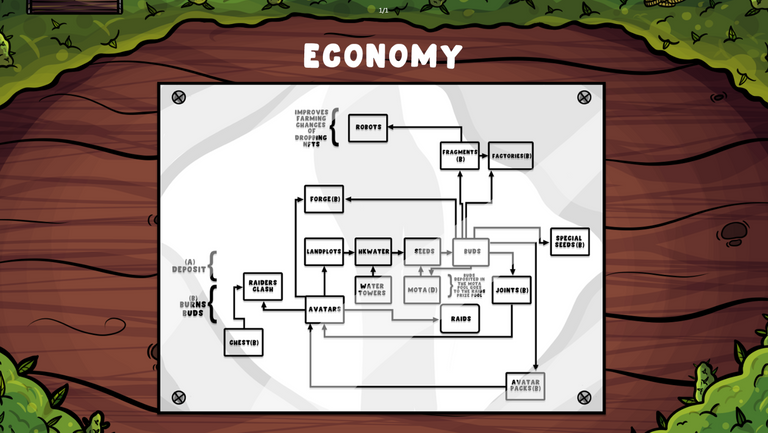 In 82 days of playing/investing I have obtained positive financial results (ROI +31.82%).
The biggest positive weight in the calculation of profit and ROI is due to the total market value of the Avatar NFTs which is higher than the cost I incurred to buy them.
My Farming activity on Hashkings is self-sufficient because it allows me to restart the production using only the rewards of the game and for each harvest produces profits even if with only 4 Land cards the gain after each harvest is very small.
I am considering buying more Land cards to expand my farming activity.
But be careful in all Farming games it is always necessary to make calculations before buying any asset such as a NFT.
On Hashkings there are NFT that have a fair market price such as South America land and there are NFT that have a really high market price for their production characteristics.
The market prices are created by the players and there are opportunities to buy but also purchases that I would never do ;)
In conclusion and after 82 days I am satisfied with the financial results I have obtained so far and in particular because the time required for a game like Hashkings is very little.
I hope you liked this first financial report about my investment activity on Hashkings and if you like it, follow me to read my future posts and reports ;)

Important Note:

Blockchain-based games that allow people to buy and sell tokens are not just games but are also investments and should be treated as such!
In any type of investment there is always a
risk factor
to evaluate and consider.
I am not a financial advisor and the information contained in this post is not financial advice
.
Before investing in a blockchain-based game you should always do your own research and personal evaluations.
My advice is to always only invest what you can afford to lose with a light heart!

Unless otherwise indicated, the images in this post are screenshots taken from the sites:
https://farm.hashkings.app/
https://tribaldex.com/
https://farm.hashkings.app/staking
The font used in the images related to the calculations and in the images edited by me is Open Source
Images containing formulas, tables and calculations are my property
The dividers with the Hive logo in this post were created by me and if you like them you can use them too, the Hive logo is property of https://hive.io/
---


https://www.1up.zone/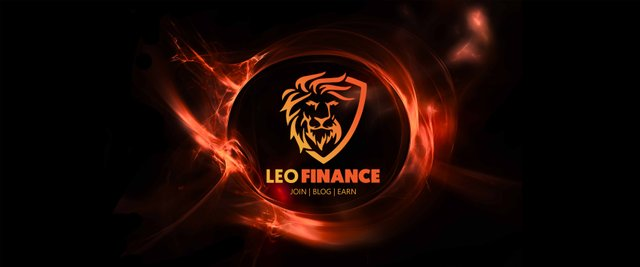 https://leofinance.io/



I Miei Primi 82 Giorni su Hashkings: Profitto, ROI e Considerazioni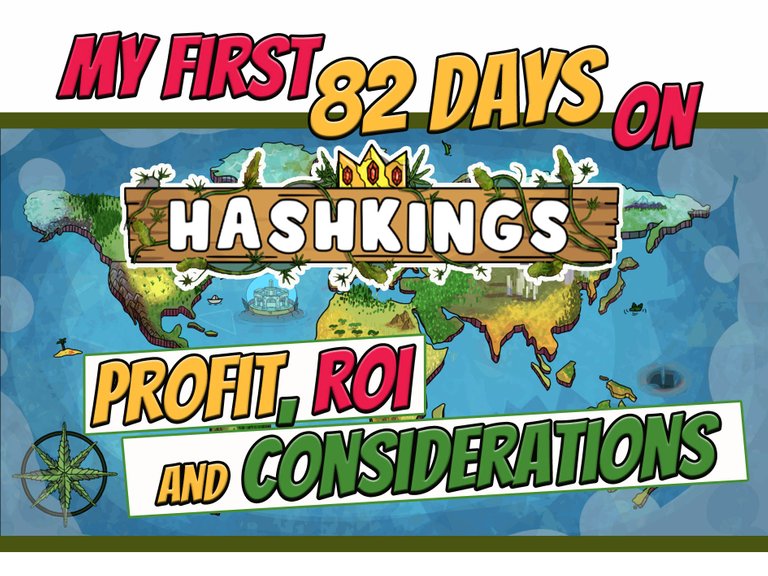 Logo image owned by @hashkings - Edit by @libertycrypto27 - Font used is Open Source

Hashkings è un gioco di farming basato su NFT creato e sviluppato sulla blockchain più bella che c'è: Hive ;)

Sito del gioco: https://farm.hashkings.app/
Account su Hive: @hashkings
Canale Discord: https://discord.gg/KwtgbAsTVF
Account Twitter: https://twitter.com/HashkingsGame
Whitepaper: https://hashkings-2.gitbook.io/getting-started/starting-on-hashkings
---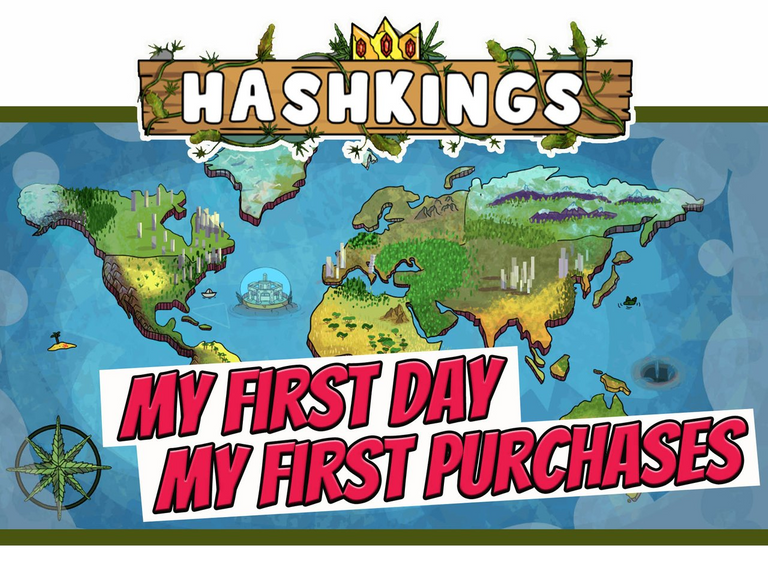 Ho iniziato la mia avventura ludica e di investimento su Hashkings l'8 febbraio 2022.
Lo stesso giorno ho scritto una breve introduzione al gioco, ho condiviso la scelta dei miei primi acquisti (carte Land e carte Seed) e ho spiegato anche i motivi delle mie scelta (ROI annuale stimato).
Nello stesso post ho mostrato anche i passi che ho eseguito per piantare un NFT di tipo Seme in un NFT di tipo Land e per iniziare ad accumulare le ricompense di gioco: My First Day, My First Purchases.
---
Gioco a diversi giochi basati su blockchain e per ognuno di essi pubblico, con cadenze diverse, un report finanziario sul mio Hive blog.
Dopo 81 giorni è arrivato il momento di valutare Hashkings dal punto di vista finanziario, valutazione che non ho mai fatto prima d'ora.
Nell'immagine seguente puoi vedere il prospetto che ho costruito che ha ancora tutti i campi vuoti.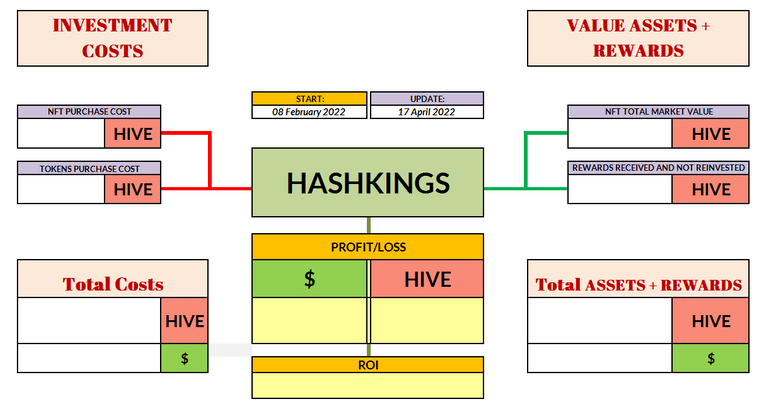 Contestualmente alla scrittura di questo post raccoglierò tutti i dati che mi servono (costi e ricavi) per calcolare Profitto e ROI del mio investimento su Hashkings fino ad oggi.

Argomenti del Report

Costo Totale Investimento
Totale Ricavi
Calcolo Profitto/Perdita e ROI
Considerazioni finali

Costo Totale Investimento

Il mio primo investimento su Hashking è stato l'acquisto di una combinazione di NFT più un quantitativo di token HKWATER:
1 Avatar + 1 Land South America + 1 Seed + 504 HKWATER tokens

Dopo una settimana e dopo aver completato il primo raccolto ho deciso di acquistare altri 3 NFT Land South America, un altro quantitativo di 2016 token HKWATER e ho acquistato anche 4 NFT Seed ma per questo acquisto ho utilizzato i token BUDS che avevo ottenuto dal primo raccolto.
A partire dal secondo raccolto non ho più utilizzato la mia liquidità personale perchè le ricompense dei raccolti successivi mi hanno sempre permesso di far ripartire la produzione e ottenere anche un piccolo profitto.
Successivamente ho deciso di acquistare 11 pacchi di Avatars e ho speso in totale 21.82 SWAP.HIVE.
Nell'immagine seguente puoi vedere tutti i token e gli NFT che acquistato utilizzando la mia personale liquidità.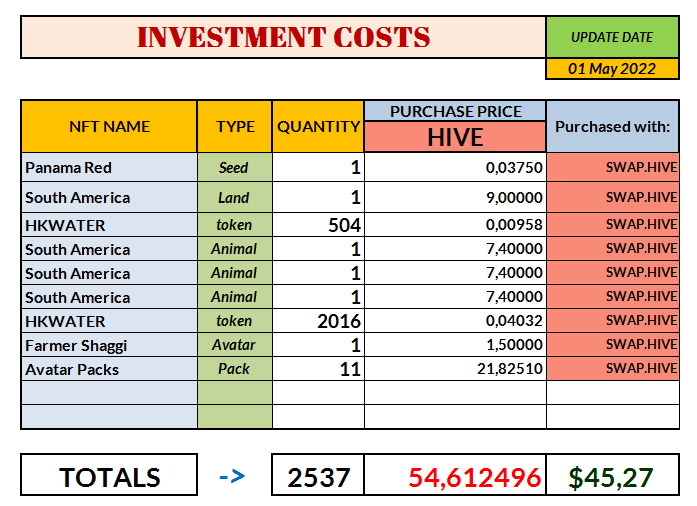 Il costo totale del mio investimento su Hashkings è stato fino ad oggi di 54.61 HIVE = 45.27$

Totale Valore Ricavi = Totale Valore Assets

Il totale dei ricavi che ho ottenuto investendo su Hashkings è il risultato della somma del valore di mercato di tutti gli assets in mio possesso (NFT e tokens).

Il valore della mia collezione di NFT (Lands + Avatars)

Il valore di mercato delle 4 carte Land South America in mio possesso è di 24.80 HIVE = 20.56$.

Rispetto al costo di acquisto che ho sostenuto il valore totale delle mie carte Land è diminuito del -20.51%.
Ho acquistato 11 pacchi di Avatars di senconda generazione (G2 PACK).
L'acquisto mi è costato in totale 21.85 HIVE e all'interno di ogni pacco ho trovato 3 NFT di tipo avatar.
Nella tabella seguente puoi vedere tutti gli NFT Avatar in mio possesso con il relativo costo di acquisto e l'attuale valore di mercato.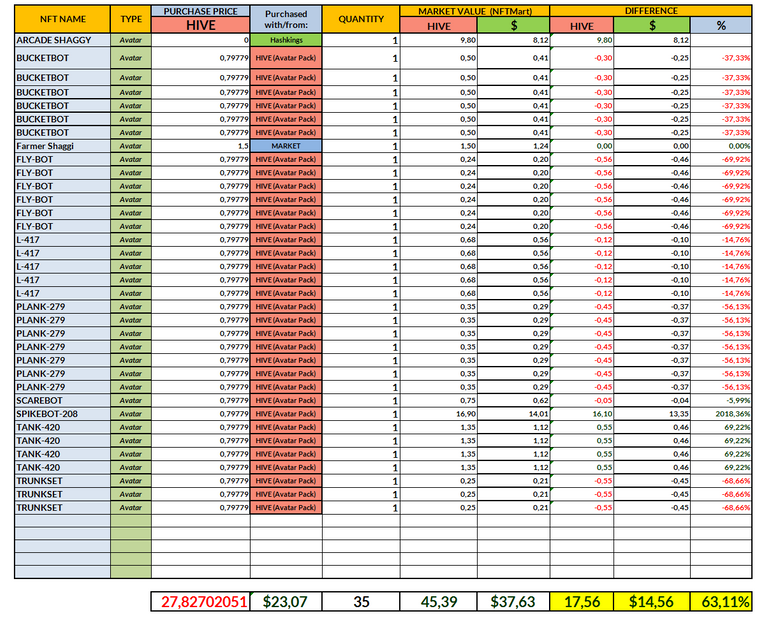 Il totale del valore di mercato degli Avatar in mio possesso è di 17.56 HIVE = 15.56$.
Il gioco di Hashkings ha diversi tipi di token:
Tutti e tre i token che ho elencato sopra sono token di secondo livello della blockchain di Hive.
I token BUDS possono essere ottenuti:
dall'attività di farming
delegando HP all'account @hk-curation
aggiungendo liquidità ad alcune pools su https://tribaldex.com/
utilizzando gli NFT di tipo Avatar nella modalità di gioco Raids
I token MOTA si ottengono dalla bruciatura dei token BUDS
I token BUDSX si ottengono mettendo in stacking i token BUDS
Nella tabella seguente puoi vedere il quantitativo dei token che ho accumulato fino ad ora e il valore in HIVE e in dollari.

Il valore totale dei token in mio possesso è di 1.80 HIVE = 1.49$

Profit e ROI

Ho raccolto tutti i dati che mi servono per poter riempire tutti i campi del mio prospetto e per poter calcolare il Profitto e il ROI del mio investimento su Hashkings.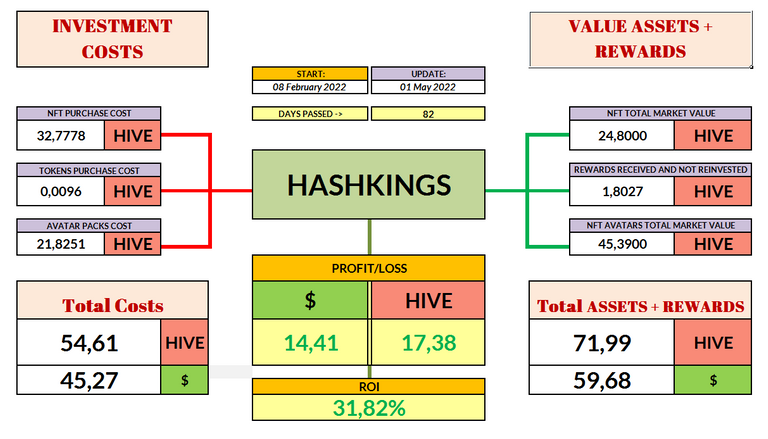 In 82 giorni di gioco/investimento ho ottenuto:
un Profitto di 17.38 HIVE = 14.41$
un ROI di +31.82%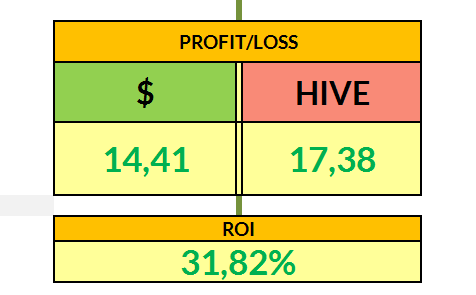 Conclusione

L'economia del gioco di Hashkings è davvero molto vasta e sono molti gli aspetti e le valutazioni di investimento che è possibile fare.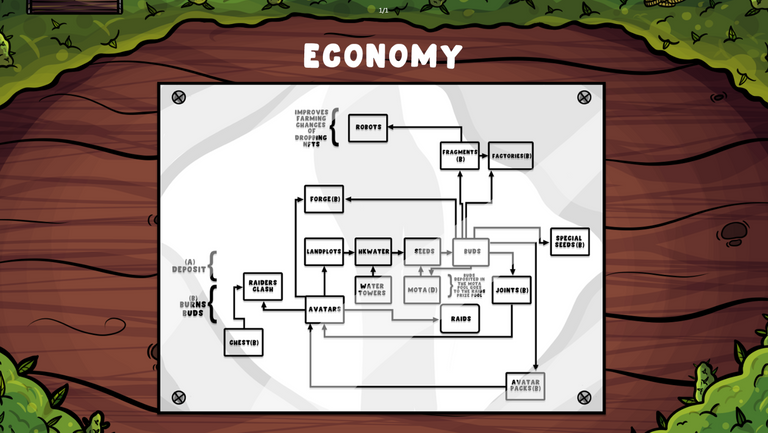 In 82 giorni di gioco/investimento ho ottenuto dei risultati finanziari positivi (ROI +31.82%).
Il peso positivo maggiore nel calcolo del profitto e del ROI è dovuto al totale del valore di mercato degli NFT di tipo Avatar che è maggiore rispetto al costo che ho sostenuto per acquistarli.
La mia attività di Farming su Hashkings è autosufficiente perchè mi permette di far ripartire la produzione utilizzando solo le ricompense di gioco e per ogni raccolto produce dei profitti anche se con sole 4 carte Land il guadagno dopo ogni raccolto è molto piccolo.
Sto valutando di comprare altre carte Land per ampliare la mia attività di farming.
Dopo 82 giorni sono soddisfatto dei risultati finanziari che ho ottenuto fino ad ora anche perchè il tempo che richiede un gioco come Hashkings è davvero poco.
Spero che questo mio primo report finanziario relativo alla mia attività di investimento su Hashkings ti sia piaciuto e se ti fa piacere, seguimi per leggere i miei futuri post e report ;)


Nota Importante:

I giochi basati su blockchain che permettono di acquistare e vendere token non sono solo giochi ma sono anche investimenti e come tali devono essere trattati!
In ogni tipologia di investimento c'è sempre un
fattore di rischio
da valutare e considerare.
Io non sono un consulente finanziario e le informazioni contenute in questo post non sono consigli finanziari
Prima di investire in un gioco basato su blockchain devi sempre fare le tue ricerche e le tue personali valutazioni.
Il mio consiglio è di investire sempre e soltanto quello che puoi permetterti di perdere a cuor leggero!

Se non diversamente indicato, le immagini presenti in questo post sono screenshots presi dai siti:
https://farm.hashkings.app/
https://tribaldex.com/
https://farm.hashkings.app/staking
Le immagini che contengono formule, tabelle e calcoli sono di mia proprietà
Il font usato nelle immagini relative ai calcoli e nelle immagini da me editate è Open Source
The dividers with the Hive logo in this post were created by me and if you like them you can use them too, the Hive logo is property of https://hive.io/


https://www.1up.zone/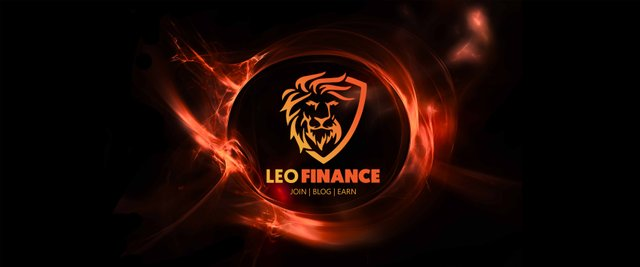 https://leofinance.io/

Posted Using LeoFinance Beta
---
---