Hashkings: My return to Harvest! Harvest Profit Calculation and Considerations (ENG/ITA)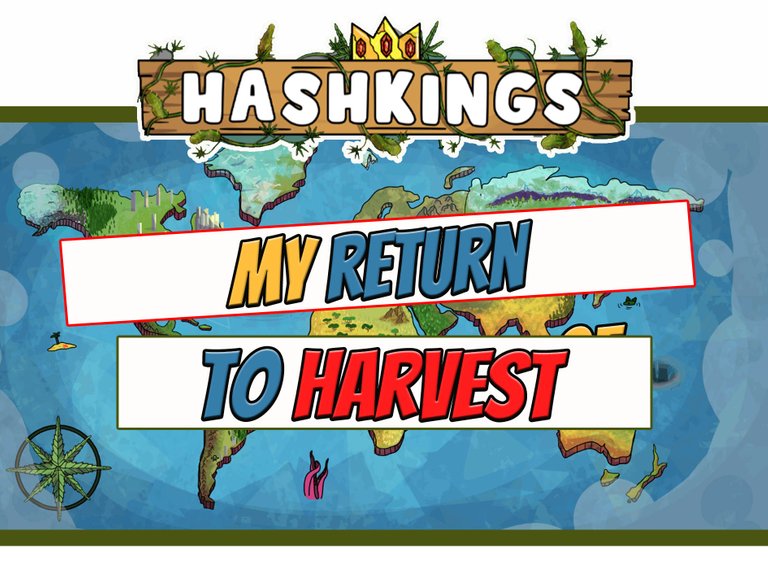 Logo image owned by @hashkings - Edit by @libertycrypto27 - Font used is Open Source
---

La versione in italiano è subito dopo la versione in inglese - The Italian version is immediately after the English version

Hashkings: My return to Harvest! Harvest Profit Calculation and Considerations

Hashkings is an NFT-based farming game created and developed on the most beautiful blockchain there is: Hive ;)

Game site: https://farm.hashkings.app/
Account on Hive: @hashkings
Discord channel: https://discord.gg/KwtgbAsTVF
Twitter account: https://twitter.com/HashkingsGame
Whitepaper: https://hashkings-2.gitbook.io/getting-started/starting-on-hashkings
---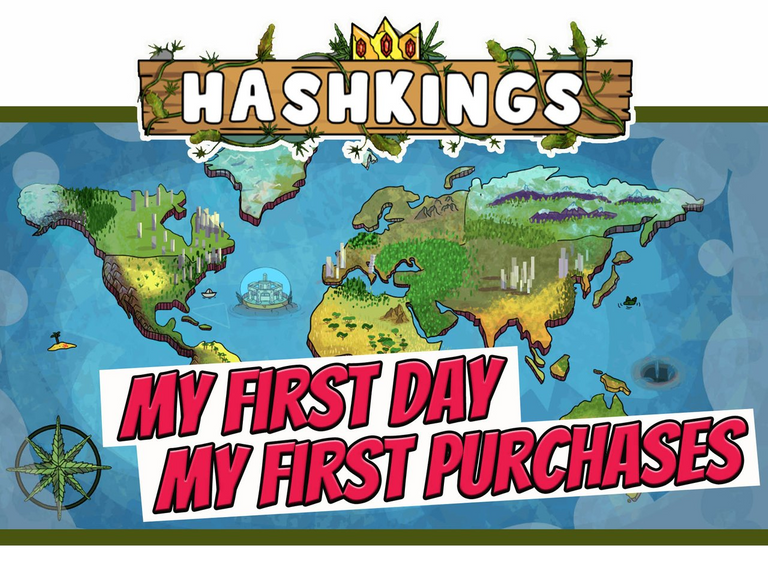 I started my gaming and investing adventure on Hashkings on February 8, 2022.
On the same day I wrote a short introduction to the game, shared my choice of my first purchases (Land cards and Seed cards) and also explained the reasons for my choices (estimated annual ROI).
In the same post I also showed the steps I performed to plant a Seed in a Land and start accumulating game rewards: My First Day, My First Purchases.
---
Today after about three months I return to South America to resume my farming activities in the game of Hashkings.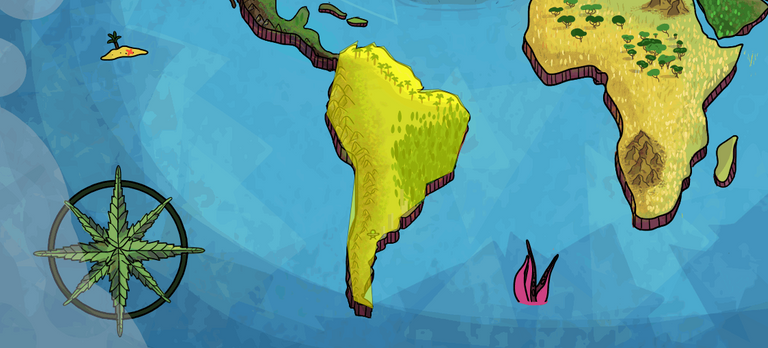 Eh yes I have taken quite a long vacation, so many work commitments in real life have forced me to neglect some play activities that I enjoy doing such as my farming activity on Hashkings.
By the way, the number of games on Hive is growing and in the near future it will be difficult to keep up with them all but I have a passion for blockchain-based games with a particular preference for Hive-based games and, time permitting, I will try to play them all.
So it has been three months since my four Southamerica lands have received seed and water and today I am resuming their care.
When I made my last harvest it was June 18, 2022, and from my four South America lands I had made a profit of 454 BUDS = 0.1089 SWAP.HIVE = $0.0553

I'm curious to see what has changed in about three months, so I'm off immediately to plant 4 seeds in my four South American lands.
Thanks to my MOTA token staking activity, I don't need to buy seeds to plant because I get 4 seeds per week completely free of charge.

If you are a new Hashkings player I recommend that you burn the BUDS tokens you get from your harvests in exchange for MOTA tokens and then staking the MOTA tokens until you get as a weekly reward a number of seeds equal to the number of Land cards in your possession.
Having been inactive for a long time I have accumulated a good number of seeds:
29 Colombian Gold
34 Panama Red

I chose to plant the seeds in my possession with the highest production attribute in order to obtain at harvest time the greatest number of BUDS tokens, and so today I planted:
3 Colombian Gold seeds - Productions: 258 BUDS - 246 BUDS - 245 BUDS
1 seed Panama Red - Production: 244 BUDS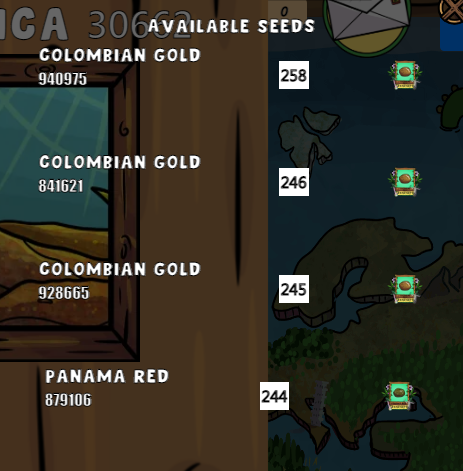 Until now I have always used the seeds to plant them in my South American lands but now I have so many seeds available so I decided to put them for sale for the first time on the market at https://nftm.art/.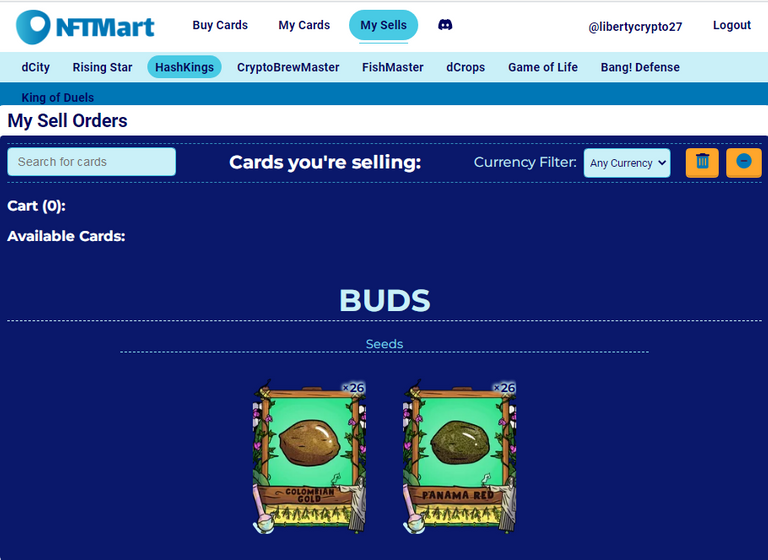 I chose to offer my seeds for sale at the lowest price on the market:
26 Colombian Gold - Unit price: 43.5 BUDS
33 Panama Red - Unit price: 20 BUDS
If I can sell them all I will get a revenue of 1791 BUDS = 0.3940 HIVE = $0.2037

The only cost I have to incur for my farm production on Hashkings is the purchase of HKWATER tokens because I do not yet have a Water Tower although I plan to buy one in the near future to finally make my farm completely self-sufficient.
As you can see from the image below, the amount of HKWATER tokens I need to purchase is 2184 units.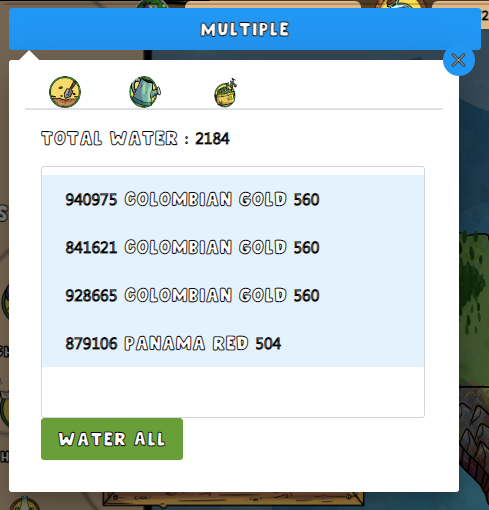 The cost of 2184 HKWATER is 0.10788960 SWAP.HIVE (Lowest Ask)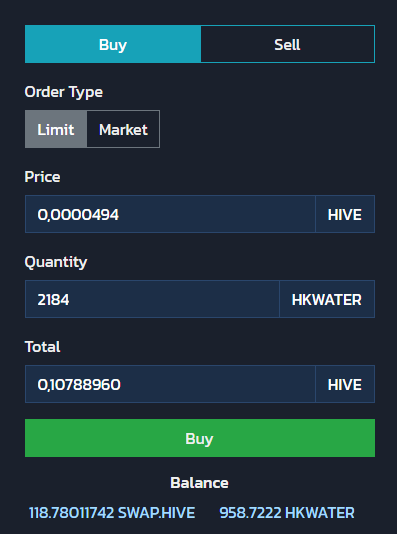 The total amount of BUDS tokens I will get after 7 days (time needed to harvest) will be 993 BUDS tokens.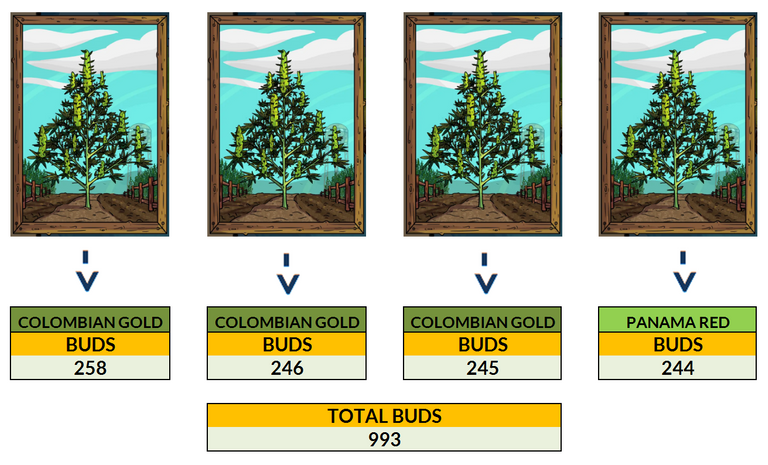 I have spent 0.1078 SWAP.HIVE and in 7 days I will get an estimated profit of 0.1115 SWAP.HIVE.

The gain is small in monetary terms, 0.1115 SWAP.HIVE per week, but in percentage terms it is a good gain +50.81%.

Final Considerations

The Farm game mode of Hashkings is a very low time-consuming activity because the operations I have shown above take very few minutes, I did everything in about 3 minutes of time.
It is a game activity that produces a profit which, although small, is a good result considering the time it took to get it.
On the other hand, however, it is really a small profit considering the initial investment required to start playing because the land card that has the lowest price is the South America card which has a cost of 4.4 SWAP.HIVE and because HKWATER tokens cost a lot at the moment and erode much of the harvest profit for those without a Water Tower.
Despite the fact that the financial results are small I enjoy playing Hashkings and most of all I like the game management by the development team who are always active and helpful in answering players' questions and actively support those who publish Hashkings related content on the Hive blockchain.
In addition, the Farming mode is just one of the possible game modes because the Hashkings ecosystem is constantly expanding and the BUDS token is a multipurpose token because it is the reward token of other interesting games as well, such as Bang! Defense.

All this is to say that even though I don't make much money from farming on Hashkings I am glad I started my adventure on Hashkings.
I hope you liked this post of mine regarding the Hashkings game and if you like, follow me to read my future posts and reports ;)

Important Note:

Blockchain-based games that allow people to buy and sell tokens are not just games but are also investments and should be treated as such!
In any type of investment there is always a
risk factor
to evaluate and consider.
I am not a financial advisor and the information contained in this post is not financial advice
.
Before investing in a blockchain-based game you should always do your own research and personal evaluations.
My advice is to always only invest what you can afford to lose with a light heart!

Unless otherwise indicated, the images in this post are screenshots taken from the sites:
https://farm.hashkings.app/
https://tribaldex.com/
https://nftm.art/buy/hkfarm
The font used in the images related to the calculations and in the images edited by me is Open Source
Images containing formulas, tables and calculations are my property
The dividers with the Hive logo in this post were created by me and if you like them you can use them too, the Hive logo is property of https://hive.io/
---




Hashkings: Il mio ritorno al Raccolto! Calcolo del Profitto del raccolto e Considerazioni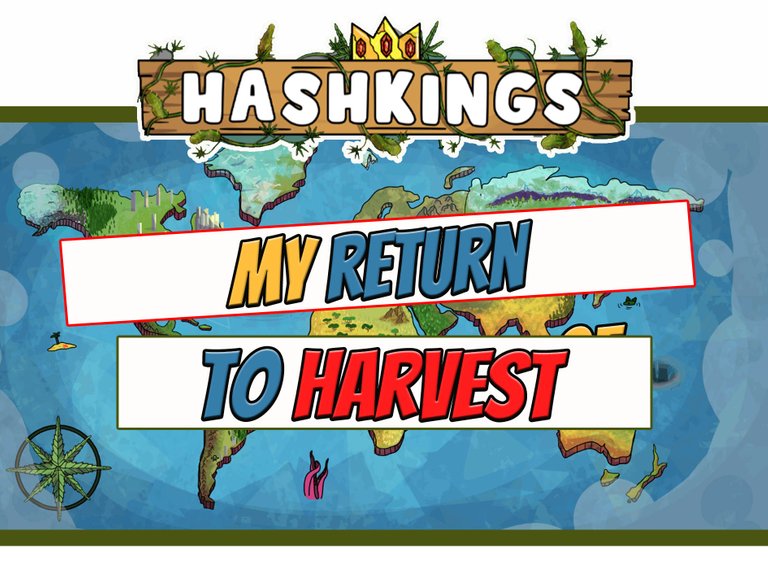 Logo image owned by @hashkings - Edit by @libertycrypto27 - Font used is Open Source

Hashkings è un gioco di farming basato su NFT creato e sviluppato sulla blockchain più bella che c'è: Hive ;)

Sito del gioco: https://farm.hashkings.app/
Account su Hive: @hashkings
Canale Discord: https://discord.gg/KwtgbAsTVF
Account Twitter: https://twitter.com/HashkingsGame
Whitepaper: https://hashkings-2.gitbook.io/getting-started/starting-on-hashkings
---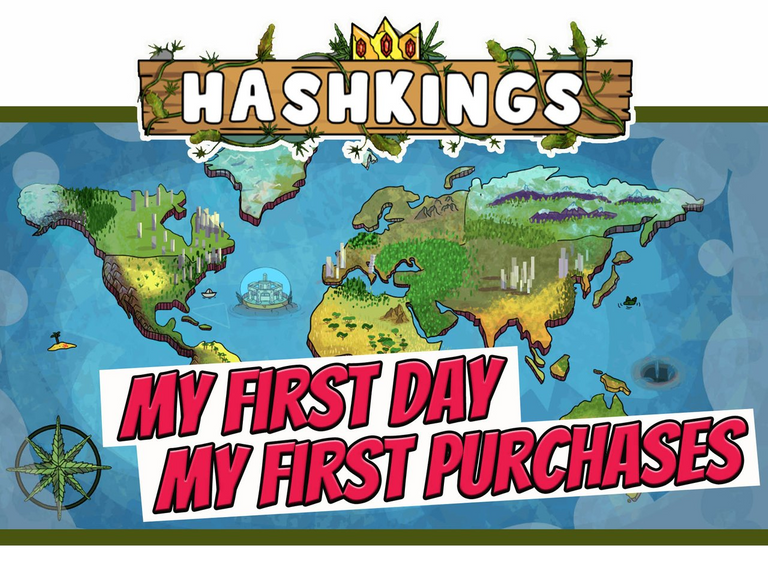 Ho iniziato la mia avventura ludica e di investimento su Hashkings l'8 febbraio 2022.
Lo stesso giorno ho scritto una breve introduzione al gioco, ho condiviso la scelta dei miei primi acquisti (carte Land e carte Seed) e ho spiegato anche i motivi delle mie scelta (ROI annuale stimato).
Nello stesso post ho mostrato anche i passi che ho eseguito per piantare un NFT di tipo Seme in un NFT di tipo Land e per iniziare ad accumulare le ricompense di gioco: My First Day, My First Purchases.
---
Oggi dopo tre mesi ritorno in South America per riprendere la mia attività di coltivatore nel gioco di Hashkings.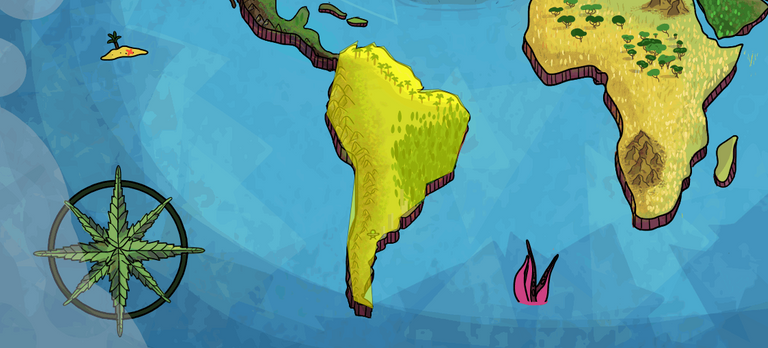 Eh si mi sono preso una vacanza abbastanza lunga, tanti impegni lavorativi nella vita reale mi hanno costretto a trascurare alcune attività ludiche che mi piace fare come la mia attività di coltivatore su Hashkings.
Tra l'altro il numero dei giochi su Hive sta crescendo e nel prossimo futuro sarà difficile riuscire a seguirli tutti ma ho una passione per i giochi basati su blockchain con una particolare preferenza per i giochi Hive-based e, tempo permettendo, cercherò di giocarli tutti.
Sono quindi tre mesi che le mie quattro land Southamerica non ricevono semi e acqua e oggi riprendo a prendermene cura.
Quando ho effettuato il mio ultimo raccolto era il 18 giugno 2022 e dalle mie 4 land South America avevo ottenuto un profitto di 454 BUDS = 0.1089 SWAP.HIVE = 0.0553$

Sono curioso di vedere cosa è cambiato in circa tre mesi e quindi vado subito a piantare 4 semi nelle mie quattro Land South America.
Grazie alla mia attività di staking dei token MOTA non ho bisogno di comprare i semi da piantare perchè ricevo 4 semi a settimana in modo completamente gratuito.

Se sei un nuovo giocatore di Hashkings ti consiglio di bruciare i token BUDS che ottieni dai tuoi raccolti in cambio di token MOTA e di mettere poi i token MOTA in staking fino a quando non ottieni come ricompensa settimanale un numero di semi uguale al numero di carte Land in tuo possesso.
Essendo stato inattivo per molto tempo ho accumulato un buon numero di semi:
29 Colombian Gold
34 Panama Red

Ho scelto di piantare i semi in mio possesso con l'attributo produzione maggiore per ottenere nel momento del raccolto il maggior numero di token BUDS e così oggi ho piantato:
3 semi Colombian Gold - Produzione: 258 BUDS - 246 BUDS - 245 BUDS
1 seme Panama Red - Produzione: 244 BUDS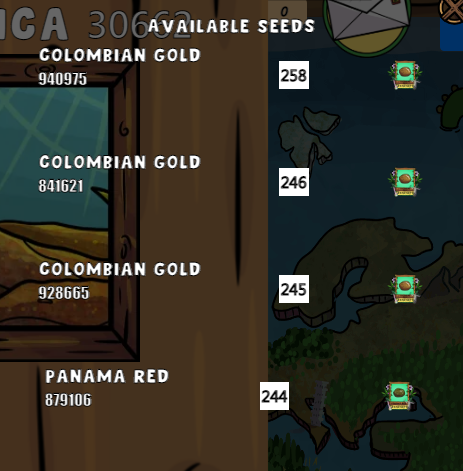 Fino ad oggi ho sempre utilizzato i semi per piantarli nelle mie land South America ma ora ho tanti semi a disposizione e quindi ho deciso di metterli per la prima volta in vendita sul mercato di https://nftm.art/.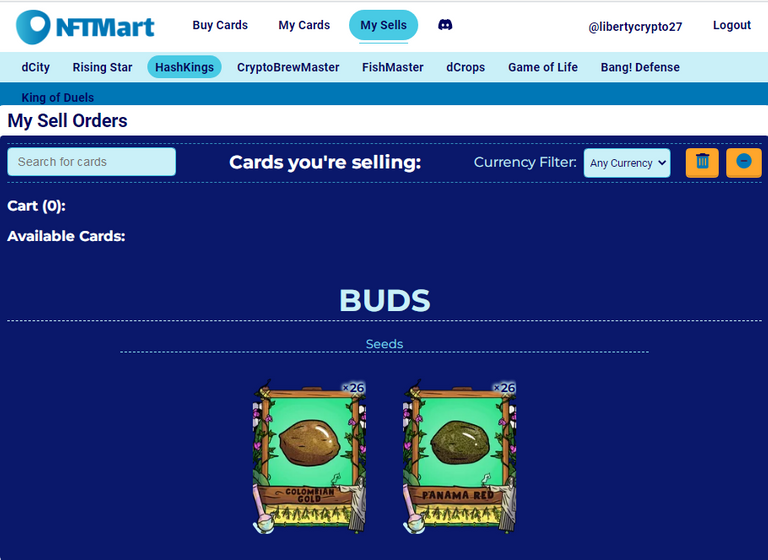 Ho scelto di mettere in vendita i miei semi al prezzo più basso sul mercato:
26 Colombian Gold - Prezzo unitario: 43.5 BUDS
33 Panama Red - Prezzo unitario: 20 BUDS
Se riuscirò a venderli tutti otterrò un ricavo di 1791 BUDS = 0.3940 HIVE = 0.2037$

L'unico costo che devo sostenere per la mia produzione agricola su Hashkings è l'acquisto dei token HKWATER perchè non ho ancora una Water Tower anche se ho in programma di comprarla nel prossimo futuro per rendere finalmente la mia fattoria completamente autosufficiente.
Come puoi vedere dall'immagine seguente il quantitativo di token HKWATER che devo acquistare è di 2184 unità.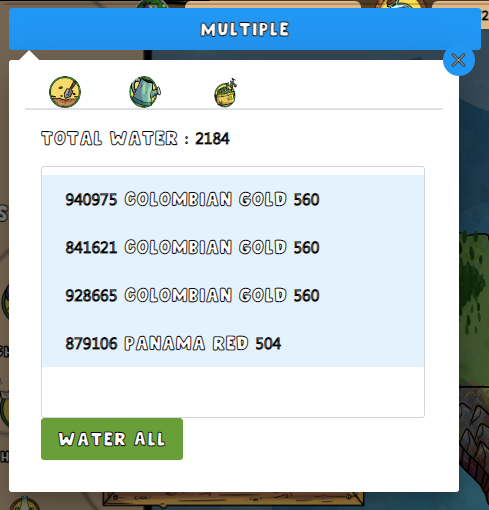 Il costo di 2184 HKWATER è di 0.10788960 SWAP.HIVE (Lowest Ask)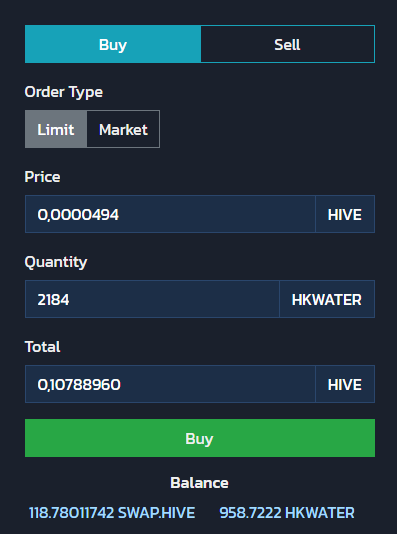 Il quantitativo totale di token BUDS che otterrò dopo 7 giorni (tempo necessario per effettuare il raccolto) sarà di 993 token BUDS.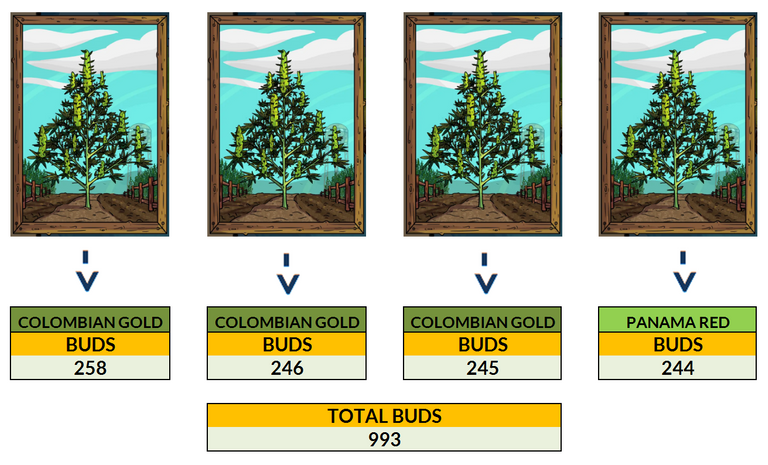 Ho speso 0.1078 SWAP.HIVE e fra 7 giorni otterrò un profitto stimato di 0.1115 SWAP.HIVE.

Il guadagno è piccolo in termini monetari, 0.1115 SWAP.HIVE a settimana, ma in termini percentuali è un buon guadagno +50.81%.

Considerazioni Finali

La modalità di gioco Farm di Hashkings è un'attività che richiede pochissimo tempo perchè le operazioni che ho mostrato sopra richiedono davvero pochi minuti, io ho fatto tutto in circa 3 minuti di tempo.
E' un attività di gioco che produce un profitto che, anche se piccolo, è un buon risultato considerato il tempo impiegato per ottenerlo.
Dall'altro lato è però davvero un piccolo profitto considerato l'investimento iniziale richiesto per iniziare a giocare perchè la carta land che ha il prezzo più basso è la carta South America che ha un costo di 4.4 SWAP.HIVE e perchè i token HKWATER costano molto al momento ed erodono gran parte del profitto dell'harvest per chi non ha una Water Tower.
Nonostante i risultati finanziari sono piccoli io mi diverto a giocare ad Hashkings e soprattutto mi piace la gestione del gioco da parte del team di sviluppo che è sempre attivo e disponibile a rispondere alle domande dei giocatori e supporta in modo attivo chi pubblica contenuti inerenti ad Hashkings sulla blockchain di Hive.
Inoltre la modalità di Farming è solo una delle modalità di gioco possibili perchè l'ecosistema di Hashkings è in continua espansione e il token BUDS è un token multiuso perchè è il token di ricompensa anche di altri giochi interessanti come ad esempio Bang! Defense.

Tutto questo per dire che anche se non guadagno molto dall'attività di farming su Hashkings sono contento di aver iniziato la mia avventura su Hashkings.
Spero che questo mio post inerente al gioco di Hashkings ti sia piaciuto e se ti fa piacere, seguimi per leggere i miei futuri post e report ;)


Nota Importante:

I giochi basati su blockchain che permettono di acquistare e vendere token non sono solo giochi ma sono anche investimenti e come tali devono essere trattati!
In ogni tipologia di investimento c'è sempre un
fattore di rischio
da valutare e considerare.
Io non sono un consulente finanziario e le informazioni contenute in questo post non sono consigli finanziari
Prima di investire in un gioco basato su blockchain devi sempre fare le tue ricerche e le tue personali valutazioni.
Il mio consiglio è di investire sempre e soltanto quello che puoi permetterti di perdere a cuor leggero!

Se non diversamente indicato, le immagini presenti in questo post sono screenshots presi dai siti:
https://farm.hashkings.app/
https://tribaldex.com/
https://nftm.art/buy/hkfarm
Le immagini che contengono formule, tabelle e calcoli sono di mia proprietà
Il font usato nelle immagini relative ai calcoli e nelle immagini da me editate è Open Source
The dividers with the Hive logo in this post were created by me and if you like them you can use them too, the Hive logo is property of https://hive.io/


---
---