Hashkings: My eleventh harvest and the importance of making BIDs (ENG/ITA)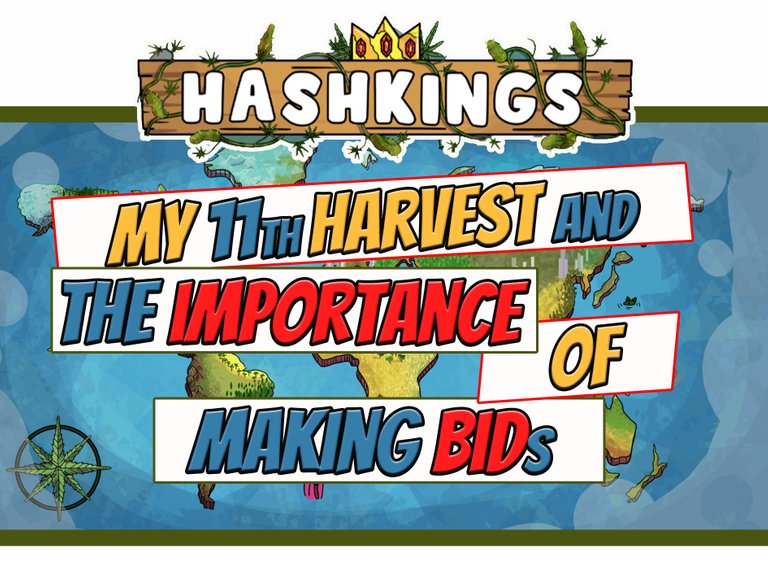 Logo image owned by @hashkings - Edit by @libertycrypto27 - Font used is Open Source
---

La versione in italiano è subito dopo la versione in inglese - The Italian version is immediately after the English version

Hashkings: My eleventh harvest and the importance of making BIDs

Hashkings is an NFT-based farming game created and developed on the most beautiful blockchain there is: Hive ;)

Game site: https://farm.hashkings.app/
Account on Hive: @hashkings
Discord channel: https://discord.gg/KwtgbAsTVF
Twitter account: https://twitter.com/HashkingsGame
Whitepaper: https://hashkings-2.gitbook.io/getting-started/starting-on-hashkings
---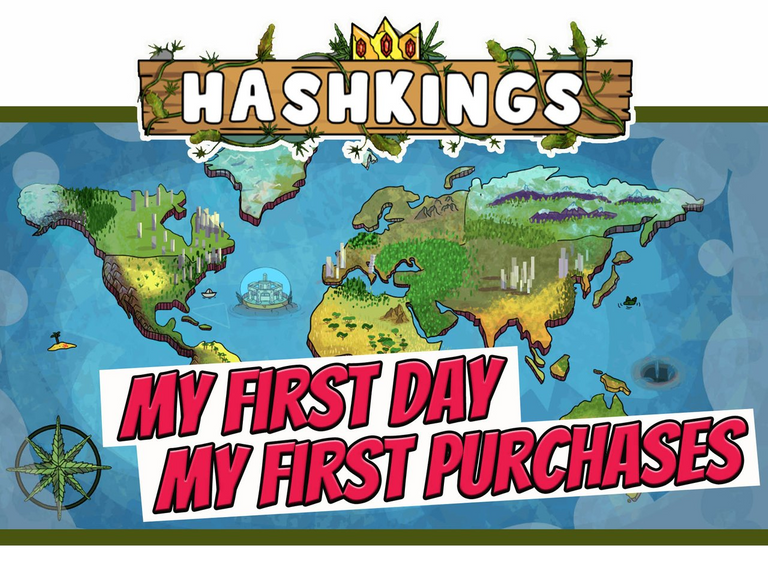 I started my gaming and investing adventure on Hashkings on February 8, 2022.
On the same day I wrote a short introduction to the game, shared my choice of my first purchases (Land cards and Seed cards) and also explained the reasons for my choices (estimated annual ROI).
In the same post I also showed the steps I performed to plant a Seed in a Land and start accumulating game rewards: My First Day, My First Purchases.
---
With today's post I continue to share my experience of playing/investing on Hashkings and today I want to share my eleventh harvest since I became a Hashkings player but the focus of my post today is to show the importance of BIDs which in almost all farming games allow you to reduce costs and increase profits,

My eleventh harvest and the importance of making BIDs

Hashkings is a game that has a very large economy and the Farming part is only one of the game features as you can see from the main menu of the game.

When I started playing and investing on Hashking it was February 8, 2022 and there were 3 tokens created by Hashkings: BUDS, MOTA and HKWATER.
Today there are 5 tokens created by Hashkings in total because BUDSX and EXP tokens have been added.
In general in all blockchain-based games it is always important to do calculations and evaluations before purchasing a token or NFT and this is even more true in a game like Hashkings that has so many features and so many tokens.
Sharing and evaluating my latest harvest will allow me to show precisely the importance of what I wrote in the previous sentence.
Today I harvested from my 4 NFT South America in which I had planted 3 NFT of seed type Panama Red and 1 NFT of seed type Colombian Gold.
As you can see from the data in the image below my 11th harvest resulted in 907 BUDS.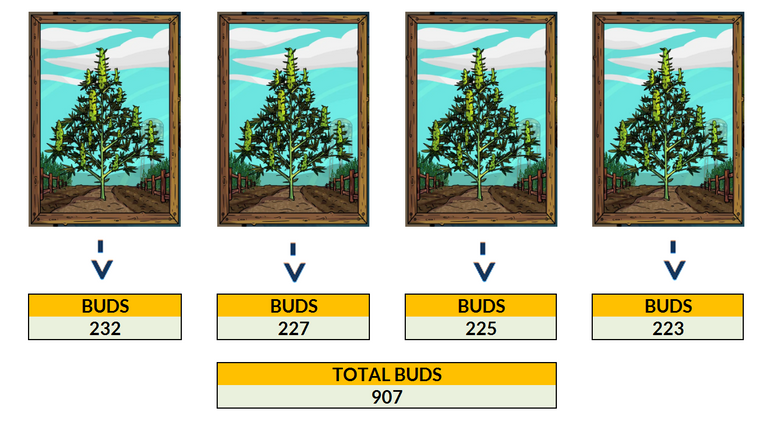 With these 907 BUDS I have to restart production, and when production is restarted the amount of token BUDS left over will be the profit of my eleventh harvest.
Thanks to my activity of burning BUDS tokens to obtain MOTA tokens for staking, I no longer need to buy seed-type NFTs to restart production because I get them completely free every week.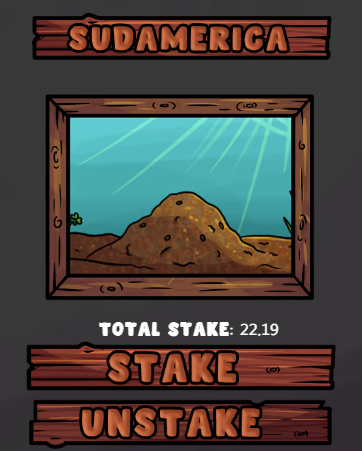 I need 4 seeds to restart production but in my inventory I have 8 seeds available and therefore more than needed.

I chose to plant the seeds that will produce the most BUDS tokens and so I planted the 4 Colombian Gold seeds that you can see in the next image.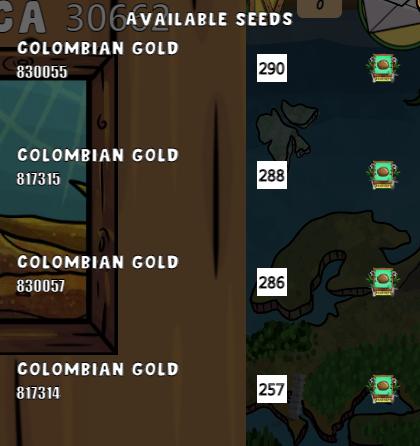 The seeds I planted need 7 days to become plants but a certain amount of water is required for harvesting to take place for each seed planted.
In fact in the Hashkings game each seed needs to be watered with water which is represented by HKWATER tokens which are utility tokens that can be purchased from one of the Dex for Hive blockchain's second level tokens such as Hive Engine or TribalDEX.
To restart my production I need to have and use a total of 2240 HKWATER tokens.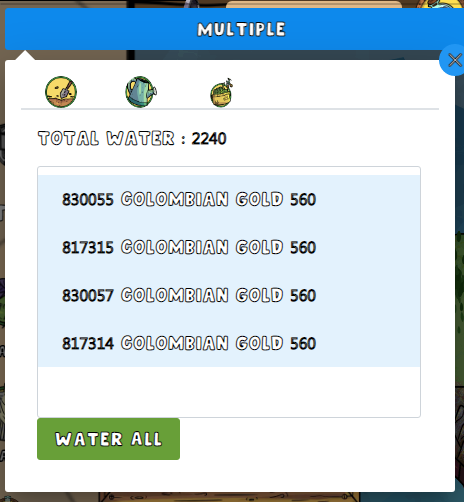 Based on the value of the best sale offer in the market (Lowest Ask: 0.00006937 SWAP.HIVE), today, June 18, 2022, buying 2240 HKWATER tokens has a cost of 0.15538880 SWAP.HIVE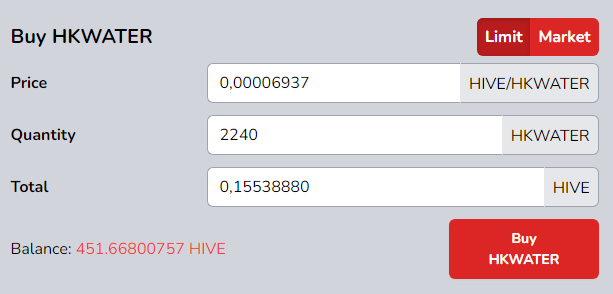 The value of HKWATER tokens is much higher than in the past as you can see from the graph in the following image.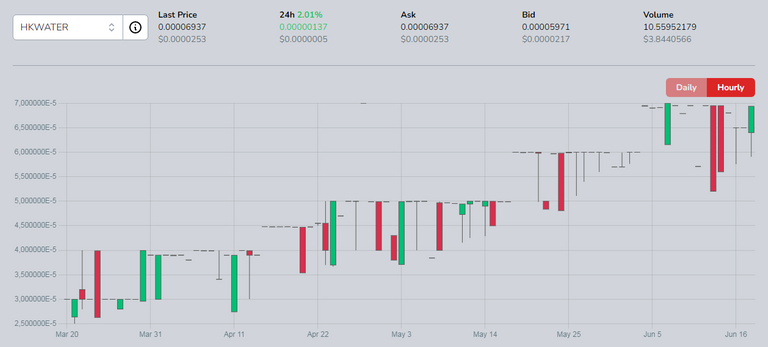 If I immediately buy 2240 HKWATER tokens at the best selling price currently on the market from my last harvest I get a profit of 174 BUDS = 0.0369 SWAP.HIVE = $0.0135.

The cost of HKWATER tokens "eats up" most of the profit made from my last harvest: 80.81%.
The best option is to buy the HKWATER tokens not right away but by making a buying offer so as to try to spend less.
Currently, the best purchase offer is 0.00005971 SWAP.HIVE per HKWATER token.

If I make a purchase offer of 0.00005971 SWAP.HIVE and wait for my offer to be accepted the purchase cost of 2240 HKWATER tokens decreases: 0.13375040 SWAP.HIVE
Consequently, my profit would increase: 276 BUDS = 0.0585 SWAP.HIVE = $0.0214

The cost of purchasing HKWATER tokens would affect to the amount of 69.56% instead of 80.81%.
On June 4, I made a purchase offer for 5,000 HKWATER tokens.
My offer was accepted four days later and I purchased 5000 HKWATER tokens at a price of 0.00004860 SWAP.HIVE per token.

Due to my choice of making a BID instead of buying HKWATER tokens immediately at the lowest selling price in the market my profit today was 43.39% instead of 19.19%.

In any blockchain-based game but especially in farming games the ability to place BIDs is important and the goal of my post today was to demonstrate this and I hope with the examples I have shown that I have done so ;)
I hope you liked this post of mine regarding the Hashkings game and if you like, follow me to read my future posts and reports ;)

Important Note:

Blockchain-based games that allow people to buy and sell tokens are not just games but are also investments and should be treated as such!
In any type of investment there is always a
risk factor
to evaluate and consider.
I am not a financial advisor and the information contained in this post is not financial advice
.
Before investing in a blockchain-based game you should always do your own research and personal evaluations.
My advice is to always only invest what you can afford to lose with a light heart!

Unless otherwise indicated, the images in this post are screenshots taken from the sites:
https://farm.hashkings.app/
https://tribaldex.com/
https://nftm.art/buy/hkfarm
The font used in the images related to the calculations and in the images edited by me is Open Source
Images containing formulas, tables and calculations are my property
The dividers with the Hive logo in this post were created by me and if you like them you can use them too, the Hive logo is property of https://hive.io/
---


https://www.1up.zone/



Il mio undicesimo raccolto e l'imporatanza delle offerte di acquisto (BID)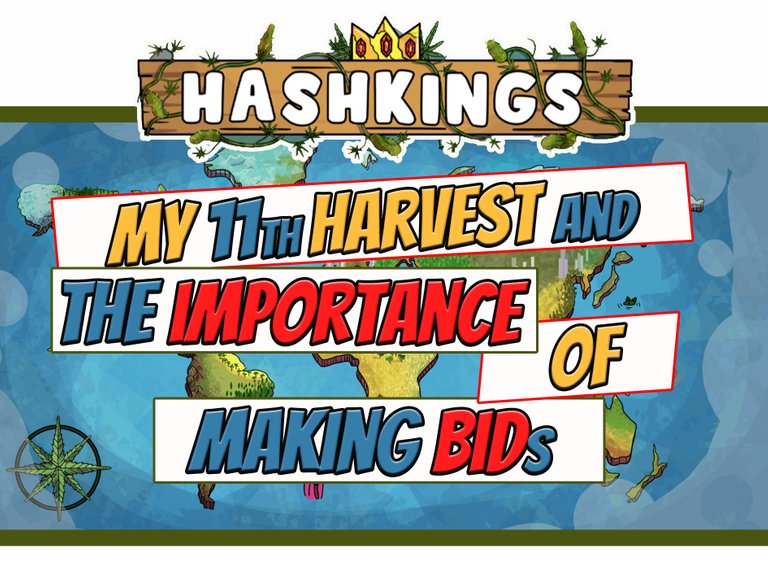 Logo image owned by @hashkings - Edit by @libertycrypto27 - Font used is Open Source

Hashkings è un gioco di farming basato su NFT creato e sviluppato sulla blockchain più bella che c'è: Hive ;)

Sito del gioco: https://farm.hashkings.app/
Account su Hive: @hashkings
Canale Discord: https://discord.gg/KwtgbAsTVF
Account Twitter: https://twitter.com/HashkingsGame
Whitepaper: https://hashkings-2.gitbook.io/getting-started/starting-on-hashkings
---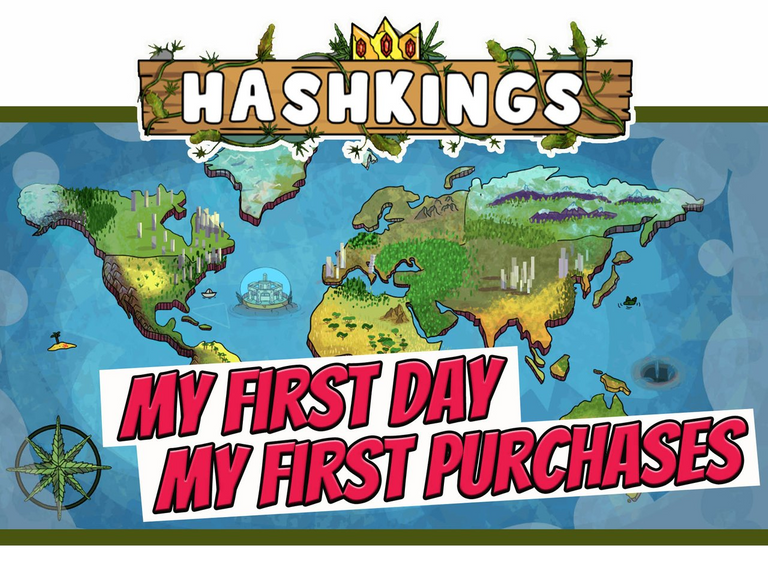 Ho iniziato la mia avventura ludica e di investimento su Hashkings l'8 febbraio 2022.
Lo stesso giorno ho scritto una breve introduzione al gioco, ho condiviso la scelta dei miei primi acquisti (carte Land e carte Seed) e ho spiegato anche i motivi delle mie scelta (ROI annuale stimato).
Nello stesso post ho mostrato anche i passi che ho eseguito per piantare un NFT di tipo Seme in un NFT di tipo Land e per iniziare ad accumulare le ricompense di gioco: My First Day, My First Purchases.
---
Con il post di oggi continuo a condividere la mia esperienza di gioco/investimento su Hashkings e oggi voglio condividere il mio undicesimo harvest da quando sono diventato un giocatore di Hashkings ma l'obiettivo del mio post odierno è di mostrare l'importanza delle offerte BID che in quasi tutti i giochi di farming permettono di ridurre i costi e di aumentare i profitti,
Hashkings è un gioco che ha un economia molto vasta e la parte Farming è solo una delle funzionalità di gioco come puoi vedere dal menu principale del gioco.

Quando ho iniziato a giocare e investire su Hashking era l'8 febbraio 2022 e c'erano 3 token creati da Hashkings: BUDS, MOTA e HKWATER.
Oggi i token creati da Hashkings sono in totale 5 perchè sono stati aggiunti i token BUDSX e i token EXP.
In generale in tutti i giochi basati su blockchain è sempre importante fare calcoli e valutazioni prima di effettuare l'acquisto di un token o di un NFT e questo vale ancor di più in un gioco come Hashkings che ha tante funzionalità e tanti token.
La condivisione e la valutazione del mio ultimo harvest mi permetterà di mostrare proprio l'importanza di quello che ho scritto nella frase precedente.
Oggi ho effettuato il raccolto dai miei 4 NFT South America in cui avevo piantato 3 NFT di tipo seme Panama Red e 1 NFT di tipo seme Colombian Gold.
Come puoi vedere dai dati nell'immagine seguente il mio undicesimo raccolto mi ha permesso di ottenere 907 BUDS.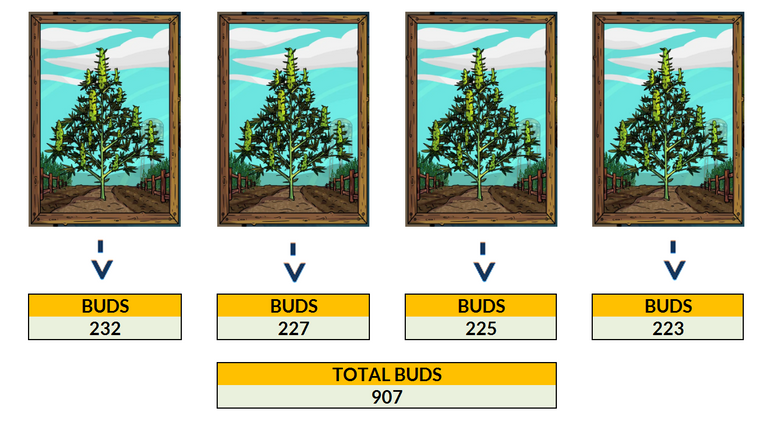 Con questi 907 BUDS devo far ripartire la produzione e quando la produzione sarà ripartita il quantitativo di token BUDS che mi avanzerà sarà il profitto del mio undicesimo harvest.
Grazie alla mia attività di bruciatura dei token BUDS per ottenere token MOTA da mettere in staking non ho più bisogno di comprare NFT di tipo seme per far ripartire la produzione perchè li ricevo in modo completamente gratuito ogni settimana.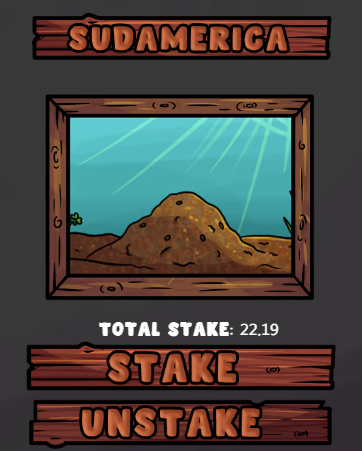 Ho bisogno di 4 semi per far ripartire la produzione ma nel mio inventario ho 8 semi disponibili e quindi più del necessario.

Ho scelto di piantare i semi che produrranno il maggior numero di token BUDS e quindi ho piantato i 4 semi Colombian Gold che puoi vedere nell'immagine successiva.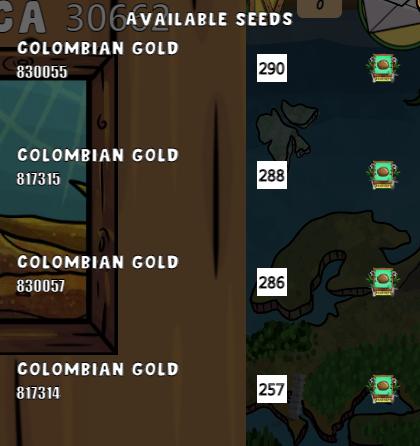 I semi che ho piantato hanno bisogno di 7 giorni per diventare piante ma per effettuare il raccolto è necessaria una certa quantità di acqua per ogni seme piantato.
Infatti nel gioco di Hashkings ogni seme deve essere innaffiato con dell'acqua che è rappresentata dai token HKWATER che sono degli utility token che possono essere acquistati da uno dei Dex per i token di secondo livello della blockchain di Hive come Hive Engine o TribalDEX.
Per far ripartire la mia produzione ho bisogno di avere e utilizzare un totale di 2240 token HKWATER.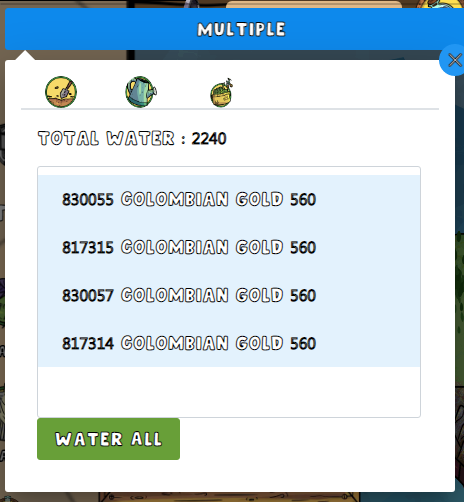 In base al valore della migliore offerta di vendita sul mercato (Lowest Ask: 0.00006937 SWAP.HIVE), oggi 18 giugno 2022, acquistare 2240 token HKWATER ha un costo di 0.15538880 SWAP.HIVE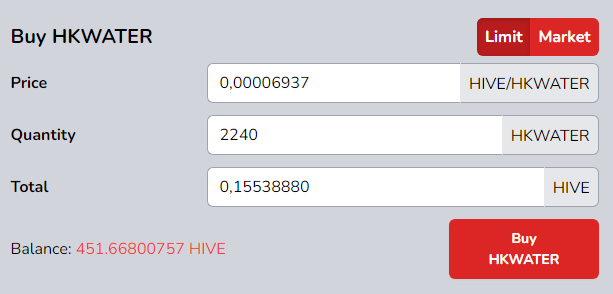 Il valore dei token HKWATER è molto più alto rispetto al passato come puoi vedere dal grafico nell'immagine seguente.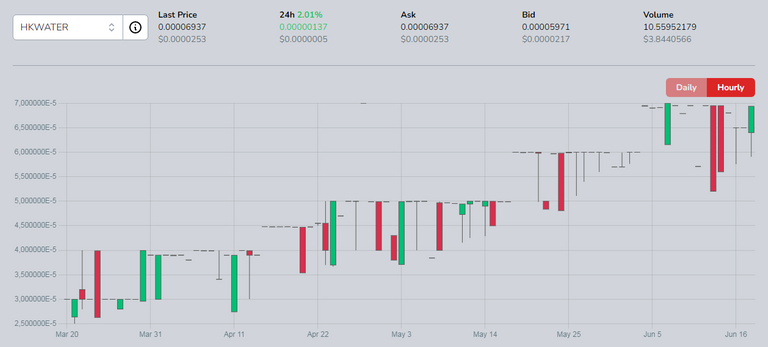 Se acquisto subito 2240 token HKWATER al prezzo migliore di vendita attualmente presente sul mercato dal mio ultimo harvest ottengo un profitto di 174 BUDS = 0.0369 SWAP.HIVE = 0.0135$.

Il costo dei token HKWATER "mangia" la maggior parte del guadagno ottenuto dal mio ultimo harvest: 80.81%.
La migliore opzione è di acquistare i token HKWATER non subito ma effettuando un'offerta di acquisto in modo da cercare di spendere di meno.
Al momento la migliore offerta di acquisto è di 0.00005971 SWAP.HIVE per token HKWATER.

Se faccio un'offerta di acquisto di 0.00005971 SWAP.HIVE e aspetto che la mia offerta venga accettata il costo di acquisto di 2240 token HKWATER diminuisce: 0.13375040 SWAP.HIVE
Di conseguenza il mio profitto aumentarebbe: 276 BUDS = 0.0585 SWAP.HIVE = 0.0214$

Il costo per l'acquisto dei token HKWATER inciderebbe nella misura del 69.56% invece dell'80.81%.
Il 4 giugno ho effettuato un'offerta di acquisto per 5000 token HKWATER.
La mia offerta è stata accettata quattro giorni dopo e ho acquistato 5000 token HKWATER al prezzo di 0.00004860 SWAP.HIVE per ogni token.

Grazie alla mia scelta di fare un'offerta BID invece di comprare subito i token HKWATER al prezzo di vendita più basso sul mercato il mio profitto è stato del 43.39% invece del 19.19%.

In ogni gioco basato su blockchain ma soprattutto nei giochi di farming la possibilità di fare offerte BIDs è importante e l'obiettivo del mio post odierno era dimostrarlo e spero con gli esempi che ho mostrato di averlo fatto ;)
Spero che questo mio post inerente al gioco di Hashkings ti sia piaciuto e se ti fa piacere, seguimi per leggere i miei futuri post e report ;)


Nota Importante:

I giochi basati su blockchain che permettono di acquistare e vendere token non sono solo giochi ma sono anche investimenti e come tali devono essere trattati!
In ogni tipologia di investimento c'è sempre un
fattore di rischio
da valutare e considerare.
Io non sono un consulente finanziario e le informazioni contenute in questo post non sono consigli finanziari
Prima di investire in un gioco basato su blockchain devi sempre fare le tue ricerche e le tue personali valutazioni.
Il mio consiglio è di investire sempre e soltanto quello che puoi permetterti di perdere a cuor leggero!

Se non diversamente indicato, le immagini presenti in questo post sono screenshots presi dai siti:
https://farm.hashkings.app/
https://tribaldex.com/
https://nftm.art/buy/hkfarm
Le immagini che contengono formule, tabelle e calcoli sono di mia proprietà
Il font usato nelle immagini relative ai calcoli e nelle immagini da me editate è Open Source
The dividers with the Hive logo in this post were created by me and if you like them you can use them too, the Hive logo is property of https://hive.io/


https://www.1up.zone/

---
---