Hashkings and the effects of Bear Market + My game activity: My eighth harvest and stacking MOTA tokens / La Mia Attività di Gioco su Hashkings (ENG/ITA)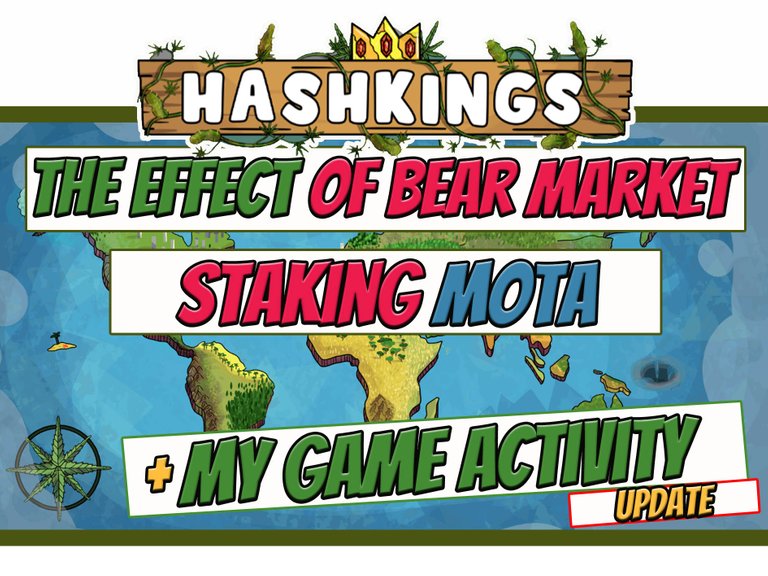 Logo image owned by @hashkings - Edit by @libertycrypto27 - Font used is Open Source
---

La versione in italiano è subito dopo la versione in inglese - The Italian version is immediately after the English version

Hashkings and the effects of Bear Market + My Game Activity: my eighth harvest and stacking MOTA tokens

Hashkings is an NFT-based farming game created and developed on the most beautiful blockchain there is: Hive ;)

Game site: https://farm.hashkings.app/
Account on Hive: @hashkings
Discord channel: https://discord.gg/KwtgbAsTVF
Twitter account: https://twitter.com/HashkingsGame
Whitepaper: https://hashkings-2.gitbook.io/getting-started/starting-on-hashkings
---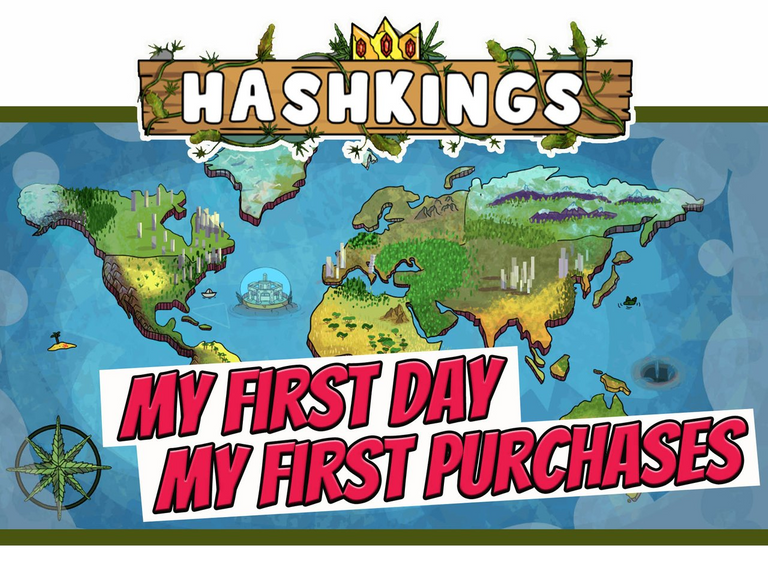 I started my gaming and investing adventure on Hashkings on February 8, 2022.
On the same day I wrote a short introduction to the game, shared my choice of my first purchases (Land cards and Seed cards) and also explained the reasons for my choices (estimated annual ROI).
In the same post I also showed the steps I performed to plant a Seed in a Land and start accumulating game rewards: My First Day, My First Purchases.
---
With today's post, I continue to share my experience of playing/investing on Hashkings.
The topics I will cover today are as follows:
Hashkings and the effects of the Bear Market.
my eighth harvest and choosing new seeds to plant
the Stacking of MOTA tokens to receive seeds each week.
hk-curation, Raids and PGM token

Hashkings and the effects of the Bear Market

When I started investing in Hashkings it was February 8, 2022 when 1 HIVE token was worth $1,240 while today May 20, 2022 it is worth $0,490.
All blockchain projects were affected by the crash of LUNA and the loss of value of BTC and the value of the tokens of the blockchain-based games I invested in also lost value and the same happened to the tokens of Hashkings as you can see from the values shown in the tables in the image below.

I consider this to be a temporary phase and I am convinced that the tokens of the most useful projects will return to increase in value and in particular this will happen for the tokens of the Hive blockchain which I consider to be one of the projects with the most utility and potential in the blockchain project landscape.
Like Hive, Hashkings has also been impacted by the Bear Market and in fact the gain per Harvest of the NFT combinations in my possession has decreased as has the estimated annual ROI.

But even though the annual expected gain has decreased compared to the past I continue to play expecting better times and in fact today I completed my eighth harvest.

My eighth harvest

Due to very stressful work commitments for several days now I have had less time than usual to devote to my favorite games and for this reason I have made my last harvest extremely late because I could have made it 7 days ago but from this week I will try to be much more precise and I will mark all the deadlines of the games I play.
In my 4 land South America I had planted 4 Colombian Gold seeds.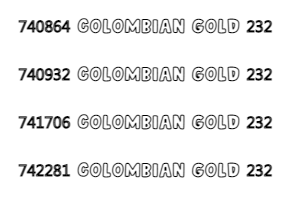 From the harvest I received as a reward a total of 928 BUDS tokens whose current value is 0.1942 SWAP.HIVE = $0.0952.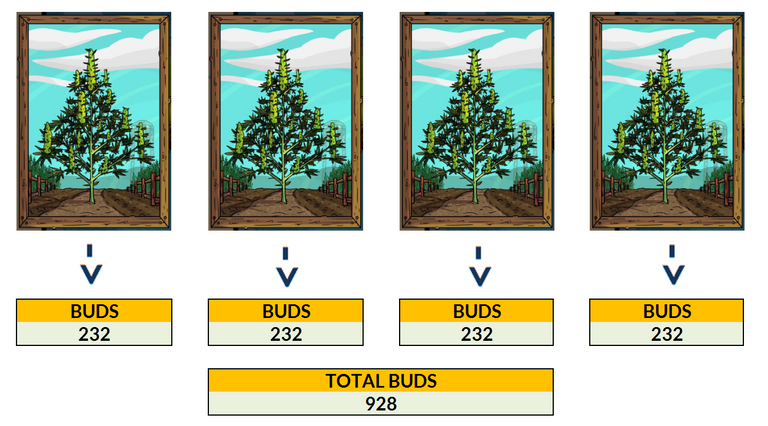 For each harvest operation there is a 20% chance of receiving an NFT of the same Seed type as the one previously used but this week I was not as lucky as in my previous harvest because from my four harvest operations I did not receive any seeds.
Thanks to the stacking of my MOTA tokens I received 2 Panama Red tokens so to restart production in my 4 Land cards I only had to purchase 2 seed type NFTs instead of 4.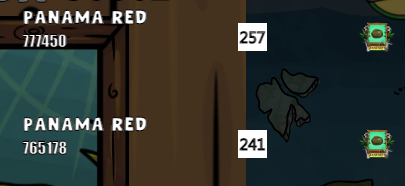 In my South America Land cards I can plant only two seed types:
Panama Red
Colombian Gold.
Choosing which seeds to buy is an extremely easy task because you only need to first compare the cost in BUDS tokens and in SWAP.HIVE tokens of Panama Red and Colombian Gold seeds at https://nftm.art/buy/hkfarm and then relate this cost to the BUDS token production of each seed before making your purchase.
In the following image you can see the cost and BUDS token production of the Panama Red seed in the case of purchasing using BUDS tokens and in the case of purchasing using SWAP.HIVE tokens.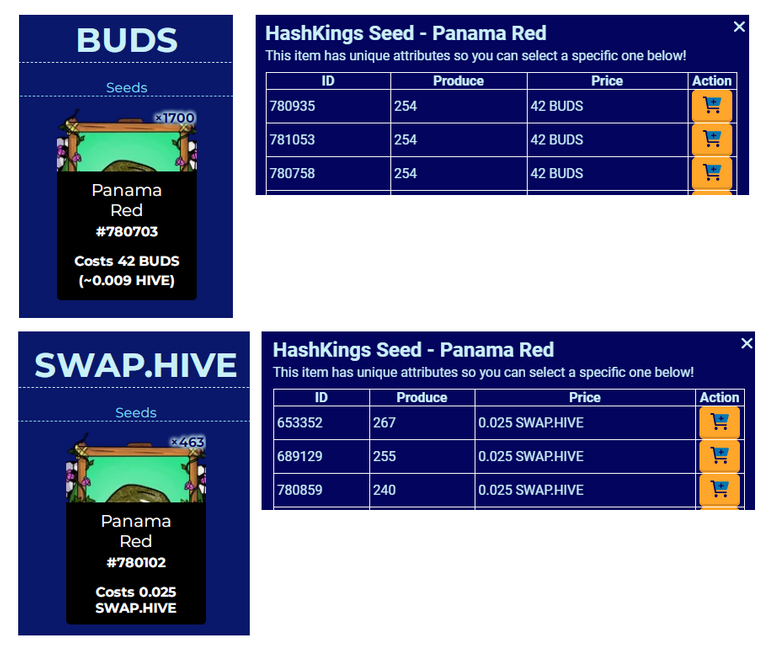 In the following image you can see the cost and BUDS token production of the Colombian Gold seed in the cases of purchase using BUDS tokens and SWAP.HIVE tokens.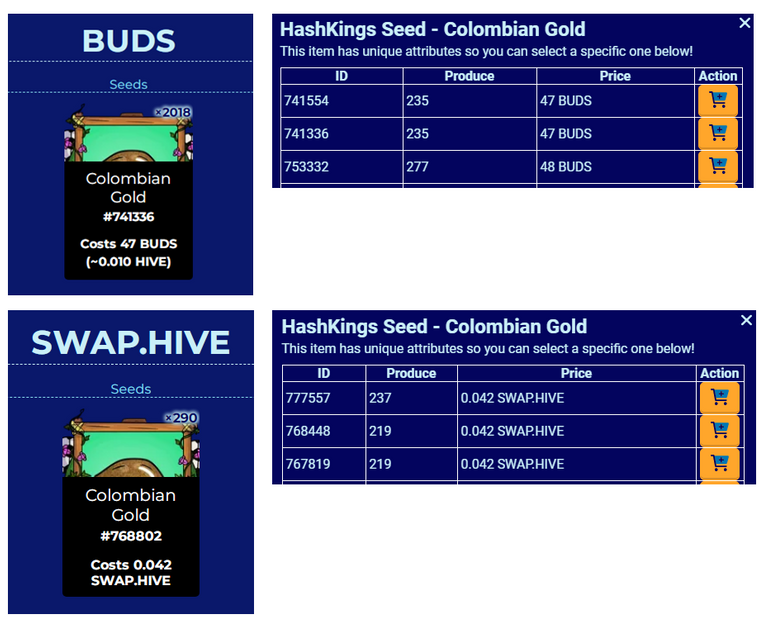 The best purchase resulted to be the Panama Red seed using BUDS tokens as the payment method because the Production/Cost ratio is the best.
After making the choice of seeds to buy I went to https://nftm.art/buy/hkfarm and bought 2 Panama Red seeds and spent a total of 84 BUDS tokens**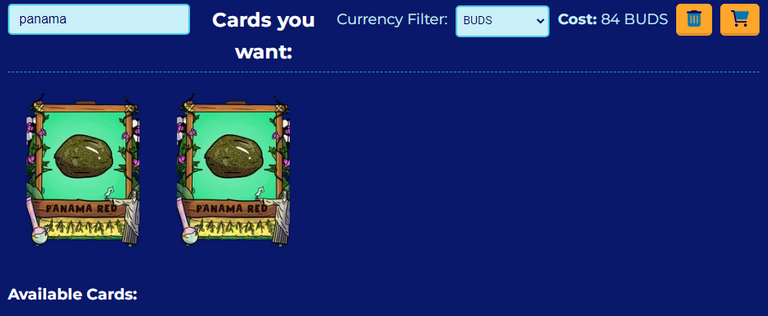 4 Panama Red seeds need to be watered with water to become plants and on Hashkings the water is represented by HKWATER tokens.
The amount of HKWATER needed to water the 4 Panama Red seeds is 2016 HKWATER tokens whose current value is 0.12096 SWAP.HIVE.
The HKWATER token is the only Hashkings token that has been steadily increasing in value over the past 3 months as you can see from the graph in the image below.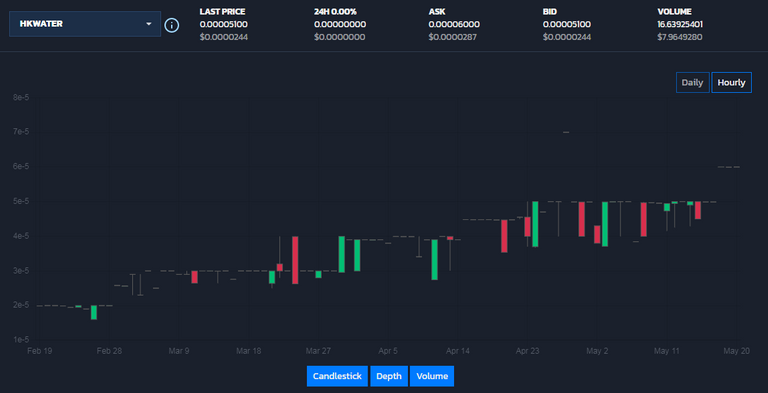 Today I did not have to buy HKWATER tokens because I had already bought 5000 tokens previously.
Again this week and despite the Bear Market my farm proved to be self-sufficient.
In fact with the BUDS tokens I received from the harvest I was able to restart production and also made a profit of 264 BUDS = 0.0.0553 SWAP.HIVE = $0.271

264 BUDS is the smallest profit I have recorded so far from the Harvest operation from my 4 Land cards.
The Bear Market effect is obvious and in fact the same harvest operation done 2 months ago (March 18, 2022) had allowed me to restart production and make a much better profit: +0.2262 HIVE, +866.19 BUDS, +0.2124$.

Although the profit is minimal it is always a positive value, and when the value of HIVE grows so will the value of profit per harvest.

The Stacking of MOTA tokens

The economics of the Hashkings game are indeed very vast, and there are many aspects and investment assessments that can be made.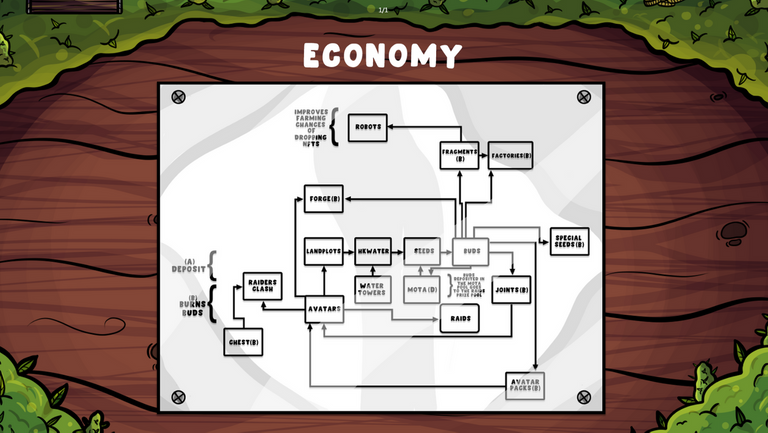 Farming is only one of the features of the Hashkings game.
My goal in the short term is to accumulate a sufficient amount of MOTA tokens to put into stacking to get 4 seed-type NFTs so that I don't have to buy them every week to restart my production.
In fact on Hashkings it is possible to burn BUDS tokens to obtain MOTA tokens.
The path to follow is as follows: LAB --> MOTA POOL --> BURN BUDS.

Today I burned 1061 BUDS tokens but will receive MOTA tokens at the end of today as explained at https://docs.hashkings.app/getting-started/mota.


According to the information in the STATS section of Hashkings within the POOL MOTA subsection (https://hk-stats.herokuapp.com/home) in order to reach my goal and get 4 plantable Seed-type NFTs in my South America lands, I need to stake a total of 22,164 MOTA tokens (5,541 MOTA for 1 Seed).

So far I have accumulated and staked a total of 13.45 MOTA tokens and therefore I need to accumulate another 11 MOTA tokens.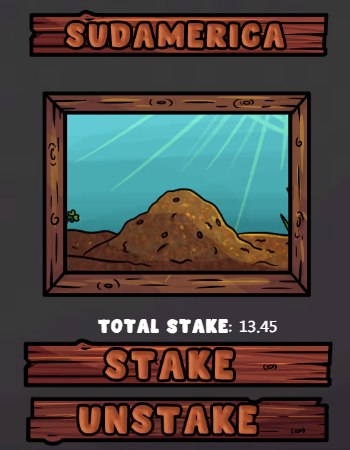 hk-curation, Raids and PGM

To support Hashkings and to get more BUDS tokens, 23 days ago I delegated 100 HP to the
@hk-curation
account.

Thanks to this delegation I receive an amount of BUDS tokens every day.
Today, for example, I received 125.06 BUDS.

There are two other ways I use to increase the amount of BUDS tokens in my possession.
The first way is to send my avatars into the RAIDS once a day.

The second way is to use the !PGM command in my reply comments to other users on Hive.
Through the !PGM command I can send and at the same time receive several tokens including BUDS tokens and MOTA tokens.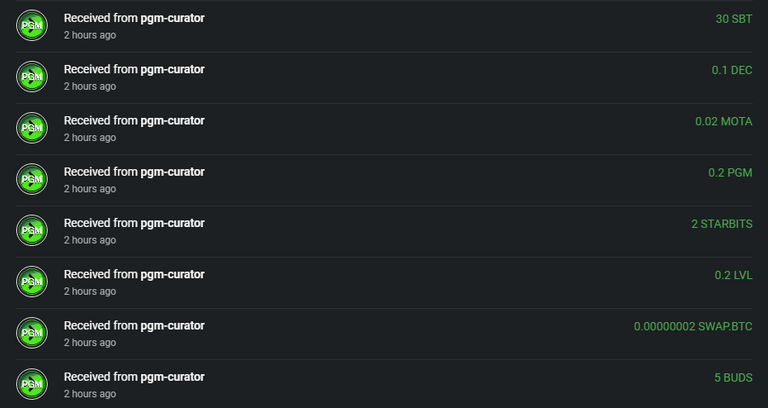 PGM (Play Gamer Token) is a second level token on the Hive blockchain and is also an evolving project created by the dynamic and very active @zottone444.
So far I have accumulated 5858 PGM tokens and thanks to this amount I can send 15 !PGM commands per day and earn as a result 0.6 MOTA tokens and 75 BUDS tokens per day if I use all the commands available to me.
I will stop here for today and I hope you enjoyed this post of mine pertaining to Hashkings game and if you like, follow me to read my future posts and reports ;)

Important Note:

Blockchain-based games that allow people to buy and sell tokens are not just games but are also investments and should be treated as such!
In any type of investment there is always a
risk factor
to evaluate and consider.
I am not a financial advisor and the information contained in this post is not financial advice
.
Before investing in a blockchain-based game you should always do your own research and personal evaluations.
My advice is to always only invest what you can afford to lose with a light heart!

Unless otherwise indicated, the images in this post are screenshots taken from the sites:
https://farm.hashkings.app/
https://tribaldex.com/
https://farm.hashkings.app/staking
The font used in the images related to the calculations and in the images edited by me is Open Source
Images containing formulas, tables and calculations are my property
The dividers with the Hive logo in this post were created by me and if you like them you can use them too, the Hive logo is property of https://hive.io/
---


https://www.1up.zone/



La Mia Attività di Gioco su Hashkings: il mio 8° raccolto e lo stacking dei token MOTA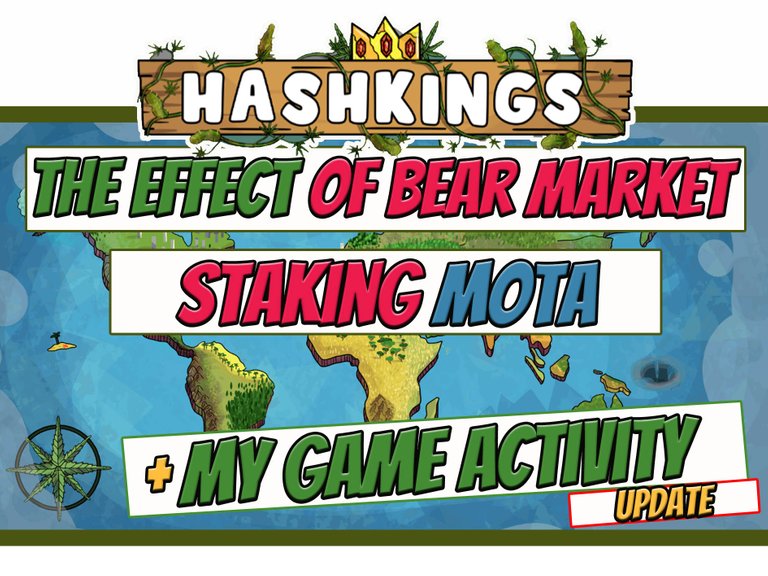 Logo image owned by @hashkings - Edit by @libertycrypto27 - Font used is Open Source

Hashkings è un gioco di farming basato su NFT creato e sviluppato sulla blockchain più bella che c'è: Hive ;)

Sito del gioco: https://farm.hashkings.app/
Account su Hive: @hashkings
Canale Discord: https://discord.gg/KwtgbAsTVF
Account Twitter: https://twitter.com/HashkingsGame
Whitepaper: https://hashkings-2.gitbook.io/getting-started/starting-on-hashkings
---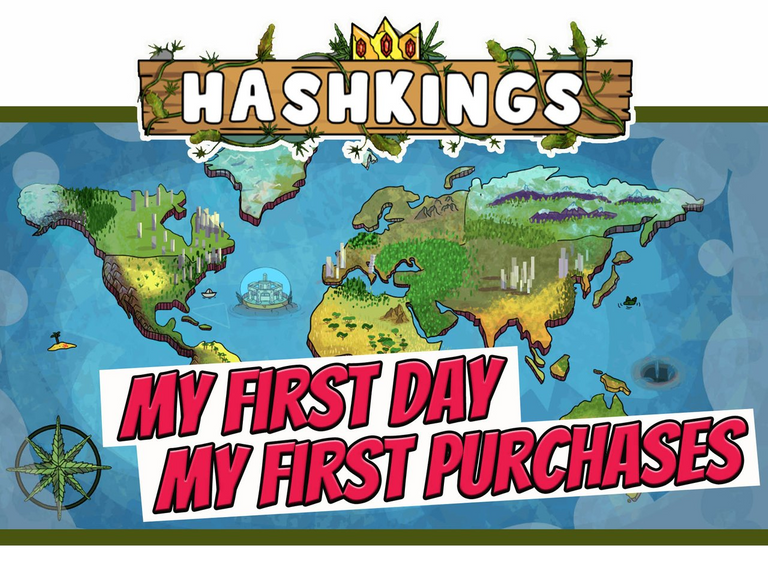 Ho iniziato la mia avventura ludica e di investimento su Hashkings l'8 febbraio 2022.
Lo stesso giorno ho scritto una breve introduzione al gioco, ho condiviso la scelta dei miei primi acquisti (carte Land e carte Seed) e ho spiegato anche i motivi delle mie scelta (ROI annuale stimato).
Nello stesso post ho mostrato anche i passi che ho eseguito per piantare un NFT di tipo Seme in un NFT di tipo Land e per iniziare ad accumulare le ricompense di gioco: My First Day, My First Purchases.
---
Con il post di oggi continuo a condividere la mia esperienza di gioco/investimento su Hashkings.
Gli argomenti che tratterò oggi sono i seguenti:
Hashkings e gli effetti del Bear Market
il mio ottavo raccolto e la scelta dei nuovi semi da piantare
lo Stacking dei token MOTA per ricevere semi ogni settimana.

Hashkings e gli effetti del Bear Market

Quando ho iniziato ad investire su Hashkings era l'8 febbraio 2022 quando 1 token HIVE valeva 1.240$ mentre oggi 20 maggio 2022 vale 0.490$.
Tutti i progetti blockchain sono stati colpiti dal crash di LUNA e dalla perdita di valore di BTC e anche il valore dei token dei giochi basati su blockchain su cui ho investito hanno perso valore e lo stesso è avvenuto per i token di Hashkings come puoi vedere dai valori indicati nelle tabelle presenti nell'immagine seguente.

Considero questa fase una fase temporanea e sono convinto che i token dei progetti di maggiore utilità torneranno a crescere di valore e in particolare questo accadrà per i token della blockchain di Hive che io considero uno dei progetti con più utilità e potenziale nel panorama dei progetti blockchain.
Come Hive anche Hashkings ha subito l'effetto del Bear Market e infatti il guadagno per Harvest delle combinazioni di NFT in mio possesso è diminuito come è diminuito il ROI stimato annuale.

Ma anche se il guadagno atteso annuale è diminuito rispetto al passato io continuo a giocare aspettando tempi migliori e infatti oggi ho completato il mio ottavo harvest.

Il mio ottavo raccolto

A causa di impegni lavorativi molto stressanti ho effettuato il mio ultimo raccolto con estremo ritardo perchè potevo effettuarlo 7 giorni fa ma da questa settimana cercherò di essere molto più preciso e mi segnerò tutte le scadenze dei giochi a cui gioco che non sono pochi...
Nelle mie 4 land South America avevo piantato 4 semi Colombian Gold.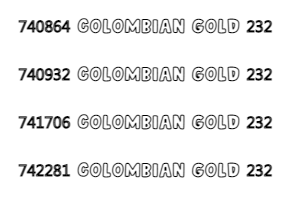 Dal raccolto ho ricevuto come ricompensa un totale di 928 token BUDS il cui valore attuale è di 0.1942 SWAP.HIVE = 0.0952$.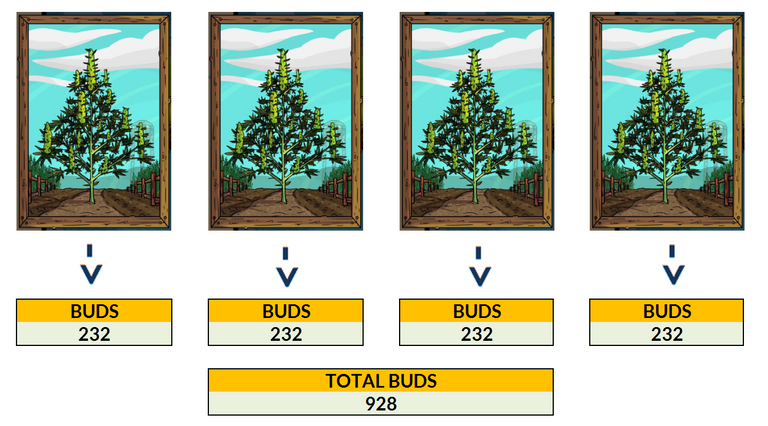 Per ogni operazione di harvest c'è una probabilità del 20% di ricevere un NFT di tipo Seed dello stesso tipo di quello precedentemente utilizzato ma questa settimana non sono stato fortunato come nel mio precedente harvest perchè dalle mie quattro operazioni di harvest non ho ricevuto semi.
Grazie allo stacking dei miei token MOTA ho ricevuto 2 token Panama Red e quindi per far ripartire la produzione nelle mie 4 carte Land ho dovuto acquistare solo 2 NFT di tipo seme invece di 4.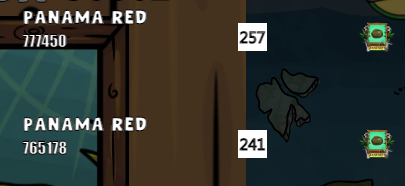 Nelle mie carte Land South America posso piantare solo due tipi di semi:
Panama Red
Colombian Gold.
Scegliere quali semi comprare è un'operazione estremamente facile perchè è sufficiente confrontare prima il costo in token BUDS e in token SWAP.HIVE dei semi Panama Red e Colombian Gold su https://nftm.art/buy/hkfarm e poi rapportare questo costo alla produzione di token BUDS di ogni seme prima di effettuare l'acquisto.
Nell'immagine seguente puoi vedere il costo e la produzione di token BUDS del seme Panama Red nel caso di acquisto utilizzando i token BUDS e nel caso di acquisto utilizzando i token SWAP.HIVE.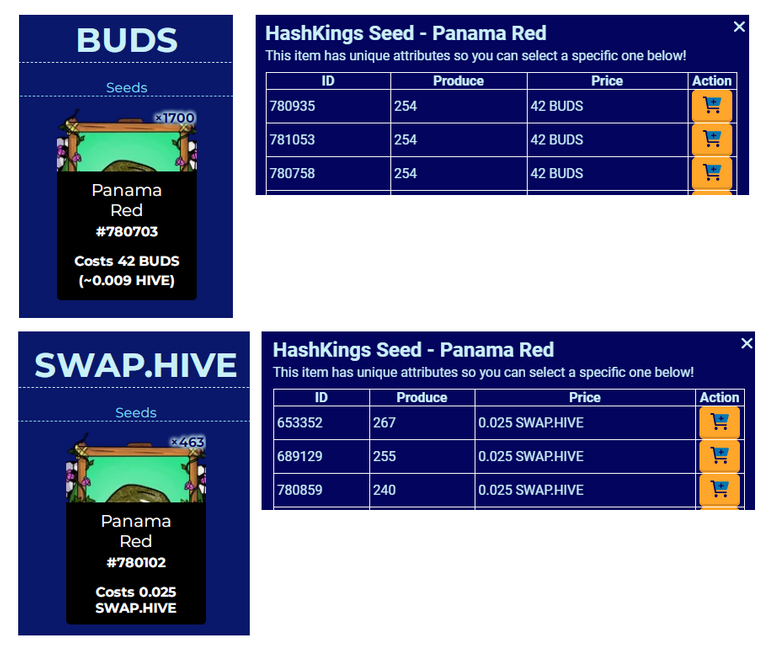 Nell'immagine seguente puoi vedere il costo e la produzione di token BUDS del seme Colombian Gold nei casi di acquisto utilizzando i token BUDS e i token SWAP.HIVE.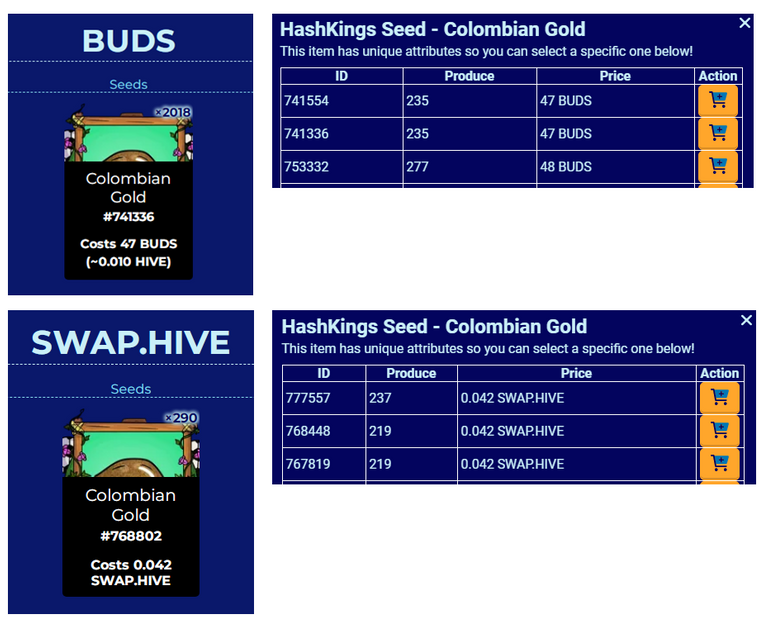 L'acquisto migliore è risultato essere il seme Panama Red utilizzando come metodo di pagamento i token BUDS perchè il rapporto Produzione/Costo è il migliore.
Dopo aver effettuato la scelta dei semi da comprare sono andato su https://nftm.art/buy/hkfarm e ho acquistato 2 semi Panama Red ed ho speso in totale 84 token BUDS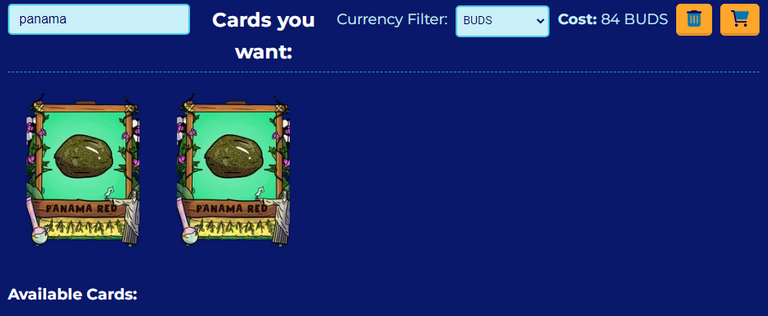 4 semi Panama Red hanno bisogno di essere innaffiati con acqua per diventare piante e su Hashkings l'acqua è rappresentata dai token HKWATER.
Il quantitativo di HKWATER necessario per innaffiare i 4 semi Panama Red è di 2016 token HKWATER il cui valore attuale è di 0.12096 SWAP.HIVE.
Il token HKWATER è l'unico token di Hashkings che ha registrato un costante aumento di valore negli ultimi 3 mesi come puoi vedere dal grafico nell'immagine seguente.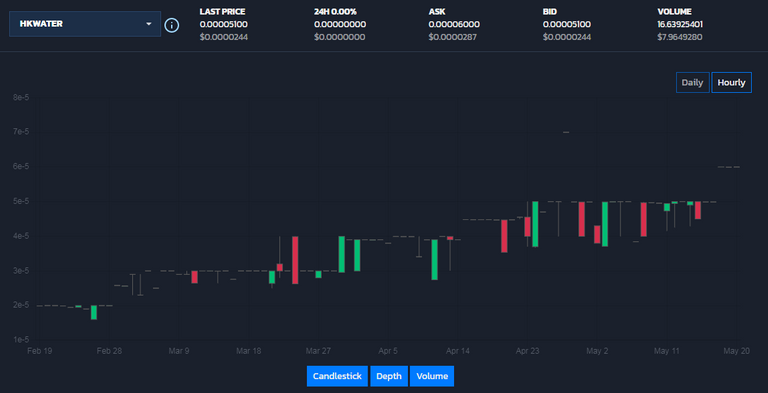 Oggi non ho dovuto acquistare token HKWATER perchè avevo già comprato 5000 token in precedenza.
Anche questa settimana e nonostate il Bear Market la mia fattoria si è dimostrata autosufficiente.
Infatti con i token BUDS che ho ricevuto dal raccolto sono stato in grado di far ripartire la produzione e ho ottenuto anche un profitto di 264 BUDS = 0.0.0553 SWAP.HIVE = 0.271$

264 BUDS è il profitto più piccolo che ho registrato fino ad ora dall'operazione di Harvest dalle mie 4 carte Land.
L'effetto Bear Market è evidente e infatti la stessa operazione di harvest effettuata 2 mesi fa (18 marzo 2022) mi aveva permesso di far ripartire la produzione e di ottenere un profitto decisamente migliore: +0.2262 HIVE, +866.19 BUDS, +0.2124$.

Nonostante il profitto è minimo è sempre un valore positivo e quando il valore di HIVE crescerà crescerà anche il valore del profitto per harvest.

Lo Stacking dei token MOTA

L'economia del gioco di Hashkings è davvero molto vasta e sono molti gli aspetti e le valutazioni di investimento effettuabili.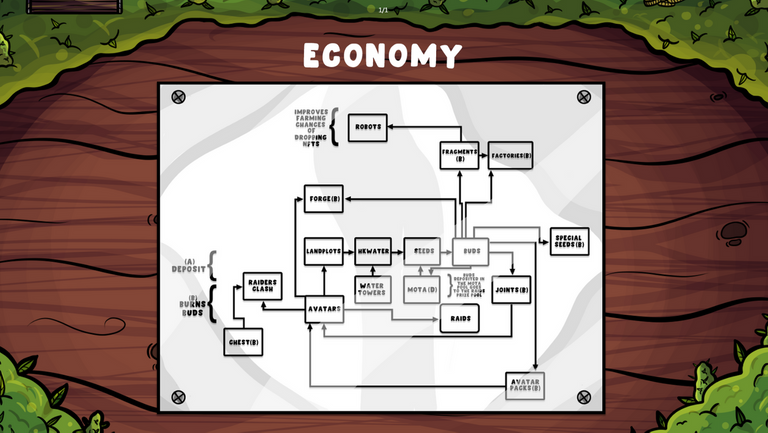 L'attività di farming è solo una delle funzionalità del gioco di Hashkings.
Il mio obiettivo nel breve periodo è di accumulare un quantitativo sufficiente di token MOTA da mettere in stacking per ottenere 4 NFT di tipo seme in modo da non doverli acquistare ogni settimana per far ripartire la mia produzione.
Infatti su Hashkings è possibile bruciare i token BUDS per ottenere i token MOTA.
Il percorso da seguire è il seguente: LAB --> MOTA POOL --> BURN BUDS

Oggi ho bruciato 1061 token BUDS ma riceverò i token MOTA alla fine della giornata di oggi come spiegato su https://docs.hashkings.app/getting-started/mota.


In base alle informazioni presenti nella sezione STATS di Hashkings all'interno della sottosezione POOL MOTA (https://hk-stats.herokuapp.com/home) per raggiungere il mio obiettivo e ottenere 4 NFT di tipo Seed piantabili nelle mie land South America devo mettere in stake un totale di 22.164 token MOTA (5.541 MOTA per 1 Seed).

Fino ad ora ho accumulato e messo in stake un totale di 13.45 token MOTA e quindi ho bisogno di accumulare altri 11 token MOTA.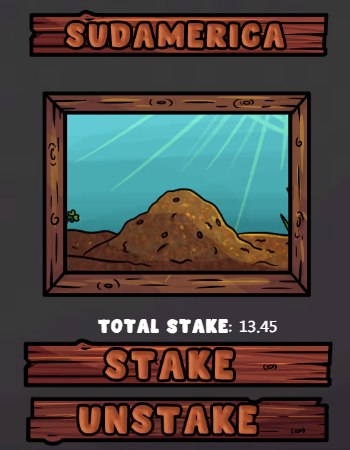 hk-curation, Raids e PGM

Per supportare Hashkings e per ottenere un numero maggiore di token BUDS, 23 giorni fa ho delegato 100 HP all'account
@hk-curation
.

Grazie a questa delega ricevo ogni giorno un quantitativo di token BUDS.
Oggi ad esempio ho ricevuto 125.06 BUDS.

Ci sono altri due modi che utilizzo per incrementare il quantitativo di token BUDS in mio possesso.
Il primo modo è mandare i miei avatars nelle RAIDS una volta al giorno.

Il secondo modo è utilizzare il comando !PGM nei miei commenti di risposta agli altri utenti su Hive.
Tramite il comando !PGM posso inviare e allo stesso tempo ricevere diversi token tra cui i token BUDS e i token MOTA.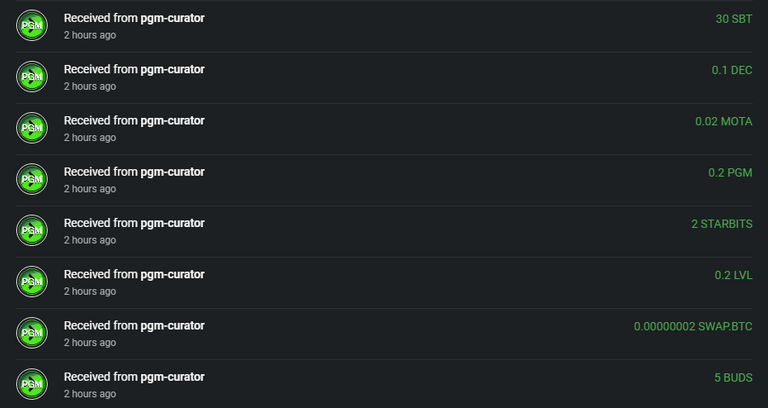 PGM (Play Gamer Token) è un token di secondo livello della blockchain di Hive ed è anche un progetto in continua evoluzione creato dal dinamico e molto attivo @zottone444.
Fino ad ora ho accumulato 5858 token PGM e grazie a questo quantitativo posso inviare 15 comandi !PGM al giorno e guadagnare di conseguenza 0.6 token MOTA e 75 token BUDS al giorno se utilizzo tutti i comandi a mia disposizione.
Per oggi mi fermo qui e spero che questo mio post inerente al gioco di Hashkings ti sia piaciuto e se ti fa piacere, seguimi per leggere i miei futuri post e report ;)


Nota Importante:

I giochi basati su blockchain che permettono di acquistare e vendere token non sono solo giochi ma sono anche investimenti e come tali devono essere trattati!
In ogni tipologia di investimento c'è sempre un
fattore di rischio
da valutare e considerare.
Io non sono un consulente finanziario e le informazioni contenute in questo post non sono consigli finanziari
Prima di investire in un gioco basato su blockchain devi sempre fare le tue ricerche e le tue personali valutazioni.
Il mio consiglio è di investire sempre e soltanto quello che puoi permetterti di perdere a cuor leggero!

Se non diversamente indicato, le immagini presenti in questo post sono screenshots presi dai siti:
https://farm.hashkings.app/
https://tribaldex.com/
https://farm.hashkings.app/staking
Le immagini che contengono formule, tabelle e calcoli sono di mia proprietà
Il font usato nelle immagini relative ai calcoli e nelle immagini da me editate è Open Source
The dividers with the Hive logo in this post were created by me and if you like them you can use them too, the Hive logo is property of https://hive.io/


https://www.1up.zone/

---
---