Cafe Baba, stories of crypto on the dark web over hashish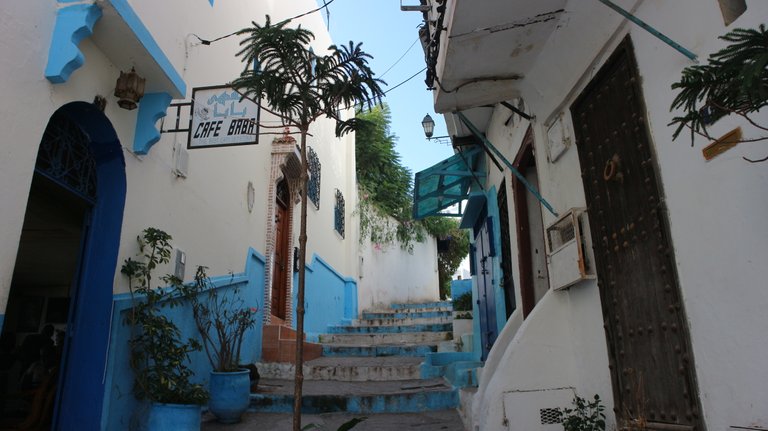 In one of the tight alley ways in the Tangier Kasbah is a little Cafe called Cafe Baba. A guide we had on the first day for a little walking tour as part of our airbnb said that many famous people had visited there over time. And this was clear by the pictures on the walls, every one from Kofi Annan to the Beetles had been there and probably also smoked hashish in one of the dusty dark corners.
When you walk in you could probably mistake it as a pub or a dive bar in many other countries, but there is no alcohol served at Cafe Baba. It is dimly lit, a lot of old wood and a tea bar in the corner with a few kitchen items behind it. Then a large wall of windows that lets the light into most of the room. Along the back wall though it gets a little dark up into some cubby hole booths.
We went there one morning when we were having a hard time finding anywhere open for some breakfast. The whole man who ran the Cafe and probably was there back when most of the famous people visited said he could throw something together for breakfast for us.
We got some mint tea, a glass of fruit juice, and a piece of bread with some single processed cheese slice in it.
Not the best breakfast we got on our trip but we did not have much of a choice, so we choked down the bread. While sitting there a group of young guys and a 2 girls came in and went into the darkest corner. They started wrapping some hashish and smoking it. I was hopping to get a chance to try the Moroccan hash and this was probably a good of a chance as any, with what seemed to be a safe environment and some chill kids in their 20s enjoying it.
I was traveling with my dad, sister, and her husband and out of politeness I asked everyone if they were ok with it if I went over and had a smoke with them. My dad is a worldly nomad so I didnt think there would be a problem there just wanted everyone to feel at ease. Everyone was fine so I went over and introduced myself and asked if I could join them for a smoke.
They were very friendly and had great English and offered to roll one up for me. I spent about 30 minutes with them, enjoyed the hash, they gave me some more for that night. But we talked about so many things from Morocco, religion, the power dynamics, the king, to hash production and so on. They were also convinced that something bad was going to happen in 2020 (this was December 2019) and it would be some world wide event that would cripple the economy. They were right we all know what happened last year.
They also talked about spirituality and some other drugs came up natural hallucinogenics. Living in Ghana we don't run into these things much so I was quite curious how they bought them. Turns out they use crypto on the dark web to order them from Europe which is only about 12 miles away. That was a pretty interesting use case for crypto if you ask me.
---
Posted via proofofbrain.io
---
---