Uruguay - Our first time in a country with legal cannabis. / Nuestra primera vez en un país con cannabis legal. 😜🌿
During our short stay in our neighboring country, our friends joked several times about bringing them cannabis as a gift. And the fact is that, unlike Argentina, in Uruguay the consumption of this plant is now legal, of course with its respective restrictions. In this matter they are quite advanced, so much so that my friend and I were surprised to see a coffee shop that freely marketed cannabis products. And of course we visited it 😅.
Durante nuestra pequeña estadía en nuestro país vecino, nuestros amigos bromearon varias veces sobre el asunto de llevarles cannabis de regalo. Y es que, a diferencia de Argentina, en Uruguay ahora el consumo de esta planta es legal, por supuesto con sus respectivas restricciones. En materia de esto ellos están bastante avanzados, tanto que a mi amiga y a mí nos sorprendió ver una cafetería que comercializaba libremente productos con cannabis. Y por supuesto la visitamos 😅.
---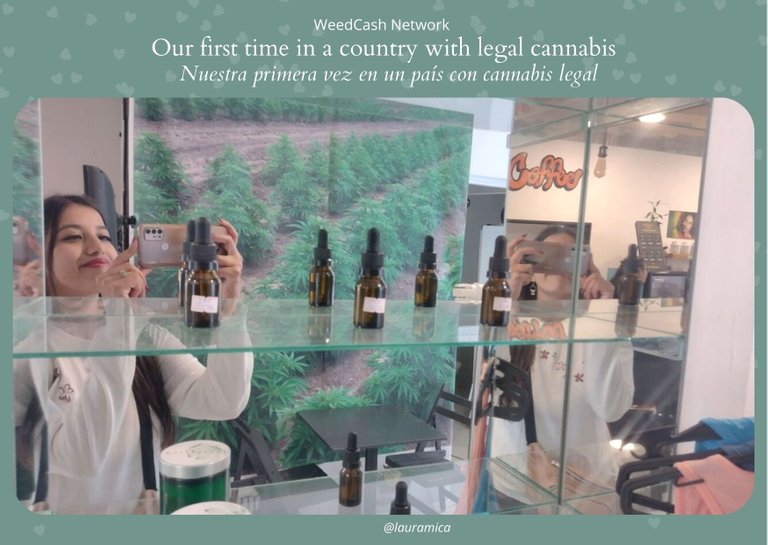 ---
This store was in the center of Colonia del Sacramento and perhaps was not so crowded by the locals themselves, but for us curious tourists, it was a great attraction to see. In our country it is unthinkable to see a store like this, since consumption, possession and commercialization is still punishable by law. Only a few months ago a small advance has been made in the matter of medicinal consumption, but nothing more than that.
Este negocio estaba en el centro de Colonia del Sacramento y quizás no estaba tan concurrido por los mismos vecinos de allí, pero para nosotras, turistas curiosas, fue un gran atractivo para ver. En nuestro país es impensado ver una tienda como esta, ya que el consumo, tenencia y comercialización aún sigue estando penado por la ley. Solo hace algunos meses se ha hecho un pequeño avance en cuestión de consumo medicinal, pero nada más que eso.
---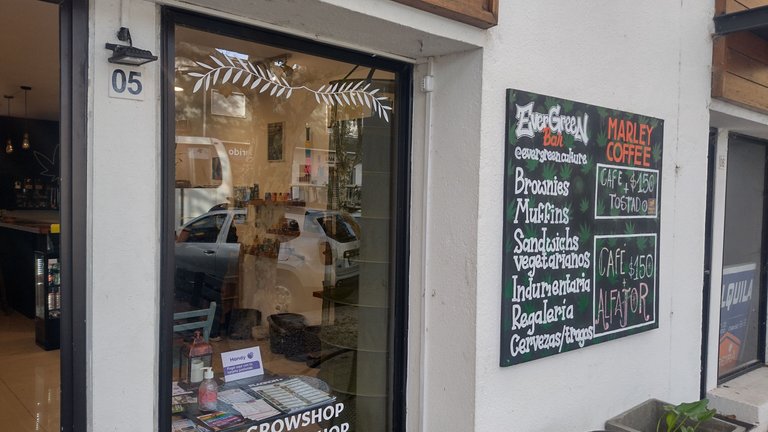 ---
Besides being a coffee shop that offers snacks with different infusions, cakes and sandwiches with cannabis, this place has different related items such as merchandising, clothing, smoking accessories, fertilizers and everything necessary for growing plants. The girl who attended was very kind and explained a lot of things to us, basically all the doubts we had about this reality very different from Argentina.
Además de ser una cafetería que ofrece bocadillos con diferentes infusiones, tortas y sándwiches con cannabis, este lugar tiene diferentes artículos relacionados como merchandising, ropa, accesorios para fumar, fertilizantes y todo lo necesario para el cultivo de plantas. La chica que atendió fue muy amable y nos explicó muchas cosas, básicamente todas las dudas que teníamos sobre esta realidad muy diferente a la de Argentina.
---

Currently, to consume cannabis legally in Uruguay, one must be registered in order to be authorized to purchase it in pharmacies and for self-cultivation. The law establishes that only a maximum of 40 grams per month and no more than 10 grams per week may be purchased. Pharmacies may choose to sell it or not, and there is a list of all pharmacies that are official points of sale.
Regarding self-cultivation, up to 6 plants can be kept at home, whether they are male or non-flowering, and the maximum annual production must not exceed 480 grams.
There are also growers' clubs, where between 15 and 45 members can participate, authorized to grow up to 99 plants in the same place, always respecting the 480 grams per person.
For further information on the regulation of cannabis in Uruguay, please consult the source of this information 😃.
Actualmente, para consumir cannabis de manera legal en Uruguay se debe estar inscripto en un registro para poder estar habilitado para la compra en farmacias y al autocultivo. La ley establece que solo pueden comprarse 40 gramos máximos por mes y no más de 10 gramos por semana. Las farmacias pueden elegir comercializarla o no y existe un listado de todas las farmacias que son puntos de venta oficiales.

Con respecto al autocultivo, en el domicilio particular se pueden tener hasta 6 plantas que sean machos o no florecidas y la producción máxima anual no debe superar los 480 gramos.

También están habilitados los clubes de cultivadores, en donde pueden participar entre 15 y 45 miembros, habilitados a cultivar hasta 99 plantas en el mismo lugar, siempre respetando los 480 gramos por persona.

Si desean ampliar sobre la regulación del cannabis en Uruguay, pueden consultar la fuente de esta información 😃.
| | |
| --- | --- |
---
| | |
| --- | --- |
Undoubtedly what moved me most about this situation was to see that this store also freely sold Cannabis oil. In Argentina there is a large movement of parents with children suffering from various diseases, who fought for many years to legalize the use of medical cannabis and have only recently succeeded. Listening to those parents who say that the only therapy that works to calm their children's pain is cannabis oil, and that they had to remain in the shadows of illegality to get it, is really sad. Currently, the struggle is focused on achieving the legality of self-cultivation in order to reduce the high costs involved in buying the oil from third parties. I hope they achieve it and that at least this way the world will be a little fairer 💔.
Sin dudas lo que más me convmovió de esta situación fue ver que esta tienda también vendía libremente aceite de Cannabis. En Argentina existe un gran movimiento de padres con hijos que padecen distintas enfermedades, que luchó por muchos años para poder legalizar el consumo de cannabis medicinal y recién hace poco lo han logrado. Escuchar a esos padres que relatan que la única terapia que funciona para calmar el dolor de sus hijos es el aceite de cannabis, y que tenían que permanecer en la sombra de la ilegalidad para conseguirlo es realmente triste. Actualmente la lucha se centra el poder lograr la legalidad del autocultivo para poder abaratar los elevados costos que implica comprar el aceite a terceros. Espero que lo logren y que al menos así el mundo sea un poco más justo 💔.
---

I personally do not use cannabis in any form, but this does not make me against those who do. I have tried it on occasion and the effect it gives me is funny, but it is not something I am interested in repeating on a regular basis. Just for very sporadic fun with friends is fine, like this time. Of course we couldn't leave Uruguay without trying something with completely legal cannabis, so we bought a small portion of brownie (which cost us thousands of Argentine pesos since the exchange rate was completely unfavorable). We had been saving a lot throughout our stay and on the last day we spent it all to buy this 😂.
Particularmente yo no consumo cannabis en ninguna de sus formas, pero esto no me hace estar en contra de quienes sí lo hacen. En ocasiones lo he probado y el efecto que me genera es gracioso, pero no es algo que me interese repetir regularmente. Solo para divertirme muy esporádicamente con amigos está bien, como esta vez. Por supuesto no podíamos irnos de Uruguay sin probar algo con cannabis completamente legal, así que nos compramos una pequeña porción de brownie (que nos costó miles de pesos argentinos ya que el cambio nos desfavorecía completamente). Habíamos estado ahorrando mucho durante toda nuestra estadía y el último día nos gastamos todo para comprar esto 😂.
---

Since I'm not a frequent user, a small dose already makes me feel "high", so I didn't want to get crazy with this and only ate a little bit because we still had a whole day of walking around the city. The whole experience of being in Uruguay and experiencing legal cannabis was great, I love having this kind of anecdotes in my life and I hope that someday in Argentina we can have a regulation that allows us to control the situation in a mature way like this 😃.
Como no soy consumidora frecuente, una dosis pequeña ya me hace sentir "elevada", así que no quería hacerme la loca con esto y solo comí un poco porque aún teníamos un día entero paseando por la ciudad. Toda la experiencia completa de estar en Uruguay y experimentar lo del cannabis legal fue genial, me encanta tener este tipo de anécdotas en mi vida y espero que algún día en Argentina podamos tener una regulación que permita controlar la situación de una forma tan madura como esta 😃.
---
---
❤️ Hope you liked this post! Thanks for reading. ❤️
❤️¡Espero que les haya gustado este post! Gracias por leer. ❤️
---
---
---

With lots of love. / Con mucho amor.
Lau 💕.
---
📸 Cover created with Canva. All the images are my property 💕.
📸 Portada creada en Canva. Todas las imágenes son de mi propiedad 💕.
---
---
---