Eneftie the Fairy | Create Your Fairy Challenge by @snook

the time has come, frens
What time exactly? I dunno, depends on where you're at in the world. Whatever time it may be - there's something we must do. A challenge presented by @snook to Create Your Fairy. Why must we do this challenge? To have fun, to smile, to laugh, and to be creative. We focus so heavily on crypto (I know I do) and other things that we forget to enjoy ourselves. I challenge each and every person that might read this to take a few minutes and participate in this contest. Have fun. Be creative. Spread joy. The world is a bitter place sometimes but it doesn't have to be :)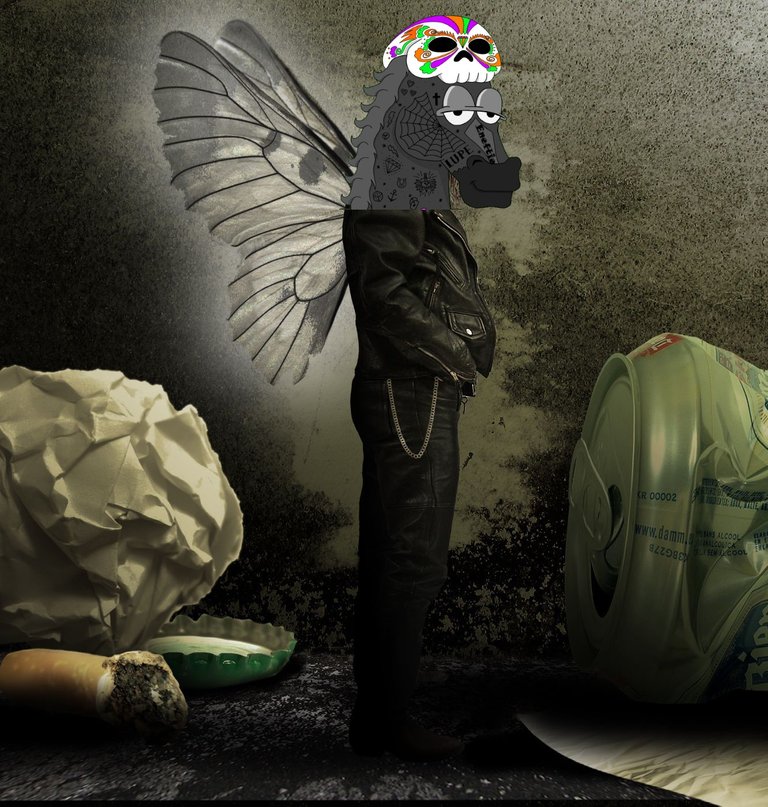 (I can't find the source of the original image.... but check out my photoshop skills yo)
Meet Eneftie the Fairy.
You can see clearly that Eneftie (you see what I did there? it's NFT but spelled out) is a unique fairy. He is a male fairy with a horse head and face tattoos. He wears a leather jacket because he's self conscious about being a male fairy. That's also why he has the pocket chain thing going on. He smokes a ton of weed and flies around in a sort of aura of weed smoke. So that's what he looks like. He's an interesting fellow.
What's his mood like?
He's not happy, he's not sad, and he's not even grumpy. He's somewhere in between all of those. I guess his mood is just existing. He's a higher being, if you will.
Where does he live?
You would think as a fairy that Eneftie would live somewhere cool like in the sky or water. Not him though, he goes against the grain. He lives in a shitty run-down studio apartment on the East side of town. What town does he live in, you might ask? Well I'm not exactly sure. Any time I ask him, he just says he lives "on the East side" and goes back to smoking. He recently moved in with me and sleeps on my couch.
How does he feel about being a fairy?
Ashamed. He feels ashamed about being a fairy because people don't consider him manly. Deep down he loves what he is but he's so self conscious that you would never know. When no one is around, he loves flying around and doing fairy shit... but when people are around he's just a dude with a horse head and face tats.
Man, he sounds like a winner. What's his story?
Eneftie the Fairy came from a long line of horses and fairies. His dad was a horse and his mom was a fairy from the forest. How did this happen? Well, one cam only assume that... uh... I'll leave that up for speculation. His father was just a horse and left him with his mother at a young age to go do regular horse shit. You know, horses aren't meant to raise baby horse-fairy hybrids and all. But his mother was always there and took care of him in their tree house in the forest. As Eneftie got older, he grow resentment for his father and his mother was always working to pay their bills. As soon as he turn 18 he moved out of his mother's tree house and started living on the streets. Eneftie always had good street smarts and was able to make do with very little.
I met Eneftie one day while I was out at a bar. He was sitting at the other end of the bar, drinking alone. I was tired after a long day of work, and he walked over to ask if I needed a drink. I said sure then he offered to smoke a joint with me. Since then, he moved in with me and kinda just hangs around giving input on things even when I don't ask. He's always stoned and there to give useless input when I'm trying to get things done. He's a bro for sure.
That, ladies and gentlemen, is the story of Eneftie the Fairy.
I hope you laughed. I hope you cringed. I hope you smiled. Especially you, @dreemsteem.
Thanks for reading!
---
---