The Sock Flipped
Good Brunchin', or Lunchin' to All the farther side of the ball there.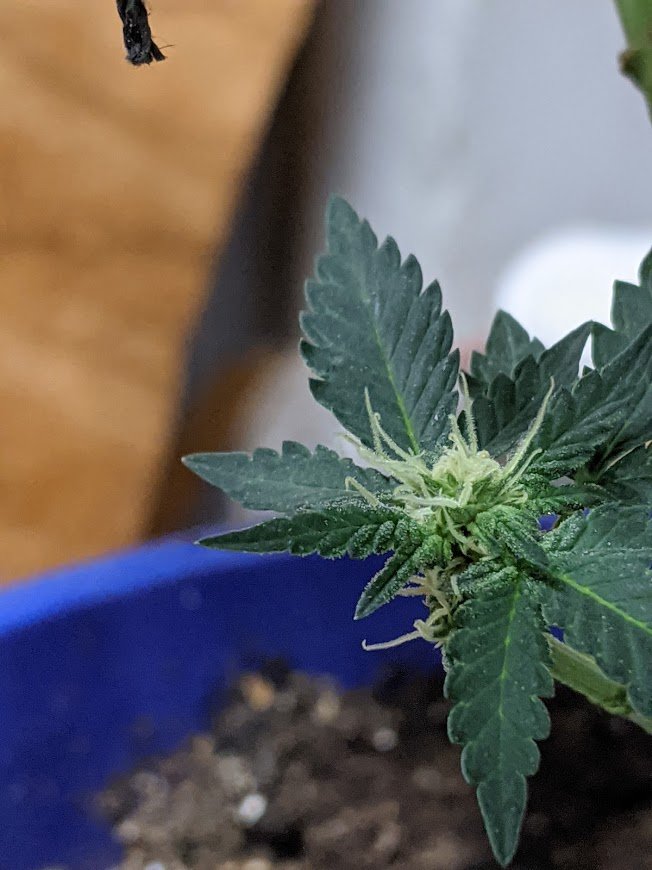 Little spotty, nice an sugary 'round the pistol hairs there. Don't worry bout that spotty it's just pollen, not very much but enough for this node.
#5gallonchallenge only has 1 option to pollenate as all others are intended for the scale. This Slymer x Wilson x 5G has been dusted up with Colorado Crush. This is what I have been looking forward to, personally. The Colorado Crush is a hybrid of course, but it is a hybrid of Colorado Kush x Orange Crush. This was boasted as a 16% THC to 18% CBD, the Co. Crush that is. I can attest to the CBD hammer that it does wield, but as far as the THC strike it was found to not just be lacking but somewhat annoyingly wanting.
Remedy, Slymer x Wilson x 5G, this should get it tuned up a little better next time around.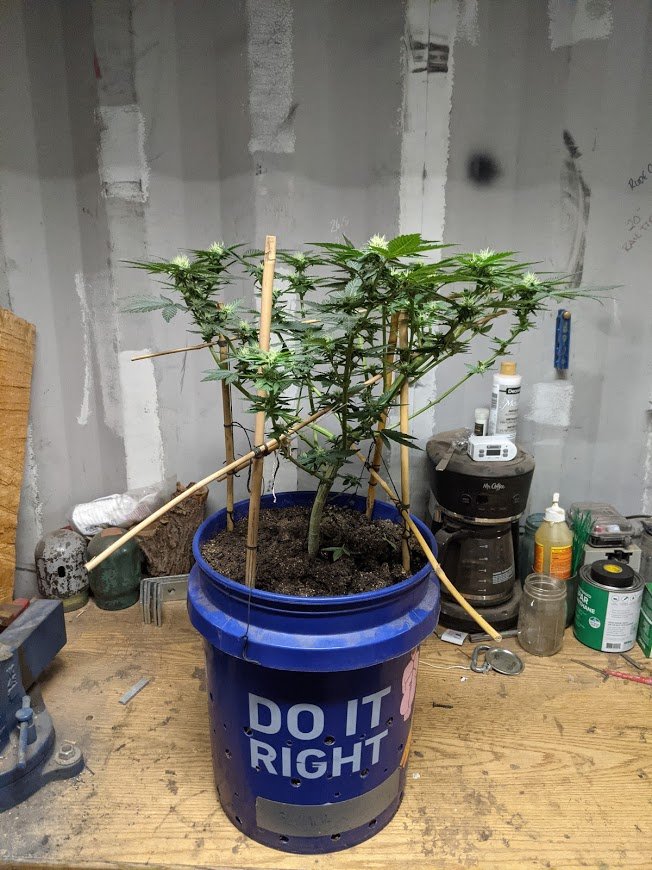 That stock is looking good, twisted an contorted. Each node/bud site has it's little solar panels and massive pile of pistol hairs. Trim seems to have done ok, after this round I'll know which method I myself prefer.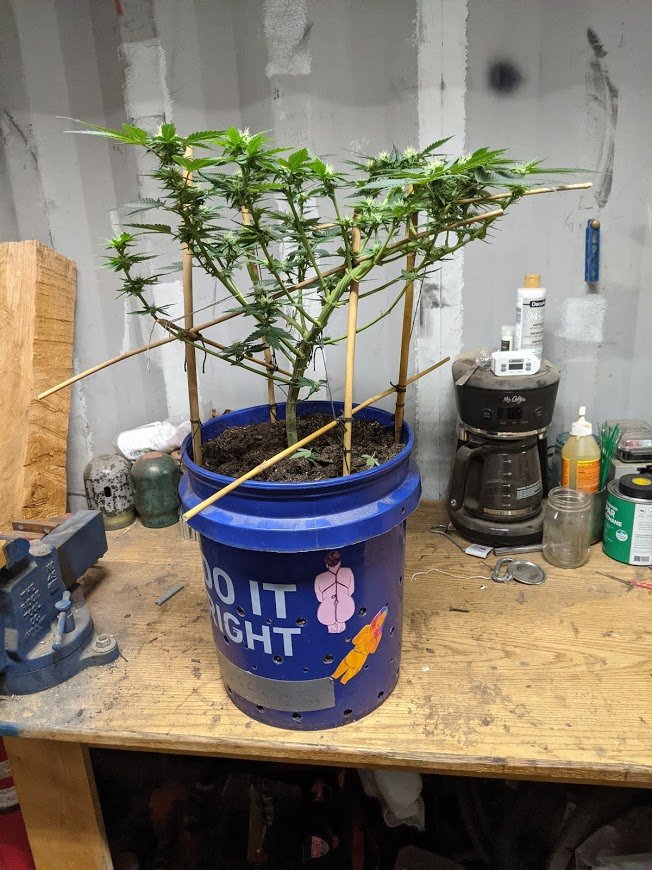 If you are an explorer of Youtube, or a poster, #TheFutureCannabisProject had the Masonic smoker on The James Loud Show talking about how he has gotten to where he happened to be in his career.
It's a hard interview to watch. I'll save you some time. He uses open pollenation method, and he is also not so much a "pheno" hunter or using a Punnett's square.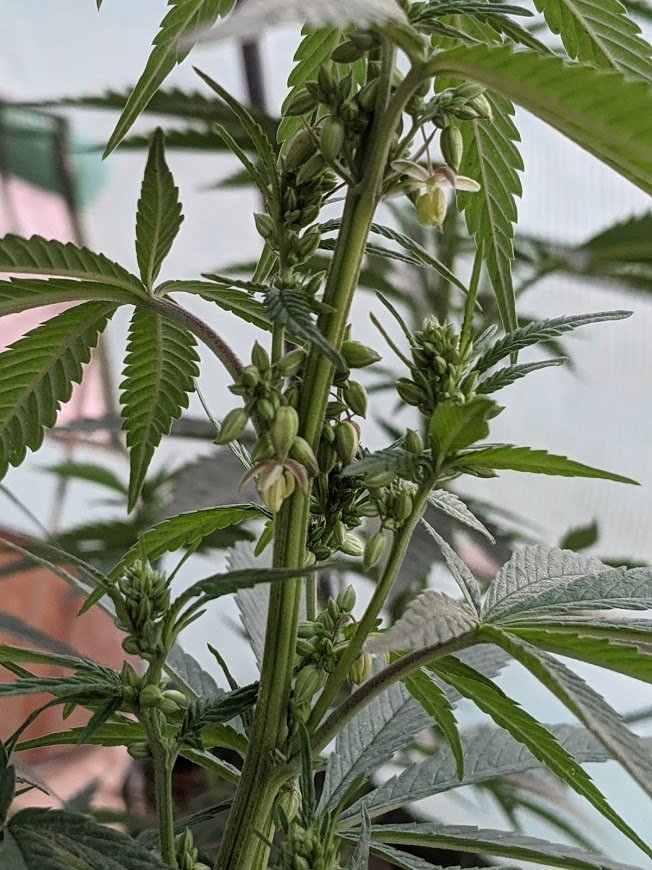 That's his game so, whatever works. His Wilson male is a Papaya terp that is quite pHantastic. He happened upon it through a JngleBoys pack and KNFGardener cultivated it out to his, now keeper. That's Wilson according to what I got from the interview. Pictured above is #3 Co. Crush, 9 beans were thrown 7 were male 1 lost in transplant, 1 female, and this Keeper stud. Out of all the Gents he seemed more our suit.
Quick to Break the shell, #3 out of the dirt the female was #2, has an incredible leaf stench, hard to describe. Some kind of menthol, with a Kush bite. Super interesting to me.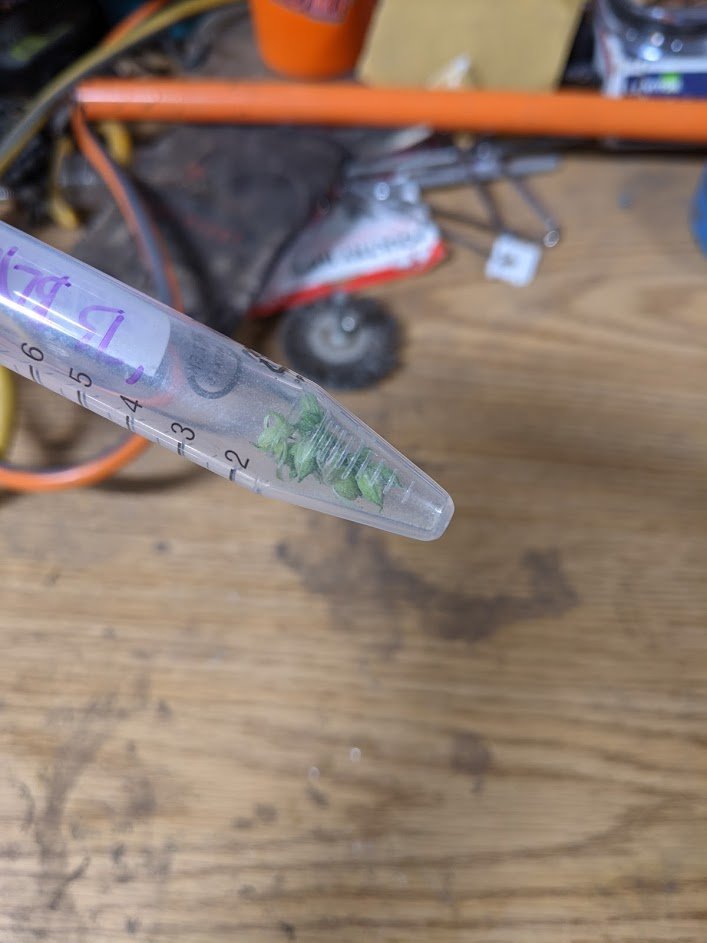 Seen above He has a great leaf structure as well, massive fan leaves, as well as it gets closer to flower the nodes to start to stack real tight towards the tips.
I think this will turn out to be a nice cross into my wedding Cake, Thin Mintz, and Slymer. Should make for some exceptional medicine.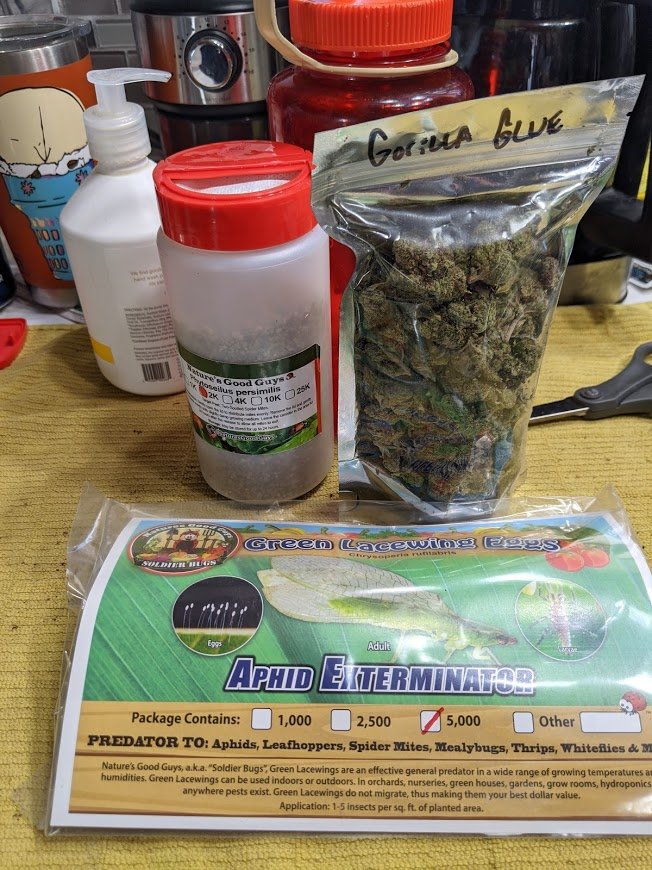 So as for the questionable yellowy powdery substance found on a leaf, had to be pollen from a Carpenter Bee that had wondered in.
As for the other pHucker's that had be giving me problems, I got their pHuckin number.
These murders came in the mail on Thurs, it is now Monday, late I know. Busy and I also got my surfboards out, gotta get into some kinda shape. I hang around Bolsa Chica. Good break, clean sand, and parking lot.
The predatory mites mix are to fix a problem in the soil. Gnat larve and other thing's I can't see. I do use Dr. Bronners soap, 2 tsp per gallon then pH'ed, with water every other day. Has to be done without fail or they win. I don't spray for about a week when I do a release. Give them the best chance as possible, they've already had it bad enough having me order them up like a pizza.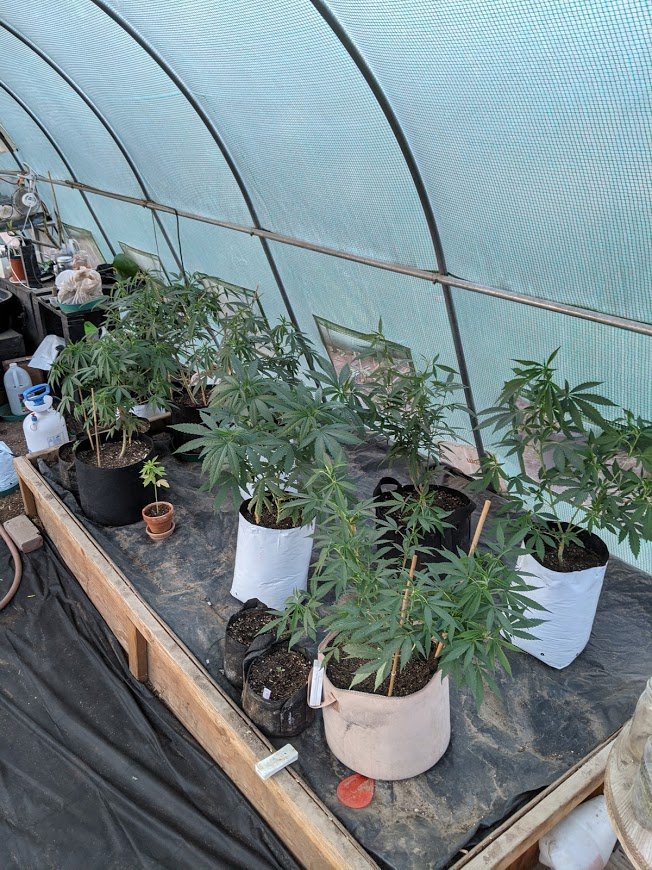 Not like they are going to the worst place but still. Box 1 The Swan OG in the tan pot there.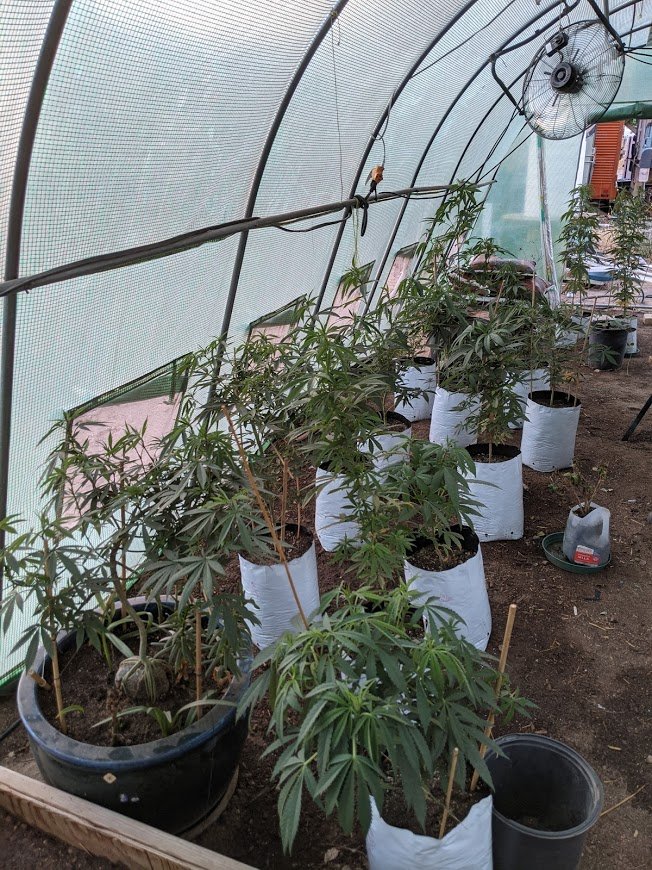 Box 2 has mostly just turned into "Left side of the place". Thin Mintz in the close, and then the Plantinum Gorilla on the rock.
Not a bad year so far. Sheriff hit something like 500 farmers in LA county, no permit was the word. Something like 95k to get one of those, ah to be a rich criminal, have all those resources to just take peoples shit. Own the Law own the Land. I mean....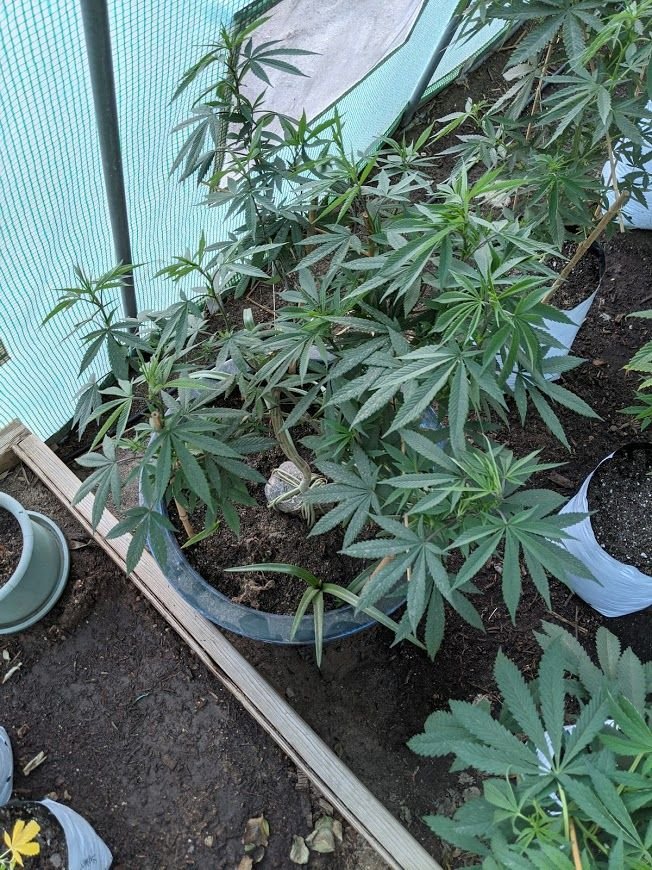 Canopy has filled in nicely, looking forward to her change. Has a nice purple hue should make a for a colorful leaf change when she goes into flower.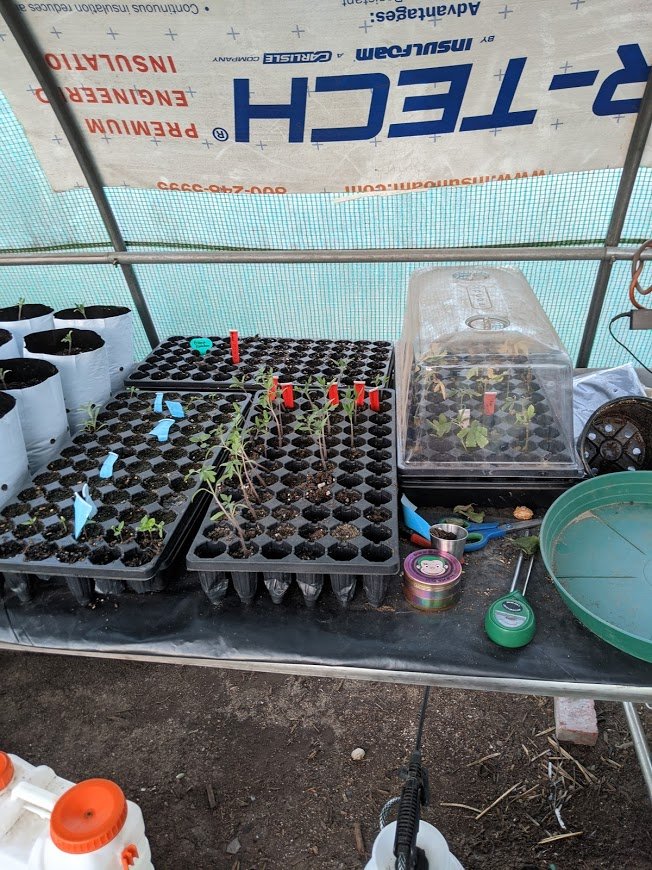 Time to move some thing's. Moved 25 assorted tomatoes from the starter to a 1\2 gallon pot as well as 5 other Peppers. Still lagging on the those other cuts you see there. I've moved the ones I think is important, soonish.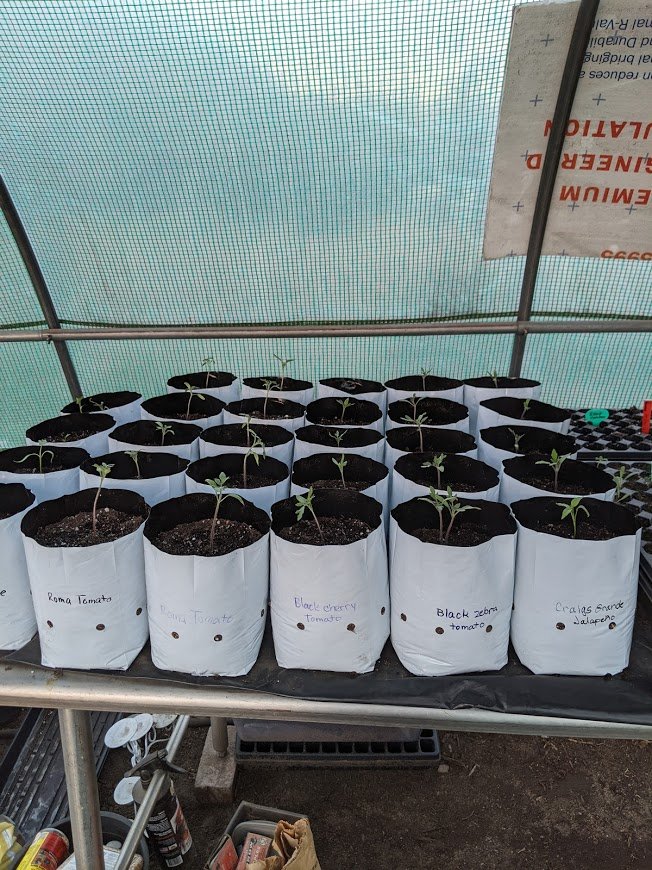 Lots of Tomatoes, heirloom to boot.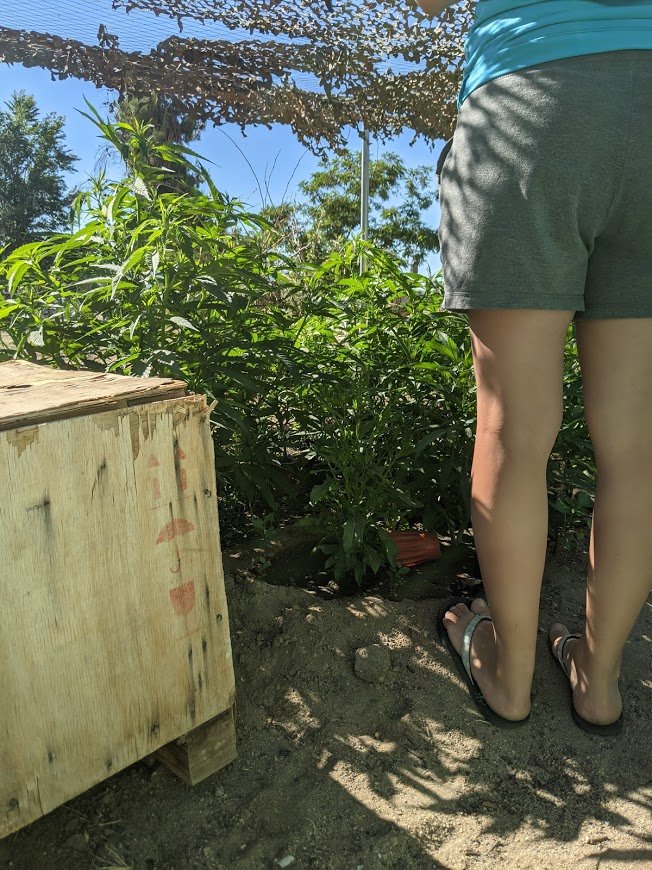 The Barf yard has come along nicely. Well over knee high and it's not July yet so guessing we'll be okay as far as the time department. All the flowers that were supposed to compliment were just over run. Gonna just have to find somewhere else to plant those flowers.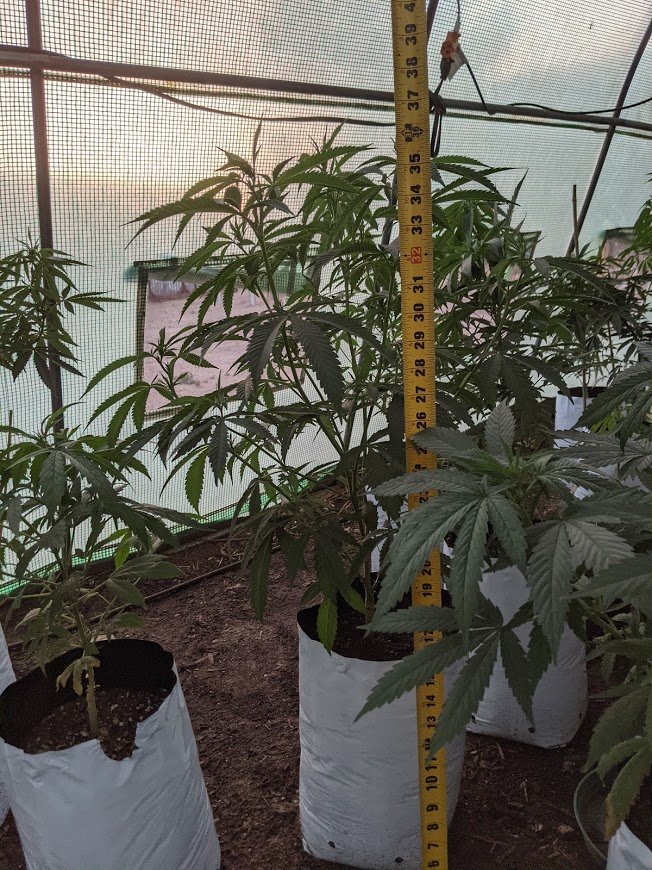 I'm a good enough of a fisherman to tell you a tale, but being a from CA, tall tales and movie magic seem to define us for some reason. Well that surfing and Cannabis of course. So I'll take my ques from the "Valley" side of CA, and whip the tape out show you how big some of the stocks are, minus the Potsack of course.
Mid last week, when the "Wind Sock" flipped on me I had to move the Gents inside to a less turbulent area. Usually it goes South to North, but flipped on me here, been opposite lately. I'm a selective pollinator so can't just have this all in the wind like they would prefer.
I member when season started, or prep for the beginning, I had a friend that grew last year and was disappointed in their result, and was gonna go again this year. I had offered my services, which is a weekly visit 4 cuts of what's in season at the time with in variation of course and what to look for and how to best deal with any eventual problems. I'll teach you how to do it. I don't much like fishing for other folks, teach how to all day though. That plant has perked up, within 3 days of my visit. Chlorine, and a pH in balance.
Had to show good representation of the other options I do have if you had a bad start. 😉
Lesson time: If you are not checking the pH on your H2o then you are fooling yourself. Liquid nutrient feeders know the importance of this simple fact, Living Soil is no different. This is the rule, they are a product of their environment, and they exist in that pH, the roots, you know? If it's off or too far to one side in either situation then the highest of the highest end genetics or nutrients cannot save you. Neither will a positive attitude.
It's all a terrible balance that has to found and held. When in doubt let in dry out a little, never just add more, of anything. If you're living in a place with what I call "city" water, treated by a city or municipality, then big trick, let the water out of the tap sit 12 hours minimum 24 best. Unless you can bubble it, then 6 should be good. Best to just plan ahead. Chlorine is the thing you are airing or bubbling out of the "city" water, after that then pH to the proper level. I shot for 6.4-6.8 with my soil. I'm not a professional, but it seems to work, so it's just an FYI.
Thanks for stopping in,
See you in the surf
Knottdaddy, Tied Off
---
---