Moisture Payoffs, and The Flowerful Shuffle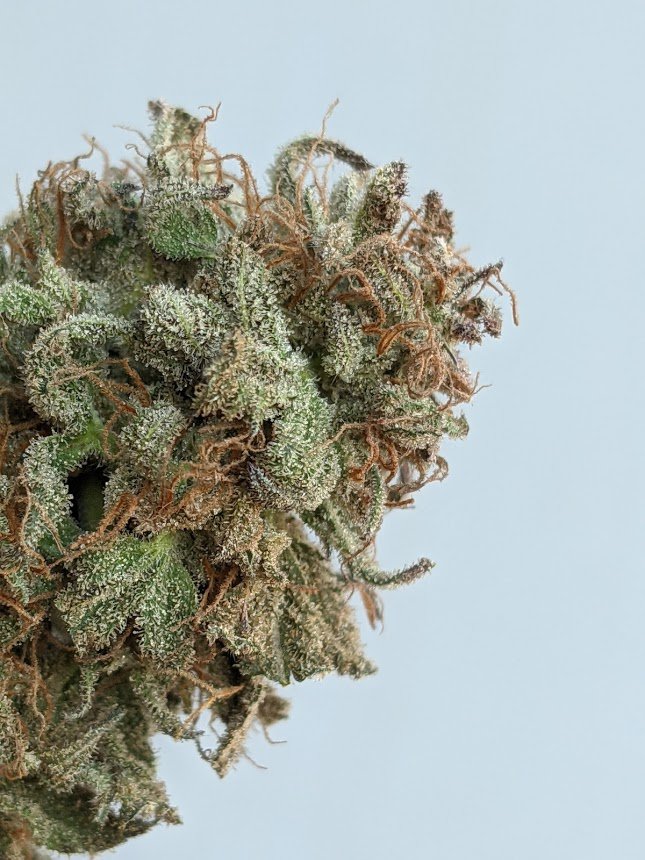 The morning of chop day. It's a day that is long awaited for, or not, seems longer than they end up being. I'm sure that watching paint dry feels like a reel long time as well but it is all perspective after all. Anticipation and that feeling of now what to do that she's gone?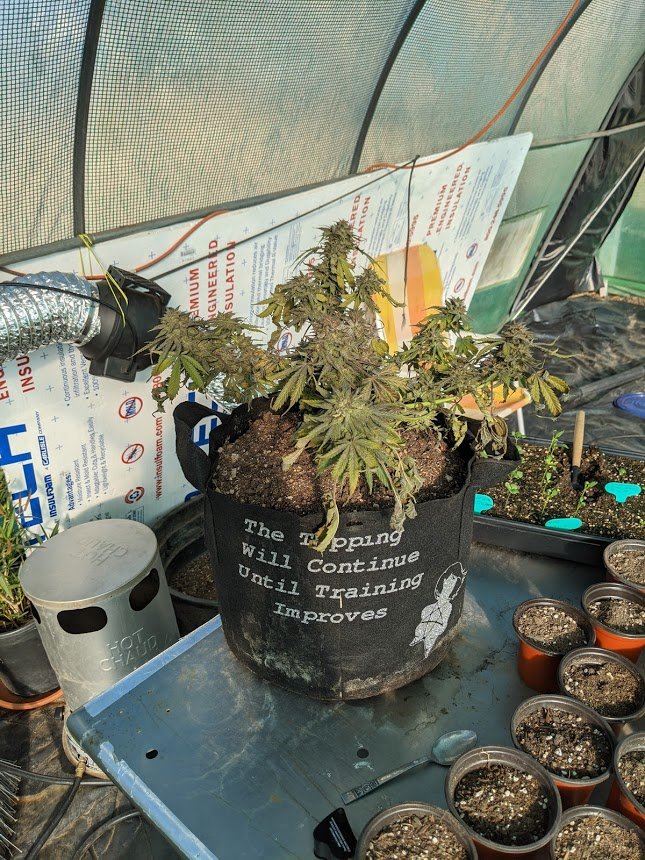 Oh my this Larry OG Auto has that signature OG stank, and the trim here, wet, was so nice. Although the days counted and the nurture from seed to chop was a good learning experience to say the least, the time spent like a buzzing bee the last few weeks with the 30x glass to spot the perfect milky and amber combo. Exhausting. She fell on Thursday this week so I can not speak to flavor, we will standby till that slow dry is done.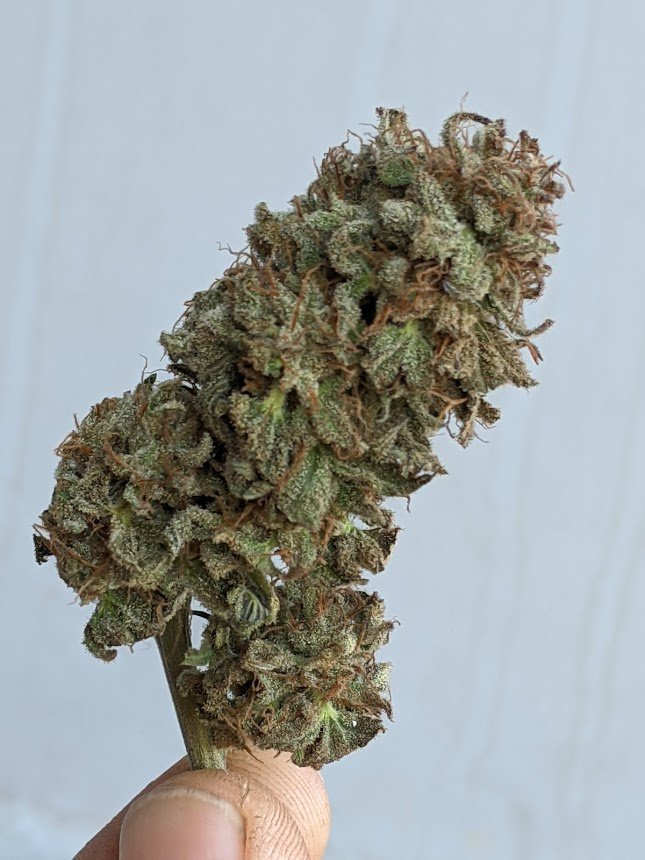 Now I'm not just the buzzing bee in the garden I have a humidor to tend now as well not something I had planned on having to study and work on building, but if we're not learning then its just a wasted day. I am aware that is not the ideal temps, this is a manual dry, when things become more pressing to dry the humidity and the temp needs to be controlled automatically, ideally.


I will not complain about the view that this buzzy bee gets but I would like to not have to feel like I need to be a quantum bee. You know Be in both places at once but somewhere else entirely.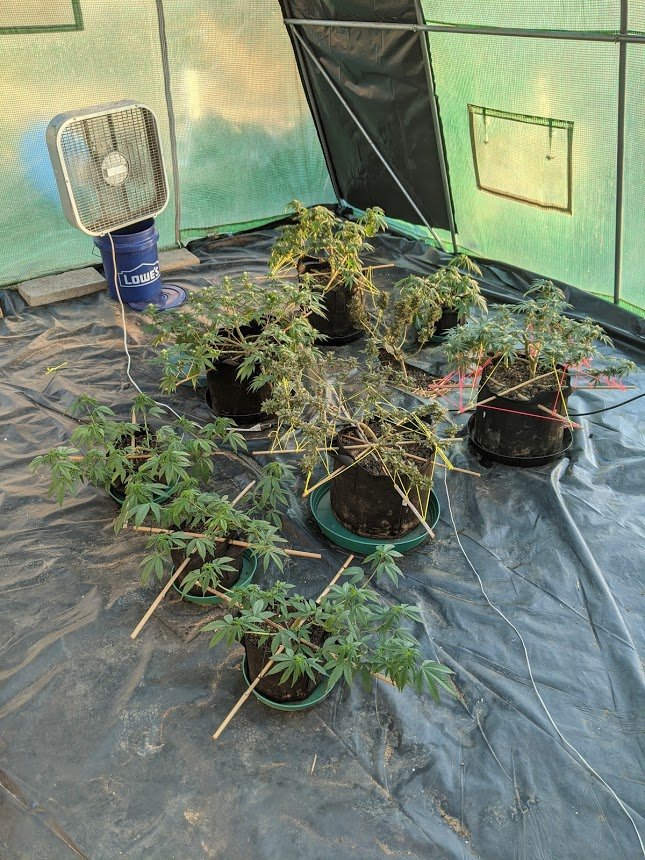 Squirrel!
Close up of the Star Girl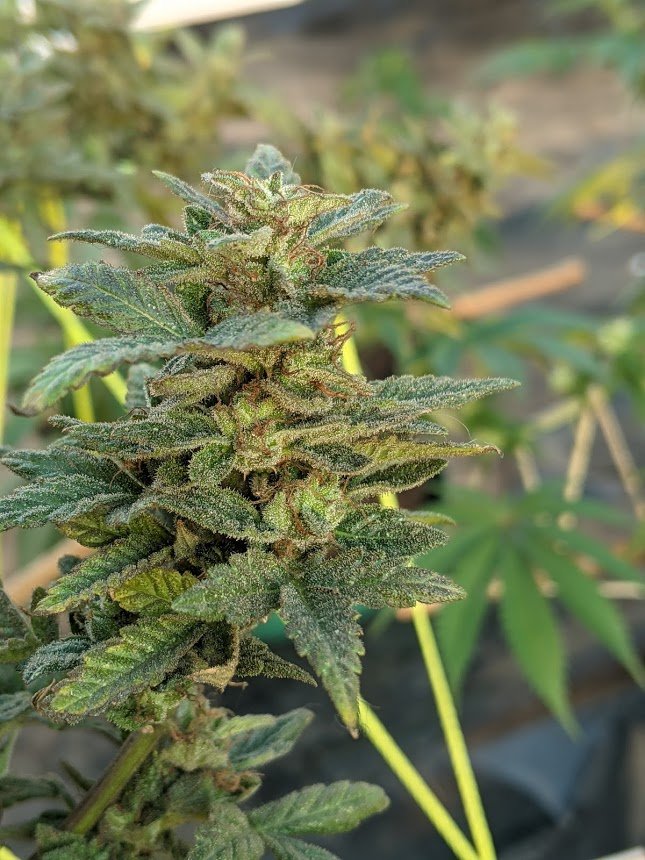 All 4 of these ladies here are of the same "Star Girl" pack. The variety available, maybe not so much in flavor but in pheno type for sure. They all have sure a different profile as far as eye appeal but the JSW, after She-Hulk on account of her staggering sprawl and nice tight flower sites. Hope I don't get too many objections to her knicknaming.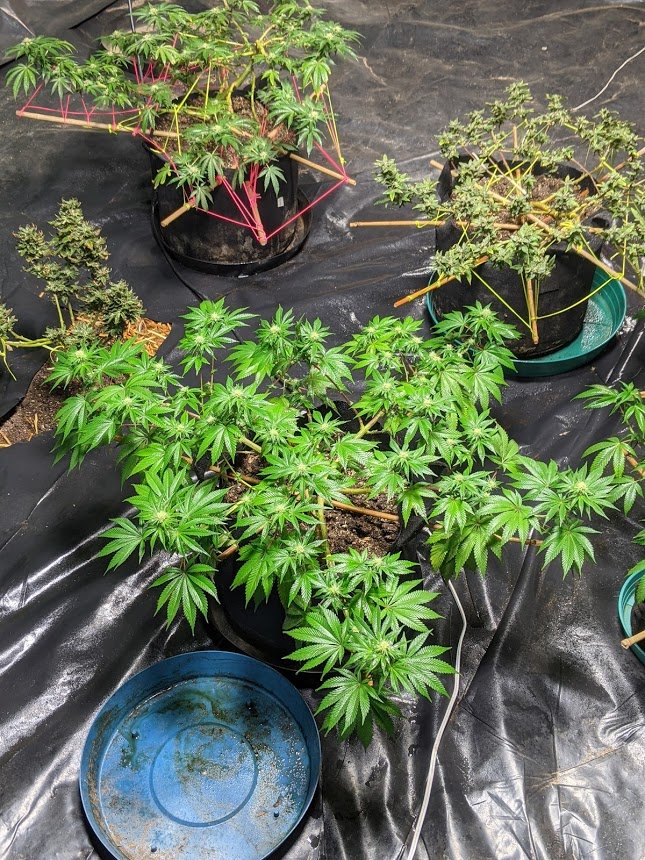 Those Hairs though, and yes this is the JSW I was referring.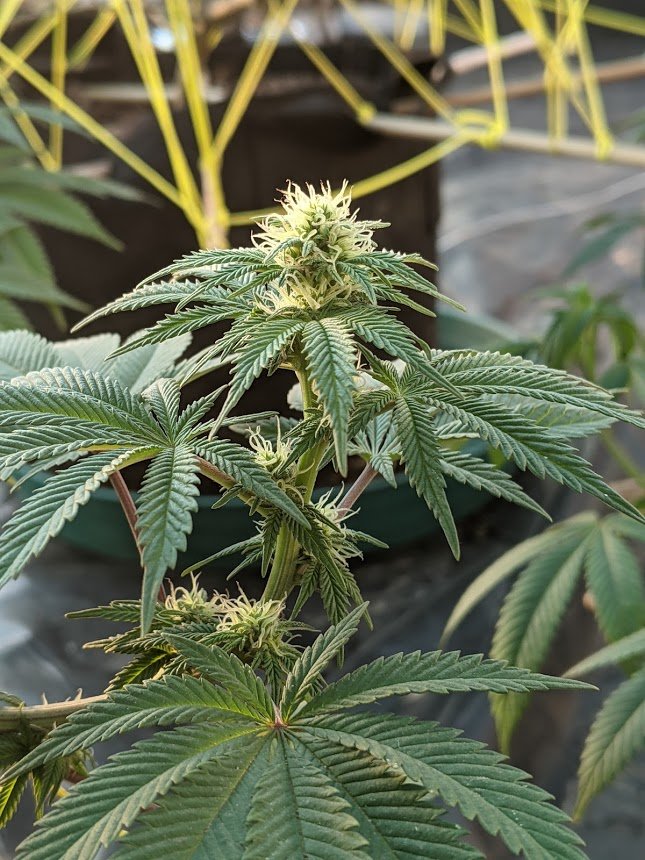 Oh my Diesel. Zoom in there jut below the pink string on the floor see the stock there it looks a little shredded. It is. Shit is right, Lost 3 branches to a insulation board and an nice hit of wind that happened to rip thru that day.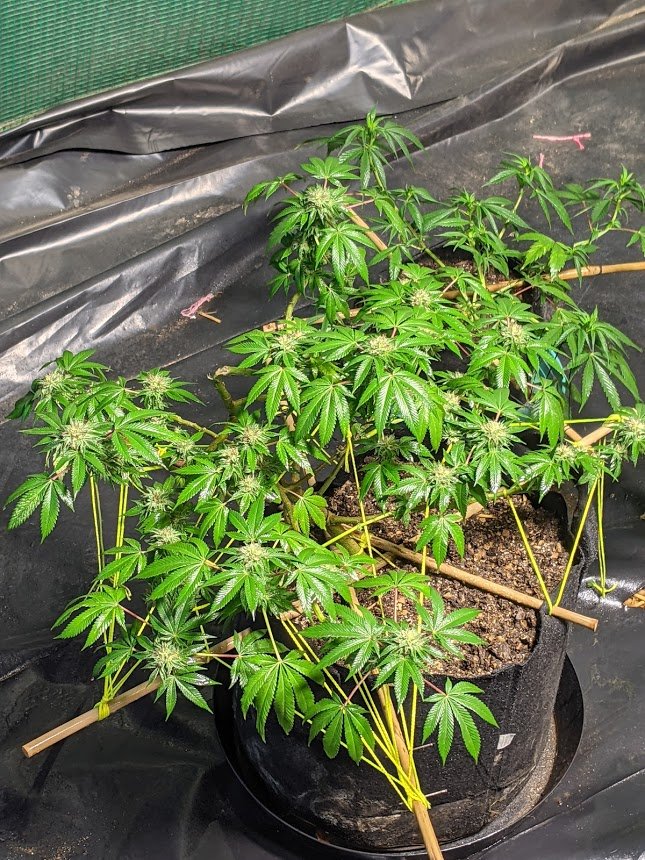 She is pretty resilient though. On top of the boards and those damn spider mites she is still getting stronger and frostier every week. Thank you Sour D.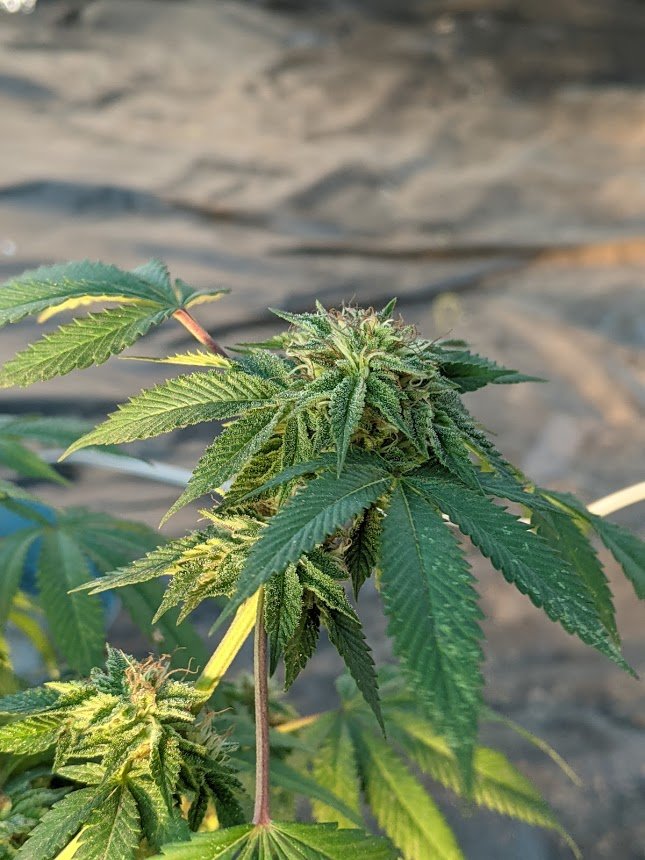 '73 Ball Pot doing well. Just trucking along there. Another week or so an I guess we'll have to see what kind of flower profile she has. I know why another week or so, well 'cause the two shoots taking off plus one other will be taken to preserve this type and to see how she does in a more conducive to living soil pot, aka breathable fabric or maybe just straight in the box.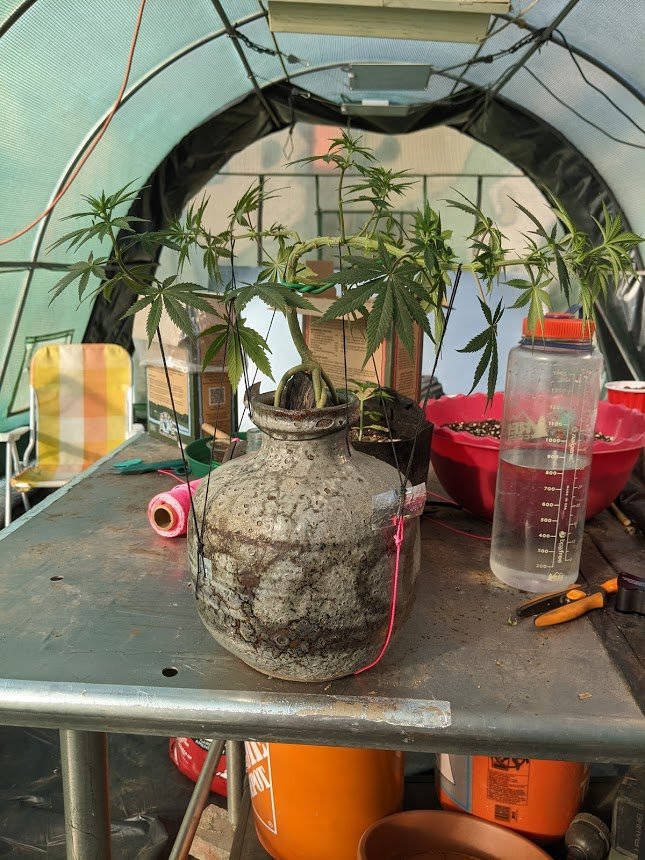 This is that first box. This here is just like the one straight cross the way. A mother box of sorts, there are about 8 varieties of ladies and countless Jalapenos. That's the other 2 Larry OG auto, waiting for the flowers to bulk or show better trichomes. Whichever is first.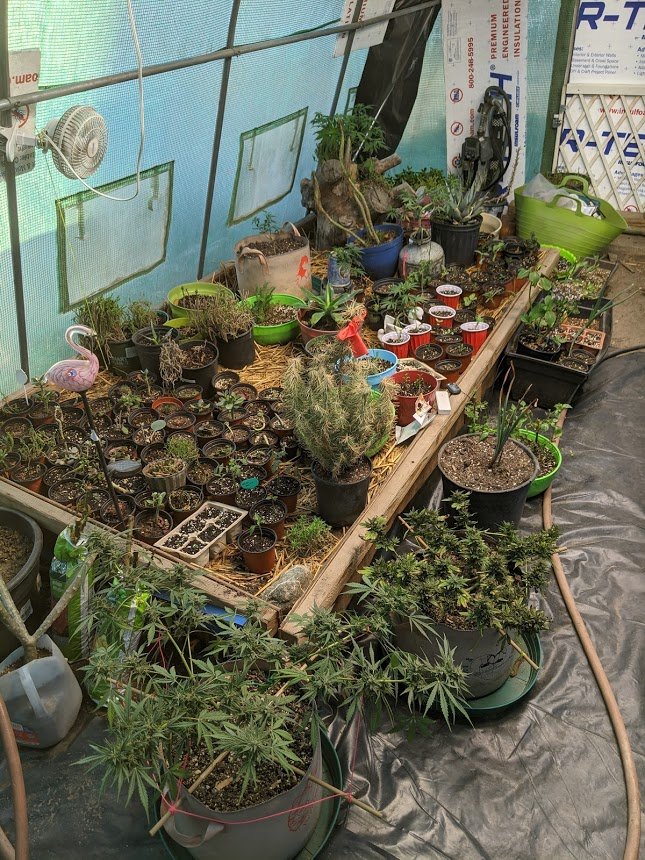 Box 2, the Mothers, well hoping that this goes as well as I do hope. Banana Godz OG, Papaya Oz Melon 3 & 5, Zen Dojo, Motorbreath 3, One of my own StarGirls, presumably a Jack Herer 7, and the King Louis IIIX #11. There are also to mention Slurricane 44, 3 testers, Citrus Farmer only 1, and 5 Thin Mints, along with Slymer Wilson x 5g, Purple Punch x 5g, Wedding Cake 1 & 4 x 5G, GG4 x 5G, all these have a 4 round testers. Additionally we also have 2 CBD strains on board as well, Eskimo Pussy, 2 testers. Colorado Cush with 4 testers on that, we just had more seed of that one is all. Busy.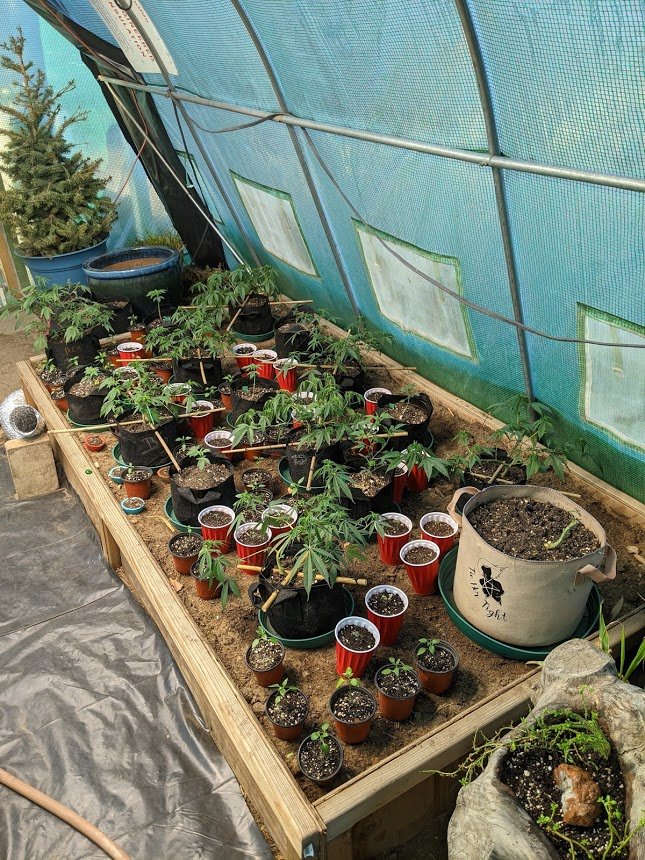 This table here almost caught the boot in the initial remodel but it is The Station, we start here and then, out. Lots starting here 12 Orange Master Pomegranates, watch out POM here I come. HAHAHA but there is one in that green elephant pot right there, I'm sure we'll find something creative to do with that before it goes to its next home, gotta pretty them up to get'em out the door sometimes. Just a single SF1000 for the cloner/starter table there.


Bang 4th time is this try here, day 2 your seeing now, only using clean instruments and honey as the helper for rooting. Keeping it as organic as I can, they seem to like it. This is everyone minus the StarGirl and Motorbreath. In The last shot of box 2 you saw that slant stick just poking out well the furthest from us in this cloner left side is the Monkey Mintz.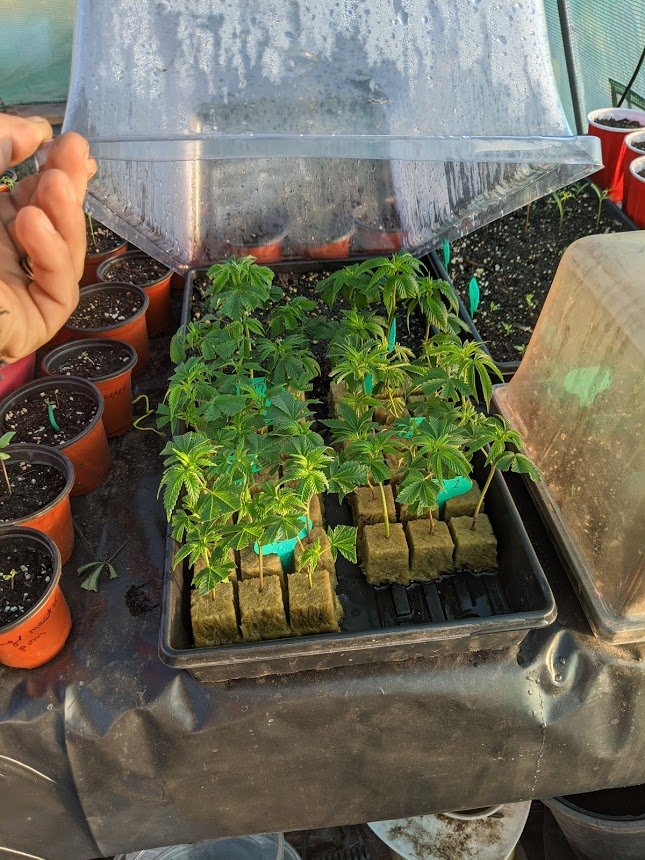 See there in the background Monkey Mintz, and here in the foreground the rooted on the geode...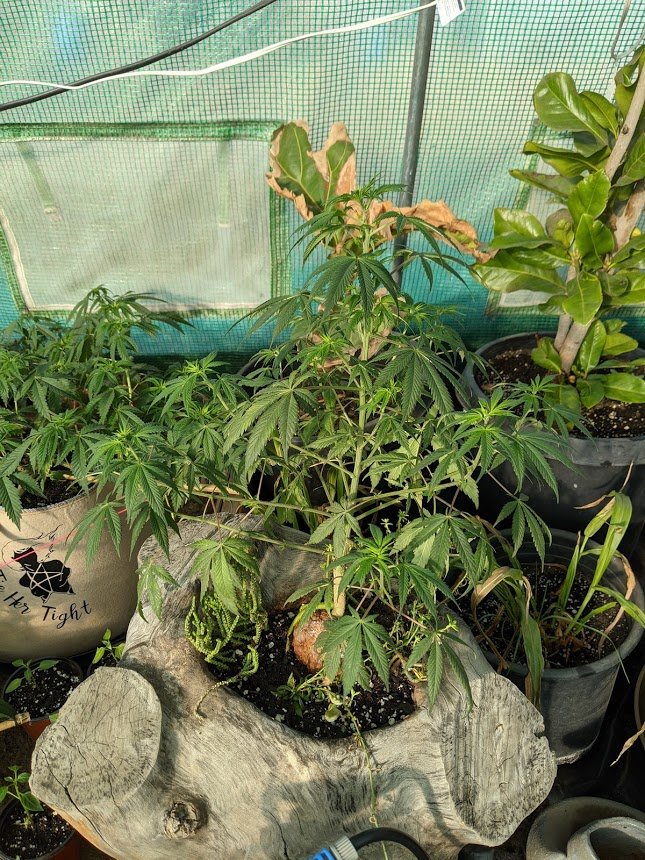 Looking sooooo good up until they get old enough.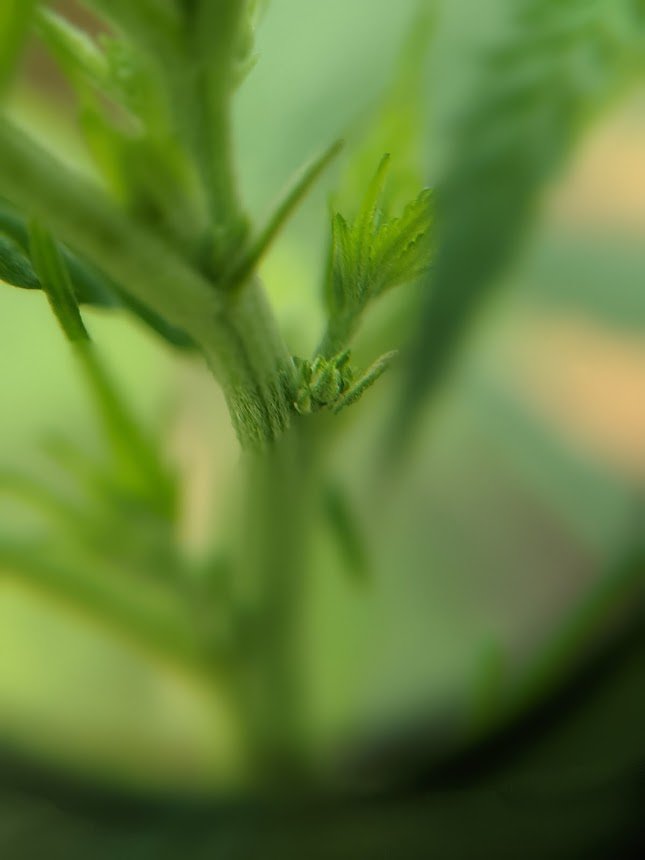 I know am I sure? Yep I was both of these gentleman here had to go-ish. So the Geode with the succulents had to be released from under that root system, the leaf rub and the structure of that plant was fantastic, might have been worth the breeding effort, but no papered pedigree so gone. Monkey Mintz on the other hand has an good build as well, but the stank is notable and significant, I just can't be rid of the pollen bringer, hence the 3 cuts and the only one shoot left on the father, seen pictured in Box 2. Doing my best to preserve the gentics and slow the roll on the Father just as one might do with a Mother.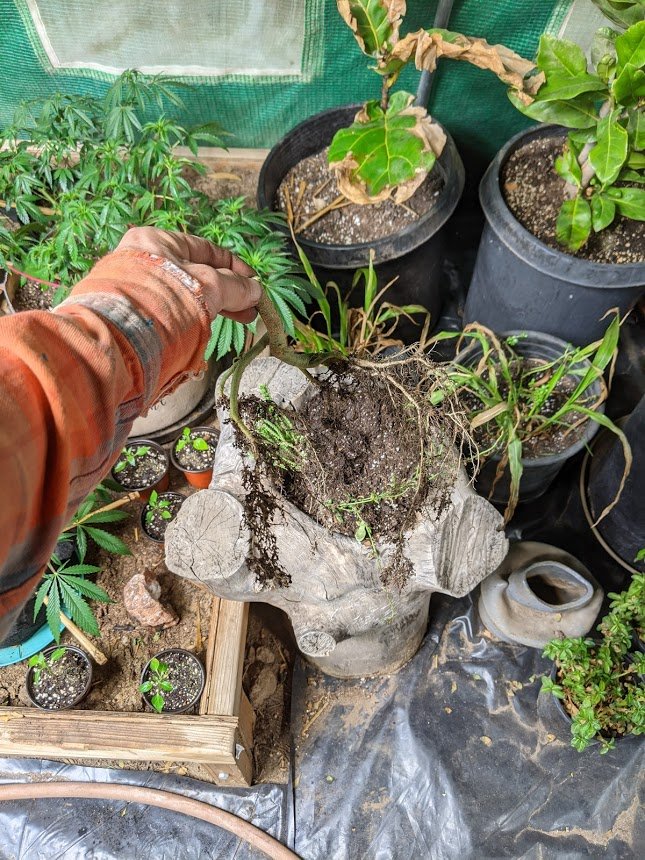 So In honor of the 3 downed limbs on Sour D
The Pinchy Clips. Think Speedy Gonzales.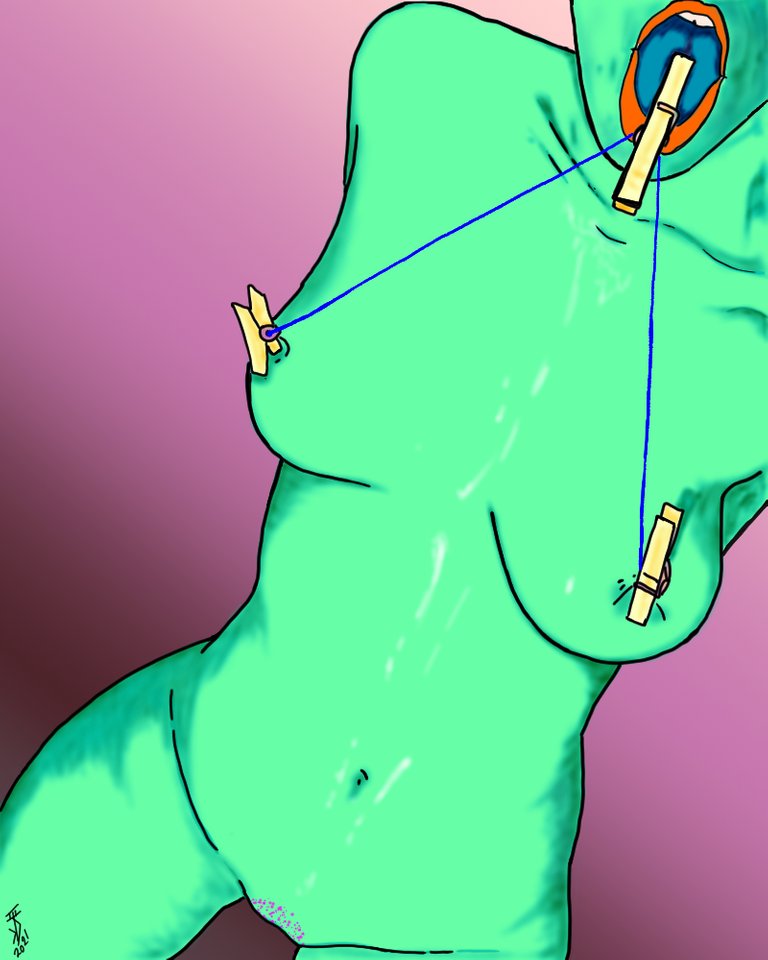 Have a Great Week, Hope someones team won.
Knottydaddy, Tied Off.
---
---