Knot Your Typical Garden. Should it be?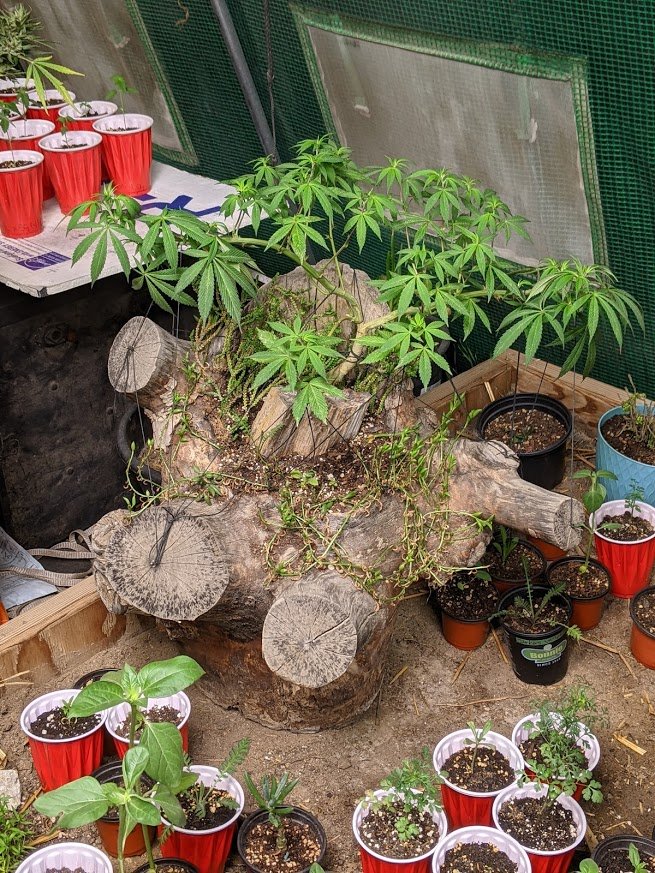 This is a place of great diversity. From the knotty sculpted canna-bonsai(s), to the Giant sunflower you see in the lower right hand corner there, cilantro, yarrow Colorado and Parker varieties pictured here, as well.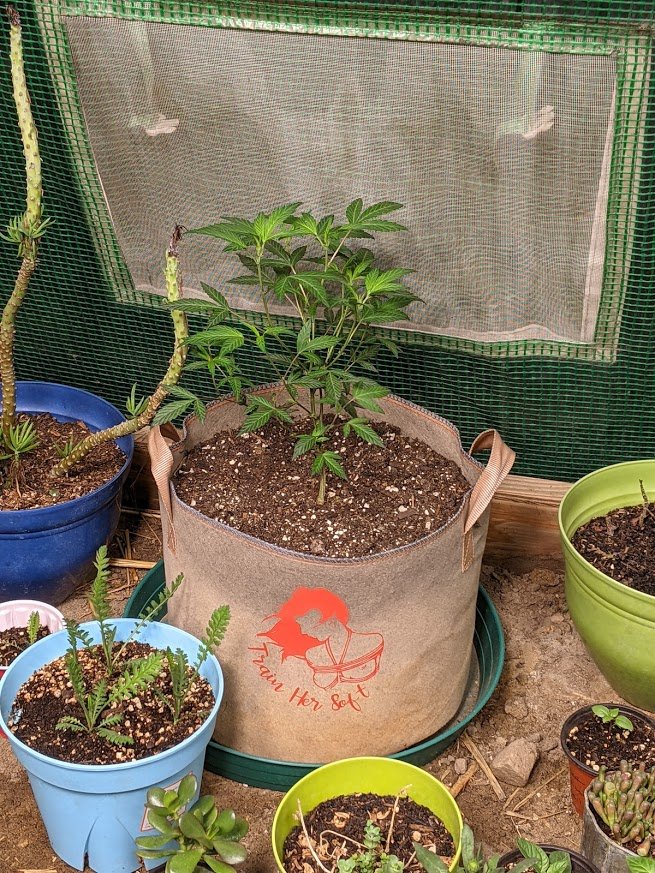 This is the former bag of the Thai OG, she passed several weeks ago. I will do as the nice lady asks, LST. This is a cutting of the "StarGirl" taken at week three of flower and has just taken nicely. Very vigorous growth in both the Seed state and now from what I can tell even as a clone. Not even cut properly but thriving none the less. Goodness if that isn't a keeper...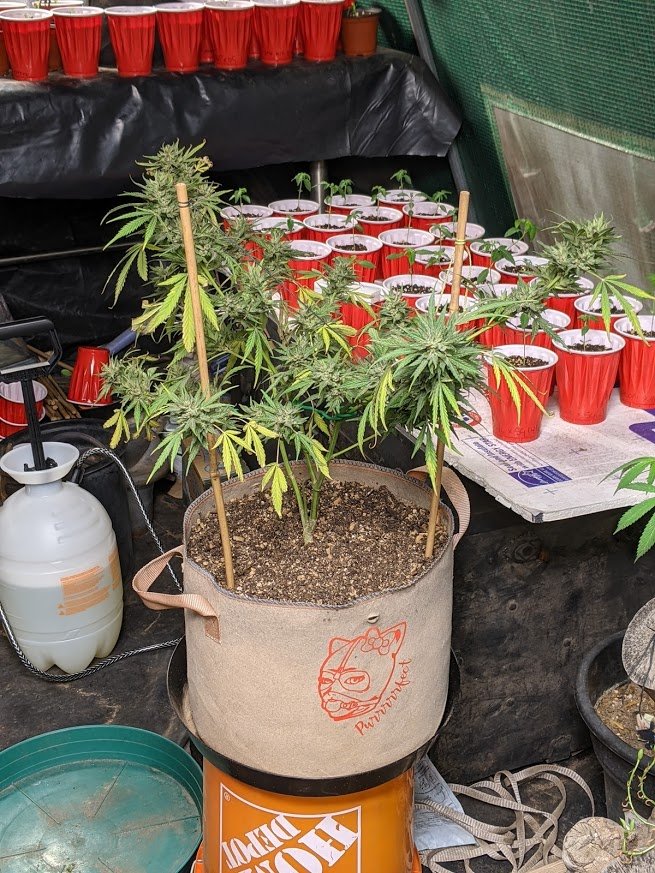 That's the 2nd Larry OG right here getting ready for chop I'd say Tuesday or Wednesday, gonna be a milky chop this round here, tried the amber on the first lady.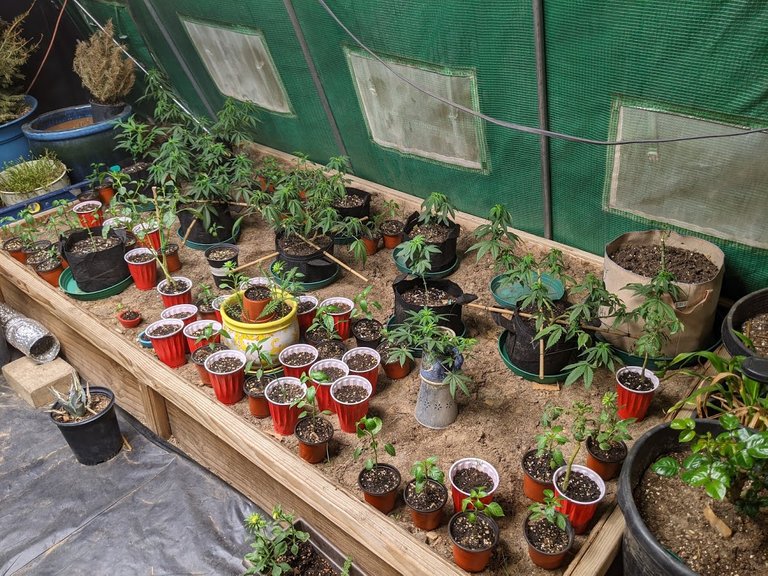 Box 2 thinned out there, depending on what you are looking for at this point, lots of peppers still litter this box. Additionally all the RED cups are not what you were hoping, they are a Freesia mix and 2 different colored lily. They are after all a bulbus flower, something I am already working with.
I'll be honest though I have no idea what anyone can be hoping for as they flip thru my weekly drops. 🤷‍♂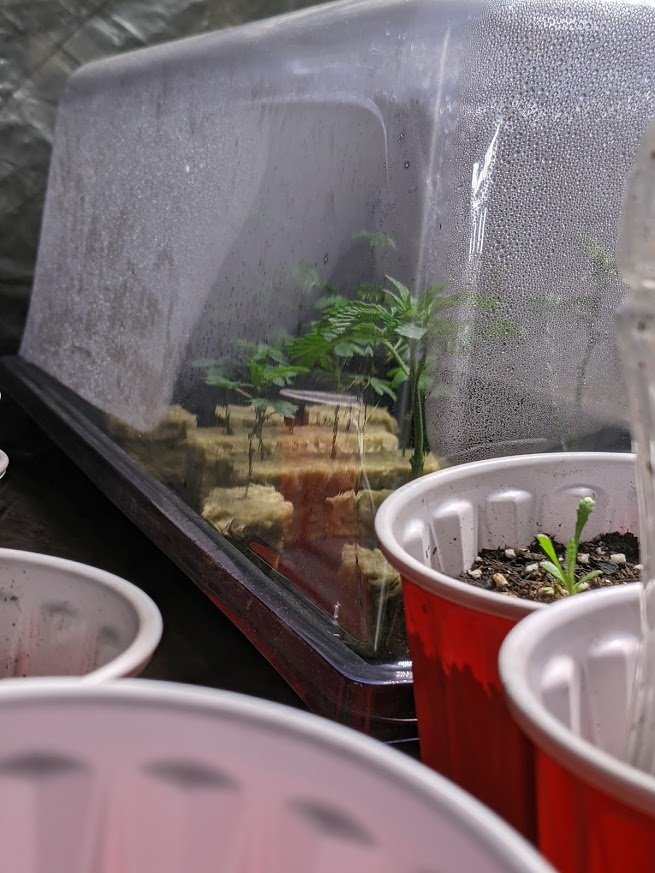 This is where most of Box 2 ended up, well, 2nd round of preservation cuts actually. Letting pretty flowers slip thru my fingers is something I can not tolerate. These could down the line contribute to a breeding project or could just be the next line in the 2 week cycle-ish, mother nature does as SHE pleases.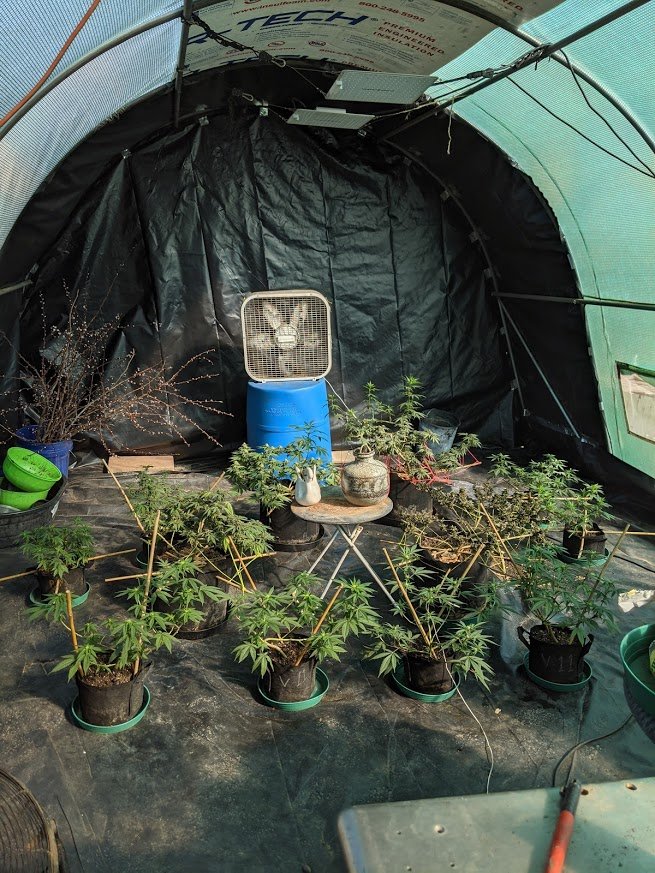 HA! YOU thought it thinned out not at all.
I'm a proper packrat, I just moved it from the one side to the other.
Adjusted the position of the posts. I am hoping that this adjustment will afford the needed support later, but still allow for some horizontal pull and tie to allow for more light penetration, and easier inspection for pests.
We shall see how the Swan and the '73 Ball look as a matured flower, they have incredibly petite leaves, preservation cuts were taken. Cross your fingers for me as well. I did use a root gel this time, Rootech, instead of honey. I'm sure propagation rate will be much higher. Well, one can hope.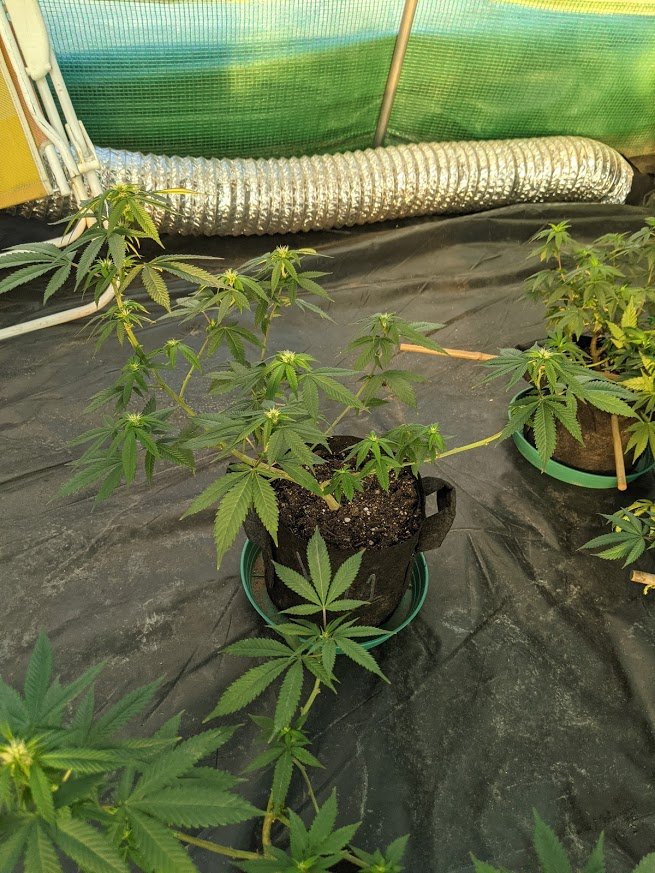 This is V11, it's her designation from her original breeder. She is still one of 2, King Louis IIIX, or Platinum Widow. The other one I have to compare to is V7, we shall see. 1 gallon pot, next time I'm in there I'll see how tall she is.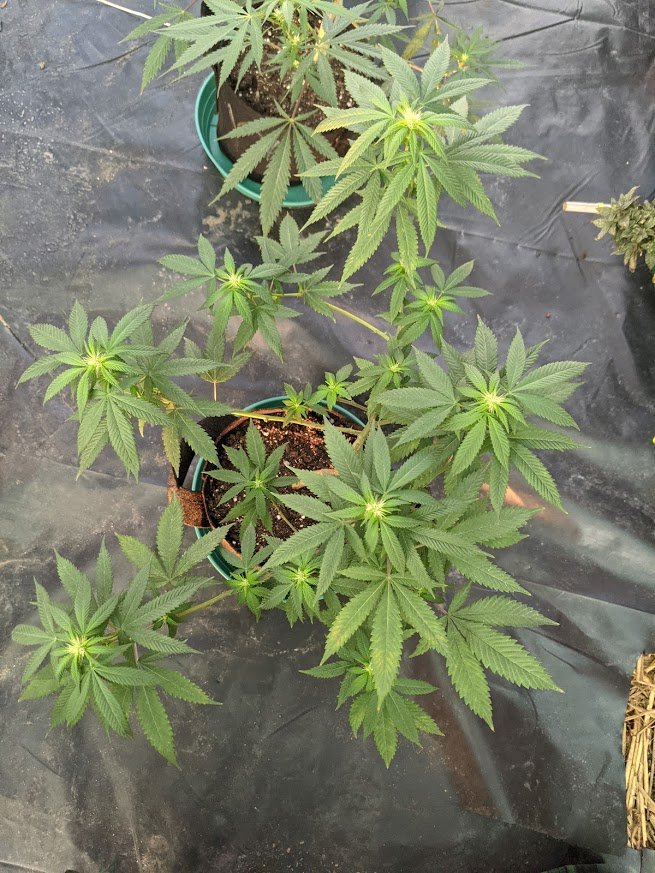 Pretty tops though.
I would like to note that I did use the 5-4-2 Bio live on one of the rounds of Veg feed, if you get away with it, good on you. The ladies got some leaf burn, to which I presented that very question to the clerk at the shop. The 3rd local shop now. Well, I was right. I don't like to be RIGHT about some things, in this case it's gonna cost me an extra 35 miles of driving. Still "local" but damn.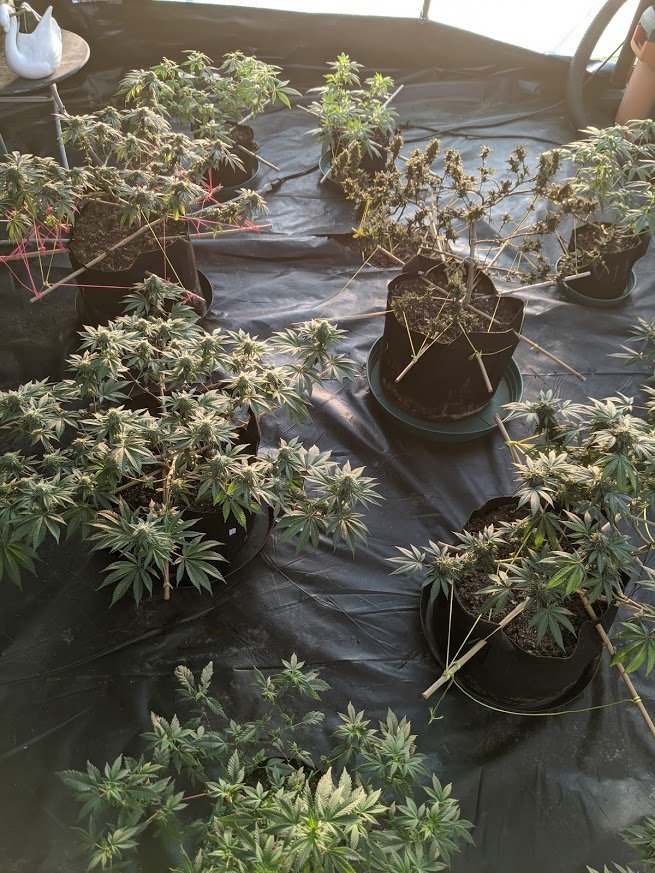 Like that shop better anyhow, they fix you up right. Completely overwhelming, like when you were 16 an saw your first grow, your heart getting ready to jump through your throat or out your ass, you know nervous in a good way.
Wish they could bottle that feeling, like being able to see the picture ☝️ and smell it too. How's that going, anyone got any progress there? I'm going to keep taking the pictures, hope its recording the smell for future odorizing. 🤷‍♂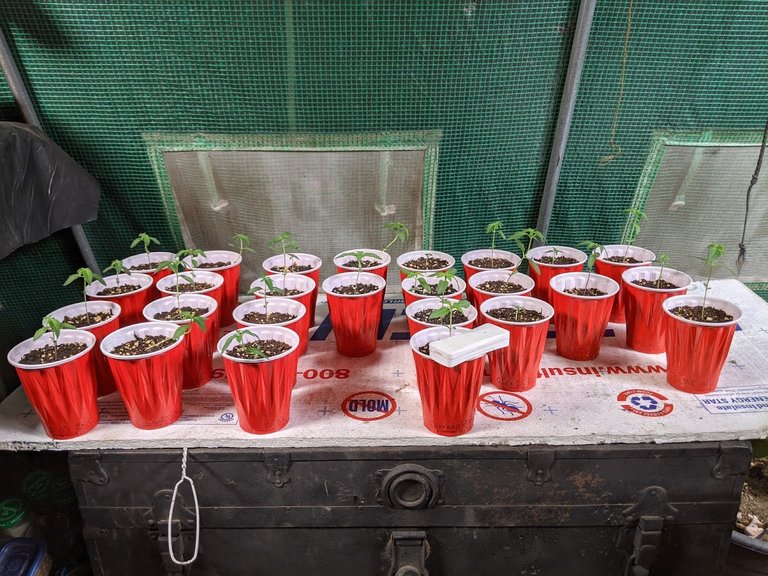 L to R
Thin Mintz, 5G x Wedding Cake1, 5G x Wedding Cake 4, Eskimo Pussy (CBD), Colorado Crush (CBD), 5G x GG4, Platinum Gorilla, 5G x Slymer Wilson.
Not pictured 5G x Purple Punch, those took longest to break to break an were kinda of wonky as a seed and even more so now as a fragile seedlings. Looking forward to this round. Looking at them some are falling over and some are just tall. Now, I can not sext a chicken to save my life but my now working theory for sexting these plants has to do with that mentioned. The ones laying down have been marked with a M so as to keep that all the way to expression, help form my theory.
I have found 3 males along my grows, not many but I did notice that the seedlings that did lay down like that happened to express Male.
Busy week, and busier weeks ahead. Soon I'll be filling out my own Punnett square. I'll let you know how that turns out.
I'm sure you remembered my trays well happy to be informed that I landed a commission. Pretty cool.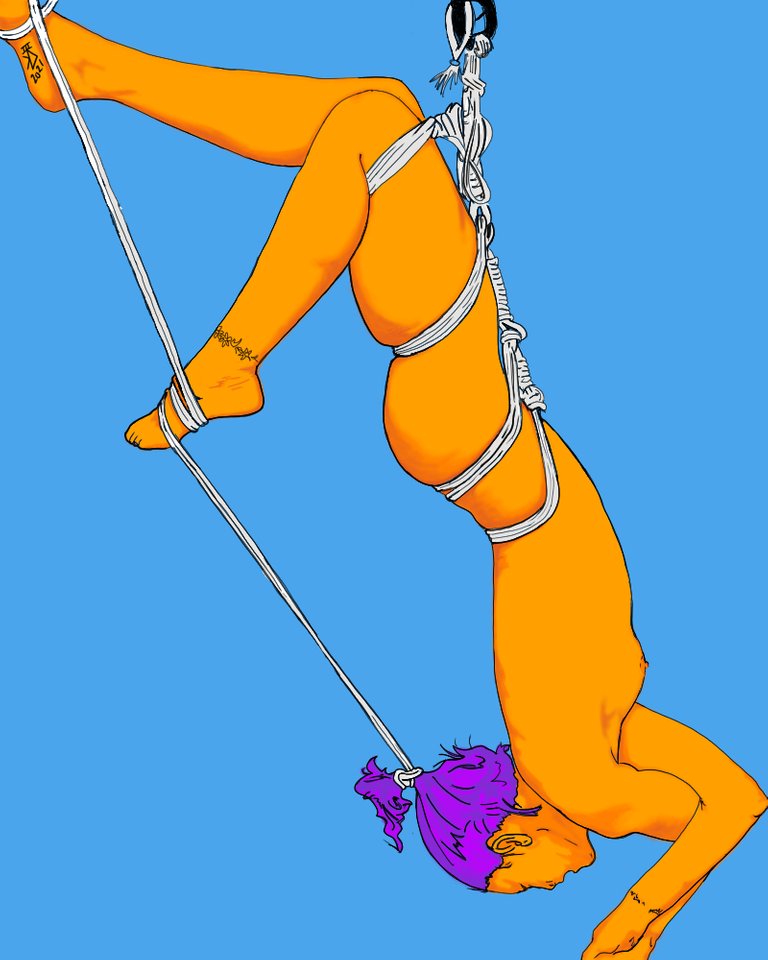 That'll be 100% ready for a roll by Tuesday, epoxy takes time to harden.
Here you are digital art, to sticker, and tray.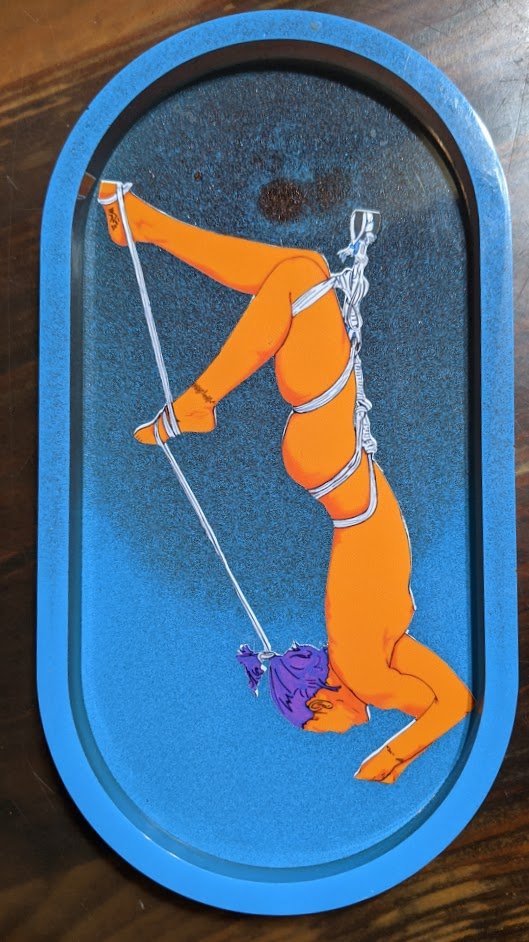 Looks amazing, but I'm partial.
Thank for stopping by, see you in the comments.
Knottydaddy, Tied off.
---
---