Stoner song of the day 16/07/2021
Juice in the mix.
Good evening stoners.
Cold AF man...can't even feel my balls.
Had to spark one to warm up ended up having three as I chase with some hot cocoa.
Today's stoner song of the day is TRYNA SMOKE REMIX BY JHENE AIKO SNOOP DOGG AND CHRIS BROWN.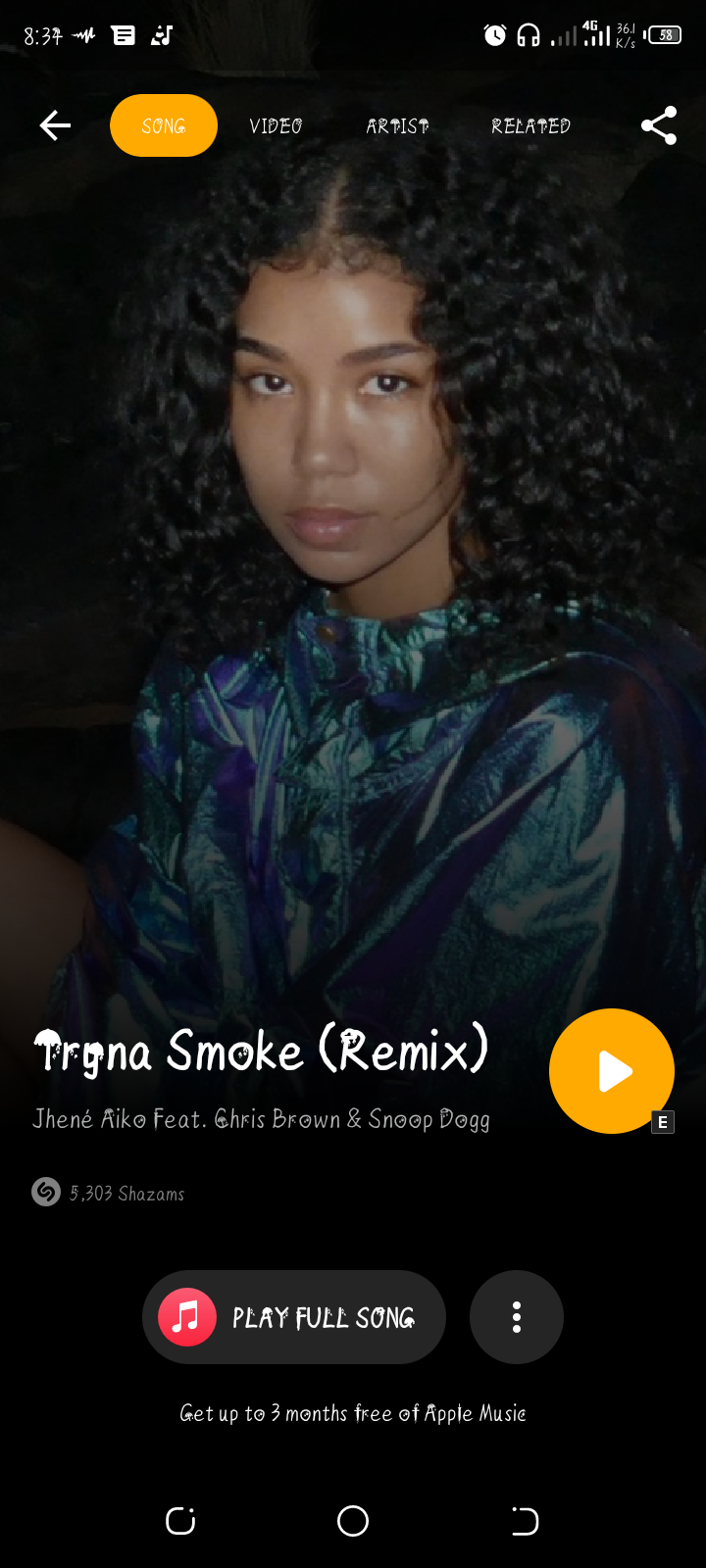 Image courtesy: Shazam
The lyrics to the song:
[Intro]
Wassup man, what you want?
Ayy, man, let me get a eighth, man
You want a eighth?
You want that fat eighth or a little eighth?
How much money you got?
Get out my pockets homie, let me just get a regular eighth
Alright well, come on in, don't touch nothin' either
Smell this, this is, I just got this right here from Cambodia, it's a Cambodia Crispy
This ain't no Cambodia Crispy
Look, man, okay, I'ma be honest, that's really CBD
Just give me thirty-seven dollars and you can have that
[Chorus: Jhené Aiko]
If I could fly
I would probably never come down
With all of the bullshit confusion on the ground
I wish that I was high
'Cause I can't live my life when it's loud
So I'm gonna call the bros
Tell 'em, "Roll up one, right now"
I'm tryna smoke
[Post-Chorus: Jhené Aiko]
I'm so high, I'm so high, I'm so high-ah-ah
That's just how I get by-ah-ah-ah-ah-ah
Lift that bird to the motherfucking sky-ah-ah
That's that pill, that's that fire, fire-ah-ah (I'm tryna smoke)
Don't you cry, don't you cry, I-I-I ain't full high
I'ma ride it, I just need to put my mind at ease (Yeah)
Someone tell my baby mama I'm just tryna keep the peace
I ain't here for all that drama, I'm tryna smoke
[Verse 1: Chris Brown, Jhené Aiko, Both]
Life's no fairy tale
I know all too well
Gotta plant the seed sometime
Then you let it grow
Inhale, exhale some more
Heaven in Hell
If you know, you know
That shit is beautiful
You gotta just let it go (Yeah)
Spark up a blunt and smoke
[Break]
You better blow that shit out, man
Yeah, yeah
[Chorus: Jhené Aiko]
If I could fly (If I could fly, yeah)
I would probably never come down (Yeah)
With all of the bullshit (All of) confusion on the ground
I wish that I was high
'Cause I can't live my life when it's loud (You know I can't live that way)
So I'm gonna call the bros
Tell 'em, "Roll up one, right now"
I'm tryna smoke
[Verse 2: Snoop Dogg]
Starin' at the moon like galaxy of weed smoke
I can make you feel right, baby, just let me know
Take my hand, follow me and I'll give you what you need, girl
Life is tough, take a puff, open up, see the world
See it through my eyes, looking down as I fly high
Flying no lower in the sky rise, I'm up in the clouds with the wi-fi
And I'm floating, floating
Bullshit, nigga, don't allow
We're Soul Plane, nigga, I'm the pilot
With the best gas, no doubt about it
It's potent, legalize it
Give a nigga freedom, I got the pre-rolls, no leak holes
Baby, if you need them, get your life and your mind right
By myself or the limelight, just take a puff and I'm light
[Chorus: Jhené Aiko, Chris Brown, Snoop Dogg]
If I could fly
I would probably never come down
With all of the bullshit and confusion on the ground
I wish that I was high
'Cause I can't live my life when it's loud
So I'm gonna call the bros
Tell 'em "Roll up one, right now"
I'm tryna smoke
[Outro]
He's a janky dealer, why you make me drink?
What you want, bruh, what you want, man?
Smell this right here, man
Man, it's passionfruit?
Man, that's Coleslaw OG, baby
The fuck is Coleslaw OG?
Just gimme 65 dollars
65 dollars? You got me fucked up
Okay, well, gimme 48 dollars man, come on man
That's a fat bag, baby
48 dollars?
That's a whole ass— you can't even close the bag, man
Come on, man, goddamn, I c—, gas is goin' up
Gimme 39 dollars, damn it
Featuring
Snoop Dogg & Chris Brown
Produced By
Heavy Mellow & Micahfonecheck
Written By
Jhené Aiko & Micahfonecheck
Release Date
July 17, 2020
Ndovu ni kuu
Hope you enjoy. #Legalize
You can listen to the song by clicking on the Link below[https://www.google.com/search?q=tryna+smoke+remix+lyrics&oq=tryna+smoke+remix+lyrics&aqs=chrome..69i57.12483j0j4&client=ms-android-transsion-tecno-rev1&sourceid=chrome-mobile&ie=UTF-8#]
Your stoner sound plug @kaeraser
---
Posted via weedcash.network
---
---