[ESP-ENG] Flor de Cannabis 4️⃣2️⃣0️⃣ Cannabis Flower
👋Un saludo y una grata bienvenida a mi blog para todos los miembros de esta hermosa comunidad. Un abrazo a todos mis seguidores en especial a los que siempre comentan y apoyan con Upvote cada una de mis publicaciones.
Hoy quiero compartir con ustedes una compilación de fotografías de varias plantas de Cannabis de mi amigo "El Mono", en ocasiones le ayudo con la poda de las plantas, también lo apoyo cuando debe hacer trasplante y sigo aprendiendo de sus enseñanzas.
👋A greeting and a warm welcome to my blog for all the members of this beautiful community. A hug to all my followers especially to those who always comment and support with Upvote each of my publications.
Today I want to share with you a compilation of photographs of several Cannabis plants of my friend "El Mono", sometimes I help him with the pruning of the plants, I also support him when he has to transplant and I keep learning from his teachings.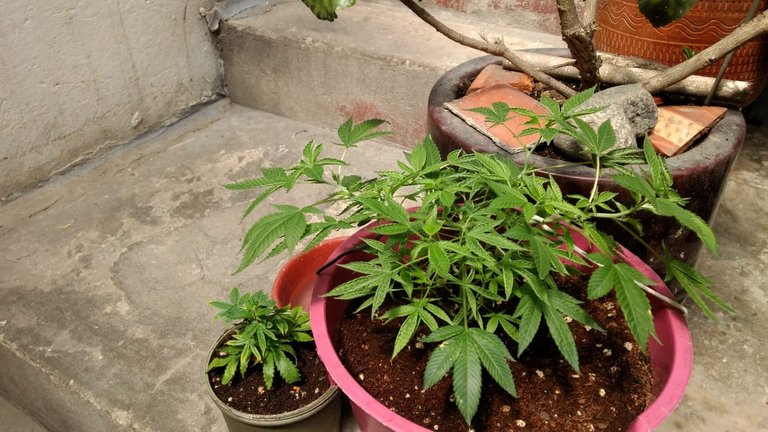 Cannabis
Aquí podemos ver unas flores de cannabis luego de la cosecha, para poder consumir la flor debe llevar un proceso de secado en un lugar oscuro pero que no sea húmedo, luego de unos 15 días ya se puede consumir. se puede hacer como dese en Pipas, Bong o Cigarrillos.
Here we can see some flowers of cannabis after the harvest, to be able to consume the flower it must take a process of drying in a dark place but that is not humid, after about 15 days already it can be consumed. it can be done as you wish in Pipes, Bong or Joint.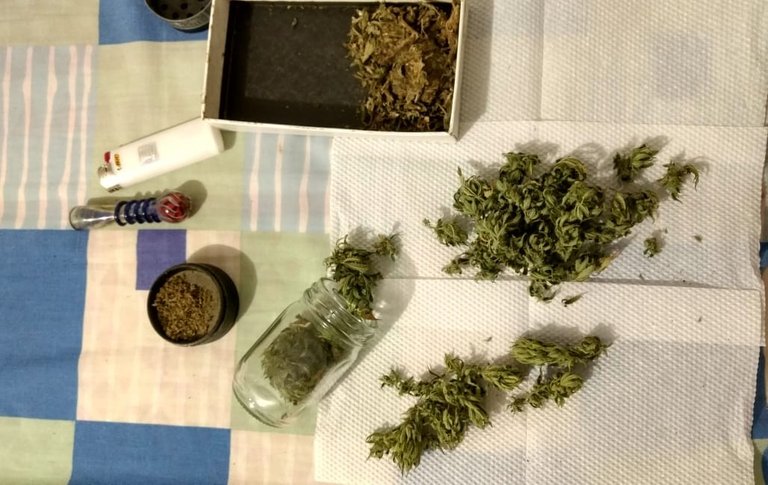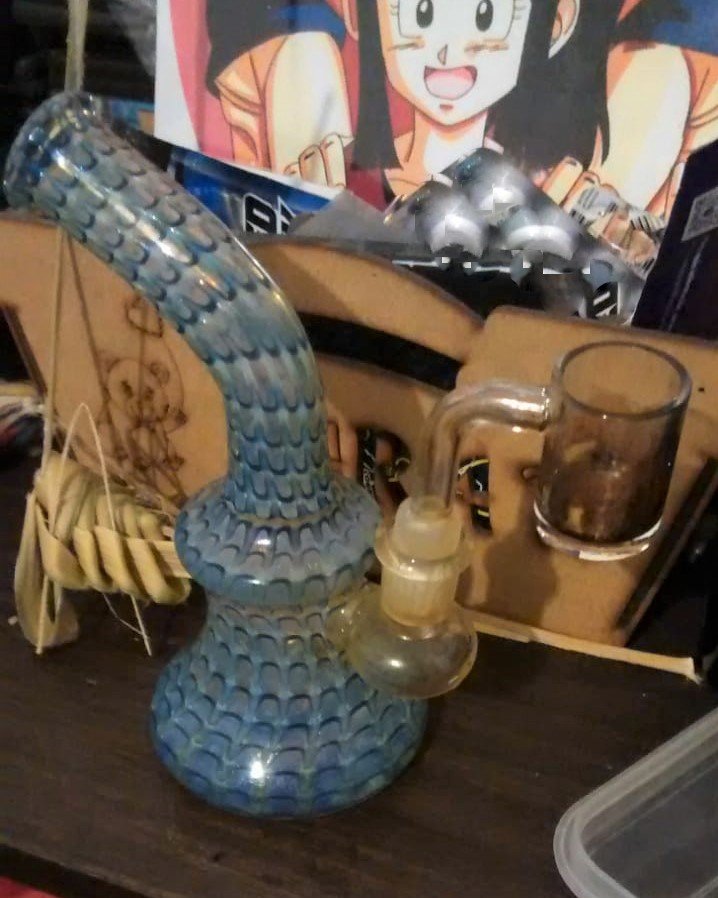 En las siguientes imágenes podrán ver varias de las plantas las cuales fueron sembradas por mi amigo, actualmente no existen ya que fueron cosechadas y consumidas, pero quiero mostrarles el buen trabajo que se realiza con estas linda plantas.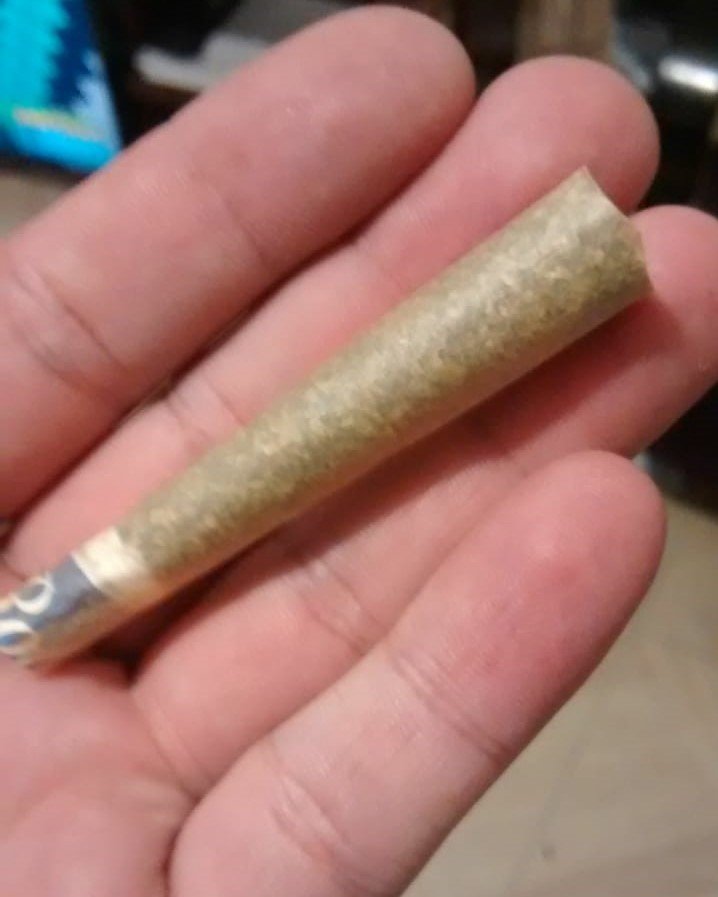 In the following images you can see several of the plants which were planted by my friend, nowadays they do not exist since they were harvested and consumed, but I want to show you the good work that is done with these beautiful plants.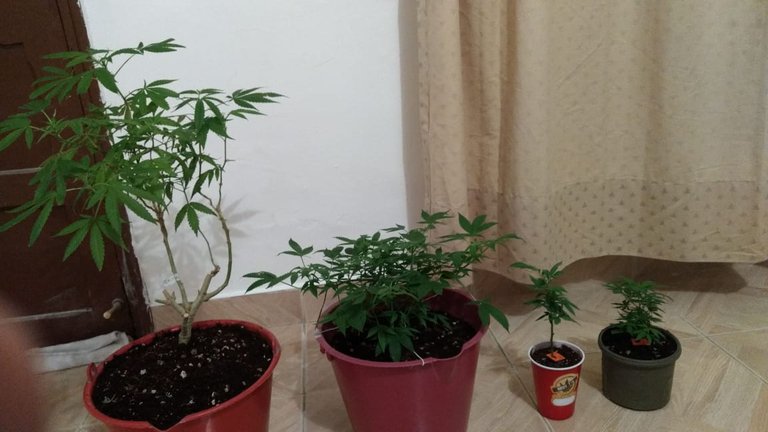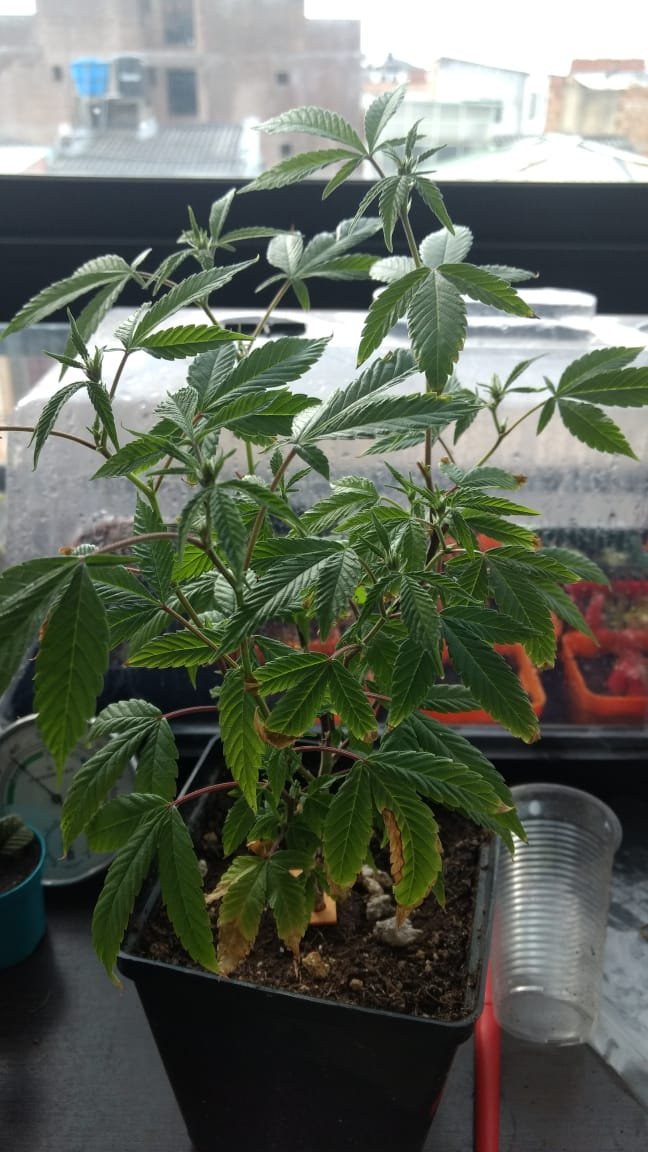 Estas plantas requieren de mucho cuidado, dentro de sus cuidados debemos darles mucha luz, dependiendo de la cepa que se este tratando y la edad de la planta, además necesita unos sustratos que se le aplica en la tierra para que la planta se alimente y crezca sana. Como todas las plantas también necesitan mucho amor.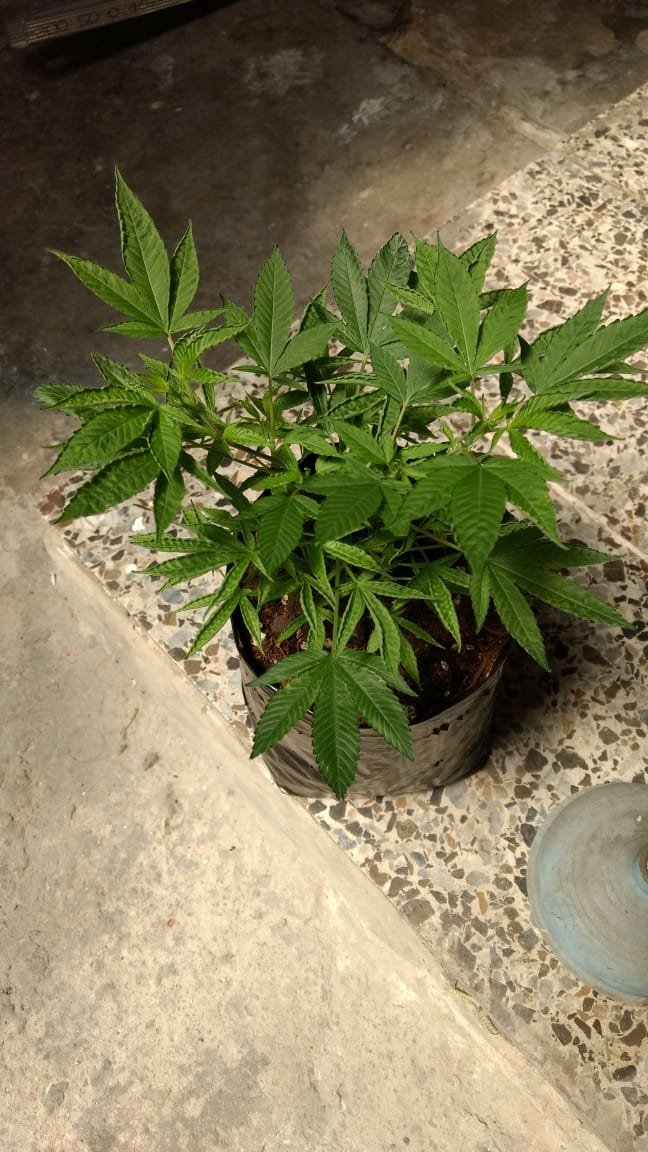 These plants require a lot of care, within their care we must give them a lot of light, depending on the strain that is being treated and the age of the plant, it also needs a substrate that is applied in the soil for the plant to feed and grow healthy. Like all plants, they also need a lot of love.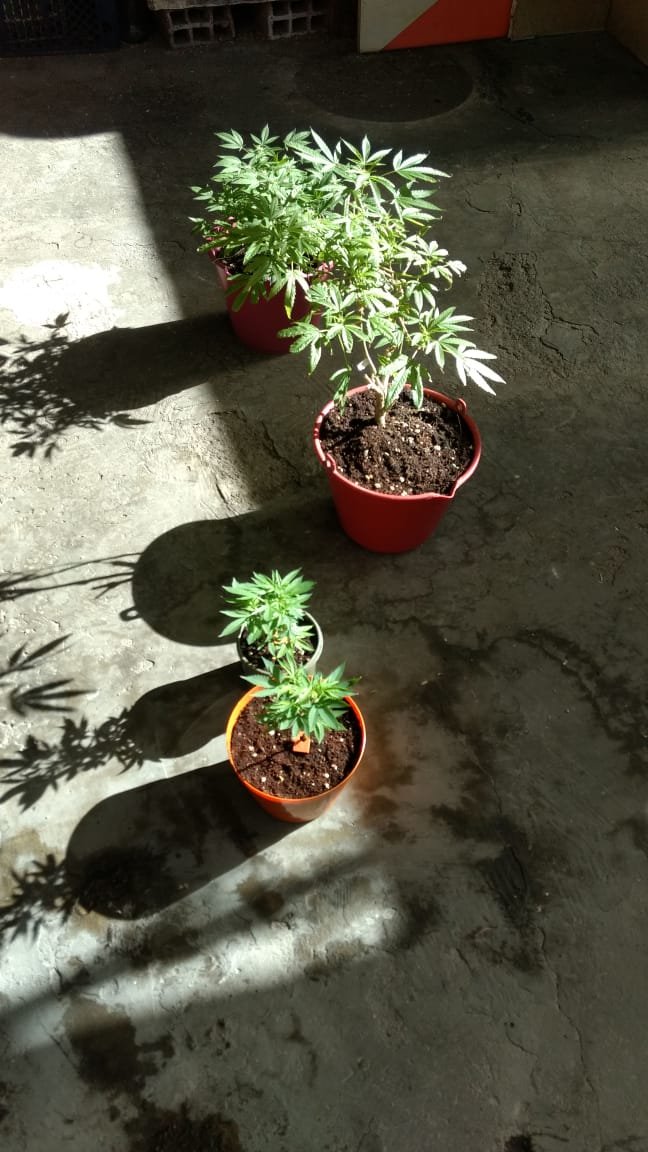 Planta de Cannabis Tomando el Sol
Cannabis Plant Basking in the Sun
A continuación podrán ver como se ve la flor cuando ya esta cortada, obviamente a este fruto se le deben retirar las ramas y se consume lo que comúnmente se llama cogollo que es la flor. La cosecha que verán a continuación es de una de las plantas que les compartí antes.
Below you can see what the flower looks like when it is already cut, obviously this fruit must have the branches removed and what is commonly called the flower bud is consumed. The harvest you will see below is from one of the plants I shared with you before.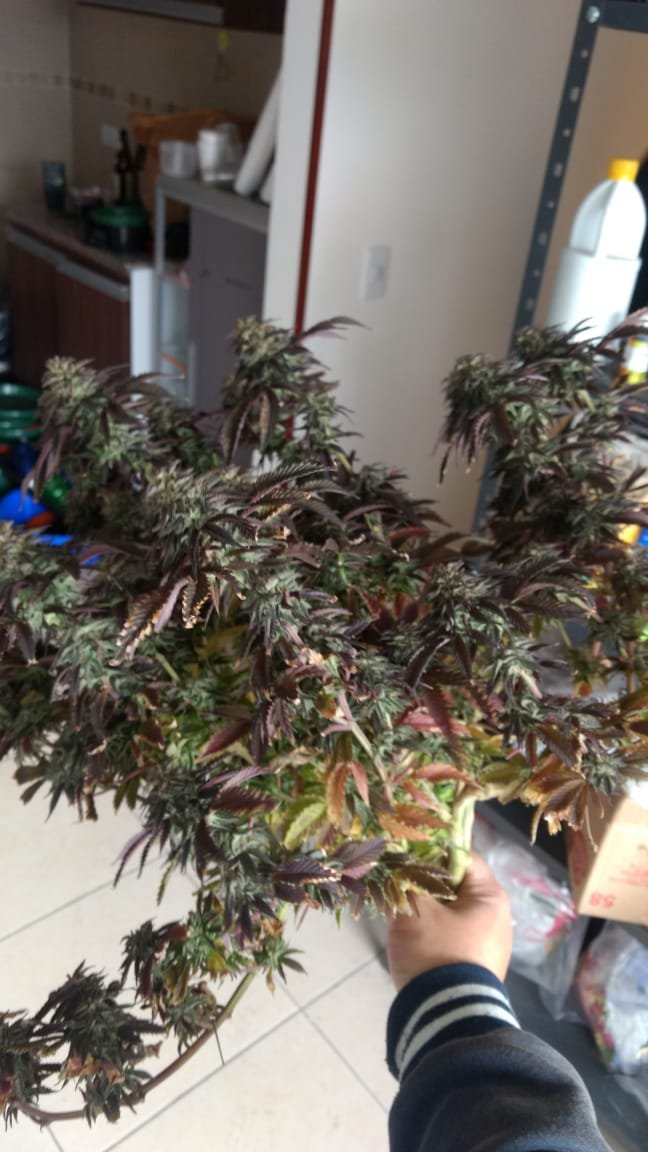 Por ultimo un bono, esta fotografía me gusto mucho ya que pareciera que fuera una planta muy grande, pero es una planta normal sino que el enfoque que se le dio con la cámara hace creer que es una planta gigante.
Finally a bonus, I really liked this picture because it looks like a very large plant, but it is a normal plant but the focus that was given with the camera makes you believe that it is a giant plant.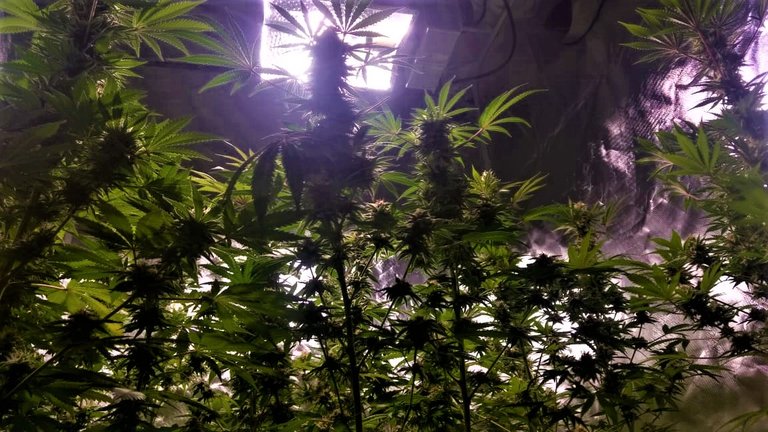 Mas adelante en otro articulo compartiré unas fotografías de una planta de Cannabis regular, el proceso va muy bien pero estoy esperando que se defina el sexo de la planta, si es hembra compartiré las fotografías con ustedes para que conozcan mi primer proyecto con estas plantas.
Hasta aquí llego mi publicación de hoy, espero hayas disfrutado las fotografías de las plantas de cannabis y algunos elemento que se pueden usar para consumirlas. Si llegaste hasta aquí quiere decir que leíste toda mi publicación y te doy las gracias por visitar mi post, si te gustó házmelo saber en los comentarios.
Fotografías de mi autoría.
Fotografías tomadas en con un teléfono Huawei Y6📱.
Lugar de las fotografías Bogotá - Colombia.
Traducción con ayuda de Deepl Traductor.
Later in another article I will share some pictures of a regular Cannabis plant, the process is going very well but I am waiting for the sex of the plant to be defined, if it is female I will share the pictures with you so you can know my first project with these plants.
So much for today's post, I hope you enjoyed the pictures of cannabis plants and some of the elements that can be used to consume them. If you got this far it means that you read all my publication and I thank you for visiting my post, if you liked it let me know in the comments.
Photographs of my authorship.
Photographs taken with a Huawei Y6📱 phone.
Location of the photographs Bogotá - Colombia.
Translation with the help of Deepl Translator.


---
---