[ESP-ENG] 💡 Adecuando un Indoor Casero 4️⃣2️⃣0️⃣ Adapting a Home Indoor 🔌
👋Un saludo y una grata bienvenida a mi blog para todos los miembros de esta hermosa comunidad. Un abrazo a todos mis seguidores en especial a los que siempre comentan y apoyan con Upvote cada una de mis publicaciones.
Ayer estuvimos viendo como trasplantamos mi planta de la cepa Mango Punch Regular, el día de hoy veremos como adecue el Indoor donde podrá recibir todas las horas de luz necesarias en el día.
👋A greeting and a warm welcome to my blog for all the members of this beautiful community. A hug to all my followers especially to those who always comment and support with Upvote each of my publications.
Yesterday we saw how we transplanted my Mango Punch Regular strain, today we will see how to adapt the Indoor where it will receive all the necessary hours of light during the day.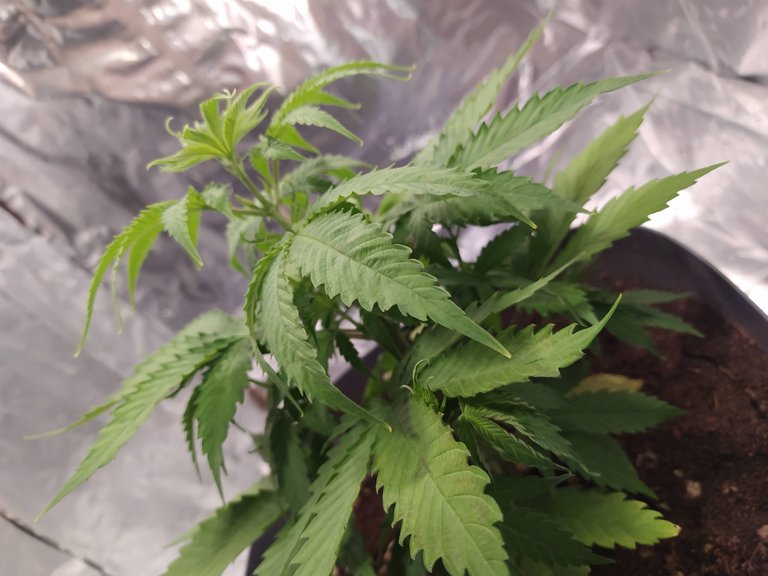 Indoor Casero
Homemade Indoor
---
Instalación Eléctrica ⚡ Electrical Installation
Lo primero que debí realizar para poder adecuar el Indoor era realizar la instalación eléctrica para que los bombillos puedan funcionar, esto permite que la planta se alimente de la luz las horas necesarias. Para esto necesitamos los siguientes materiales:
2 Rosetas.
Un Cable de 7 metros.
Una Clavija.
Cinta Negra Aislante.
The first thing I had to do to be able to adapt the Indoor was to make the electrical installation so that the bulbs can work, this allows the plant to be fed with light the necessary hours. For this we need the following materials:
2 Rosettes.
A 7 meter cable.
A plug.
Black insulating tape.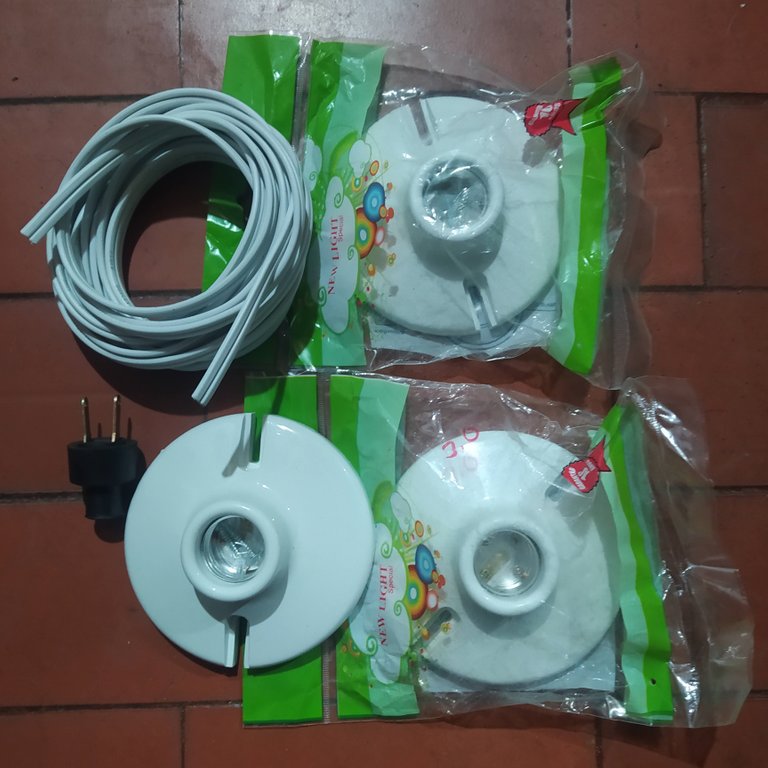 Materiales 🧰 Materials
Lo primero que hice fue pelar el cobre de una de las dos puntas del cable, luego de haberlo pelado procedí a conectar una punta del cable con uno de los conectores de la clavija, realice el mismo proceso con la otra punta con el otro conector y empecé a separar los cables con cinta aislante. Como se ve en las siguientes imágenes.
The first thing I did was to peel the copper from one of the two ends of the cable, after having peeled it I proceeded to connect one end of the cable with one of the connectors of the plug, I did the same process with the other end with the other connector and I started to separate the wires with insulating tape. As you can see in the following pictures.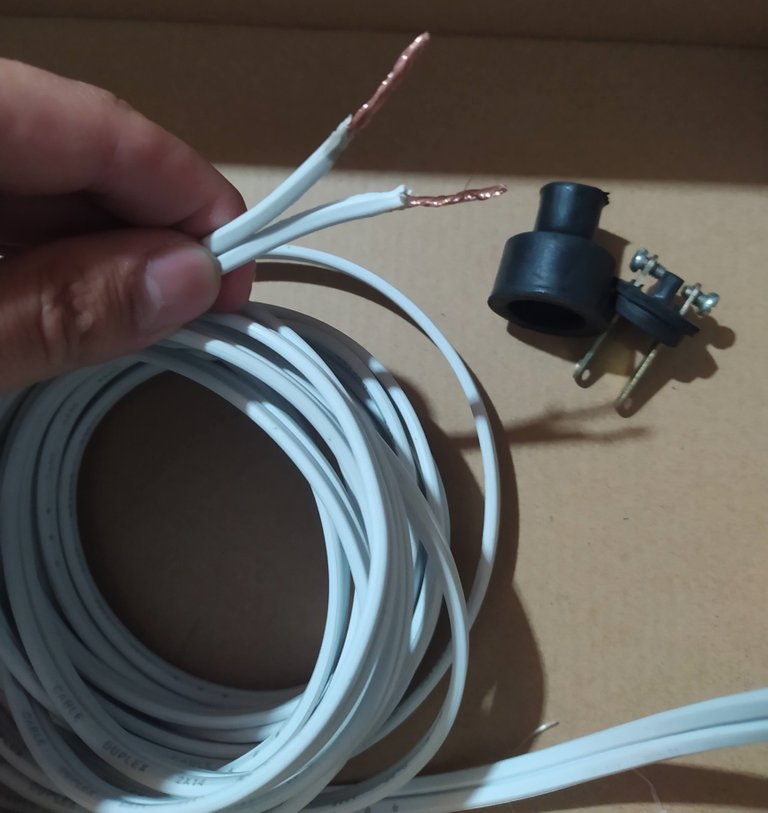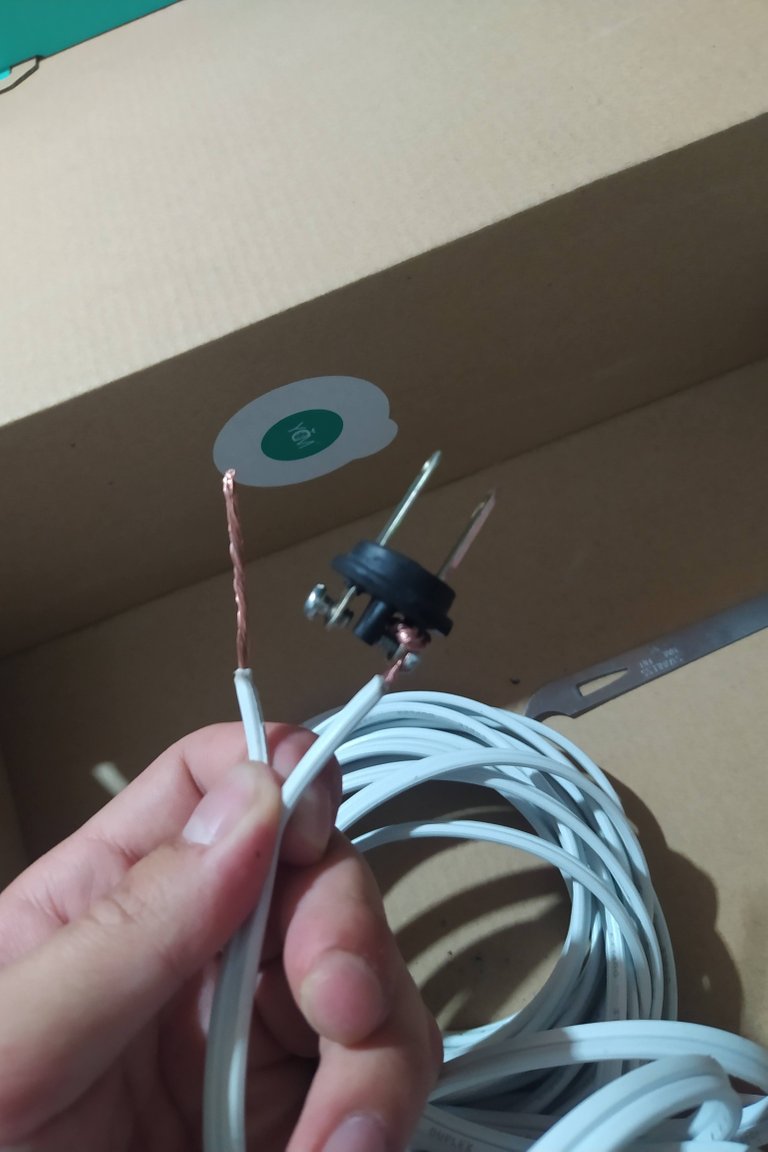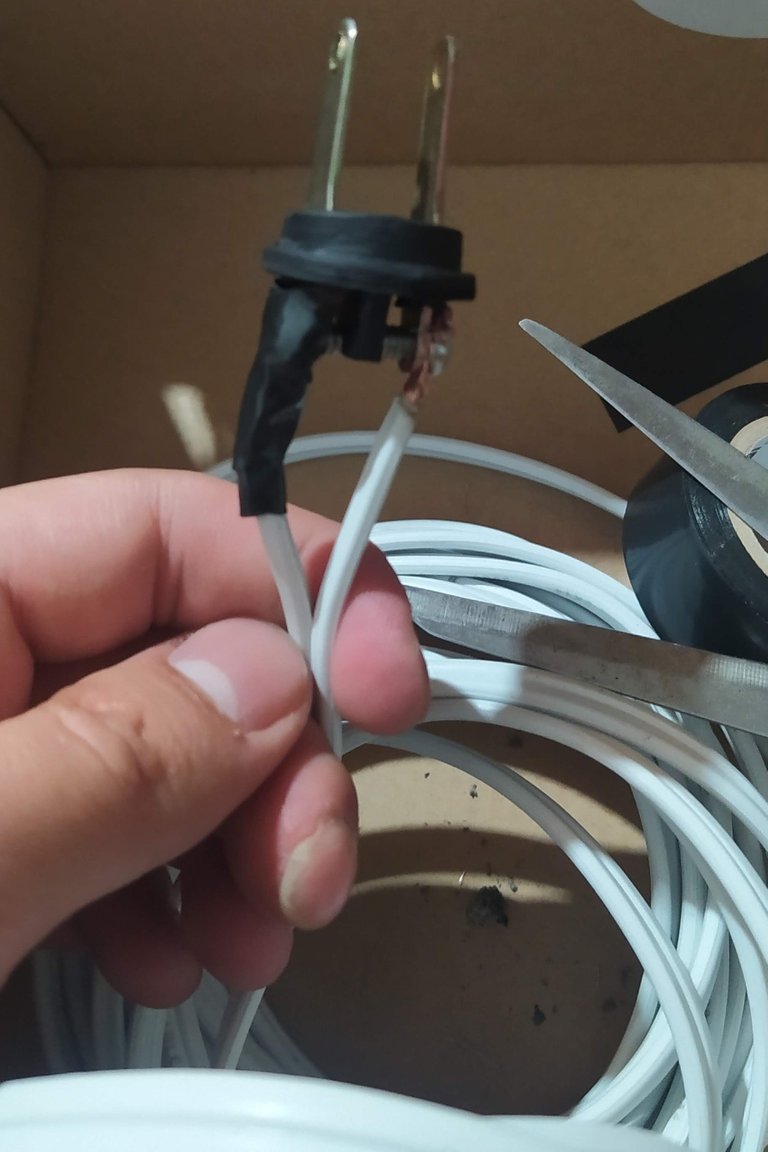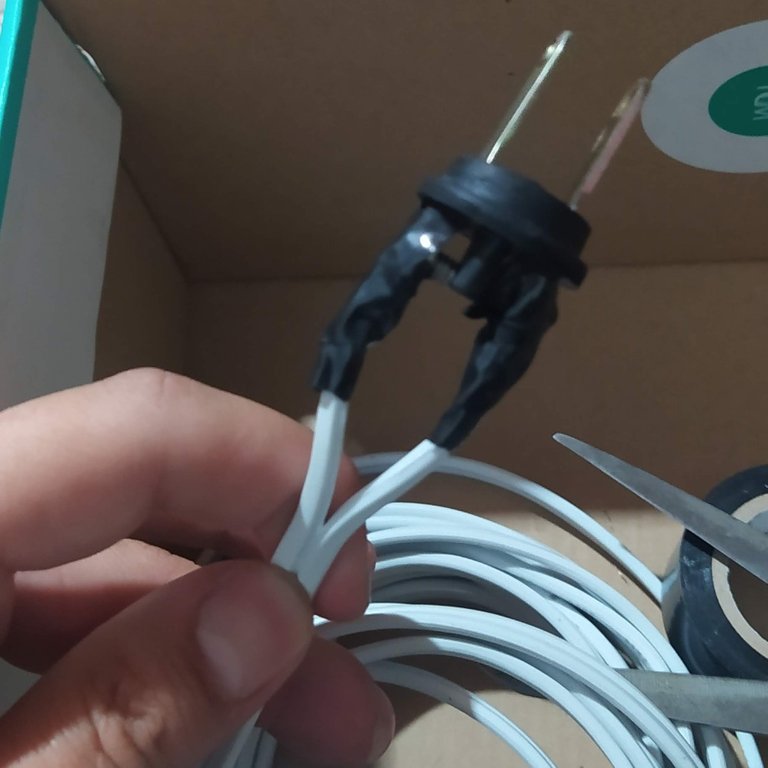 Luego debí ponerte la tapa a la clavija, esto para evitar que haya contacto del fluido eléctrico con la piel. Debe quedar como se ve en la siguiente fotografía.
Then I had to put the cap on the plug, this to avoid contact of the electric fluid with the skin. It should look as shown in the following picture.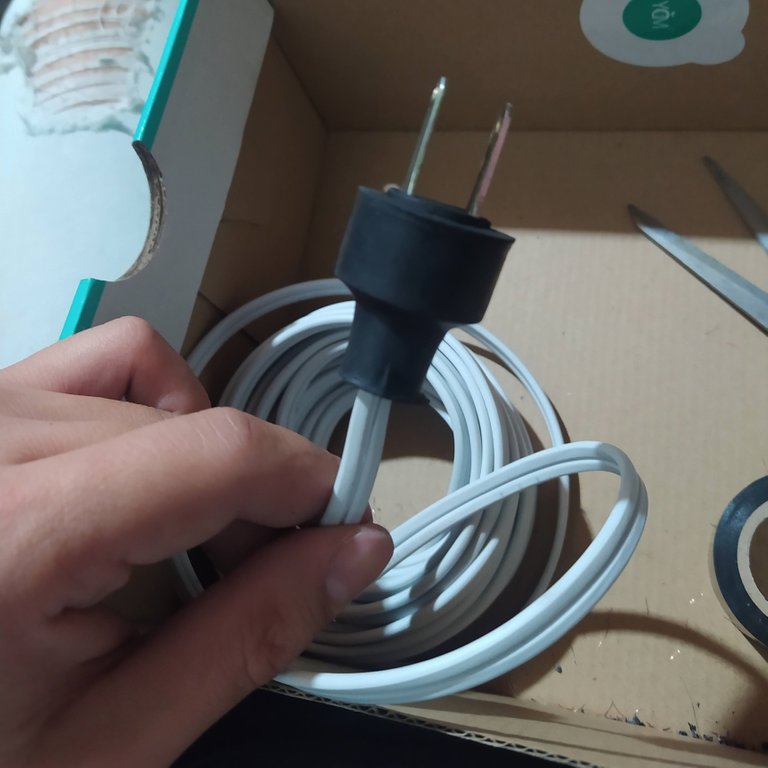 El siguiente paso será pelar la otra punta del cable para empatarlo con la roseta, después soltamos los tornillos de los conectores de la roseta y ponemos las puntas de los cable y apretamos los tornillos, como se puede apreciar a continuación.
The next step will be to strip the other end of the cable to tie it to the rosette, then loosen the screws of the rosette connectors and put the ends of the cable and tighten the screws, as shown below.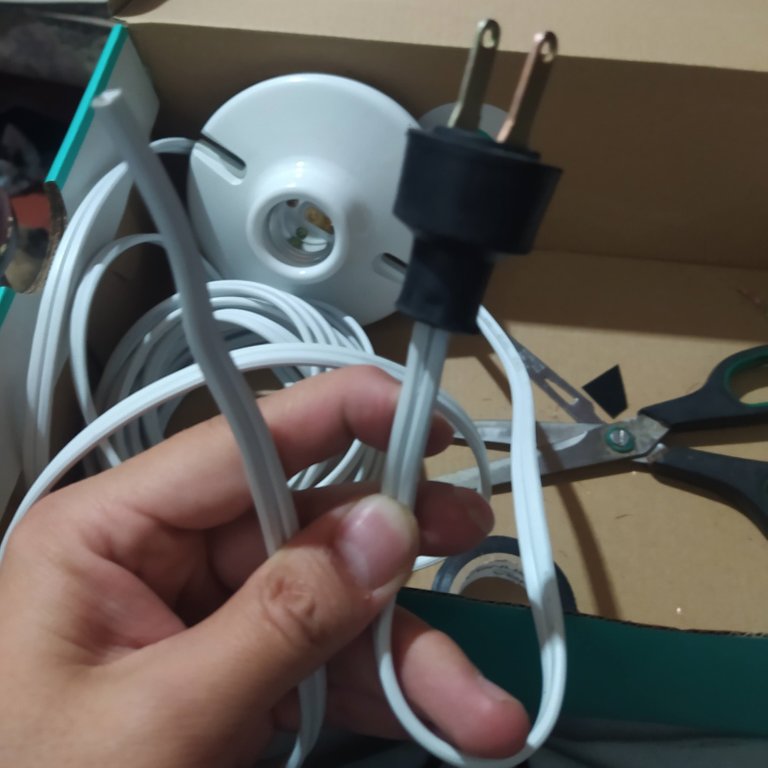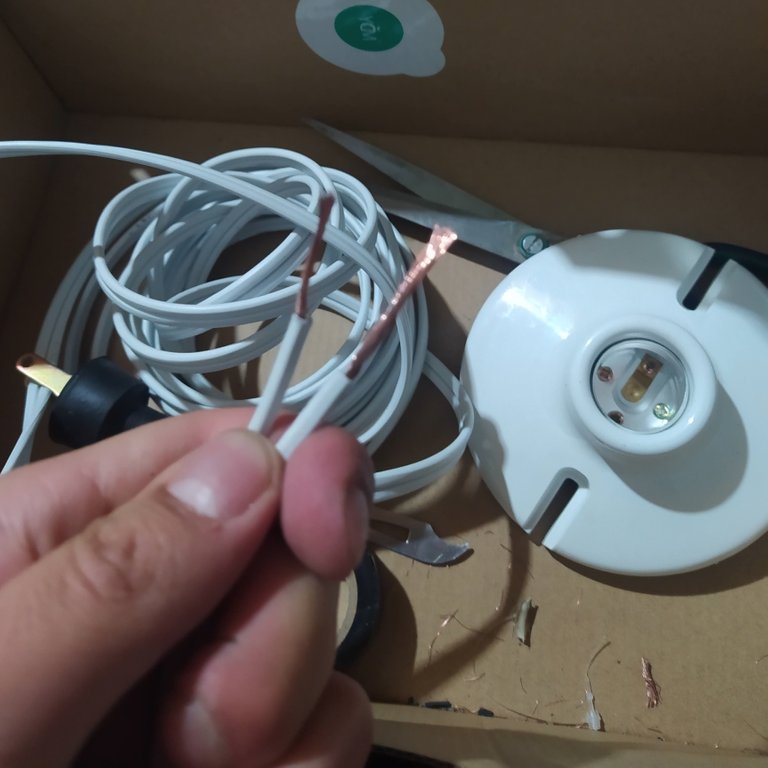 Así debería quedar funcionando cuando la conectamos a la energía eléctrica y de esta manera nos damos cuenta que la conexión quedo perfecta.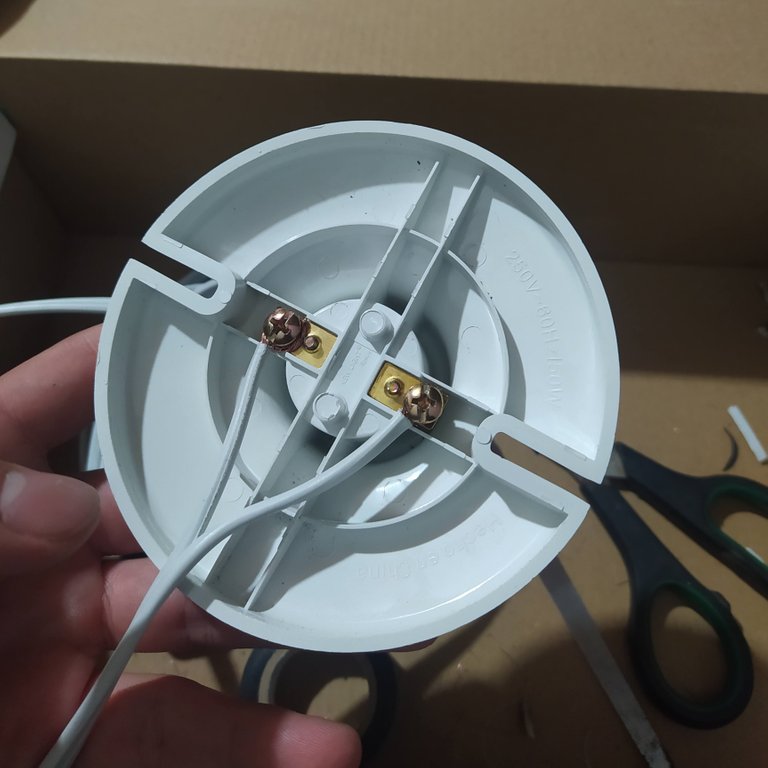 This is how it should work when we connect it to the electric power and this way we realize that the connection is perfect.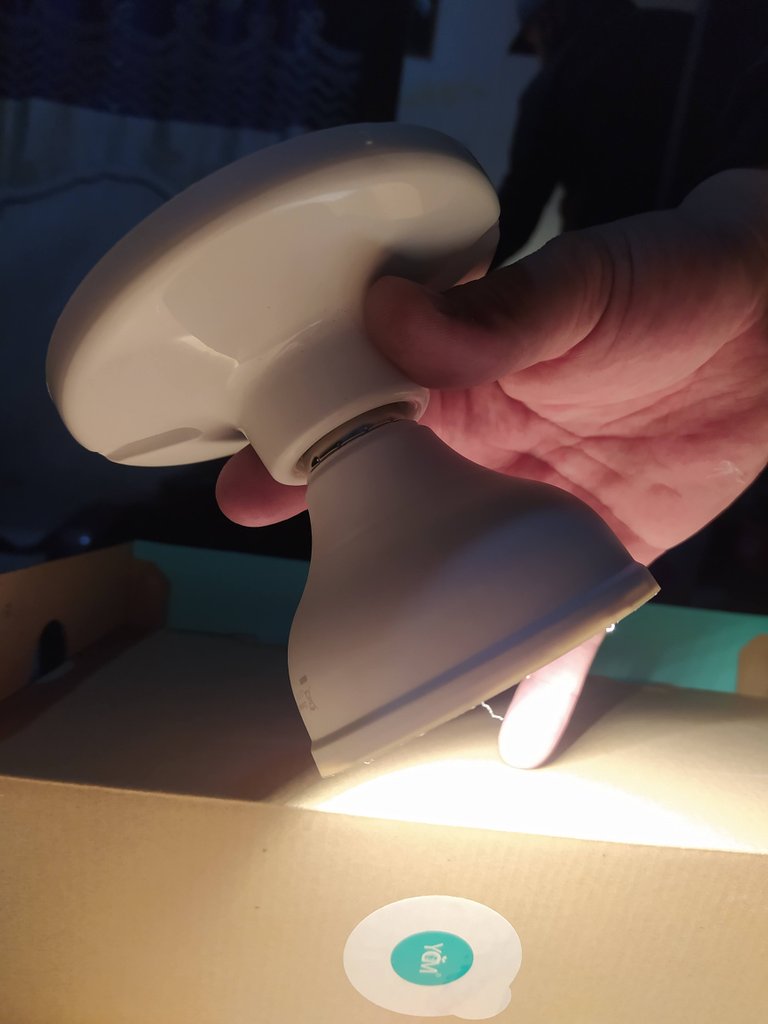 A continuación podrán ver como se encontraba el cajón que decidí usar para la adecuación del Indoor, luego de haber instalado la luz debo tapizarlo con papel reflectante.
Below you can see how was the drawer I decided to use for the Indoor adaptation, after having installed the light I must upholster it with reflective paper.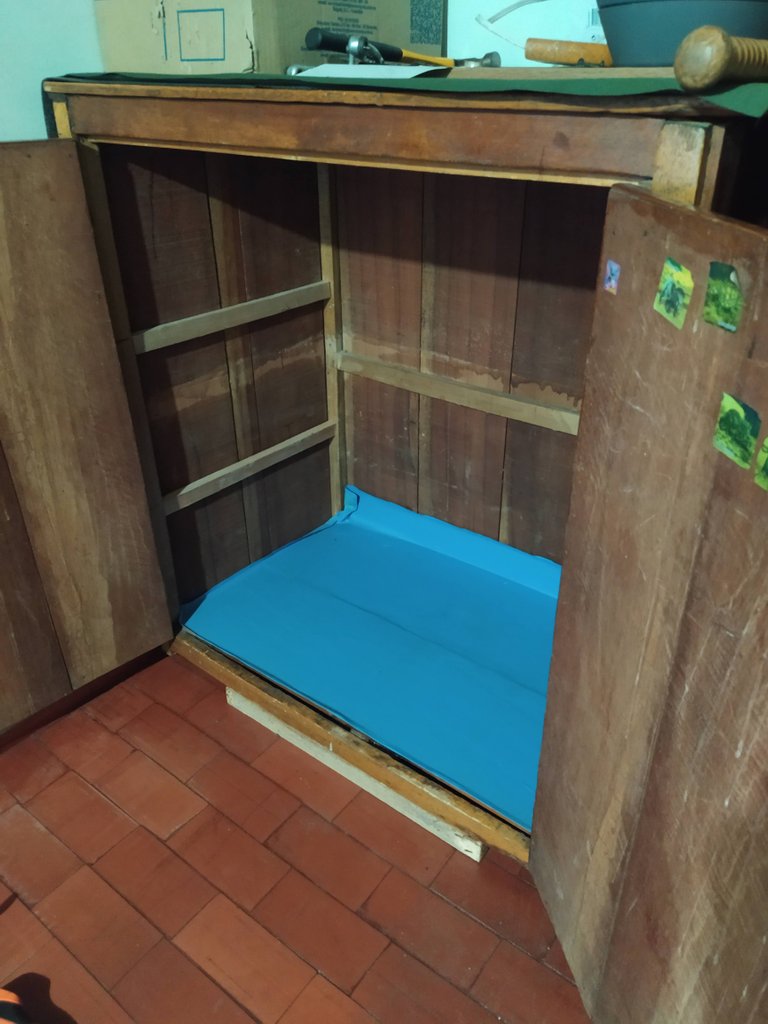 Posteriormente me dispuse a atornillar la roseta en el techo del cajón de esta manera no se me quemara la planta con el calor que emite el bombillo. Así debería quedar.
Afterwards I screwed the rosette to the ceiling of the drawer so that the plant would not get burned by the heat emitted by the bulb. This is how it should look.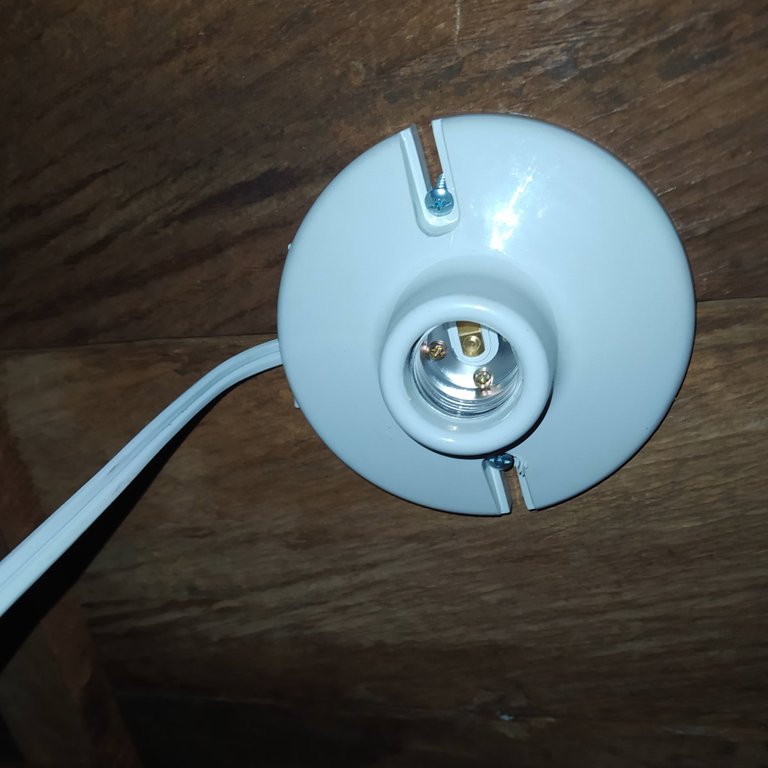 Luego hago el mismo proceso con la segunda roseta, la conecto con un pedazo de cable sobrante, después realice la conexión con la extensión de la otra roseta, cubrí los cables con cinta aislante. Debería quedar de la siguiente manera.
Then I do the same process with the second rosette, I connect it with a piece of leftover wire, then I make the connection with the extension of the other rosette, I cover the wires with insulating tape. It should look like this.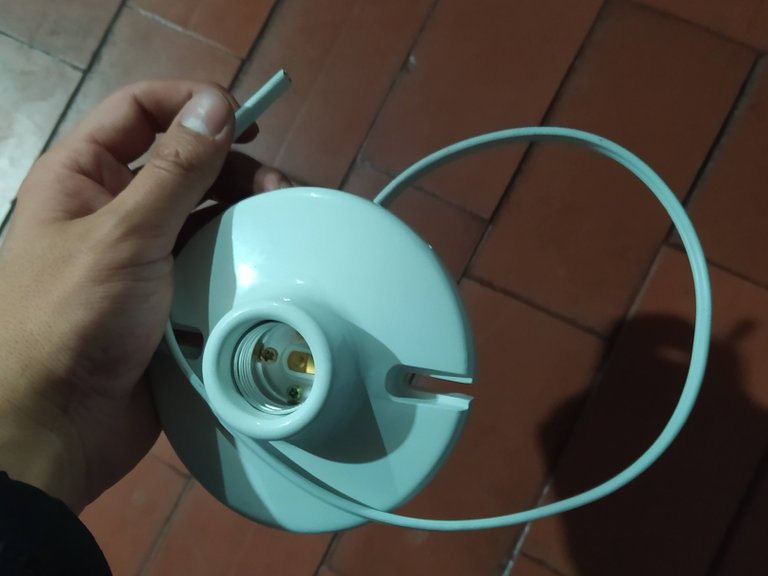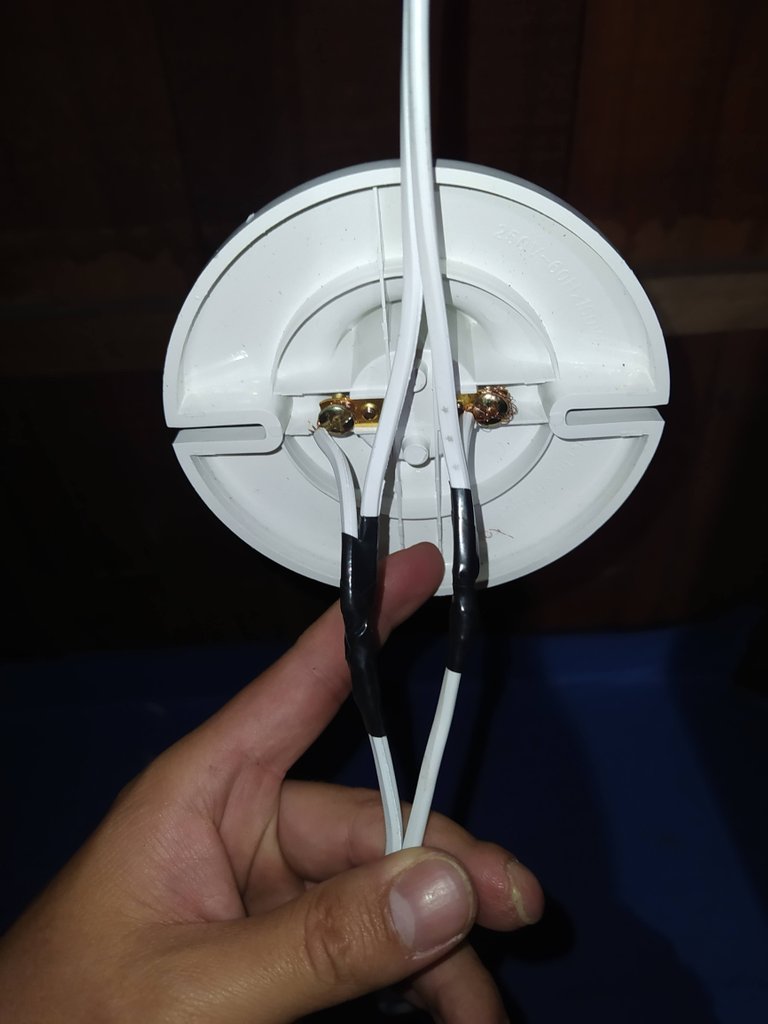 Ya casi para terminar con la parte eléctrica atornille la otra roseta al techo del cajón, luego de poner los bombillos y conectar la extensión se vería de la siguiente manera.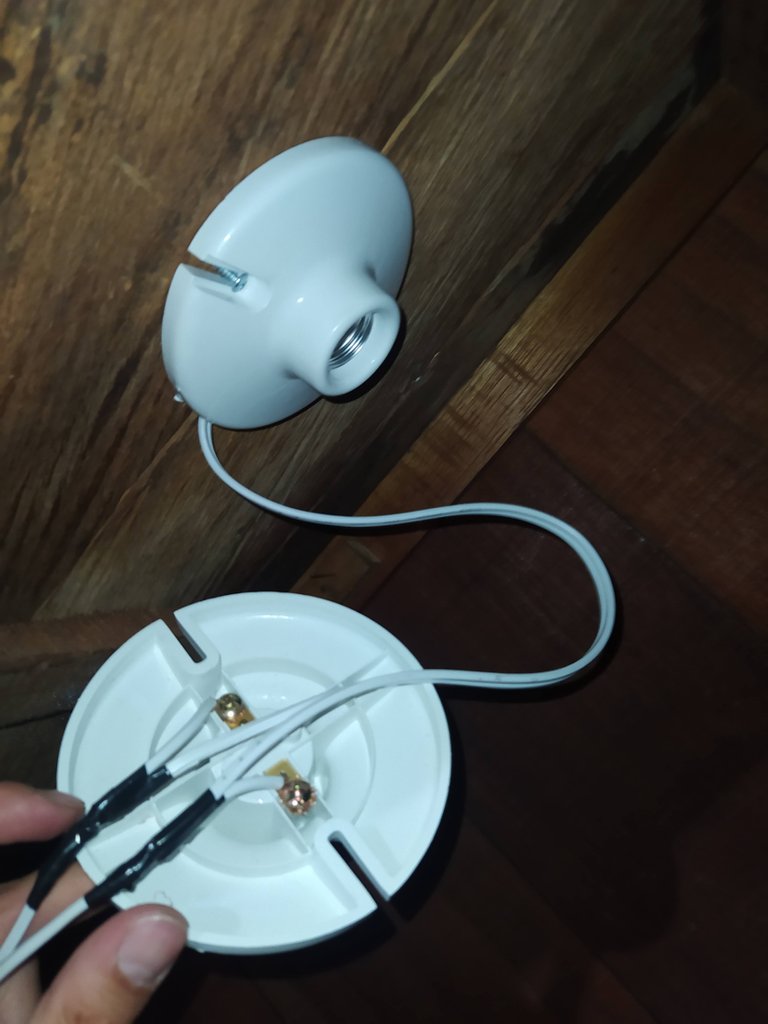 Almost to finish with the electrical part I screwed the other rosette to the ceiling of the box, after putting the bulbs and connecting the extension it would look like this.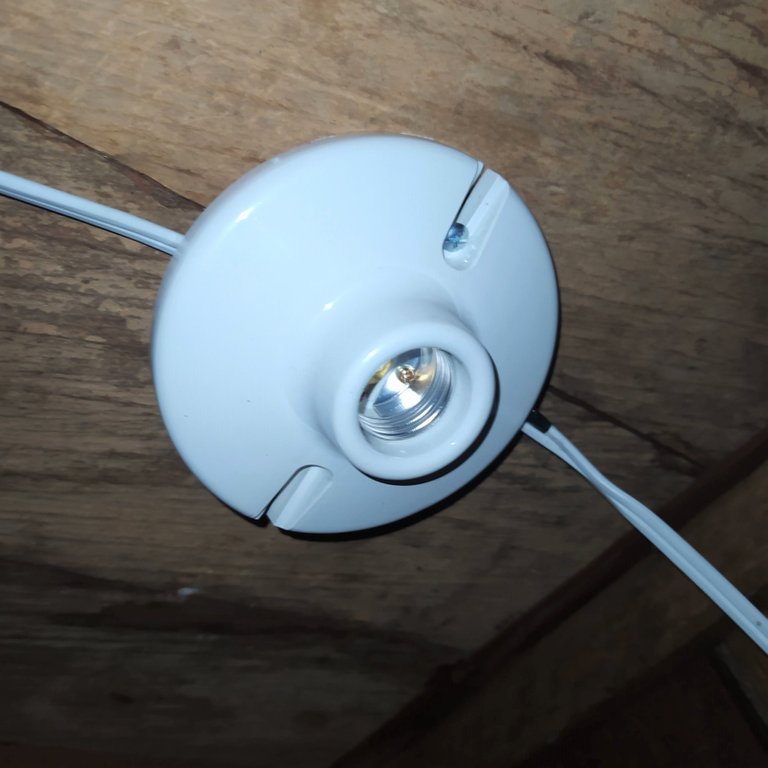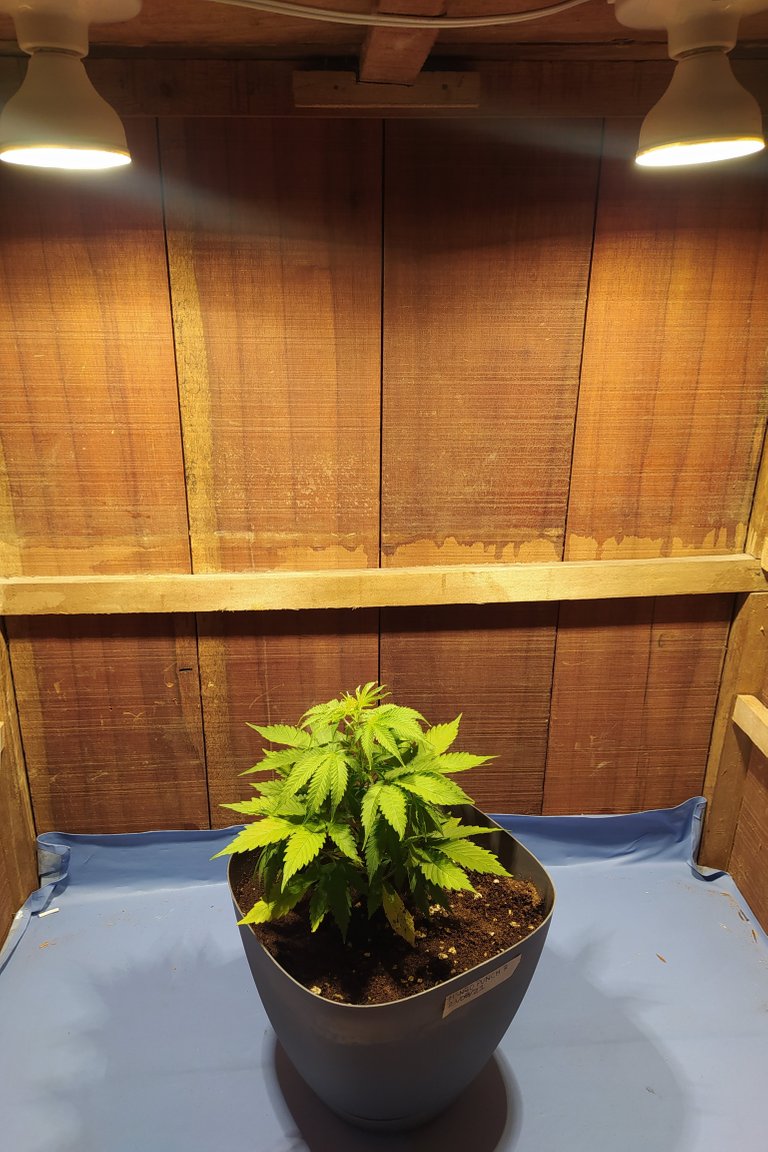 Por ultimo aseguré el cable de la extensión y lo fijé a la pared del cajón con unas abrazaderas plásticas, esto permitirá que el cable no se dañe y no estorbe cuando valla a tapizar el cajón.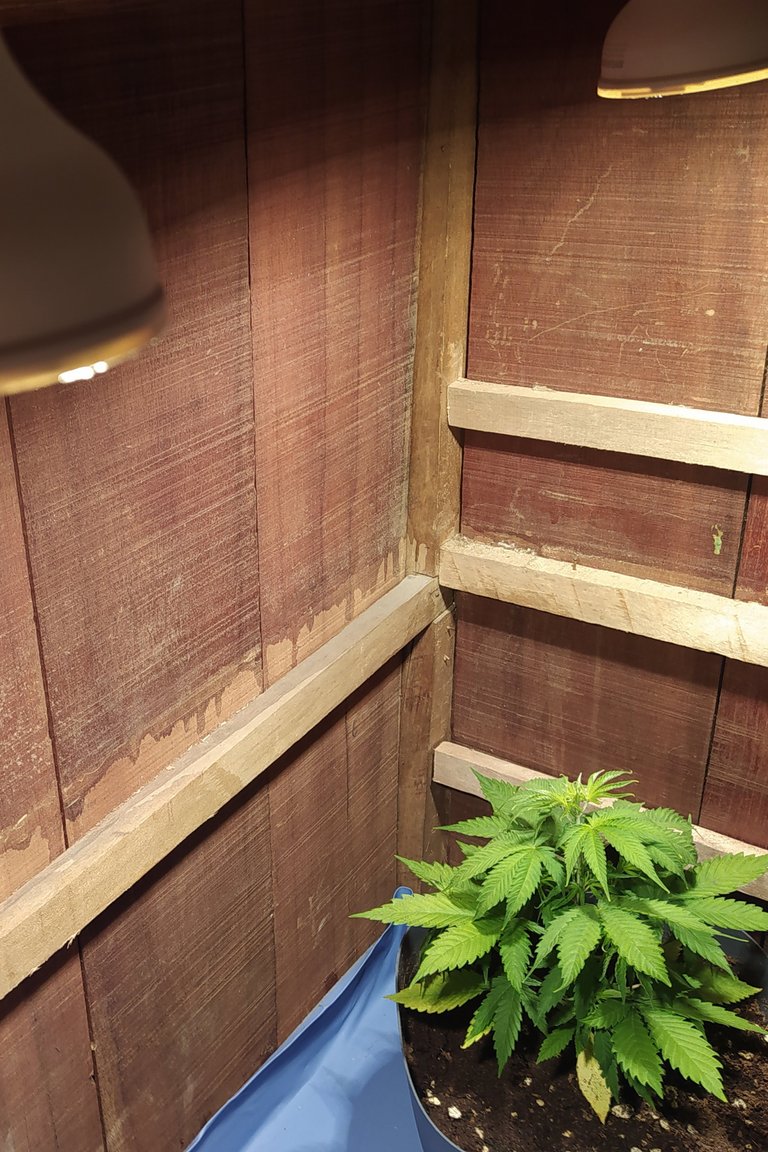 Lastly, I secured the extension cord and fastened it to the drawer wall with plastic ties, this will keep the cord out of harm's way and out of the way when I go to upholster the drawer.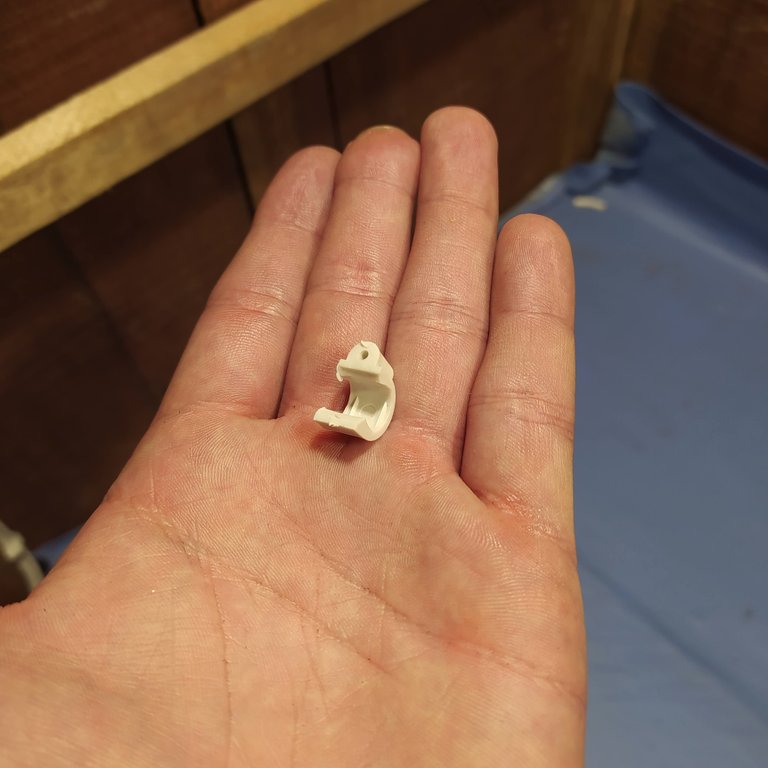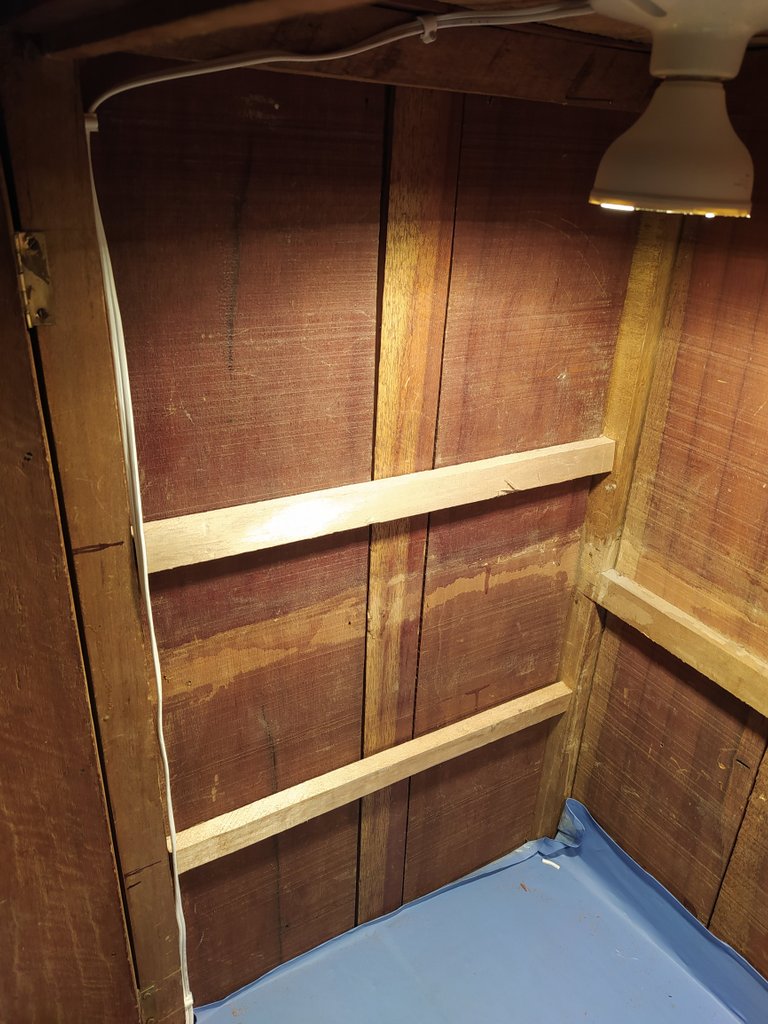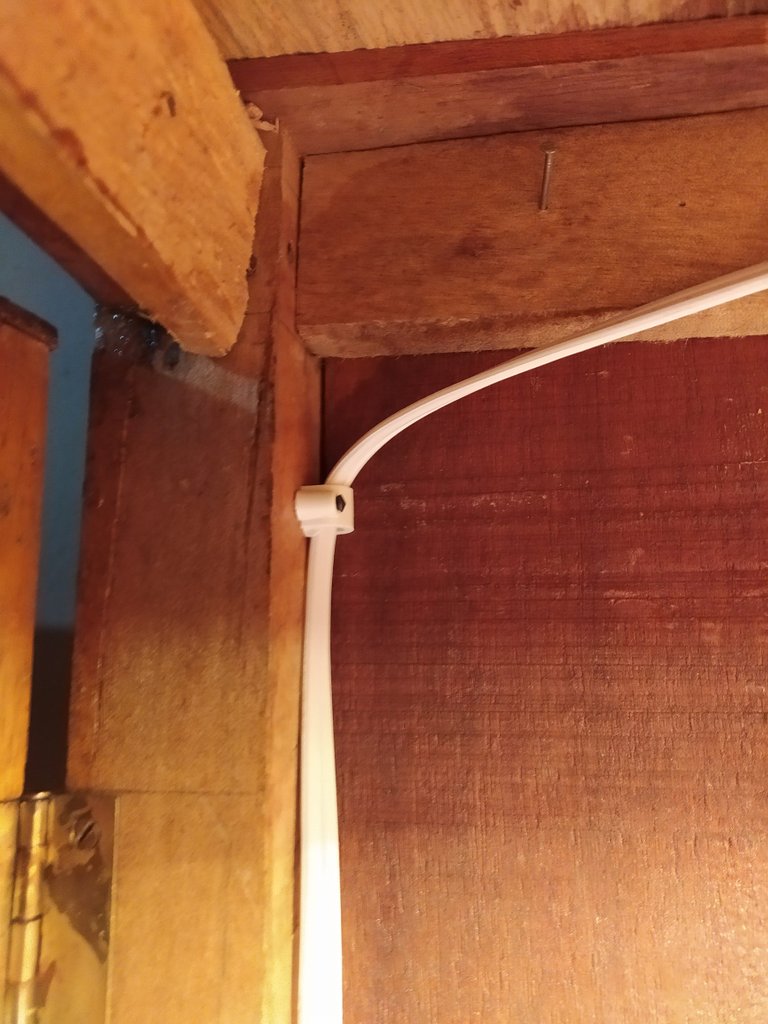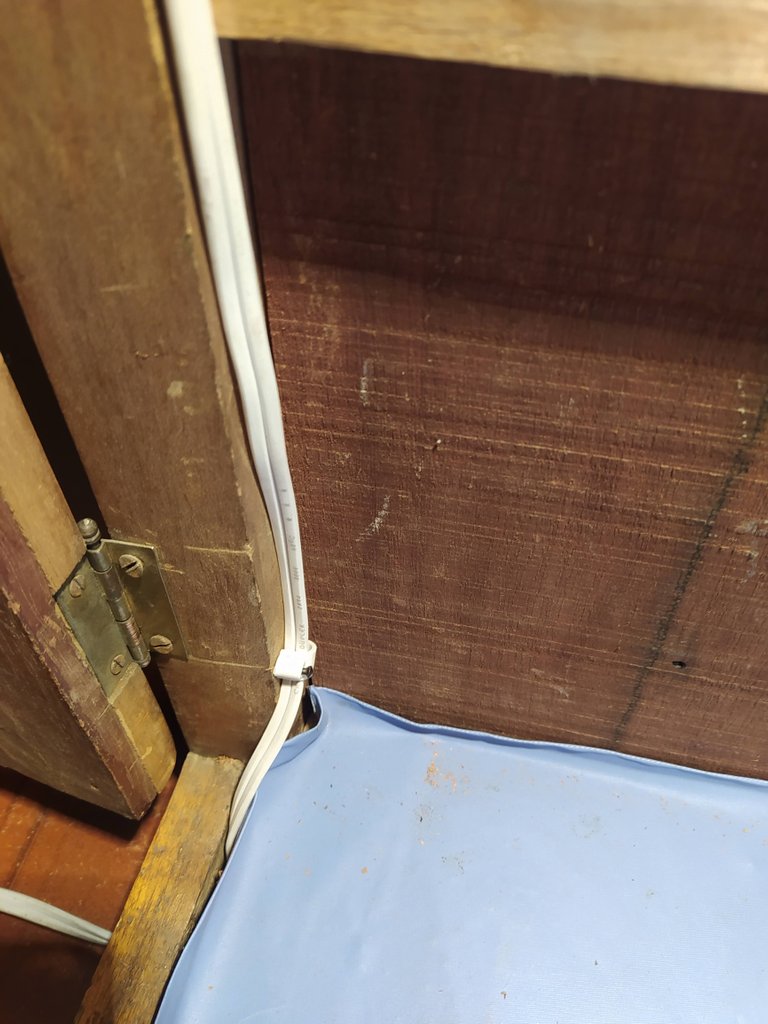 Tapizado del Interior 🔨 Interior Upholstery
Lo primero que debo hacer a la hora de tapizar el cajón es pegar a las paredes el papel reflectante con ayuda de una pistola de grapas, esto lo debo hacer hasta que cubra totalmente las paredes del interior del cajón.
The first thing to do when it comes to upholstering the drawer is to glue the reflective paper to the walls with the help of a staple gun, I must do this until it completely covers the walls of the inside of the drawer.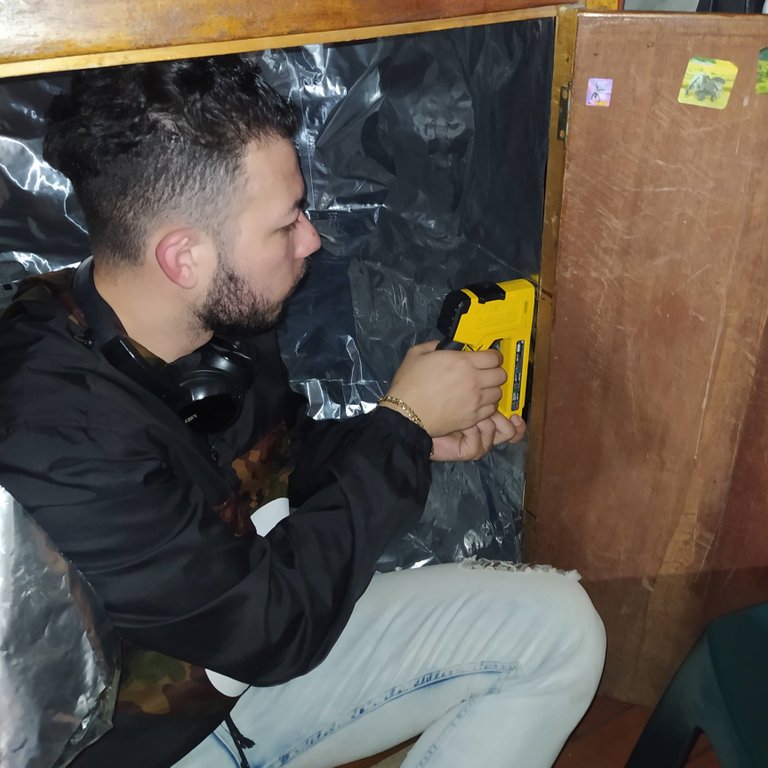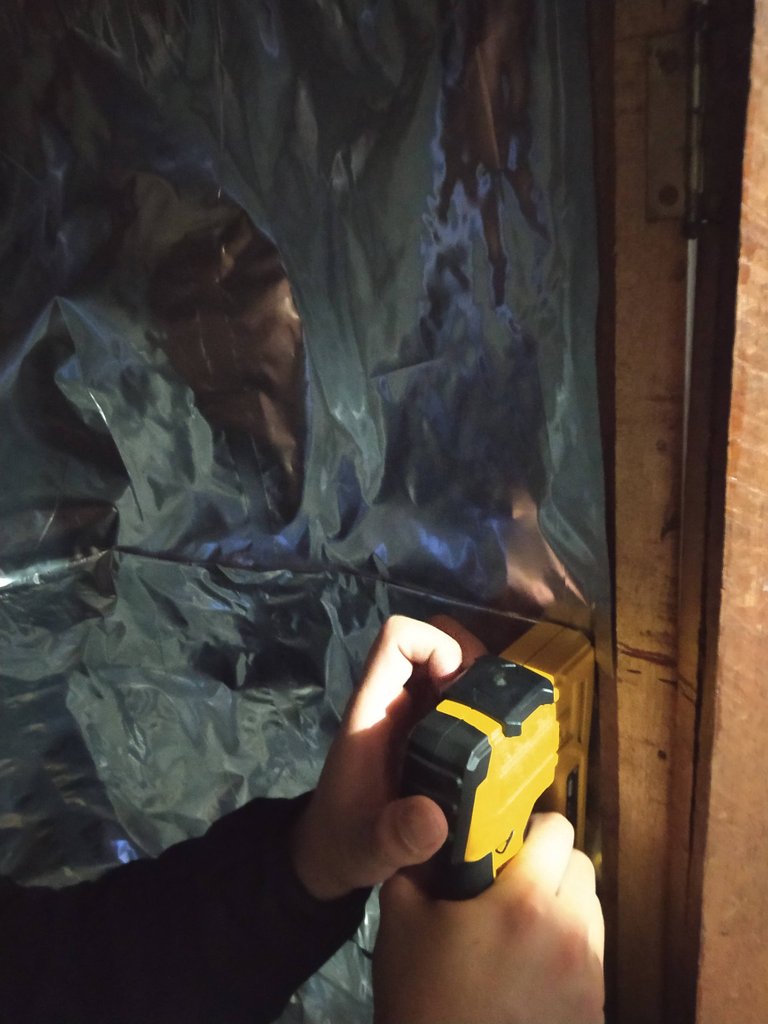 Luego de haber puesto el papel reflectante en las paredes del Indoor debería verse de la siguiente manera.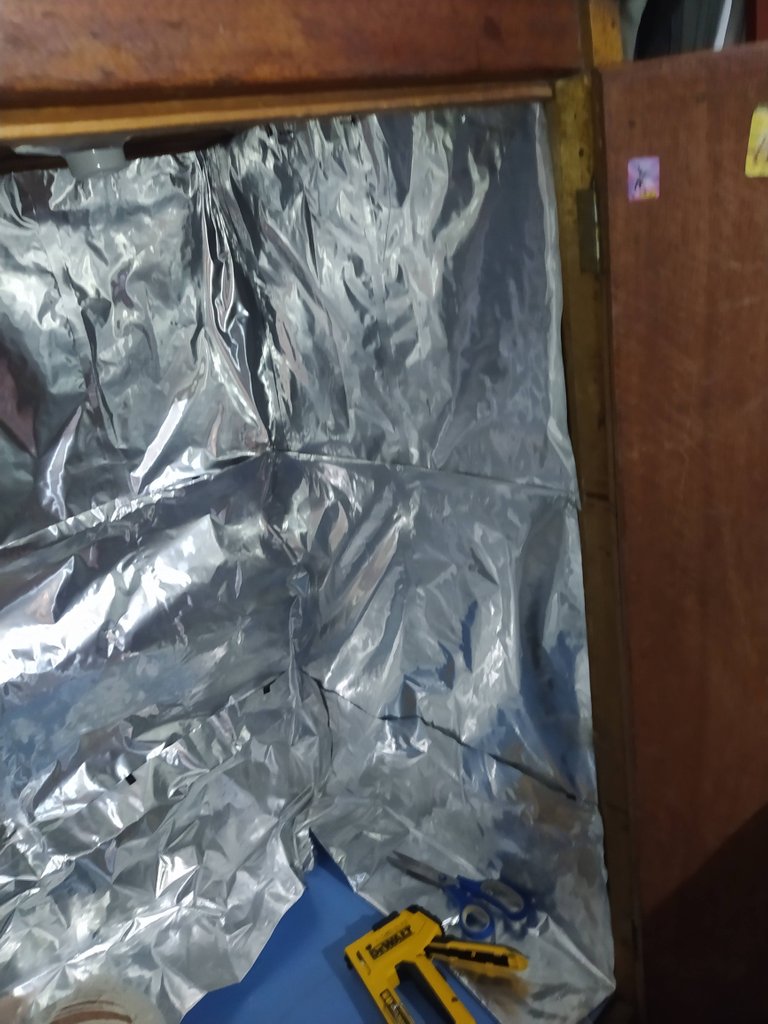 After the reflective paper has been placed on the walls of the Indoor it should look like this.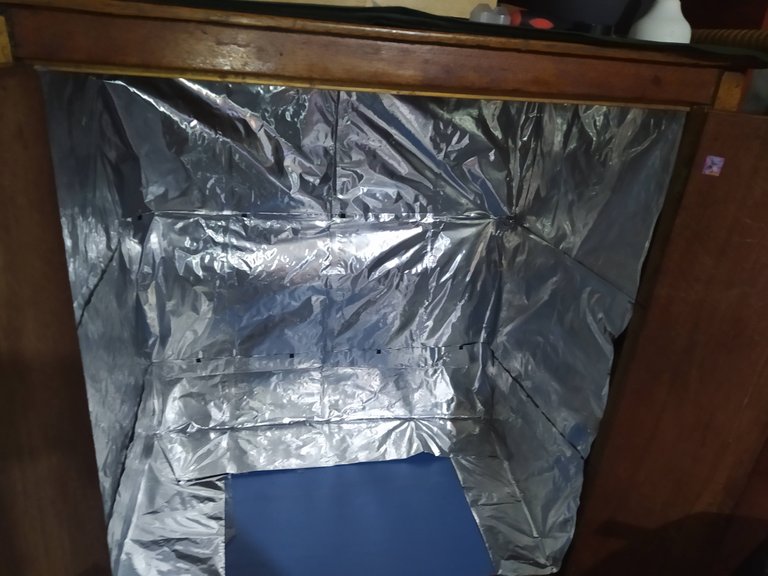 El siguiente paso fue pegar el papel reflectivo en el suelo del cajón también con ayuda de la pistola de ganchos, para que la luz reflecte de manera correcta. Como siempre acompañándome mi amigo Apolo.
The next step was to stick the reflective paper on the floor of the drawer also with the help of the hook gun, so that the light reflects correctly. As always, my friend Apolo accompanied me.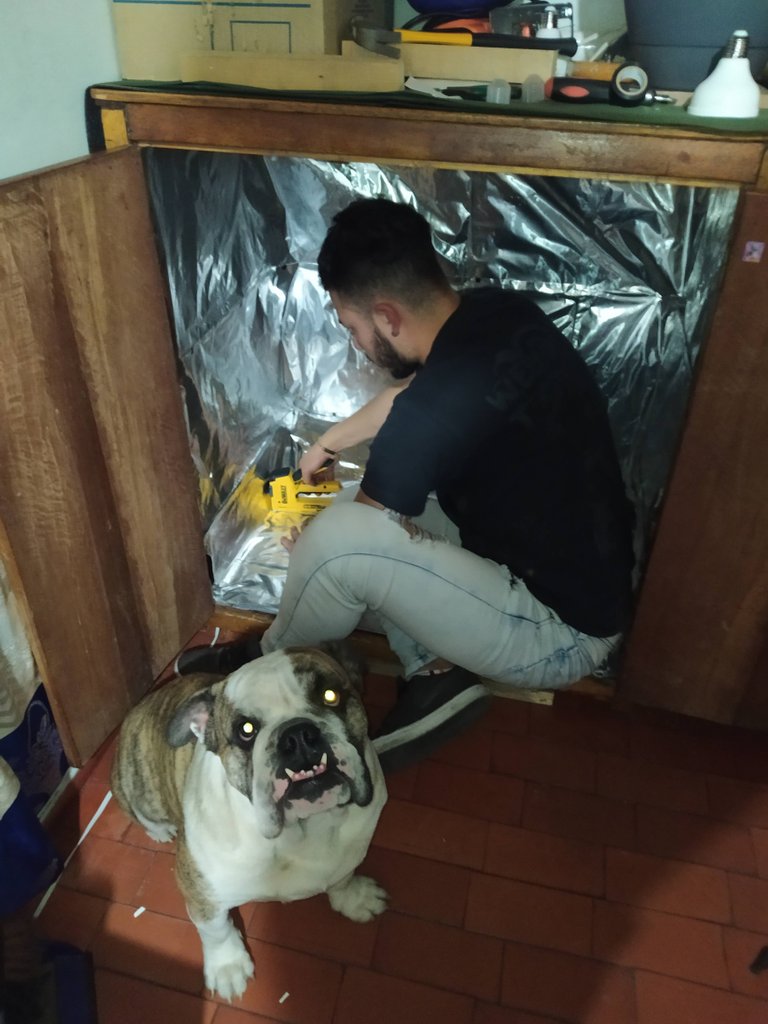 Luego de haber puesto el papel reflectante en el suelo del Indoor debería verse de la siguiente manera.
After the reflective paper has been placed on the Indoor floor it should look like this.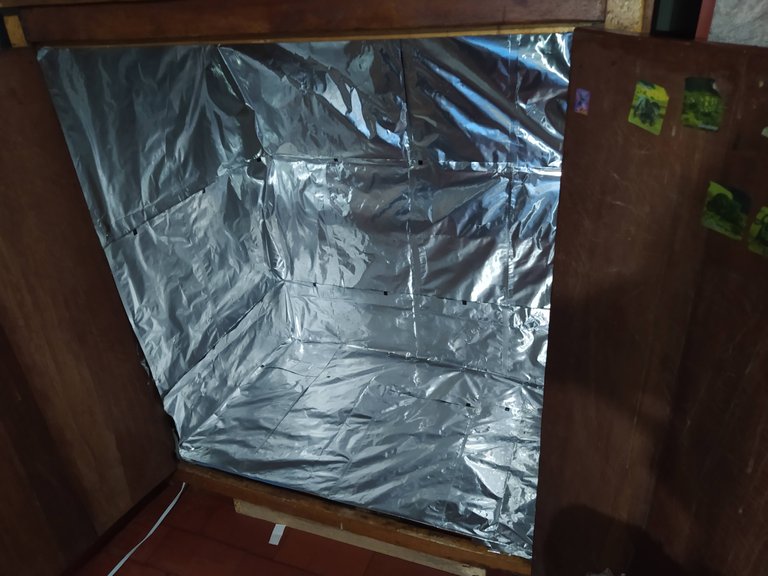 Ya para terminar forré las puertas del cajón con papel reflectivo, para que le reflecte la luz a la planta por todos lados, fue un trabajo muy divertido.
Finally, I lined the doors of the drawer with reflective paper, so that the light would reflect off the plant from all sides, it was a very fun job.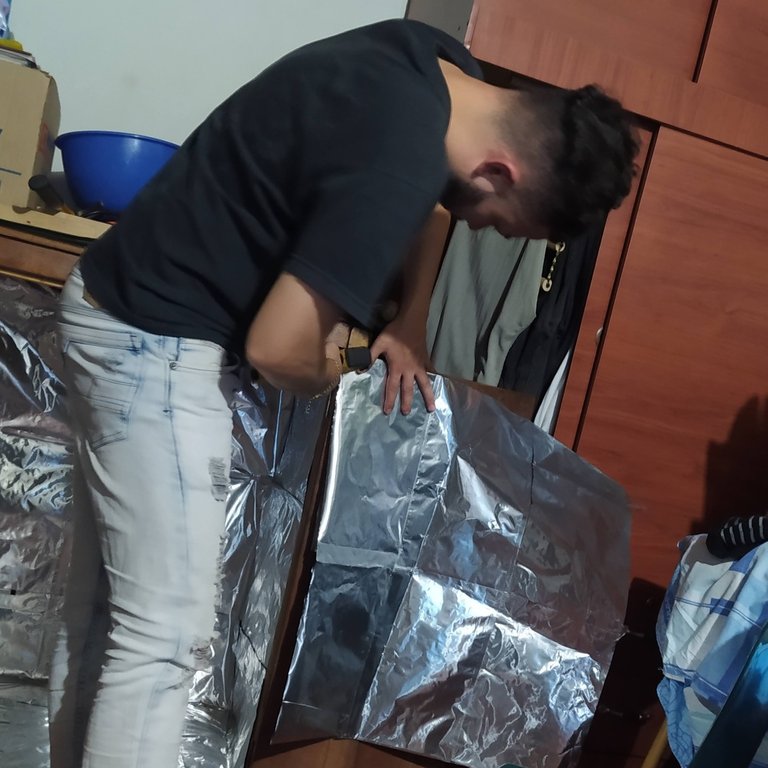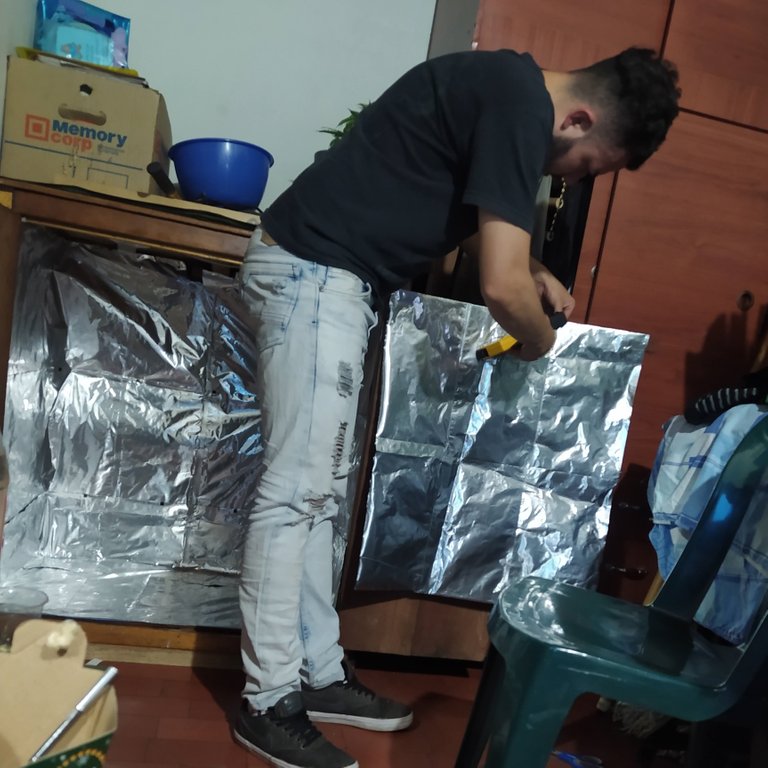 Finalmente así quedaría mi Indoor casero, en cada bombillo hay 20w, esto quiere decir que la planta va a recibir 40w de luz todos los días, además el papel reflectante le brindara una mejor experiencia con la luz a la planta.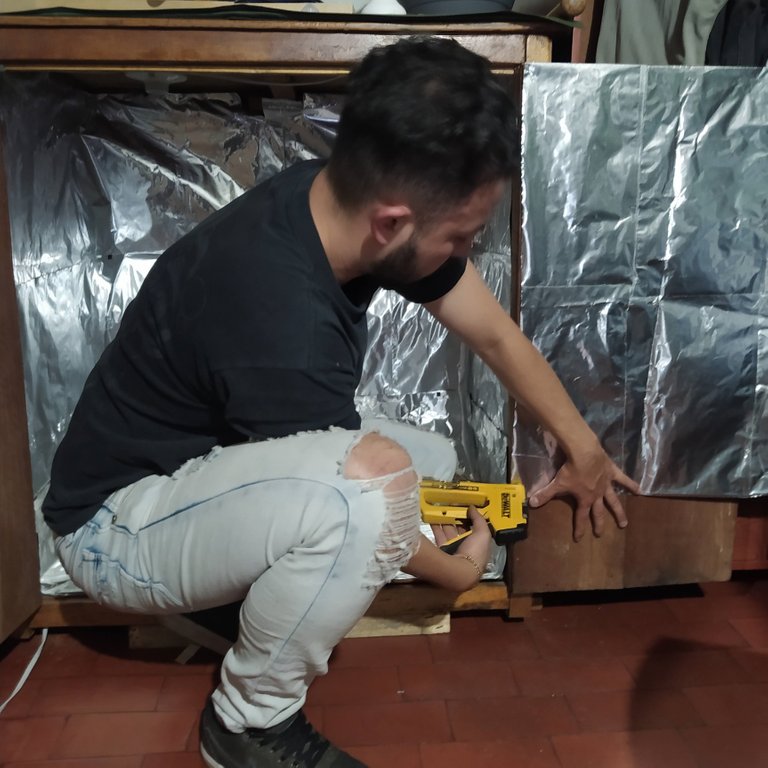 Finally this is how my home Indoor would look like, in each bulb there are 20w, this means that the plant will receive 40w of light every day, also the reflective paper will provide a better experience with the light to the plant.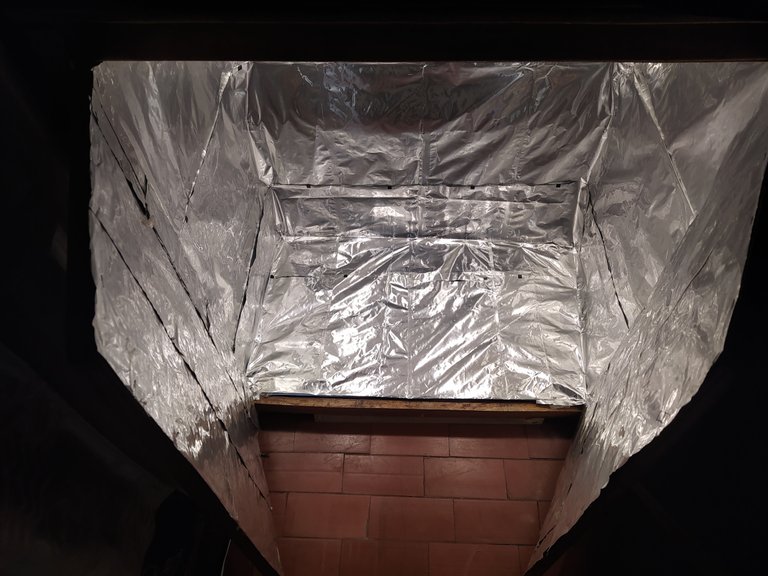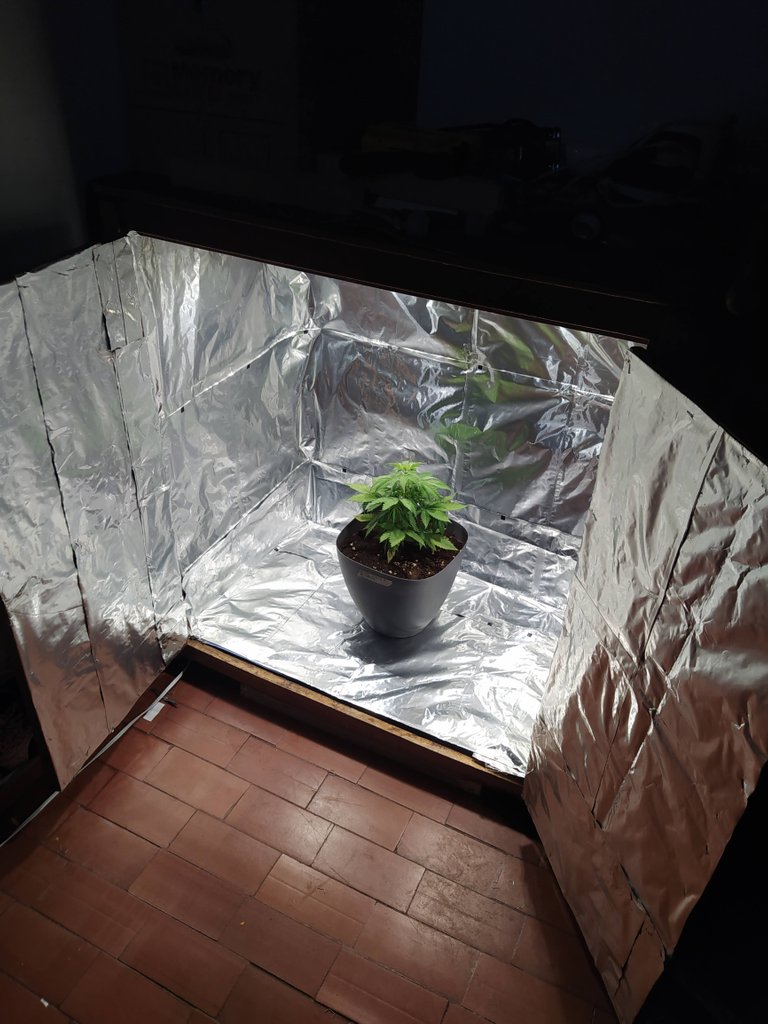 Aquí podemos ver mi hermosa Mango Punch Regular tomando la luz que tanto la nutre, además se ve que le gusta el lugar por que posó muy bien para las fotografías.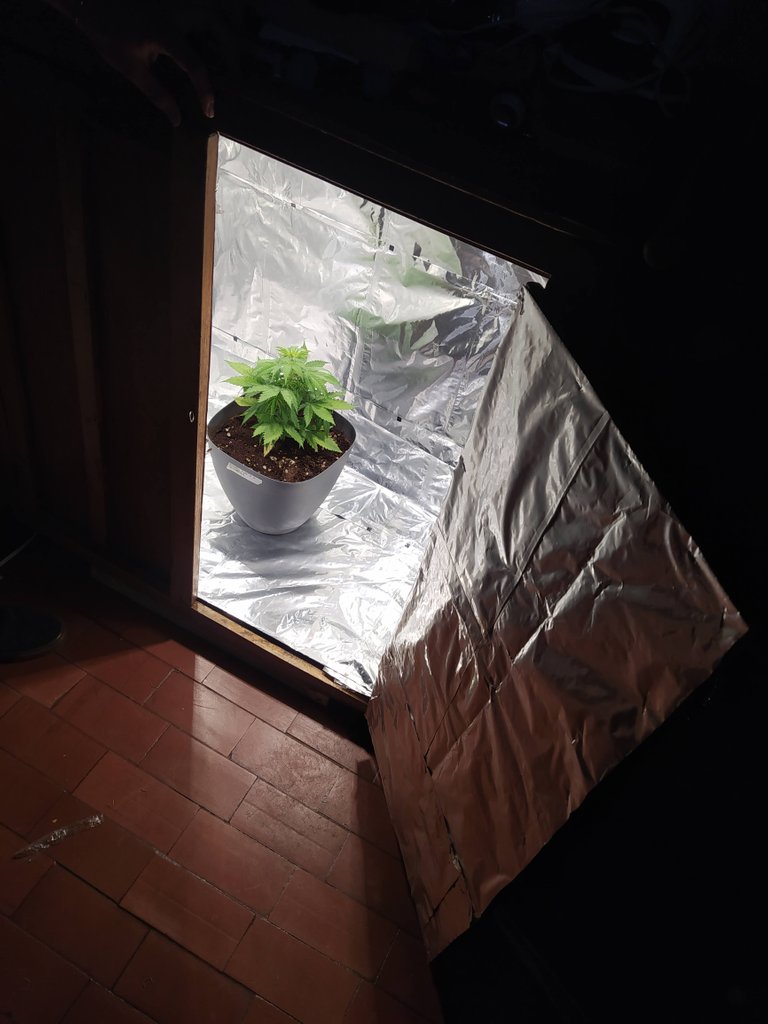 Here we can see my beautiful Mango Punch Regular taking the light that nourishes her so much, plus you can see that she likes the place because she posed very well for the pictures.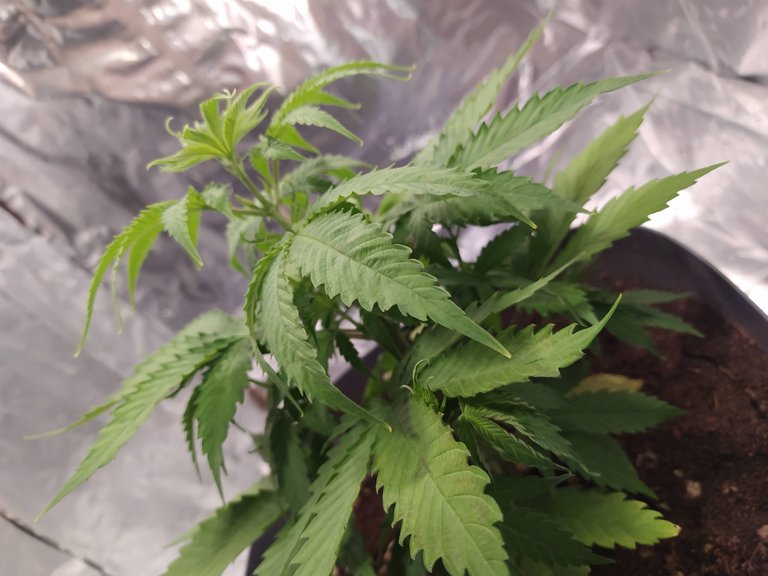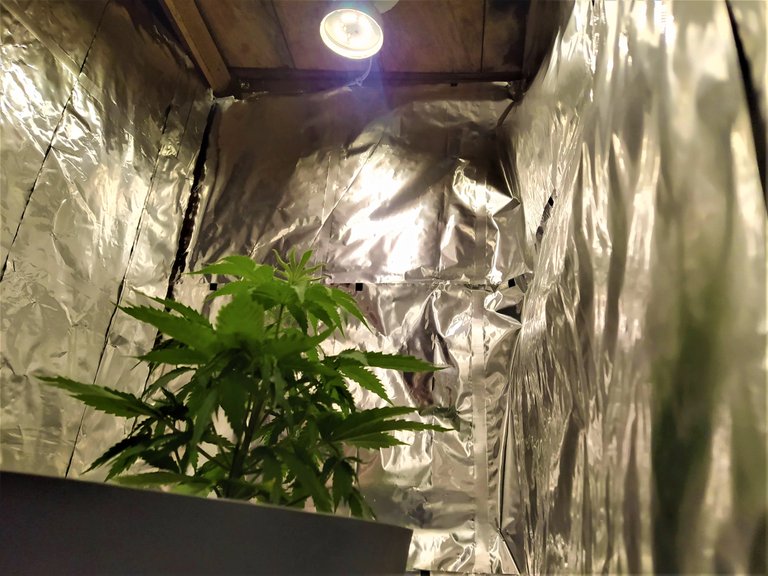 Hasta aquí llego mi publicación de hoy, espero hayas disfrutado las fotografías de mi nuevo Indoor Casero, donde mi Mango Punch tomará la luz necesaria en el día. Si llegaste hasta aquí quiere decir que leíste toda mi publicación y te doy las gracias por visitar mi post, si te gustó házmelo saber en los comentarios.
Fotografías de mi autoría.
Fotografías tomadas en con un teléfono Xiaomi Redmi Note 8📱.
Lugar de las fotografías Bogotá - Colombia.
Traducción con ayuda de Deepl Traductor.
So much for today's post, I hope you enjoyed the pictures of my new Indoor Casero, where my Mango Punch will take the necessary light in the day. If you made it this far it means you read my whole post and I thank you for visiting my post, if you liked it let me know in the comments.
Photographs of my authorship.
Photographs taken with a Xiaomi Redmi Note 8📱 phone.
Location of the photographs Bogotá - Colombia.
Translation with the help of Deepl Translator.
---
Si te perdiste el trasplante de mi planta de la cepa Mango Punch no te preocupes aquí dejare el enlace para que la visites.
If you missed the transplant of my Mango Punch strain plant don't worry here I will leave the link for you to visit.
[ESP-ENG] Trasplante de Mango Punch Regular
4️⃣2️⃣0️⃣ Mango Punch Regular Transplant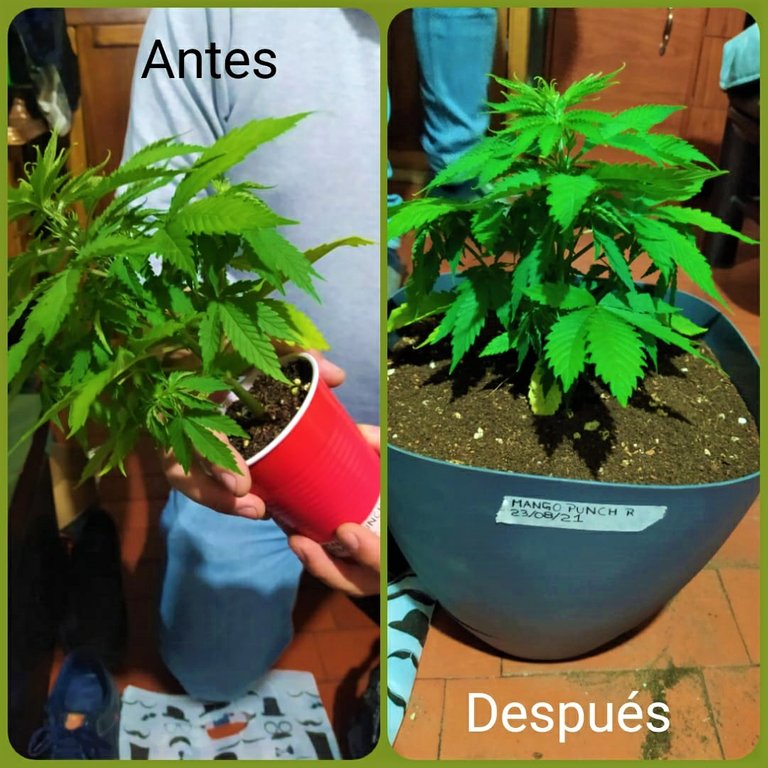 ---


---
---