Upcoming Seed Drop For BifBeans!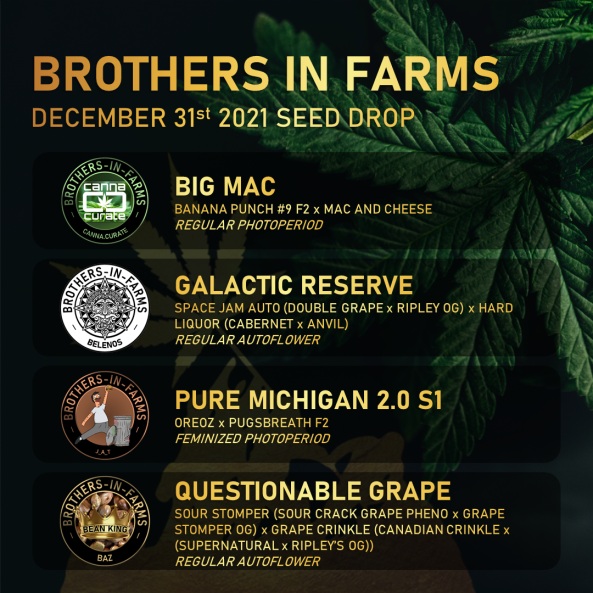 What's good Weed Nerds! I have some Huge news, on December 31st, @bifbeans will be doing a seed drop! I am very humbled that my #bigmack F2 has made the cut. Huge shout out to the Big Macks of the Chain, you know who you are. I'll be sending you all some of the next seed batch, Big Mack Superstar as a token of my appreciation. But that is not all, the other good news is having a Seed Bank participate on our Chain.Bif Web Support is also looking into Hive Pay. Please show your support in the comments for Bif to accept Hive, the best crypto out there! Without further ado, I present to you the next Seed drop for Brothers In Farms.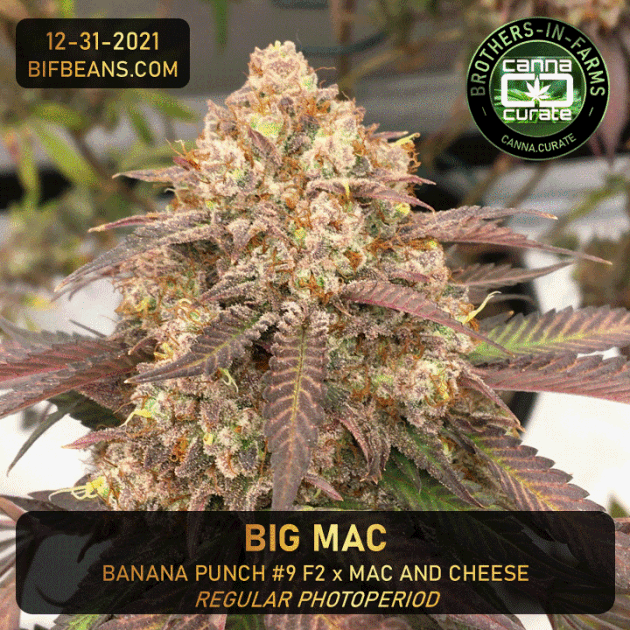 We all know about Big Mack, I along with @davedickeyyall, @loonatic, @cannabisius, @lacausa, and @skylinebuds have documented it all here on Chain. Just think it all started here 12 Months ago! The Big Mack F2 is a fruit lovers dream, dominated with Banana terps. But this is just the start, I have more planned for the Big Mack lineup. So stay tuned....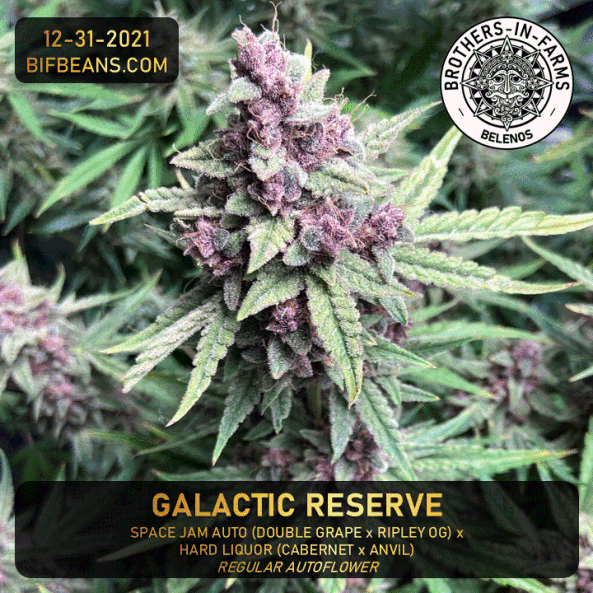 Galactic Reserve is from Belenos, the creator of #whitegrape which was grown out here on Chain by a few of us including myself, and is sure to please! This regular Autoflower is a cross of Space Jam Auto (Double Grape x Ripley OG) x Hard liquor (Cabernet x Anvil).
Breeder's Description-
"Space jam crossed some of my favorite autos ever but was only created as a limited spot pollination cross. To continue with this I took some Hard liquor donated by the name sake himself hard liquor aka closet medicine who's genetics is a combo of an auto powerhouse Anvil and my favorite auto ever, my very own Cabernet. The result is a flavorful and beautifully colored combination that promises to pack a punch."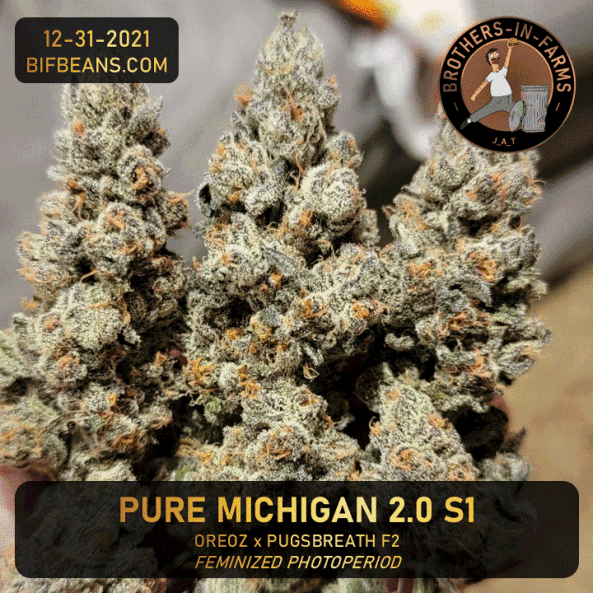 Pure Michigan 2.0 is a feminized Photo Period from the creator of Helena X PBB, you may have seen myself, and @loonatic grow that strain, fire! No doubt that this Oreoz x Pugsbreath will not disappoint.
Tester KTEA's description of terps, and effect-
" Two separate terpene profiles emerge in this strain: (1) Skunky, earthy with some chem vibes and (2) bbq teriyaki, sweet, fruity (grapes and berries), honeysuckle and citrus. Heavy hitting, intense body high and cotton mouth inducing strain. Extremely potent and great for smoking when you have nothing planned except for relaxation."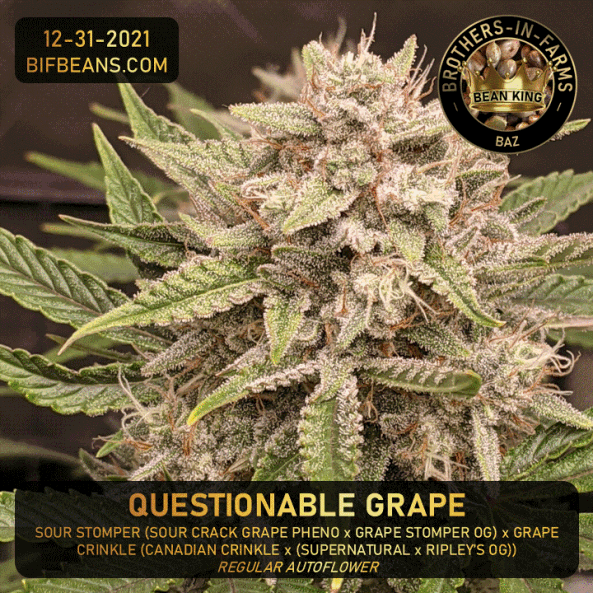 Questionable Grape, created by Og Brother In Farms Breeder, Baz is a regular Autoflower packed with Sour Stomper (Sour crack - Grape Pheno x Grape Stomper OG) x Grape Crinkle (Canadian Crinkle x Supernatural x Ripley's OG). Who dares to question that this will not put a smile on anybody's face?
Growing tip from the Breeder-
"Double Grape is an all-round pleasure to grow. She's easy to grow and manicure and all too easy to consume! One of our frostiest, oiliest varieties ever and Double Grape packs a punch too. She has very nice vigor and grows relatively open, bushes naturally with some leaf tucking but also will adapt very nicely to LST and other forms of training when performed correctly. The cycle time is medium at 65-70 days to bring her to fruition in ideal conditions and is definitely one of the most pleasurable strains to grow from any of our collections."

So mark your calendars for the date of December 31st, you wont want to miss this drop! Need seeds now? Well head on over to Bifbeans.com and pick out a pack among the many selections of community proven genetics. Or pick up some 3D printed products to help elevate your grow game. Mad love to you all, and Merry X-mas!




---
---