Tent Update: The Calm Before The Storm...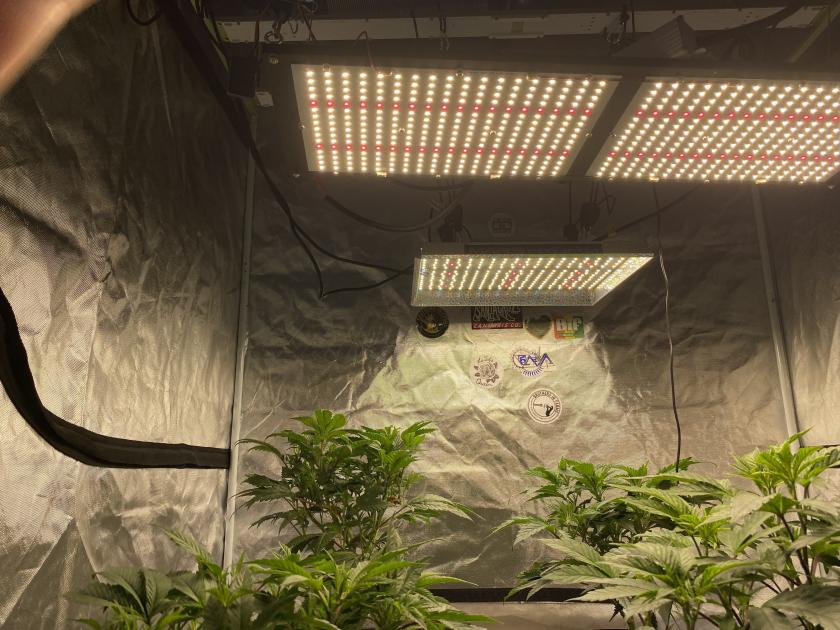 What's good Weed Nerds? Hope you day yesterday was a good one. I actually took a break, and only smoked a bowl right before bed. What? But aren't you supposed to smoke on 420? You all know I love cannabis, but work, and family comes first. Unfortnaly I did not even have a chance. Besides it is always 420 in my bubble of a life;) I remember growing up in Kentucky, and at times we where unable to even find any herb. Those times really sucked! So I think after living through that, there is a part of me that makes sure that will never happen. Growing your own is something that will take care of you, and make sure you will never go without medicine. It also ensures that you wont have to go to those over priced shops.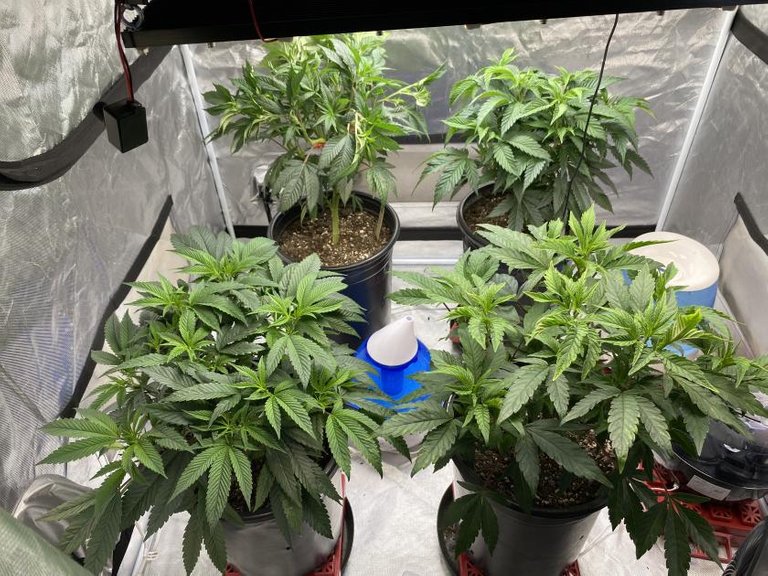 Still seeing some great growth. In fact, I will be flipping to flower very soon. Lets take a look at what strains I am growing:
Chili Verde
Knights Templar Og
Larrys Breath
Dosi Sherbet
All are Indica leaning hybrids. These are clones, and are all female. I am currently running my 340 Watts of LED lights for 20 hours, and leaving them off for 4 hours.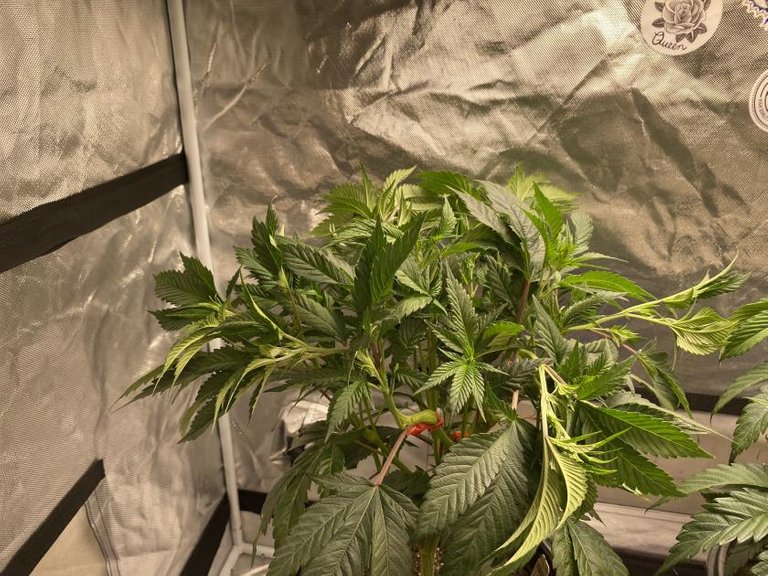 Chili Verde which I pinched the tops just before this picture was taken, and technique known as Supper Cropping
I am still pinching tops, and sliding on the occasional Supper Cropper Clip. A trellis would be so perfect, but since I like to take out the plants to foliar spray, that is something I am holding off on. Do any of you foliar spray in the tent?
Larrys Breath
I still have not defoliated much. I will do that once I head into a 12/12 light cycle. I am not using any liquid nutrients this round, only a top dress of 6-3-3.5 NPK. Then I am doing a foliar treatment of Kelp, and also Cal/Mag.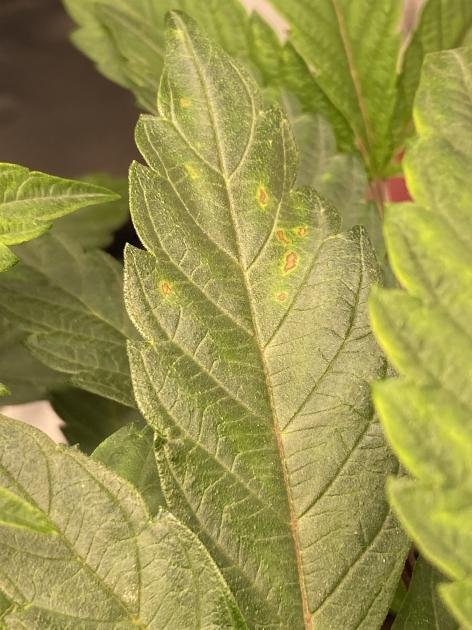 Calcium Deficiency
The Knights Templar Og is a cross of Og Kush, and one thing Og loves, is Cal/mag! It was the only plant showing signs of a deficiency. Which is why I decided to do a Cal/Mag foliar spray once I saw this. But only with this plant, since the others have no signs of a lack of Cal/Mag.
Source
You got to love the internet! This is why there is so much great cannabis all over the world. You ever hear people say, cannabis is different today! Sorry that is not true. The only difference today is the knowledge of how to grow is more accessible. There has always been great cannabis. But of course selective breeding has played a big role.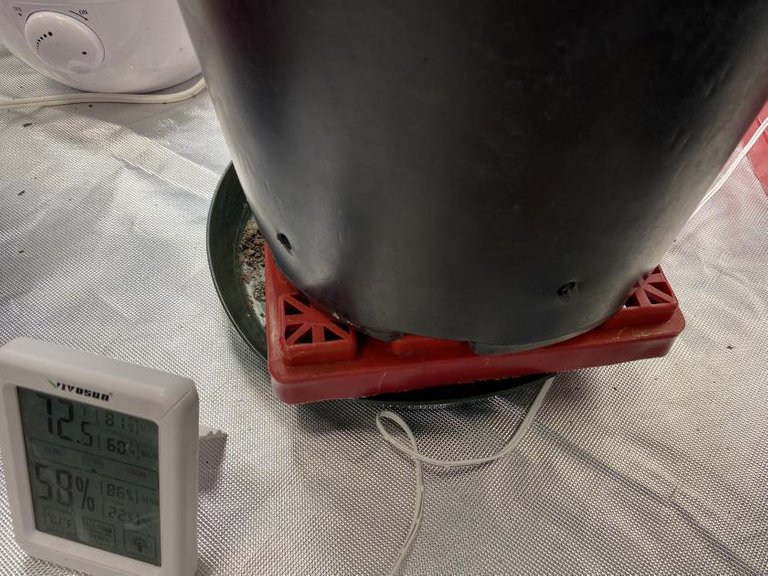 Here is something else I am trying. I set up the pots on a leveler, that will allow more airflow to the roots. I am not a big fan of the fabric pots due to them drying out to fast. So any way I can get more airflow without using them, the better! What do you think about this setup?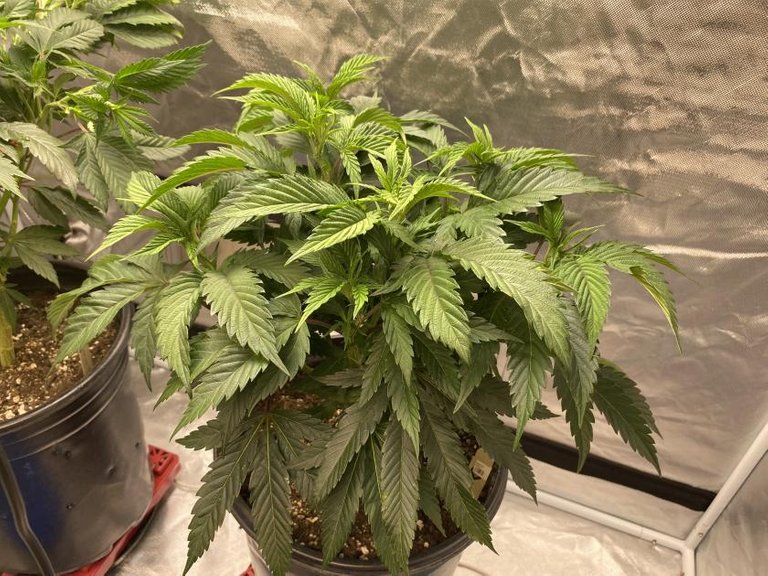 Dosi Sherbet, my 3 Gallon Entry in the Grow Challenge
Looking at this pic has me thinking I need to defoliate ASAP! But a little at a time, and only the leaves blocking light, and airflow. Besides that, I think a good IPM treatment would be very beneficial. Especially since I will be flipping soon, and after 2 weeks into flower, my window to spray the Doctor Enzymes will be closed. Another treatment of the Kelp foliar spray is coming up too. I am excited to be using a HPS light for the very first time! So stay tuned, and see if it works out for me.



Posted using WeedCash Network
---
---