Tent Update: The Big Mack, BMX, & Bug Issues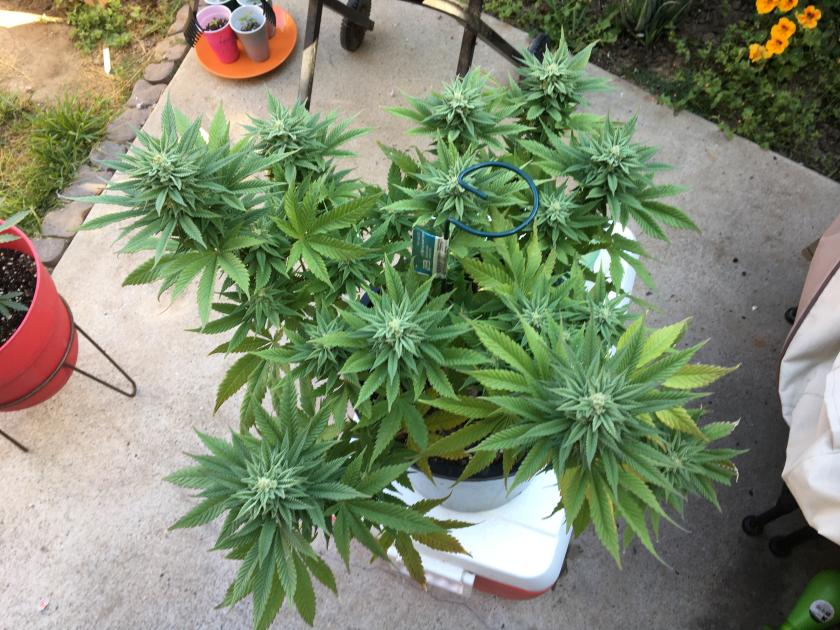 Light Dep BMX
What's up Weed Nerds! So time for some updates, and this will be a mix of some of the outdoor, and indoor. Nothing to crazy, but it something I am proud of. If you recall over a few months ago I pollinated a few plants with a couple males I found to be the best out of the bunch. I do not have very much room, but I managed to grow out 5 males, and select tow that I found to have the best structure, and had a strong aroma when rubbing the stem. For structure I went with short, and bushy. This is because I mainly grow indoors, and short, and bushy is ideal for this environment. One male was a F2 Mac and Cheese, and another was a F1 Banana Punch x Mac and Cheese(AKA Big Mack). I then made a F2 Banana Punch x Mac and Cheese, also a BX1 with the Mac and Cheese x (Banana Punch x Mac and Cheese), AKA BMX. I also crossed the Mac and Cheese male to Silverhaze, but that is being put on hold. Although a buddy is growing one out outdoors, and @loonatic grew one as well, but got a male.
BMX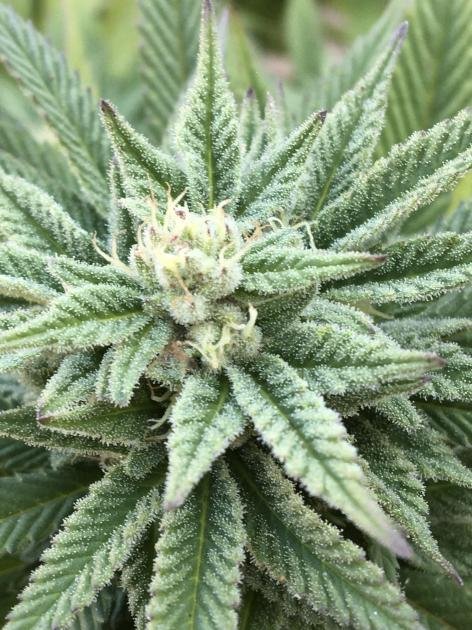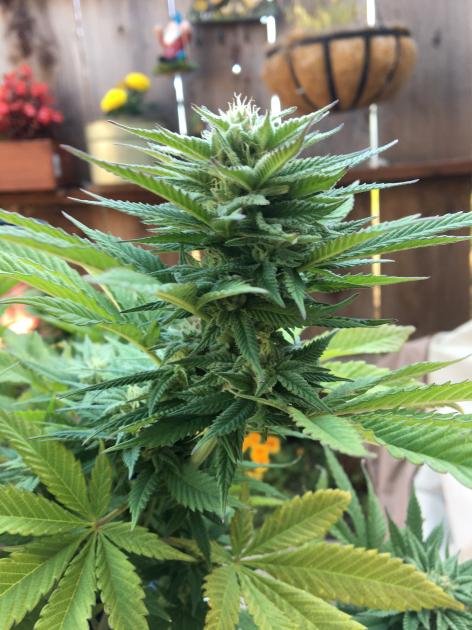 ---
The Bx1, BMX is being grown in my back porch, and is getting light depravation to induce flowering early, so that way it will finish before the sun stops shining. It is now on day 38. I should get a great idea on the terp profile, but defiantly is not growing to its full potential, since it is getting about 10-11 hours of sun a day. But even then I am happy with it. @cannabisius has grown out a couple BMX, and his are looking great. He also is telling me he really enjoys the buzz. I honestly am not so sure what will become of this BX, but I did use a male of it to pollinate an all star pheno of the Big Mack. That one will be the back bone of this breeding project.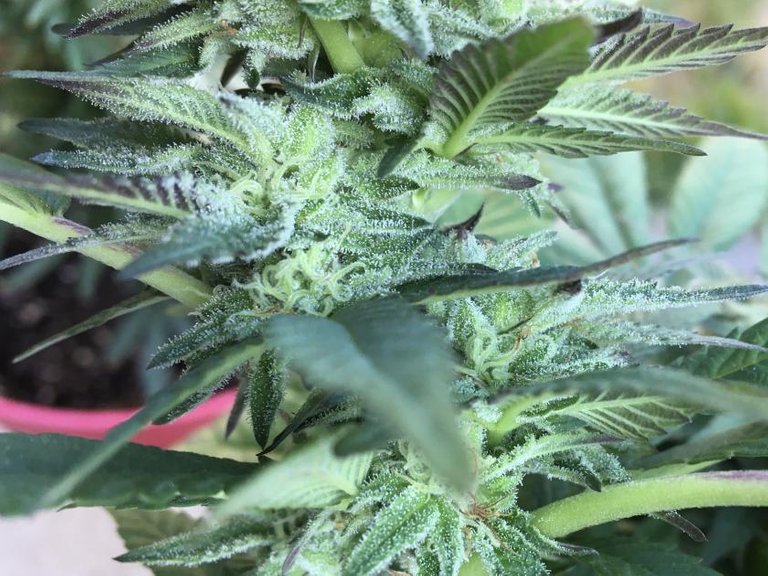 Bottom shot of the pregnant Big Mack
Seeds will be limited, but I will send out some to say thank you to everyone who is growing The Big Mack. So happy to bring this Big Mack F1 back from the dead, for when I decided to F2 this line, I did not know what I had until it was to late. This was when I was having issues with low humidity, and two plants that I cloned, and killed where the all stars. Just look at all the trichome production, and even when it is seeded!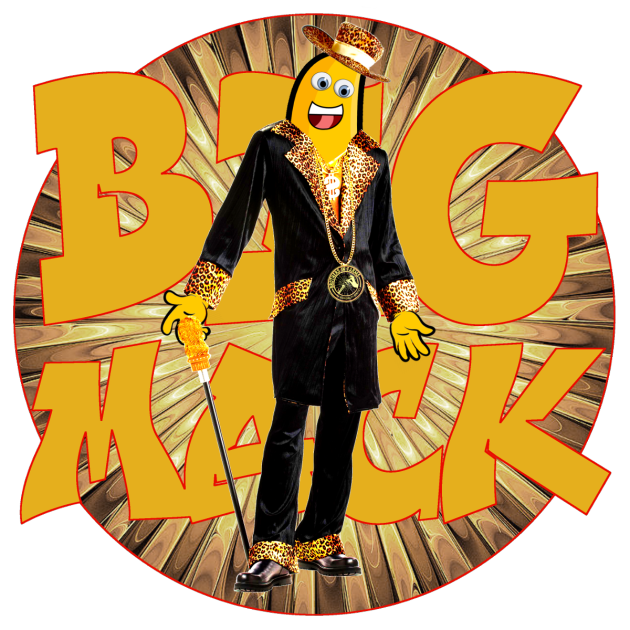 The Blue Pheno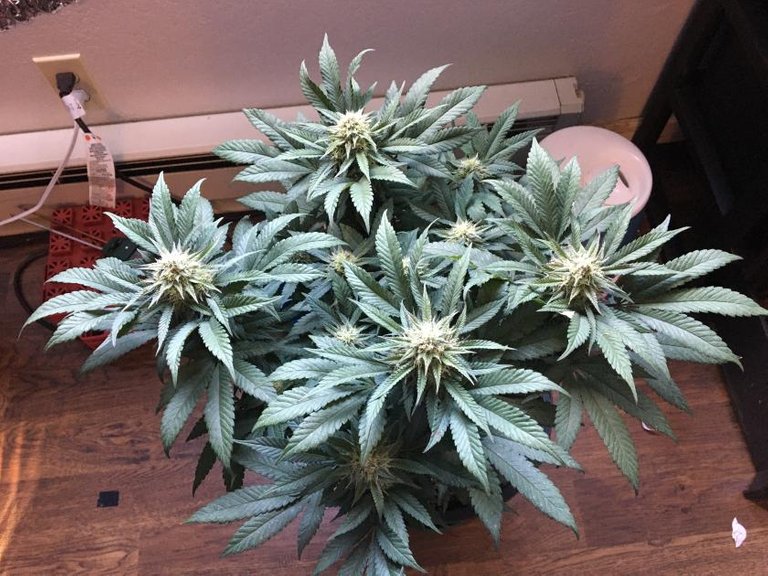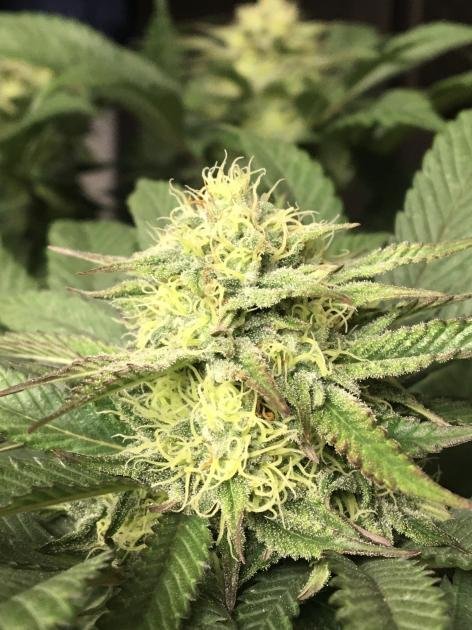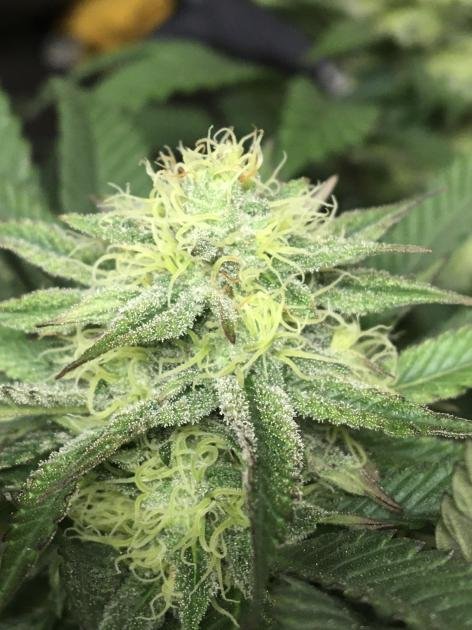 ---
Here is one of my Big Mack F2, I have dubbed this one the Blue Pheno due to its blueish green appearance. I apologize for my shitty photo quality. This one is just impressive. Loving everything about this cut. The terp profile is just so complex. It is so much like one of the All star F1's. The way I describe it is a fruit bowl that has sit in the hot sun all day, with bananas as the center piece.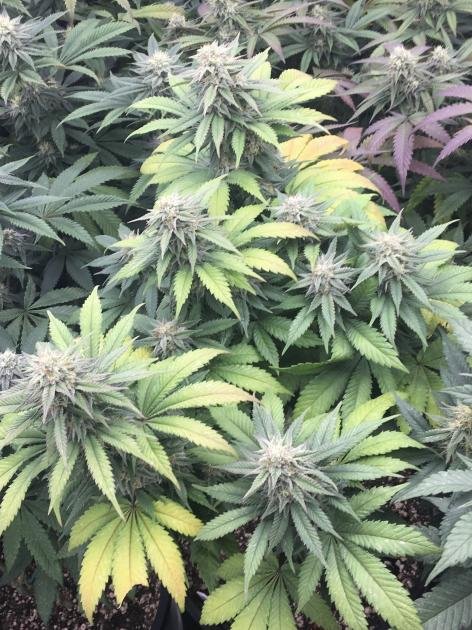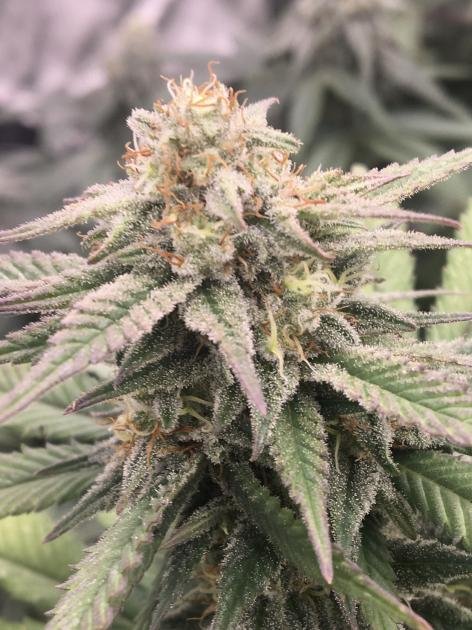 ---
Here is the other pheno of the F2 BM. This one is almost identical to structure, but is vastly different. The terp profile on this is black licorice, with rotten bananas. Very complex, and deep. This one is starting to get that fade that was so unique about the F1 BM. This is in a 1 gallon pot, so there is a few things going on, but it is still rocking, and it is going to be looking like fall in Vermont up in this tent here soon!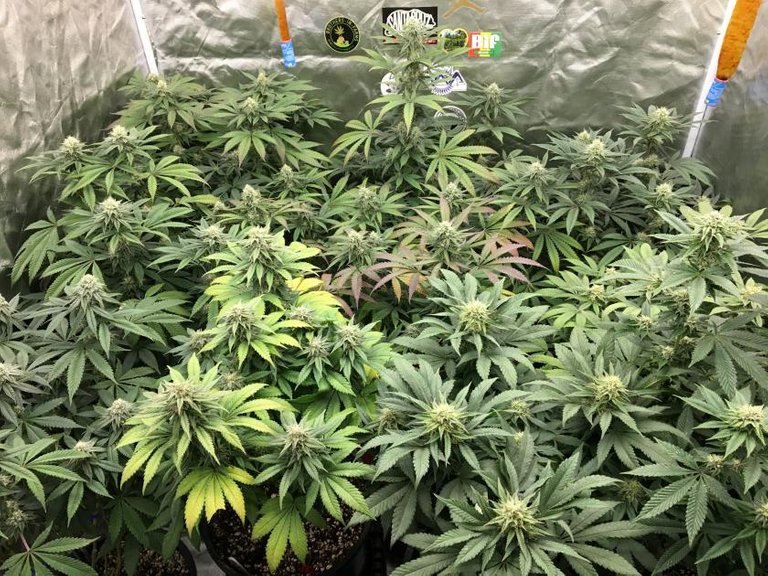 So many flavors, and so many colors! Lots of learning going down as well. Already planning the next round, and how I will be going about it. But for sure will be sticking with what I am doing, but only with a few tweaks, and adjustments. But we will save that for a post in a few months, ;)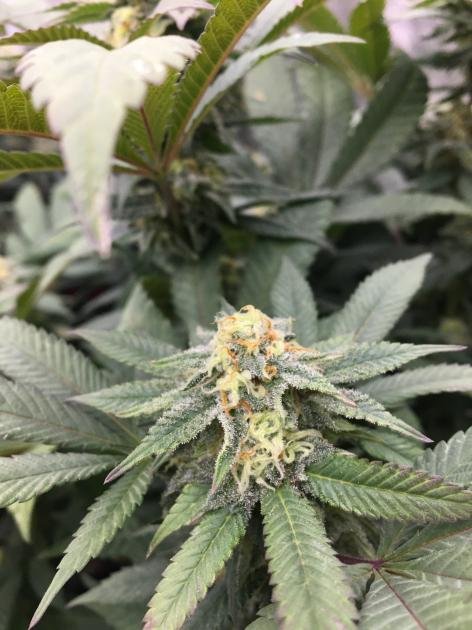 The MVP of the All-Stars, F1 BM
Dirty Little Secret in the front, and Helena x PBB in the back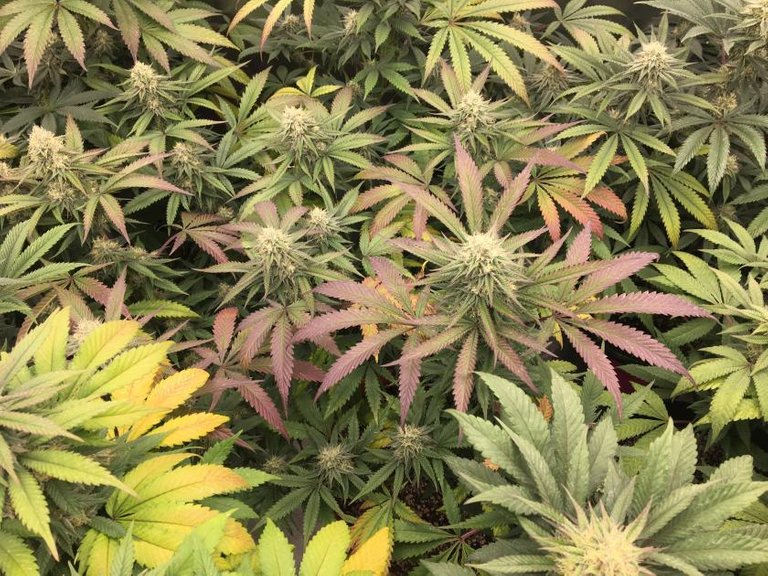 My #5gallonchallenge contender getting that purple fade! Oh and I am getting a sweet gas terp profile!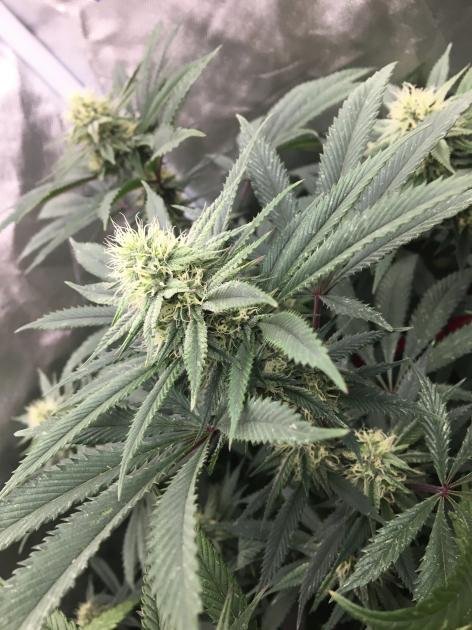 Don't tell anybody, but this is my Dirty Little Secret, SSSH
Oh and you know I have been doing a little research on the pest issue I had. I always thought these where Thrips, which possible they are, but after seeing what @drutter, and @futuremind has going on, I am not so sure.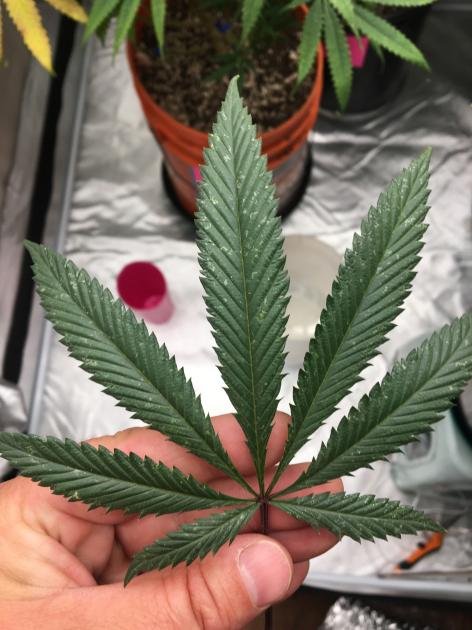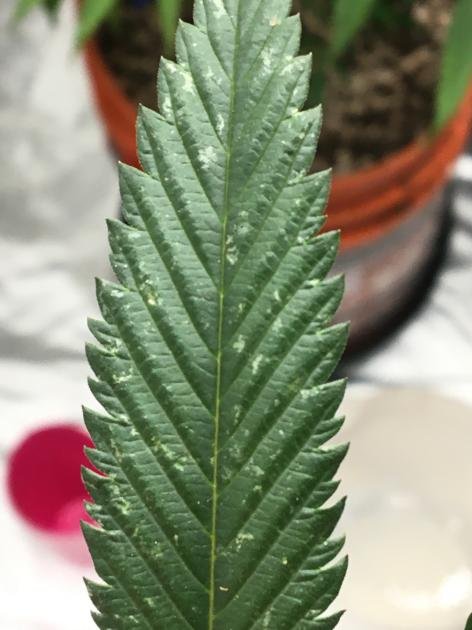 ---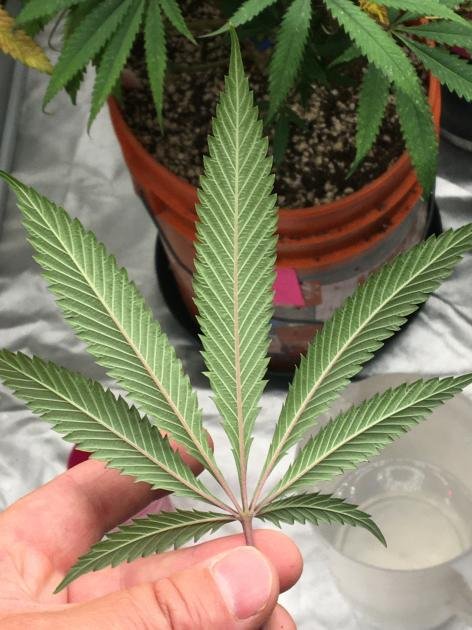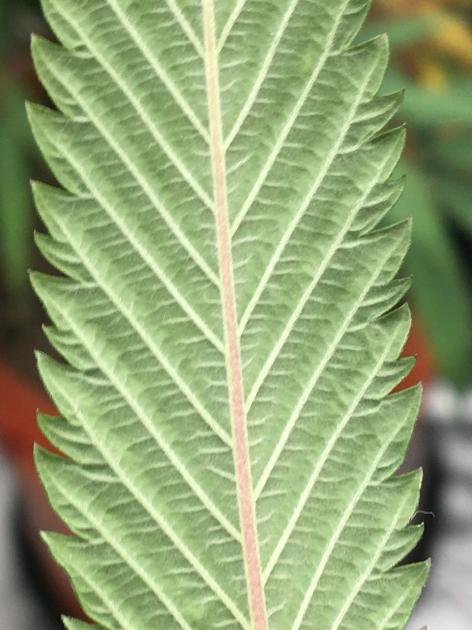 ---
I have the specs on the front of my leaves, but bottom look untouched. Is it possible by spraying with Doctor Enzymes, and Green Cleaner before flip, and a coupe times at the start of flower did the trick before they got out of hand? Not sure, but I do know they are no longer an issue, and every now, and then I will see one, and when I do I smash it with my fingers. Whatever they are, this is something I have to think about next round. Prevention is the best repellent, and having an IPM regiment is a must. There are many great products out there, and even other bugs you can use, But that is a method I will not employ again, at least indoor.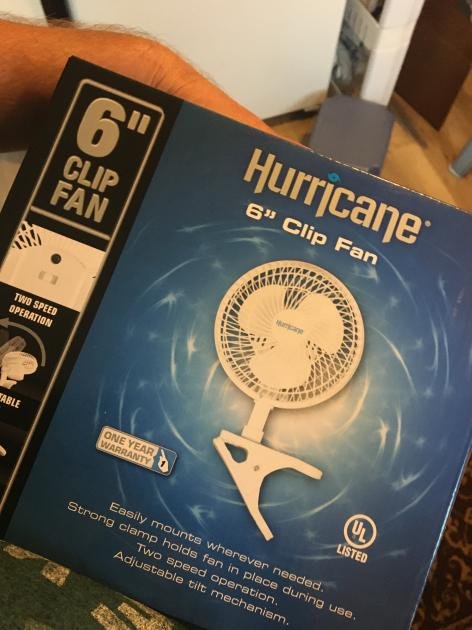 My new fan arrived!
Well that is all for this update. All I am really worried about now is keeping humidity down, and air flow up. Really getting excited, and nervous. With a packed house, so many things can go wrong. But I have some great air flow, and humidity is staying in the 46-50 range, but sometimes getting to 54%. Thanks for reading :)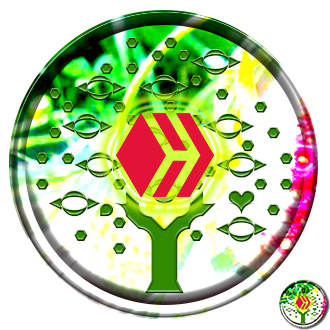 ---
---