Tent Update: HARVEST!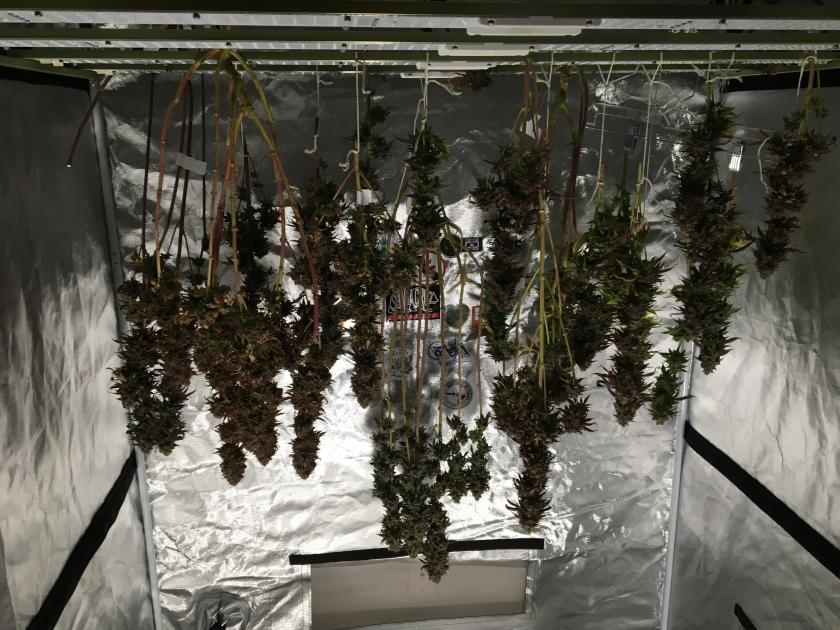 What's good Weed Nerds? Seemed like a long week for me, so glad it is Friday! The weather here has been getting real nice, but it is a trip since at the start of the week I was freezing my ass off, now I am sweating my ass off. But the timing is perfect, since I have decided to harvest all the plants in my tent. After 67 days of flower, I called it, and did them all at once. It was time, and it is time to get started on the next round.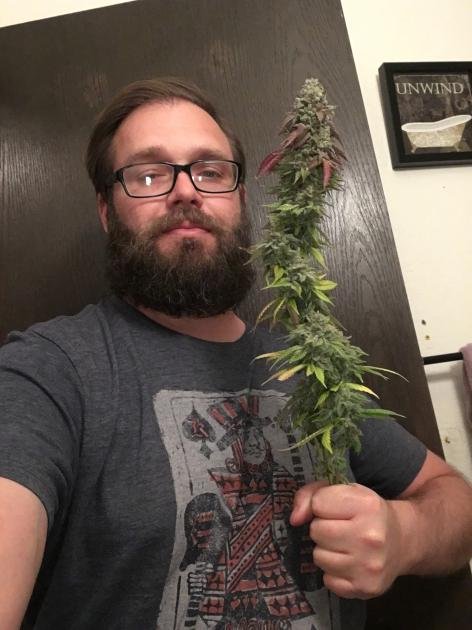 Yes I am very happy with this round of growing!
Mistakes where made, and the full potential was not realized. Though I prevailed, and learned a little. However most mistake where rookie ones, and also from not staying on top of the ball like I should of. Overall, this crop is a success, and I would not be surprised if I do harvest more then last.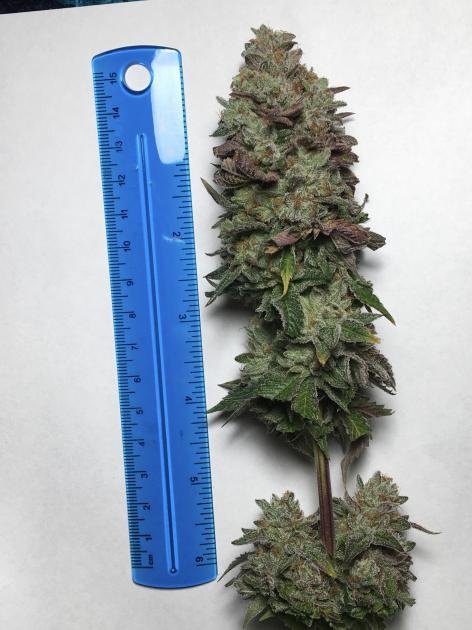 A La Kush Cake cola
Another thing that is up, is quality. What is down, is the larf. Those two things really motivates me. There have been past grows where they where worse then the last, and that is not what you want to see. Moving forward, and evolving is key to anything that you want to get better at. I am sure the homies at @skatehive can relate. One week your ollie is 8 inches, but the next its 12. Same thing with cannabis. But this is usually measured with gram per watt, and quality.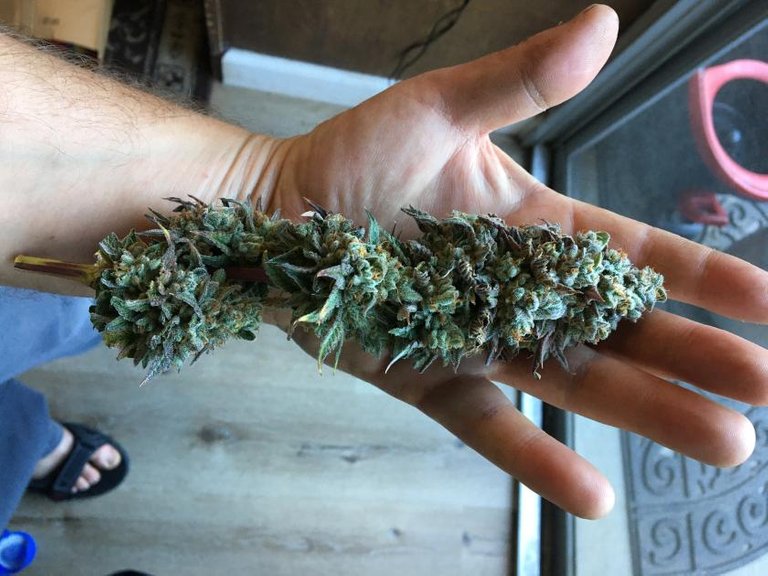 Bottom branch of a La Kush Cake
Let's talk a little why I am happy to see less larf. Larf is the lowest flowers on the plant, therefore get the least amount of light. You might ask, "What is wrong with larf?" It sucks to trim, and it takes away valuable energy to the buds on top. This round of grow I did not fill up the Canopy as much as last, and it is possible I will be getting more grams per watt this round. It is because I did a better job at 'lollipoping', and I had the light lower on the plants. So the fact that I have less larf, and more full buds is going to give me a better gram per watt ratio.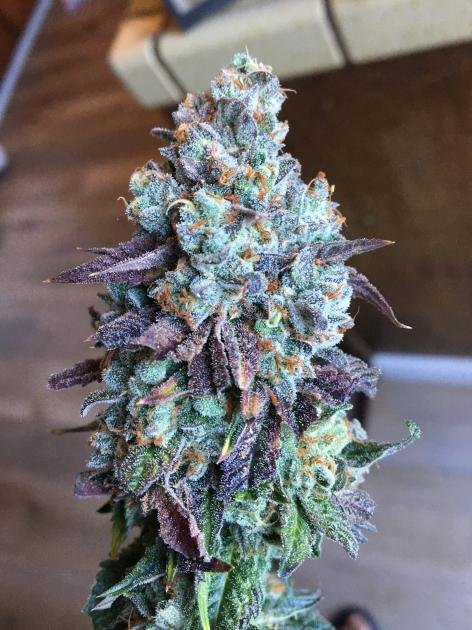 ---
The La Kush Cake is by far probably the best out of the bunch IMO. I just love strains like this! Thanks again @lacausa for these Jungle Boys seeds! I wish I had the area to clone, so I could keep this fire around. But judging by the looks, I am going to have at least a few ounces to myself.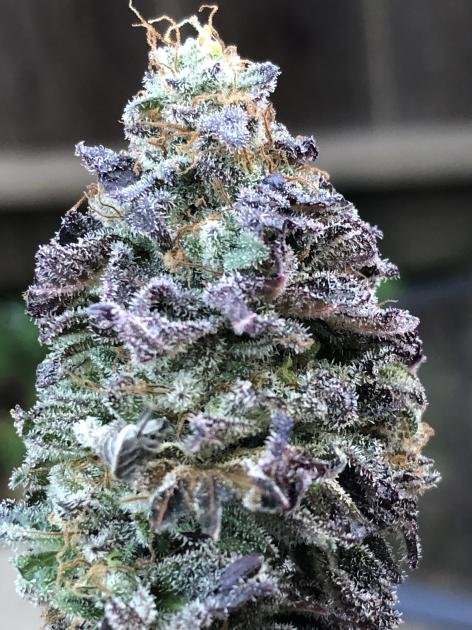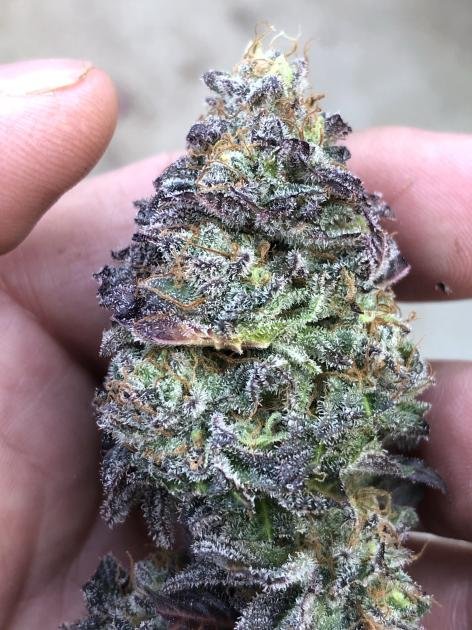 ---
My second, and that is a close second favorite is the Sensimilla Miracle Mack. You all know I am a sucker for purple strains. This one has surprised me. The mother flower that was grown out on my balcony a while back did not get as purple as the one indoors. The leaves did, but the flowers did not. It smelled like apricots. This one has got some nice hues of purple, and to me smells like grape soda! My wife says blueberries. I would love to know a Master Sommelier so they can come in and tell me exactly what they pick up. But defiantly got a Purple strain on my hands. After all this is a cross with Purple Punch in its lineage. Maybe the miracle is just that. It reverted back to one of it's parents, lol
More Miracle Mack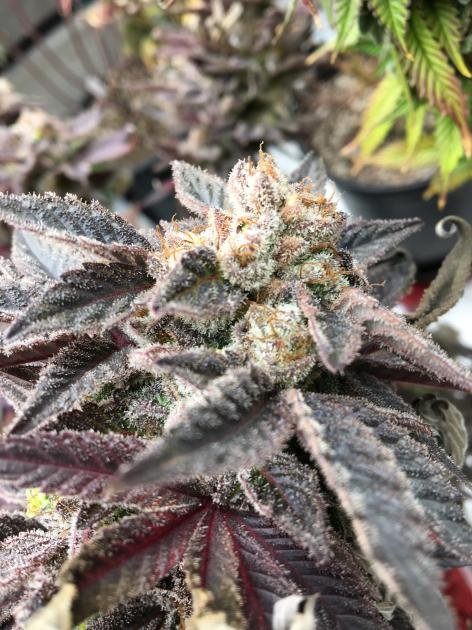 The pregnant Miracle Mack
I do have to say the pregnant Miracle Mack looked far more sexier then the Sensimilla version. I wonder if it had something to do with starting the first 2 weeks of flower in the sun? Then not to mention is had to tuff out colder weather as well. This is one reason why I want to do the HPS for flower next round. Just to see how different it is. Should make for an interesting post series as well.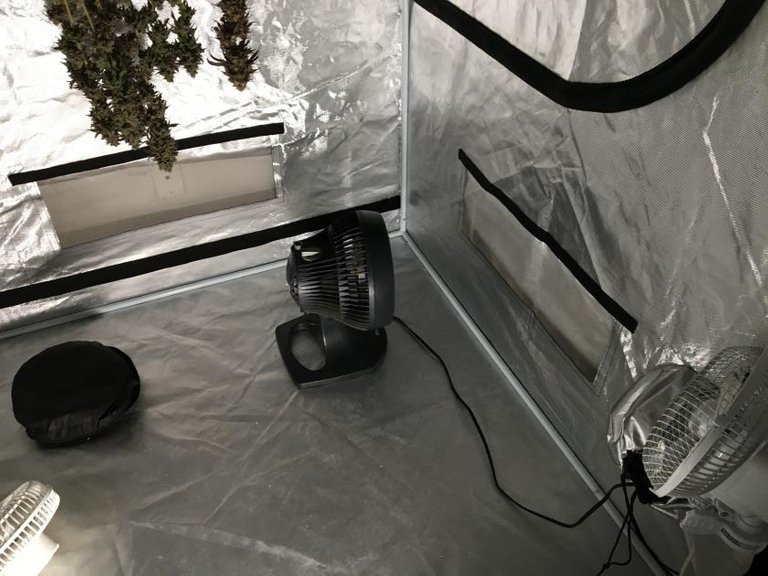 I have a fan blowing indirectly from the hanging buds
So I decided to cut all of the plants at the same time so I could use the tent as my dry room. Last time when I used the closet, I had a couple branches get mold due to stagnant air. I so thought I had a perfect area too! It was nice cutting down a plant at a time. Believe me, I love taking my time. Like last night I felled so rush. I really wish I would of waited for tonight, and I could of took my time. Oh well, I will go back in to do a few touch ups though.
I am mixing it up this round. I am doing a whole plant hang with a my Big Mack Superstars, which I did not take pics of, but can't wait to show you the cured product, and I should have my new phone by then! Also the Sunday Driver x Slurrycake's from @bifbeans. Then I did a partial wet trim with the remainder of the plants, and have them in the dry rack.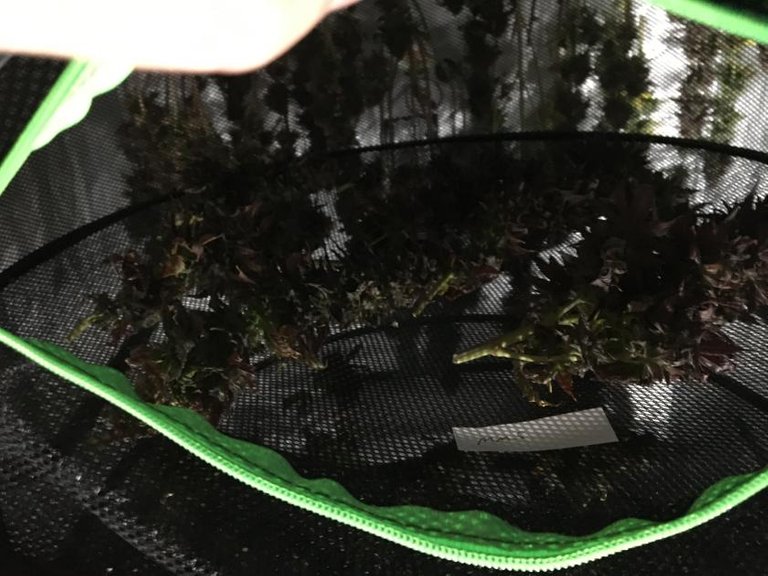 And yes, each level is full!
Ahhhh! What a relief. So happy to have this round over with. Staring from seed is a bitch. But yeah it is worth it. But I need a break. Which is why I will be starting from clone next round. Living in California has it's perks. I have access to some great genetics in clone form. You all know I always talk about the Grape Ape, but now they have Cali Sour D, and then one that I would rather grow then any of these, Apple Fritter. Please Shiba, please I pray to you that these are in stock the time I go pick up my cuts! Until next time my friends, I have some sitting, and watching the grass grow to do, PEACE!




---
---