Tent Update: Gnat Infestation!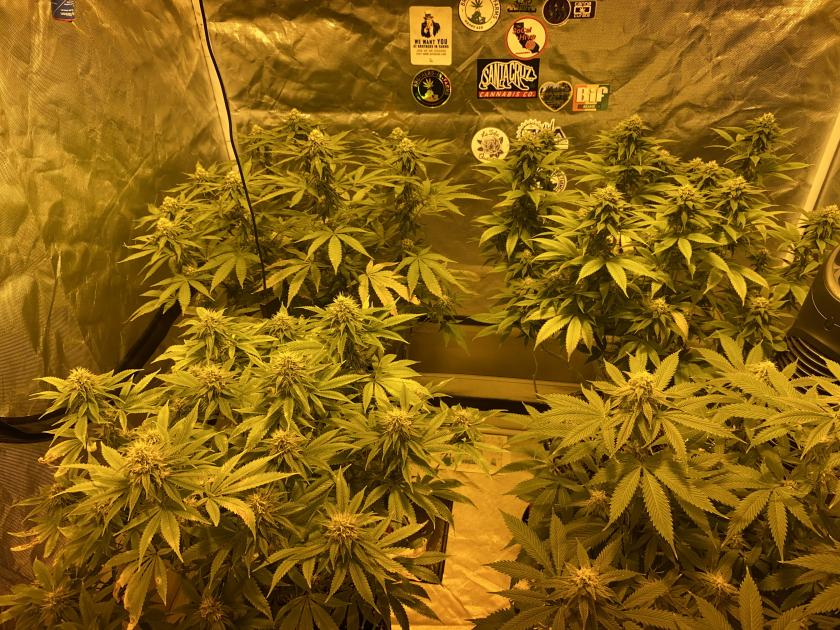 What's good Weed Nerds? Bear market got you down? Well look on the bright side, we probably will never see prices this low again! Then on the other side of the coin, we are making crypto for talking about stuff we love. It don't get better then that. I wake up every day grateful for this place. Which is why I spend a lot of time trying to spread the word, so we can share the wealth. It is crazy how people would rather spend their time helping others get rich. It is what it is. Something you all know I say a lot. But it's true.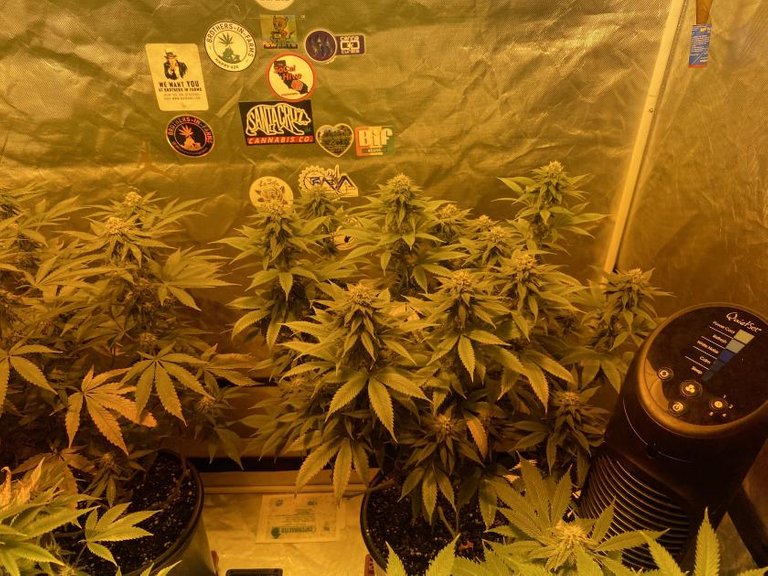 ---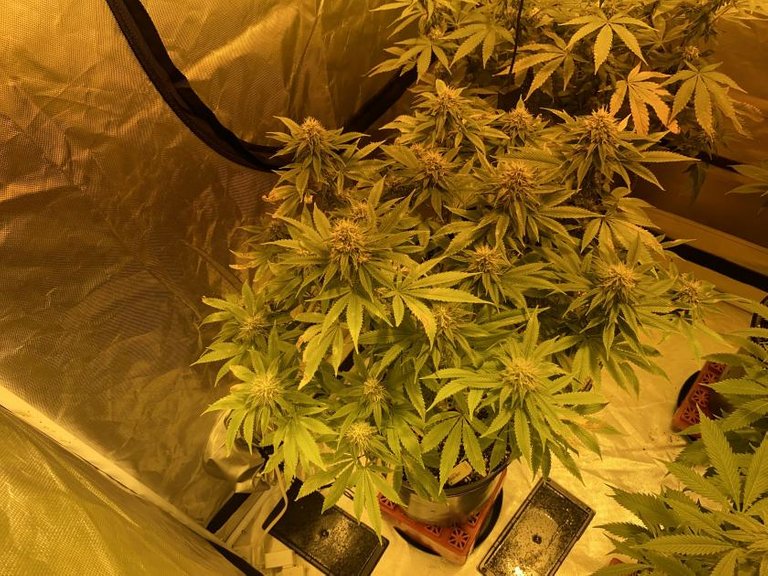 ---
It has been 6 days since my last update, which brings me at the 39 day check point.
Strains pictured from left to right:

It has been a bumpy ride the past week due to a gnarly Gnat infestation. I had to spray the top 2 inches of the soil with Green Cleaner, which did not do much of anything except most likely killed some beneficial bacteria. Which has brought on some yellow spots on the Larrys Breath, and Knights Templar. At least I suspect. But this Gnat problem is the worse I ever had, and the culprit is the Compost I added. But if I had to do it all over again I would! The only thing I would do differently, is the way I am handling this infestation.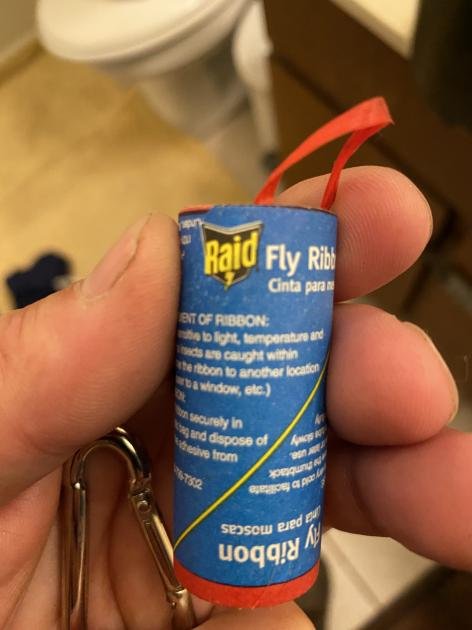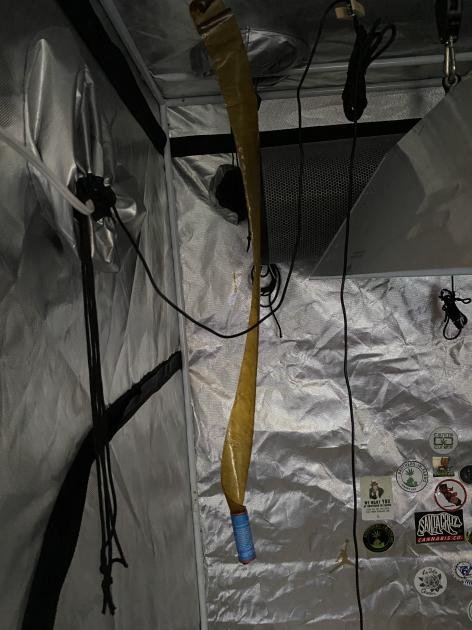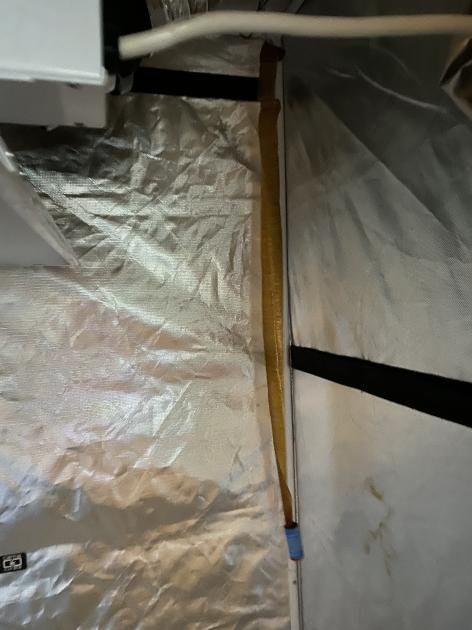 ---
a few days ago I pulled out all the plants(this is where I am relieved that I did not add a trellis). Then cleaned, and disinfected the whole tent. I then added some hanging sticky traps on each side of the tent, something that I highly recommend you have up at the very start. I have to admit, I was a little lazy, and cocky by not adding this before hand.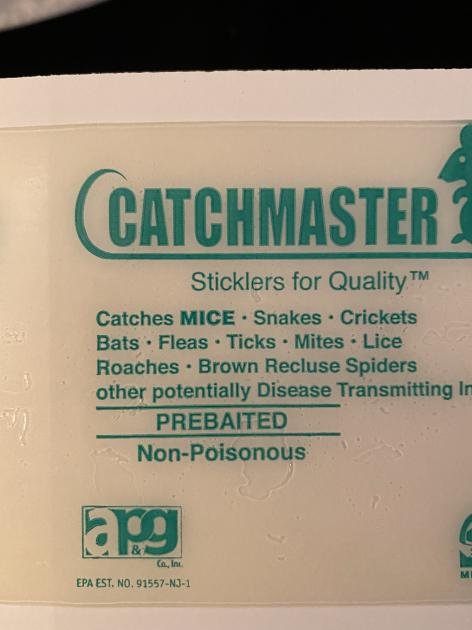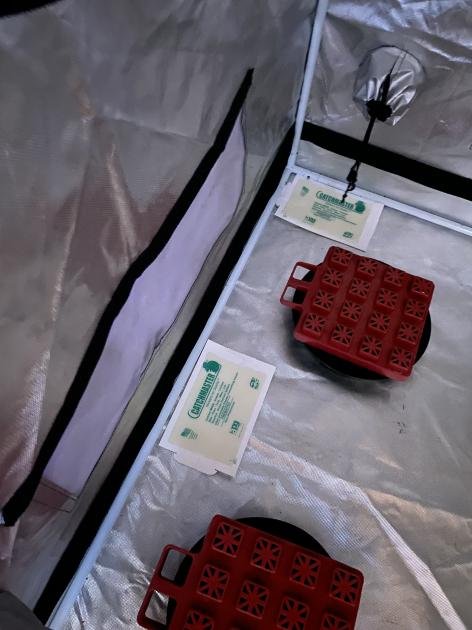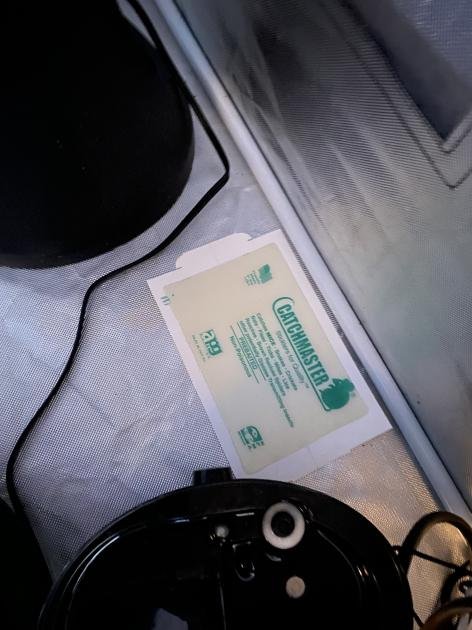 ---
I did have some sticky traps on the floor though, but this infestation calls for a 'Shit Load' of them. So I placed a good bit in various places of the tent. This traps are also something I highly recommend you have in your tent. They are cheap, and effective. You could even put them on the base of your plants if needed.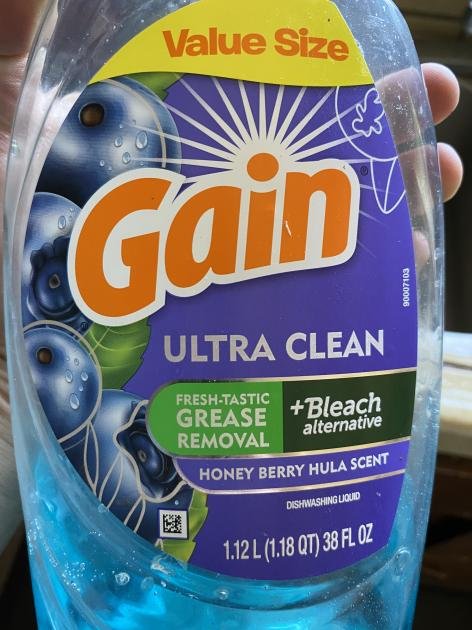 ---
Here is an another all natural way to combat Fungus Gnats. Pour a 1/4 cup of Apple Cider Vinegar into a container, and then add a few drops of dish soap.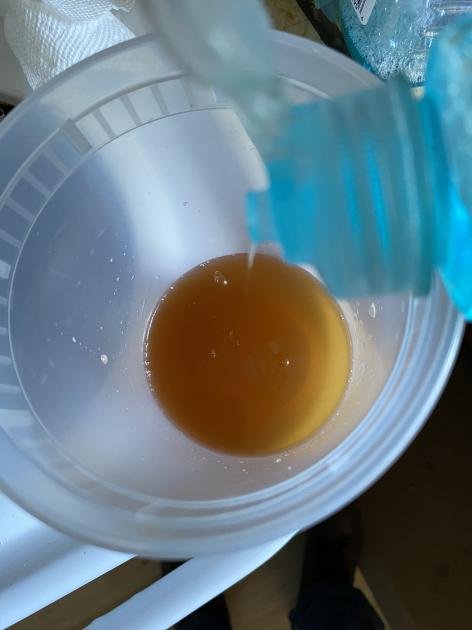 They put a lid, or a plastic baggie over the top, and poke some holes in it(I forgot this step). This will attract the Gnats, and trap them.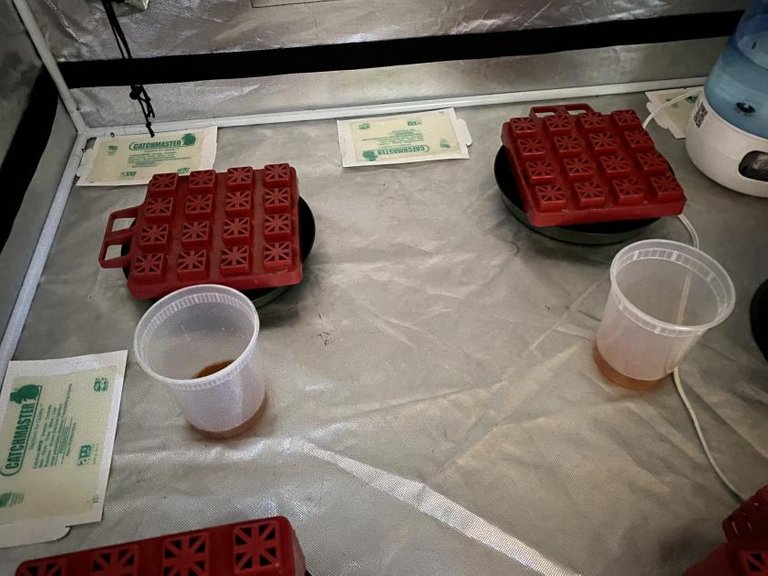 I placed them in the middle of tent. Even though I missed the part of added the top to trap them, I did manage to catch a good bit. However when I realized I missed a step, after adding the top, there was more Gnats in the cup.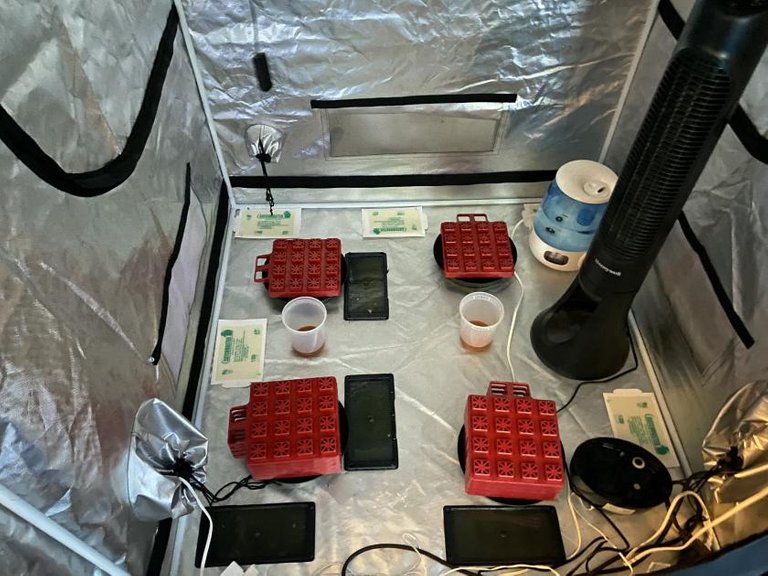 Ok so I set up the traps. Now what about the actually soil where they live, and lay their eggs? Like I said before I sprayed the Green Cleaner, which I wish I did not do. After all Gnats are not harming my plants, and are just more annoying then anything. However they can be detrimental to younger plants, especially seedlings. Even though I am at the half way mark to finishing, I believe my situation is something I can not ignore.
In the past I have seen a few members of the community use this product, with great success. This is something I wish I would of done before using the Green Cleaner. After all is is all natural, and is actually beneficial since it is a source of Calcium, and Silica. I am not sure how much of that is bioavailable to the plant, but sure as hell is better then Green Cleaner!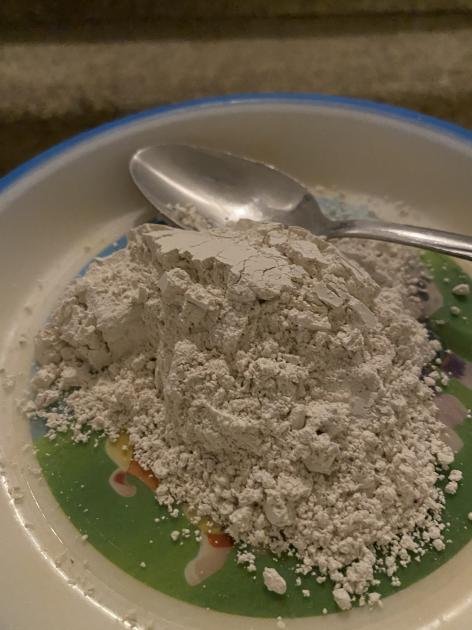 ---
DE is crushed up fossil shells. So on the micro level it is basically shards of glass. For small bugs like Gnats, they get cut up by these shards, and eventually die. I generously applied a layer of it to the top soil, and did not water. I made sure to do that before hand, so that way the Gnats would land in it, and get cut up. So did it work?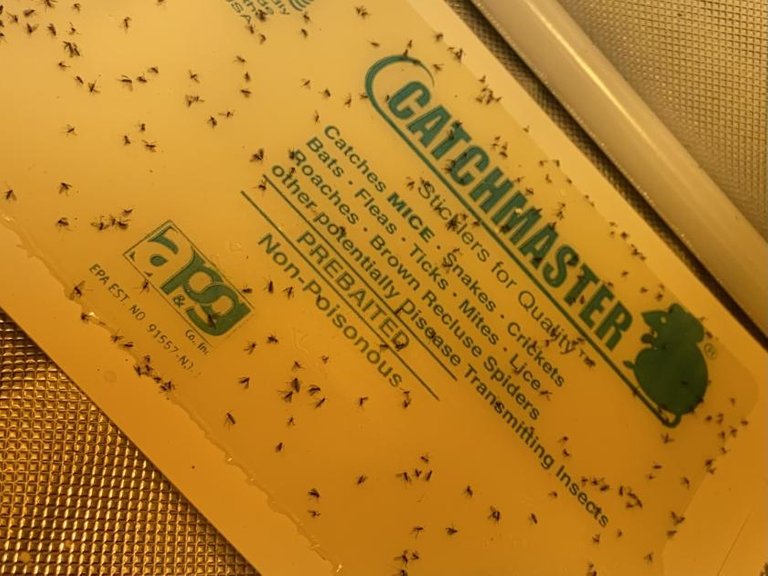 I am happy to say all my efforts has helped tremendously! They are still around, but not as much as before. I notice they are flying around more, which before hand they where chilling more. So this tells me they do not want to land in the soil, and hopefully are dying. The plants are looking great, minus the Knights Templar. Although the buds are coming in nice. My # Gallon Grow Challenge Contender is looking pristine. Not sure the harvest will amount to much, but that really does not matter.
The whole point of the Grow Challenge is to give us all a goal that we can reach for together. It is also something that adds some fun, and excitement to the community. But most of all, it is a call to grow! Growing your own medicine, food, or even something for looks is very empowering, and rewarding. I said above I want to share the wealth of my stake with everyone, but I also want to share the gift of growing. Thanks a lot for reading, and I hope this post can help you if you ever have any Gnats. If anyone has any tips they want to share, please comment below!



Posted using WeedCash Network
---
---