Tent Update: A New Year, Same Goal. To Grow Fire!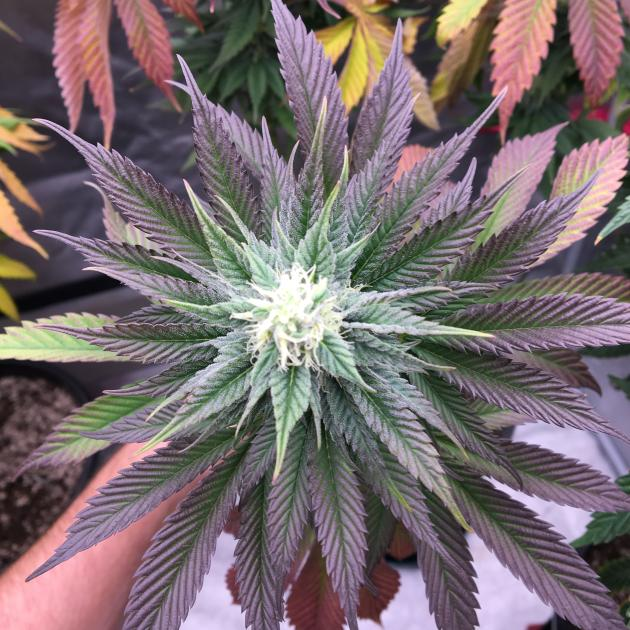 Big Mack Superstar
Happy New Years Weed Nerds! A New Year, a new day. The hustle continues. Growing cannabis has it's ups, and downs. This grow started off great. Then things started to look down. Then all of a sudden I was felling more optimistic, then soon after that it was MEH. Really it was just 1 week of fucking up that did some considerable damage. But after 30 days of a 12 hours on, and hours off light cycle, I am confident that I will have a strong finish, and even felling optimistic that I will harvest more then I did last grow, which a little over 1 pound of Sensimillia. But then again I do have one plant that is pregnant, and I will not be counting that one toward final weight.

I am not much of a resolutions person, but after writing the above paragraph I have came up with one. To break 2 pounds of Sensimillia in my 4x4 tent. What about you? Let's do something just for the sake of fun. If you are a grower, what is your goals for this year? Please comment below. If you are not a grower how about you make that step, and start a new grow this year? If you need seeds, you can now use your Hive to purchase from Bifbeans. Or if you are unable, we can work something out. I want to see more growers here on the Chain. If this interests you, comment below.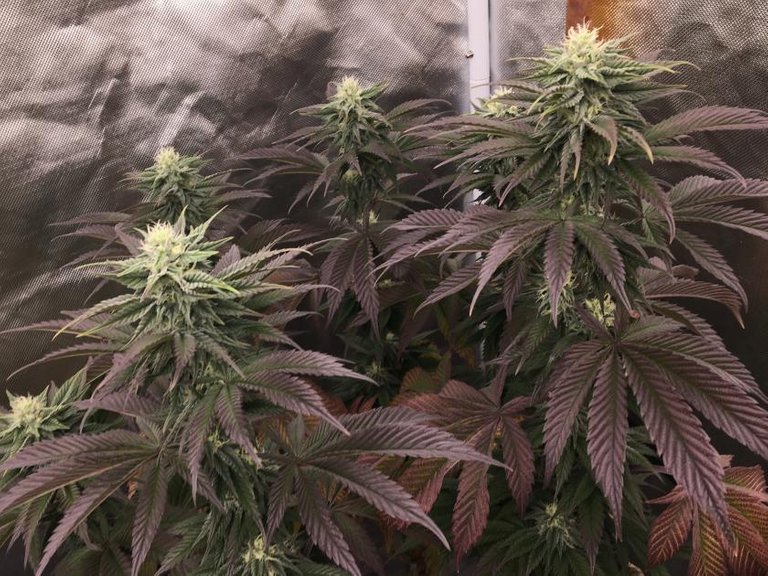 Big Mack Superstar
If you are intimated, don't be! Like I said above, there will be ups, and downs. There is a learning curve, and mistakes are great teachers. We have great growers here that are happy to help, and point you in the right direction. Or even just follow along, and see what they have to say. With Instagram you usually just see 1 picture, but here there is more detail. Then to the guys who are posting, the more detail, the better chances you get with a vote. So keep that in mind.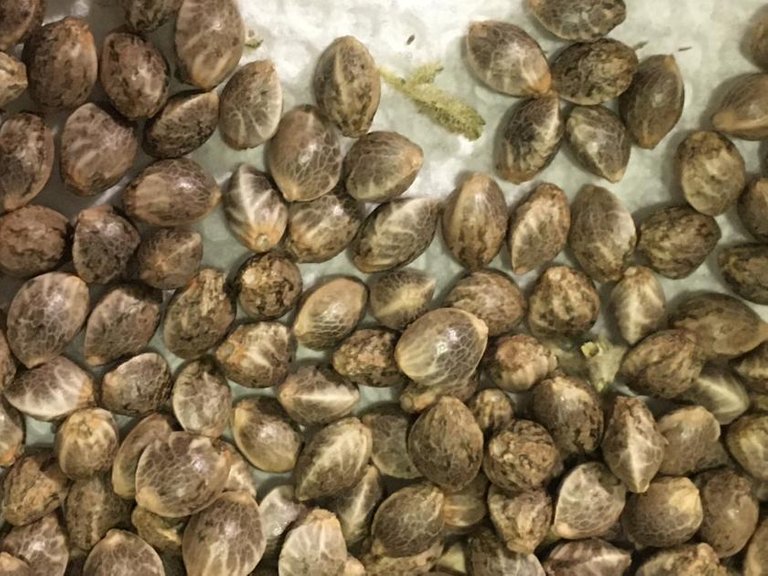 It all starts from 1 seed
Let's take a look at my tent, midway in flower
Strains:
Big Mack Superstar
La Kush Cake from @lacasusa
Miracle Mack(1 Sensimillia, and 1 pollinated)
Grow specs
600 Watt Led Bar Style @90%
Roots Organics 707 Soil
Roots Organics Buddha Grow, and Buddha Bloom
Mammoth P
Mono Silica
Organic Top Dressing in early VEG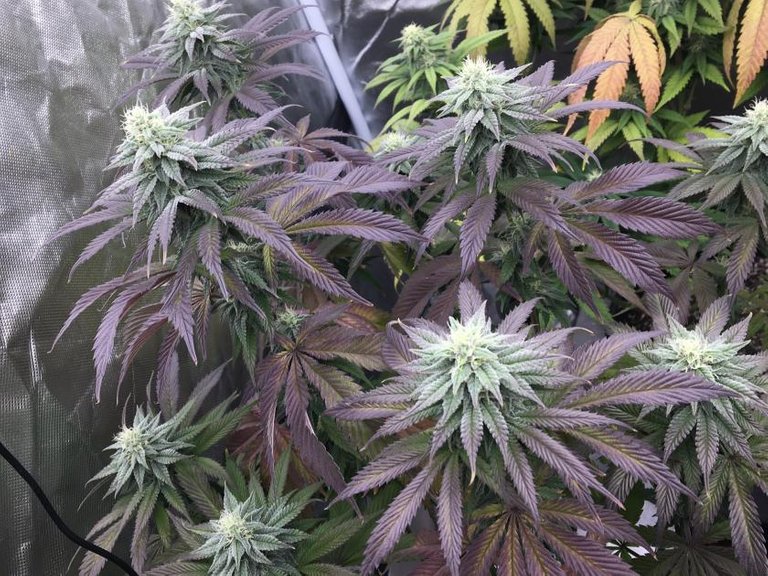 SDxSC, My 2 Gallon Challenge Contender in the @bifbeans Discord
So if you have not noticed already, it is getting colorful up in my tent. The cold days has played a role, along with genetics. Hopefully I see this purple on the buds as well. Although purple buds does not always equal the most potent. But it does usually equal the best bag appeal.

The Big Mack Superstar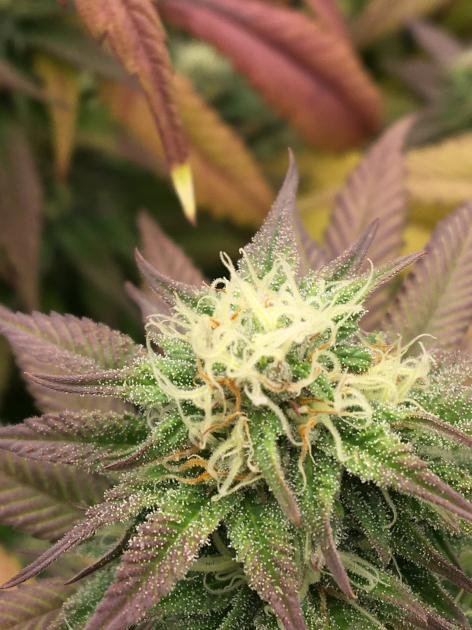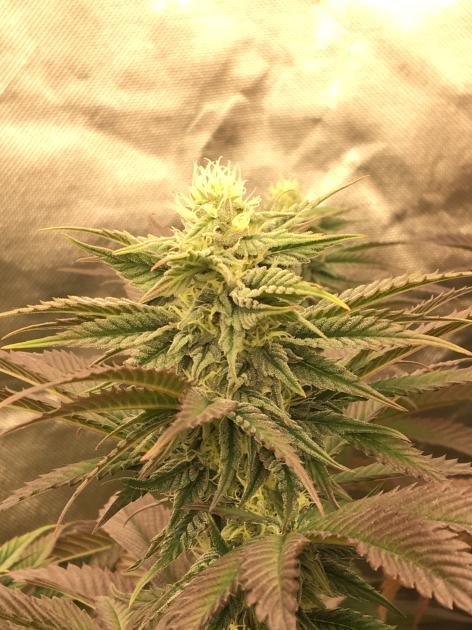 ---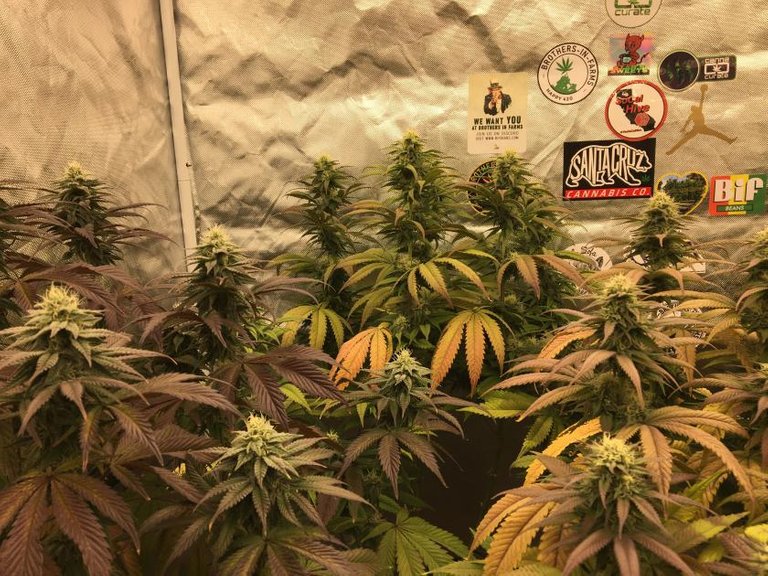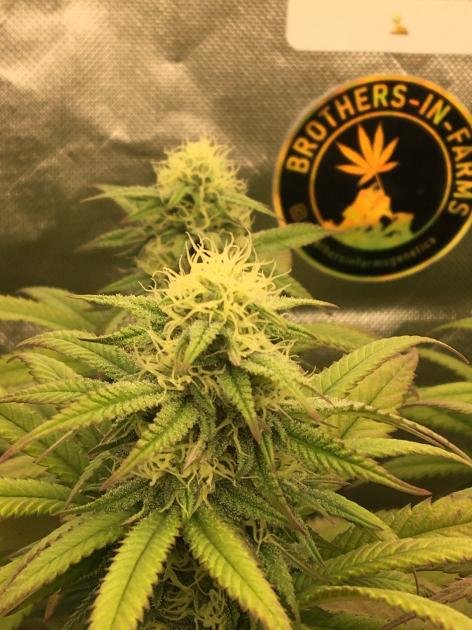 ---
Also don't forget the ones I posted at the start of the post. All together I have 3 phenos, and they are very identical. Only difference is 2 got the most hit with the over water early on, so they are the shittiest out of the tent. If they where doing better, no doubt will they be purple like the one doing great. Bud structure is the same, and as far as terps, it is hard to say how different they are at this point. With that said, I have to say the terps on this are shining bright! Very complex, but it seems strawberry is sticking out the most. Can not wait to get these into the hands of testers, and see what this Superstar does. I promise you will love this strain!

La Kush Cake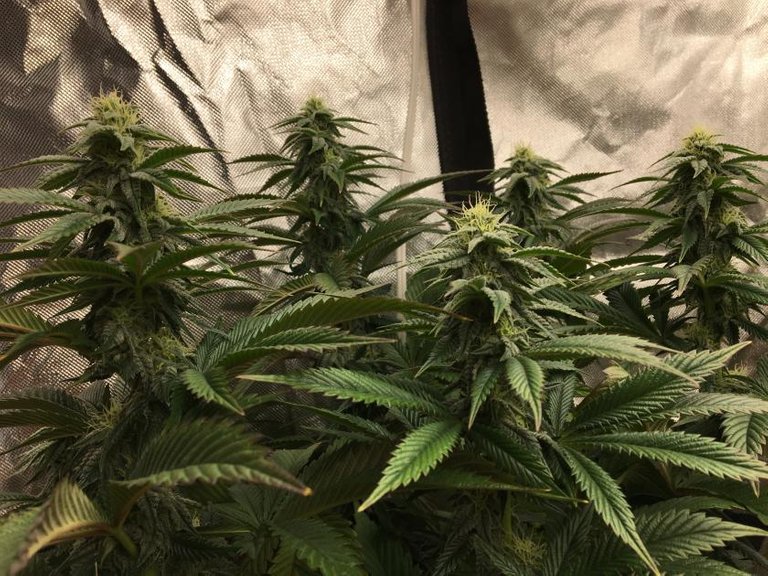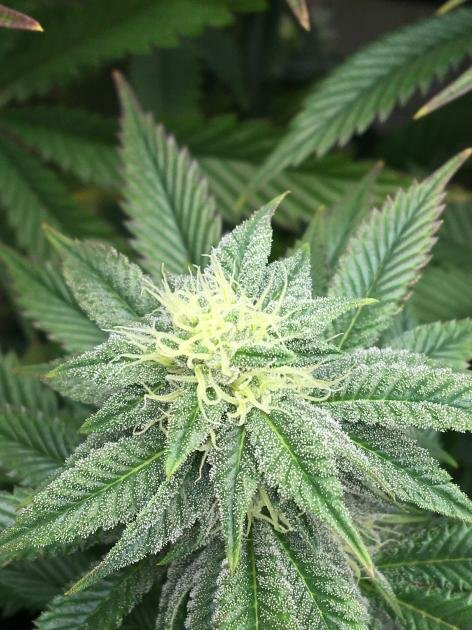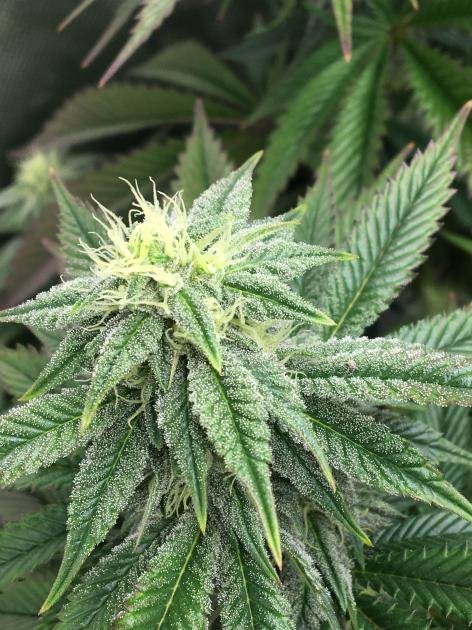 ---
The La Kush Cake, breed by The Jungle Boys, and gifted to me from fellow Weedcasher, @lacausa. This is the one I am the most excited for. Og Kush is my all time favorite strain, so any strain that is comparable are my favorite. The terps are not to crazy yet, but it is starting to show itself more each day. So far I would say it is something comparable to Wedding Cake.

Sunday Driver x SlurryCake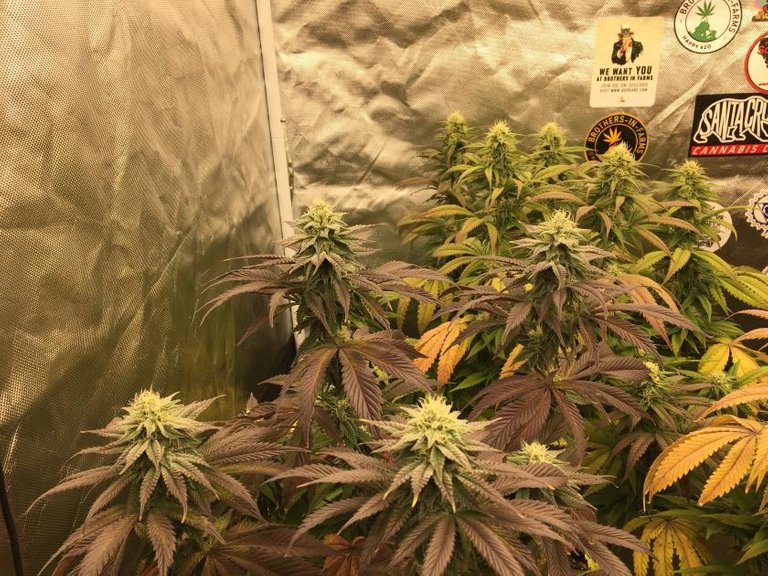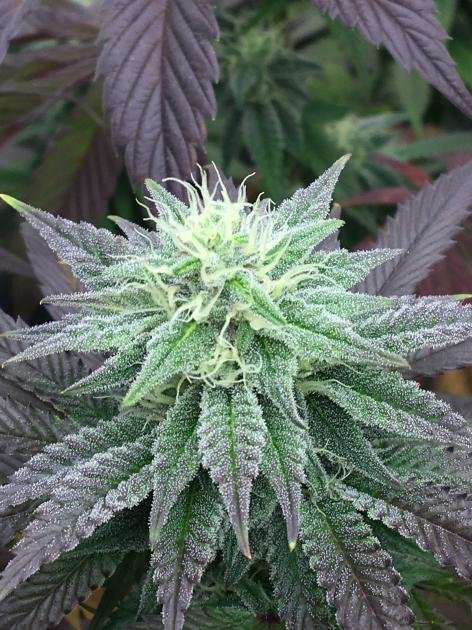 ---
This is my 2 Gallon Challenge contender, and is another strain you can say is comparable to the La Kush Cake. It too is reminding me of Wedding Cake. I am told it is some fire, since this is a @bifbeans community proven strain, there are quite a few people I know who have grown this. It can also be purchased here

Miracle Mack
The pregnant one is on the left, and Sensi on the right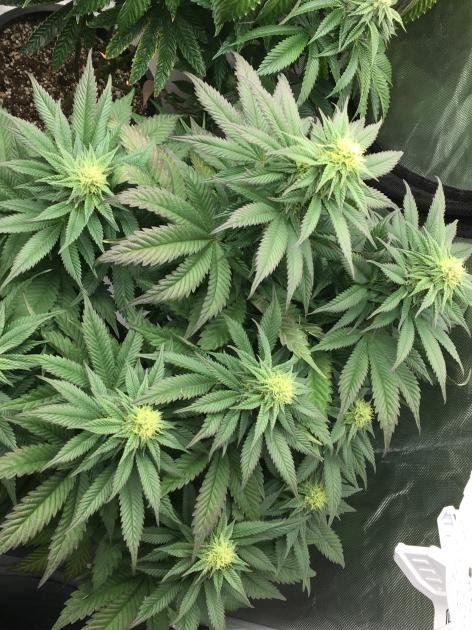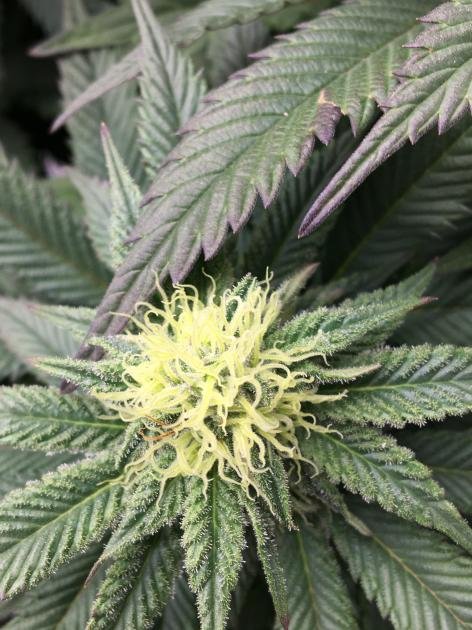 ---
Sensi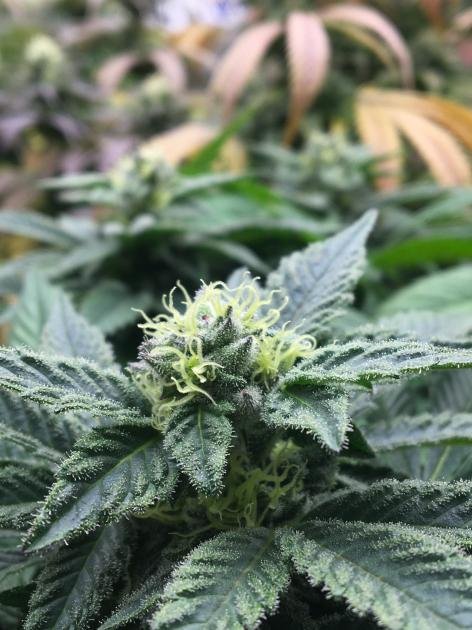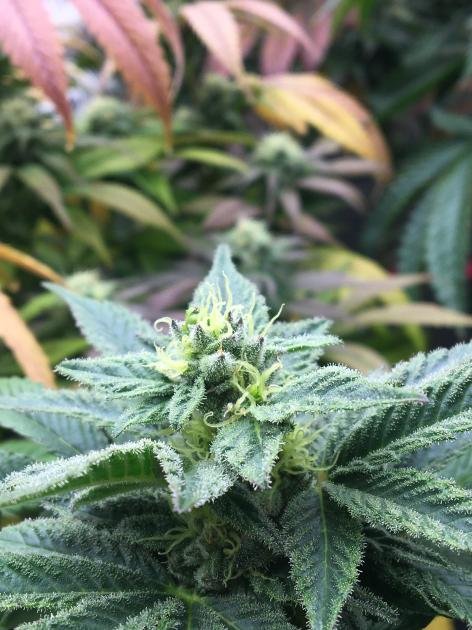 ---
Pregnant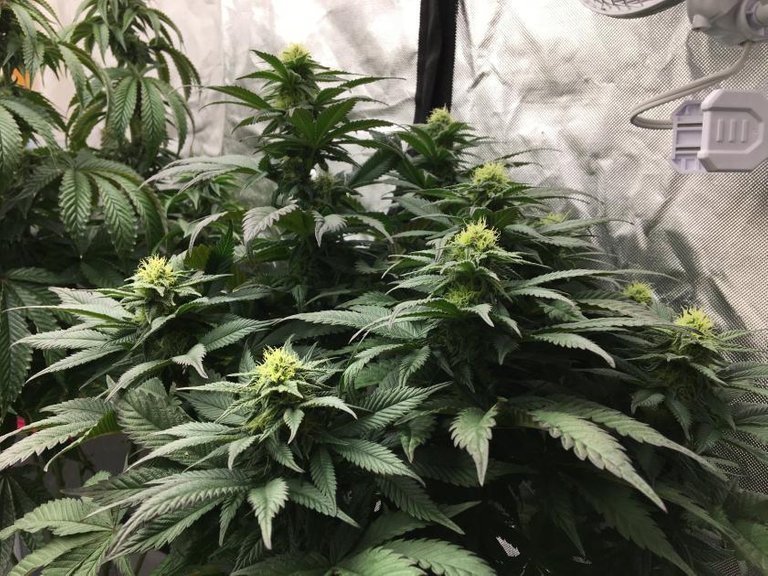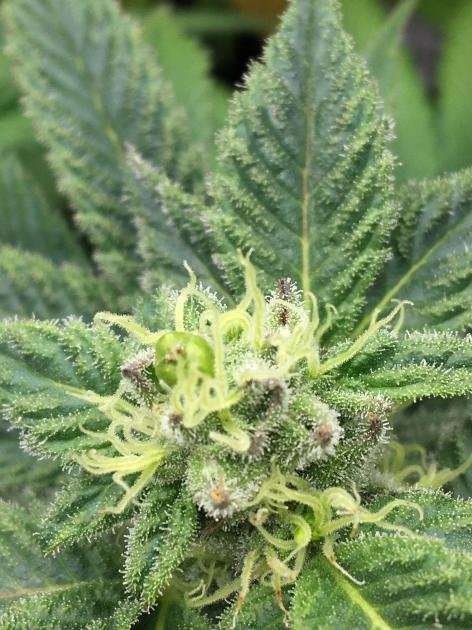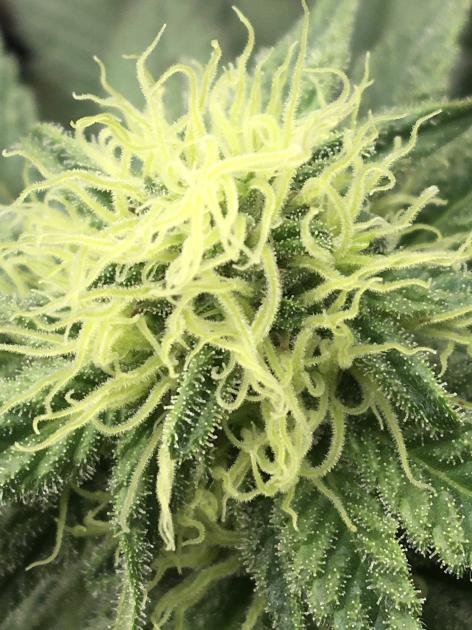 ---
Another side by side. Pregnant on the left, and Sensi on the right
The Miracle Mack is another part of the Big Mack Lineup. But this one is one of a kind. Only 1 seed was produced. It was grown out on my front balcony, but I did manage to Monster Crop two cuts of this Miracle. One I took inside, and had in my tent from the start. The other I left on the balcony in the almost freezing weather to be hit with a Big Mack Superstar Stud. After around 20 days I then sprayed with Dr. Enzymes to deactivate the pollen, and put in the tent. This is going to be my best creation yet! This is a combination of every single female pheno, and every male pheno I have found in the F1 Banana Punch X Mac and Cheese, along with F2 Mac and Cheese. Best part will be seeing you get involved, and help me pheno hunt this fire!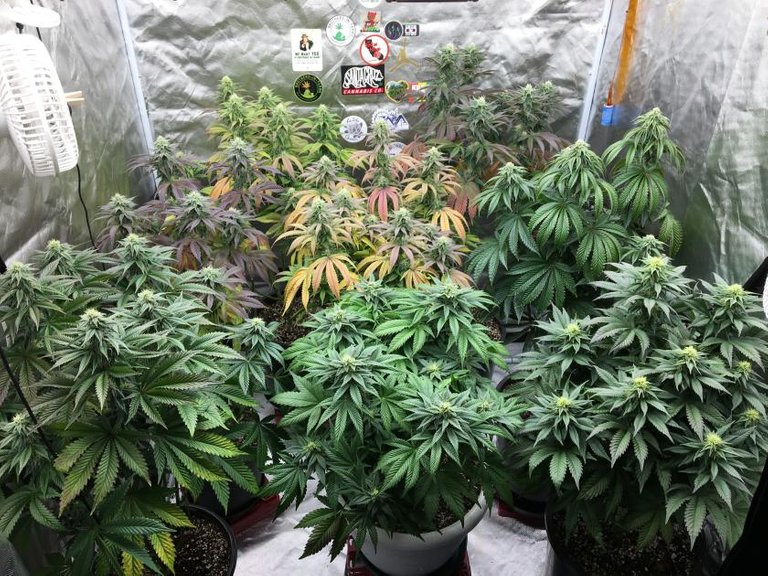 So there you have it. Some doing so-so, some doing great. Overall I have to say I am very happy, and excited to have some new flavors. I estimate I have at least another 30 days to go. My biggest concern is keeping humidity in check at the 50% zone, knock on wood the dehumidifier is doing a great job. Best 50$ I ever spent. Since I got it used a couple years ago, I know the time is coming up for me to get a new one. As long as it holds until the end of this grow, I will be a happy man. Other then that I just got to make sure the ladies are fed, and warm. It can get a little cold. Since we have been having the coldest weather I can remember here on the Coast. Thanks for tuning in, and look forward to the next post! Oh, and if you want to grow the Big Mack Superstar, look out for an announcement for testers, or just hit me up here, or on Discord. Peace!!




---
---