Tent Update: 20 Day Mark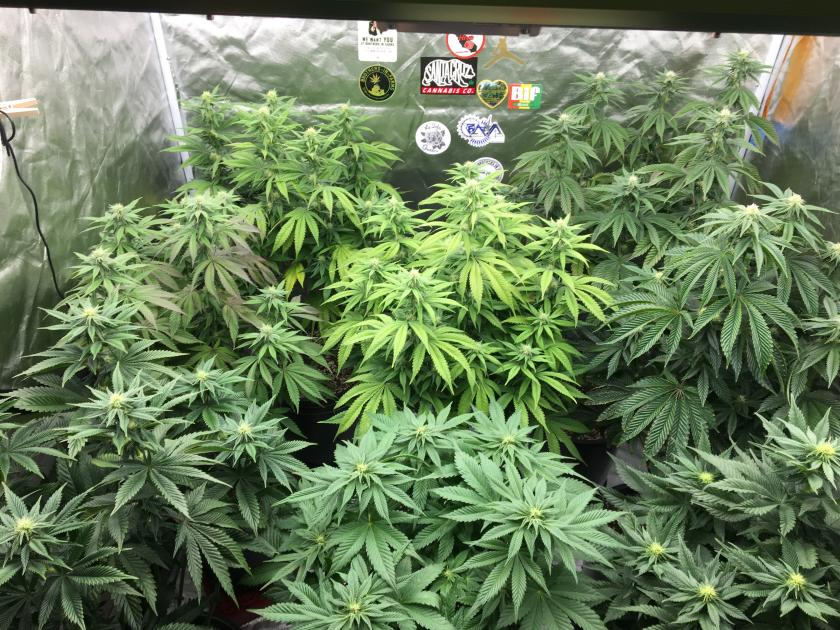 What's up Weed Nerds! Back from a nice break, and sitting here thinking about my next grow. Yes I know it is early, but actually 30ish days is not the far off. As you can see I have some things going on, but over all it does seem they are rebounding from the issues before. The buds are starting to form nice, and these plants are a decent size. Unless you are used to outdoor plants, then these are small ASF! But you know what they say, "It is not the size of the pen, it is how nice you write your name."
Miracle Mack
The Miracle Mack(Banana Punch x Mac and Cheese X Mac and Cheese F2) is showing signs from its mom with her fat white pistols. Also already emitting a lemony scent, that is very hard to miss. I have to say, this one was looking sad the other week, and seeing it pray to the cannabis gods puts a smile on my face.
The pregnant Miracle Mack
The other Miracle Mack, which both are Monster Cropped clones puts a different smile on my face. The smile of knowing the Big Mack lives! This is the plant that was outside, cooped of with a Big Mack Superstar stud. She is very pregnant! It is also cool to see this one right next to the other one, side by side. Same exact plant, but grew up in different environments. The lack of sun the pregnant MM is very obvious.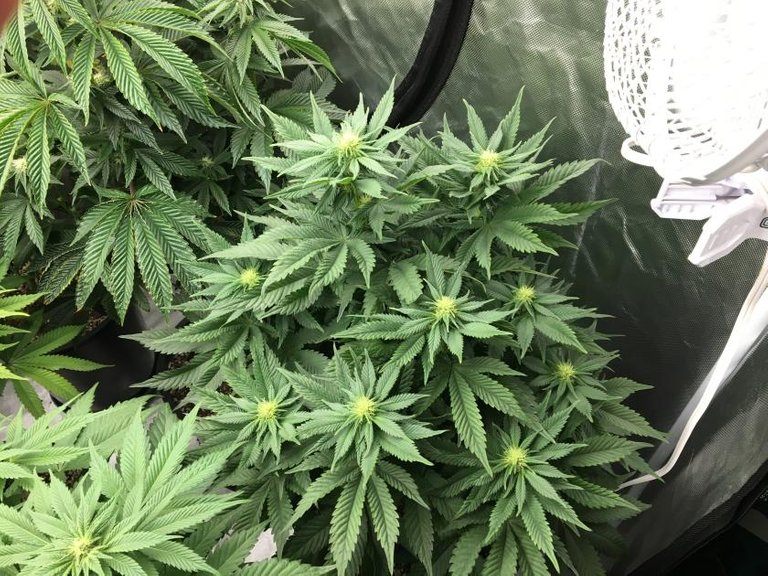 A better look at the virgin MM
So far I have decided to not switch out the LED to the HPS. Mainly just because it has been busy around the house, and I do not fell like pulling all the plants out, and then taking down the LED. But it is easy to not do, since the plants are looking a whole let better then before.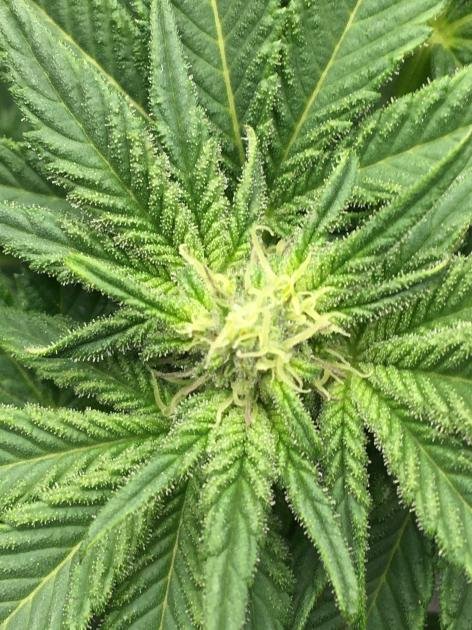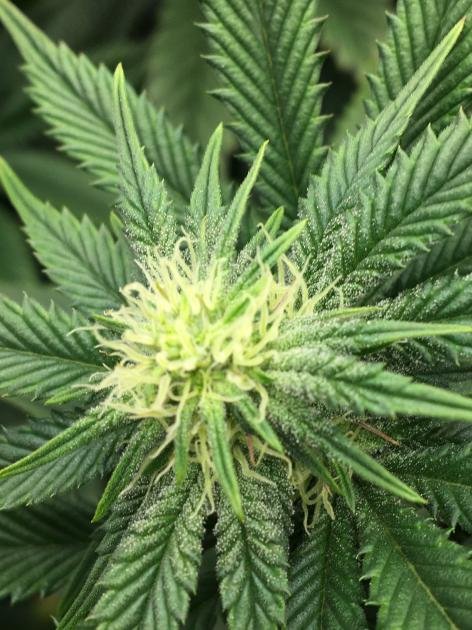 ---
One more side by side of the Miracle Mack's. On the left you have the pregnant MM. On the right you have the virgin MM. So close to the best stage of growing. The one where I start to get obsessed, and start hanging out with them more. Sorry babe, but these ladies will be taking me away from you soon ;)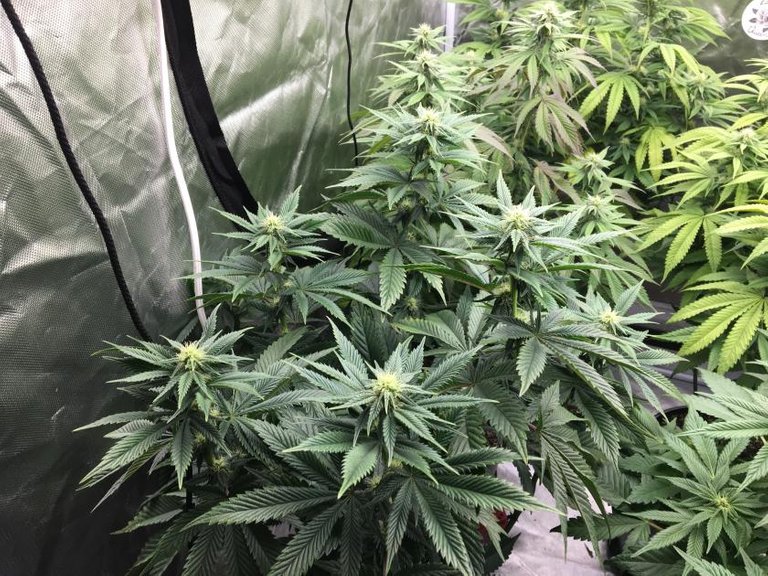 La Kush Cake
Now to the Jungle Boys. The same ones @lacasusa are growing, so if you want to see the comparison of two different growers, go check his page out. Spoiler alert: His are top notch! But I am very happy with this above one. The other one has a cool leaf set, but just isn't doing as well as this one since early on it got the blunt of the light damage.
As you can see the La Kush Cake is also staking on some sugar! Cant really pinpoint any particular aromas off it yet. But I know this will most likely be the best out of the bunch, only because this is the type of cannabis that is my favorite. Which is why I am thinking real hard to use the male.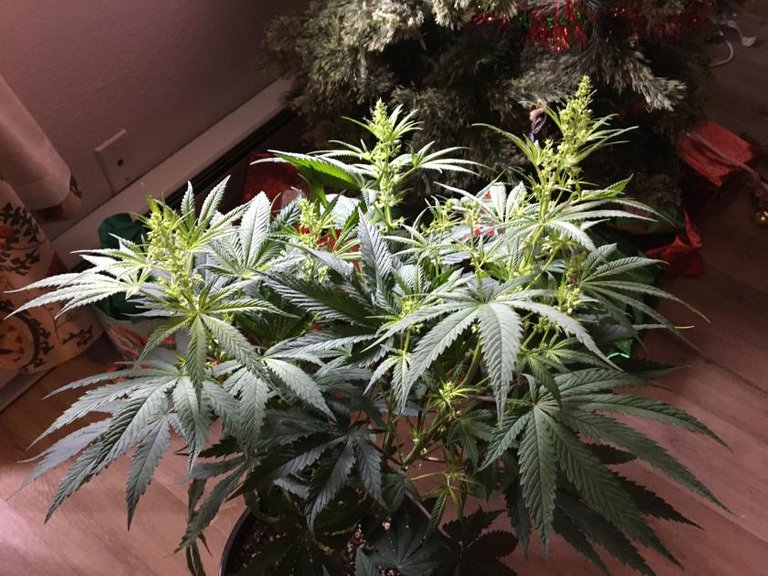 La Kush Cake Male
Yes he is still just chilling, spreading Xmas cheer. Yes I do have a problem with plants. I may not be the best grower, but I make up for it with a bit of crazy.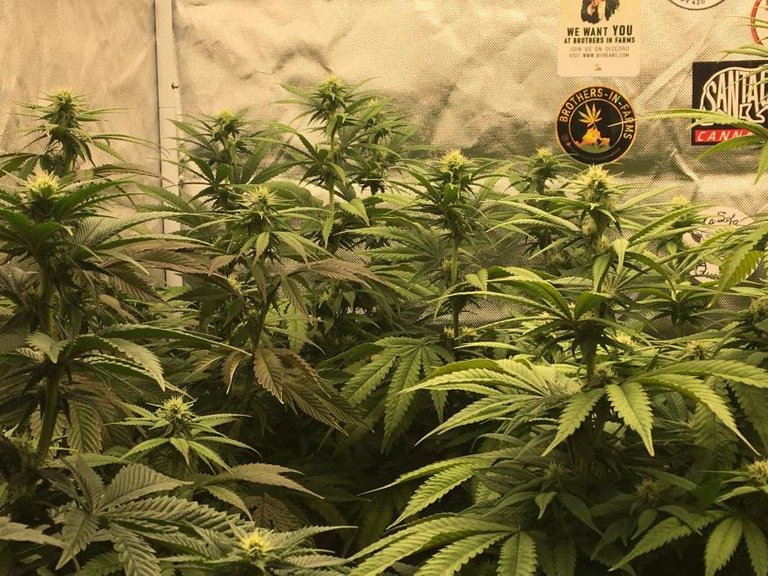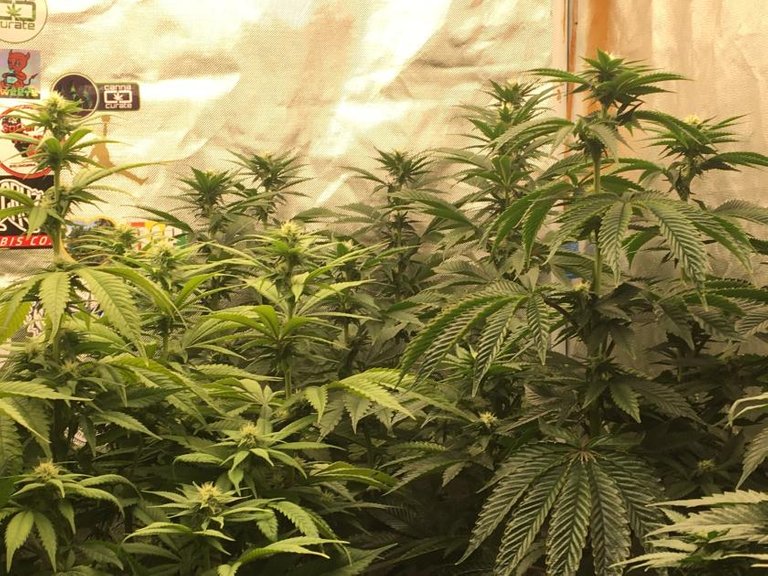 ---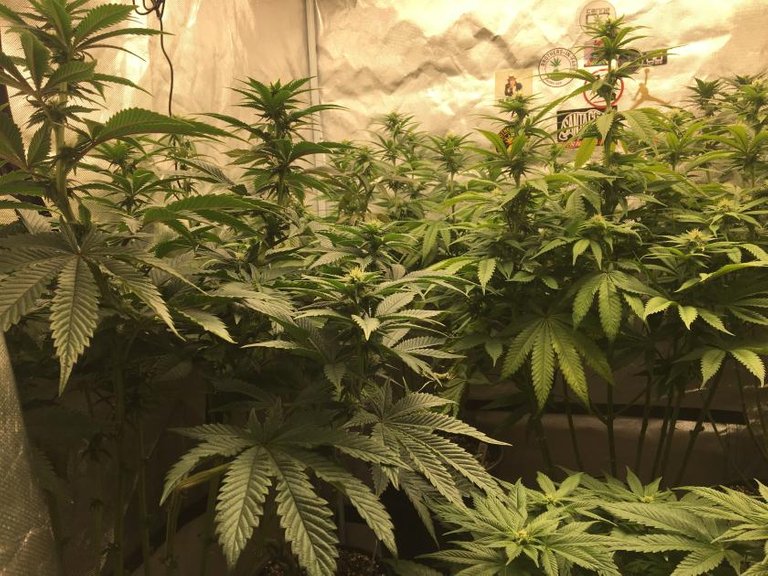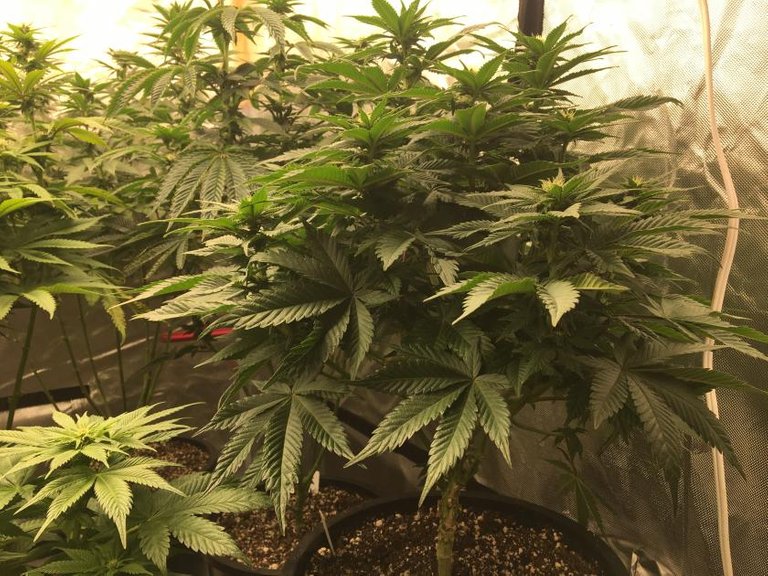 ---
Still need to get up in here, and do a final Lollipop, and a lite defoliation. I have been keeping the humidity in check with the dehumidifier, and temps with the light on have been in a great zone due to the colder weather. During the hotter days I was seeing 80-83 degrees with lights on, but now it is hovering at 75. I am excited to see if this helps with the terps this harvest.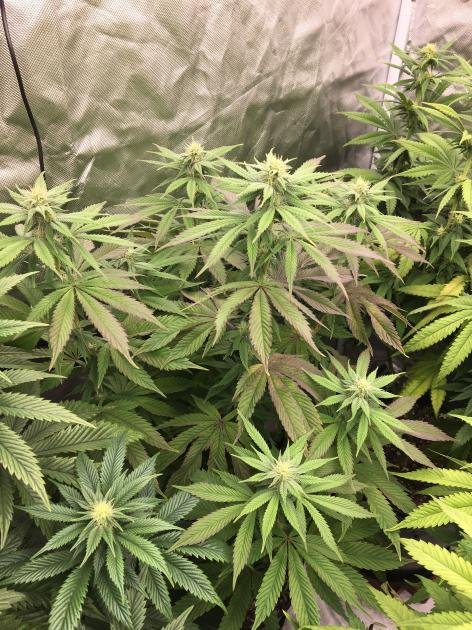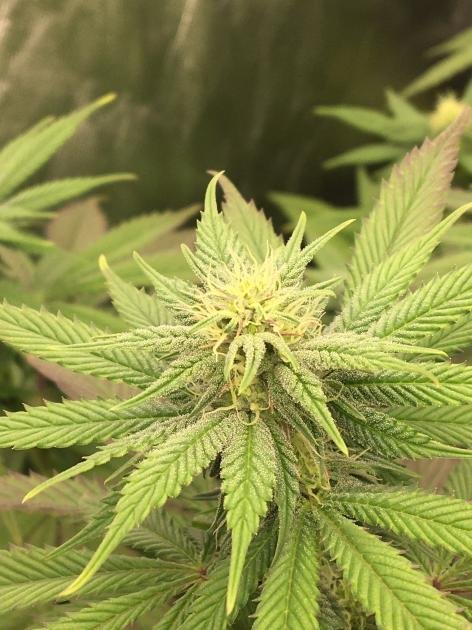 ---
The Sunday Driver X Slurrycake from BifBeans is starting an early fall fade. But only due to it being in a small pot. This is my 2 gallon Challenge entry, although the pot is more like 1 gallon. I suck at growing big plants in small pots, but this one is coming in nice! Oh, and btw there is a raffle taking place Jan 7th for a chance to win a pack of @bifbeans. Go and buy your NFT ticket here!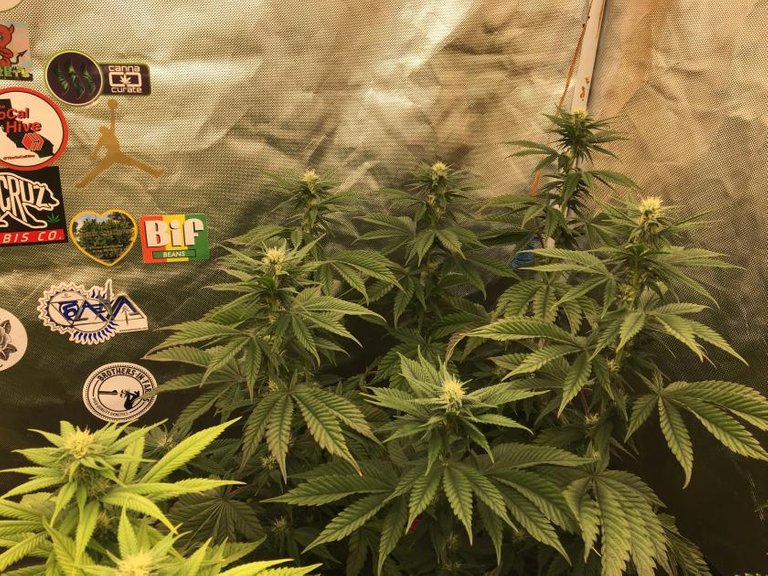 Big Mack Superstar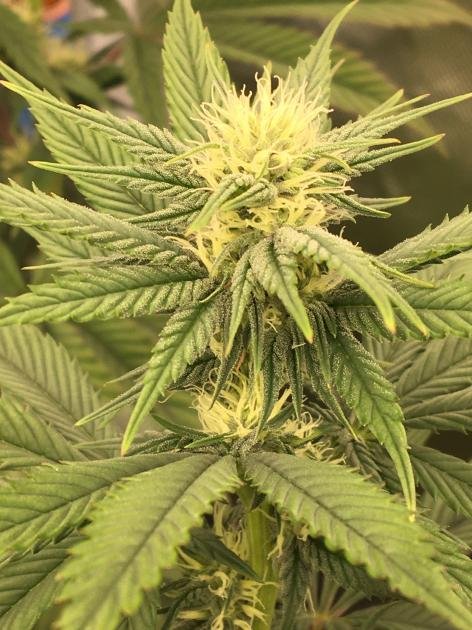 The Big Mack Superstar is another creation of mine in the Big Mack Lineup, obviously. So far I have one tester lined up, but will need a couple more. The ones I am sending as a thank you for growing the F2 Big Mack you are not expected to test, nor grow right away, or even at all. But of course if, or when you grow, I will be looking forward to you posting on Weedcash. Even if you gift them to a friend, do a #randomactsofcannabis post. Really that is what is all about. Growing the community. One seed at a time. Looking forward to this New Year coming up, and I hope all of you come along, and grow with me. Not sure what lies ahead, but I know it is going to be a great ride!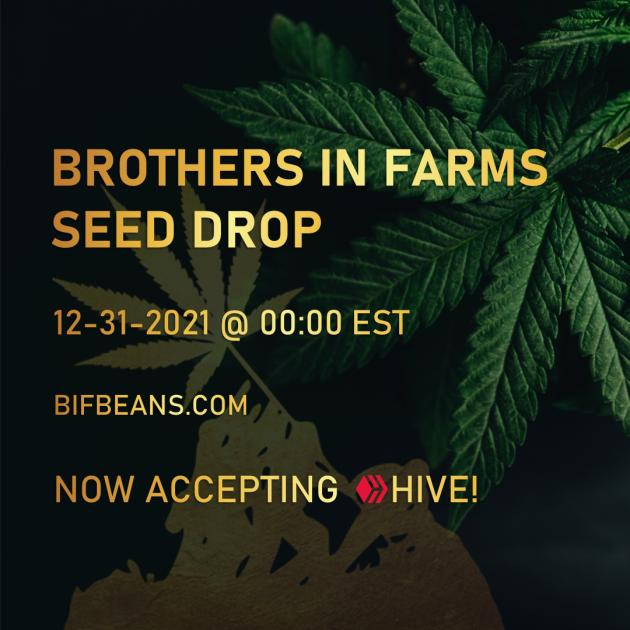 ---
---