Seed To Smoke Finale......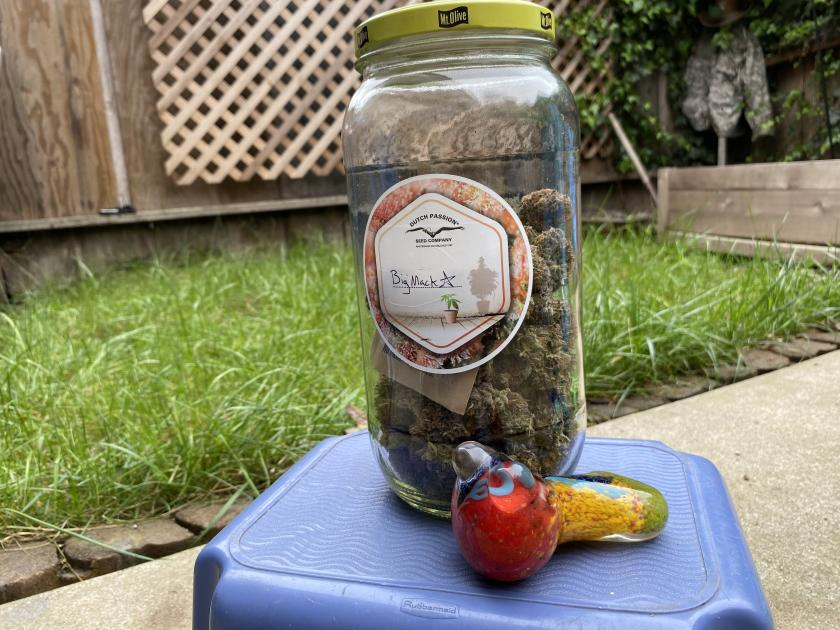 What's good Weed Nerds? Is your week treating you good? Well I hope so, but hey sometimes that is not always the case. Shit happens, and we all go through it. It is important to remember that, and always take the good with the bad. I myself can not complain. My 3rd son is on the way, and I got to see him yesterday. But of course with the flood of good thoughts came bad ones. One thing that is heavy on my mind, is living in a 2 bedroom apartment. It is actually more like a condo, and it is quite spacious for a 2bd, and as you can see a decent spot in the back. But with 3 kids soon to be living here, the days are limited. I reckon we can do this for another 2-3 years before we need a bigger spot. With less space, it also means my days of growing are limited. The 4x4 is defiantly going to be gone. Then eventually the 2.5 x 2.5 will be as well. Then I have to decide from there. Perhaps just a small enough tent to do 1 plant in? Maybe. I do have some time to think about it.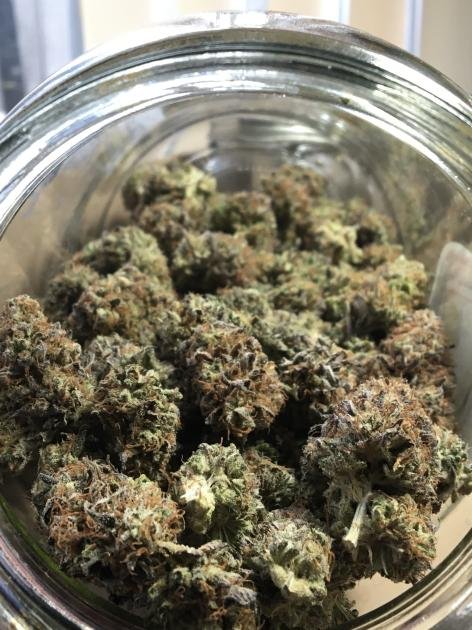 Pickle jar full of Big Mack Superstar
With all that thinking to do, one thing that is never an issue for me is the lack of cannabis. Now I am not bragging on how much I have, it is more of me not consuming like I used to. Back in the day smoking was a morning, lunch, evening, and nighttime affair. Wow I must of been lazy on the couch all day, right? NO. This was a routine while I was going to school, then working. Non stop. However now a days I have slowed down. No more Wake n Bake. No more Sneak a Tokes, and no more 4:20 sessions. My routine now, is get off in the evening, smoke a bowl, or two at night, and that's it. On Sunday, my only day off, I might smoke a bowl in the afternoon, and repeat my nightly routine. So yeah cannabis lasts me a long time. I might give away more then I smoke these days. Now don't get me wrong, I have to have something before I go to sleep, otherwise Ill be tossing, and turning!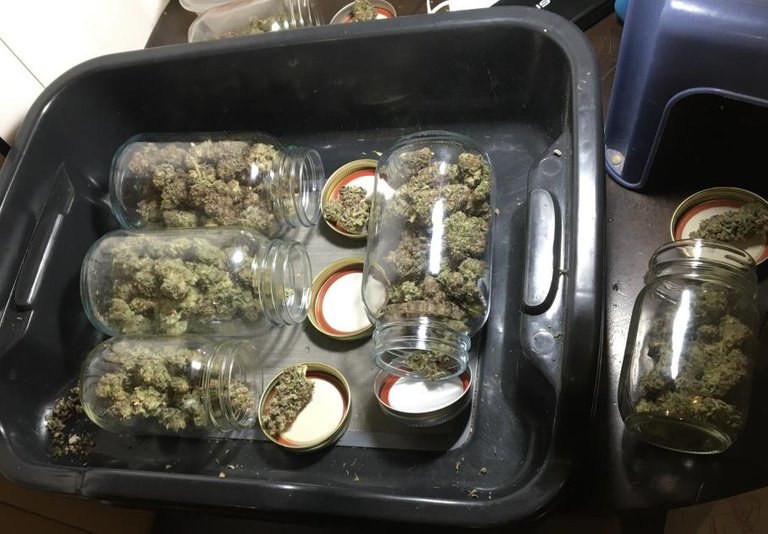 Jars being burped
Last harvest was a so, so one. Nothing to brag about, but nothing to be disappointed about either. With 480 Watts of LED, I got around 400 grams. 1.5 gram per watt is what I would be happy about. But this time I was happy to see very little larf. So with a little under 1 gram per watt, with a grow that I felt was a bit neglected at the start of flower I am overall happy with the results. But there where some reasons that this grow was also a success, and that is because LA Kush Cake, the best flower I have ever grew! Now that all flowers have a good cure, it is time for a smoke report, enjoy :)

La Kush cake #2
Jungle Boys Genetics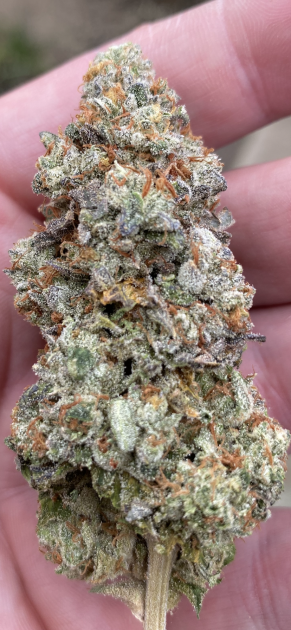 This is from 1 of the 4 seeds @lacausa gifted me. I managed to get 2 to grow, since the other 2 where males. Yeah I wish I would of used those, but at the time I had no space. It is what it is. Both females where slightly different from each other, so I dubbed this one #2. This one is my favorite, and is by far the best flower I have ever grew! Gas, and vanilla smack you in the face as soon as you unscrew the lid to the jar, and it fills up the room. The taste is sweet, peppermint like, and smooth. With a buzz that puts you in a great mood! If I had to explain it, I would say it is like when that first ray of light from the sun hits your face in the cold of winter. Very refreshing!

La Kush Cake #1
Jungle Boys Genetics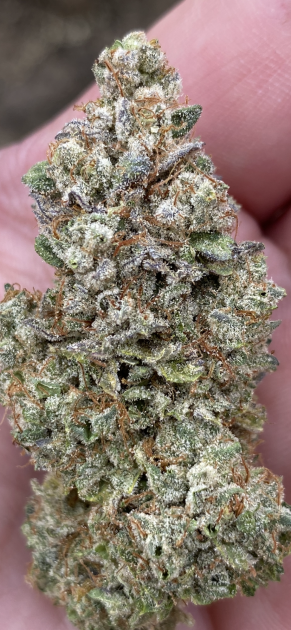 Now this one, whew. Let me tell you, it is potent! This actually might take the cake for the best flower I have grown. Ok let me say both La Kush Cakes are! As you can see they are like night, and day. The #2 buds are more round, while the #1 are long. Both packed on the trichomes, in fact it was like shaking a salt shaker when I was trimming. I never seen so much Kief on so little. This one has that gas, vanilla, but more earthiness to it. The buzz is what someone told me, "The Truth!" This one gets me focused, and motivated to clean, go out, or gardening. The La Kush Cake from Jungle Boys is worth seeking out. You see these two phenos, then go over to @lacausa's page and look at his. You will not lose out on this one! And thanks again Armen, this bud always brightens up my day, even if it is one hit, which TBH is all you need.

Sunday Driver x Slurrycake
Bif Beans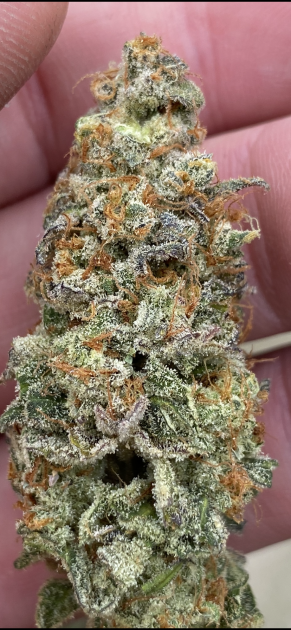 Here is another strain that really hit the spot! You all know I am an OG Kush lover, even though I am a sucker for purple strains, OG holds a special place in my heart. This Sunday Driver cross had the classic OG gas backdrop on the nose, and a huge dose of Vanilla up front. Yes very similar to the La Kush Cake, but sorry Bucky, just not as potent. But this strain hits! Smoke a bowl of this, and you may have to think real hard what task you where doing before hand. The taste of Vanilla lingers on this one, and you will want more!

Miracle Mack
By Me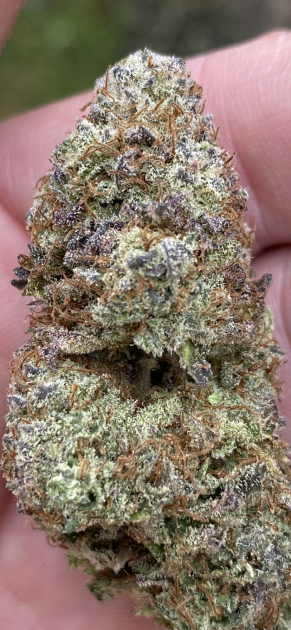 This was a plant that was a complete accident! Back when I had some F1 Banana Punch x Mac and Cheese's growing, I was doing some pollinating, and some of that pollen hit one of the all star phenos I had. A total of two seeds where found, and one of the seeds I grew on my balcony. Well that plant turned out to be something interesting. Instead of banana terps, it had apricots! So I had to keep it. Since it was mid way into flower, I had to Monster Crop. I ended up with two, and one I kept to pollinate, and the other is this one. But since this was grown in colder temps, it turned purple. No apricots on this one, but I do get hints of grape soda. This is a very mellow buzz, and the flavor of cough syrup will be present until you cleanse your palate.

Miracle Mack(Seeded)
By Me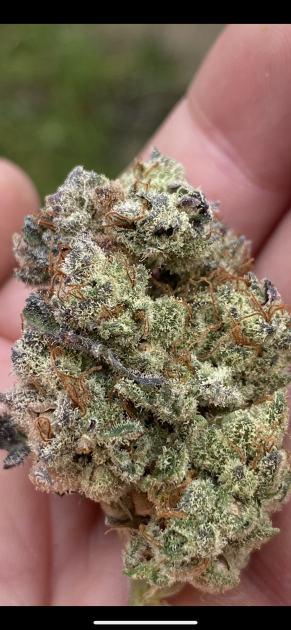 Same exact plant as above. This is the other of the Monster Cropped cuts I took. Except this one was grown outside for half of the flower cycle, and it got pollinated by a Big Mack Superstar male. All documented here on Chain btw. It is so cool how this turned out the way it did. Same terps as the Sensimilla version, but it seems the trichomes are a bit fatter. I am excited to see how the seeds fair from this one. Anybody want to grow it out? Hit me up. I got you!

Big Mack Superstar
By Me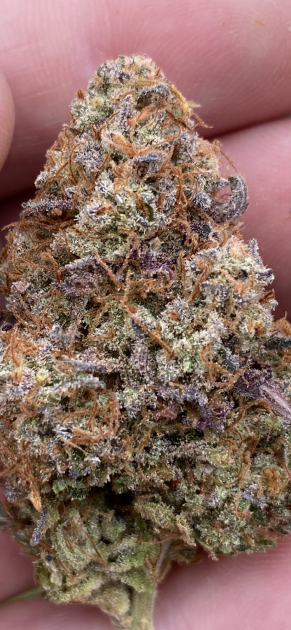 Last, but not least. The Big Mack Superstar. This one involved some Monster Cropping as well. You see when I first popped a batch of F1 Banana Punch x Mac and Cheese seeds, I made a rookie mistake with my humidity levels. Since they where to low in the VEG process, I had a serious case of Magnesium deficiency. So what I did was take a few cuttings before I composted them. Eventually I overcame the humidity problem, and grew some amazing plants. In fact up to that time it was the best I ever grew, and I was blown away. So I had to keep them. Since I was about 35 days into flower, I decided on the Monster Cropping technique. That is when you take clones while a plant is in flower.


Well after about 2 months I finally had some vegging F1 Banana Punch x Mac and Cheese that I knew where kick ass phenos. So what did I do? Pollination! I had to search out some males first. I then came across a nice male from another Banana Punch X Mac and Cheese cross I was working with. The end result was this Big Mack Superstar. This one is the most Sativa plant out of the bunch. To me it smells like Jack Herer with a mix of sweet candy. My wife said blueberries, and cotton candy. It sure is interesting. The buzz clears your head, and I would say it would make a great Wake and Bake strain, which I may have to try out on my coming day off.

Well that completes my seed to smoke grow log, all documented here on the Hive Blockchain, Via the Weedcash Network. To see the start of this grow, visit this post here. I love posting here, and talking about my plants. I dream of having way more people doing the same, and sharing their knowledge along the way. You see, on Instagram people are showing pictures, but here, if done right they are showing the process. Then it is here for everyone to access, any point in time. Never will your post be taken down. As long as the Witnesses run nodes, your post will be here. Which also means, if you need to reference past grows, it is here on the Blockchain for you to view. But for some strange reason, people love to post on centralized platforms, and bitch when there accounts are suspended, or a post is taken down. I'm good off that. So you will see me here, until the day I decide to stop all social media all together. Thanks again to everyone who has encouraged, and helped me along the way. I hope to see you all again on my next grow, so stay tuned!




---
---