The popularity of Rasta bars in Thailand
As far as foreigners are concerned, the number one style of bar that will be found almost everywhere are Rasta-themed bars and this is almost certainly going to pick up in popularity even more so because of the fact that weed is now legal everywhere. You are technically not allowed to smoke weed in bars but honestly, that never stopped anyone back in the days when not only were you not "allowed" to smoke in public places, but you weren't supposed to have it at all. I don't generally smoke weed but I think that other people should be allowed to if they want to.
I was really proud of Thailand for legalizing it and honestly, even before they did that people almost never got in trouble for smoking or having the stuff. I had only heard 1 or 2 stories over the years of anyone getting in trouble for possession and this was just a "pay the cops on the spot" sort of thing that took place on the famous Koh Sanh Road and was clearly a trop. The way it was described to me it almost sounded as if the cops and the dealers were working together and the real money-maker was the bribe money for the cops to take the cuffs off of you.
That's a different story for a different day though. Today, I want to talk about how Rasta pubs are something that can be found in just about any city in the country, especially ones that have tourists visiting it.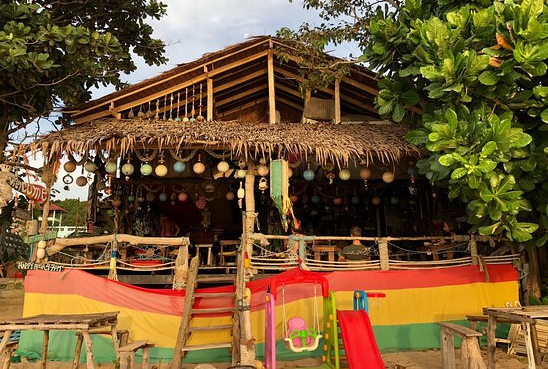 src
They're pretty easy to spot even if they don't have a sign. Just look for the yellow, green, and red flags and of course the usual Bob Marley soundtrack and then you know you are in the right place. These spots will normally have a couple of mostly shirtless young men working in them and it seems to be a requirement that one of them will have very long dreads that he has been working on for many years.
src
one thing I have noticed that seems to be a common feature of all but a few of them fancier ones, and most people would say the fancier ones are not real Rasta pubs, is that they all seem to have a collection of what appears to be mostly junk. They also tend to not be terribly clean. People still flock to these spots though and even if the rest of the town seems to be going out of business, the Rasta places always manage to stay afloat and I think I've figured out why this is.
The Rasta pubs seem to go for the cheapest real-estate and they also don't sink a lot of money into making the place very nice. It isn't really necessary to be honest: The patrons know what they are getting themselves into when they walk into a place like this. Beers are going to be sold out of an ice chest, the cocktail menu is going to be extremely limited, and the place is going to be extremely laid back because the owner and (normally) his friends are just happy - and most likely extremely high - people who hang out there all day and will hand out drinks from time to time.
I think this is probably a pretty good business model when you consider that most retail space is just a bare shell with nothing in it and it is up to the renter to fill it up with stuff. With a Rasta pub, or at least all the ones I have seen, they just have a mish-mash of furniture, an easily relocated removable bar, and bean bag chairs... they always have to have bean bag chairs.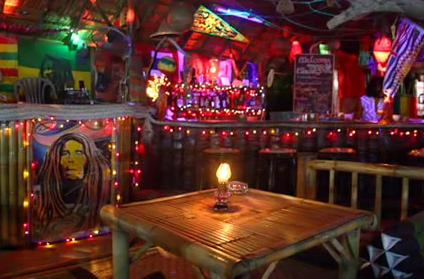 src
when i first got here I thought these places were kind of gimmicky and overused. But after spending a few years here I can see the economic benefits of not putting too much into the layout or furniture. If the owners of the land decide to up the rent, which they frequently do, the few people that run the place can just spend a day moving to a new cheaper place and it ends up being basically the exact same vibe, just in a different location. They can always chase the cheapest real estate easily.
It was always quite evident that these places were a front for selling weed to tourists and trusted friends of friends, but now that weed is legal, they don't really have to pretend that they aren't selling it anymore. This could actually be a detriment to their business since I think that a big part of the reason why people went into these rather beat up establishments in the first place, was because they wanted to buy some smoke.
So far none of these places have been targeted for allowing customers to smoke weed in public and I doubt that it ever will happen since they were allowing this long before it was legal for them to do so. We are now still in a phase where people aren't really sure where they can light up and where they cant.
I applaud these small business owners. I don't think they make a lot of money and it doesn't seem to be their objective to get rich off of it either. The beers are always cold and I am always offered a joint, which I decline, when I go in them. It's amusing to me because there are other, much more expensive places that I go to where the beer IS NOT COLD and they have thousands of dollars worth of fridges while the Rasta Bar has a single cooler.
Well done guys.
---
---