Thailand might be moving to legalize marijuana
Anyone that has lived here for any period of time or simply just visited and stopped by any of the nation's hundreds of "reggae pubs" realizes that getting your hands on some maryjane is not at all difficult. This is true in most countries despite the fact that the plant is technically illegal. I can't say for sure if the government is simply throwing in the towel on a fight they can not win but it is certainly starting to look that way. Knowing what I think I know about this and all other governments on the planet, they are more than likely looking for more avenues for tax revenue.
In the past year, certain cannabis products have been made legal although it was on a very low level. The stems and leaves of plants containing less than 0.2% THC are legal and of course taxed and this extends even to Thailand's number one pizza chain, The Pizza Company. src
Before any potheads out there get too excited I'll have you know that I have tried this pizza and it doesn't get you even remotely high. The presence of the plant is so miniscule in the pizza that it has no effect whatsoever on you and this is merely an advertising tactic.
Stems and leaves were removed from the nations official narcotics list in December of last year and now the Public Heath Ministry is pushing to remove all parts of the plant from the list altogether. In fact, the officials are actually encouraging people to grow the plants in order to make some extra cash. Currently, there is no limit to the amount of plants that a person can grow although I would certainly expect this to change and be enforced in very different ways depending on what part of the country that you live in.
In Chiang Mai, where I live, laws that are loosely enforced elsewhere in the country such as alcohol laws, are pretty strictly enforced here. I have heard that this is because the north has a much higher military concentration due to the proximity to Myanmar, a country that Thailand has considered an enemy because of some stuff that happened 600 years ago. Keep in mind that this is just me being silly and is in no way meant to be a judgement on the Thai people.
I do know from living here for years though that things that aren't enforced basically at all elsewhere in the country are enforced here.
The main Public Health Official in the country recently attended a rather bizarre event in Nakhon Phanom called the "Cannabis Kickoff" where he announced that all parts of the plant, including the fun parts contained in the buds, will be made legal starting in early 2022. Whether or not this man actually has the authority to do something like this remains unclear, I would imagine that he doesn't, but it is a step in the right direction since most of the country seems to agree that marijuana is far less harmful than currently very legal things like alcohol.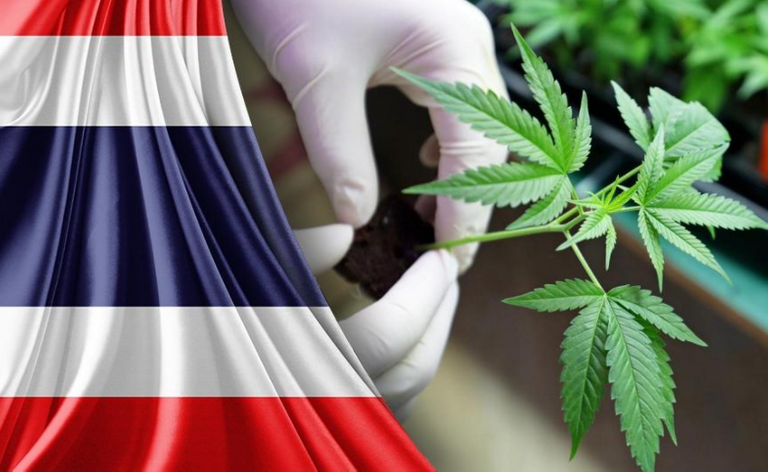 src
He did indicate that you would need permission from the government to be able to grow these plants so everyone out there can rest assured that there will be a serious amount of paperwork and red-tape involved that will make it almost certain that these permits will be reserved for the wealthy and influential residents of the country. It's pessimistic of me to think this way but just like many other countries, there is one set of rules for the rich and another set of rules for the poor in Thailand.
Even if that is the case, the movement towards decriminalizing this rather harmless plant as well as the massive expense associated with fighting its distribution in vain, to me, is a movement in the correct direction. It could also make Thailand a more attractive place for tourism, which the country depends on a great deal.
---
---