Orquidea Phalaenopsis: una de la flores más llamativas del jardín de mi tía (ES/EN)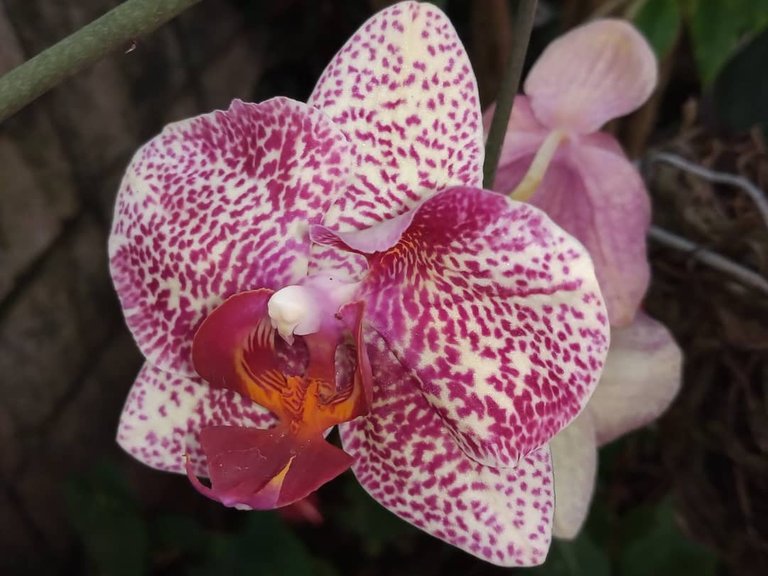 Hola amigos de Hive, hoy quiero compartir con ustedes las fotografías de una orquídea del jardín de mis tías. En cada visita me gusta recorrer el jardín y observar todas las plantas con sus flores, asi como los animales que hacen vida allí, con frecuencia se ven colibríes, abejas, avispas, y otros insectos.
Hello friends from Hive, today I want to share with you the pictures of an orchid from my aunts garden. On every visit I like to walk through the garden and observe all the plants with their flowers, as well as the animals that live there, often hummingbirds, bees, wasps, and other insects are seen.
---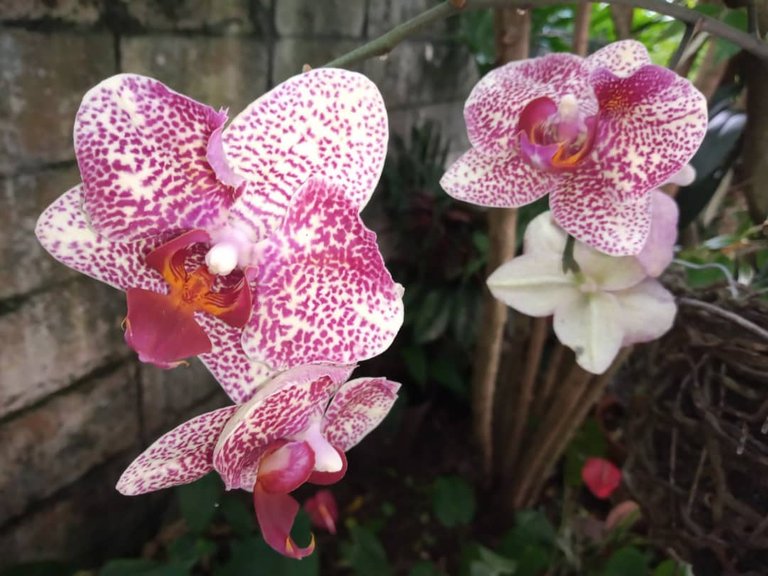 Hace tiempo que había observado la colorida orquídea, pero no se me había ocurrido fotografiarla para compartirla con ustedes. Sobre esta orquídea he podido averiguar según Wikipedia, que se trata de una Orquidea del género Phalaenopsis, que comprende las conocidas orquídea alevilla, orquídea mariposa y orquídeas boca, este género comprende aproximadamente 60 especies de orquídeas de la familia Orchidaceae.
I had observed the colorful orchid for some time, but it had not occurred to me to photograph it and share it with you. About this orchid I have been able to find out according to Wikipedia, that it is an orchid of the genus Phalaenopsis, which includes the well-known fry orchid, butterfly orchid and mouth orchids, this genus includes approximately 60 species of orchids of the Orchidaceae family.
---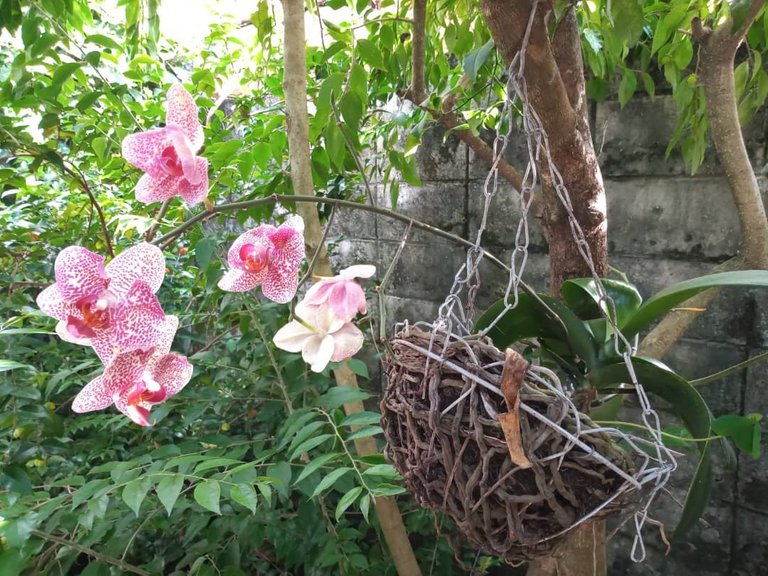 Esta Orquidea perteneciente a mis tías, tiene aproximadamente 10 años, fue un regalo que le hizo una de mis primas a mi abuela, que en paz descanse, ya que mi abuela siempre fue amanta de las flores, y se deleitaba yendo cada mes a diferentes viveros para llevar todo tipo de plantas a su jardín. Está orquídea tiene un mes de haber florecido, y según mis tías inicialmente estaba más bonita, pues ya sus colores empiezan a ser menos vistosos.
This Orchid belonging to my aunts, is about 10 years old, it was a gift that one of my cousins gave to my grandmother, may she rest in peace, since my grandmother was always a lover of flowers, and she enjoyed going every month to different nurseries to bring all kinds of plants to her garden. This orchid has been in bloom for a month, and according to my aunts it was initially prettier, since its colors are beginning to be less showy.
---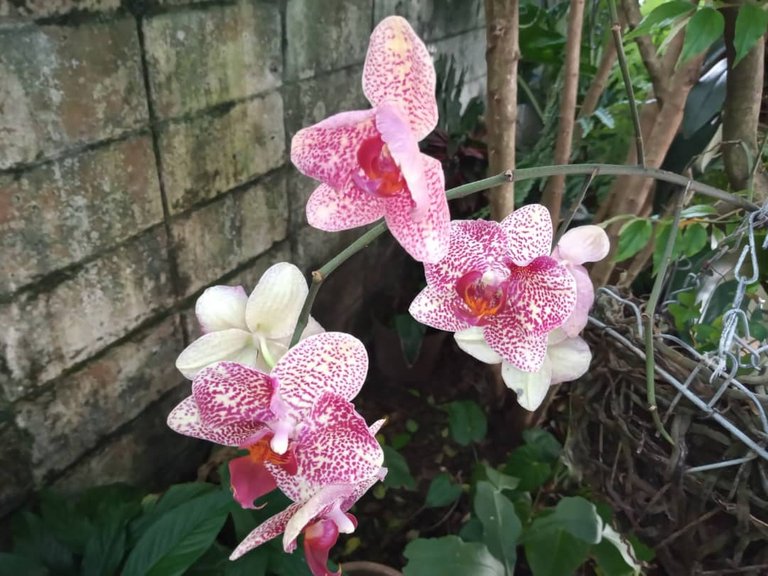 Me llamó especial atención su forma y sus pétalos blancos o crema punteados de color violeta, así como su color amarillo intenso, casi naranja en su centro. El reverso de la flor es unicolor, entre blanco y color crema, y no tiene puntos de color violeta.
I was particularly struck by its shape and its violet dotted petals on white or cream petals, as well as its intense yellow color, almost orange in the center. The reverse side of the flower is unicolor, between white and cream, with no violet dots.
---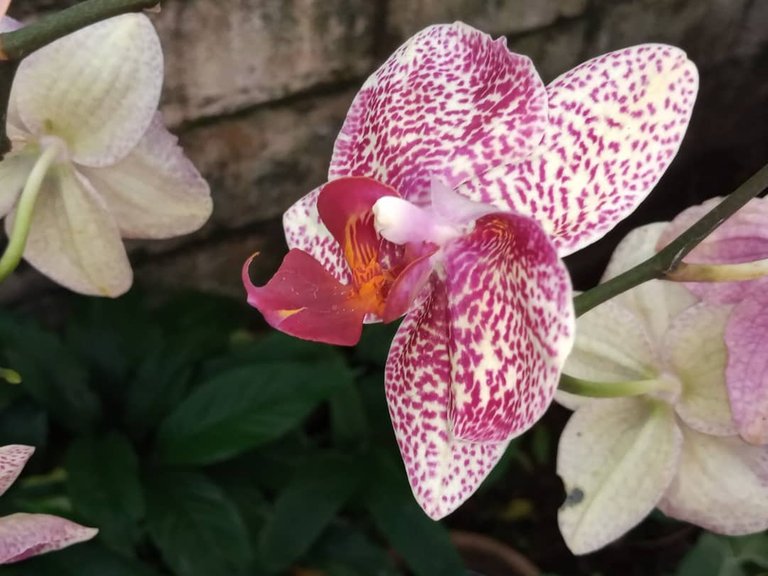 Sobre los detalles que se puede consultar en Wikipedia sobre este género de orquídeas, se puede destacar que son originarias del sudeste asiático, y debido a su facilidad de propagación y floración bajo condiciones artificiales se ha vuelto una de las más populares y y por ende más comercializadas.
On the details that can be consulted in Wikipedia about this genus of orchids, it can be noted that they are native to Southeast Asia, and due to its ease of propagation and flowering under artificial conditions has become one of the most popular and therefore more marketed.
---
A continuación, otras de las fotos que tomé de esta hermosa orquídea.
Here are some other photos I took of this beautiful orchid.
---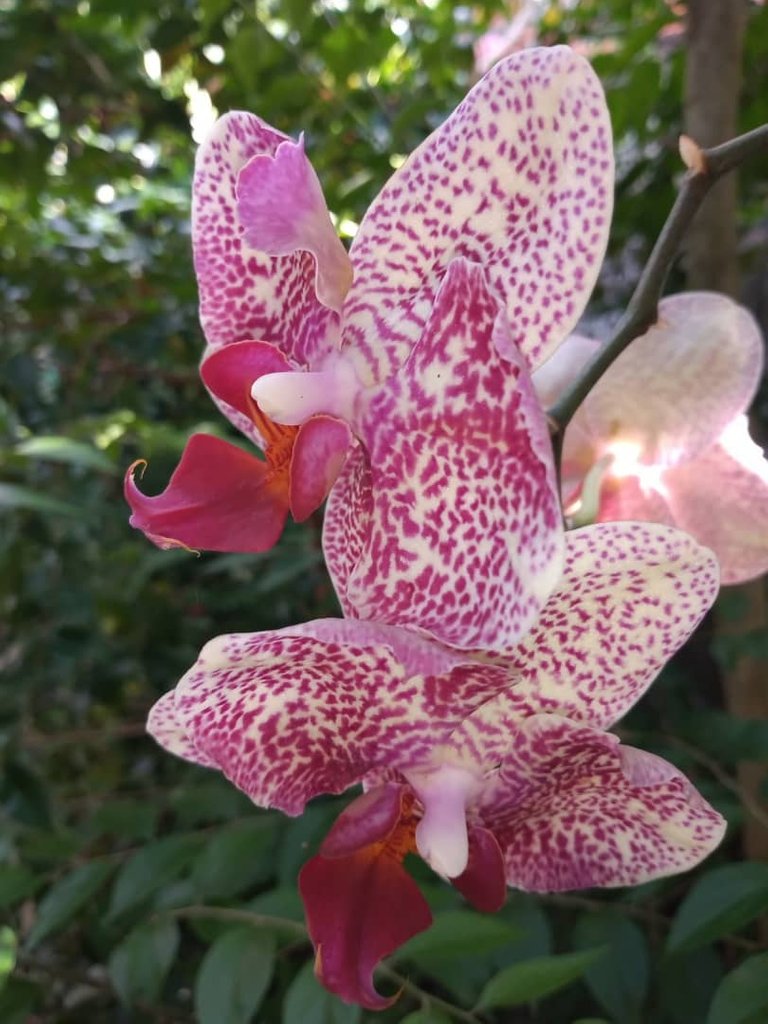 Espero les haya gustado mi post, pronto estaré compartiendo con ustedes otras flores del jardín de mis tias.
I hope you liked my post, soon I will be sharing with you other flowers from the garden of my aunts.
Todas las fotos son de mi autoria / All pictures are my autorship
---
---