Growing Organic Cannabis: Part 9 Trace Elements

Growing Organic Cannabis: Part 9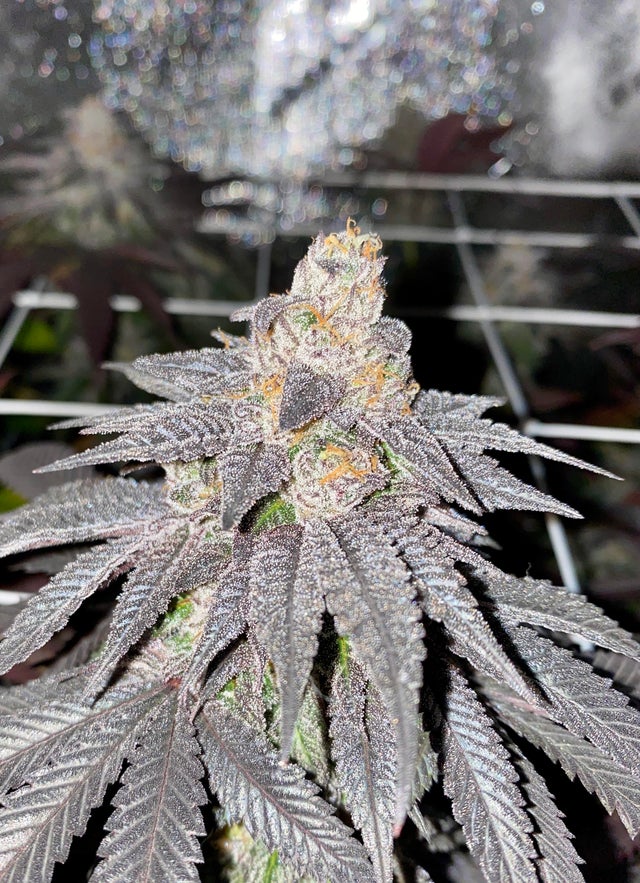 ( Photo Credit: u/QBgrower, Sugar Breath day 62 of flower )
Trace Elements
While the macro nutrients can be measured in the hundreds of parts-per-million, trace elements should be found at concentrations of around 1 part per million or less, as some of these elements are completely toxic at higher levels.
Here is the list of trace elements:
Copper (Cu) plays a role in the creation of several enzymes required for plant growth and health. Copper plays a role in plant respiration, metabolism, and in the creation of chlorophyll. Plants with a healthy amount of copper will have vibrant blooms and scents.
Chlorine (Cl), a.k.a "Chloride" in its plant friendly form "-Cl" not to be confused with diatomic Cl2 "Chlorine" used in pools and municipal water systems which is poisonous to plants, is an electrically charged version of Chlorine trace element that plants only need a very tiny amount of, but it does perform important functions. Chloride is used by plants, in conjunction with Potassium, to operate the stomata opening/closing mechanisms that are part of the transpiration and hydrolysis processes that regulate water and nutrient flow through the plant.
Boron (B) is an immobile element, meaning deficiencies will show up at the top of the plant first, because Boron cannot be moved from older growth to newer growth. Boron is responsible for cell elongation in new growth, and if Boron is deficient this can result in poor formation of new growth at terminal branch tips, and will definitely negatively affect flower production!
Silicon (Si) is used by plants to strength cell walls. This trace element is used by the plant to speed up growth and maintain strong structure. Silicon aids in nutrient absorption of Nitrogen and is thought to regulate the uptake of Zinc. Silicon, like Potassium and Calcium acts as a soil buffer, Potassium buffers against cold weather, Calcium buffers against severe pH drops and hot weather, and Silicon buffers against toxic levels of metals like Aluminum, Iron and Manganese.
Molybdenum (Mo) pronounced "Moe-Leb-Deh-Numb", this interesting trace element exposes an important, and hidden facet of Cannabis' natural evolution: Cannabis is an "Obligate Mycotroph" -- this means that Cannabis has evolved to depend on specialized mycorrhizal fungi to help them uptake specific nutrients in the forms and numbers that the plant needs. In other words, Cannabis evolved to coexist with fungal mycorrhizae that colonize root zones. Molybdenum is a trace element that is needed by these mycorrhizal colonies, but even more obscure is that nitrogen fixing soil bacteria need this element to process atmospheric nitrogen into ammonium. Cannabis also uses trace amounts of this element to process nitrates.
Zinc (Zn) plays a small but vital role in a number of growth hormones and enzymes, and plays an important role in internodal elongation.
Cobalt (Co) is an essential micronutrient, this element plays a vital role in the healthy formation of various parts of plant structure including buds, leaves and stems. Cobalt is a critical part of molecules for B12 and Propionate, both of which are important growth molecules used by the plant to reach full maturity.
Sodium (Na) is very important in very very very tiny doses. Sodium is abundant but due to its high reactivity, it is virtually never found in an elementally pure state. Sodium is a necessary element, but needs to be approached very cautiously because it can easily form salts in your soil and rapidly build to toxic levels that leads to nutrient lockout, plant desiccation (drying out/wilting), and plant death.
Nickel (Ni) is an essential element for plants to create the enzyme urease, which is used to process Nitrogen in the form of urea. Without this essential element, nitrogen levels may rise to toxic levels resulting in burned/scorched areas of the plant from overabundant urea.
Manganese (Mn) is an important trace element that is involved in several plant processes including photosynthesis, respiration, Nitrogen assimilation, pollen formation, root cell elongation and helps protect against pests and disease.
Iron (Fe) plays an important role in the uptake of Nitrogen and the formation of new growth. Deficient iron compromises the plants ability to power itself and grow. Iron deficiencies appear in the reverse order of a Nitrogen deficiency, where with N deficient, the plant yellows from the bottom up, Fe deficiency tends to make the plant yellow from the top down. Iron uptake is blocked by a pH that is 7.0 or higher, so make sure to keep your soil in the right pH range, additionally overwatering can flush out available iron in the soil, so make sure you don't overwater either.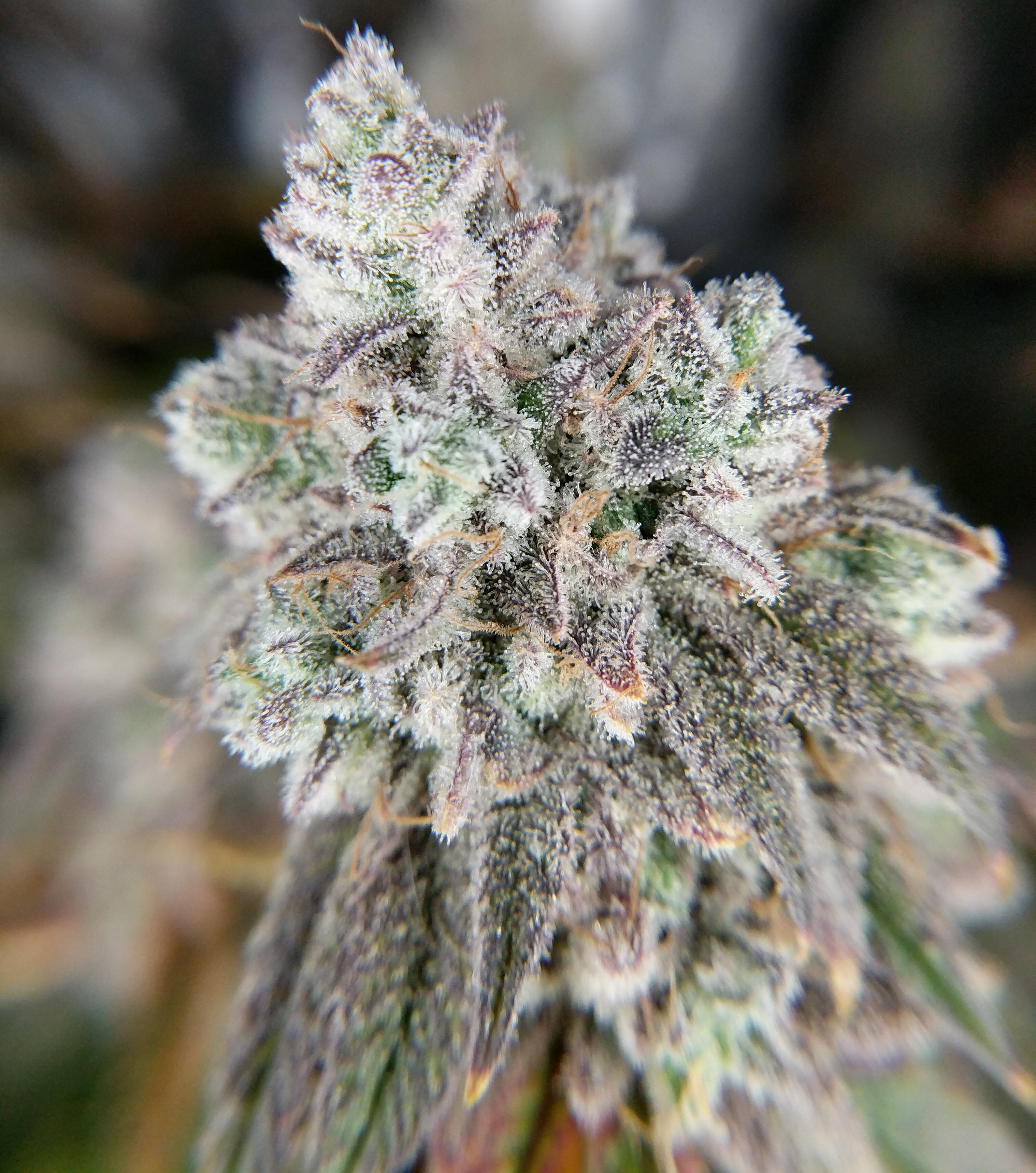 ( Photo Credit: u/resultsfolloweffort, Peyote Gorilla, day 73 of flower )
Most of the time these elements can be found in traces in soil, or in water, but if you are using Reverse Osmosis water, then the RO filter may have pulled the traces out of the water.
An organic source of trace elements is easy: Azomite.
Azomite is basically just powdered rock dust and contains a variety of minerals that will make sure that your plants have access to an array of trace elements when they need them. They won't need much of the elements, but trace elements often take on pivotal roles in molecule formations, enzyme creation, or essential mechanisms within the plants operating system.
In part 10 we'll discuss soil conditioners!
If you liked this article, hit that upvote button, subscribe to follow me, and if you're feeling chatty, drop me a line in the comments down below.
Till then, happy toking ya bunch of stoners!
---
Posted via weedcash.network
---
---