Growing Organic Cannabis: Part 11, Nutrient Teas

Growing Organic Cannabis, Part 11

( Photo Credit: u/themidgonnamove, Doo-Doo-Dust (Unicorn Poop x (GMO x Stardawg)) )
Nutrient Teas
Nutrient teas are a critical component of organic growing.
I have talked a lot about the all-important, ever invisible, soil microorganisms: the nitrogen-fixing bacteria; the symbiotically dependent root-fungus mycorrhizae; the protozoa that keep both those populations in check and in balance.
But where do these soil organisms come from?
Mostly they live in the soil, but soils can become depleted of these microorganisms and will need to be replenished. Some commercial potting soil has been pasteurized (heat treated), or has had a diluted solution of hydrogen peroxide run through it, these in particular will be completely barren of soil microbes and plants like Cannabis which are "Obligate Mycotrophs" -- Cannabis naturally evolved to form a symbiotic co-dependent relationship with specialized fungi that bond with their roots -- will struggle to draw the nutrients they need from the soil without their little soil helpers.
Beneficial soil microbes are often found in various types of manures: bat, chicken, seagull, bull, steer, cow manures -- will all contain different strata of soil microbes.
Also worth noting is that earthworm castings are an excellent source of soil microorganisms too. Earthworms move through the soil by eating their way through it. Their gut biome collects these beneficial microbes and some of them leave the worm's gut biome in the form of "worm castings" (which is really just a way of saying worm poop). So earthworm castings are often a rich source of beneficial soil microorganisms.
Soil mycorrhizae are a bit trickier to get into the soil -- they are fairly delicate organisms that don't last long in packaged products, stored in warehouse shelves by the pallet. Inoculating plant roots while transplanting is the primary way these organisms will find their way to your plants roots (unless of course they were already present in your soil).
So... what do we do? Enter organic nutrient teas.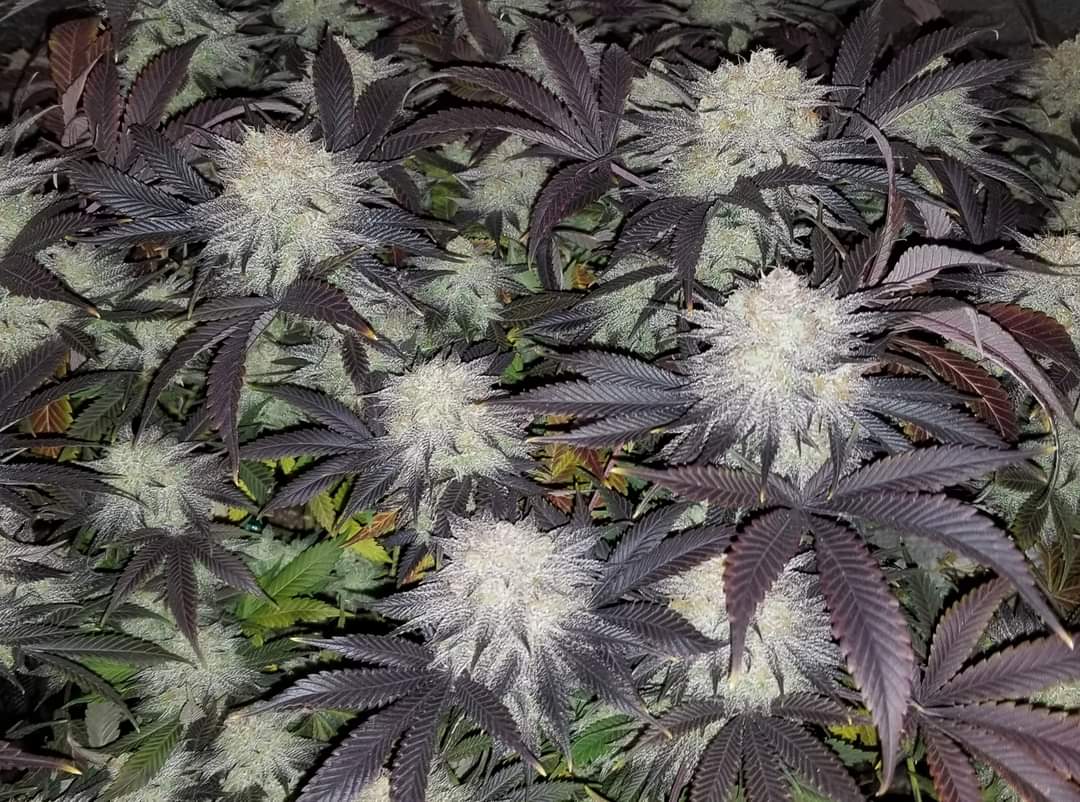 ( Photo Credit: u/7eastgenetics Purple Dragon Balls )
Organic Nutrient Teas
A tea is pretty straightforward. You aerate a sugary solution of water, using a fish tank bubbler, with a "tea bag" of nutrients and microorganisms. This will cause microorganism colonies to bloom in the aerated solution, which you can then use to water your plants with. This method feeds both soil biome microorganisms and your plant, as well as replacing depleted nutrients and microorganism colonies.
There are plenty of online recipes out there to choose from but they all have the same basic idea:
A bucket of pure water gets a mix added to it:
1 to 2 tablespoons of organic molasses (these sugars are ideal to feed microorganism colonies that will bloom in the tea)
A teabag with your chosen mix of nutrients and inoculates.
Bubble the solution for 24-48 hours! Shorter than 24 hours and you may not let the microorganism colonies bloom sufficiently, and longer than 48 hours you risk the microbes running out of available food (molasses) in the solution and dying off.
Water with the finished solution.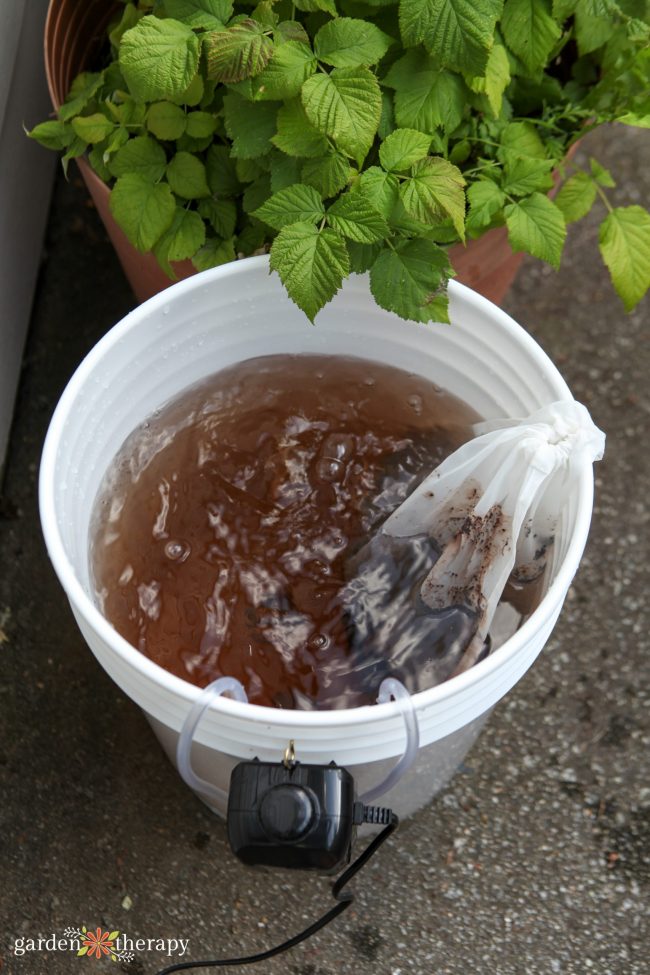 ( Photo Credit: gardentherapy.ca )
Building a Bubbler
Relax, this isn't "rocket surgery".
You will need a few pieces of equipment to brew tea (or if you got them deep pockets you can just buy an automatic tea brewing machine, but where's the fun in that?):
A 5 gallon bucket.
A fish tank air pump, plastic tubing for the air line, and a "air stone" that plugs into the end of the tubing and makes nice bubbles in the water.
A 400 micron "tea bag"
1 bottle of organic blackstrap molasses
Remember that the water quality matters! If you are drawing water from a municipal supply, you should let the bubbler bubble in the bucket of water for at least 48 hours to get rid of any trace chlorine. Chlorine or Chloramine are added to municipal water supplies to prevent bacteria from blooming in the water pipes and storage tanks. With organic tea we are trying to cultivate a bloom of microorganisms, including beneficial soil bacteria, the presence of chlorine or chloramine is antithetical to this purpose.
BeneficialLivingCenter.com did an excellent example of an organic tea mixture that I would recommend checking out!
Conclusion
Remember, as an organic grower you aren't directly feeding your plants!
You feed your soil biome and your soil biome will in turn take care of all of your plants nutrient needs at exactly the right time in exactly the right amount.
Nutrient teas are about doing preventative maintenance on your soil biome, by working to feed and maintain your soil microorganisms, you keep this soil biome happy and thriving, and it in turn will keep your plants healthy and thriving!
In part 12 we will discuss the ideal growing environment!
If you liked this article, hit that upvote button, subscribe to follow me, and if you are feeling chatty, drop me a line down in the comments section!
Until next time, happy blazing you bunch of midnight jokers!
---
Posted via weedcash.network
---
---