HiveCOMmerce Token Update For May - SIM Is OUT and ONEUP Is IN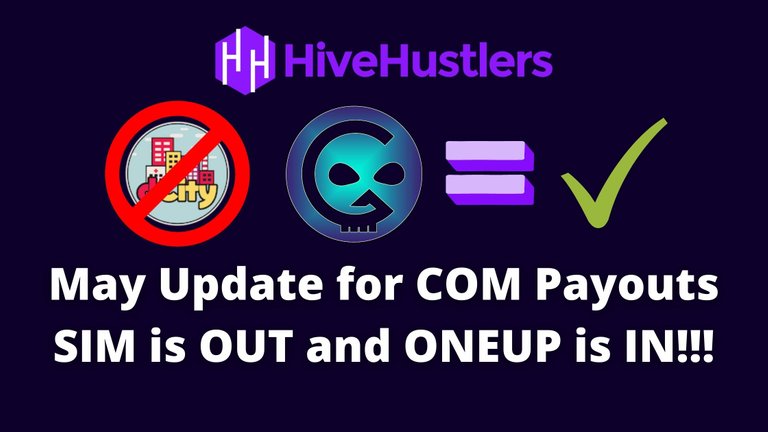 It's May and spring is in full force! Except in the crypto markets, lol. Unless this is what spring is supposed to look like, lol. Oh well, that just means it's time to take your eyes off the screens and get outside! I mean I am currently writing this from a little hideaway cove at the beach... So what is your excuse? LOL
Anyway, this month saw a bit of a dip in rewards from the last month, so this month's payouts will reflect that, but it is not that terrible. There is allot going on behind the scenes here at The Logical Labs and we are working on some ways to help build up some funding so that we can get some income coming into the HiveHustlers ecosystem aside from just curation and posting rewards!
Here are the new daily payout pool numbers that are now shown on https://hivehustlers.com/token-economy

SIM Is OUT and ONEUP Is IN!!!
As you see from the title and the thumbnail, there has been a change in the payouts for the COM token holders. We had started with SIM from the beginning to represent the play2earn aspect of the hustler game here on Hive, but since then, the 1UP community headed up by @flauwy and the @hive.pizza communities have come onto the scene so we have decided to support the overall communities instead of just the one game.
PIZZA was added some months back, but this month we are excited to add in the ONEUP token in the spot of SIM.
The issue is that the SIM rewards have seriously taken a hit in the past several months with the game's leadership charging absolutely criminal tax rates. But that's how the game is supposed to be played according to them. So it is what it is. The payouts have become very unstable so we have decided to move the SIM rewards every month into HIVE along with the rest of the random tokens that are earned through the month, then 50% of that HIVE is converted to ONEUP tokens which are then added to the ONEUP-SWAP.HIVE diesel pool.
Other Diesel Pools
Some of that HIVE is used to match up with the 50% of the monthly LIST that instead of staking, we have been providing liquidity to the LIST-SWAP.HIVE diesel pool as well.
We are also looking to start building our WEED-SWAP.HIVE diesel pool next so that we can start earning more WEED tokens for the payout pool. @thelogicaldude is now delegating 20,000 WEED tokens to the @hivehustlers account to also help build the stake there.
The Logical DAO
@thelogicaldude posted the announcement about The Logical DAO...
https://peakd.com/leofinance/@thelogicaldude/the-logical-dao-on-polygon-funding-the-future-isnt-cheap-nfts-and-phbd-use-case
This Polygon based DAO is going to be a way that we can build further stable coin based yield farms and fund it with NFT collections that will utilize the new pHBD token from the @leofinance team. When pHIVE is launched then we can use that as well. That all being said, HiveHustlers would benefit from this DAO as it would help build up funds that we need for these pools and to build up the stakes so that curation is higher and we can pay out more to the community for supporting our efforts!
Since the HUSTLER miner is no longer in operation and was really a lousy fund raising token due to the condition of the market when it was take over, there has been a need for fundraising for not just HiveHustlers, but for all of The Logical Dude's projects. So The Logical DAO is the answer!
As you see in the numbers above, we are in need for some more fundraising to help grow the pools and the HiveHustlers stake into a solid economy.
Be looking out for more announcements on this coming soon!
New Blog Post Efforts
We are working hard at producing some good content for our community, but these posts don't seem to be getting much love. Our aim is to help advise people on not just financial and business issues, but also in the personal development genre. We know some of these subjects may not be incredibly sexy, but they are useful bits of information that can really help someone on their journey.
We are going to continue to posting in this genre more and more, and putting our curation focus into the other communities. Hopefully this can help us grow our reach and reputation across the community as being a community that not just wants to earn, but is focused more on giving back to everyone!
Anyway, hope everyone has a great May!
Until next time!
Keep calm and Hustle on!
Main info site: https://hivehustlers.com
Hive Blockchain community: https://hivehustlers.io
HiveHustlers Community on Peakd: https://peakd.com/c/hive-183630/created
Check out our multi-token DEFI ecomomy: https://hivehustlers.com/token-economy
Any GIFs used in this post are from the Peakd GIF library. Header image made in Canva.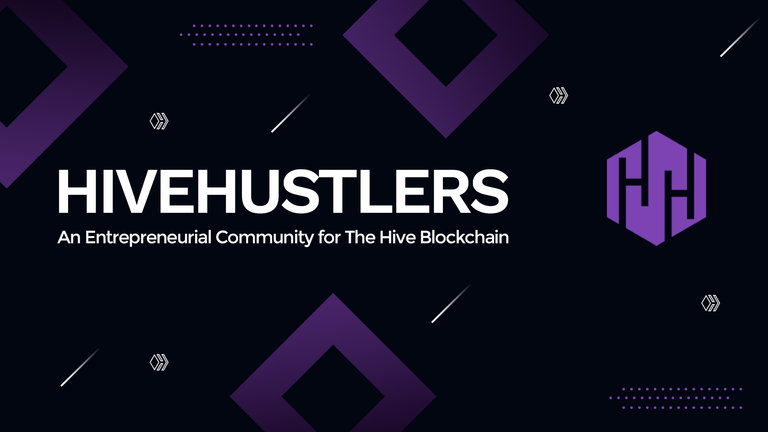 ---
---