Hashkings Roadmap and Pre-Sale Announcement
Hashkings 2.0 Launching in February!
Our amazing team has completed the most important part of Hashkings and we are getting very close to launch. Over the next month we will be finalizing the game mechanics and new graphic designs, re-organizing our discord server, launching our pre-sale and performing our airdrop.
Roadmap
Below is our roadmap up to launch which should give users an idea of the progress we are making. I've included the last couple of weeks to give you an idea what we have already completed.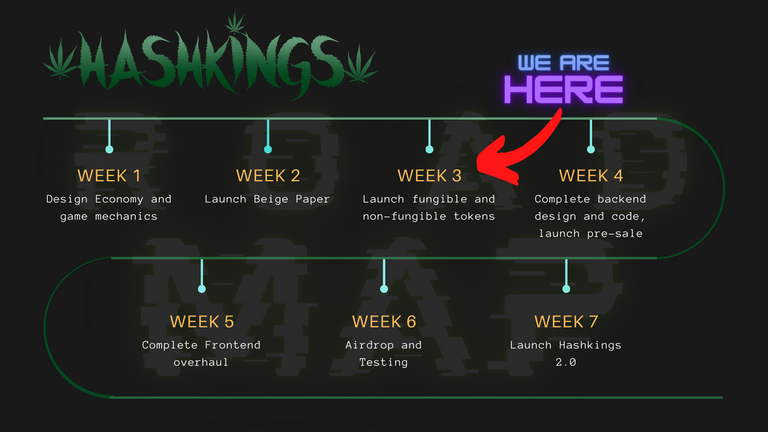 Week 1 <-- Complete
This week was the most exciting in my opinion we made leaps and bounds after partnering with @academialibertad and knocked out the new economy design and game mechanics for Hashkings 2.0.
Week 2 <-- Complete
This week was dedicated to getting our ideas down on paper and publish them to our users. Please see our beige paper to learn more about what the new Hashkings upgrade has to offer!
Week 3 <-- Completed
After getting our ideas out there, redesigning our game mechanics and economy it was time for us to start coding. @chocolatoso quickly finished our smart contract, I launched our fungible token MOTA and launched our non-fungible tokens on tribaldex.com. Each of our NFTs have special properties and are categorized by seed type, land plot region, water and boosters etc..
Week 4
This is the week everything starts coming together. Now that we have the overall mechanics, fungible token and non-fungible tokens completed it is time to start working on the backend and make Hashkings come to life. For the non-programmers reading this, the backend is where all of the magic happens and once this is completed we basically have a working game. I am really excited to get started on this process because it means we are very close to completion.
During week 4, the week starting on January 11th we will launch our pre-sale and give those folks who really want to get an edge an opportunity to become our first land barons. Keep in mind that only 20 plots in Asia exist and you will not want to miss out on this opportunity! I will write a post when the pre-sale is launched which will go in to detail of the sale. You will be receiving a special bonus during the sale exclusive to pre-sale participants!
Week 5
After completing our backend and launching our pre-sale users will be eager to get started playing. In order to do so they will need to have a frontend to interact with. Week 5 will be the week that the frontend receives its overhaul! I'll be posting screenshots of the new frontend as it is completed during this week. This also means we will be 2 weeks away from launch!!
Week 6
Week six will involve heavy testing of all of our functions. Our testers will have the opportunity to be part of our simulation that involves all of the game mechanics. Purchasing plots, seeds and water towers will be turned on for them on testnet and they will be able to plant their seeds. This is all simulated so our testers wont be receiving actual NFTs. At this stage everything will be completed and we will be 1 week from launch!
This stage is also the most exciting one for our loyal users that have been with us since the beginning. Those players will be receiving their land plots and seeds in the form of NFTs.
Week 7
Launch week. If everything goes as planned all of our hard work will come together at this point and we should be ready for launch on Monday, February 8th. The backend will be active, frontend will be redesigned and active and all of our users will once again be able to play the new version of the game! I should also have a few more guides published by then to clear up any confusion.
---
---
Thank you so much for reading and see you in the fields!
---
---
Official links
Hashkings WebApp
Discord
Twitter
---
---
Previous Posts
Hashkings 2.0 Beige Paper
Hashkings Hires Dev Team
Hybrids are active
The complicated yet simple game mechanics of Hashkings
Hashkings is Live on Hive
Hashkings Seeks Funding
Seeds and Pollen and Buds, oh my!
How to get started with Hashkings
Hashkings Update - Steem OG strain and pollen
Sexing and User Requests
Rare Plots and Subdivisions
A Quick look at Hashkings NFTs (Seeds)
Use STEEM Keychain and get plots
Upgrade and Transition Period
NFT Update Coming
Join the Hashkings Team
Hashkings Overview and Update 1-29-2020
Hashkings Market Update
Hashkings Economic Growth
Mobile Update and Hashkings Christmas Gifts
Hashkings Upgrade
A Hashkings Overview
Introducing Hashkings Curation Trail
Posts before this last one are available on the @qwoyn account...

---
---