Ringo's Gift and Other Early Christmas Gifts I Got Myself at the Online Cannabis Dispensary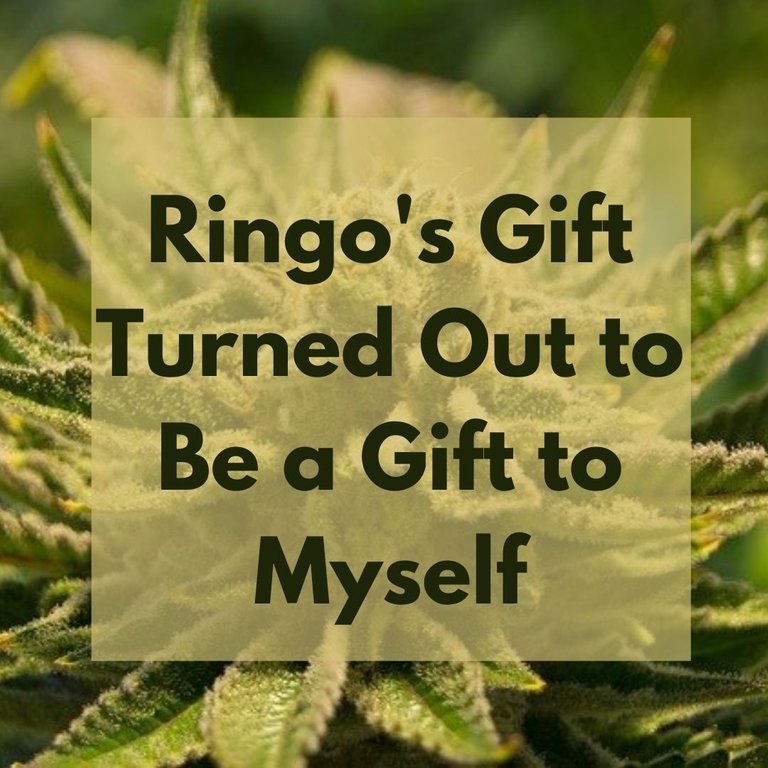 Image credit: the author via Canva and photo from futurefilmworks on Pixabay.com
When I saw that my favorite online dispensary was having an early Black Friday sale last week, I could not resist. I got some amazing goodies, and they arrived today.
24K Gold AAAA Was Awesome and It is Time for a Change
I have been using the same strain (24K Gold) for about six months. It has been really great. The dispensary advertised it as AAAA, which is not always reliable, depending on the dispensary, but this really delivered. I look for a strain that will help lift my mood, encourage creativity, and leave me with some energy, and the 24K Gold was fantastic in all of these ways. However, after six months, I ran out of 24K Gold, and it was time for a change. I find that altering the strain I use regularly helps to keep it effective.
Rick Simpson Oil (RSO)
I re-ordered my beloved Rick Simpson Oil, which I take every day. This is a very thick, sludgy, concentrated THC product that I dilute with olive oil and then take a few drops of once or twice a day when I do not need to drive. When I need to drive, I cannot take it, unfortunately. It tastes terrible, but that is hardly relevant to me.
Popcorn Marijuana – Bet You Can't Vape Just One?
They had a delightful sale on mix and match "popcorn" marijuana, which, if you do not know, is when they have small buds only left in a particular strain. Their popcorn marijuana was labeled AAAA, and I ordered a variety of sativas and hybrids and one indica. Although I have read conflicting reports about the real differences between sativas and indicas, I usually find I prefer sativas or hybrids. I will be trying these out over the coming days and weeks.
Terpenes!
I also got "Durban Poison" concentrated terpenes. I thought this was an edible that I could add to my oil, but, having tasted a drop of it, I have to check with them to confirm whether it is intended to be consumed or smoked. Previously, I had a terpene product that was edible, but this one has a weird bitter aftertaste that makes me question whether it is intended to be consumed. That is always a good thing to confirm rather than actually poisoning oneself, I find. There's a little life law for you. Ha ha.
Ringo's Gift: High CBD, Low THC
For me, the most exciting part of the order was "Ringo's Gift." This is a strain of marijuana that is very high in CBD and low in THC. I have tried CBD isolate and full spectrum products, but I have not noticed a big difference in terms of my depression and anxiety. However, the issue with most marijuana products is that, although they really help my mood, they cloud my thinking and make it difficult for me to function. So, I often have to make the difficult choice between feeling okay and being able to do the basic things that a person needs to do.
It's not really much of a choice because when I feel terrible, it is almost impossible to get things done anyhow. However, I was excited to try "Ringo's Gift" because I thought it might help, providing not just the CBD, but all the other cannibinoids and terpenes present in marijuana without getting me stoned. So far, I am really enjoying it. I thought maybe I would have a "why bother?" feeling, but, actually, I feel very peaceful and comforted when I vape it. I use my handy, old school vapor genie to vape the dry herb. There are other ways to do it. Maybe there are better ways to do it. However, I do like my vapor genie! I have an Arizer Solo as well, which I am currently charging, but the great thing about the Genie is that it is manual, so it never needs charging (although I do need a lighter).
Conclusion
So far, "Ringo's Gift" really lives up to the promise. I feel better without feeling stoned and confused. Don't get me wrong. I really enjoy being stoned sometimes. I just don't like that I am obliged to get stoned in order to feel remotely okay. That is frustrating. If the "Ringo's Gift" continues to be awesome, I might have to order more of it and make it into some sort of concentrated form for edibles. I don't mind vaping (although I don't think it is great for the lungs), but the effects don't seem to last very long. I find the effects last for maybe half an hour to an hour at the most. With edibles, the effects last far longer.
This was a nice early Christmas present to me from me. I have a virtual advent calendar of new weed strains and this lovely Ringo's Gift (named after the Beatles drummer incidentally). I am very pleased with my purchase.
---
---