Why don't I use fertilizers? / ¿Por qué no utilizo fertilizantes?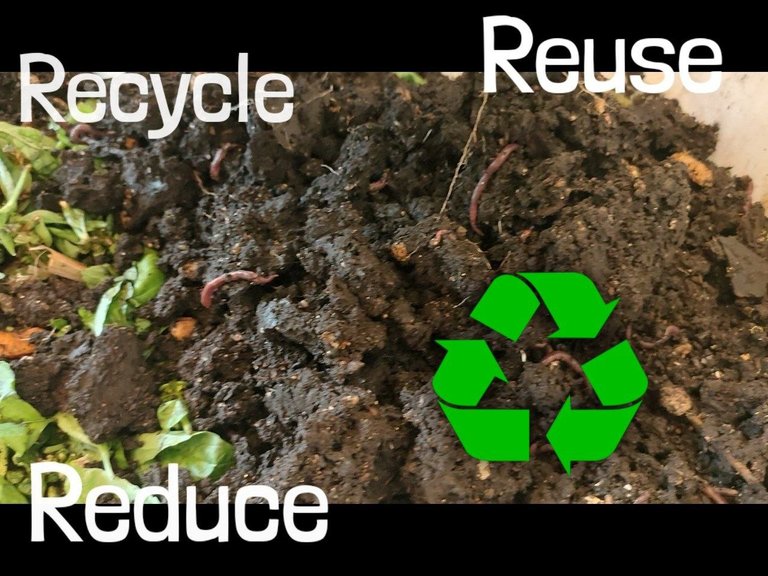 I have commented before that I do not use any type of fertilizer, only a little horsetail extract, potassium soap, Neem oil and pyrethrin (ecological insecticide) only when necessary and in foliar application. Nothing else. Today I will explain how I get it.
---
Alguna vez he comentado que no utilizo ningún tipo de fertilizante, solo un poco de extracto de cola de caballo, jabón potásico, aceite de Neem y piretrina (insecticida ecológico) únicamente cuando es necesario y en aplicación foliar. Nada más. Hoy explicaré como lo consigo.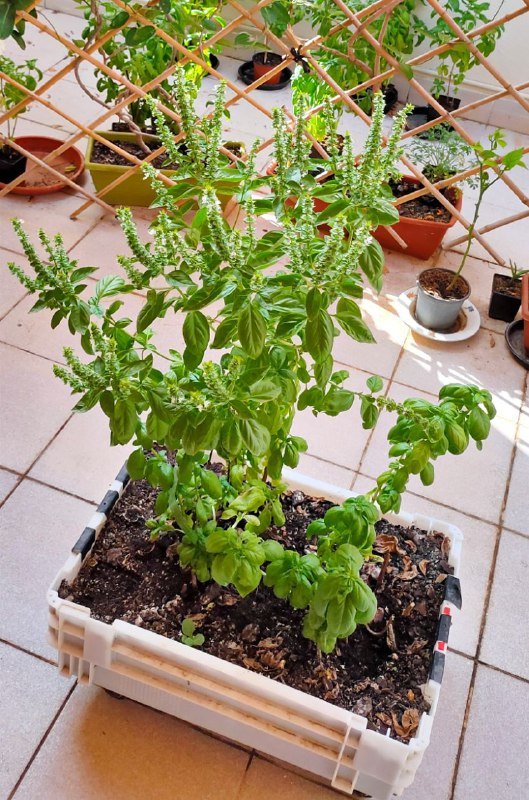 What I do is to recycle and reuse the soil from each crop. When I finish the cycle of a pot or box/pot, I clean the soil removing the thickest root remains. Once clean, I add the vegetable remains of what we eat at home and the remains of the other plants on the terrace. Only vegetable remains, nothing of animal origin. For example, today it's melon, peach, basil, a little bit of aloe and coffee. They drink coffee all year round. A diet based on fresh seasonal products is the key to obtain a quality organic substrate.
---
Lo que hago es reciclar y reutilizar la tierra de cada cultivo. Cuando termino el ciclo de una maceta o caja/macetero, limpio la tierra retirando los restos de raíz más gruesos. Una vez limpia, le voy añadiendo los restos vegetales de lo que comemos en casa y los restos de las otras plantas de la terraza. Solo restos vegetales, nada de origen animal. Por ejemplo, hoy toca melón, melocotón, albahaca, un poco de alóe y café. Café toman todo el año. Una dieta a base de productos frescos de temporada es la clave para que obtener un sustrato orgánico de calidad.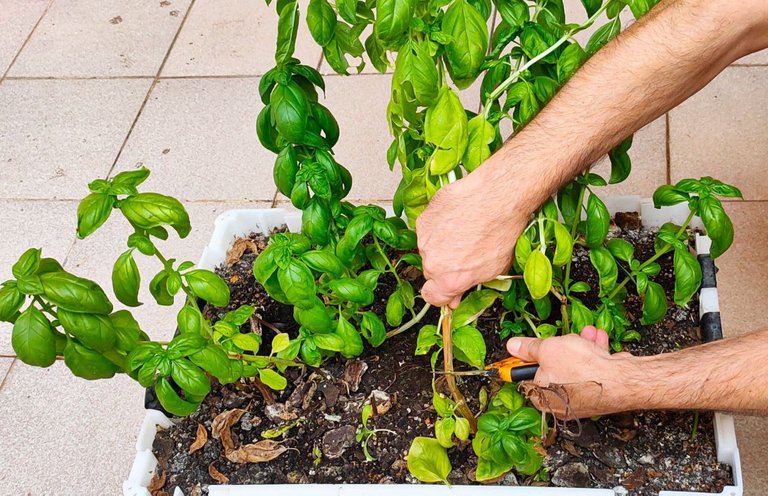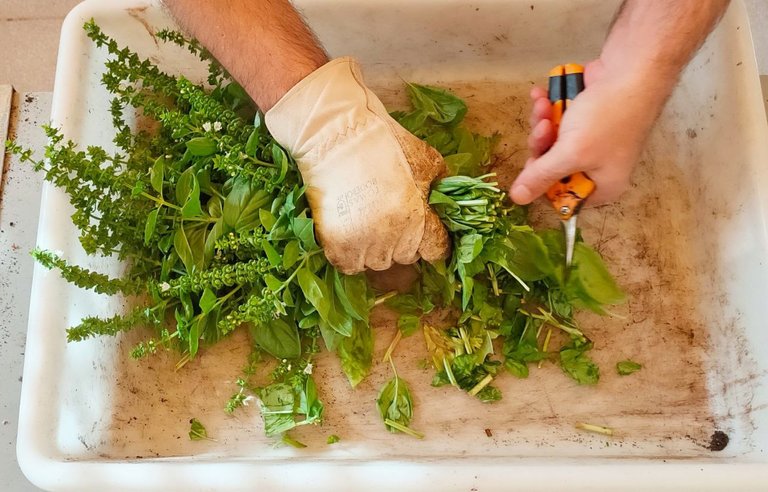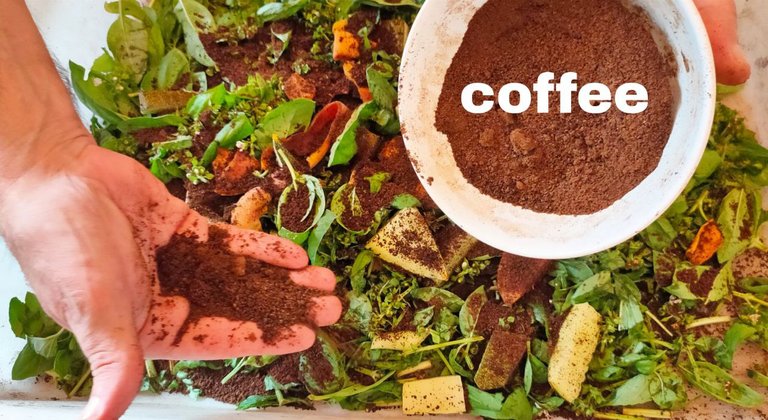 I mix the used soil with all the above well chopped. I transfer the mixture to two buckets that I have for that purpose and add water. The soil is always moist. In the black bucket is the soil that I have cleaned today, in the gray bucket is the soil that has been there for about 10 days. The buckets have lids and holes for oxygen to enter.
---
Mezclo la tierra usada con todo lo anterior bien troceado. La mezcla la voy pasando a dos cubos que tengo para eso y les añado agua. La tierra siempre húmeda. En el cubo negro está la tierra que he limpiado hoy, en el gris está la que lleva ya unas 10 días. Los cubos tienen tapa y agujeros para que entre oxígeno.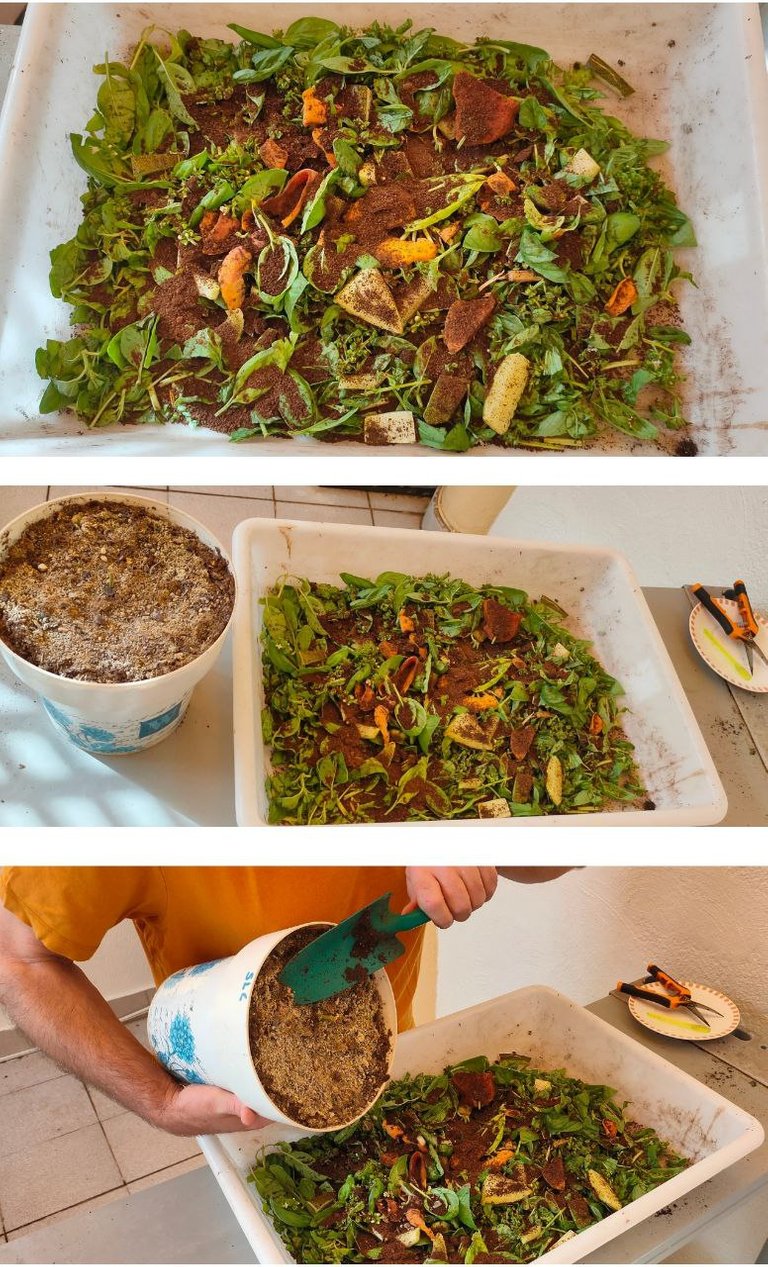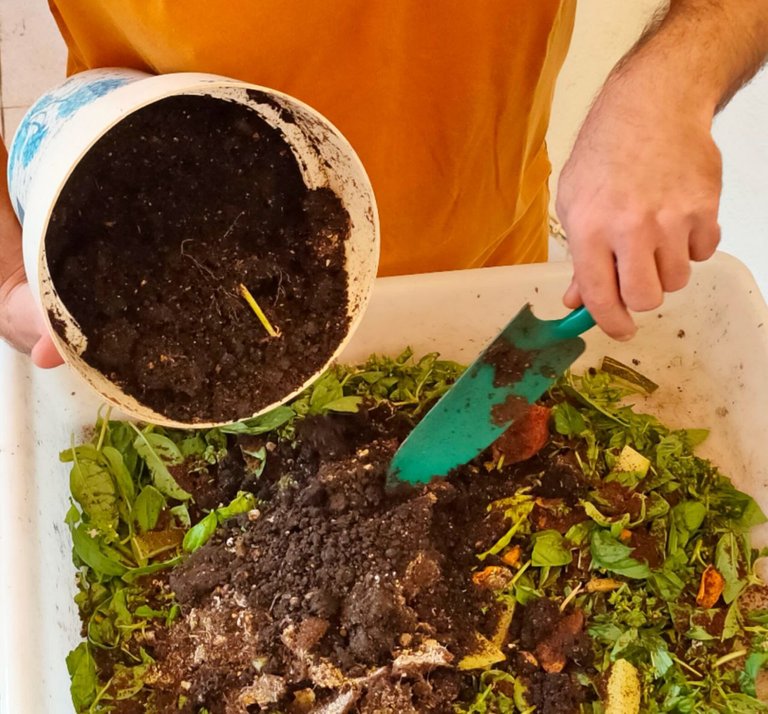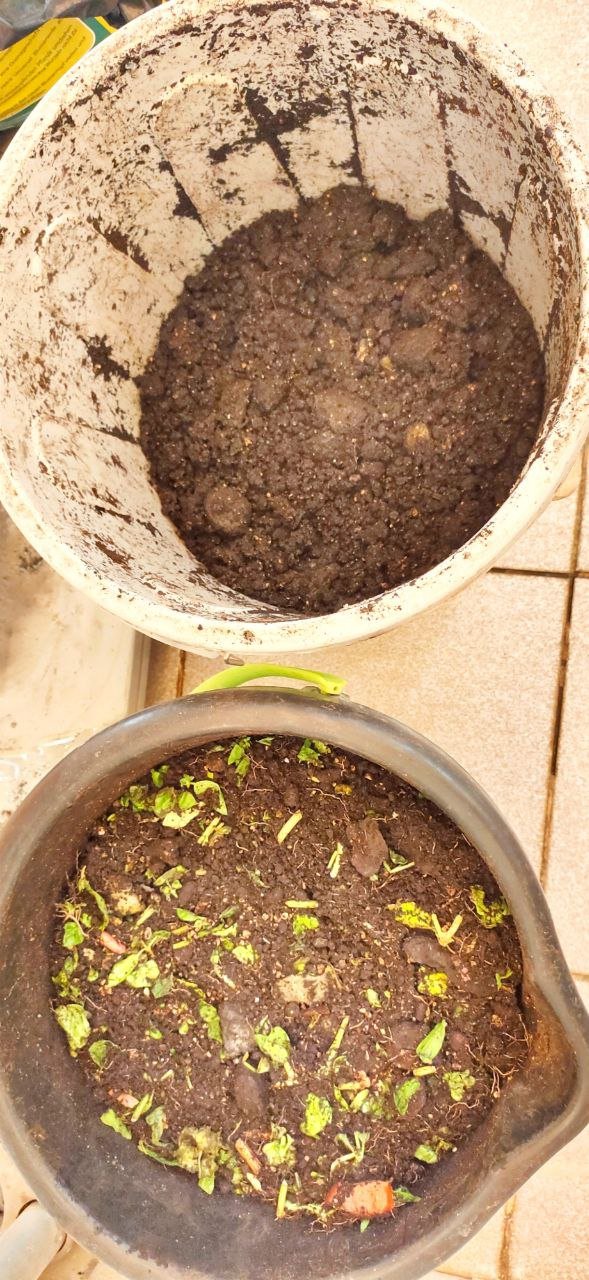 Here comes the kicker 😊. I used to buy bags of Californian red worm humus. I think some of those bags came with eggs in them and when I got here they hatched. I started seeing earthworms in the soil, at first some, but over time they have been reproducing and now they are all over the pots. You can see it. The pot I am cleaning is where the male was that I used to make seeds. This soil has been in the pot for 3 months and is full of earthworms.
I have uploaded a short video on 3speak where you can see it better:
---
Ahora viene lo bueno 😊. Antes compraba sacos de humus de lombriz roja californiana. Creo que alguno de esos sacos venía con huevos y al llegar aquí eclosionaron. Empecé a ver lombrices en la tierra, al principio alguna, pero con el tiempo se han ido reproduciendo y ahora están por todas las macetas. Puedes verlo. La maceta que estoy limpiando es donde estaba el macho que utilicé para hacer semillas. Esta tierra lleva en la maceta 3 meses y está llena de lombrices.
He subido un pequeño video en 3speak donde puedes verlo mejor: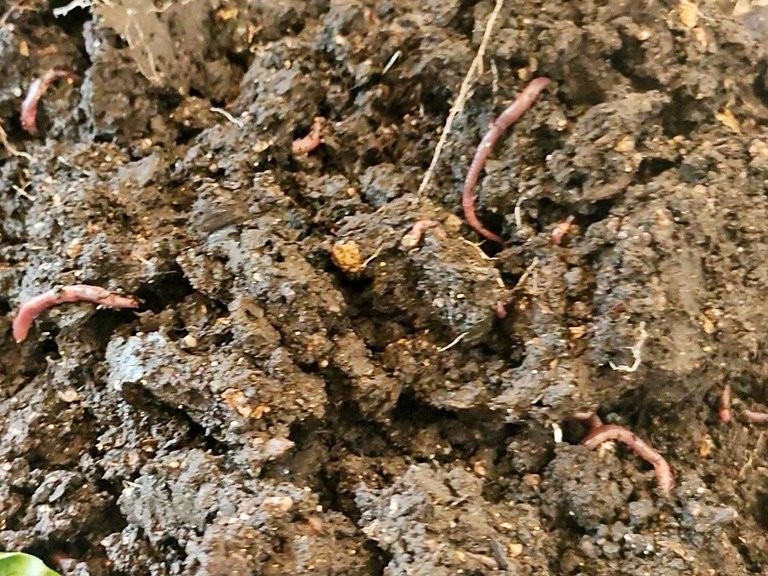 Since the worms are in the same soil as the plants, they continually generate nutrients and keep the soil well aerated and oxygenated. Worms are a biological indicator of good soil quality.
---
Al estar las lombrices en la misma tierra que las plantas, continuamente generan nutrientes y mantienen la tierra bien aireada y oxigenada. Las lombrices son un indicador biológico de la buena calidad de un suelo.
What do I get out of it? Apart from complicating my life a little:
Reduce the use of peat, the generation of plastic waste and the use of fertilizers.

Recycle vegetable waste from home.

Economic savings: less soil, fertilizers, etc.

And above all, a Maria free of fertilizers and of better quality.
Be careful with the use of fertilizers. It is easy to leave a taste in the plant if it is not done well and even if it is done well, too. That said, let everyone grow as they wish. This is how these girls are after 32 days of flowering without having put anything on them. I planted them 52 days ago.
---
¿Que consigo con esto? a parte de complicarme un poco la vida:
Reducir el uso de turba, la generación de residuos plásticos y el uso de fertilizantes.

Reutilizar la tierra de las macetas.

Reciclar los residuos vegetales de casa.

Ahorro económico: menos tierra, fertilizantes, etc.

Y sobre todo una María libre de fertilizantes y de mejor calidad.
Hay que tener cuidado con el uso de fertilizantes. Es fácil que dejen sabor en la planta si no se hace bien e incluso haciéndolo bien, también. Dicho esto, que cada cual cultive como quiera. Así están esta chicas después de 32 días de floración sin haberles puesto de nada. Hace 52 días que las planté.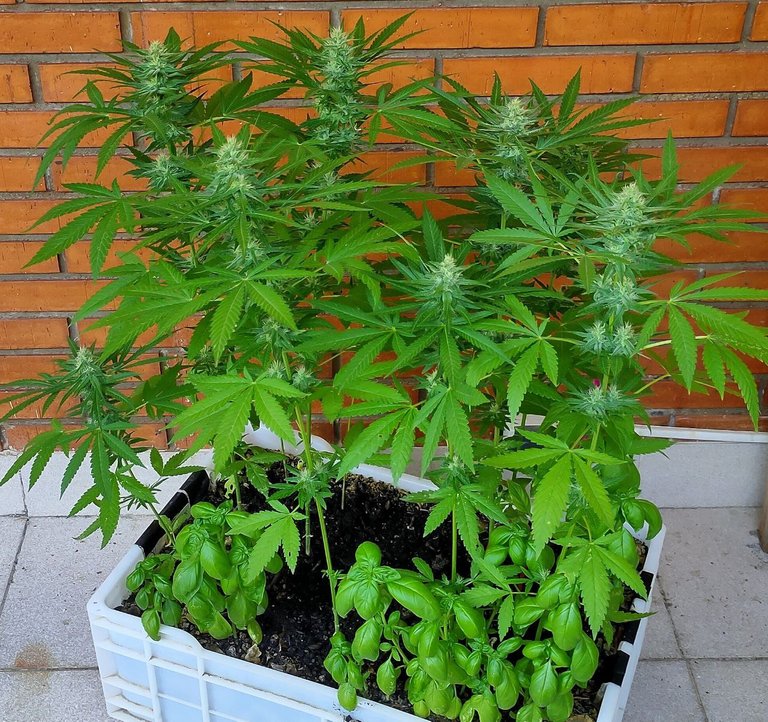 Thanks for your attention / Gracias por tu atención
Translated with www.DeepL.com/Translator (free version)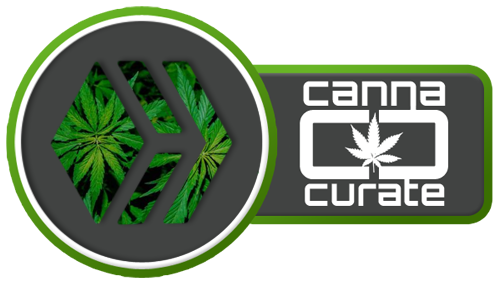 ---
---